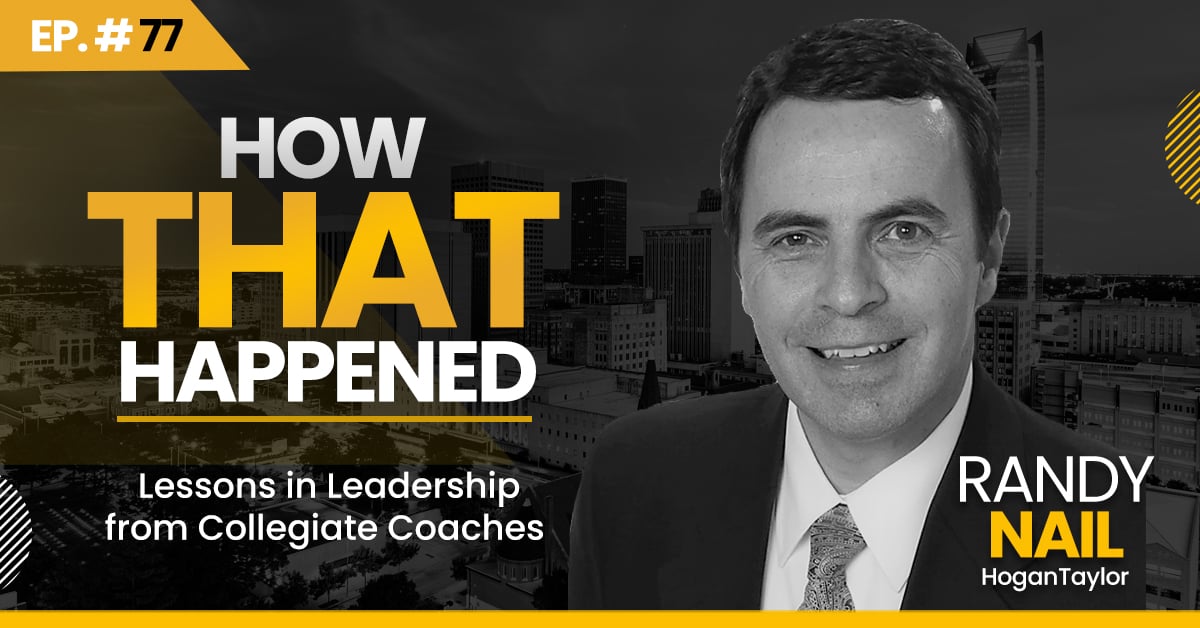 Randy Nail:
The sense of purpose and belonging and making a difference, whether it's at home or with friends and other groups that they're a part of, that life is just better.
Aaron Ackerman:
From HoganTaylor, I'm Aaron Ackerman and this is How That Happened, a business and innovation success podcast. On each episode of the show, we sit down with business and community leaders behind thriving organizations to learn how business and innovation success actually happens.
Hello and thank you for downloading and listening to this episode of How That Happened. Really excited about what we're going to do today. It's going to be a special episode, a little bit different. Over our last, I guess, 76 shows now, we have ended up unintentionally talking to several really successful leaders and coaches from the world of sports. I've got a guest host with me today. I'm going to introduce him now and then we'll tell you what we're going to do on the show today. But really, really happy to have Randy Nail, who is the HoganTaylor CEO with us today. And Randy, thanks for doing this with me today.
Randy Nail:
Yeah. Thank you for asking me, Aaron. I got to do one of these podcasts early on when you guys launched it, so it's always nice to be invited back. It makes you feel like you might have done something right the first time.
Aaron Ackerman:
Absolutely. So Randy and I, our relationship goes back well before we worked together at HoganTaylor. Randy was an audit partner. I was a client and really, I would say, Randy, our initial relationship, we bonded a little bit over sports, more than accounting or business. We were both big baseball fans, big OU sports fans, and some of my oldest memories, Randy, are of us talking about baseball or OU football. Right?
Randy Nail:
Yeah. I have a really good collection of logo balls today because you got that idea started and I have this rule. I want a ball from every major league park. Either I have to go or somebody close to me, a friend has to go. I can't just order them online. We share a love for baseball. We both know that's the greatest sport that's ever been invented in the history of mankind. We both love OU Sooners and I hope that doesn't alienate some of our audience today, but sports. You and I definitely bonded over OU and baseball and then also some complex consolidation issues around the company you were at that time.
Aaron Ackerman:
Yeah, there was that too, but I think it's fitting that we're going to get to do this together today and, in a way, talk about sports. Not everybody as a sports fan, but it's amazing how many lessons from the world of sports are really applicable to all other aspects of life, whether it's in your business or another organization, in your family. I mean, if you listen to the three episodes, we're going to just listen to some short clips today, but we had three episodes from really successful coaches that are really just a masterclass in leadership and success, so I think there's just some great tidbits and lessons we can pull out of those.
Randy Nail:
Yeah, totally agree. It's a big filter in my life, just sports, sports metaphors, the whole concept of team, and pulling together for a common goal. It just fits all of life, all of business so very well, many, many crossover principles.
Aaron Ackerman:
Well, let's jump in. You mentioned OU and not wanting to alienate. The good thing is today, we've selected some clips that are going to be equal opportunity of people if they're fans of different sports, different universities. And our first one is from the tennis coach, the women's tennis coach at Oklahoma State University. Chris Young, he's a guy, a personal friend of mine that I've known back to college, and so it's been really fun for me, just from the sideline from afar, to get to watch his career as a coach really take off. But he spent some time on How That Happened with Robert Wagner, our partner, and my co-host. His episode was just awesome. He is a great leader, had so many good things to share, but we're going to listen to just a short two- or three-minute clip, and then we'll respond to it.
Robert Wagner:
So I want to talk about one more thing, Chris, and we're talking about this at HoganTaylor in various pockets of the firm about ... It feels like the employee-employer relationship is changing and it's always moving. Right? And getting away from thinking about our employees, even our best employees being with us for their entire careers, and they make partner here or whatever, and we will certainly have that, but most of our employees are here for, we're going to call it a season. Right? And it was actually Aaron that brought this up to me, that this is the coach's world. This is nothing new for a collegiate coach. You get kids for, depending on the sport and all the factors, two years, four years, maybe five years, and they're gone. No matter how good they are, how loyal they are, whatever it is, they're moving on. They have to. This is the way it works. And to have a sustainable program, you got to have a system and a program that just takes good talent, you got to have fantastic talent, no doubt about that, but it just continues to perform at an excellent level. So maybe coach some of us in the business world about how you do that, right? How do you have a true program you can plug people into it and be successful all the time?
Chris Young:
Well, I think it starts at the top. It starts with leadership and being able to have certain standards that you draw people up, you call people up to a higher level than they thought possible. And as a leader, I think that's really important, that greatest leaders can call people up and raise their level and bring them in to a certain standard and expectation, whether it be my team or your company, that we're going to strive for excellence here and this is what excellence looks like. In this company these are the benchmarks, these are the standards, these are the things. And I think it just becomes, in our program, a way of life and it's not always results-driven. There's certain things in athletics you can't control. You can't control the results, but the one thing we can control is the way that we show up every day, the way that we do things.
And I think being process-oriented is so important in that. We talked to our girls about that this week we had a really, really tough loss with Texas. They were in top five in the country. We were right there inside the top 10. And then we had to turn around two days later and compete against Baylor, who was also really big. And so we talked about, "Well, we had a little setback here, but we got to stay true to the process and who we are and the next day we have to show up." And the way that our kids showed up on Saturday showed me that we were going to have a chance to win on Sunday. And so I think too many times we're very emotional-driven and results-driven and we let so many things that are outside of our purview really control how we perform on a daily basis. And I think it's really important, number one, I think to be just committed to the process and what the process looks like for each organization and company and we're going to show up every day. And regardless of the things are going outside our control, this is what we're going to do, and I think that starts top down. I think just continuing to invest in people, I think that's really important.
Aaron Ackerman:
Man, a lot of good stuff in there, Randy. I loved the question from Robert, really, setting up Chris to talk about how to maintain success when things around you are changing, personnel are changing. He said so many things there that I thought were just awesome themes but let me just ask you to react. What did you hear there that you love, that is applicable to things outside of tennis that he was speaking about?
Randy Nail:
Aaron, a couple of things, really, two things that just really popped out at what Coach Young said. One is very inspirational, and one is very practical. The inspirational part about calling people up to a higher level, just using those words just fires me up. It connects somewhere in my soul with there's just something in who we are as humans that we just want to make a difference and we want to be a part of something meaningful. There's a lot that's been written about purpose and meaning and those kinds of things, and I think Coach Young is right. Call people up to something higher and do it collectively. We like to make a difference, but we really like to make a difference in the context of team. I just believe that, so I think he's dead on there. And so our missions in our organizations need to have not just an aspirational aspect, but an inspirational aspect that just calls us to something higher to accomplish something together that we could never accomplish on our own. And that thing would bring a fulfillment that we're just not going to get any other way, so that's the really inspirational one.
The other one that was just more practical and it's almost, when Coach Young said it, there's almost a, from when I heard it, a negative reaction to it, when he said we can't control the results. We get too emotional, and we need to be focusing on the process and be process oriented. All of that is dead on. We can't control the results, but isn't that what we actually try to do? We want to game the system so if we do A and B, we're going to get C every single time. Life is just too complex and messy, and it just doesn't work that way.
It doesn't matter, HoganTaylor included, it doesn't matter how great our business plan is or our strategic initiatives. We're people. We've got different goals and different mindsets and different objectives, and we've got to agree on a few things where we're all going in the same direction, but there's just too much outside of our control that the results aren't guaranteed. So if we cannot just get so fixated on the results, which of course, that's what sports teaches us to do in a very real way, is who's going to win. Right? So it's not always just about who's going to win, but maybe the definition of what winning really is. Not fixating on trying to control so that you can always get the results that you're after is a very wise word to all of our listeners today from Coach Young. He's dead on.
Aaron Ackerman:
Yeah, that was awesome. You talked about the language of calling up. That stuck out to me too, as just really high-level language, inspirational language. He also talked about just investing in people and I think that's part of that. If anyone's been in an organization or even in their family where you're being invested in and you're investing in other people and how different that is from the everyone's looking out for number one situation, that creates such a different dynamic and I don't know anybody that wouldn't prefer to be somewhere where you're being pulled up to a higher level, someone's investing in you and you are, in turn, investing in other people that the team aspect is just awesome.
Randy Nail:
Yes. A hundred percent agree.
Aaron Ackerman:
Our next clip is from an episode we did with Dan Hays. Dan Hays, as listeners may remember, he's a hall of fame basketball coach, spent his entire career, very long career, at small colleges in Oklahoma and New Mexico, mostly NAIA and D2 schools. Even though he was never at a huge school, he's a legendary coach. People all over the country know Coach Hays and he's won every award and been inducted into so many hall of fames and just had a really, really awesome career and an admirable person. I've been lucky to know him since I was a little kid and have looked up to him. And so I had a lot of fun doing that episode, but let's listen here to a short clip from coach Hays and then we'll talk about that as well.
Well, along these lines, I wanted try to tie this back. I've known you for a long time. I know a lot of your players and I've been really close with some of your ex-players and you and players may have a certain remembrance of practice on the court and in games and things, but once you get removed from it, I know probably almost to a man, your players love you, respect you and a lot of them see you as a mentor. How important is it for you to not only to have mentors, I know you've mentioned names of guys that have mentored you when you were a young coach, but also after having experienced achieving a certain level of success to also be a mentor, whether that's for your players as they get out of the program and move on, become coaches, you mentor other coaches. Just talk a second about how that's impacted your career, the idea of mentorship.
Dan Hays:
Well, I had many coaches who influenced me along the way and it's funny because sometimes you don't realize it until 10 or 15 years later. You just think back to the times where maybe he was getting on you as a player or running after practice. And the thing about coaching is you need to understand players. They don't remember all the praise from a practice, but jump on them one time during a two hour practice, that one time is what they remember. So I used to have a saying, "It's nothing personal, strictly business." Well, that's not the case, but it's a nice little thing to rely on. They'll usually come around. I've had several players who I ended up with probably not on a good note. Maybe they were dismissed from the team or ended up not getting much playing time and so there's some definite friction involved, and I've been that way before as a player. But time, for most of them, heals. And I'll get cards in the mail from guys that I haven't talked to in 10 years, wishing me happy Father's Day.
Dan Hays:
Or something along those lines. And I was that way as a player. And usually, if you do the right thing, it usually comes out on the positive side and that's what I always tried to do. I always tried to treat people fair. Now, you can't treat them all alike. When the coaches just get up and say, "I'm going to treat you all alike," well, you can't treat them all alike because they're different. Some kids you can correct by being in their face and loud, others shrivel up and won't perform when you do that, and you tell them the exact same thing on the side of the court where nobody can hear it but him. "That was the stupidest play I've seen. Don't ever do it again."
Aaron Ackerman:
Yeah, just one on one.
Dan Hays:
One on one. Whereas some other guy is totally built different. You would tell him, "Well, that's stupid. What's wrong with you?" and then he'll come right back and show you. Well, your job as a coach is to find what button to push for every kid. Did I do it? I tried. I tried. It usually worked, but sometimes your emotions get in the way, and you say things you really shouldn't say.
Aaron Ackerman:
Well, first of all, I got to just say what a great classic coach voice coach Hays has. If you ever played basketball or football, I'm sure that voice is reminding you of a coach you've had at some point in your life. I love that he's got that gravelly, scratchy voice. It's just awesome.
Let me just throw it to you, Randy. I mean, there's a lot of stuff to chew on there. Coach talked about a few different things. What maybe are your takeaways from that clip?
Randy Nail:
It's hard to be from Oklahoma and be a sports fan at all, nobody would ever excuse me of being an athlete although I played a lot of sports in my life and not know who coach Hays is. And just listening to him, man, you just want to snap to attention, and you want to say, "Okay, here we go." He did say so much and you can tell the care for his players and you can just hear it now. Talking about mentors and the impact that you're having in each other's lives, all really, really good stuff. He said something phenomenal though, in his clip there about treating people fairly. You can't treat them the same. You can't treat them the same because they're not all alike and the coach needs to understand who the player is and how to get the best out of them and I think that is a huge leadership lesson.
Leaders don't deserve a voice just because they have a title and they're certainly not going to be followed if all they can do is just bark orders and demand compliance. That just doesn't work in the business world. It certainly doesn't work in our profession, Aaron, as you know. Leaders have got to care enough about people to understand who they are and how they receive information, how they receive instruction, and then it's on us to interact with them in such a way that we get the very best out of them. Back to Coach Young's point about a process, here's the process and you're in this process and you are a unique person, but as your leader, I'm going to engage you in such a way that your success in that process is maximized so that together, we can achieve the result that we have both agreed is important to us, which is our mission. So, so, so good that we can't treat everybody alike, but we can treat them fairly. We can treat them with impartiality. We can care for them and build trust and that is a great, great leadership lesson. I really appreciate Coach Hays emphasizing that point.
Aaron Ackerman:
Yeah. No, I'm with you. I think it was awesome. And anyone who's been a parent or has had a parent and had siblings, you see this in the home. You can't treat every kid the same. You want to be fair, but like you said, that doesn't mean everyone gets the exact same treatment or discipline or whatever. I think with your leadership and our great HR team and other leaders in the firm, that's one thing I love about our firm, about HoganTaylor, is we really have a one size fits one mentality and you've got policies and things that everybody has to adhere to. But when it comes to building a career and charting a path for yourself, that could be different for all 350 people at the firm and that's really special.
Randy Nail:
I believe it is different for all 350. We try, as you know, at HoganTaylor to create a culture, if you will, within the culture of being a principles-based culture, rather than a rules-based culture. You need both. I'm not saying that rules are not important, they certainly are, but we hire our colleagues for their intellect and their attitudes and their willingness to serve and to make a difference in the communities where we serve with our clients and with each other. So how silly to recruit them to that vision and then just turn them into some robot that it's like, "Do A + B + C this way. It's the only way"? We want them to engage in all of their intellect and all of their gifts to speak to who we are and how we do things so that we can always be getting better and that is a one size fits one proposition. I want to know how Aaron Ackerman can make HoganTaylor better. And I want to know, as a leader in his life, how to motivate and inspire him to get that done. That's a culture thing, Aaron, and it has to be deliberate. I just wish I had coach Hays's voice. I'd like to get some of that gravel going on.
Aaron Ackerman:
I think that 40 years of yelling would get you that voice, yelling at a game. Another thing I want to see what your thoughts are, but one thing I've been really intrigued with, especially, lately is the concept of immediate feedback. And I think that we're really good at it in our families. You give immediate feedback to your kids, to your spouse in the moment. "I don't like what you said or what you did." It's happening right away. And in the sports world, immediate feedback happens all the time. In the business world sometimes, it's I'm going to log that away and we'll talk about it during your annual performance review or our monthly one on one meeting. And my goodness, that is not healthy all the time, but he talked a little bit about feedbacks along the same lines of treating everyone fairly but not equally. What's your take on how he explained immediate feedback?
Randy Nail:
Hundred percent agree. He talked about treating players different, but in his example, it was immediate in both times. And boy, in business. I think we mess up here. We don't give immediate feedback and there's a lot of reasons for that. We all try to do that. I think HoganTaylor does a really good job of it, but we need to get better here as well, and that is I don't think we always believe in the principle, "Clear is kind." To be clear is kind. We all need help getting better and sometimes we have to say some difficult things. And if we'll say them from a caring, trusting, "I'm in it for you," kind of attitude, then we could probably get a little better about saying things immediately, which is when things need to be said, because without context, we just lose the impact of why we were even saying it.
How silly would Coach Hays be for waiting three months to say on that play, "It was the stupidest play I've ever seen"? And the player's going, "I don't know what you're talking about," or "I've run that play a dozen times since then. Why didn't you tell me?" So immediate is better, within the context of a caring, nurturing, "We're in this together. I'm listening to you. You're listening to me. It's mutual respect." Let's give it immediately. I'm much more in favor of that than the annual reviews, which a lot has been written about that and there's some good things that come out of them, but boy, the feedback that's going to make a difference immediately today and tomorrow is all about being immediate. It's got to be about what I've done right now, and I need input on that.
Aaron Ackerman:
Yeah, that's good. He also talked about mentorships and that was woven together with feedback. He talked about some players that ended on a bad note and he would hear from them years later and found out that, man, they told him how much he impacted their life, even though he felt like it ended in a bad way. And people had mentored him. He talked about not really realizing that they mentored him for 10 or 15 years later. I've had that similar experience where many years later, I realized what a huge impact a leader in my life had on my career, didn't really recognize it or appreciate it in the moment. Sometimes it takes some time and some processing and some maturity to happen before you're like, "Wow, that that was hard. That wasn't the most pleasant thing I ever heard, but that person cared and really had a tremendous impact on my life or on my career." But it's hard to be in the moment, either giving feedback or receiving feedback and think, "This is really impactful." Sometimes that's not clear for a while.
Randy Nail:
Mentorship is a big, broad topic. A lot has been written about that as well, Aaron, and I've just got some of my own thoughts about mentorship and really, it's probably broad and maybe it's too broad for some people's comfort. But mentorship for me, as it relates to who mentors me, is broadly defined as those who have a leadership influence in my life. So you are a mentor in my life just by doing what you do and how you do it and I watch you and I observe, and I try to learn from you, so that's not necessarily how people think of mentorship. I get leadership influence out of the books that I read, and I'm not talking about all of the business books. I'm talking about the fiction that I read. I get it from young people from watching how they live life and navigate a very complex society that is playing by rules that are different than when I was a younger person.
So mentors, if we're open to it, can come from all places, as long as we're open and teachable and it doesn't have to be just somebody that's older, that's wiser that you meet once a month for coffee. I mean, that's good, but mentorship can just be moments of mentorship, not lifetimes of mentorship, and you can get it and give it without the other person actually really aware of it.
Now, I know there's a better definition for mentorship and I'm not trying to discount that. I'm just saying let's all be open to a voice that gives me immediate feedback. And I'll look back, as you just said, fondly 10, 15 years later like, "Man, that wasn't necessarily fun, but I am so glad I heard that. It's made a big difference in my life."
Aaron Ackerman:
Yeah, that's so smart. Okay. Well, our last clip is from Sherri Coale, another hall of fame basketball coach, recently retired. She spent most of her career as the women's coach at OU. And just personally, this was one of the most fun episodes I've done. She's got great stories, just super entertaining, really an accomplished inspirational leader, and I mean, I just soaked it up. I hope the listeners enjoyed it as well, but it was worthwhile just because I loved it so much and learned from her. And then we recently got to have her speak to a lot of our leaders at HoganTaylor and so I think a lot of people around here appreciate her and her transparency and everything. Our third clip is from her talking about a couple of really important things that I think she had great insight on and so let's listen to that and then we'll talk about it.
So you've mentioned a lot of names of some of the players you've had. One thing that all organizations have been dealing with recently, especially in my world, is you've heard this term, the great resignation, and there's been a lot of turnover and people leaving and that's a challenge for any organization. I would guess, Sherri, that you would say ... You mentioned Jan Ross. I think she was with you the whole way. You had one AD almost your whole career. You had a lot of continuity with your staff and the administration. But the nature of basketball is even the kids that stick around the longest are there four or maybe five years, a lot, maybe less than that. So statistically, you're dealing with player turnover about 20 to 25% per year. In the business world, that would be a devastating number. So how do you maintain a continuous system and have this high turnover? You get a completely new team every few years. How did you manage that from not being disruptive and being able to just keep rolling with your system? What's the secret there?
Sherri Coale:
Well, I don't know if there's a secret. I mean, I go back to Stephen Covey, goodness gracious, keep the main thing the main thing. And if you and your staff, regardless of continuity or turnover there, if everybody's always clear about what the main thing is, then it's a tiny red thread that runs through everything that happens. The same is true for teams. If you allow your team the ownership, to embody everything that you believe in, then they pass that on.
I used to tell my seniors, "There's a new crop of freshmen coming in. It's not my job to teach them who we are and what we're about. It's your job to teach them who we are and what we're about by how you treat them, by how you live, by how you interact with them. You can't go do your thing and let them figure it out on their own. It's your job to pass that torch." And so I think that's part of it, is making sure that everybody feels responsible for caretaking a thing. You're holding a thing for a while and your job is to pass it to the next person, whether you're there 1 year or 2 years or 10 years or 20 years, you're just a caretaker. And so when you can look at it in that way, that this is a thing I'm responsible for leaving a little better than I found it, then there's some ownership involved regardless of the length of time that you're there. You're an important conduit for the mission, for the purpose of the greater good.
Aaron Ackerman:
One thing that strikes me there, Randy, is the secret to having a good podcast is having a great guest because I asked this terrible rambling question and then she cut through it and from word one was just dropping wisdom, just got to the beauty of what she wanted to convey. I've listened to her episode a couple times over because she doesn't have any fluff or throw away sentences. There is just so much there. It's very dense and she's got so much to impart to people. And so in spite of the question, she got right to it, so let me get right to it with you. What did you love there from her?
Randy Nail:
Well, I think you're a little hard on yourself. I wouldn't say rambling, Aaron, but you were also not too kind to Sherri because you can't be too kind. She is unbelievable and again, something about your guest, the clips we've listened to today and their voices ... Coach Coale, you just want to snap to attention and like, "Okay. Yes, ma'am, I'm ready to go." I loved her comment about the tiny red thread that runs through. And I don't know why she chose the color red, probably because of OU's crimson and cream.
Of all of the clips today, Sherri's really touches most in just culture to me, Aaron. And when she said you allow the team to own it, everybody gets to embody what you believe in, so culture is a word that is used a lot and maybe it's overused and you got to really zero in on a definition. I like the collective beliefs and behaviors of an organization or a team. I like the phrase about how things get done, but I believe that can be felt and I believe it is caught as much as it's taught, and that is a real art thing to do. It's not a science thing. It plays to the complexities of who we are as humans and why we cooperate with each other and why we don't, why we buy in or why we don't, but if you're just clear, whether you agree or not, if you're just clear, "Here's who we are, here's what we're about," then you get through care and respect and teamwork, a buy in. Then it becomes this thing that transcends individual people. It becomes a thing for a particular company or a team.
Randy Nail:
I love what Coach Coale said about being just a caretaker. That's right. At HoganTaylor, I try really hard, as much as I can, to say, "What we do around here is not about me and our core values are not just mine. They're ours. Let's agree on these together." And I want to leave Hogan Taylor better than when I found it and I'm caretaking something and that's probably defined as culture, but every single young person that comes through our doors as a colleague, Aaron, I want them to, whether they stay or not, they're going to look back and they're going to go, "The culture was well-defined. It was simple. It was easy to grasp. It was honored. When you violated it, you were called out. I mean, it was the thing." So whether you agree with it or not, it was clear. It was the thing. And man, maybe we can weave our own tiny red thread through HoganTaylor, to use Coach Coale's words, and be even better than we are today. Good stuff.
Aaron Ackerman:
That was awesome. And it just demonstrates what level of humility she has. I mean, everybody can think of a company or a sports team where it's just synonymous with the coach and or the leader. You think of a company with one of the rockstar CEOs and then when they leave, the company goes down the tubes or a football team with a high-profile coach, that it's all about him and they're gone, and then they go to the dogs. Just real humble, a high-level humility for her to realize, like you said, that you're a caretaker of something, that it's bigger than any one player, any one team member or coach or leader. I mean, it seems obvious, but it's hard to do because I get wrapped up in the things that I'm involved in and don't want to think about, "This could be great even when I'm gone." If you're doing a good job, it will be. It'll be better when you're gone. We get a little bit of ego around whether it's our career or our family, our accomplishments, and things like that. Really great lesson.
Randy Nail:
I learned from reading and listening to John Maxwell about this thing. Listen, if you're the leader that isn't producing other leaders or when you move on, the organization suffers, and then he talked about it in the context of an ego and that makes you feel good like, "Look how needed I was," in John Maxwell's unique way, he's like, "You were a terrible leader. If you can't do those things, then you're a terrible leader." That's impacted me and my whole life, my adult life. As I've had the opportunity to lead different things, that's stuck with me. A big part of my job is to raise up other leaders and make sure that when I leave, it's as if I wasn't even there. It's just so good because there's so many people in leadership and that is a culture thing to me.
I think again, the whole, in our core value of what we call unity, where we have mutual care and respect for each other and we honor teamwork, the teamwork and honoring and carrying one another will naturally call out the leaders who have a leadership gift or desire to rise up and thrive in that environment, so I believe our core values help call out natural leaders. And then those who just want to be a leader, you can learn leadership principles within the context of culture. I think all of that, again, back to my earlier comment about culture, is caught as much as taught. I just think that allowing an environment where people can thrive and grow as people, but also as leaders, is very critical to an organization's long-term success.
Aaron Ackerman:
Yeah. And the part where she was talking about really empowering and challenging her seniors or her older players to be responsible for passing those shared beliefs and behaviors onto the new players, I mean, that's really cool because a basketball team's small. You've got 15, 18, 20 people and a coach like Sherri Coale, it could thrive with command-and-control environment. Sherri's the coach and what she says goes, but she really gave her players the space to be leaders among the team and what you're talking about at HoganTaylor. I think that's really cool for leaders to have the vision to be able to sit back and let other leaders lead along with you.
Randy Nail:
She's inspirational for sure. She understood that her players were not just there to play basketball. She wanted to see them grow and be all that they could be. And she obviously understands that people want to be a part of something that's bigger. They want to learn; they want to grow. They want to have input into that. No wonder Coach Coale is a hall of fame coach, right? People who think like that, you want to play for them, and you want to give your very best effort for them, because when they're not in your life on a day to day basis, you've become a better leader and a better person just in your own life.
I hope that's true at HoganTaylor. That's what I'm trying to do. Aaron, I know that you're with me in that. I know that we talk about this a lot as leaders. We're not just trying to be the best accounting and business advisory firm. We're trying to invest in people's lives in such a way that in all areas of life, the sense of purpose and belonging and making a difference, whether it's at home or with friends and other groups that they're a part of, that life is just better. And I think we owe it to each other as humans to pour into each other like that. I'm very grateful to hear Coach Coale talk about that's one of her foundational ways of keeping the main thing the main thing is, well, let everybody have a voice in it. I think that's very wise.
Aaron Ackerman:
Yeah. That is awesome. Well, I feel like we've been blessed, Robert and I, to be able to talk to and share these conversations with so many great leaders from all walks of life and sports has been a fun thing for me since I love sports, but man, what great lessons we can pull from sports into other parts of life. And these are three really great examples of leaders and hopefully, our listeners really got a lot of benefit out of listening to this. You got any closing comments or things you want to tie in before we wrap up?
Randy Nail:
I think, Aaron, I would say people want to be heard. People want to be valued. People want to be respected. And for our leaders out there today listening to your podcast, if you'll start right there, a lot of things will work out in your favor and you can skip a lot of other steps to try to win people or influence people or whatever those phrases are with your own heart towards other people. Do you value them? Do you care for them? Do you respect them? Let's get that right first and then a lot of other stuff that is really positive just flows out from that.
Aaron Ackerman:
Yeah. That's great. And just on a personal note, thank you, Randy, for joining today and having this conversation with me and I have really appreciated our relationship that goes back, I don't know, 15 years or more. And your leadership at the firm, just want to say thank you for that. This has been a lot of fun. I appreciate your time.
For our listeners, thank you so much again for downloading and listening. If you enjoyed this episode, please go check out How That Happened wherever you get your podcast and look at some of our past episodes. And the best way to make sure you don't miss any great episodes in the future is to go ahead and subscribe to the show wherever you listen to podcasts. Thank you, Randy, enjoyed it so much, and thank you to our listeners.
That's all for this episode of how that happened. Thank you for listening. Be sure to visit howthathappened.com for show notes and additional episodes. You can also subscribe to our show on iTunes, Spotify, Google, podcast, or Stitcher. Thanks for listening. This content is for information purposes only and does not constitute professional advice. Copyright 2022 HoganTaylor LLP, all rights reserved. To view the HoganTaylor general terms and conditions, visit www.hogantaylor.com.