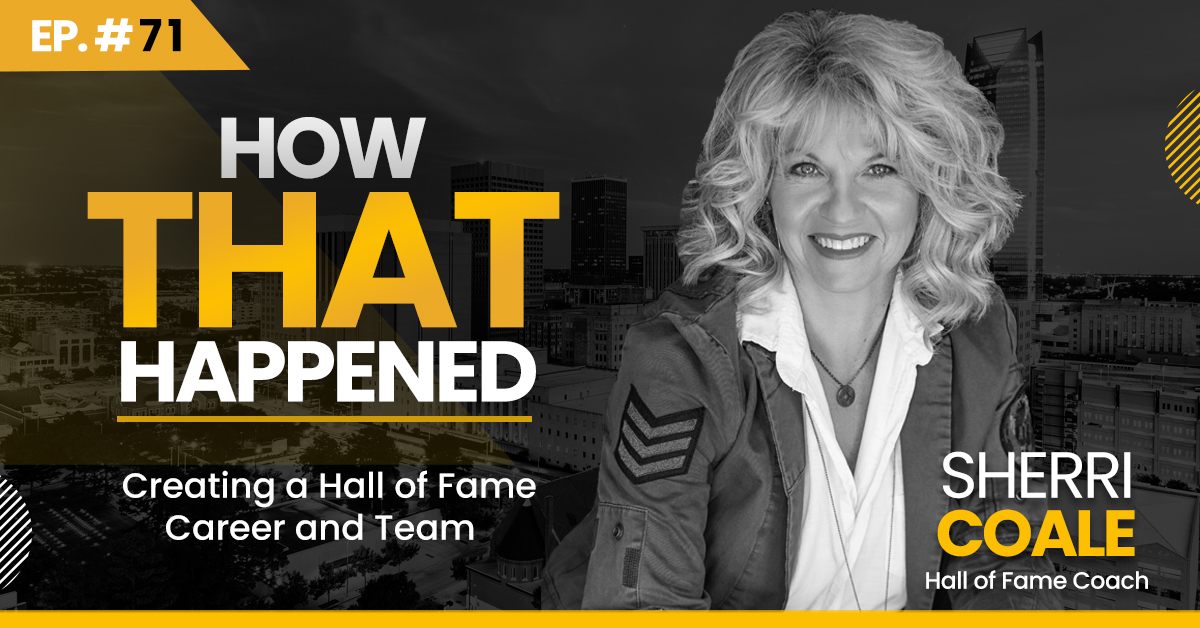 Sherri Coale:
You know, I mentioned there are like 37 things I want to do with my life. Well, two of those 37 are writing and speaking - so I'm in that vein right now. I'm doing a little bit of consulting, but mostly you know it's it clarifies where your heart is. You know you get you get juice from those things that you love most.
Aaron Ackerman:
Well, thank you for joining another episode of How That Happened. We really appreciate you, our listeners that download and listen to episodes regularly, and we would greatly appreciate a rating and a review, which helps others to find the show. If you haven't already, please subscribe, which is the best way to make sure you don't miss any new episodes, which come out every other Monday. Well, I am super excited about my guest today, Sherri Coale, is joining me. Sherri, how are you today? Thanks for joining.
Sherri Coale:
I'm awesome. Thank you.
Aaron Ackerman:
I know Sherri, you're very humble, but I'm going to read through your bio, which is a little bit lengthy, but I want our listeners to really understand how you got started in and what your career is like. And so just bear with me here for just a second. Sherri was born and raised in Hilton, Oklahoma. Am I saying that right?
Sherri Coale:
You are.
Aaron Ackerman:
Okay. Good. After a very successful collegiate career as a basketball player at Oklahoma Christian University, Sherri began her coaching career at Norman High School. After just six seasons at Norman, Sherri became the coach of the OU Women's program in 1996. In 25 years leading OU, Sherri guided the program to 19 consecutive NCAA tournament appearances, including three Final Fours. She won six Big 12 regular season titles, four Big 12 tournament titles. She was four time Big 12 coach of the year.
In 2002 her Sooners squad made it all the way to the national championship game, losing to an undefeated Connecticut team that many experts slotted as perhaps the best women's basketball team in history by only 12 points. In 2005, 2006, the OU team was one of only two teams, men or women to ever go 16-0 in Big 12 Conference play. Sherri has been inducted into numerous hall of fames, including the Oklahoma Sports Hall of Fame, Oklahoma Women's Hall of Fame and the Oklahoma Christian Hall of Fame, among others. She's coached internationally with USA Basketball and in 2021, Sherri Coale retired as the winningest women's basketball coach in OU history. There's probably a lot more to add to that Sherri, but thank you for joining and congrats on an amazing, amazing career.
Sherri Coale:
Thank you so much. I appreciate you having me on. I'm excited to talk to you.
Aaron Ackerman:
So first question, I just want to ask you, I think I read this on your website, that Hilton, where you were born and raised is a town of, I think, less than 3000 people. You say on your website that you're, quote, eternally indebted to Hilton. So tell me about that. Why do you feel indebted to your small hometown of Hilton, Oklahoma?
Sherri Coale:
When you grow up in a place, and I think in bigger cities, sometimes it's your neighborhood or maybe your school, if it's a elementary school or a middle school or maybe your church, you grow up in this place where a lot of people impact you in a way that sticks with you forever. And in the small town of Hilton, everybody knew everybody and wherever you were, you knew someone was watching and you learned how to handle responsibility, what to do with the expectation. The greatest thing, the greatest gift that I think I walked away from Hilton with is confidence. You grew up in a small town and I ran lead leg, on the track team. I was in the school play. I sang in the choir. I was in student government. I did everything. Not because I was good at everything, but because if I didn't there was nobody else to do it. There were only so many people around.
And so when I left Hilton to go to Oklahoma Christian, I just thought, "Well, I can do whatever. Doesn't matter. Whatever they ask me to do, I can do it." And I think that that gift, watching my children grow up in a community the size of Norman, with 100,000 plus people in a school system where if you didn't specialize in soccer, you probably weren't going to make the team. If you were trying to do them all, unless you were an elite athlete, you couldn't do everything. And I think that there are some missed opportunities there in terms of capacity. I left Hilton and thought, "I can do whatever I need to do." And that's a gift. And it's one that has set me up for success in a lot of endeavors throughout my life.
Aaron Ackerman:
Yeah. Wow. So that's super interesting. I didn't know that's where you were going to go with that, but I love it. And obviously you had to have the talent and the work ethic and everything to make good on that, but coming out with confidence just embedded there, is awesome. I joke sometimes that with my name, I have all these As in my name, at the beginning of my name. So I was always first in line, first one on the list. Growing up, I'm like, it gave me this irrational sense of confidence or importance. And I say that really tongue in cheek, but that is really a gift to have confidence, and then obviously, you did a lot of things right throughout your career, had talent and worked hard and all of those things, but that's really interesting.
Sherri Coale:
Well, it's important too, that bedrock belief that you can do something is an important piece of it, there's no question.
Aaron Ackerman:
So Sherri, when you took over, you'd had some real success at Norman High School, I know. And then you took over OU in 1996. The OU women's program at that time was not in great shape. I think it had actually been discontinued for a very short period of time a few years earlier. There was not a tradition of winning. I mean, you were coming into something that needed to be rebuilt from the ground up. A lot like maybe someone turning around a really struggling business or something. How did you build that program? What was your plan going in? Because if people know about your career, from the time you took over until you were not only just competitive, but competitive on the national scene was really short in the sports world. I mean, I think within just a few years you were in the tournament, not long after that you were playing in the Final Four. How did you do that?
Sherri Coale:
Well, first of all, let me just say that the opportunity was embedded in the fact that they weren't very good. If you take over a program that's really, really good, yes, there's opportunity, but there's not as much. When you're really struggling, you can make great changes. They always say the most difficult changes are those last 4, 3, 2, 1% that separate you. We were able to make big and sweeping changes because of our expectations. I remember when I took the job, I immediately, I was high school coach, obviously going to take a D1 job, which is completely unheard of. And people thought the university had lost their collective mind. And then the first thing I promptly did after I got hired was say, "I would like to hire another high school coach, Jan Ross, my college teammate." And they looked at me like I was drunk.
And I just said, "I know that there's a way we would like to do this. And I don't know if we can be nationally competitive. I don't know if... I don't know. I just know that there's a way we want to try to do this and to create a program that our state can be proud of. And where young girls will want to dream of going to play basketball and we're going to do it way. And she understands my vision and my commitment to that. And I want her alongside of me." And so Marita Hynes was our senior women's athletic director. And she said, "All right, if that's what you want, then that's what we'll do."
And so together, Jan and I, just laid a foundation of expectation. It was everything, Aaron, from, you're going to go to class, you're going to sit in the first three rows. You're going to be 10 minutes early, wherever you go. You're going to serve in the community. You're going to sprint on and off the floor after timeouts, you're going to touch everybody's hand when you come out of the game. It was all these little behaviors that were creating, really, the pillars of our culture. And culture is such a trendy word right now, it's hard for me to even say it sometimes. I'm so tired of hearing it from everyone. And culture is really just a way that a group of people decides how they're going to behave together. And that's what we did. We said, "This is how we're going to behave."
And so how did we do it? It was continued acts of sincerity, just over and over and over. And it caught fire. I had a senior, her name was Tina Taylor, Tina Taylor Ramos now. She was a senior that I inherited at OU. She had had multiple ACL surgeries. She wore the biggest old, clunky brace you've ever seen on her knee. It kept her from moving the way she could move earlier in her career, but she still could score. She had just special talent. And she bought in. And she said, "Yes, ma'am." And she touched every line and she hustled on and off the floor. And she was always 10 minutes early. And she sat in the first three rows in her classes and she modeled the behavior.
And then we signed Phylesha Whaley and she was under the radar kid, out of Slaton, Texas that came in and she was a 5'11 center. And I was like, "Oh, my gosh, this is my first signee, I'm going to get run out of town. A 5'11 center." I had three play at Norman High who were bigger than her. "What am I doing?" But there was something about her that I loved. And she came in and lived the standard to a T. And then Stacey Dales wanted to come and play with Phylesha Whaley and La'Neishea Caufield wanted to play with Stacey Dales and dah, dah, dah, dah, there you go.
And in the sport of basketball, you only only have 15, that's all you can have in women's basketball. So if you get three or four or five, you've got the market cornered and everybody else follows along. And so that's how we did it. And it sounds easy as I sit here now, 26 years later and talk about it and it was anything but easy, but it happened relatively quickly because of the buy-in of really incredible kids.
Aaron Ackerman:
Yeah. That's great. I love just hearing you talk about it wasn't just about trying to find good players that can run fast and shoot and defend and all of that, it was you were building a culture. Because you couldn't go recruit and say, "Hey, come join OU, we've got this tradition and we're going to win." You were like-
Sherri Coale:
No. And here's what's crazy about that too is we were turned down by every great player in Oklahoma, the first two or three years. Because they were too close to the ugliness, if you will. They were like, "Eh, I know you're going to win. I believe in you, you have great vision, but I only have four years. I want to go to the Final Four." And so we had to go out. We went to Ontario. Brockville, Ontario, Canada and found Stacey Dales. And we just had to go out there and get some outliers and bring them in and then the local and regional kids wanted to be a part of it.
Aaron Ackerman:
Yeah. Do you think that those early years helped you even later on being able to, as you're looking and assessing high school kids, try to find undervalued players that maybe not everyone is frothing over, but you know that they can be really successful? Because I think early on you found people that were really great in your program and helped you escalate that success curve, but they probably weren't getting offers from Tennessee and Connecticut and everybody.
Sherri Coale:
No question. We weren't fighting with those guys. I mean, Phylesha was my first signee. She was available in April. Great players are not available in April. She was available in April because she grew up salivating about Texas Tech Women's Basketball. She wanted to be a Lady Raider and not everybody could be. And West Texas is full of all these great players. So at the last minute she didn't get an offer from Marsha Sharp. So she was left out there. And I got lucky in terms of that. Timing and spacing, being in the right circle, knowing the right people, those kinds of things.
But the really hard part, and this is the part that people don't talk about very much, Jay Wright and I had, he's on my mind today as he just retired last night. But we had a really interesting conversation about the pickle you can find yourself in when you build this thing on those kind of guys, and then now suddenly you can get whatever guy you want. Everybody takes your call. After we went to the Final Four in 2002, it was amazing. There was not a kid that we called who didn't want to talk to us. That was completely different than life before 2000.
And so instead of recruiting, you draw your circle around, this is our kind of kid or this is our region of the country or dah, dah, dah, dah. Suddenly, your circle encompasses everybody because you can have a con... And it's one thing to say, "That kid wouldn't fit with our type of program," when you know you can't get them anyway. It's another thing entirely when you know you could, because you want to go, "Yeah. But we'll put them in this environment and we'll surround them with these expectations and these other kids and they're going to be great." So all this rationalization starts to occur when you can get to everybody. And I found it very difficult to go out in the summer and recruit and know where to look. Before 2002, I knew where all the nooks and crannies were to go dig. I knew not to go to the gyms that were packed with Tennessee and Connecticut and those people, it wasn't going to make any difference. After that, it got very difficult and I think that's something that's not talked about very much.
Aaron Ackerman:
Yeah. That's a really interesting aspect I hadn't thought of. Once you got really good and you could recruit any player in the country, you're still having to say this, "This might be the best player in the country, but whether it's character or their hustle or something, they won't fit our culture." And it probably almost gives you a little pit in your stomach to pass on a player that you know you might be able to get that's a world class player, but is just not an OU fit.
Sherri Coale:
Well, you start to rationalize. You start to, that's not really that bad. Or she hasn't had an opportunity to... No, one's taught her to... You go down the list, there's a list of things that you do. And some of those are very true. In many instances, there are great players who, because they've been good since they were so young, they've not been taught that it's important to point to the guy that passed you the ball. They don't know that they should say please, and thank you to the manager. It's not the environment that they've been raised in. And so it gets very difficult to ascertain who will want to and try to become that kind of player that you want to represent this institution. And that's where it gets really hard.
Aaron Ackerman:
Yeah. I was reminded recently, I don't know what happened, but this video resurfaced for me, of Geno Auriemma, I think it was several years ago. And I remember seeing it back when it happened and he's talking to reporters and I know you've coached against Coach Auriemma and you may be friends with him, I don't know, but I don't know him at all obviously, but he is talking about recruiting and he says, "We can recruit pretty much any player we want. Connecticut's fortunate with our program." And he said, "When we go watch, my coaches and I will watch a high school player, we barely even watch them when they're on the floor. We've seen video, we know they're crazy talented. I watch them on the bench. Are they engaged? Are they cheering for their teammates? Are they pouting because they're not the one in the game, they're not scoring?" And he's like, "I don't want the kid who goes to the bench and is just being completely selfish and not cheering on their team or whatever."
And that really struck me and I've showed it to my kids. I've showed it to my team here at work because that body language and that being there for your teammates, that is a culture thing. And it's important to, I think, any successful program that you've got people that buy in, like you said.
Sherri Coale:
Well, there's no question. And I know Geno does that. We did it as well. Getting there early, watching the kids before they know you're all watching. I used to stand at a door where they couldn't see me and try to look around the corner and just watch because they know, when you all come in and line up on the bleachers, they know what face to put forward. And so it's important to catch them in those moments. But, well, you can tell a lot about a kid. I used to want to, I would will them to have a lousy game when I went to watch. Not because I didn't want somebody else to recruit them and see how good they were that day. I wanted to see how they were when they stunk. And everybody stinks sometimes.
Aaron Ackerman:
Sure.
Sherri Coale:
So I would almost will them to just have a really lousy day or get three fouls in the first two minutes and have to sit. And let's see how engaged you are. Let's see what you do for your team. That's when you really learn about players.
Unfortunately, there aren't enough opportunities, not enough time to actually be able to see these kids in all the scenarios in which you need to see them. And that's why sometimes recruiting locally is both the hardest and the easiest thing you will ever do. People will call and say, "What about this kid that is down the street? You didn't recruit her. Why not?" Well, maybe I watched her 25 times and you watched her twice. You have that knowledge, that body of knowledge. We signed Kelbie Washington who's point guard at Norman High at the University of Oklahoma. And I didn't get to coach her. I signed her, but then retired.
And it took me a long time to offer Kelbie Washington a scholarship. And I told that it did because I was watching her become. And you don't get that opportunity with the kid from Rhode Island or Southern California. You see them two or three times. When they're right here, you get to watch them and when you have the opportunity to do that, and kids will be patient enough to let the recruiting process play itself out, then you get these program life kids that don't want to jump in the portal when they don't get to play, they don't go to the highest bidder. They go to a place that they believe in, that has their heart. And it's an incredible experience when you get those. I had Caton Hill and La'Neishea Caufield and Erin Higgins and Laura Andrews, these local kids that, boy, their heart and soul are wrapped around the roots of the University of Oklahoma. And that's just a beautiful thing for them and the institution and the program.
Aaron Ackerman:
Yeah. So you've mentioned a lot of names of some of the players you've had. One thing that all organizations have been dealing with recently, especially in my world is you've heard this term, the great resignation, and there's been a lot of turnover and people leaving and that's a challenge for any organization. I would guess, Sherri, that you would say, you mentioned Jan Ross. I think she was with you the whole way. You had one AD almost your whole career. You had a lot of continuity with your staff and the administration, but the nature of basketball is even the kids that stick around the longest are there four or maybe five years, a lot, maybe less than that.
So statistically, you're dealing with player turnover about 20 to 25% per year. In the business world, that would be a devastating number. So how do maintain a continuous system and have this high turnover. You get a completely new team every few years. How did you manage that from not being disruptive and being able to just keep rolling with your system? What's the secret there?
Sherri Coale:
Well, I don't know if there's a secret. I mean, I go back to Steven Covey, goodness gracious. Keep the main thing the main thing. And if you and your staff, regardless of continuity or turnover there, if everybody's always clear about what the main thing is, then it's a tiny red thread that runs through everything that happens. The same is true for teams. If you allow your team the ownership to embody everything that you believe in, then they pass that on. I used to tell my seniors, "There's a new crop of freshmen coming in. It's not my job to teach them who we are and what we're about. It's your job to teach them who we are and what we're about, by how you treat them, by how you live, by how interact with them. You can't go do your thing and let them figure it out on their own. It's your job to pass that torch."
And so I think that's part of it, is making sure that everybody feels responsible for care taking a thing. You're holding a thing for a while and your job is to pass it to the next person, whether you're there one year or two or 10 years or 20 years, you're just a caretaker. And so when you can look at it in that way, that this is a thing I'm responsible for leaving a little better than I found it, then there's some ownership involved regardless of the length of time that you're there. You're an important conduit for the mission, for the purpose of the greater good.
Aaron Ackerman:
Yeah. So I did want to ask about, you were talking about the first few years and you probably had at least intellectually, the freedom to take some pretty big risks. Because there you weren't going to screw anything up. It was bad when you got it. And so you could go take some risks, but once you guys really, and it didn't take long, you got it rolling. And then like I mentioned in your bio 19, straight years of not missing the NCAA tournament, that is amazing. I can't imagine you get in the thick of that career, and the pressure's pretty high. You've now built this tradition of success, this history of winning, how did you handle or what were the challenges to sustaining that level of success year after year after year for such a long period of time? I mean, it seems almost crazy that you never had just some girls got injured, you missed on a couple of big recruits. You just never had that bad year where, we're not going to make the tournament this year. That is amazing.
Sherri Coale:
Well, it's a little bit, Aaron, it's a little bit the older you get the less you know. In terms of the less that you're sure of. You come in and you're brand new, you're a young coach and you believe devoutly in things and you think, "This is the way to do it." I left Oklahoma Christian, there is one way to play defense. And it's Dan Hays way. And that's it. And I argued with Mike de la Garza at Edmond Memorial High School. We would have debates for hours about whether you send the ball to the middle or you send it to the baseline. And I was baptized in Dan Hays, "You keep that ball out of the middle of the floor." And so Coach D and I would go back and forth, "You're just so sure."
And then you live a while and you're like, "Well, that could work. And that could work. And that could work. And everything becomes less clear. And then you know so much that it can paralyze you if you're not careful." I laughed at listening to people, armchair quarterbacks during Lincoln's tenure at the University of Oklahoma, the first year he's running these trick plays and he's this and that and taking all these big time risks. And then several years down the road, people start mumbling, "He's not doing those kinds of things anymore." Well, because the older you get... Same thing happened with Bob, same thing happened with Bob. He was, I don't know what they called him, gun slinger or whatever they called him.
Aaron Ackerman:
Yeah. Was it riverboat gambler or something like that?
Sherri Coale:
Yeah. Yeah. Something like that. Because he would just take these uncanny risks. And you get older, you get more experience and you understand how slim the odds are, that that then actually were works. And so there's a tendency to get a little bit safe. There's a tendency to overthink some things. There's a tendency to wrap your bias around stuff, because it's been so ingrained through experiences. You have to be really aware and on the lookout for those things.
I guess, early on, what I'm trying to say is it's just clearer. There's not so much stuff in the way. And later there's all this stuff. And you start to, maybe the adage would be in sports difference between playing not to lose and playing to win. That can happen, I think, to anybody in any career, as you amass all these experiences, because you know what loss feels like, and you know how hard it hurts to fall, not just off a little balance beam that's three foot off the floor, but off a high wire, that's hundreds of feet in the air. And you start to weigh all those things. And that gets really hard.
Sherri Coale:
And I think the answer, if there is one, is to make sure that you surround yourself with a tribe or a foxhole of people who have outside anchors, who can help you see what you're doing and can explain it to you and communicate it to you in a way so that you can maybe amend as you go, because those tendencies are going to be there. That's not the issue. The issue is what you do about them and how you respond to them.
And I think having a tribe of people who are in a different field, who are maybe even at different stages in their lives, weighing in on things can help with clarity so much. I used to say, I like to have men and women on my staff because they're different perspectives of things. I'd have a kid, she breaks up with her boyfriend or whatever, and is emotional. And the guy on my staff would go, "Oh, my God, we're not going to win another game." And the girl on my staff would go, "Oh, she'll be fine tomorrow." And then it would go the other way, too. A girl, female on the staff would say, "Oh, this is terrible." And he's like, "Ah, no, they'll be fine."
And that confluence of different vantage points and different life experiences and different ages is always healthy for an organization. Diversity makes things better. Diversity of age, diversity of gender, diversity of race, diversity of religion. That's where real thought comes from, when we all get in a room and start talking about stuff honestly, that's where you get to the good stuff. And I think you sometimes have to create those circles for yourselves, especially as you get insulated. And the high you go in a profession, the older you get, the more insulated you become. Your surroundings become homogenous and you have to sometimes work.
I would always tell my players, "Latch on to your college experience. Never again in your life will you have such access to such diversity every minute of the day." I can remember sitting in class at Oklahoma Christian with guys from California and people from Africa and someone from China and rich people and poor people and people that were raised going to church Sunday morning, Sunday night, Wednesday night, people that had never opened a Bible. They were all there. They were all there. And what a rich opportunity to get to learn from all of them. And as we get older, it becomes harder and harder to do that. So we have to search that out in our lives. And I think that's probably a key to try to avoiding some of those pitfalls.
Aaron Ackerman:
Yeah. Man, that is great. So you mentioned a couple of names. You said Bob Stoops, Lincoln Riley. So I don't know Sherri, how the athletic department at OU works. I don't know how any athletic department works, but I've got this image in my head, a fantasy of a conference room table with Joe Castiglione and Sherri and Bob Stoops and Patty Gasso and K.J. Kindler and on and on. These amazing coaches. So I guess, first of all, does that thing happen? And if it does, what's it like to be not only in a room with these generational coaches that were at OU while you were there to be able to stand shoulder to shoulder with any of them, with your basketball program?
Sherri Coale:
It does happen. It probably doesn't happen as you quite imagine that it would. I'm sure the conversations are different than you would imagine. But here's the universal truth that comes from that. We would sit, I got Lon Kruger to my right. I got Patty Gasso to my left, Lincoln Riley's in the room. K.J. Kindler is in the room. Mark Williams is in the room. Skip is in the room. We used go right down the list. Ryan, Heupel is in the room. Just wow, wow, wow, wow, wow, wow. And everybody is struggling with something. Everybody. Everybody is lonely, because leading is a hard job. Everybody is confused about how to deal with whatever particular generation of kids it is that... I mean, and it changed through the years, but whatever you're dealing with, there's always a struggle. Everybody is searching for a better way to do what they do. Everybody is trying to have a family and a job and balance it all and figure out if they're being good parents while they're trying to be good coaches. And it's real.
I mean, we don't get in there and talk about how many rings or trophies we have. You get in there and talk about, "Man, this is how hard. How are you doing today?" And it's rare that high profile prominent coaches have anyone they can share that stuff with. Because people don't understand. They don't sit in th... Even your assistant coaches, they do not sit in that chair. That old saying of the 16 inches is the furthest distance you could ever try to move. But having those fellow coaches, it's a place to vent. It's a place to feel seen and heard, to feel understood.
I will never forget, and it's a very simple, but it was such a pivotal moment for me. Bob and I were getting on a plane to go do a caravan. It was a private plane, go do some rah, rah. I don't know where we were going, Houston, Wichita, somewhere. And we got on the plane and Bob said, "How are you doing today?" "I'm good coach."
And he saw me looking out the window and he said, "No, you're not. What's going on?" And I said, "It's my son's first summer league game today. He's a sophomore in high school. It's his first high school summer league game. And I got to miss it." And he said, "Let me tell you something." He said, "My mom raised all of us boys. We had games on top of each other all the time, all over Youngstown, traveling all over the place. She couldn't get to all of them if she wanted to. And most of the time she couldn't anyway, there were things she had to do at home. She's trying to take care of us all, cook our food and get our clothes ready. And we didn't have a lot. And she didn't make our games and it was okay. We were okay. She was our mom and she was doing what she needed to do."
And it was like he just lifted that guilt cap I had and threw it in the floor and said, "It's going to be all right." He said, "You're missing it more than he's going to miss you being there." And I said, "You're right. This is really about me. It's not about him." And they put it in the right place. And those are the kinds of things that the rest of the world can relate to, but they're not living at the time. And to have friendships like that within the profession, that's the stuff that gets you through.
Aaron Ackerman:
Wow. Oh, man, that is so good. I didn't expect that, but I love that. And you got, I guess at OU and probably other universities, you have this built in mastermind group or whatever you want to call it because they're in your organization, but they're not. You're spending all your time, day-to-day with your staff, with the basketball players. So you've got these other pe... I think what you said that really hit me was, sometimes being a leader is just really lonely. You got to have somebody that you can just let the guard down, just be completely open and say, "Man, I am struggling. Help me. How did you do this?" That is awesome.
Sherri Coale:
And I don't think that happens everywhere. I had peer coaches say, "You know Bob Stoops?" And I'd be like, "Yeah." But they didn't know Nick Saban or they didn't... Whoever it was. So I think that's a little bit unique to Oklahoma and maybe a little bit unique to the people. I remember I wrote Patty a note one time. I don't even remember, it's been so long since they lost a game, who even knew knows why there was a need for a note. But I just sent her a note through the mail and she text me and said, you won't have any idea how much this changed my day today. And we start to think that people who are winning championships and knocking out of the park every day are not having struggles and that's not true. Everybody is, everywhere. And so it was really nice to have a group of really professional, but really real people to work with who understood.
Aaron Ackerman:
Yeah. And I think you're right, that maybe that's a little bit unique specifically with the OU athletic department. I mean, there is not been a ton of turnover. Those names you mentioned, 10 years, 15 years, 20 years in their position, and there's no revolving doors at OU like you see at some places.
Sherri Coale:
Right. That's a great point.
Aaron Ackerman:
Yeah. Well, Sherri, who are, I'm sure you've had mentors that have helped you, shape you over the years. Who are some of your mentors and follow up on that is, how important is it now for you in your position to mentor, I'm sure some of your former players or coaches, other younger people that you've been where they want to go. And so now maybe it's your turn to be the mentor.
Sherri Coale:
Oh, Aaron, I have so many, I'll try to hit them briefly. My fifth grade basketball coach was Mary Patton and she was also my English teacher and she moved up with us. She was our junior high coach. And then she was my high school coach at Hilton. And when I grew up, I wanted to be like her. I mean, that was it. I wanted to coach basketball and teach English. So I went to Oklahoma Christian College and got a degree where I could coach basketball and teach English. And that's what I did for years. So she was probably my first and most vivid, outside my family mentor.
At Oklahoma Christian, obviously I was recruited by Max Dobson and played for him. And I used to joke early in my career that, when, what would Jesus do bracelets became all the rage. I was like, "I don't need a what would Jesus do, I needed what would Max do?" Because I watched Max here on this planet. And I felt like he was like a conduit of Jesus. Like God lived in Max and I could just watch and make the same decisions he did and I'd be good.
And when I came across difficult transitions or situations or struggles, I would always think, "How would Coach Dobson handle this?" So he was such a mentor for me. Stephanie Finley was his assistant, I played for her for three years after he retired. She was a mentor. She showed me that you can coach basketball at a really, really high level and have a family and raise children and be a good wife and a good mother. And I thought, "Oh, I want to be like her."
Dan Hays taught me how to coach. There's no question. I would sit in his gym after I got done with practice at Oklahoma Christian and take notes. I have recipe boxes full of practice plans where I took notes and filed them all away. When I went to Norman High school, I went to my recipe cards and did what Coach Hays did. And then when I went to OU, I went back to the recipe cards and did what Coach Hays did. And he was just an unbelievable mentor, not only from an example standpoint, but then we stayed very connected and talked a lot of ball throughout the years as I was coaching. And he was a tremendous, like Johnny on the spot mentor for me. I got to play these guys in the NCAA tournament and they run a matchup zone. We haven't seen a matchup zone all year. What would you do? That kind of mentor. Just a great friend and guide.
And then in the profession, you mentioned Geno earlier. Geno is one of my dearest friends and became a friend, ironically, because he recruited Stacy Hansmeyer at Norman High School. So I was friends with him before I got the job at OU. And he gave me a lot of great advice about those early years at OU, but we have the same vision of how we think the game should be played and how we think players should behave and how they should represent their institutions. And what is really the end game of teaching a sport, which is to give you tools for being successful in life. We share all those things. And so he was an amazing mentor and source of inspiration and really tough love. And he wasn't always nice in those early years when I'm whining about, "This is so hard." He's like, "Eh, shut up and go do your job." In typical Geno fashion. But very much an influence in the way I approached building program in Oklahoma.
Roy Williams was amazing. I cold called him right when I got the job at Oklahoma. We ran a secondary break and I believed in a lot of the things that I saw on TV that he did at Kansas. I didn't know him from Adam. Called him, told him I wanted to talk to him about how to build a program. I didn't need any plays. I didn't need any drills. I needed to know what to tell my staff members to do. I never had that many people. What are the job descriptions? What do you tell them to do? And he said, "If you want to come up, I go visit every gym in Lawrence every day at my basketball camp and it takes me all day. I make an parents in every gym," because camp was so enormous. It was all over town. Gyms everywhere. "And if you want to come up and ride with me, you can, and we can talk a little bit, but I don't really have time other than that."
And I get my car and drive to Lawrence, Kansas, and ride around with Roy all day long. We go through Wendy's and get a bacon cheeseburger at lunch. And he really told me how to develop the stuff that's not basketball. How you run your program, how you set up your office, how you deal with people. And it was the beginning of a very long and fantastic friendship. So much so we retired together. We joke about that. He said, "You beat me to it." I said, "Only by a few weeks." But there have been those. And of course I would count Bob Stoops among those, for sure. That you just, you build relationships with and you watch what they do and they may not know that they're mentoring you, but by being alongside you on your journey, they are.
Aaron Ackerman:
Yeah. That's so funny. Just listening to you talk about people as a fan, these are iconic people, but they're just people. You're cold calling them. You're getting a hamburger. That's awesome. That's so good. So what was it like to play against Geno? The first, I think you went up against him in a real meaningful Final Four game or Championship game pretty early. What was that like for you, having a friendship with him already? You'd been mentored by him and tough loved by him. What was that experience like?
Sherri Coale:
It was surreal. There's no better word for it. It was the most fun I ever had in a loss in my life. And what made it so crazy was I had been on his USA Basketball staff the previous summer. So I had worked alongside of him as an assistant coach and we fought. Oh, my heavens, we had fights in the hallway halftime about, "She's not doing this. She's not..." And I'd be like, "Geno, you've coached her for like three weeks. You can't coach her like she's your Connecticut girl." Right, right, right. And we'd go at each other in the hallway, that USA Basketball people were like, "Oh, what's happening right now?" But that's how much respect and the type of relationship we had with each other that we could talk about those kinds of things. And it's interesting when you're building a team, in USA Basketball. It's like on fast forward. Sped up and everything is so acute.
And so when you are with someone in that environment, the things that you learn about them, not only as a person, but how they think as a basketball coach too, I think then made that match up that following spring, he against I, just so much more... It had so many more layers to it. And I'll never forget, they ran that flash and back cut stuff and they flashed. And we practiced and practiced and practiced, not over denying, because they're going to run a back cut if you do. And it was deep into the game. I think it was probably a couple of plays into the second quarter. He runs it and gets a wide open layup and just grinning at me and clapping because he knows he got us. And then a few minutes later we get him on an inbound play and I'm just grinning and clapping and looking at him like, "Got you back." And that was just a fun game within the game kind of deal.
But the thing that stands out to me about that National Championship game against that Connecticut squad is that we became probably the best that we could possibly... Not probably. We became the best that we could possibly be because we had to play against them and they were so good. And that, for a competitor, and this probably sounds bad, but I didn't even really care that we didn't win. We had maxed ourselves out and there's an exhilaration that comes with being pushed to be your finest. And we all felt that. And in the locker room, after the game, I've said many times we cried because it was over, not because we lost. We knew we had given it all we had and we knew we had been pushed to the brink of our capabilities there. And that's a celebration, whether you win or not.
Aaron Ackerman:
Sure.
Sherri Coale:
It's not about the trophy. So that was a remarkable experience. And I will say one more thing about that. When the game was over and we were all getting ready to... You do all your media stuff and all that mess and our team, we were leaving to go get on the bus to go back and get on the charter plane and head home. And there weren't that many people roaming around inside the bowels of the Alamodome at the time. And we're walking down this long hallway and it's funny how those hallways feel so energetic. And then when there's no one in them, they feel so ominous. You can hear my heels walking down the hallway.
And I remember Geno yelling at me, "Hey, come here for a second." So I don't know if he had been standing in another room, whatever. So I went back and he said, "There's going to be a tendency to think this is easy, this thing that you did. And Final Fours aren't easy. Don't ever take them for granted. And don't be discouraged, misled, surprised when it gets hard, because it's really, really hard." And I remember, "Okay, thank you." Walking off. I'm like, "Why you got to put a damper on this? This was a really good day." But I thought about that many times later. It's such a hard thing to do and when you're there doing it, you're like, "I can do this again. We can do this again." And to just understand the, maybe the size of the thing, the hill that you've just climbed and appreciate it for what it is and not beat yourself up if you're not back on it immediately, because it's really hard.
Aaron Ackerman:
Yeah. And that's so meaningful coming from a guy who's been to the Final Four as many times as most coaches have made the tournament and been beat out in the first round. I mean, he still has that appreciation for how hard it is. That's really cool. So you answered, I was real curious about game over, you guys have your handshake and everything, but I was wondering how long was it before you and he had a personal conversation. But it sounds like maybe that happened been before you left the arena.
Sherri Coale:
We've talked the day or night, whichever it occurs, after we've competed every single time. I think we've probably played each other 10 times maybe and every time. And sometimes it's about the game itself and sometimes it's not. But we always touch base and there are a few competitors in the business, but that was always the case. Bill Finley and I talked after every time we competed and we competed two or three times a year for 25 years. It might sometimes just be a text message, have a safe flight home. You make me better, that kind of thing. But having those relationships, boy, that so supersedes whatever the final score was.
Aaron Ackerman:
Right. Well, I want to ask you a little bit about transitions. Because I've been reading your blog, which is excellent and we'll direct people where they can go, find out more about you and everything. But one of your blogs was really about, I don't remember what the title of it was, but it was you just opening up your head about, "Hey, this has been the first basketball season that I haven't been playing or coaching," almost as long as you can remember. I mean the last time you didn't play or coach during a basketball season, you were probably five, six, seven years old or something. So you just talked about what this season and was like for you.
And so I guess my question is that I've seen people step away from a high profile job or transition their career and do it ungracefully. I have this very poignant memory of a conversation with this person who had stepped down from a very high profile position and I was having coffee with him and I said, "How are you doing?" And he said, "Terrible." And I was taken aback by that. I said, "Why are you doing terrible?" He said, "Well, a few months ago people were lined up outside my door to get my permission or my opinion. And now nobody cares what I think." And he was really struggling with that transition.
So you're right on this transition. You've been pretty open about your experience. From my perspective, you're doing this thing beautifully. Some people don't. Talk a little bit about out this transition for you. I know you've probably thought about it for a long time. Like how do you want to do it so that you can do it in a way that is fulfilling for you, honors your career, but you do it right. You do it clean.
Sherri Coale:
Well, I will first say that you do think about that, but it hardly ever goes as you think it's going to. I think first of all, first and foremost, and there's so many ways we could go with this, we could just do a whole hour on transitions. But the first thing I think that's essential is to understand that whatever it is that you do is a thing that you are a caretaker of. It is not who you are. And in high profile positions, whether they're... I'm not just talking publicly on TV or whatever. If you run a company, whatever, if you're in a high profile leadership position, it's essential, not at the end, but every day along the way that you make sure that who you are is separate from what you do. When those fibers grow into each other, boy, leaving gets hairy because you're leaving yourself. And that's when it gets scary.
That was a very intentional task for me throughout my career. It was great to have young kids because they keep you completely humble. It was great to have family. People would stop me sometimes and say, "Are you Sherri Coale?" And my standard response was, "No, but I play her on TV." And that was just our go-to funny. That reminded me, in a very subtle way that there's this thing I do. And there's this person that I am. And that made the leaving so much easier.
The truth of the matter is I was walking down the hallway in my house, I'm looking at it right now, about 9:31 morning during the COVID time when we were all locked into our homes. And I have a transparent house, windows in the east, windows in the west. And it's just very open, lots of natural light. And I was walking down the hallway and I stopped and I thought, "This is absolutely gorgeous." I've lived in my home for 30 years plus now. And I thought, "Why have I never noticed this before?" Because I've never been home at that time of day. And it just hit me in the deepest spot. And that was the day that I decided I wanted to do something else for a while. I didn't go call Joe that day. And I didn't go talk to my family that night, but that was the moment that I started to think.
I've always known that I was not going to be a coaching lifer. Bob and I talked about this a ton, especially as his father died young. And he talked about wanting to get out of the profession when he could still travel and do things and enjoy his family, blah, blah, blah. I knew I wasn't a lifer. Because I've always been one of those people who have... I have like 37 careers I'd like to have, and there's not time in this one life. But I have like 37. And so I was thinking in the hallway that day with the light shining in, "I'm a little over 50. If I'm going to do something else, I better get about the business of doing it." And so there was just this confluence of all these thoughts and emotions that were aided and embedded by COVID, there's no question, by the world stopping us so that we could see and hear what's really going on inside our heads. And that made it, I think that was the peaceful tributary toward the exit for me.
But the transitioning piece was so interesting. Again, I could talk about this for hours, but I'm in this office that is gorgeous and large and full of stuff. 25 years worth of everything from plaques and hall of fame trophies and pictures to a little porcelain squirrel that someone gave me because I used to tell her, "You know those squirrels in Oklahoma that are dead in the middle of the road, that the reason it's because they can't decide which way to go. You need to make a decision." So one year for Christmas, she got me a porcelain squirrel. So there are all kinds of stuff and things in there and I'm packing it all up. And it's in tub, after tub, after tub. And I'm thinking, "What am I going to do with this?" Literally you're not going to take your plaques home and hang them on the wall. It's the dumbest thing I've ever heard. Should I take the shelf and put these certain trophies on it? Where would I put that? That's so stupid.
So it was this thing that's going on in your brain and you pack all this stuff up and it gets humorous after a bit. And you just go, "I'm so glad it was never all about this. Because this is going to a storage shed. And who knows if it'll ever be pulled out? It's about the experiences." And the things that I took from that office home, were photos. I have this one in my office. I have one basketball photo in my office at home. And it's of our team at the Final Four in a circle at half court, the day before our first game in the 2002 Final Four. And Chandler, my daughter, is sitting on my feet and you can see her, she's whatever, three, four.
And that's why I have it in my house. It's that melding of my family that I made here and my family that we made together at the University of Oklahoma. So I have it. And I have a photo of Rosalyn Ross who was on our 2002 team who passed away. I have that in my living room. I have photos. But I don't have any plaques or trophies, because those weren't the things that mattered, the people were. And so if you're doing all that work, while you're working, the transition becomes immaterial. I would be lying if I said it didn't feel like I was pulling my skin off the walls when I took those things down, it did, but it didn't linger. And I walked out and I maybe cried three tears as I locked the door for the last time. And three tears is not very much for me. I'm a crier. And I was just like, "Okay. Next adventure."
And I think the thing, then that made the transition from myself to Jennie, the coach now, is that I really felt like I was handing her this thing. I was the caretaker for a long time, but for 25 years I held it, and tried to make it better and grow it as best I could. And now it's yours. It was just like a baby, like you're handing it off. And she took it like that. She didn't take it like, "This is my program. We're going to do it..." She was like, "Yes. And I'm going to care for it just as you did and it's going to grow and it's going to change."
And because we both viewed it as that, something that we were responsible for, but that did not define us and was not ours, it went off pretty easy and it's been great to watch them play and to watch them have success and to watch her have success. It's just awesome. And again, I don't think that that's something that you decide when you decide it's time to do something else. I think it's something you try to live with every day along the way.
Aaron Ackerman:
Yeah. That's awesome. I wish we could talk for an hour because you've got a lot to say and it's fascinating. And when I was thinking about your transition, I think about Bob too. Because I think in a lot of ways you guys had similar parallel paths. You both took over a program that was not in great shape. You built it over a couple of decades plus into something that was awesome. The university was proud of, you guys should be proud of. And then the handoff, while I know it's got to be loaded with emotion. Like you said, it's almost like you raised this baby up to be this successful 20 year old and then they leave and that's hard as a parent, it's similar. You're taking your life's work and giving it to Coach Baranczyk, giving it to Lincoln Riley. And you guys did that so gracefully, both of you.
I think about even just a little project. I would have a project that was my idea. I get it to a certain point and I hand it off. And inside I'm like, "Okay, don't screw this up. If you want to know how I would do it, let me know. I'll tell you how I would do it." And you guys are just, you did this so beautifully. So I'm sure there's, like you said, inner turmoil to some extent, but it's such a testament to you and I'm not saying you and Bob are the same, but there's just some parallels there, I think.
Sherri Coale:
Well, there are massive parallels with raising children. I had someone ask me if I went to all the games this year and I said, "No, I didn't." And they were like, "Oh, was it too hard?" No. It's like when your kids go to college. They need the space to grow and become. You're here. I wanted all those guys on my team to know I'm here. I wish them good luck before the first game in the season, send them in text message, go get them I'm pulling for you, but I'm not going to be sitting court side every game. They need space to become. Jennie needed space to let it become her thing.
And so I really took a lot of cues from the things I learned from raising two kids and watching them leave and go to college and start their adult lives after college. That space is important sometimes. And it's our right to be a spotter. I'm here, you don't have to see me. I'm here if you need me. That's a big part of it as well. So raising kids, if you take the time to think about it, it pretty much gives you everything you need to know about how to make other stuff work.
Aaron Ackerman:
That's right. Well, okay. So I've got a few wrap up questions that we ask all of our guests, but before that I want to let our listeners know just what you're doing now. I mentioned your blog. Ever since I became aware of it, I've been reading it. It is awesome. You're a really good writer. Hopefully you'll keep doing that. I know you're speaking. I mean, anyone just listening even just to this podcast can... I'm ready to run through a brick wall. You've got me all motivated and fired up. So how can listeners find out more about what you're doing now, check out the blog and other things?
Sherri Coale:
Well, thank you for that. I mentioned there were like 37 and things I wanted to do with my life. Well, two of those 37 are writing and speaking. So I'm in that vein right now. I'm doing a little bit of consulting, but mostly it clarifies where your heart is. You get juice from those things that you love most. And I've always been the sort that when I write for a while, I can look up and it's 3:00 AM and don't even feel tired, when normally I'm the kind of person that passes out at 10:00. That's how you know you're in your vein and in your passion point. So writing has been awesome. Started the blog last June and post every Tuesday morning at 10:00. And haven't missed a week yet, knock on wood.
I have a book that's in publication. We're working on the publishing process right now. Hopefully it will be out end of summer, early fall. Don't know the exact date yet, but very excited about that as well. So please, if you don't sign up and read the blog, I would love for people to... And my goal there is to make people think and feel. And if they do that, then I feel like I've been successful. But selfishly, the real joy just comes from the writing. Even if no one ever reads it. I just feel like writing. And then the speaking part, I'm doing keynotes. I speak at schools quite a bit. But all kinds of business functions and community functions as well. So all of that, you can access through sherricoale.com. There's a place to send questions about speaking engagements and that sort of thing, mentorship opportunities, all that. So it's at my website. Thank you for mentioning that.
Aaron Ackerman:
Yeah. Awesome. And we'll put that in our show notes too. Okay. So we've got five fun, reflective questions we ask everybody. And so if you're ready, Coach, I'll hit you with those right now. What was the first way that you ever made money?
Sherri Coale:
I worked, and I actually wrote about this in a blog not very long ago. I worked one summer in an oil and gas office in Ardmore, Oklahoma and figured out immediately that I did not want to work in an oil and gas office for the rest of my life. So that's probably the first little paycheck I got, but really, it was working basketball camps. That was my first real job.
Aaron Ackerman:
So it sounds like even as a student, you were taking notes, watching Coach Hays's practice. So you had pretty good clarity on what you were wanting to do with your life early on. But if you had to go a totally different direction, not basketball, and obviously it wouldn't be in an oil and gas office. What do you think your career might have been in an alternative universe?
Sherri Coale:
Well, I think I started writing earlier, but I don't think I would've had the fodder to do so that this life has given me. There's no question about that. I always wanted to be a landscape designer. I love digging in the dirt, planting flowers, planting trees. I love positioning it all together. I don't know, I might have been an interior decorator. I love design, and I got very strong opinions. They're probably not rooted in anything intellectual at all, but I have very strong opinions about what looks good and how I want things to be. So I might be, I don't know, clothes design, house design, something with design. Something creative, for sure.
Aaron Ackerman:
Yeah. Okay. Very cool. What would you like to go back and tell your 20 year old self?
Sherri Coale:
Don't take things so personally.
Aaron Ackerman:
That's good.
Sherri Coale:
It is not about you all the time. Taking things personally is another form of narcissism. It's thinking that you are the center of the universe and the guy who pulled out in front of you in traffic was out to get you. No, he's not. He's distracted, he's on his phone. It has nothing to do with you. But I think when we're young, I know when I was young, everything felt personal and it's just so much easier to solve problems when you detach a little bit from it.
Aaron Ackerman:
Yeah. That's great. So this next question, normally, when I ask this question someone is not actually in the process of publishing a book. So we're not going for any spoiler alerts here. So you can pass this if you want to. But normally I ask somebody, what is the name of your book?
Sherri Coale:
Well, this won't be a spoiler alert, because this is not the name of my book. But for years I said while I was coaching, "When I'm done, I'm going to write a book. And the name of it is going to be, You Have No Idea." So I'm sticking with that.
Aaron Ackerman:
Okay. I love it. Last question, what is the best advice you've ever received?
Sherri Coale:
Be still. I'm a doer. I'm a go-getter. I want to go, go, go and do, do, do and fix, fix, fix and work, work, work. And sometimes the wisdom comes from the rock that's sitting in the middle of the stream. Sometimes you just need to sit like that rock and let things roll around you and get your bearings and figure out what the next best thing to do is. So pretty sure the Bible tells us that too.
Aaron Ackerman:
Yeah. That's in there. That is awesome. Well, thank you so much, Coach Coale. Congrats on an amazing career. And I love what you said about what you do is not who you are. That's really powerful. Not too long ago, I was in a seminar and we had this exercise and you had to answer the question, who are you? And you're not allowed to talk about your job or your career. It was really hard. It was a great exercise to think about, who am I? What's important to me and not include, "Well, I'm the OU basketball coach." "I work at HoganTaylor." "I do this." That was really powerful. And I think there's not a bright line. You bring who you are to your job, whatever it is, but I think that was very powerful. Thanks for sharing that.
Sherri Coale:
Absolutely.
Aaron Ackerman:
But anyway, thank you so much. I'm looking forward to reading your book, reading the blog, just really appreciate the time and look forward to seeing these next 30, 37 careers you're going to do here.
Sherri Coale:
I got to get after it, don't I?
Aaron Ackerman:
Yeah.
Sherri Coale:
Thank you so much for having me today, Aaron. This is my first accountant podcast combination. So I was pleasantly surprised. You do great. So thank you for having me. I appreciate it.
Aaron Ackerman:
It was fun. Thanks so much.
That's all for this episode of How That Happened. Thank you for listening. Be sure to visit howthathappened.com for show notes and additional episodes. You can also subscribe to our show on iTunes, Spotify, Google Podcast, or Stitcher. Thanks for listening. This content is for information purposes only and does not constitute professional advice. Copyright 2022 HoganTaylor LLP, all rights reserved. To view the HoganTaylor general terms and conditions, visit www.hogantaylor.com.