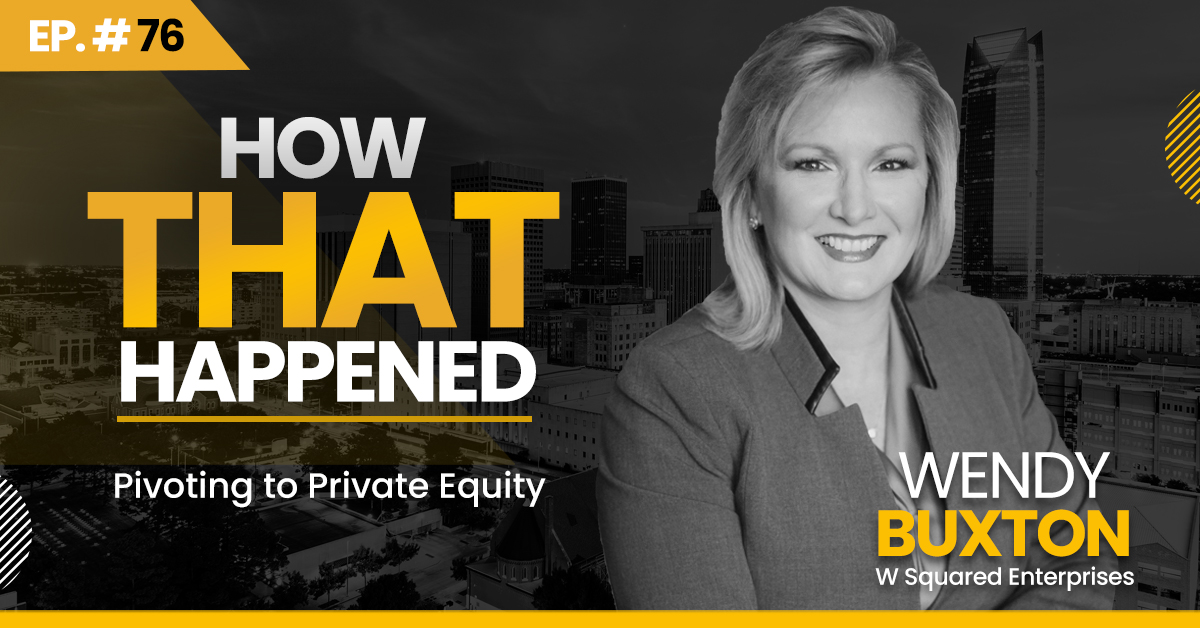 Wendy Buxton:
Throughout time, every decade or every few years there tends to be a different focus in the supply chain. But when you think about supply chain, it starts with your supply base. Where you buy your products from how you get your raw materials all the way to how does that get to you.
Robert Wagner:
From HoganTaylor CPAs and advisors, I'm Robert Wagner and this is How That Happened, a business and innovation success podcast. Each episode of the show we sit down with the business and community leaders behind thriving organizations to learn how business and innovation success actually happens. Our guest today is Wendy Buxton. Wendy is the managing director of W Squared Enterprises, providing strategic advisory services, helping businesses to modernize and grow their profits through operational performance management and digital enablement.
Wendy also uses her vast private capital network to help companies unlock new sources of capital. Prior to her current role, Wendy was the president of LynnCo Supply Chain Solutions. During her two decade career at LynnCo, Wendy transformed them from a small freight billing and auditing company to a marque supply chain specialty firm, trusted by customer executives and private equity firms. Wendy has an MIS degree from Oklahoma State University. In addition to W Squared, she is a board member of the Association of Corporate Growth, a global network of private equity firms, and she is a market ambassador for Great Range Capital a mid America focused private equity firm. So Wendy, welcome to the How That Happened podcast.
Wendy Buxton:
Thank you so much. What an honor to be here.
Robert Wagner:
Yeah. We're excited to have you. We met a few months ago and I really enjoyed our conversation and your background really intrigued me, I wanted to start with this LynnCo experience, because I think it's pivotal to your career, and you really transformed that company. And the thing that really caught my attention was this pivot you did to private equity, where you really felt like you had to dive in and understand that world. So let's just start with, tell us about what LynnCo did and how you transformed that company and the decision that you made.
Wendy Buxton:
Yeah, great. Happy to do. So when I joined LynnCo it was a company that was about five years old, did a lot of financial freight audit and payment. And I was brought in as the CIO of the company to help modernize the industry, an industry that is so traditional that they hadn't really embraced the concept of technology, particularly around logistics and supply chain. So, I was brought into the company, actually built one of the first digital platforms that would allow people to see shipments in transit, be able to do analysis on their supply chain and really start to use data and software as a means to actually improve their own businesses through their supply chain.
When I built that platform, the owner of the company came to me about a year later and said, well, how's it going? How are the customers liking it? And true to just about anybody that builds a great software platform, they kind of say, yeah, well it's a really cool thing, but nobody's using it. And he said, well, why is that? And I said, well, look, technology's one thing but you have to have the business to drive it, a business model. And our business model does not marry up to what the technology offering is and what the community is looking for. So he said, well, great. Why don't you just step in and take over the company and figure out how to do that. So, I then became the president of the company.
For the next 10 years or so we went from being the small freight audit and payment company to really focusing in on helping customers solve supply chain issues. And when we talk about supply chain, it went beyond freight audit and payment, it went beyond logistics and shipping and really looking at their business that supply chain is the glue that holds businesses together, but it's also one of the most overlooked because it's difficult. So we really help customers kind of demystify supply chains and what it means to their company. And then we took that a step further and we digitized it so that they were able to really take advantage of what technology has to offer. We were one of the first adopters of transportation management systems and several other platforms that were just emerging in the industry. We were one of the first ones to offer it out to our customers.
So, over time we built the business, we started out at about a $5 million company, I think after about the 10 year mark, we'd grown up to about 100, 120 million just by really being able to marry up supply chain with the business and then how technology enables that. Interestingly enough, our customers, it seems all at once, were starting to be bought out by private equity. So I found myself and my executives sitting in boardrooms in New York and Boston and just about every major city in the US really defending our long term contracts and our service business with our customers. The good news is that private equity loved it so much that they started asking us to come in and service their other customers, their other companies that they were buying.
The idea of private equity started out a bit selfish for me. If anybody's been in sales how hard it is to sell into a company and to a client, a lot of times it's bottom up. Private equity was a great opportunity to start at the very top and gain the attention and then open the doors to multiple companies. So, it was like a shortcut in the sales process, we did it very well and over the course of the next 10 years it became the largest sales channel of our company. And we grew the company to about 220 million kind of at its peak.
Robert Wagner:
Okay. That's fascinating. There's so much to unpack there. You said something that I think we forget sometimes in business in that we have to solve a customer problem. That was, seems like something you focused on really early on. Like we've had this great product, all that's wonderful, we can keep doing what we're doing until it dies or you can look into your customers' business and actually solve a problem for them that they were having. So it's just essential to do that. So I think it's this great insight that you brought forward. And then you mentioned sales, so where's this sales thing come from this MIS person?
Wendy Buxton:
Well, it was a necessity. A company can't exist and can't grow without business development. We can grow organically, which we were. Through client referrals, we served our customers extremely well. So we were able to retain customers. But we wanted to grow faster. So we really had to look at how do we approach the market? And the market is very saturated with competitors. And so we had to look at how do we really differentiate ourselves? And I think that the biggest thing for us is to not sell to our customers, but seek to serve. And so that really became part of the culture, part of the belief system in our company. We were there and we existed because our clients had needs and we hoped that we had solutions and if we didn't, we were happy to refer them into other people that could help solve those. I think that became kind of the mantra of our success.
So we kind of pivoted from the sales role to really reaching out to the market, being thought leaders. So as opposed to selling, it was really about how can we create value in the market. And as I mentioned earlier, supply chain is one of the most underserved concept in most businesses. So it was really easy for us to build a platform around awareness on supply chain best practices. And then how does that relate to growth of the business and what do you have to do in order to accomplish that and how much supply chain really drives that?
I think now today with everybody in COVID in the post COVID world supply chain is still a top of mind. The good news is I don't have to create a platform for it anymore, everybody's aware of it. So I think from that perspective it became an incredible growth vehicle. But more importantly, it really ingrained in our business that we have to serve our customers. And in order to do that, we have to be thought leaders and we have to be out there talking about what are some of those best practices. Just sharing our experiences and our successes so that others can come on board with that.
Robert Wagner:
Yeah. Okay. Again, you just mentioned so many things that I think are really cool. For those of us who think supply chain is tracking my pizza and where it is in the oven. So give us some ideas around creating value in supply chain.
Wendy Buxton:
Yeah. I think throughout time, every decade or every few years there tends to be a different focus in the supply chain. But when you think about supply chain, it starts with your supply base. Where you buy your products from, how you get your raw materials all the way to how does that get to you in your manufacturing or your distribution facilities, and then what do you do with it inside your four walls and then how do you serve your customers and get that out to your customers. So, while everybody kind of had a different definition of what supply chain was, our goal was really to help people understand how the collaboration of all the different units within a business, including extending out to your supply base and to your customers, had to be included in their business models.
I think that was something that was hard for us to overcome. I mean perceptions become belief systems and we had to help change people's belief system around supply chain, help them redefine in their own mind what that means for those customers or those companies that were able to grasp that, they were able to broaden their horizons and really look at the collective of the partnerships, the relationships that the business had internally as well as externally. And when they did that, they were able to understand what supply chain really is. And it really is a lot about relationships, good collaboration, communication, and visibility, just trust with your partners and how essential that is to building that into extensions of your business.
Robert Wagner:
Okay. I'm going to grab the time stamp here. Just move that up. Don't be scared of it.
Wendy Buxton:
Sorry. Does it go up [inaudible 00:10:32] okay. Got it. Told you I talked with my hands.
Robert Wagner:
It's all right. Okay.
Robert Wagner:
So, let's get back to the private equity thing. So what did you learn in that process? I mean, the beautiful concept about kind of making one sale and it branching out into many customers. I mean, that one's really cool. But just take us through what you did to really begin to build your network there and learn about that business and what mattered to kind of that set of customers.
Wendy Buxton:
Yeah. When I first was introduced to the private equity network, it was obviously in a defensive position for my business and it meant that we had to be successful or we would have to redefine our business again. So I'm not going to lie, private equity can be intimidating. The word in the street is the private equity swoops in, they make major changes, they fire people. They tear companies apart, build them back together and then sell them off again. I think private equity gets a bad reputation. And so of course that was my first perception of it. But then as I worked with my clients that were private equity, what I really began to understand is that there is a sector, a large sector of private equity that is really about creating value for the companies that they acquire.
So whether they're a minority or a majority owner, they're not only bringing the financial capital to help a company grow, but they're also bringing the intellectual knowledge that maybe the business is missing and they're bringing the human capital to the marketplace. So it's you get into a business, and this was a lot of ours at LynnCo, that they reach a precipice or a point in their business life cycle where they're kind of too small to be big, too big, to be small, they have to do something. So they either have to create a catalyst for profitable growth or they're going to become distressed. And the way the world is evolving today at such a fast rate companies are having to do this more iteratively, those processes and those points are coming much sooner and much quicker.
The private equity groups that I have had the good fortune to work with, they create investment thesis and these thesis are those that help them and the owners of the business that are typically generational family businesses so this will be the first time they've given up some level of control outside their family, and they have to create this trusted partnership. And that trusted partnership comes with helping the business understand we're going to provide, this amount of funding. This is what we believe that a good growth trajectory would be, here are some of the principles behind that and we want to help you. A lot of these businesses just don't have the aptitude, the knowledge, or maybe not even the drive or passion to take it to the next level and that's where these value creation, private equity groups come into play.
Robert Wagner:
Yeah, it's very good. We get the opportunity to work with private equity groups as well. We do a lot of quality earnings and projects for them. And we've learned to focus not just on the numbers, but on the qualitative aspects that we can understand impact, a lot around the financial reporting and quality of that. And we see those recommendations get folded into the larger package and they are trying to help people get better. I mean, so that's very rewarding.
All right. So let's talk a little bit about you have an MIS background, you started at LynnCo in that world. You're in the private equity world. These are not female friendly areas for the most part. Right? So what has that been like? Are you like a pioneer, a little bit?
Wendy Buxton:
Well, maybe a little bit. I try not to bring genderism into any aspect of it. I really believe that anybody that's out there, whatever, if you're male, female, if you bring the right concepts, you embrace the concept of value creation, you create trusted relationships and partnerships, people will rally behind that. That's something I've just always been genuine with. I think it helps that I've been fortunate to be able to work in my career in areas of passion. So I'm very passionate about business transformation. I mean, for decades it's been called many different things, but let's face it. The reality of it is every business has to look at their business model on an iterative basis and they have to make change, and change is uncomfortable. And I like to help people through that.
One of the first things that I learned in my career that I think's been very pivotal... Couple things, actually. The first one is you should always be living outside your comfort zone. If you're not, you're going to get left behind. The second thing is to always be asking yourself, what would I do in the absence of fear? And that was that my husband introduced that to me when I first started at LynnCo and I was a little scared for taking over a business, not having known much about sales and other aspects other than IT. And that has really served me well over the years. And so I think that's just been very, very pivotal, those different philosophies and those different concepts.
So technology has always been kind of the foundation of just about everything I've done, only because as you're transforming businesses, you're solving problems, the best way to get operational performance and really maximize that is to then automate it, digitize it. And so technology is something that's always there, it's always an opportunity. I think that a lot of the private equity groups and companies today are looking at how well have companies embrace that, what's left to embrace and how much more can we do with the business, what that underpinning of technology.
Robert Wagner:
Yeah. Yeah. It's continuously evolving. We help clients in a different way with their digital roadmaps and particularly on the accounting side. A lot of companies are very far along in what they're doing and some companies are still processing paper, it's amazing what's still out there. Well, that's a good segue into some of the things that you're doing now. So you are an owner of a company called W Squared, I know you and your husband are also owners in Momentum3 and full disclosure, HoganTaylor's a minority owner of Momentum3 as well. So tell me about what those things look like, what you're doing.
Wendy Buxton:
Yeah. So I'm really excited to be able to kind of go back to my roots, having been for 20 years just so focused and embraced in LynnCo and running a business as a whole. I wasn't able to just focus on technology because I had to focus on every other aspect of the business as well. So it is kind of nice to get back to my roots with Momentum3. My husband and two partners started at about seven, eight years ago. And I'm just now having, quote unquote, retired from LynnCo-
Robert Wagner:
I love that this described you as retired and you're a very young person.
Wendy Buxton:
Yeah, about three weeks into my retirement, my husband looked at me and said, you need to go find something to do. So I said, well, how about if I come help you because it is a part of our lives and I'd love to be able to help there. Momentum has been extremely fortunate, kind of founded on the roots of software development, modernizing software, building software products to help solve business problems. They branched out into data services, which is really just about helping people make sense of the chaos of data and how do you make it work for you and help you create more informed decisions for businesses. So that concept of data science and data engineering has been at the core of, at the business.
About three years ago, the partners had the incredible foresight to purchase a marketing company up north, and we have a digital marketing company within Momentum3 already. This company, having already worked with several big companies, Thomson Reuter, United Healthcare just big name companies as well as the smaller, they really rounded out the breadth and depth of the marketing capabilities. And why is that important? One, rarely will you see a tech house that is made up of predominantly software engineers, data scientists all of those geeky people like me in the company building software and developing and providing data management services, but rarely do you see them saddled and collaborating very closely with marketing? If you think about, just about any business, there's a marketing division, there's an IT division and rarely do those two sit in a room together. But I think with the evolution now of digital consumerism, just about every company is having to embrace that. I mean, COVID if it did anything, it definitely advanced the reliance and the need for digital enablement. Really thinking about not only your back office technology, but also how's that going to reach the customer market.
So I always say, look, everybody can build a great software package but if nobody knows about it's only great to those that built it. Everybody can put up a really great website, but if nobody knows it's there to go visit it, then how good is it really? And so we have the software engineers collaborating with the marketing content writers, the copywriters, the graphic designers at the inception of the design of the software to really understand what is the software going to do? How is it going to reach the market? How is it going to enable the business model? Working together we create a very well rounded strategy. And I think that's really unique, rarely do you see that today, but it's been extremely successful for Momentum3.
Robert Wagner:
So let's go just a little bit deeper into some of the things that they do and specifically around maybe kind of niche development that they do and how that's helping companies differentiate themselves. Every company has some piece of software that's critical to their business, so it's their ERP system, it's whatever, and it's usually produced by someone else, but M3s helping sort of augment those systems. So can you speak to that a little bit?
Wendy Buxton:
Yeah. I mean, I think like you said, the market has really exploded over the decades with different software products. So every company believes that they're a Snowflake and they're somehow special and therefore that ERP doesn't quite work for them or they need to build a proprietary system in house to meet their needs. Which is all fine, it's absolutely each company's decision to do that. Where Momentum3 really helps is whether it's a third party product or somebody wants to develop a software product, they're really focused in on how is that software going to integrate with the rest of the business. So there's the customization of the product itself. So if it's an ERP or a shelf product, and they get you 80% there on standard practices, but there's always that Snowflake factor of the 20%. Momentum3 comes in and helps close that gap.
And then in addition to that, they're also looking at where, how does the data flow? How are these systems going to talk to one another? How do we integrate those so that the business experience, the user's experience, whether it's the client or within the business is a seamless experience? Where they get visibility and transparency throughout the organization with without having to worry about six different systems to go to.
Robert Wagner:
Yeah, yeah. It is interesting to see how this has evolved over time. The concept now of there being more than one database is just unacceptable. I mean, it just cannot happen anymore. So I've got a couple of my clients using M3 right now to build things and we really see it as an investment to differentiate these companies, to make them really stand out at a certain aspect of their business that's going to fix a problem usually, but also mean something to their customer that will make them special. So, it's awesome. We're thrilled to be involved, excited to be involved with M3 as well.
Okay. So there was something else in your background that I not aware of until this morning, and that is a website called SpaZen Living this is about fine art and zen living and design. So, tell us, this is like the other side of Wendy I feel like.
Wendy Buxton:
It absolutely is absolutely. For all of those years being in corporate America, 25, 27 years now I was caught up in that rat race of corporate America, by the end I was traveling just an extreme amount. The good news is I had the opportunity to travel to some beautiful places, but I was also always looking to master my own zen. Like, how do I shut off the day. What things can I do to release the stress and release my mind from continuing to spend 24 hours a day, seven days a week. Photography happened to be one of those passions. So as I was traveling, I was able to take my camera, I took a few classes and just really enjoyed capturing landscape photography, whether it was underwater or up in the air or on land while hiking or whatever. I started printing these pictures in big prints, on metal profile glass, and put them in my house. And we're fortunate to have a big group of friends. And so when they would come over, they'd say, God, these pictures are beautiful. You really should think about selling these.
So SpaZen was kind of founded on this landscape photography, because I thought, well, I'm going to retire and I really would like to use the other side of my brain. The family background has interior design and artistic design and I just never really exercised that. So I did it for myself first. And then as people started buying the pictures, they kept saying, well, maybe you can come in and help me design the house. I want to have a place, a safe place to go at the end of the day and read my book and just en out and so I started building interior design around the pictures. And so I've really enjoyed that. It's been a lot of fun. But I'm still doing the corporate stuff too, but now I think I have a good balance.
Robert Wagner:
Okay. So, let's talk about not further into zen necessarily but you know, speak to this need that we all have because, man, the world is moving really, really fast. High performers really can be thinking about business or thinking about their thing 24/7 and it will wear you out. So what have you discovered about yourself in that and do you have any advice for the rest of us?
Wendy Buxton:
Well, being a high achiever, as you mentioned, I mean, my family is made up of those. I mean, my husband is a high achiever. My kids are, they come by it honestly for sure. It wasn't until 10, 15 years into my career that I started realizing that there was a need for me to find my happy place or whatever makes me happy. It just became to a point where I couldn't sleep at night. I'd wake up at 3:00 in the morning, I'd be taking notes on a notepad next to the bed. I look back on it and thought, gosh this really has gotten ridiculous. It just really got out of hand.
So I think that the biggest thing is, like any business, you kind of have to design this into your life. You have to be very self-aware on what you need. Everybody needs something different and different levels of it. If you don't stop to take notice of that, you'll tend to get vices and they may not always be healthy. So I almost had to kind of design it into my life and make it a priority. And I think that's kind of the other thing that people get caught up in life. At some point it has to be okay, you have to give yourself permission to step back away from it and self absorb for a little bit, do something that makes you happy and take a little time for yourself. And I think the last 10 years or so of my career, it actually helped me be better as an executive. I came to the office with a clear mind most of the time. I wasn't still caught up in yesterday's problems. I was able to start looking forward out into the future as opposed to being immersed in today's issues and at a micro level.
Robert Wagner:
So yeah. All right. That's very good. Very good advice for us all because man, life can going so fast. In the accountants world we joke about waking up thinking about spreadsheets and things.
Wendy Buxton:
Well, I do that too.
Robert Wagner:
All right, Wendy, we've really enjoyed our time together and I appreciate all the insights now. Before we wrap up, we do have five questions that we ask every guest.
Wendy Buxton:
Oh boy.
Robert Wagner:
So, you ready?
Wendy Buxton:
Okay.
Robert Wagner:
All right. So what was the first way you made money?
Wendy Buxton:
So little known fact. I was actually a competitive baton twirler from the time I was 4 until I was 18. Very competitive. I know shocking, right? Very competitive. I had won a world championship and I decided to start coaching at a really young age actually. So I sort of started my own studio for baton twirling and brought in those people that wanted to do it for fun and then I also had a competitive team that I was able to nurture up into the national and the world level as well. So, that was the first way I made money.
Robert Wagner:
Wow. That's really cool. So a world champion baton twirler. So where does this competition happen?
Wendy Buxton:
So the world competition that I attended was in Holland. So it's much like the Olympics that you see today, think of the gymnastics so there's a US team. I was actually sponsored by Coca-Cola whenever I went, because our family just didn't have the financial means to be able to do that. So it's very similar to what you see and gymnastics and similar structure, it's just never become known enough to make the Olympics and mainly because they can't centralize on the rule base and how they're going to proceed globally from a competitive perspective.
Robert Wagner:
No, that's very cool.
Okay. Question number two. So if you weren't doing what you do and consulting on business performance, et cetera, what do you think you would be doing?
Wendy Buxton:
I would be a marine biologist in Bora Bora.
Robert Wagner:
Oh, okay in a particular place.
Wendy Buxton:
Very specific, very specific. Now as a young kid, I always like science and particularly marine science. So as a young kid, I would go fishing in my local pond and then bring the fish back and put them on my little sister's kitty pool and then she would go swimming. She has forgiven me for that because I scared her to death one time with two fish in her little kid pool. But I used to study them on my own. I actually started out in college as a marine biology major and then when I realized that Jacques Cousteau is like one in a million that actually makes money, you spend most of your time trying to find grants and funding instead of being on the water and doing what you love. I decided to go into computers, I don't know. It was a quantum leap.
Robert Wagner:
So what would you tell your 20 year old self?
Wendy Buxton:
That's a tough one. I mean, I'm pretty happy with how my life is unfolded. I think I spent the first half of my career learning about leadership, being very competitive. I'm also very rigid. I'm a planner. If I could go back and relax that self a little earlier in my career, I think it would've opened more doors and more opportunities. But I think I embraced it early enough that I was able to take advantage of opportunities that came my way that were unplanned. So my daughter is exactly the same way. So I sit on the patio with her and give her the same advice.
Robert Wagner:
Okay. All right. So what will the time of your book be?
Wendy Buxton:
Well, Who Moved My Cheese is out? So, that was like the most influential 15 minute read I ever had. Oh gosh. Probably, how to live outside your comfort zone. That's like I said, that's probably been one of the biggest sponsors that I've had to embrace and learn to navigate throughout my career and I think it's opened a lot of doors for me that I just hadn't planned.
Robert Wagner:
What's a habit that you have that keeps that top of mind for you?
Wendy Buxton:
I actually think that I seek out opportunities to put that principle to work. Whereas early in my career, I didn't do that. I kind of stayed in the same circles. Now it's almost like what makes me uncomfortable and how can I fix that? What can I go do? Private equity intimidated me. Okay, well, let's just emerge ourself in private equity, let's learn everything we can about it. So, I think that's just been a big part of...
Robert Wagner:
Yeah, very good. Okay. Last question. So what's the best piece of advice you've ever been given?
Wendy Buxton:
I've been fortunate to have several professional mentors and I think I've already mentioned this, but the best piece of advice I have ever been given was asking the question what would you do in the absence of fear, and that came from my husband before he was my husband. I've actually been able to open other people's eyes to that where I can see that they're struggling with a decision, whether it was one of the executives or one of my friends. It's amazing how readily they answer. Just kind of rolls off your tongue whenever you say, well, if I wasn't afraid, this is what I would do. And then, okay. We'll we should go do that, we should take advantage of that.
Robert Wagner:
Yeah. So, what happens next after you say that?
Wendy Buxton:
Yeah, so I said, I'm a planner. So the next thing I do is, okay, so what does this look like? How do I kind of design whatever my answer was, what do I do about it? How do I go about accomplishing that? For my early career in IT part of it was just taking that major leap out of project management, business analysis and that sort of thing. And actually one of the partners at Momentum3 Greg Peters was one of my professional coaches. I had a lot of sessions with him and I can remember being really emotionally tied to a few things. He gave me some great advice it's like well, if you step back from that let's talk about what that would look like. I think, again, I've been fortunate to have really good mentors and people to help drive a lot of those points home.
Robert Wagner:
Yeah. My experience with that question is, it's a powerful question, I've had a couple of coaches ask me that question and like, you're coming up on decision what is it that you have fear about? And in at least both cases I'm thinking of, they made me like write it down. Just the act of writing it down and seeing it in print, like takes a lot of the power away from it-
Wendy Buxton:
It memorializes it. Yep.
Robert Wagner:
Yeah.
Wendy Buxton:
Nope, you're absolutely right. I type it out now, I don't write it down. But, I think it putting it on paper makes it real. It also lets you easily kind of visualize the gaps in it and areas that you need to shore up.
Robert Wagner:
All right. Well, Wendy, it's been fascinating talking to you. I appreciate it so much. So tell us about how folks could get in contact with you if they want to work with you.
Wendy Buxton:
Yeah, sure. Well, I do provide strategic advisory. I have companies that come to me wanting connections in the private equity space, either seeking capital funding. Obviously I have a deep technology background working Momentum and business development methodologies. So my email address is my name, Wendybuxton@w2-enterprises.com. And then you can also look at Momentum3 at www.momentum3.biz
Robert Wagner:
And then if you want fine art...
Wendy Buxton:
SpaZenLiving.com
Robert Wagner:
All right, don't pass that up. All right, Wendy. Thanks so much.
Wendy Buxton:
Thank you.
Robert Wagner:
That's all for this episode of How'd That Happened. Thank you for listening. Be sure to visit howdthathappen.com for show notes and additional episodes. You can also subscribe to our show on iTunes, Spotify, Google Podcast, or Stitcher. Thanks again for listening. This content is for information purposes only and does not constitute professional advice. Copyright 2022 HoganTaylor LLP all rights reserve. To view the HoganTaylor general terms and conditions visit Hogantaylor.com.