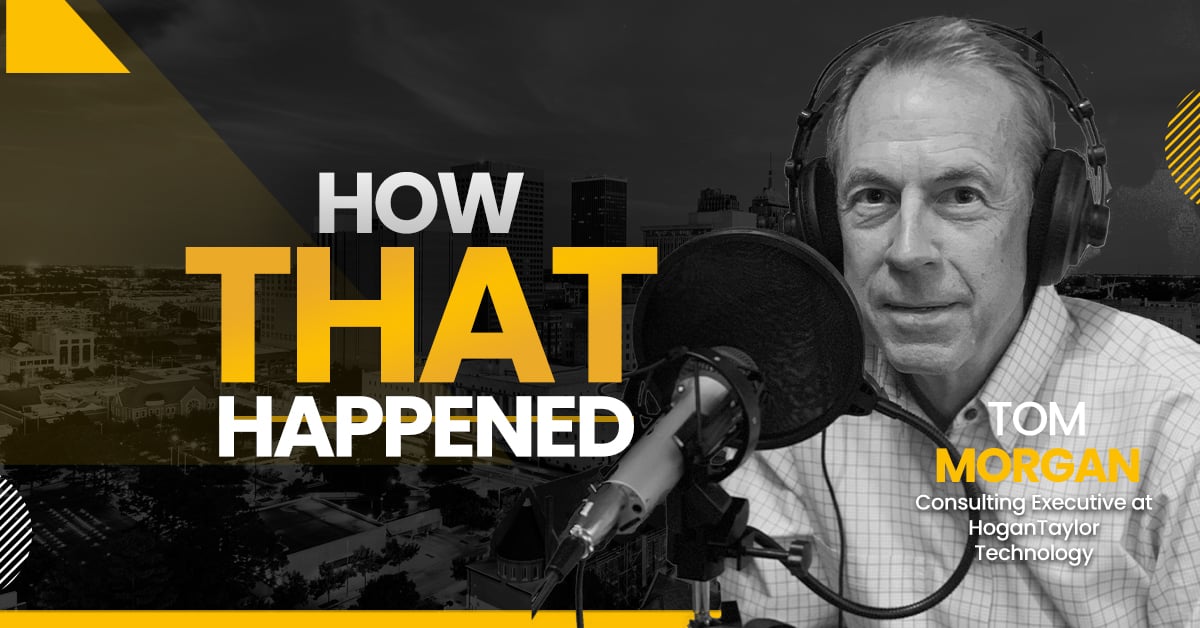 Tom Morgan:
So it was really, like I say, a now or never kind of decision. So we decided to do it. And it's still prevalent today. There are still companies that don't keep their antivirus up. Don't do backup.
Aaron Ackerman:
From HoganTaylor, I'm Aaron Ackerman and this is How That Happened, a business and innovation success podcast. On each episode of the show we sit down with business and community leaders behind thriving organizations to learn how business and innovation success actually happens.
Well welcome to another episode of How That Happened. My guest today is Tom Morgan. Tom, really happy to have you here. Thanks for being here.
Tom Morgan:
Thanks Aaron, I appreciate it. It's an honor to be invited.
Aaron Ackerman:
It's going to be fun. Yeah, thank you. So for our listeners, just a little bit about you, Tom. So Tom starting back in about '97, I guess you were the CIO of Dobson Communications, which people around Oklahoma and really around the country probably may recognize that name. Really big telecom company. And we'll talk a little bit about the merger that happened there, but after the merger you stayed with AT&T for a little while to help through the transition.
Tom Morgan:
Yep, absolutely.
Aaron Ackerman:
And then in about '08 started your own consulting business. At that time it was called iComm360. And that's kind of what you've been doing since then, right?
Tom Morgan:
Yep, absolutely.
Aaron Ackerman:
So cool. Well, as part in my role, I work a lot with mergers and acquisitions and we advise clients in transactions. And so I've been part of a number of them, usually fairly small, 20, $30 million or less is the kind of deals I've worked in, in my career. I know the Dobson deal that you lived through was over, I think, $2 billion?
Tom Morgan:
Right.
Aaron Ackerman:
So just curious from your standpoint, you were an executive with Dobson, got bought by AT&T. So obviously a massive deal. What, and I don't know if you'd been through any transactions before that, but what were maybe some takeaways that you took out of that? Or even what was surprising? No matter how many deals I go through I learn something every time, because they're all different. You run into different problems and work through things. And even if you'd been through dozens or hundreds of these, everyone presents a new challenge. So from your perspective as a executive on the IT side, maybe what were some takeaways or something surprising to you?
Tom Morgan:
Sure. Absolutely. Yeah, and when I came into Dobson in '97, came in through a college friend, I mean a guy that I had known for a hundred years in there and got involved with Dobson through that connection in there. The day I walked in for the interview, or the day I took the job. So the first day on the job walked into his office just [inaudible 00:03:05] he was the CFO with the company. Walked in and he handed me a prospectus for an acquisition that we were getting ready to do in there.
So on day one it was clear that this company is going to go through the buy and sell transaction. Cellular was blowing up at that point. And lots of people buying and selling company, a lot of consolidation going on in the industry. And we did, over the course of 10 years and prior to the AT&T acquisition, we were on the buy side for about 30 transactions. So some small, some one or two markets. You pick up a couple retail stores and maybe some staff with it. Three of the acquisitions that we did basically doubled the size of the company at the time. So those are-
Aaron Ackerman:
Those were significant.
Tom Morgan:
Yeah, those are big to swallow and take some time to go through it. But we had a lot of experience on the buy side of things. And we sold a few along the way for competitive reasons in there. But on the buy side what we tried to do was develop really a standardized approach from an IT standpoint. So a lot of our competitors in Cellular at the time were just buying left and right, and not doing integration in there. And so we were buying and growing with the idea of selling one day. And the value, one of the value points that IT could provide on the sales side was really a streamlined, consolidated, integrated operation. An example of that would be, like I say, some of our competitors out there were buying and not doing billing integration. And billing is the main customer touchpoint. The phones have to work, of course.
And then the only other thing that you provide to the customer is the bill. So they would do a big acquisition, keep the old billing system in place. And so they would have multiple billing systems. And so as you're going through rate plan changes and other things like that, that affect customer features and bills, you're having to make those changes three or four times in there.
We adopted a philosophy the executive team bought into, but we adopted a philosophy of whatever we buy we're going to integrate into a single system in there. And that paid dividends long term for even at the sale part of things for AT&T, less integration work that they had to do and that sort of thing. So really learned a lot in this buying side that sort of prepared us for the selling side of things. But I will tell you the selling was very different from the standpoint of personnel and who's in charge and what you're trying to do.
Aaron Ackerman:
Well and even though Dobson was a big company it was still private or closely held.
Tom Morgan:
Yeah.
Aaron Ackerman:
You're selling into a fortune 500, I'm sure that, yeah, things that you guys never had to necessarily think about were now really important.
Tom Morgan:
Yeah we did about halfway through the Dobson experience we did go public in there. So we had SOX requirements and SEC requirements.
Aaron Ackerman:
Okay. So you were already public at that point?
Tom Morgan:
We were doing all that in there, which was, that was a whole 'nother set of things to worry about. Both from a executive and a financial and reporting standpoint, controls and those sorts of things. So we were used to some of that stuff, but I think really some of the biggest changes are the buyer's in charge. And so we were in charge for nine and a half years during that experience. And we could say, "This is how we want to do it and this is the way it's going to go. And this is our timing in there." So when we went through the AT&T acquisition, obviously the shoe's on the other foot. And so really what we had taken, or what we had built up over about a 10 year period in there, you got to dismantle piece by piece everything from the employee team that we had built up.
When I got there in '97 we had six people in the IT department, at the end we had over a hundred in there. So you've got all the personnel issues and basically you've got a hundred different reactions to what's about to go down in here that we're working through and trying to do the best thing for employees. And there were packages in place and that sort of thing.
So dealing with the employee, how to get soft landings for everybody out of that process was challenging in there. Because you're not, it's like here's the plan, go communicate it. As opposed to, "What do you think we ought to do with every..."
Aaron Ackerman:
Right.
Tom Morgan:
So some of that was a little tough.
Aaron Ackerman:
Yeah, sure.
Tom Morgan:
And there's some sleepless nights on those sorts of things.
Tom Morgan:
But then from the infrastructure standpoint on all the work that we had done, the projects we had put in, the vendors that we had relationships with, we're going back through and unwinding all of those sorts of things too. And for 10 years you're putting your heart and soul into making those things work. And then you're turning around and unwinding them in about six months in there. So again, all in all worked out great. I mean financially it was a good transaction and all that, but it is a very different experience. It gives you some different perspective in there when you're on the sales side of things.
Aaron Ackerman:
Right. I imagine it's a little bit like getting your house completely fixed up, making it beautiful to sell, and then the buyers come in and immediately rip out the carpet and change the paint and...
Tom Morgan:
Absolutely. Yeah. And all those projects you put off for the 10 and a half years you were in there get fixed in the last six months and then you selling it, somebody else gets the benefit on it. So yeah, it was a lot like that in there. And as you know, from the M&A side, it is a lot like buying or selling a house. You got your due diligence process and you go through all that, you've got all the things that go along with that.
Aaron Ackerman:
So how long was that process with AT&T? Was it years or...
Tom Morgan:
So I'm sure there were things going on before I found out about it. There are obviously, we'd been in a relationship with AT&T for years. We had been a pseudo affiliate with them. And when I came in the door back, like I say, back in '97, the long term plan was to sell. It was a five year plan at the time. It took us 10 years to do the five year plan in there. But that was, like I say, part of the strategy going forward in there.
Tom Morgan:
So when I got involved, it was probably two months, a month or two before the announcement, the public announcement. Just because the executive team [inaudible 00:09:13] there were certain things we didn't want to continue doing, knowing that a transaction was imminent here, or at least in the talking stages. We announced it in, I think July timeframe, in 2000... Or in yeah, 2007. And we closed in November, 2007. So during that period of time, yeah-
Aaron Ackerman:
That's fast.
Tom Morgan:
Yeah.
Aaron Ackerman:
That's seems fast to me. I mean I would think with companies of that size there's a lot of things that have to happen.
Tom Morgan:
Yeah. Absolutely. All the SEC stuff in there and the Federal Communication Commission, the competitive issues. All had to be worked out. And they, I mean like I say, they got worked out pretty quickly really in there. We had, there were a few markets that we had to sort of deal with from a competitive standpoint. No monopolies, right, that's part of the deal in there.
But no, it really did go pretty quickly. So in, yeah, November of 2007 the deal was over. So the deal was done. And as part of that I was asked to stay on for another six, eight months to again sort of unwind the IT department. A lot of the other executives wrapped up on the day of close, which is pretty standard in there. So all of a sudden the guys and the people that you're working with day in and day out aren't there and you're winding things down and letting people go and working to get things passed over to the buyer, on that [inaudible 00:10:38].
So that was a strange sort of situation. And again, it worked out well and it was all part of the plan. But yeah, just a very different take on things. It gives you, like I say, a different perspective, a little more empathy for folks who've been through those things. When we had bought, like I say, 30 different... We'd gone through 30 acquisitions. And frankly we're on a mission just to go, in there. So just gives you some perspective on, "Did we treat all those folks the right way in there on their way out?"
So, but no, it was really pretty quick transaction. And so starting in 2008 we were basically unwinding things. I stayed on until May and then took some time off after all that. And then that's when we started with iComm360 and RainRock at that point.
Aaron Ackerman:
Yeah. So okay, so before, yeah so I want to talk about that. Before we get into that, so you moved here from what Ohio, right?
Tom Morgan:
Yeah.
Aaron Ackerman:
Or in '97 you had your college friend or whatever that got you connected here?
Tom Morgan:
Yeah, absolutely.
Aaron Ackerman:
So you knew coming in that if everything went the way it was supposed to you were going to be looking for another job in five years.
Tom Morgan:
Right. [crosstalk 00:11:51] were very clear upfront about that.
Aaron Ackerman:
Yeah so what was, so when you move your family and everything here from Ohio, thinking, "Okay, this may be a five year deal here." What did you think would be next? You just figure that out later? Or did you have a little map in your head of what was going to happen?
Tom Morgan:
No, I figured, I wouldn't say we had a detailed plan. Maybe just an idea. Yeah, five year deal and if it all works out, number one, it was a great position that I was offered. So CIO position in there, and hopefully you could parlay that. If I had any smarts at all, hopefully I could parlay that into another executive position, another company in there. But as far as moving back to Ohio or staying here, was just let's see what happens and all that. But yeah, I will tell you it took some selling back at home.
Aaron Ackerman:
Oh yeah, right.
Tom Morgan:
So my kids were young and in school. And I can remember the day when we made the announcement. We brought the kids in the living room and said, "Hey, remember our friends out in Oklahoma?" And they had, like I say, it was a college buddy and they had kid similar age. All that sort of thing. I said, "Remember our visit that we had out there? Well we're going to move out there permanently." It was funny because my son, who was younger, he wasn't really sure how to react. My daughter started crying. And my son looks at my daughter and goes, "Well, I think I should start crying too."
Aaron Ackerman:
So everybody crying?
Tom Morgan:
Everybody's crying and yeah, it's like... But like I say, it all worked out. And I think if you ask them today they would tell you... I mean that they're from Oklahoma. So...
Aaron Ackerman:
Okay. Yeah. Cool. Yeah so I'm just curious about that, because just depending on kind of personality type and some people would just... The uncertainty of, "I know this thing has an end to it, it's probably pretty close," would be a deterrent. And I did one kind of a situation like that as well. I took a job that I knew was going to end with an exit to a sell or going public or whatever. And we thought, ours was kind of the opposite, I thought it was going to be five years and it was done in 30 months.
Tom Morgan:
Right, even quicker. Yeah.
Aaron Ackerman:
Yeah. We went faster. But it was same thing like you. I mean you kind of knew that going in. It was a great experience and really set you up with some new skills and experiences for whatever came next.
Tom Morgan:
Exactly. Yeah. No, that's exactly right. And you kind of, like I said, if you know about it going in I think you have that in the back of your mind that things are working out the way they had planned and we got to start thinking about the next stage.
Aaron Ackerman:
Yeah. Okay, so speaking of what happens next and also kind of still on the transaction theme and full disclosure. So Tom, we're going to talk about your company. But Tom started a company after he finished with Dobson slash AT&T, ran that for 10 years or so.
Tom Morgan:
Right.
Aaron Ackerman:
10 or 11 years. And then last November Tom's company merged in with HoganTaylor, which we're thrilled about and we created a division or subsidiary called HoganTaylor Technology. So...
Tom Morgan:
Yeah, I mean just while you're on that, we're thrilled to be on that program. As you mentioned, I had an employee come in my office first thing this morning after being at the firm meeting on Friday, and just say, "Thank you." And I was like, "Well, thank you for what?" He goes, "Well thank you for doing the deal with HoganTaylor." So our employees are thrilled and there's a huge amount of benefit for them and for our clients.
Aaron Ackerman:
Yeah.
Tom Morgan:
So that's awesome. Real thrilled about the way that worked out.
Aaron Ackerman:
So yeah, us too. I mean it's fantastic. I'm really excited about the future. Okay, so going back, '08 you finish up, you do the unwind with AT&T. At what point did you think or know like, "Okay, I'm going to go start my own business." How did you get to that point?
Tom Morgan:
Yeah. I mean it's, back to your earlier question about knowing the five year plan going in, you do start to think about, "Okay, what do you want to do at the end of this thing with five or 10 or more years in there?" So you start to think about that a little bit. But certainly when the announcement was made, and I knew I had at least six months to get ready and probably a year with the transition work in there from AT&T, I mean you really start to think about what do you want to do next? And I had spent at that point more than 30 years in enterprise. Working for somebody else, doing IT work all through the whole process in there. But working for large companies and, good businesses, good ownership, well run companies. And you're right, you reach a decision. You say, "Do I want to just go out and interview for another CIO job or start something on my own?" I mean just a little bit of background, my folks were on the entrepreneur side business owners, that sort of thing. And [crosstalk 00:16:50]
Aaron Ackerman:
You had that DNA a little bit and...
Tom Morgan:
Little bit, yeah. I would say a little bit in there. And in a small town, they were business owners in a small town. But yeah, and I sat down with my wife and we talked about it. I mean there's some risk in doing that and going out on your own, but the decision was do you want to... At that point in your life how much career do you have left? How much longer do you want to work? And do you want to try going out on your own, you want to try being the entrepreneur and see what happens? Or play it safe and get another CIO job and go from there. So it really was, I don't want to say a now or never, but it was a now or never kind of decision. You spend 10 more years in another enterprise job you're probably not going to start out, try to start another company 10 years from where we were. Be more talking about retirement and all those kind of things.
So it was really, like I say, a now or never kind of decision. And so we decided to do it and met another CIO here in town. And he was in a similar situation and we compared notes and, "What do you want to do?" And, "What do you want to do?" sort of thing. And [inaudible 00:17:57] "Well let's partner up here." And we both had what I call enterprise, large company experience in IT and there's process and procedure and controls and all the things that go with that.
And the philosophy or the idea was let's bring that kind of knowledge to small and mid-size companies here, on a contract basis or a loan staff basis, or that kind of thing. Take those skills and bring them into small and mid-size companies, either as fractional staff, fractional CIO kind of operations. Or as straight up managed service side of offering in there. So we went through the classic step: we wrote our business plan, we presented it, we worked with some folks at i2E and Oklahoma Venture Forum to get input and that sort of thing. And they were very helpful on things. And we both put in, we both wrote a check, put some money in a joint account.
Aaron Ackerman:
And away you go.
Tom Morgan:
And away we go. And then you're like, "Okay, well what do you want to do today?" "I don't know. Let's start calling people." So yeah, the early days, I mean we really, I think we were two naive-
Aaron Ackerman:
Just the two of you and...
Tom Morgan:
Yeah. We had some shared office space and a good friend of ours said, "Hey, if you're starting a business we'll set you up in some space here." Which was great. And they're our largest customer today, MIDCON. So we got some free office space and we had a printer and two laptops. And so we started writing, preparing our PowerPoints on what we're going to do. What we did then was we really... We didn't go after clients, I mean we went to I would call it an informal group of advisors. So people that we knew in the industry, "Here's our pitch. What do you think?" So we kind of field tested our pitch at the time and we had one with a good friend [inaudible 00:19:47 ], and he's like, "Well good luck. I understand what you're saying in here, but good luck in there." And great guy. He had some great points and we got some great feedback and tweaked our approach a little bit. But we had everything from that to-
Aaron Ackerman:
So, sorry to interrupt, but so you had some people that didn't know if there was really a market for this, it sounds like.
Tom Morgan:
Exactly. Yeah. He was person in the IT industry here in town, large enterprise, very successful guy. A really smart guy. And so we were riding in the car ride back, real quiet. Like, "Okay, what'd you think of that feedback in there? This isn't going to go." But yeah, he really was, "Is there a question?" I mean the people were doing it. And vendors like Microsoft were offering products and offering support for that small and midsize company, they just didn't have people doing the integration. You've got Microsoft, that's not going to go talk to a 10 person construction company. So we felt there was a niche in there. And you get the 10 person construction company, and then you get a 50 person manufacturing company. And then you get to about a hundred, 125 person manufacture and a financial services company. And then you've got something going and you can get some scale and get some volume in there.
But yeah, everything from... I mean the challenges were everything from opening a bank account... You go to the bank and you say, "This is what we want to do. And getting a loan from a bank, we need to buy six figure equipment. You guys want to give us a loan?" We got great referral from a guy who helped us get all of our financial set up in the beginning. So we got really good help from that stand point, and we were able to get a bank loan on just the two of us saying, "Yeah, we want to do this." We were able to buy about a hundred thousand dollars worth of gear to start a hosting, an offsite backup operation in there.
Aaron Ackerman:
Wow.
Tom Morgan:
So yeah, that was a leap of faith on the bank. And they've stayed with us through the whole thing. We've done a couple those. So it's all worked out in there. But yeah, we just field tested our pitch for a while. We got a call one day... So two things happened that really got us going. We got a call one day from a friend of mine who's an attorney. And he needed an expert witness. And then we thought, "Okay, well that's something we never thought about, but we're going. We're going to do it." So that was our first real live engagement. And the total revenue was $700 for a couple of hours we were sitting in a conference room offering expert witness on somebody that was having some IT issues.
But we did get a larger project through, again, relationships in town. I was on school board here in town and there was a point, Aaron, where I could track... It was like seven degrees of Kevin Bacon. Every client that we had I could trace back to a board member or somebody that the board member had recommended. So our early days were really built off the school board relationship side of thing. But we did get one large project, the one that you and I were involved with together, in their one large project working up in Tulsa that really got us going in there.
Aaron Ackerman:
Okay. But that one, I was trying to think of the timeline, that was kind of in the early days...
Tom Morgan:
Yeah. Now that was, let's see 2000... We really kicked off in about 2010 with our operations and hiring folks and all that. That came along in 2012.
Aaron Ackerman:
Okay.
Tom Morgan:
So a couple years of onesie, twosie kind of stuff, and small customers and just getting our feet wet. But yeah 2012, we got the big project here [crosstalk 00:23:20]
Aaron Ackerman:
Which is where we met for the first time.
Tom Morgan:
Yeah.
Aaron Ackerman:
Yep. So interesting, the seven degrees. I'm sure a lot of markets around the country are like this, especially middle markets.
Tom Morgan:
Yeah.
Aaron Ackerman:
But Oklahoma City, Tulsa, it's so connected.
Tom Morgan:
It is.
Aaron Ackerman:
It's hard to, you can almost always find some common link between just about anybody. You could just walk up to a stranger in the grocery store and if you talked for five or 10 minutes you'd find some linkages there, I think.
Tom Morgan:
Oh absolutely. And it's probably same in your field as well, but in IT it is. Everybody knows everybody. And if you don't, somebody you know knows them kind of thing. So... Which is great when you're hiring and when you're trying to get referrals and who's who and who's what kind of thing. Who's doing a good job. Who do you want to stay away from? So it is, it's a small town for sure, from that standpoint.
Aaron Ackerman:
So one thing you mentioned, you were going around doing testing, kind of market testing with people that you trusted and you got feedback, good feedback, challenging feedback, whatever. As you went, you mentioned you did a lot of buying activity in those 10 years with Dobson, some small acquisitions. I know that Robert Wagner, who's the co-host of this show and really the founder of the HT Advisory Practice. He was a CFO for a couple of decades with a small public company. And they went through a lot of acquisitions where they were buying up smaller versions of themselves, basically. Through all of those acquisitions he sort of developed this theory that small companies were underserved or under invested in. And he was looking at the finance side. As he'd go through due diligence he'd realize they don't have what they think they have and their books aren't in shape, et cetera.
And so he kind of developed the thesis for the advisory practice back then, as he saw these people who really got their valuations whacked because they didn't have everything they thought they had. Curious if you pieced that together on the IT side, as you go through those acquisitions. And now when you go out on your own you kind of know there's a need for this because I've seen when I bought these companies in at Dobson, they could have used an iComm360 or whatever.
Tom Morgan:
Yeah. And our case was maybe a little bit different. On the Dobson side we were buying a niche. We were buying everything. We were buying cellular companies in there. But yeah, the small ones were lacking IT structure, any kind of controls in there. They might be doing billing off an Excel spreadsheet, that sort of thing.
So yeah, there was kind of a threshold, a tier if you will, below this in terms of headcount and customers they were lacking, seriously lacking in IT and they would have old computers and all that kind of stuff. The larger ones that we did, the three or four big ones, would have IT departments and CIOs and that sort of thing. So they were in better shape. But yeah, clearly there is a scale there where folks just can't afford it. They're not aware of it. They don't know what they need necessarily.
And we found more of that, I would say, in some of the field testing that we did early on. And even some just, you're out for dinner with somebody, "Hey, who does your IT?" All that. Not to drag the whole conversation into IT, but you just kind of anecdotally or somebody will say, "Hey, you do IT. We had the biggest mess at our company the other day." And you're like, "Oh, tell me about it." So yeah, you do see that and it's still prevalent today. I mean, this is 2020, right? And there are still companies that they'll keep their antivirus up. Don't do backups.
I can't tell you how many cases where we walked in, we'd meet with Aaron the business owner, and Aaron would maybe have one or two other people in the meeting. And we would just go through and talk about what we do. And we'd say, "Two things we want to ask you. Are your backups good?" And Aaron the business owner would turn to somebody on his left or right and go, "Well yeah, they're good aren't they Tom?" And Tom would be, "Well I don't know, Jerry does that." And so, yeah I think it's still, I don't want to say confusing, but it's just something that people don't naturally go to.
I think there's a certain amount of fear or confusion around IT. Nobody wants to look stupid in there. And so when you get into some of these areas, just like I wouldn't be able to go into law or medicine or any of those other areas in there, and a lot of the business areas. But people kind of shy away from IT, and it's one of those things where we survive today, so we must be good. And we survive another day, we must be good. But one of these days you get hit, it can be catastrophic in there if you're not doing the right thing.
So yeah, we definitely saw the need anecdotally in the newspapers. And just in the industry news in there that small to midsize companies are underserved in this area, or lack of knowledge or priority in there, lack of funding. They just don't want to spend the money on it. And so they don't want to go out and hire a big, expensive network admin when they don't even know what he's supposed to do. Can't even do the interview. I mean how do I even read the resume in there?
So those are the kind of thing, that's the problem, those are the problems that we were trying to address in there is we can offer that up as a, it's an overused word but as a trusted advisor in there. And if you need, if your network goes down, we'll send somebody out. And when your network's working fine you don't have to pay the person. And that was our original business model was pay for what you use kind of thing. So, yeah I still think it's underserved. I still think the opportunity is great in that area, particularly with latest developments in hacking and all the other things that are going on.
Aaron Ackerman:
So you ran either with a partner or on your own for a good bit of that time. You ran your business for 10 or 11 years prior to coming into HT. So some economic cycles through that time. I always like to ask, we kind of have this theory that every business really no matter the size, at some point it's life cycle has these near death experiences. And I don't know if that's true for you, but maybe if anything particular come to your mind about when you're like, "This is tough. Like, I don't know if we're going to make it." Any kind of scary times that you really had to put on your waders and wade through something there?
Tom Morgan:
Yeah, I would say yeah definitely. And there are those cycles that you go through and we went through our share of them in there. But yeah, our near death experiences were early and often in there. So yeah, I mean you end a month and you should be putting out bills and you're like, "Okay, there's three bills, three invoices to send out. I'll deliver this one, you deliver those two," kind of thing.
So yeah early on, in the early on period it was a year or two, frankly, where you're, "Are we going to make it? Is everything okay. Do we have to put more money in?" And all those kind of things. So I'd say once we got some momentum you get above a certain level in there, things got a little more smooth, you get, like I say, you get some momentum, you get some referrals.
I think you have to get to a certain base to say, "Yeah, we're going." I don't think we really had that for the first two years I would say. Because we spent the first six, nine months just talking to people and say, "Is this a good idea?" And then you get a couple in there and you get them going. But it's all, there was two of us in the company. We hired a third person eventually. But you're either doing it or you're selling it, but you're not doing both. So if you're doing work, because we were billable assets inside the company, so if you're doing work you're not out bringing in prospects. And vice versa, if you're out doing prospects you're not generating revenue in there.
So we had to kind of work through the balance on that whole equation as well. And then once you get enough momentum, you get some revenue coming in, you can hire some folks. So they would focus on the operations and then we can switch over to the revenue generation, the business development side of things. But yeah, that doesn't happen automatically on day one. You get to a certain mass of customers and a certain revenue level before you can get balance.
Aaron Ackerman:
So looking back over those 10 years or so, anything stand out to you as just something that was especially challenging or, you can take this either way, or especially rewarding? Running a business, hiring people, having employees and serving clients, all of that for a decade. Something that just really stands out to you, either side of that [crosstalk 00:32:38]
Tom Morgan:
Yeah. I mean a couple things there. One, and you kind of get yourself buried in the business and you're three or four years into it. And my wife said one day, because we were going through some of the ups and downs and challenges in there. She said, "Well, you've provided a living for five people." And I was like, "Oh, you're right. We have." I mean it's something you don't think about. [inaudible 00:33:03].
So that, I mean having our employee base and being able to grow the employee base in there, we've got great folks on our team who've been loyal and do a good job and are customer centric in there. So that's certainly rewarding that we've been able to do that. There's a couple of big projects, and one project wasn't, I worked on it while we had RainRock going. That was the school board project that I mentioned in there where we did a laptop, we converted a school to a laptop school. Apple laptop program in there with 800 machines going rolled out to students K through 12. And we did that as the volunteer work through Rain, while I was working at RainRock. During those early days when we had a lot of time in there.
So that, I mean that's one during that timeframe. Like I say, it wasn't RainRock revenue associated with that but it was one of those things where we're building relationships, we're out in the market. We're working through the school and the school board members in there, but we spent a year doing an evaluation, all volunteer team. I was volunteer committee chair along with another in-house person.
And we had two parents, two students, and two faculty from each level in the school. So we did kind of the Noah's Ark approach to this thing in there. And it worked out great. And it was really... What that taught was the power of volunteerism. So somebody who says, "Yeah, I want to do that." They're going to do it. And so they're dedicated too. Obviously it involves their kids and their kids' success so there's a lot of motivation built into that. But nobody got a dime of pay out of it. And in fact, you go to some of the meetings and you have to answer some pretty tough questions from your peers. The other parents who are involved in this.
So that was really a great project. And that's been a success and is ongoing today. And my kids benefited and there's 800 kids a year that they're getting benefits.
Aaron Ackerman:
Yeah. That's cool. It's something you can really feel good about.
Tom Morgan:
Yeah.
Aaron Ackerman:
And when you're working with clients and all of their IT systems are working well, you probably aren't getting any thank you cards.
Tom Morgan:
No, it's sort of expected, right?
Aaron Ackerman:
But when something breaks you get that call.
Tom Morgan:
Yeah, absolutely.
Aaron Ackerman:
So that's pretty cool. So one of the things we talk about a lot on this podcast is innovation. And certainly in your world of technology, that's constant. Things are changing all the time.
Tom Morgan:
Right.
Aaron Ackerman:
So you can take this either way you want to, but either what is maybe the biggest or most significant innovation you've had to deal with in your career? Or if you want to look in your crystal ball, there's a lot of things that get talked about and written about now with AI and...
Tom Morgan:
Yeah.
Aaron Ackerman:
Current digital currency and all these kinds of things. What, if you want to look in your crystal ball, what do you see as a really huge disruptive technology that we're going to have to deal with? It's just not quite there yet. Go either way you want with [crosstalk 00:36:01]
Tom Morgan:
So I'll go both. How's that?
So looking backwards here I, just to put this in context when I was in college and got into a MIS, my senior project in the late seventies was a box of cards. So we've come from cards to cell phones that have 10 times as much power in the cell phones in there. So I've seen a bunch of change. And frankly the constant that I've seen on that is really it's change management, if you will.
And people look at the IT department a lot of times to manage the change that the users are going through in terms of, "Hey, we're going to do a new payroll system. We're going to upgrade the payroll system. We're going to go from this email platform to this email platform." And IT, a lot of times they say, "Well yeah, okay. We're just going to bolt it on, take it out of the box, plug it in and bring it up and it's done. And we're off to the races in there." But the users are the ones that suffer. They need the training. They've got the questions. They got impacted. So they can't do their job a lot of times if, unless they've gone through some change management, some training, some support on that.
And what I've seen is one of the biggest changes just across the last basically 30, 40 years is less training required for these things, zero based training. So systems that are sort of self-explanatory in there, if you will, as opposed to you got to go to a week's worth of training to learn how to use the new financial system. In the old days, I mean you used to literally, you would send your accounting department off for a week to learn the new system before you did your migration. Today you can roll it in, everything's gooey, everything's sort of intuitive. It's all based on websites, which everyone's used to these days. Really I think the user interface, I mean technology aside for a moment, the user interface over the last 30, 40 years has gotten a whole lot easier to deal with.
In terms of the go forward sort of thing, it doesn't get as much publicity, I don't think, but the internet of things. I mean if you're reading the right journals and the right magazines out there you see a lot of stuff on the internet of things. But this is really, this is all behind the scenes, right? So this is Alexa, this is talking to your car. This is all the things that are in the environment these days. The meeting we were in the other day where the guy was talking about the room is going to change temperature and monitor where everyone's at and change colors based on mood. I mean, that's all internet stuff. I mean it's local, right? That's all wifi and connections in here. And so pretty soon everyone is going to be connected to everything. If you go, I would say if you've been in the appliance store lately and bought a stove or a washer or a dryer, it's connected to the internet, its wifi. In the-
Aaron Ackerman:
No, I felt that pain. I would say my house is nowhere near... You wouldn't classify it as a smart house. But we had to get a new, we changed service providers on our internet coming into the house recently. So I'm going around trying to reconnect everything. And I think we had 57 connected devices.
Tom Morgan:
Yeah. And that's internet of things. It's a beautiful thing. You can preheat your oven from the car on your way home in there. But it's still a connected device. It's got an internet, it needs capacity. It needs bandwidth to do its job in there. And on the flip side, I mean, not to go to the dark side on this, but it's also a way to get into your information. So if you're running your laptop and it's connected to the stove and it's on the same wifi, somebody hacks into your stove and all of a sudden they've got your QuickBooks information in there.
So to me, that's the biggest revolution, if you will, that's going on. And that's just a tidal wave running forward. There's no way to pull back or stop that. So it's really it's how are you going to deal with it? And how are you going to protect yourself in that kind of environment? But you can go to Best Buy and pick up, Alexa and everything else that you need out there and then you're all of a sudden you're exposed. You're on. And I think a lot of folks these days are just unaware of how that all that stuff works. It's a really cool thing that I can start my oven from the office, or see who's on my front door from the beach that I'm hanging out at over there. But all that stuff is interconnected and is really something to be concerned about.
Aaron Ackerman:
Yeah.
Tom Morgan:
So...
Aaron Ackerman:
Okay. So actually great segue. I wanted to ask you before we start to wrap up, working with your clients, and I love the way you phrased it earlier that you really had this enterprise level experience and you wanted to be able to bring that to small and middle market companies. Which is what we've been trying to do for the last, I don't know, seven, eight years. On the financial side, you're doing the same thing. So I like the way you said that. What do you think your clients need to be more concerned about right now that your observation is it's just sort of off the radar for whatever reason?
Tom Morgan:
Yeah. It's, and I hope this is just a short term concern, and that really is backup and security in there. I think a lot of people, when I say they should be more concerned, I think a lot of people are like, "Well, we're just a fill in the blank company here in Oklahoma City, who wants our stuff? Who cares on this thing?" And it's really the bad guys who are looking at this, they're not looking for Aaron's company or Tom's company because they got something against them, they're looking for anybody who's got an open door. I mean they're walking through the parking lot at Six Flags and flipping door handles to see whose car is unlocked. And then they'll go see what's in it. So I think a lot of people are the, "It'll never happen to me," or, "Why would I be worried about this because I'm too small, I'm too whatever. And I'm just sitting here doing my own business, why would Korea want to get into my stuff?" When in fact they're looking for any open doors.
So I really think it's just being aware of security and having precautions in place. And we're seeing frankly on the IT side of things in the HoganTaylor Technology, this year, and I know the year is pretty young, but fourth quarter and the first quarter so far, we're seeing a lot more interest in doing DR planning, DR testing, security planning and security testing, more assessments in cybersecurity, which is great. I mean that's what people should be looking at.
So I think it really is just, it gets back to the internet of things that we were talking about a second ago. Everything is going to be connected and you're going to be connected from your home as well into your business. So I think it really is just being concerned and aware of what's possible from a security standpoint and implementing the things that you need to do and then staying up with it. Like I said, I don't see it decreasing in any way anytime soon.
Aaron Ackerman:
Yeah. All right Tom, I think we're coming down to the end of our time. And so we've got a series of questions that we always ask every guest.
Tom Morgan:
Okay.
Aaron Ackerman:
And so I know you've heard the podcast before, so...
Tom Morgan:
Yeah, no [inaudible 00:43:22] I've...
Aaron Ackerman:
I'm not taking you by surprise here.
Tom Morgan:
Correct.
Aaron Ackerman:
So first question is what was the first way you ever made money?
Tom Morgan:
Okay. So growing up in a small town, neighborhood streets and all that kind of thing, I cut grass and did the standard things growing up. But really my first job, as I mentioned, my parents were business... They had a hardware store in this town of 5,000 people. And when I was, right after my 13th birthday, I guess that was the magic number. We were sitting at the dinner table with my mom and dad, everybody else I had a brother and sister, they'd both been excused. And my dad says, "Well, now that you're 13 we'd like for you to start showing up down at the store after school and Saturdays in there. And I was a little surprised by that my brother had gone through that and I thought, "Well he's doing a good job. He'll be fine in there."
But he said, "Well it's time. It's your turn in here." And I was like, "No, well I'm okay really." It was sort of my response, "Don't have to worry about." And I think I was even bold enough to say, "Well my buddy here, he could probably use a job. Why don't you call him in there?" But my folks were, they made it very clear that I would be down at the store starting on Saturday there.
And then, Aaron it's one of those things that turned out to be a great experience [crosstalk 00:44:47] I think I made 20 bucks a week down there. And a lot of exposure to, this is retail, right? So you have public exposure, have people all walks of life coming in. Some want to deal with a 13 year old kid. Some don't want to deal with a 13 year old kid. They'd say, "Where's the people that work here?" And you're like, "Well that's me." But a great experience. And I worked there all the way through high school. It was truly a family business. My dad owned it, my mom did the books. My aunt did the books when she was away. My grandfather was the manager. And so a lot of family time, it was a great experience. But yeah, I was a little reluctant to take my first job in there.
Aaron Ackerman:
Yeah okay, cool. That's really good. So second question, what if you weren't just now with HT, if you weren't running RainRock, what would you be doing? You weren't an IT executive, what would you be doing?
Tom Morgan:
Yeah I think it's, this question may have answered it differently 20 years ago. But at this point I've always thought working for the PGA, Professional Golfer Association, would be a fun thing to do. I volunteered at a couple of tournaments here in Oklahoma City and one back in Ohio. And my take on it is most golfers are happy, right? I mean they're smiling, they're happy. They're not complaining. It's a day out of the office for them. So they're recreational. And then from the PGA tournament standpoint, I mean you're working in a great outdoor environment. It's beautiful. It's fresh air in there. And again, you're doing something that most people are there as a recreation. So to me that would be a good fun thing to do.
Aaron Ackerman:
Okay.
Tom Morgan:
Is work PGA tournament.
Aaron Ackerman:
So you wouldn't want to be a golfer?
Tom Morgan:
I thought about that element of it. I think that's a grind. I mean, I think that's hard work in there and I never would have the skillset to do that. So that's completely out of the question.
Aaron Ackerman:
All right, cool. I like it. Good answer. Okay. So what would you like to go back and tell your 20 year old self?
Tom Morgan:
So yeah, there's probably a lot of... So that's probably an hour long discussion by itself.
Aaron Ackerman:
Part two of the podcast.
Tom Morgan:
Part two, how to correct things in there. No, I think early on I had a boss, probably second or third, second job in. And this guy, a good guy, a smart guy in here, and he managed everybody on the number... He rewarded and tracked overtime for everybody in there. So really that was, he was like, "Okay." And in one year I remember being in the top three or four folks for overtime, I had 400 hours of overtime.
Aaron Ackerman:
So he wanted a lot of overtime?
Tom Morgan:
He wanted a lot of overtime. Right. So that was, it was the grind, right? If you worked more hours then you were better employed and you got rewarded accordingly in there. And so that sort of mentality stuck with me for a little while, but I think the advice that I would give at this point is really work smarter, not harder. Because the grind only gets you so far in there. If you work smarter and you get results, then it's going to work better in the long term. So I think I'd go back and tell that guy from many years ago now, just work smarter in there. Don't worry about the hours, just get the job done. Make sure you deliver on your commitments and everything will be fine.
Aaron Ackerman:
Yeah. That's great. I need that message a lot of days right now at this point.
Tom Morgan:
I think we all do from time to time.
Aaron Ackerman:
Yeah.
Tom Morgan:
Yeah.
Aaron Ackerman:
So if all the events and experiences of your life were the content for a book, basically kind of an autobiographical book, what would the name of your book be?
Tom Morgan:
Yeah, that's... I don't know that's tough. And I did cheat a little bit and listen to some of the other questions, but I think at this point I would say that the title would be Let's Go in there, Let's Give It a Try. Let's See What Happens here.
I've spent a lot of time in IT and I've managed and dealt with a lot of IT issues along the way. And what I find is a lot of people want to fall in love with the problem, let's stare at it, let's look at it. Let's flip it over, let's look at it again kind of thing. And eventually you just got to try something and see if that works and you can course correct along the way in there. And I had a boss who ran things that way too. So I would say get going, let's see what happens. And if we've made the bad decision, we won't know until we've gotten a few steps down the path [inaudible 00:49:34] here, and then we can course correct. So I'd say Let's Go.
Aaron Ackerman:
Let's Go, I love it.
Tom Morgan:
Yeah.
Aaron Ackerman:
That's great. Okay. Final question. What's the best advice that you've ever received?
Tom Morgan:
So I got two. So from a family and personal standpoint, and again growing up in a small town every time one of us kids left the house it was usually our mother would say, "Remember you're a Morgan." So, which is just keep your nose clean, be a good boy, do the things you're supposed to do. Because everybody knows everybody in this town. And I think even Oklahoma City's a small town, like we've talked about. Even in larger enterprise, know who you are, know yourself, be true to yourself and make sure that you're doing the right things out there. So from a personal standpoint, I mean that's something that always comes to mind in there.
From a work perspective, I had back in 1977, so a thousand years ago when dinosaurs roamed the earth, I had an internship with Arthur Anderson. And so you got these... And there were three or four of us interning there. We all go to the departmental meeting in the summer, they have the quarterly meeting. Chuck Winslow, who was the partner in there, he was a legend inside the firm back in the seventies in there, he concluded his opening remarks at the divisional meeting with, "The only way you make money in business, you say you're going to do something and then do it." And to me that just stuck. And so that even comes to mind today, not only on a personal side but on a business side. If you don't have credibility, if you don't have trust, if you don't deliver on what you say you're going to deliver, you're probably not going to make it long term. So it's simple, it's not industry specific in there. It just makes a lot of sense to me.
Aaron Ackerman:
Yeah.
Tom Morgan:
Say you're going to do it and then go do it.
Aaron Ackerman:
Yeah, that's awesome.
Tom Morgan:
Yeah.
Aaron Ackerman:
Love it.
Tom Morgan:
Thanks.
Aaron Ackerman:
Try to teach my kids that now. In fact one of our partners and I were talking the other day about books that we've been reading lately and he gave me a book. And I'm going to mess it up because I hadn't heard of it before, but it was something along the lines of "You are not what you say, you are what you do."
Tom Morgan:
Yes.
Aaron Ackerman:
Because a lot of times I'll say something with the best of intentions, but I'm not my intentions, I am my action. No, I think that's dead on. Yeah. I like that. Good stuff.
Yeah. Well Tom, I really appreciate it. Thank you for being transparent, for sharing some of your insights. And like I said before, just thrilled that you're part of HT now.
Tom Morgan:
We are too.
Aaron Ackerman:
Anyway, this was fun. I appreciate it.
Tom Morgan:
Thank you. I appreciate y'all. Thanks.
Aaron Ackerman:
Thanks.
Tom Morgan:
All right.
Aaron Ackerman:
And that's all for this episode of How That Happened. Thank you for listening. Be sure to visit howthathappened.com for show notes and additional episodes. You can also subscribe to our show on iTunes, Google Play, or Stitcher. This content is for informational purposes only and does not constitute professional advice. Copyright 2020 HoganTaylor LLP, all rights reserved. To view the HoganTaylor general terms and conditions visit www.hogantaylor.com.