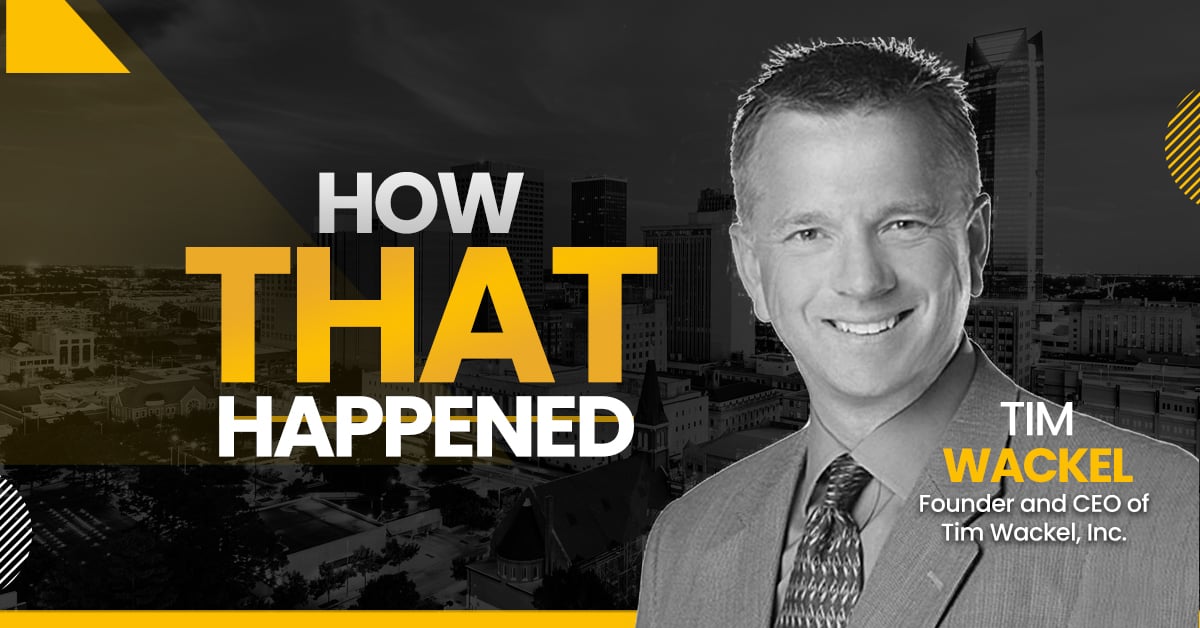 Tim Wackel:
I want to be surrounded by people who are like-minded, have the same drive and same motivation. So as I was asking questions about how the organization was put together, I was getting answers that I found to be less than acceptable. And so after months and months and months of going through this, a little light bulb went off inside my head and it's like, geez, if this many companies across America and all these different industries are really struggling with these things, why in the world couldn't I just go help them?
Robert Wagner:
From HoganTaylor CPAs and advisors, I'm Robert Wagner, and this is How That Happened, a business and innovation success podcast. Each episode of the show, we sit down with the business and community leaders behind thriving organizations to learn how business and innovation success actually happens. Our guest today is Tim Wackel, Tim is a sales trainer, keynote speaker, and executive presentation coach. Tim's bio states that companies hire him to improve their sales success by doing ordinary things extraordinarily well. Tim's list of clients is impressive and includes Cisco, Raytheon, Red Hat, Hilton, Thomson Reuters, HP, Verizon, PWC, and the list literally goes on and on. Tim is a graduate of the University of Nebraska-Lincoln with a degree in electrical engineering, and he joins us today from his home base in Dallas, Texas. Tim, welcome to the How That Happened podcast.
Tim Wackel:
Oh, thank you, Robert. I'm glad to be here.
Robert Wagner:
Yeah, thanks so much. So Tim, we were recently at an event together where you were the speaker, you were talking to a relatively small group of consulting leaders from CPA firms, and I just found your story very compelling, and I found your message even more compelling and more meaningful. And I just wanted an opportunity for our listeners to hear your story and hear some of your thoughts around sales and just the whole process of selling and business development. So I appreciate you being here today.
Tim Wackel:
Well, you are very kind.
Robert Wagner:
Tim, let's just start with what you're doing today. Just explain what Tim Wackel Inc is if you will.
Tim Wackel:
Well, I get hired Robert, by organizations across America and I really get hired from one of three reasons, right? The first reason is they want try to take the mystery out of business development. A lot of people really struggle with business development, there's that fear of the word selling. And so I get hired to come in and try to put some science behind selling and make selling something that you do and consider it to be noble and honorable versus this sleazy, slimy, manipulative stuff we've all been led to believe it is. So area number one I work in is really helping people develop better business development skills. The second area that I get hired to work in is helping people put together better presentations. And it's not a matter of being a PowerPoint expert and saying, "Hey, this is the type of font you should use." But really helping executives and business development experts really understand how to tell our story, because we all know that most of the presentations out there are not very good and there's a reason.
And the reason is most people have never been taught a proper way to put together the story. And then the third and final reason I get hired was when you and I were together here in Dallas, talk a little bit about relationship building and the importance of relationships and being purposeful about how you go about building relationships. And it's more than taking somebody to a steak dinner, taking them to a ball game. Relationships are much deeper, much more meaningful if you're purposeful at how you build them. So business development, presentations, and relationship building, those are my three claims to fame.
Robert Wagner:
Great. Okay. That's excellent, great foundation for our discussion. So we're not going to go through your whole career, but I do want to start at the beginning and you, as I said at the outset, you got a degree in electrical engineering and I think you quickly transitioned to sales, went to work at HP and transitioned to sales. But before we get into the whole sales thing, you chose electrical engineering. What did you think was going to happen with that? Because I got a feeling it's something different than where you've ended up.
Tim Wackel:
Yeah. I've been around the block a few times, Robert, and when I went through high school, the guidance counselor was like, "Look, you're good at science, you're good at math, you got to go study engineering." And when you look at all the different engineering disciplines, there was mechanical, there was industrial, there was civil, there was chemical and there was electrical and electrical just sounded like fun. I grew up on a very, very small community in Western Nebraska and electrical engineering just sounded like it was going to be cool. And this is in the late 70s and early 80s, when Reagan was in office, there was a lot of money being invested into R&D and defense for weapon systems and satellites. And I was fascinated with that whole thing and I really saw that as being my path.
Robert Wagner:
Okay. So you went to work at HP, tell us about that experience, I guess, how you got there and what happens that eventually led to transition sales.
Tim Wackel:
Yeah. HP was a very difficult organization to get into and I didn't really realize that until I got into the waiting area on campus for my HP interview. When I graduated, electrical engineers, boy, if you could fog a mirror, you could get an offer. And so there were a lot of offers for me to pick and choose from and I knew HP back then only as being the calculator company. It's like gee I'll interview with these guys, calculators might be cool. Well, it was probably the most brutal interview process I've ever been through. And I knew walking out of that interview, Robert, that if they were that picky about who they wanted to work for them, I wanted to work for them.
Robert Wagner:
Yeah.
Tim Wackel:
Yeah. I don't want to be surrounded by a bunch of people who fog mirrors, I want to be surrounded by people who are like-minded, have the same drive and same motivation. So I was fortunate enough to get a job offer to go work for HP, but one of the conditions was like, "Look, you may be a good engineer, but we think you'd probably be better at business development." And so we want to try to put you in a business development role, which was very uncomfortable. I did not go to [inaudible 00:06:17] school to go into business development. I did not want to call mom and dad back on the farm and say, "Hey, guess what? I'm in sales."
Robert Wagner:
Right.
Tim Wackel:
There was a big stigma and it literally took me a few years to really get my head around what that was and what it looked like and how I could be successful at it.
Robert Wagner:
Yeah. So you've been mentioned a couple of words around being driven. Did you know you were a driven person in high school and college?
Tim Wackel:
Yeah. Where I grew up hard work was in encouraged and rewarded and again, it was a small community. So I've always had a little bit of an inherent drive to want to be number one or be towards the top. I wouldn't consider myself to be super competitive, but I like going to bed knowing that, Hey, listen, man, I put it all out there today, I did the best I could. And I like being around people that are like that, I can sometimes be accused of, "Hey dude, you go too hard, you go too fast, your motor is always running." And it's true, but it's who I am, and when I'm with like people, we have a tendency to set the world on fire. So those are the types of environments I do quite well in.
Robert Wagner:
Right. I'm jumping ahead here a little bit, but can that be taught?
Tim Wackel:
That's a really, really good question, Robert. Yeah, I believe it can be learned. So if it can be learned, it can be taught. I think that requires a willing student.
Robert Wagner:
Right.
Tim Wackel:
Right. There are some people out there that are okay with okay. And if you try to take somebody who's okay with okay and try to convince them, it's not okay to be okay. You're probably going to fail, but there's other people that maybe have always been around okay and then one day they're exposed to extraordinary and they're like, "Whoa, that's a different lane." And not right or wrong, it's just a different swim lane.
Robert Wagner:
Right.
Tim Wackel:
And sometimes when people get in that swim lane, they say to themselves, "I like that and I'd like to learn more about how I can do that."
Robert Wagner:
Yeah. Well, going back to the HP thing and your initial entry into sales, in the presentation you gave and telling your story, you talked about it being a technical sales role, and I've heard the term sales engineer. So just tell folks what that means, so that they know.
Tim Wackel:
So a technical sales role, when I started at HP, everybody who had a sales role and some my organization, they were all engineers. Everybody had to have an engineering undergrad, and we were selling by and large to engineers. And they were incredibly complex and technical products, and so it wasn't the traditional sales model of need, budget, timeframe, fit. We really worked with our clients to help solve technical problems. And so clients would come to our organization, to our team and it'd be like, "Hey, look, this is a technical challenge we're having, we're trying to get this phased array radar to have a better resolution and a lower noise floor. What do you think we ought to be looking at?" So if you watched from the outside, you would not consider it to be a traditional sales call. Our motive, our goal, our objectives were to push product. Right. But we really never ever pushed because we were typically invited to the table because we were helping co-author, co-engineer, co-design the solutions that the customer was looking for.
Robert Wagner:
Okay. Yeah. I just wanted to draw that out because I think it's not something that everyone's familiar with depending on what things they're selling. I came from a background in my corporate experiences where we had a sales engineer role of people who really dive into that technical piece. And it's a really valuable part of the process, if you have that product that you're selling. So maybe just tell us a little bit more about your experience and career at HP and the success that you had there.
Tim Wackel:
Well, again, it took me at least a couple years. HP was an incredible place to learn the craft of selling. HP did just a tremendous job of taking people, they shipped us off for three months and helped us become comfortable with all the different organizations, we visited all the different manufacturing plants. We had an opportunity to meet and break bread and share weekends with the people that would be supporting us, so that when we got into places where it's like, I don't know, this is too complicated. We knew the people, whether it was in Santa Rosa or Fort Collins or New Jersey, we knew who to talk to and we had those connections and relationships developed. But again, it took me a couple years to really get comfortable with the whole concept. Started in Indianapolis and we had a little bit of a realignment.
And so I got shipped down to Louisville, Kentucky, and spent some time in Louisville, Kentucky, and had several different roles there. And then when I left Louisville, or at the end of my tenure in Louisville, I was actually exclusively just new business. I found a gift and being able to go out and develop new business, be able to go out and get new logos. We have farmers and hunters and my skillset really, I could farm and I enjoyed farming, but hunting gave me more satisfaction and then back in gosh, 94, HP decided, "Hey, we'd like you to take on more responsibility." And moved me here to Dallas where I basically covered the South Central, my team covered the South Central part, well, it was more in South Central. I went from Panama City to Salt Lake City, so we had that Southern beltway across America, doing nothing but new business development for HP.
Robert Wagner:
Okay. And what things were you selling?
Tim Wackel:
So we were selling what was known as the HP test and measurement line. So this would be things like oscilloscopes and spectrum analyzers and phase meters and power supplies, frequency counters, again, most people have never heard of these things, but if you were manufacturing something that ran on electricity, you needed these tools. So whether you were manufacturing a fan for an office environment, or whether you were manufacturing a weapon system, you probably needed some sort of HP test equipment on the bench someplace.
Robert Wagner:
Gotcha. Gotcha. Okay. So you had a lot of success there and you had a good career at HP. I think you did a couple of other things, but you've now been doing what you're doing now, this sales training, helping folks with presentation, helping folks with business development for 19 plus years now. What was the driving factor in you deciding to go this direction with your career?
Tim Wackel:
Well, I didn't choose the direction Robert, the direction chose me. So 19 years ago, my last corporate tour of duty, I was working for a software startup that was based out in Mountain View. I got worn out by the experience for a lot of different reasons, and they say you should never walk away from a job until you have another job lined up. Well, I committed a sin. I walked away from that job and I didn't have another job lined up. So I ended up spending some time on the sideline trying to figure out, well, what is Tim Wackel rev 2.0, look like? And as I was out talking to different organizations, Robert, I would be asking questions like, "Okay, so what's your go to market message? And help me understand what your sales process looks like.
When you guys go out and do a presentation, what things are you focused on? And how do you guys go about building better relationships? Walk me through the qualifying process. So as I was asking questions about how the organization was put together, I was getting answers that I found to be less than acceptable. And so after months and months and months, I'm going through this, a little light bulb went off inside my head. And it's like, geez, if this many companies across America and all these different industries are really struggling with these things, why in the world couldn't I just go help them and just work for myself? I'd always had a little bit of an itch to work for myself. And so I rented some office space, put out a shingle, gave myself a plan.
I had a campaign of a 100 nos. I said, "Look, if I get to a 100 nos and I'm not cash flow positive, then you know what? This was a bad idea and I'll go back to corporate America. But until I get those 100 nos, I'd really like to try to see if I can't make this thing work." So that was the beginning. I don't know, I still remember I had a folding chair and a card table and a phone and a small HP computer, and I'd come to the office every day and I would just work, work, work. And I'll tell you what, when you're used to working for a brand like HP, and now all of a sudden you're working for Tim Wackel, people don't call you back. So it was a rude awakening, but it was a real good exercise and resiliency and discipline.
I don't know, it was probably two and a half months in, when a friend of mine who had met at HP was actually over at Red Hat. And he said, "Look, I want you to talk to some of the guys here at Red Hat." And long story, not as long Robert, is they said, "Hey, listen, we'll bring you in, we got a national sales meeting going on. We'll give you half a day in front of the group, there'd be like 80 account managers in the room and we don't want a rah-rah, we don't want a motivational message. We want you to really come in and give these guys and gals actionable, meaningful, valuable ideas that they're going to want to go out and execute on."
And I remember it like yesterday, I still have the check hanging on the wall here at the office. We got two hours into this half day program and we took a break. And I remember walking down the hall to get a cup of coffee, and my feet never touched the ground. And I thought to myself, you know what? This was everything about being a sales leader that I loved with none of the stuff about being a sales leader, that I really didn't love. The things like putting together comp plants, the things like negotiating territories, the things like putting together complex deals, the daily care and feeding of running an organization.
I didn't have much of a stomach for this. So this was the part of the job I always loved, which is, "Hey guys, Hey gals, this is what it takes. This is how we're going to do it. Let's work on it. Let's get a plan. Let's push it forward." And as they say, the rest was history. Red Hat hired me for that one, and then next thing I know I have five or six more engagements with them. One leads to three, three leads to seven, seven leads to 15 and things just took off.
Robert Wagner:
Yeah. That is awesome. I love that story. I love the 100 nos. What a fantastic way to think about that and to motivate yourself. Your story reminds me again, going back to my corporate days, a sales VP, when he would talk with younger guys, he would tell a story of a guy who trained him and very similar you're in a room, a card table, a chair and in those days a phone book, and then the additional thing that this guy had was a candle. He said, you light the candle at the beginning of the day, and you don't go home until the candle burns out when it's out of wax, basically. Right.
Tim Wackel:
Wow. Wow.
Robert Wagner:
That was his daily equivalent of the nos.
Tim Wackel:
Well, you got to have them. To this day, I still teach people that you need to have a targeted list in front of you. I still have that spreadsheet with a 100 people in there. Nobody defaults to prospecting mode. I don't care what line of work you're in, nobody at 4:15 on a Friday afternoon says, "Hey, I got some extra time, I'll make a few calls."
Robert Wagner:
Right.
Tim Wackel:
And so if you don't have that targeted list in front of you, I'm not talking about CRM, I'm saying, Hey, listen, I know I got to make whether it's 10 calls a week, 50 calls a week, if you don't have those targeted calls in front of you, it's just really easy to make excuses in your own head, right. That's the first battle you got to win is the battle in your mind. So those bad boys are plastered in front of you, tagged to your monitor, hung on the cubicle wall and you put big red mark check marks through it. That to me is the best visual that tells you, Hey, are you getting it done or not? Because it's really easy not to do it. And that's one of the biggest traps we got to fight is just getting lazy and getting a little bit complacent.
Robert Wagner:
Right. So you said something else in your story there about your first experience and talking with folks and just reaching out, understanding what this might look like and asking about the sales process. I remember a guy talking about this once before about we have processes for everything. And I come from an accounting world and it's just overwrought sometimes with processes, but lots of times companies don't actually have a sales process or everyone's doing their own thing. Why is that? Why do we think that there wouldn't be a process associated with this that would have proven results?
Tim Wackel:
Another excellent question. I think when I was a frontline sales professional, I really didn't think much about process because I had success. Right? You just always assumed that everybody was doing it the same you were doing it. Well, as I started getting promoted and you started looking underneath other people's hoods, you realize not everybody did it the same way. That's when I was first like, "Well, why doesn't everybody do it this way?" And everybody had their own reasons. I'm not a process fanatic, but sometimes in selling, I think you have to have a process. There's an old expression, there's always a trail to the sale. And if you don't know what the trail to the sale is, then you're guessing, right.
You're doing fishing expeditions. You really don't understand the customer's pain points. You're not presenting your ideas with your best foot being forward. And so I don't think it needs to be you have to say it this way or you have to do it this way, but I think there's a roadmap. If you look at really successful salespeople and you blur your eyes a little bit, their roadmaps look very, very, very similar.
Robert Wagner:
Well, that's a good entree into something I wanted to get into. So in your presentation that I attended and then I think on your website and a few other places actually that I found, there seems to be a foundational principle that you have. And it goes like this, success and sales is the natural consequence of doing ordinary things extraordinarily well. So what are ordinary things in sales?
Tim Wackel:
The ordinary things in sales, I would say, as we just talked about, being perfectly clear on who you're targeting, and whether it's developing existing accounts or going after new accounts. So step one is you got to be perfectly clear on who you're targeting. Step number two is you got to be able to tell a compelling story. One of the hardest questions we all have to answer in business is this, "Hey, what is it exactly that you guys do?" And how do you answer that question in such a way that somebody goes, that's interesting, I want to learn more? What do you do? I do sales training. What do you do? I do advisory services. Right. So being able to have that story so that when you approach somebody on your list, you can say, "Hey, let me tell you a little bit about what we do."
And to be able to articulate that in such a way that your listener goes, "Whoa, that's interesting. Tell me more." The next thing is knowing how to be really good at follow up. People are very, very busy today, and too many folks in business are calling to touch base or calling to check in and that's not going to get it done. So understanding and being really good at something which is simple, which is follow up and making sure you don't get caught in the trap of, this person that's only around when there's activity going on. I think you have to be able to ask questions in an extraordinary way, really understanding how to develop good questions, not only the technical questions, but the business development questions, as well as the relationship questions. Being genuinely curious about who this person is, being genuinely curious about what their situation is and being genuinely curious about what they're hoping to achieve.
I think you have to be really, really good at putting together your solution, at putting together your presentation and being able to say at the proper time, "Hey, based on everything I've learned and based on all the explorations we've had with you guys, this is what I believe is going to be the right solution for you." And then just being extraordinary at continuing that relationship and making sure it goes on and on. I think in sales, as in life, we're all really good at dating, but sometimes we're not so good at marriage. And so before we get the signed contract, man, you are at the top of my pyramid, I'm focused on you, I'm trying to encourage you, I'm trying to be there for you, but sometimes we let those relationships start to fall by the wayside because we're chasing the next new shiny object. You show me, somebody does all the things I've just described, well, you know what? I'll take them into battle with me every day. Because we're going to win a lot more than we're going to lose.
Robert Wagner:
Right. Yeah. Tim, maybe think about, or talk about when you say talking to the prospect about what it is we do and linking that to the customer and how it relates to them and problems. I guess I would relate it to my own experience because when I started doing consulting work, our goal was to do fractional CFO controllership work. And I really had to do what you're talking about and just step back and think about, what are we doing? One revelation was that we can't be saying we're selling accounting. No one wants more of that. So what's the value proposition? What are they going to feel from what we do? So yeah, we do, we have tools and we may have products, but what is the customer going to feel from that? So can you speak to that?
Tim Wackel:
Yeah. You're going down the right path. I think way too often, what's the old expression? We try to sell the drill. And nobody walks into Home Depot because they really want a drill, they walk into Home Depot because they want the whole.
Robert Wagner:
Right.
Tim Wackel:
And so we have to focus less on what we do and focus more on what it does for others. Robert, when we work with people I'm trying to put together more compelling story, we give them a series of questions to reflect on. The questions are, Hey, number one, what's the title of the person you're trying to target right now? Because if somebody calls me and says, "Hey Tim, you know what? I specialize in working with sales trainers who were born in Nebraska and now reside in Dallas." I'm listening. Because it's like, "Really? You specialize in working with people just like me." So we talk about what's the target of the person you're going at after? What's the title of the person you're going after?
Number two, we talk about what is it that you help those people accomplish? In other words, if you've done deals with somebody else with that title, what was the result they were looking for? And trying to be as specific as possible with the result. Because it's way too simple to say, "Hey look, I'm a sales trainer and people hire me because they want their teams to sell more." Who doesn't say that? To be able to say, "Look, I'm a sales trainer and I work with organizations like yours and sometimes we've helped make a lift on the bottom line by as much as 15%." Not a contract, not a promise, not a guarantee, but giving somebody a reason to listen.
So we talk about making sure you understand the title. We make sure that you understand, what are the specific measurable results? The third thing we talk about is what is preventing that person from getting those results right now? If you had a hypothesize, what is the challenge they're having? What's the pain point? Why aren't they getting that? The fourth question then is how do they feel about those challenges? Because if I know, "Hey look guys, I work with people just like you, and typically we get engaged, we got a 15% lift and the reason you're not getting that 15% lift is because your people don't know how to prospect." Well, they don't think that's a big deal then guess what? It's never going to be a big deal. So we want people to understand what are the emotions involved. Then we talk about how are you different than everybody else that's out there?
Robert Wagner:
Right.
Tim Wackel:
Because if you're just like everybody else will treat you like everybody else. And then the very last question we ask ourselves is, what are the benefits of having a relationship with you? Not the benefits of a particular deal, but the benefits of getting into a long term business relationship. What would your other clients say about you? And so while these questions seem really fundamental, a lot of people and a lot of organizations really struggle with coming up with really good, clear, concise answers to those questions.
Robert Wagner:
Yeah. Excellent. Really good stuff. So another thing that you talked about in your presentation was the words, thoughtful, unexpected, and inexpensive. What are those words all about?
Tim Wackel:
So a friend of mine, Jerry Acuff wrote this book called The Relationship Edge in Business. And in the book, Jerry talks about part of building relationships is you got to do things for others that show that you care. That's what we do in our personal relationships, so why wouldn't you do that in your business relationships? And Jerry's acronym was, "Hey, if you're going to do something for somebody in business, number one, make sure you're doing something that's thoughtful." So these mass mailing of Christmas cards is not necessarily thoughtful, that's a nice thing to do, but thoughtful means, Hey, I'm thinking of you. Doing something unexpected is, well, everybody expects the expected, so try to do something that's unexpected. The old adage says, I love going the extra mile because there's a lot less traffic there.
Robert Wagner:
Right.
Tim Wackel:
To challenge yourself to do things for others that they wouldn't necessarily expect from you. And then the inexpensive is, you never want it to feel like you're trying to win somebody over. You never want it to feel like it's slimy or manipulative. So trying to do just little simple things. You could do $100 gift for somebody or you could do 10, $10 gifts for that person. I think you probably get more traction with 10, $10 gifts, because it's going to take a longer period of time. That's a longer drip sequence. There's more sustainability there. And so that's really the beauty of Jerry's teaching is Hey, do things that are thoughtful, do things that aren't expected and for Pete's sake make sure you do things that are inexpensive.
Robert Wagner:
Yeah. Great. Thank you so much. That's good stuff. So a lot of our listeners, our CEOs, they're business owners. So they're not necessarily the Salesforce and they're not the direct leader of the Salesforce. So maybe they're the engineer, maybe they're the technical side of the business or the operational side of the business, but they're the leader. What advice would you give them in working with their sales leadership, working with their sales teams to set them up for success? What does that sales leader need from the owner, from the CEO?
Tim Wackel:
I think, and again, everybody's probably going to answer this question in their own way, but if I was a sales leader, this is what I would be looking for from my leadership team. Number one, I want them to make sure that everybody who has that sales role, everybody who has that business development role, number one, make sure they're equipped. And I don't mean equipped as in the right computer or the right car. When I say equipped, you've got to help people learn how to do what they're going to do. I see way too often, we spend way too much time teaching people the technical side of the business, or we teach people about our products or our services, but we don't teach them about how to actually do the job. I've always said what you sell is important, but how you sell is critical.
And so the first thing I would to want is, "Hey, guys, listen, we got to make sure that we're equipping the team, that the team is being trained and trained well." The second thing I think I've would look for is encouragement, because oftentimes in the sales role, the message from on high is we need more and we need it yesterday. Right?
Robert Wagner:
Right.
Tim Wackel:
You're only as good as your last deal. Sales is hard enough, and so I think it's really important from leadership too, play a little bit of a cheerleader and be a little bit of an encourager that, "Hey, I know things are tough right now. I know this is what's going on with the economy. I know the markets." But it would be a constant source of encouragement. Doesn't mean you don't hold people accountable, but if you've got to tell your salespeople, they're not doing a good job, then you probably have the wrong salespeople. Right. So they get it and they're embarrassed by it and they're trying to fix it, so try to be an encourager.
Tim Wackel:
And probably the third and final thing I'd look for is just the empowerment, the empowerment to make it happen. Nothing will kill a deal faster in the micromanagement. Selling by committee is a very dangerous way. Doesn't mean we don't have team selling, doesn't mean that multiple people can't be involved, but you've got to be [inaudible 00:31:44] the foot and you have to be empowered to be able to make the decisions. You have to be empowered to do the right thing at the right time. So that ultimately that prospect or that customer, or that client feels like you're taking care of them.
Robert Wagner:
Yeah. So be responsive, right?
Tim Wackel:
Exactly.
Robert Wagner:
When they do reach out for help. So yeah, I can definitely see that. I've felt that from the CFO role and actually had to learn that. These people they got this thing to a certain point, they need an answer now about what we're going to do. Excellent. So just a little more into managing the sales function from a different seat. What's the best way to compensate and incent the sales force?
Tim Wackel:
Yes, man, I used to lose a lot of sleep, trying to come up with plans and design comp plans. It is a delicate sport and I am not an expert by any stretch of the imagination, but here's what I can share with you and your listeners, Robert, just from experience. What gets measured gets done. And if there's no incentive, then people are just going to mail it in. If there's too much incentive, then sometimes that encourages less than desirable behaviors. And so there's always that constant fine tuning of how much of this is based? How much of this is going to be commissionable? How much of it should be bonuses? And what kind of KPIs do those bonuses need to be built on?
When we were doing the new business stuff at HP, we had a comp plan that I just thought was you just rocket science. From zero to 60% of your target of the month, you got paid a multiplier of 1X. Once you went from 60 to a 100, it went to like 1.5X. And if you got to a 100% of your nut from the month, then everything above that went to 3X multiplier.
Robert Wagner:
Oh wow.
Tim Wackel:
So you could have a month and it'd be like, okay, this is really great. Right. Well, that calculation would happen on month two again, based on the cumulative of month one and month two. So what that would mean is that if you had a really, really good January and you got up to the big multiplier and then February got really, really soft on you, well guess what? You owe the house, right? And there would be no draw. What I loved about it is you were constantly thinking about where's that next opportunity? Right. Who else do I need to talk to? Because once you got ahead of the wave, you wanted to stay ahead of the wave, because that wave came over and crashed on you, you knew you were in trouble. Right. Because there's another one right behind it.
And that's maybe a really good analogy. It was like surfing, it's like, Hey man, once you got up and you were going, you had a little bit of the fear of God in you because it's like, "Yeah, this is a great January, but I don't want to have to go home with hardly anything in February." So like I said, there're guys that do what I do and all they do is work with plans on comp plans. It was one part of my job. I knew when I had a good one, but I always had a hard time designing them.
Robert Wagner:
Right. Yeah. Well, I'm always on the in being from again, the CFO chair is trying to administer them. Right. And then being asked, are we giving away the farm here? What are we doing? So it's an interesting subject to me and it is very, very hard and there's no one answer to that, so I was just curious what yours would be. Another question that's around the administration of the sales process or sales function, I guess, and again, I'm thinking from the CFO role, this is just a curiosity from your perspective. So lots of times the CEO, the CFO, we're trying to put together forecasts of what are going to happen. And so the starting point is always the sales forecast, particularly if you're doing a short term next 30, 60, 90 days.
And so you get handed a sales forecast, it has the funnel and it has the prospect, what we're selling to them, the value of that sale, maybe the expected margin, if you're lucky to get that information. And then there's this thing called the probability we're going to win. Then inevitably people take the value times the probability and say, there's the sales forecast and there's a timing element, right?
Tim Wackel:
Yep.
Robert Wagner:
I'm just begging Tim, is there a better way to think about predicting sales?
Tim Wackel:
I think there probably is Robert, what you just described brings back memories. And to me, I always felt like, or more often than not, I felt like the salespeople wouldn't necessarily tell us the truth, they would tell us what they thought we wanted to hear.
Robert Wagner:
Yeah.
Tim Wackel:
Because how do you forecast a probability of a close? It's like, do we have a proposal? Have we gone out and demoed? Do we know who the competition is? Have we identified all the buying influences? And I think that serves a purpose, obviously it does, especially in large organizations. When I started my practice to me, deals got one of three colors, red, yellow, green. Red was we're fighting for our life, yellow is, Hey, this could turn red, but it could also maybe turn green and green was, we just absolutely cannot lose this. So I went from 25, 50, 75%, when I look at my pipeline, I'm looking at just, okay, how do we feel about this? And it's more than just feeling, it's based on the information we've gathered, based on the exchanges we've had, based on our experience with whatever we're trying to do here, is this a red light? Is this a yellow light? Or is this a red light?
But I'm a much simpler operation than probably most of the folks listening to this podcast. Forecasting business it's always been a challenge. Let me back that up, forecasting business is a challenge, unless you're really good at what you're doing. Because if you're really good at what you're doing, then your customer should be willing and looking to share that information with you. I would always say that, Hey, if you're having to guess on where you're at on the deal, then you're probably not in as you think you are on the deal.
Robert Wagner:
Yeah.
Tim Wackel:
And you're probably not asking the right questions.
Robert Wagner:
Yeah.
Tim Wackel:
And or maybe they don't trust you completely and they're afraid to tell you that. And so I think the more skilled you are, the less forecasting is, like putting your finger in the air. When I look at people that are really, really skilled at this, they typically have a real good handle on their pipeline because they've worked the opportunity correctly and their customers like them, trust them, and respect them and are very open with, "Hey, here's exactly where we're at. This is what's going to happen next. This is what could cause this to get sideways." So if you find yourself losing a lot of deals or misforecasting them, probably best to just take a look in the mirror and work on that first.
Robert Wagner:
Yeah. It all goes together, right? All the inputs result in some of the outputs we're talking about here and just being able really know where you're at. Well, I could go on about that because again, that's how I can get the information. And I've always been curious about could we do this better? But I'll let that go. So one more question again, this is a little bit in the weeds, but what's the role of video in sales? Your website has some great video, really high quality, very polished, very well done. But just in the normal sales process, is there a role for video today?
Tim Wackel:
Oh, I think so and I think that role is exploding. It's a double edged sword because there're tools out there now where I can embed video and email and I can be very, very powerful, but some corporate servers are trapping that as spam. Here's what I know about video is people like to watch video, people like to click on that play button. What's the old study? That 7% of your effectiveness is the written word. On one end of the spectrum, I can send you an email and I'm going to have to write some really, really great copy to get you interested and to motivate you to take the next step. The next thing I could do is I could leave you a voicemail.
Most people struggle with that, but at least you're going to hear the words from me, you're going to hear the emotion, you're going to hear the passion. But if you can take it to that next level where it's not only are you hearing my words? But you're also seeing me, I think that can be a very, very powerful tool. And when you look at the studies being done by the American Association Inside Sales Professionals, there's a lot of different sales organizations that are looking at the power of video. I think it's really exploding. Again, you got to have the right technology, you got to have the right tools, and you got to make sure that who's ever delivering the message is comfortable delivering the message because video like I said, it's two edge sword.
It can either really, really help promote your cause or it could kill you. But I know I consume a lot of video and we try to produce a lot of video because very rarely has anybody ever read a blog post of mine and written me or reached out and said, "Wow, that blog post was really good." If I make a video on that same blog post, I probably have a 5X improvement that somebody's going to reach out and go, "Hey, I just watched that video. That was really good." Because that's when the light went off for me is I could write a blog post on floss every day, nobody would comment. Then I make a video saying the exact same thing, people are like, "Oh, that was great. That's the best advice I've ever been given." So it's like, okay, I don't need to read the Harvard Business Review to figure out this is what we ought to be doing is producing more video content.
Robert Wagner:
Yeah. Okay. Thank you. That's very good. I think it's something that certainly worth thinking and doing here at the firm. And it's a question of just how to use it effectively, so I appreciate the insight. Tim, we're coming to the close of our time together and we do have five questions that we ask every guest on how that happened. So are you ready?
Tim Wackel:
You bet.
Robert Wagner:
All right. So Tim, what was the first way you made money?
Tim Wackel:
The first way I made money was I was summer help on a farm outside of the community where I grew up. I wanted to have a job and mowing yards seemed worthless. I already mow grass and I want to mow more grass and so my dad helped me find a farming family that lived outside. And basically I got dropped off on Sunday nights and I got picked up on Friday nights. So I'd spend the weekends in town with my family and friends, but Sunday night, my dad take me back out there and drop me off. Everything from changing oils, changing spark plugs, driving a tractor, feeding the cattle, fixing fence, for lack of a better term, I was a farm hand and [crosstalk 00:43:19] it was good, hard work. And it taught me a lot about discipline and knowing how to get it done.
Robert Wagner:
That's awesome. We've never had an answer like that where you room and board went with it. Right.
Tim Wackel:
It wasn't much of a room and board wasn't very good, but you know what? I was learning stuff that has served me well the rest of my life.
Robert Wagner:
Yeah. Okay. Question two is if you were not running Tim Wackel Inc, what would you be doing?
Tim Wackel:
I would love to be a caddy on the PGA Tour.
Robert Wagner:
Okay.
Tim Wackel:
I shouldn't say I would love nothing more. I just think it would be really great to spend almost six days a week on a golf course with a professional golfer, carrying that bag, mapping greens, mapping terrains, getting distances, watching them practice, watching them cool down. That's something I think I could do and do for a long time and just never get tired of it.
Robert Wagner:
Wow. So that implies that you've got the golf chops to do that.
Tim Wackel:
Those who can do those who can't teach. I can get the ball around the course, I don't know that I have the chops. But I've always had a bit of a knack for helping people that way. I can look at somebody's golf swing and go, "Hey, listen, just maybe try this." People are like, "How'd you know that?" And the truth being known, I've only taken a bazillion lessons. And so some of that has finally started to stick with me, but I just love being around a golf course. I don't think I've ever met a bad carrot on the golf course. I've always been very blessed and fortunate that complete strangers and four hours later, you're like, "I've really enjoyed getting to know you." So I could do that and really enjoy it.
Robert Wagner:
Yeah. We had another guest that gave an answer around working, I don't know, if he meant working for the PGA or just working at a golf course, and it was really the same reason. He said, everyone's happy on the golf course. So he wants to be around those folks.
Tim Wackel:
Yeah, exactly.
Robert Wagner:
So what would you tell your 20 year old self?
Tim Wackel:
I would tell my 20 year old self to believe in yourself more, to not settle, to realize that nobody gets out alive, and to realize that life is full of nos and you should really go after those nos, and don't underestimate yourself. Everybody's afraid of crossing the line, I think when I was 20, I didn't even know where the line was. And so if I could go back I'd be like, "Tim, go. Get and try, ask, do. The worst thing that's going to happen is somebody's going to tell you no, or somebody's going to say, you're not qualified, or somebody's going to say, you know what? We're interested in someone else." I regret that I didn't have more and maybe it's confidence, just didn't believe even myself enough. And I think all of us, we have that self confidence and we have the self doubt. So focus on the confidence and work on that.
Robert Wagner:
Yeah. So question four is Tim, what will be the title of your book?
Tim Wackel:
What would be the title of my book. Been there, done that, got the t-shirt. That's a really good question, Robert. Maybe the title of the book would be Believe In Yourself.
Robert Wagner:
Okay. It seems like that's at the root of what you're helping organizations and people do in their sales world.
Tim Wackel:
Yep. Trying to give them the skills and the knowledge so that they can believe in themselves.
Robert Wagner:
All right.
Tim Wackel:
If we go out to the driving range, Robert, you're not a very good golfer and I sit there and I go, Robert, I believe in you. I believe in you. You're like, I stink. Right. But if I show up at the golf range, I go, "Robert, here's what I want you to do. Here's how I want you to hold the club. Put it back in your stance a little bit, swing like this." And then you had a little bit of success. And then I looked at you and I said, "You know what? Robert, I believe in you." I think that's when the fire starts.
Robert Wagner:
Yeah. Yeah. Excellent. So last question. What's the best piece of advice you've ever been given?
Tim Wackel:
Well, that's a really great question. The best piece of advice I've ever been given was probably, focus on winning that battle in your head. Which meant, when we all think we're too tired, when we all think we're too stressed, when we all think we got too much going on, right. Just take one more step, win that battle in your mind. It's that discipline, don't hit the snooze, make sure you're eating your vegetables, get plenty of rest, drink your water. When I was told, "Hey, listen, the biggest challenge you've got to be in the best you can be is the person you brush your teeth with." You can't control your products, you can't control the competition, you can't control your territory.
You can't control who you work for, but what you can control is you and your attitude and your skills and how you go about conducting yourself each and every day. Because it's really easy to make excuses, right. With all the craziness that's going on right now. Really, it ain't me. Business is bad because we got this coronavirus or business is bad because Capitol Hill or White House, but you know what? You'll never control those things. So all I can do is put my head down and do the best I can do and be focused on being the best I can be.
Robert Wagner:
Yeah. So Tim, I meant to get into this at one and we passed by it. In one of your videos, you talked about going where we're afraid to go. And you also mentioned fear earlier, how big a deal is fear in the sales game?
Tim Wackel:
I think fear is huge in the sales game. But I think fear is huge in life sometimes too. It of goes back to what I said earlier, sometimes we have that fear, so we don't ask that question. We don't take that next step. We don't do what we know we should be doing. There's a question out there that's, if you knew you had zero chance of failing, what is it that you'd really like to do? And to me, that's one of those questions, what do you mean? And a lot of times people aren't doing those things, myself included, it's like, "Well, I don't want to do that because I'm not pretty good or I might fail or that might not look so good." And so I think, what's the old saying that it's not the regret of things that we did and did poorly that bother us on our death bed, it's the regret of the things we just never did.
Robert Wagner:
Right.
Tim Wackel:
And the reason we don't do them is I think we're afraid.
Robert Wagner:
Yeah. Yeah. Well, Tim, thanks so much for being with us today. I really appreciate the insights and I love your story. It's inspiring. It encourages us to do the hard things, which I think is so important and to be very diligent. So tell us how we can get ahold of you and how we can find out more about you.
Tim Wackel:
You bet. So the easiest thing to do, Robert, would probably just be visit the website or even just Google. So it's Tim Wackel, T-I-M W-A-C-K-E-L, timwackel.com or just Google that, or go to YouTube, and I'm always just a phone call away. I'm the old fashioned guy that still changes his voicemail greeting daily. And if you call and leave a message, and if you haven't heard back from me within two hours, something it's terribly wrong. And so the office is 214-369-7722.
Robert Wagner:
Okay. We'll put that in the show notes as well. Again, thanks so much, Tim. Really appreciate the time.
Tim Wackel:
My pleasure, Robert. Thank you very much.
Robert Wagner:
Thanks.
Robert Wagner:
That's all for this episode of How That Happened. Thank you for listening. Be sure to visit howthathappened.com for show notes and additional episodes. You can also subscribe to our show on iTunes, Google Play, or Stitcher. Thanks for listening. This content is for informational purposes only and does not constitute professional advice. Copyright 2020. HoganTaylor LLP. All rights reserved. To view the HoganTaylor general terms and conditions visit www.hogantaylor.com.