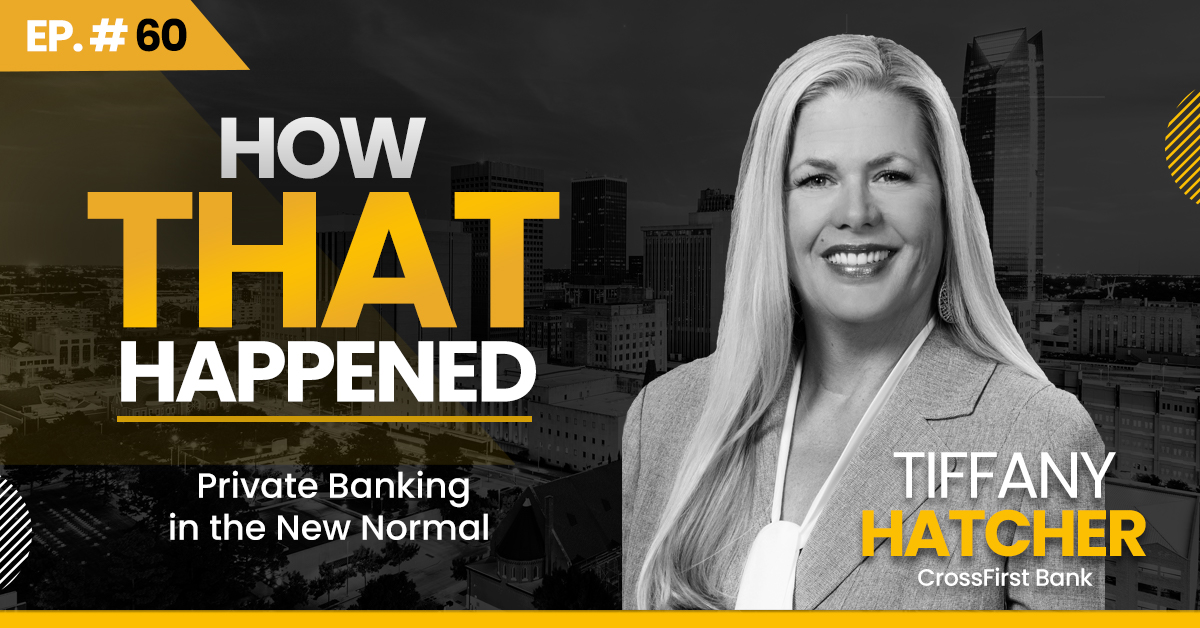 After today's all new episode, The How That Happened podcast team will be taking a break for the holidays. We will return with new episodes beginning January 10th, 2022. Also, we would like to wish all of our listeners, a happy holiday season.
Robert Wagner:
From HoganTaylor, CPAs and advisors, I'm Robert Wagner. And this is How That Happened, a business and innovation success podcast. Each episode of the show, we sit down with the business and community leaders behind thriving organizations to learn how business and innovation success actually happens. Our guest today is Tiffany Hatcher, Tiffany is the president of CrossFirst Bank Tulsa. Tiffany has had a career in banking for 30 years, including roles in private client services, wealth management and commercial banking. In her current role as market president, she oversees all the operations of CrossFirst Tulsa, which includes lending investing, marketing, and the development of new banking services. Tiffany started her career as an entry level teller at a large national bank. And she's going to tell us that story here in a minute and works her way up to her current role at CrossFirst. So Tiffany, welcome to the How That Happened podcast.
Tiffany Hatcher:
Thank you so much. It's so nice to be here today.
Robert Wagner:
Yeah, really excited. Known each other for a while, and I'm glad to have you on the podcast with us. So Tiffany, I know that culture at CrossFirst is based on the StrengthsFinder principles. And I want to spend some time on that. We've never had anyone on the podcast who really lives those out and whose organization lives those out. So I'm anxious for our listeners to hear about how that works at CrossFirst, but there is a story in your bio that just intrigued me about sort of how you got into banking. So can you tell us kind of how that happened?
Tiffany Hatcher:
Absolutely. So in high school I worked at Target and one day I was working on the floor and I helped this lady and she said, "Wow, you've been so helpful." And then I found her later on in the store and made sure that she got what she needed. And she just said, "Well, I can just really tell that you love to help people." And so she offered me a job as a teller at Boatmen's bank, which was just down the street. And so that was in 1991. And so that's when I started in banking. And so just by chance, who would've thought 31 years later that I'd be running a bank here in Tulsa?
Tiffany Hatcher:
So it's really been an incredible journey, but yeah, started as a teller and then worked my way to new accounts, did consumer loans and mortgages. And then I got involved in investments. So it's just been the whole gamut to be able to do that. And at one point in time, I was in my twenties. I was running three banks for Bank of America here in Tulsa. And then they put me into a accelerated leadership program. And then once I graduated from that, I was able to get my own market in St. Louis.
Robert Wagner:
Oh, wow.
Tiffany Hatcher:
Yeah.
Robert Wagner:
I didn't know that you had lived somewhere else. That's pretty cool.
Tiffany Hatcher:
Yeah. So I had a full relo, went to St. Louis and ran that market there and had about 30 people. We had about 15 bankers and 15 investment advisors. And it was just a great, great time in my career. And then I slowed it down to start the family, which was great, after that and really focused on my clients and building the portfolio out. And so then I got the call to go to CrossFirst.
Tiffany Hatcher:
And what really intrigued me about CrossFirst was the partner model, which is a lot like your model at HoganTaylor. And it was an interesting thing that I had just never done before. And they said, "By the way, there's no sign on bonus. You've got to write a check." And so back in the day, we were raising capital trying to get the company built out so we could go public. So it was just an amazing time to be able to have skin in the game and act like an entrepreneur and build out your own team was just an incredible opportunity for me. And the rest is history I've been there ever since.
Robert Wagner:
That is very cool. There's a lot of that story I didn't know. So it is kind of the classic, start at the bottom of move your way up, right?
Tiffany Hatcher:
Yeah.
Robert Wagner:
So what kind of education or learning or certifications did you have to get along the way?
Tiffany Hatcher:
Gosh. So many. I went to Cannon Financial Institute in St. Louis. So there was numerous leadership programs that Bank of America put us through that we had to pass. And then all of the trust and estate planning and all my investment licenses, I had my principal's license as well. So I'd go from approving loans at night to investment trades. And so, we did that long time ago back in 2005 where you could work both sides.
Robert Wagner:
Gotcha.
Tiffany Hatcher:
And so it's kind a crazy time to do that.
Robert Wagner:
Gotcha. Well, that's a great experience as you've had along the way. It's very, very cool.
Tiffany Hatcher:
It is. Very holistic.
Robert Wagner:
Yeah. Yeah. Would someone be able to get that holistic experience today?
Tiffany Hatcher:
Absolutely. I think so. And I think we've done a good job at CrossFirst in allowing people that have that whole background, where they can see things holistically and we've put those individuals in leadership roles and it's really been nice to speak about, we can speak commercial, we can speak high net worth business owners. We can talk about consumer. And so to be able to do all of that and treasury management, it just really makes all the difference.
Robert Wagner:
Cool. Very cool. Well, let's get into the StrengthsFinder thing because-
Tiffany Hatcher:
My favorite.
Robert Wagner:
Yeah. I'm very intrigued by it. And we had lunch a couple years ago. I just remember you guys were really excited about it and we're kind of living it out. Not kind of, you were living it out. So let's talk about that. So your LinkedIn profile and your email signature state that your strengths are Futuristic, Strategic, Activator, Relator and Achiever. So for those who aren't familiar with Clifton StrengthsFinder, what are we talking about here? What do those things mean?
Tiffany Hatcher:
Yeah. So from a futuristic standpoint, I'm always trying to paint the picture and make sure that people understand where we're going. So one of the favorite things for me to do is Strategic planning at our bank and talk about the five year vision and really paint that for everybody so everybody knows where we're headed. And so I have really grown in my strengths over the last few years because I think I've always known where I was going and with Futuristic, you've got to be sure that you turn around and bring everybody with you. And so that's something that I've really learned over the years to do that. And Strategic, there's always a plan, it's always very intentional. I think things through on the way to work every day, who I'm going to touch that day and how I can help them and maybe a hotspot or something I need to work on or what solution. It's all very strategic.Let's see. Relator. So you have Relator too.
Robert Wagner:
Yeah, I do. Yeah.
Tiffany Hatcher:
So on Relator that one for me, I have to really get to know people and really do a deep dive if you will, and really kind of peel back the layers and just see how I can help them be successful. And others might be a little bit quicker to build that relationship. But for me, I'm in it for the long haul. So that's the way that I view my Relator when you look at the description of it, and I think Achiever, that's self explanatory, always looking at the goal, the end game. And then Activator really, really throws things into high speed mode. And so that's something that I have to really pay attention to because Activator, I want to do it all today.
Tiffany Hatcher:
And so we have somebody at our organization that really launched our culture into Strength based culture. And his name was [inaudible 00:07:36] Steve. And we lost him not too long ago. And he always would say to me, "Tiffany, you're like a Mac truck." So he would say, "You got to slow down just a little bit to take that time to get better." And so it was very interesting to me, when he would say that to me, because to me that was good to run really fast. And so that really helped me with all those meetings that those one-on-one coaching sessions with him really helped me evolve into a better leader. And the other thing that he would say to me is, "You need to sell tickets to the party in your head."
Robert Wagner:
Oh, wow.
Tiffany Hatcher:
And I always get goosebumps when I say it because-
Robert Wagner:
Yeah, what a great turn of phrase.
Tiffany Hatcher:
What an incredible phrase. And it's around the Futuristic theme. And it's because he knew that I had it all and I knew where the team was going. And I knew what I wanted it to look like. And I knew who I wanted to hire all those things, but I was struggling with getting that out to the team and making sure that they could follow it. And so I really have learned so much over the years and really just play to those strengths. And I still reevaluate all the time. I run around. Everybody knows I always have my StrengthsFinder book with me when I do my one-on-ones with people and try to figure out what their strengths are and how we can work together.
Tiffany Hatcher:
And so it's been incredible, but we also, put it on our name plates. So when I walk up to a banker at any of our locations, wherever I'm at, if I'm in Dallas or I'm in Kansas City or Phoenix, I know what their strengths are. And so it helps me have better conversations with people because I'm very mindful of that. And so people that have analytical, I have a gentleman at work that his number one is analytical. And so I always lead with the numbers. And so he engages with me so much faster on that or somebody who has positivity, you lead with that. And so it makes the relationships better when you learn how people process information.
Robert Wagner:
Right. So I want to go back to the Futuristic. That is one of the I guess, less commonly strengths.
Tiffany Hatcher:
I think we have five in our whole company that have that.
Robert Wagner:
Right. And that's your number one. Right?
Tiffany Hatcher:
Right.
Robert Wagner:
Yeah. So that one, and then the Activator I can see, and you alluded to this where you're just always ahead of people and I don't mean that in a-
Tiffany Hatcher:
It's not bad.
Robert Wagner:
Right. But you got to be, particularly as the leader, be cognizant to bringing people along.
Tiffany Hatcher:
Right. Exactly. So I've literally had to say to myself, slow down, and think about who can you bring to the table to get this done today instead of just doing it. So I think as leaders, it's so important that we learn, and we continue to learn and evolve because that's what makes us great. And to be able to help people along the way.
Robert Wagner:
Yeah. How have you sort of inculcated this in your own mind so that you can really use it? I mean, you gave a couple great examples about using it. You're talking to people and you know what their strengths are. Even if it's just on their name later, maybe you just know them that well, how have you made that? Because there's like 36 of these things, right?
Tiffany Hatcher:
Yes. Right.
Robert Wagner:
So how have you just made them sort of part of your DNA so you know how to talk to people based on their strengths?
Tiffany Hatcher:
Well, if you do monthly one on ones, which is what Gallup really says, and really focus back to those strengths and you surround it, every one of those meetings should be about that. And so we'll have those conversations. And so if you do it every single month with your people, you get to know them at just an incredible level to where you understand their why, their purpose. Just so many things come from those conversations. And I love that we've changed it. I think Gallup's changed it now from basement to balcony. Now it's helpful to hinder. And so really learning where people are within their strength. And so just because Futuristics my number one doesn't mean that I'm top of the strength, there's still room for me to work within that strength. And so really identifying that when people are struggling maybe to hit a certain goal, that really makes the difference when we say, "Okay, how do we play to the strength?"
Tiffany Hatcher:
And sometimes I had this conversation this past week with our Gallup strengths coach that we have. And I said, "Sometimes people turn it around on you and say, well, that's not one of my strengths." And so as a leader, you have to figure that out because that's a conversation that you'll have to have and say, "Well, what within Futuristic or related, can we really tap on that strength to help fill this gap here where you're maybe not hitting that goal?" And so it's a skillset and you got to learn it. And if you're passionate about it, it just makes you a much better leader.
Robert Wagner:
Yeah. So what happens at the bank for onboarding? Like you bring in new folks and they've got be part of this thing, because this train's moving.
Tiffany Hatcher:
Right. It's moving fast and that's the scariest part of being a growth company that's going so fast is we don't want to lose that. And our chairman does a great job of talking about, we don't want to lose our culture. So making sure that we hire the right people that understand what we're trying to do. And that is core of everything that we do as our strengths based. And so from day one, most of our people that come on already know about it, we've already discussed it when we interviewed, we've talked about it.
Tiffany Hatcher:
Now, Gallup isn't for hiring purposes, it's after the fact. Sometimes leaders will be like, "I really want to know what their strengths are before we hire them." Well, that's not what you're supposed to do. It's after the fact. But a lot of times I'll after I've interviewed and spent two or three times with somebody before we actually make them an offer, I usually can guess three out of their five strengths. So I'm pretty good at knowing what where they're going to land. But once they come on and become part of the team the very first day, I think, or the second day they take that test.
Robert Wagner:
Gotcha.
Tiffany Hatcher:
Yeah. And so we know. And then we send it out to the whole team and then we encourage bankers to say, "Oh, I've got two strengths that are alike." When you reached out to me, you said, "Tiffany, we've got three strengths in common." And when I spent time with your marketing directors, she was like, "Oh, we have two strengths in common." And so we just encourage that from the very get go.
Robert Wagner:
Right. So great segue to my next question because we do share Achiever, Relator and Strategic. So what would that mean if we had a working relationship? Say I was one of your bankers or something, how would that help us to know that we had those things in common?
Tiffany Hatcher:
Yeah. Well, how cool is it that we have three that are the same, first of all, you don't see that a lot. So see, I knew I liked you and I think that's why we have worked well over the years together. And so I think that when you can spend time with people of like minds and that process information, and think about that the same way that you do. I think really great things come from that. So one of the things that I wanted to ask you, because sometimes people say Relator have trust issues, because we're not all in with you right at the top, but we don't want it to be a negative to me, Relators a really positive thing. We may be slow on that building the relationship, but we build really deep relationships and they last for many, many, many years. So for me, once I'm in with you, it's for the long haul. And so I'm curious on how you translate when you read about Relator. How does that-
Robert Wagner:
Yeah, well just keying off the trust thing. I mean, there's probably multiple ways, but kind of two big categories of trust. People you kind of start at zero with them and you have to build up and it lasts for a long time. I'm in the other category where you sort of get a hundred percent trust from the beginning and then you can only lose it at least you can lose it pretty quickly. So that's for me. And I'm a small circle person for sure.
Tiffany Hatcher:
Same.
Robert Wagner:
But they're deep. If you're in the circle then it's a deep relationship.
Tiffany Hatcher:
Yeah. I talk about that all the time. My circles on one hand.
Robert Wagner:
Yeah.
Tiffany Hatcher:
Yeah. And it's not a bad thing. There's just a lot of people in your life and you understand where everybody is, but you just really want those longer term deep relationships.
Robert Wagner:
Okay. So you only get to ask the host one question.
Tiffany Hatcher:
Oh, sorry. I'm real bad about that. I'll take over if you, let me.
Robert Wagner:
Yeah, I'm just kidding. That was pretty good. So again, I just want to dive a little bit deeper into one more question about how this works in your organization. Because I think so many organizations, they take the survey, everyone finds out their strengths. And everyone says, "That's interesting."
Tiffany Hatcher:
Yeah.
Robert Wagner:
And then it just sort of dies. Nothing happens. And not that we're here to teach StrengthsFinder, but what makes it super valuable to your organization? So that you've gone as deep as you have with it.
Tiffany Hatcher:
Well, the other thing that we do, we just wrapped up our engagement and we had the highest engagement scores that we ever have had in Tulsa, which makes me incredibly proud. And so now we've been celebrating that.
Robert Wagner:
Okay.
Tiffany Hatcher:
So once our scores came in, we've been celebrating in state of the team meetings, which is part of the engagement. And so how cool is it that you get to start off your meeting about how high your scores were, but it's really hard to find things to work on when your scores are so high. So you don't want to just find things to find things. But what we found was in those meetings, as we had them in each division this morning, we recapped in our leadership meeting, each division is that everybody was focused on how do we keep it this way?
Robert Wagner:
Yeah.
Tiffany Hatcher:
And so that was really great. We had a couple of little things that we could kind of latch onto to create a goal. So we did that and we set those goals. But the other thing that was really spoke loudly to me is as we went through these state of the team meetings is, as some of our people said, "We do these goals and we talk about state of the team, but we really aren't talking about it again." And so in my mind I was thinking, "Wait, I know what the three reaction items are and I'm trying to live it every day." But I wasn't intentional about saying, "Hey, let's bring the state of the team back out." It's kind of like when people do strategic plans and they never bring them back out and everybody does all this work and then nobody revisits it.
Tiffany Hatcher:
And so that was something that as a leadership team, we said, "We need to bring the state of the team back out." And just make sure everybody knows that's what we're talking about and just connect the dots because in our minds we are doing those things, but you've got to be intentional and make sure your people know that's where you're headed. And there's just so many phases. There's also different tools within Gallup that we do. And we really try to identify, is somebody a core player? Are they high potential? And really our chief operating officer does an amazing job of touching base with us just to make sure that we're thinking along those lines as we're trying to solve for gaps in succession and all those things, and really just paying attention to where it's called Nine Box.
Tiffany Hatcher:
And where our people fall within that. And making sure that we've got a development plan for our high potential. So we don't lose sight of that. So for me, if it's like a leader, for example, and they're really just at the top of their game and what's the next step for them, it may be community. So there may be opportunities with the community that they could lead to enhance their leadership experience and just helping endorse them to do things like that. So I'm really proud of the fact that we're constantly talking about that to help our people get to that next level.
Robert Wagner:
Yeah. Do you have either data or maybe just sort of awareness that this helps with retention and helps with keeping turn over lower? I mean, we're recording this early December 2021, everyone's talking about the great resignation. So do you think this is helping you guys?
Tiffany Hatcher:
Absolutely. When you correlate high engagement scores, we are almost [inaudible 00:19:45] best place to work under Gallup so you have to be at 440. And so our company's just shy, just a few points of getting to the best place to work. And so when we get there, I think that'll even help our retention even more. But today I think that's really our secret sauce.
Robert Wagner:
Yeah. I had this epiphany this morning, we're doing our semiannual check-ins with folks and going through their goals, things that you're talking about. And I was talking with a colleague and they were talking about a couple of their goals got sidetracked because key people on the team for these initiatives left. And this it's like a hidden cost of turnover, right? Because initiatives that we have stall or they go away. Because the leader or key players, you have to replace them, bring them up to speed and things like that. So I can just think about in your organization, the strengths thing, where it's such an important part of kind of the daily life in relating to one another. When you lose someone, you lose all that knowledge that you've built into them around their strengths. These are just huge costs of turnover.
Tiffany Hatcher:
It is. And I talk about that all the time is from a leadership identity for me is I spend all day investing in people, that's what I'm talking about. And so it's huge. And please know, we're like any other company, we're all having trouble with the great resignation. And so the competition is just throwing money at people and talent just because the talent pool is just not where it needs to be. But I will tell you a story. The last two hires that we hired and great, talented bankers, one of them [inaudible 00:21:38], she said to me, the reason why she came, she had three offers on the table, very competitive offers.
Tiffany Hatcher:
And she said, the reason why she came to CrossFirst was because of the culture. And so everything that we had talked about, so I've been really, really trying to market our bank from culture, being number one, the ability to win business, because everybody wants to make sure that they can be successful. And then community. And so if you read about the great resignation and the three things that are the most important to talent today, it's those three things. And those just happen to align with what's important to me and our team in Tulsa. And so I just really focus on that.
Robert Wagner:
Yeah. No, that's very good. Very good. People have really reevaluated what's important to them. And they're making big decisions about where they want to work and how they want to work based on deciding, "You know what? Things that I thought were valuable to me really aren't that valuable." So it's a very interesting time.
Tiffany Hatcher:
And over 31 years of doing this, I just can't remember a time when somebody took a job just for the money that it ended up working out and they really found gratification from that. So I'm not one of those people that can do that. So there's just so much more to it for me personally.
Robert Wagner:
Yeah. Okay. I want to hit some other topics real quick here. So when you and I first met, you were a private banker. And so our audience is business owners and business leaders. And for those who don't know what that is, I'm going to give you a shot at just saying what that is and how that can be valuable to a business owner.
Tiffany Hatcher:
Yeah. I think a lot of my business owners always said, "Tiffany, we appreciate what you do for us because you're not just solely focused on the numbers and the commercial loan, for example, or you're paying attention to my people. You're banking my executives. You're taking care of all the other things, the day to day and you're able to speak that language." And so I really built my portfolio on that because a lot of times, depending on what your role is in a bank, you can become very siloed. And so what would happen is business owners, they weren't getting the care that they needed and the experience that they should have had. And so banks make that mistake. And I've been involved in that and seeing that over the years where that one person's able to do one transaction for them, but they're not partnering and they're not utilizing somebody that can give that high level of service to their family, their executives and their people.
Tiffany Hatcher:
And so really that's what we do at CrossFirst, we really market ourselves as who we are. And you provide the experience for the client and the extraordinary service and build those relationships based on trust and do what we say we're going to do. And so that makes the difference because really all of us have the same products and services. And so really what sets us apart is how we deliver and how we bring those solutions. And so I talked so much to bankers that are new and up and coming, and I said, "How do you get on the front end of this when you're working with business owners? How do you become part of the decision making instead of just being reactionary and they've already made the decision?" So I'll push back when people bring a deal to me, I'm like, "Were you a part of this decision or did you just receive it after the fact?" And so that really resonates with people, how do you be a part of that financial team?
Robert Wagner:
Yeah, very good. So another question is I think banking has traditionally been a male-oriented industry.
Tiffany Hatcher:
Sure.
Robert Wagner:
So do you feel like a trailblazer or is that time passed or we sort of passed all that?
Tiffany Hatcher:
Oh, I think we're getting past it. I really do. I mean more and more you'll see that. In fact, our company actually has more females in it than we do men. It's pretty even, but I will say that our chairman and our leadership team has done just a phenomenal job about talking about getting the right people in the seat, regardless of male or female. And so I appreciate that so much that they saw my value that I could add in this position and really didn't look at it that way. So I appreciate that very much, but some people want me to say I had these incredible female mentors along the way, but I'll tell you being in a industry that's primarily male. I had incredible men mentors, to be exact.
Tiffany Hatcher:
And so I'll always forever be grateful for the things that they taught me to always pave for myself and be the hardest worker in the room and how to earn a seat at the table. And all those things just really resonated with me over the years. And so in fact, one of my mentors who I reach out to from time to time is your great leader, Randy Male. And so, he's been an incredible leader in our community for a lot of people.
Robert Wagner:
He's tremendous.
Tiffany Hatcher:
He is. Yeah, absolutely.
Robert Wagner:
We try to take advantage of it, internally here obviously, but I'm not surprised that you do as well.
Tiffany Hatcher:
Yeah. Oh, absolutely. Great resource.
Robert Wagner:
Yeah. So again, we're recording in early December 2021. We've been living with COVID now for 20 months. So how is learning to work, in the pandemic helped the banking industry and your bank?
Tiffany Hatcher:
Gosh, I feel like we can touch more people. Before I'm that type of person, I try to fill the calendar as much as I can back to back to back. And I really said to myself, "Gosh, I can only do so much of that during COVID." And so really trying to figure out ways to reach out and touch people through maybe LinkedIn, social media, all Teams meetings. And I thought, "Gosh, four or five meetings a day, face to face, think about how many people I can touch in a day to really get our brand and awareness about our culture and everything out."
Tiffany Hatcher:
So for me, I grew tremendously on being able to do that to bring more people and we did more Teams meetings with clients. And so we were able to three or four of them in the room, on the Zoom call to be able to do a treasury review or whatever the case may be. So for us, it just really launched us to where now we get to see them face to face and we have all that technology as well. So to me, I think it was a good thing in terms of that. I mean obviously bad times, but we did grow from it and we learned a lot.
Robert Wagner:
Yeah. What kinds of things did you do that maybe accelerated just digitization, like digital signatures on things? I mean, were all those things kind of in the works and then you sort of adopted them?
Tiffany Hatcher:
They were in the works and then we really have had to escalate and then bring those forward a lot faster than what we thought.
Robert Wagner:
Yeah, yeah. I've seen that. We've seen that in our own business. We've certainly seen it with clients as well. We sort of knew they were coming.
Tiffany Hatcher:
Yeah.
Robert Wagner:
Okay, now we got to do it.
Tiffany Hatcher:
And sometimes people say, "Hey, can we just do a call?" Even though they're totally fine with coming to the office. But sometimes people just want to do that because it's faster. And they can put numerous people, maybe their CEOs in Dallas or they're two financial officers somewhere else. And so we've been able to build relationships that way as well.
Robert Wagner:
Yeah. Well we're kind of in a period now where you can sort of do both, which is kind of nice. So I never want to go to the branch for my personal banking. So my wife will go every week. She's like a celebrity in the branch. So it's good that the banking community can take care of both now we're in that phase. So how has it, I won't say it hurt banking, but how has it been a big challenge to the banking community to work during these times?
Tiffany Hatcher:
Oh gosh. I think it's the [inaudible 00:29:22] environment is, and obviously watching our business owners really kind of go through that, but we're very proud of all the PPP efforts. I'll never forget that. I think all of us who live through 2008 in banking and now have gone through PPP those are just things that you don't forget as a banker. So being able to help them during the time that they needed was just crucial, but it's definitely changed things.
Robert Wagner:
Yeah. Yeah. So interesting to say [inaudible 00:29:49] go back to 2008, I've forgotten this, but I would say until COVID there are lots of business owners that just talking to them kind of tell me your story. They would always have a 2008 store, like a near death experience.
Tiffany Hatcher:
And what we learned through that is how you treat your clients during those tough times. I mean, they don't forget. So it's all in how you react. So if we have these hard times and I think our leadership team did a phenomenal job during COVID, working with clients on the challenges because when I've worked for organizations that did not, it really was harmful in the long term. So definitely how you treat people and how you react to it during the time is crucial to a company's success.
Robert Wagner:
Absolutely.
Tiffany Hatcher:
I will say this too, from the great resignation, 2008, as we're all looking for good talent right now there's a gap because a lot of bankers got out of banking in 2008.
Robert Wagner:
Oh, wow.
Tiffany Hatcher:
Yeah. And so I'm kind of curious how many got out during PPP too. So I think it'll really show up in five years as we-
Robert Wagner:
Interesting.
Tiffany Hatcher:
Yeah. So it's really important that we encourage people to get into the financial industry and really train and develop them right now. So that's why you see so much of that training, will train you. A lot of banks are trying to really look outside of just the banking talent and look for other industries and try to hire them in that way. So everybody's having to get real creative.
Robert Wagner:
Yeah. Same thing's happening in accounting. There's fewer accounting students. It's going to be an interesting time in the future. So couple more questions kind of around these items. So what about your leadership during the pandemic? What did you have to do differently or how'd you have to think about things differently, I guess? How'd you grow?
Tiffany Hatcher:
Yeah. Communication was key. And growing was certainly a challenge, especially when you were trying to help [inaudible 00:31:42] clients just sustain. So growth was really not in the cards if you will. But I will say that the communication was key and we would do check-ins every Friday with our people that were working remotely. And so it was hard and for people like me that loved the social aspect and I love being with people, we all laughed as [inaudible 00:32:04] aren't okay. It was very difficult to not be with our people, but we definitely got through it and just increased communication and learned how to do the zoom calls and all of that. But I never thought that I'd be hosting my board. I run a board for the Tulsa Women and Children's Center and trying to put people on committees and separate them out into different chat rooms. I never thought that I would learn how to do that and have to figure that out, but we had to do it.
Robert Wagner:
Yeah. Well technology's come along just in this time period to be able to do that. It's very cool. Okay. Last sort of random question about banking and I'm curious from your perspective, how Fintech's affecting the community banking world.
Tiffany Hatcher:
There's banks out there that are building their banks just based on that principle. And so it is interesting, we really watched that closely and we talk about it often. And so I think everybody who's not paying attention will get left behind.
Robert Wagner:
Yeah, it's a challenging thing. There's younger business owners that they only want to do business sort of in the cloud or digitally or whatever. So it's definitely going to be a market that's going to be out there.
Tiffany Hatcher:
We have an amazing chief technology officer that's really taken us to the next level. So we're very excited about that.
Robert Wagner:
Yeah. Okay. Fascinating conversation, Tiffany. I really appreciate your insights. Now we have five questions that we ask every guest. So are you ready?
Tiffany Hatcher:
Yes.
Robert Wagner:
Okay. All right. So what was the first way you made money?
Tiffany Hatcher:
First way that I made money? I was on a teen modeling board for Dillards. That was my first paycheck. It was $250. So I worked for a week and did the mannequin modeling.
Robert Wagner:
Okay.
Tiffany Hatcher:
Yeah. I think I was 15.
Robert Wagner:
Okay.
Tiffany Hatcher:
Yeah.
Robert Wagner:
That's awesome.
Tiffany Hatcher:
I'll never forget.
Robert Wagner:
Yeah. So if you were not in banking, what do you think you would be doing?
Tiffany Hatcher:
Oh, that is such a great question. I am fascinated with weather and meteorology.
Robert Wagner:
Okay.
Tiffany Hatcher:
You weren't expecting that were you?
Robert Wagner:
No.
Tiffany Hatcher:
No? Yes.
Robert Wagner:
It's a good Oklahoma answer though.
Tiffany Hatcher:
Yes, absolutely. So I have friends that'll call me and say, "Do you want to go storm chasing?" And I was like, "As long as I get to drive it's great."
Robert Wagner:
Okay. All right. That's cool. We've never had that answer. That's a good one.
Tiffany Hatcher:
Yes, it is. It's fascinating.
Robert Wagner:
So what would you tell your 20 year old self?
Tiffany Hatcher:
Oh gosh. That not everybody's going to think like you do. That was always my biggest challenge is why can't everybody see the world the way that I do.
Robert Wagner:
That was that Futurist thing right there.
Tiffany Hatcher:
Yeah, there it was. And so I will say in the leadership roles, managing those three banking centers, that was the hardest thing for me to understand is why don't they get it?
Robert Wagner:
Wow.
Tiffany Hatcher:
Yeah. And so I think for me, the strength space, that propelled me to a whole different level of understanding people and how they think, and they see through a different lens than what I do. And how to respect that. And so I would say that was always my challenge in my twenties was, "Why don't they get it?"
Robert Wagner:
Yeah. Very cool. Very cool. Okay. So what will the title of your book be?
Tiffany Hatcher:
Gosh, that's tough. Bring solutions and you'll earn a seat at the table.
Robert Wagner:
Okay.
Tiffany Hatcher:
Yeah.
Robert Wagner:
Very good.
Tiffany Hatcher:
Yeah.
Robert Wagner:
That's very good.
Tiffany Hatcher:
Tell people that all the time.
Robert Wagner:
Okay. Last question. What's the best piece of advice you've ever been given?
Tiffany Hatcher:
Don't ever apologize for working your butt off to make a better life for your family.
Robert Wagner:
Yeah, I saw that on your LinkedIn.
Tiffany Hatcher:
That's a mommy guilt thing that I try to work really hard with other moms on that whole work life balance, that doesn't really exist so I think it's important to teach your children this is why we're working so hard and it's for a better life for our families.
Robert Wagner:
That is great. So we have not had those five answers before, so those are great answers.
Tiffany Hatcher:
Well, thank you. You're going to go storm chasing with me now?
Robert Wagner:
Yeah. I have a friend that does storm chasing.
Tiffany Hatcher:
Are you excited? Doesn't that sound like fun?
Robert Wagner:
Yes. And I like that, you'd be the driver.
Tiffany Hatcher:
Yes.
Robert Wagner:
I [inaudible 00:36:28] in control of that.
Tiffany Hatcher:
Yes I do.
Robert Wagner:
So, yeah. Okay. So Tiffany, if folks want to find out more about you or the bank, how do they do that?
Tiffany Hatcher:
I would go to my LinkedIn page. Everything is on there and there's a great story on there. And a lot of great featured items, our impact report. And then of course, crossfirstbank.com tells a really great story about our organization.
Robert Wagner:
Yeah. Yeah. You're LinkedIn page is fantastic.
Tiffany Hatcher:
Well, thank you.
Robert Wagner:
It's one of the best I've seen.
Tiffany Hatcher:
I appreciate that very much.
Robert Wagner:
Thanks for being with us today.
Tiffany Hatcher:
Thank you.
Robert Wagner:
That's all for this episode of How That Happened. Thank you for listening. Be sure to visit howthathappened.com for show notes and additional episodes. You can also subscribe to our show on iTunes, Spotify, Google podcast, or Stitcher. Thanks for listening. This content is for informational purposes only and does not constitute professional advice. Copyright 2021 HoganTaylor LLP. All rights reserved. To review the HoganTaylor general terms and conditions. Visit www.hogantaylor.com.