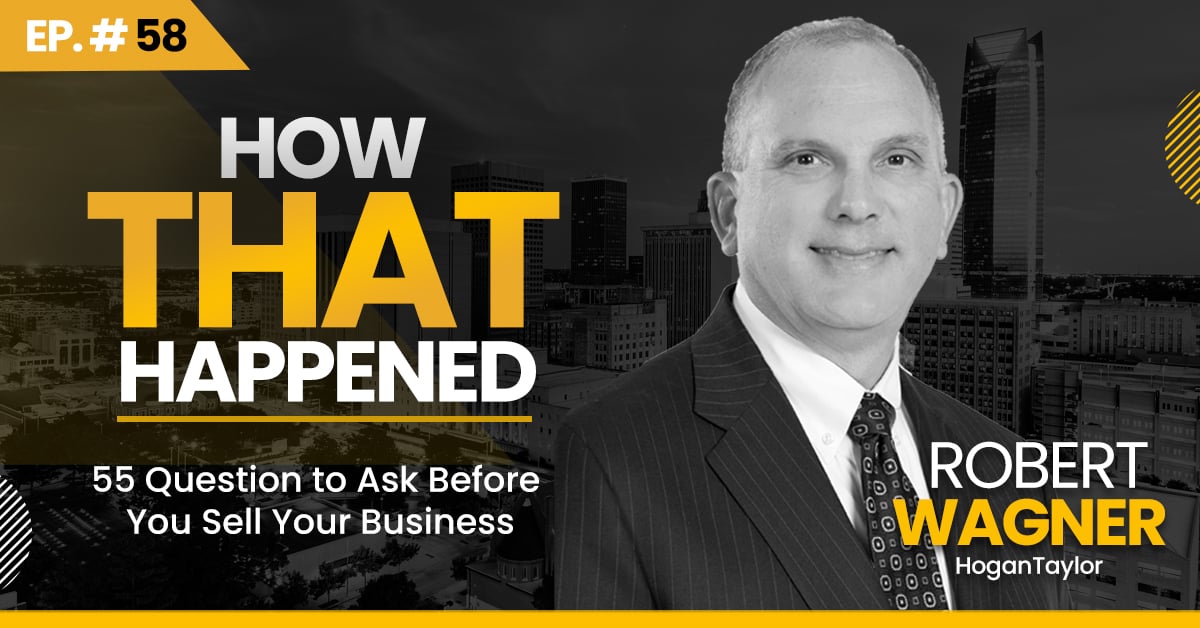 Aaron Ackerman:
All right. Well, welcome to another episode of How That Happened podcast. I'm really excited today because joining me is my partner here at the firm and co-host or more accurately alternating host, Robert Wagner. Robert, thanks for joining as a guest today.
Robert Wagner:
Yeah. Aaron, thanks. It's great to be here, be on the other side of the mic, so to speak.
Aaron Ackerman:
Yeah. I think we're two years into this podcast now. And the last time we were on together was the very first intro episode, I think so.
Robert Wagner:
Right, exactly.
Aaron Ackerman:
So it's good to be together. I appreciate it. And I'm really excited about our topic today. I think this is an important episode and could be very impactful for any business owner, finance leader. And so I'm really excited. Let's get right into it. So just by way of intro, Robert, you've written a book that's recently been published and printed and released called 55 Questions to Ask Before You Sell Your Business with a subtitle of value driving principles to make your business better today and when you sell it. And hopefully we get to talk a little bit about the subtitle, because I think that's really important. But I want to start with really the very first sentence in the book on page one of the introduction, you say, "One day your business will be owned by someone else." That's a compelling sentence that grabs you right away. And so I want to just lead with that. Maybe expand on that concept and why that's important. And maybe if it ties in, how, what was the compelling factor to drive you to undertake this big project of writing a book.
Robert Wagner:
Yeah. Thanks, Aaron. I started there because it's true, is just a true thing that the business that you've built, that thing that you've been nursing along and for many owners, you were the founder and you started it, you had an idea, you turned it into something and now it's producing services or products that help other people or help other businesses, it provides employment for people, it's become a thing, it's become an important thing. And so often it's tied to your identity as the owner, but one day someone else is going to own it. And it is just a reality, that will happen.
Robert Wagner:
And in my experience, I've just found that too many owners don't plan for that process. And you can have great influence about how that turns out, about who gets to own it and what that transaction looks like and how much you're paid for it. You have tremendous influence over that. It's not something you want to just let happen. And if you think about running a business, good owners plan for most things, they plan their products, they plan their services, they strategize how to position those products and services in the market, they think about everything in their business and how to make it better, but they don't think about the eventuality of selling the business and how they could influence how that turns out.
Robert Wagner:
So I just wrote it from my experience. And I wanted to help owners and their advisors in the process of preparing for the sale. There's plenty of literature out there about the sales process itself and what that looks like. But I felt that business owners could be thinking one year out, three years out about how can I position my company best to sell it and sell it to the right buyer and get the value I want from it, whether that's a monetary value or an outcome for my employees, et cetera. So that's what motivated me to write the book. As you know in my background, I had a corporate life and we did a lot of M&A activity. And often we were approaching companies that weren't for sale, but we approached them and they began to entertain the idea, but they weren't in any way prepared for the process, their companies weren't ready, they weren't developed enough often in their processes and in their management teams to really be bought well and to be sold well. And so I just want to help owners with that process.
Aaron Ackerman:
Yeah, that's awesome. And like you said, between your long career as a CFO, your career as a partner and advisor at HoganTaylor, you've been a buyer, you've been a seller and you've been an advisor to buyers and sellers. So you've sat in every seat at the table, so to speak. And so that experience is really rich and can be helpful. One thing I think is really important is a lot of business owners may not think of themselves as being for sale or ever wanting to sell. But as you point out in the book, even if you never technically sell your company, it will change hands. None of us live forever. And there's going to be a transfer of this company.
Aaron Ackerman:
And so even if somebody is not thinking about wanting to go through that sales process where you go and you find a buyer, you have an auction or whatever that could look like, none of the things, the 55 questions that are in this book, are bad things to do at any point. I think all of these things would benefit a business, even if you're not contemplating a sale in three years, five years or whatever, which goes to the subtitles. Is that a true statement?
Robert Wagner:
That is absolutely true. Working on these things are all valuable to a business. They're not all equally valuable, but they're all valuable to improving a business, improving how it runs. And to your point, not every business will... It will change hands, it won't necessarily sell. That's true. But if you're going to give this business to your kids, why wouldn't you work on giving something that's really great to them, that's really well run and that has great processes and great position in the market and resiliency and all those things that's talked about in the book? So it's almost even more important if you're going to give it to a loved one that you're business is run as best as possible.
Aaron Ackerman:
Right. So you've got these 55 questions that you've developed throughout your career. And in the book, you have them categorized into, I think maybe five different areas. Those are general financial questions, revenue and profitability questions, financial condition and capital structure questions, which mostly deals with balance sheet, strategic organizational and human resource questions, and then contracts, tax and regulatory type questions. So one thing, and I've read the book, I love it, I like the way you wrote it. It's fairly concise. It's an easy read in a lot of ways, because you can get through these questions that most of them are probably three or four, maybe five pages at the most. And so you can take it in bites if you want or you can go just plow through it cover to cover, like I did with my pen and my highlighter.
Aaron Ackerman:
But I see it as a good read. Like if someone wants to just sit down and go through it, man, you're going to learn a lot from these questions. But I'll see it, and I don't know if this was part of your vision, so you can talk to this, but as a potential reference guide on the shelf that an owner or finance leader can pull out, you've got it organized, so you could go straight to something of particular interest to somebody. Do you see it being useful in multiple ways like that?
Robert Wagner:
Yeah, absolutely. I would recommend that an owner get the book and read it cover to cover. It is an easy read. No surprise. Each question's a chapter, and they're short. Like you said, they're no more than five pages. Most of them are in that three page length. So they're very quick and easy. I'm a man of few words in real life and so my book reflects that. But it would be really good, I think for the owner and maybe a management team to read the whole book and then to, as you said, use it for a reference.
Robert Wagner:
And I think someone who was really serious about improving their business could take the book and either use the five sections and maybe even break those sections into smaller pieces and just take them on as projects. We're going to improve these four areas using these four questions in our company right now. These are the biggest issues we have. So let's tackle these and make improvements in those areas. And use it as a working tool, if you will, to improve the business over time.
Aaron Ackerman:
Yeah, that's well said. And for people that know Robert and know me, Robert is a man of fewer words, but his words are very impactful. I'm usually a man of more words, but most of mine can be ignored. It's hard to sift through-
Robert Wagner:
That's true.
Aaron Ackerman:
...the meaningless ones and get to the good stuff. But Robert yeah, he gets right to the point and it's read. So Robert, what I wanted to do is I've just cherry picked out a few questions that struck a chord with me personally just based on my experience or for whatever reason or things that stuck out to me. And so just to give listeners a taste of some of these questions, I'm just going to throw out a few that you can expand on and you may have a couple you want to talk about that I didn't bring up, is that okay with you to go that direction?
Robert Wagner:
That works.
Interviewer - Aaron Ackerman:
And I'm going to label them what number they are in 55, maybe talk about that for just really quick, that's not necessarily a priority, how did you come up with the order of one through 55?
Robert Wagner:
Well, this thing started as a blog post. And so it was really just an attempt to get down on a list, all the areas that I saw as problem areas for companies that entered the sales process, not as ready as they should be. And so as a brain dump of those issues that I'd seen over the years and begin to develop them, then I began to group them into groups that would come together and go together of common themes.
Aaron Ackerman:
Yeah. Well, so question number one, which I might nominate it if you had to say one would be maybe of higher importance. I might nominate it just because it's a cornerstone topic for me. And so the first question in the first section is, are my financial records in tip top shape? And so just to provide a little context of why I love this question, it is like I said, a cornerstone, bedrock question. But so BDO Capital, which is BDO's investment bank, has a presentation I've seen a couple of times. And they say that every day of diligence in a sales process adds 100 questions.
Aaron Ackerman:
I don't know if they mean that literally. That seems really high to me, but the point has always stuck with me that if you go into diligence with a buyer and your financials aren't in tip top shape, like you say in this question, that just breeds more questions, more confusion about the numbers, et cetera. And so that's always stuck with me. Pair that with every list I've seen and you could go Google this now like reasons why M&A deals fail to close. And first or second on every list is in some form or fashion talking about financials that aren't clean, aren't accurate, whatever. So that's why I say I nominate this for maybe some higher level importance, because it's such a bedrock. But talk about question number one, are my financial records in tip top shape?
Robert Wagner:
Yeah, I would agree, it is question number one. And I did put the first section to your point earlier was around the financial set of questions. And I do think those are the most important. So that is the first set of questions. And then this question, this number one question, I agree is the number one question. And I think that the thing that seller or business owners and eventual sellers need to keep in mind is that in the process, it is critical that they drive confidence into the minds of the buyers. And if to your point about diligence and the BDO rule of thumb, which again, we don't know if that's really accurate, it just helps create energy around doing this right. To the extent that the financials don't come together and are not providing confidence in the minds of the buyers, you're going to just have more and more and more questions, and it just trips up the deal. And in many cases it's going to eliminate you from even being considered.
Robert Wagner:
So I think one thing that a lot of people don't understand is that professional buyers out there, whether they're private equity companies or investment bankers who are representing someone, even corporate development departments, in some cases, they're looking at lots and lots of deals. And in many cases, they're looking for reasons to toss a deal out, because it's going to be too hard. And so if you could look at a set of financials, and guys like you and I can do this because we've seen so many, you can tell they're not well put together. There's things missing. There's things that are clearly problems. You're going to get tossed out. So you'll never even get the chance in many cases to talk to a great set of buyers if you don't have your financial records in tip top shape.
Robert Wagner:
So it's just really important to invest in that. I know it's a back office function and all that, but it's really important to have those numbers put together and be able from the get go in the process to create confidence in the minds of the buyers. And the worst scenario, so it's really bad to not even be included and be just thrown in the waste paper basket, because your financials aren't great, but the worst is to actually get past the first step, maybe get to a letter of intent and then really get due diligence started and everyone's spending money on professionals and time, and then the deal falls apart because they can't make any sense out of your financials. So it's very worth the investment to get in there and to have a good controller, a good accounting firm helping you something to get some great financials put together that really tells a story of what's going on in your company.
Aaron Ackerman:
Yeah. That's an important part of really the entire book taken as a whole. But this question, and we tell our clients this all the time, and I know it's in the book probably in multiple places, once you start a deal, you get an LOI, between LOI and offer like purchase agreement, that number only goes one direction at least in my experience. I've never seen it go up.
Robert Wagner:
That's right.
Aaron Ackerman:
So what you're trying to do with all of these questions is preserve, hopefully enhance value if you're ahead of the curve enough and doing this early, but you get to a point where you're just preserving value from LOI to purchase agreement, right?
Robert Wagner:
Yeah, absolutely. And the questions, and many times in the book I mentioned, where does this question and this issue fit in the value chain around the transaction. Some of these things, some of these questions will help actually drive additional value. People pay more because this is done well or this exists in a company. But many of the things are there to preserve value, which is very important to your point to shore up assumptions that people are just expecting a business to have. And then if it doesn't exist, then they're going to discount it. So a lot of the value drivers are just preserving the value that a buyer's expecting there to be in a business.
Aaron Ackerman:
Yeah. So moving on, the next question I want to ask you about is question number six. And it's do I routinely call CULL, customers who place unreasonable demands on our organization? The reason I picked this one out, Robert, I think it's really hard to do in most businesses. I know even in our business, this comes up occasionally. A lot of us are top line driven and it really goes against the grain to turn down a customer that pays their bills. So why is that? What are you thinking of with this question? And why is that an important thing to do?
Robert Wagner:
Yeah. It is a really tough thing to do. It's one of the harder things to do in business. And this got really real to me after I as a CFO and that company sold, and I started a consulting firm with a partner. And so I became a salesperson at that point, selling services. And I experienced the emotion and the challenge and the hard work it takes to actually get a customer. So the thought of then firing a customer or ushering them off to someone else to a competitor maybe is really, really hard. And it's almost a violation of you once you've worked so hard to get a customer. But it's really important in business. And the great companies and the great leaders and great owners practice this all the time.
Robert Wagner:
And we just all have customers and clients that aren't the best fit for organizations. They don't appreciate what we do, they don't appreciate our people well enough. And they're usually the hardest to please as well. So they use the most of your resources, they call the help desk all the time, they want things that weren't part of the contract, they weren't part of the scope of work, they place unreasonable deadlines on you, they fail to get you the information that you to service them, and then they complain because you're not meeting the deadlines. It just goes on and on and on. These customers are usually easy to find you. If you want to find one, walk out to your shop floor or to your operations people or your installation people, and mention a client or customer name that you think might be a problem. And if you hear an audible groan, then you found one, right?
Aaron Ackerman:
Yeah.
Robert Wagner:
Because your people know who these are, they know who abuses them. And so it's real important from a morale in just running a company effectively and honoring your people. It's really important from that standpoint. But where it comes up in a transaction is that in the middle market where you and I play most of the time, almost all the time, a good chunk of the purchase price that someone's going to pay you for your business comes after closing. So make it a chunk of cash at closing, but then you may also have to give a seller note or an urn out or some contingent payment. And I briefly describe those things in the book.
Robert Wagner:
But they're contingent on customer bases sitting still and continuing to be there and renewing their contracts or the relationships being maintained for six months or a year or two years or whatever. Well, if you want to de-risk that part of the transaction, keep getting good customers. Okay. Get rid of the bad ones who your new buyer, your new owner of company may not tolerate those bad customers. They may fire them or the transition may just go so horribly that, that revenue is not there anymore. So it's a good thing to do. It's the right thing to do all the time for your company and for your people, but it also impacts a transaction because it may impact that part of the purchase price that you're planning and hoping on getting after the transaction.
Aaron Ackerman:
Yeah. And you talk about in this chapter the Pareto principle or the 80-20 rule, which never ceases to amaze me how that just is almost a perfect, accurate fit in so many situations. But I love the point in here about wouldn't you want to give the gift of this bad customer to your competitor? That's a great motivating way to think about it. Like who are the 20% of your customers or of your revenue base that you spend 80% of your time on that elicits the groans from the shop floor and everything. Just give that gift to your competitor.
Robert Wagner:
Exactly.
Aaron Ackerman:
Yeah. It's like a double win.
Robert Wagner:
Right.
Aaron Ackerman:
Okay. Good stuff. Question number 12 is the next one I want to go to. Do I have good data to support my decisions? Obviously this is a pretty hot topic right now, data, collection of data. We have data, do we even know what to do with it or how can we use it in really great ways in the company? So especially in the small and middle markets, there's data there, maybe we're not always so great at harnessing that to give us insights about our customers about our business. So question 12, do I have good data to support decisions?
Interviewee - Robert Wagner:
Yeah. I think one of the keys to this question is for the owner of the company to be able to put himself or herself into the shoes of someone coming into the business, a buyer, a new owner. And what would they need to run this business? What information, what would they want to see to understand it? The present owner has years of experience typically, and can almost run it on their gut. They can walk through the warehouse, they can walk across the shop floor and they can just look and see how things are going and be pretty close to how business is going. Or they keep some little side tally on a spreadsheet or even written down somewhere of some data point that they've learned is key to how things are going.
Robert Wagner:
And the problem there is that someone coming in new to the business, a new strategic owner or even a new financial buyer, maybe especially a financial buyer, they're going to want data. How do you decide how things are going? How do you make decisions without the data to support it? And in the book, I give an example, that's one of my favorites that I've had happen to me over the years is working with a gentleman who ran a parking lot company. He parked cars. And he wasn't wanting to sell his business, he was wanting to recapitalize it and be able to expand processes similar. So we said, "Hey, how do you keep track of car counts? Can we have the record of car counts over the last say three years or whatever?" He said, "No, we try to do that, we try to keep a tally of that, but it's not very good." We said, "Well, how do you know?" He says, "Well, I just look out, I just looking out my window and see how many spots are filled."
Aaron Ackerman:
Right.
Robert Wagner:
That's fine. And he had the experience from running the business for 15 or 20 years that, that worked just fine for him, but it wasn't going to work for someone who wants to give him money to operate his business and to grow his business, but isn't going to be there every day to see how it's going. They need to be able to have historical data and have the promise of being able to get that data in the future as well. So I've always liked that example, because it just illustrates that so often we can get in the rut of just running the business on gut and it works, but you really need some good data.
Robert Wagner:
And you mentioned about harnessing data. The first step is just collecting it and collecting it accurately. And there's a whole area of service right now in helping companies collect their data accurately and data governance. And it gets down to the minutia of just how you name customers, how you name your products. All those things become important if you're going to use the data to actually make decisions. So it's a big item to work on in a company is just improving the quality of the data and then figuring out how to use it.
Aaron Ackerman:
Yeah. Excellent. Okay. Skipping to number 37, can all key day to day processes run without my direct involvement? I think this is really, really important, especially in any transfer, whether it's through an estate situation or sell. I heard somebody say once that if your business relies on you being there to run it, you don't have a business, you just have a job. And that really struck home with me that how important that is for an owner to have processes and people and all of the things in place that, that business runs just as smooth, whether she's there or away. Right?
Robert Wagner:
Right. It's so true. And it probably seems somewhat counterintuitive to think, well, my business could be more valuable if I was not in it so much. But it is true. And we're talking about the day to day operations of the business, we're not talking about the big strategic decisions about entering new markets and new products and R&D and things like that. Understand that may be the secret sauce of the owner. But in those businesses where the owner's on call 24/7, every day is a fire drill and he's the fireman, or she's the fire-woman, that's not health, it's not healthy for the business and it's not going to help you in the sales process. And if the goal is to sell the business and go to that proverbial beach, retirement or whatever that looks like, how are you ever going to get there if you can't extract yourself from the business?
Aaron Ackerman:
Yeah.
Robert Wagner:
And it takes an investment of time. You can be able and willing to invest in people and in some management. But that's the right thing to do. We should all care about developing people that are helping make us successful and give them an opportunity to be more successful as well. So it's the right thing to do regardless of selling business. But it's really critical to have good management teams in place. And I tell a story in the book about a business owner that we had, is just a dear friend and great business person. And he and his family like to take long extended vacations out of the country. They would disappear for two weeks, sometimes three weeks at a time. And he didn't call in every morning to ask how things were going, he made the managers of the company run it. And so proposals kept going out the door, products kept getting delivered, fabrication kept happening, things just kept going and no one was going to be...
Robert Wagner:
We served as the fractional CFO at this business, but no one was going to sell the company or make any big strategic decision. That's not the point. But day to day, things kept going. Project management meetings kept happening. Crises came up, the fire drills came up, they just got handled. And the company got practice taking care of stuff and grew confident and made mistakes. All those things happened. And so I just thought it was very strategic and thoughtful of him. And again, it's the right thing to do is to show confidence in your people. And in the end, that guy sold his business and he had the proverbial consulting contract, which he didn't really have to do much unless they called him. And sold it on Friday. And he was home on Monday. He didn't have some big transition to do all the things that he did to make that company run, because he had left that and enabled and empowered his people to run that company.
Aaron Ackerman:
Yeah, that's right on. Couple of things before we move on. I love that example you gave. And if we were to interview that business owner about those times he was gone for weeks at a time, I would guess that not every thing that was taken care of while he was gone was taken care of the way maybe the exact way he would do it, maybe it was even a mistake that had to be addressed later. But yet business owners, I think, oftentimes become so good just from doing and making those mistakes and learning. And I can see how that be really hard for an owner to allow someone to make a bad decision, not existentially bad decision, but I'm sure things... Or maybe it wouldn't even be bad decision, but just something they did a different way than the owner would have. So I could see that being really hard. I don't know if you've had that conversation with business owners before.
Robert Wagner:
I don't know that I have, but it's true. It does happen. But for those of us who are a little bit older, how did we get here? We got through making mistakes. Well, that's how we learn. That's how we do most of our learnings is little failures along the way, sometimes larger ones. So again, you're really doing the right thing by your people to let them try it, make some mistakes along the way and make decisions and feel the implications of that and recovering from the ones that weren't as great. All of those things.
Aaron Ackerman:
Yeah. There's a famous story. And I think the characters are Andrew Carnegie and J.P. Morgan. I might be wrong on that, but it doesn't matter. The story is about the younger, in this case, if it's J.P. Morgan, making some bad decision that resulted in a million dollar loss for the company. And somebody asked the old wise Andrew Carnegie, "Well, you're going to get rid of J.P. Morgan now right, because of that mistake." And he said, "Are you kidding? I just invested a million dollars in him getting this valuable lesson, why would I throw all that away?" So that is how we learn by taking some stub in our toe and taking some lumps.
Robert Wagner:
Yeah. That's a great story.
Aaron Ackerman:
For question 45. I love this one too. Does my sales order management process ensure effective fulfillment? Talk about that a little bit. And I'll tell you where this resonated with me was I can still hear the VP of sales when I was a CFO talking about I can go get the sale and I'm not going to, because I don't think we've got the capacity to fill it. And as the CFO, I'm just going, "Don't worry about that, we need the revenue." He's like, "I'm not going to because it'll hurt our reputation, it'll hurt my relationship with this buyer." And he was very adamant about not selling if we weren't going to be able to deliver. That's where that stuck with me. I don't know if that's exactly what you were thinking about here, but talk about the sales order process and the follow up of fulfillment.
Robert Wagner:
Yeah. That's certainly a piece of what I have in mind in this question is not just the concept of not overselling what you can deliver from a service delivery or product delivery standpoint. And that's certainly an element of sales order management as well. My example and my thought, I guess, is a little more granular and is really based on experiences that I've seen with companies really over and over again. And the Concept is just pretty simple about just asking this question when a customer says, yes, I want to buy whatever it is you're selling, what happens next at your company? What does that look like? And what happens next often dictates how that transaction is going to go. Is it going to be profitable? Is the customer going to be happy? How your employee are going to feel about delivering on that.
Robert Wagner:
I likened it to the old aiming an arrow and how being just a little bit off in your aim makes a big difference when the arrow lands out of the target. And it's so important that we get the beginning of the transaction correct, because if we don't, then we're going to be piling on and trying to fix it all the way through, all the way to the end. And so the examples are that the first piece is just to define what's an order at your company. Okay. What does it mean that the customer has ordered something?
Robert Wagner:
And so many times we say, "Well, they sent a PO, they want to widget and it's $100,000. We got an order." Well, what else do we need to know about that order? What model is it? What color is it? Is there a software provision? Where do we install it? Who's going to install it? Is there environmental concerns or issues, like does it need electrical power where we're going to install? Whose responsibility is that? Do people need to be trained? How many trainings? On and on it goes. Do we get the right address about where to send the invoice? All of that is part of order management. And if we fail to get that information up front and we have a clear understanding upfront with the customer about this is what this means, okay, you said you wanted a widget, here's all the pieces that go with that.
Robert Wagner:
Then if we fail to do that, we're going to miss the mark and we're going to be way off at the end. And we're going to have an unhappy customer. We're going to have unhappy employees. We're going to have a bill that's hard to collect. It just touches every part of the transaction. And I didn't put this in the book, but my first experience with this was in an acquisition that we did. And we bought a company that was sales driven. The sales people ran this company. And they just would go out and get an order for a phone system. And then it was just chaos from then on. And they would take anything and call it an order. If the customer emailed something in that says, "I think I want one," they would say, "That's an order, we're going to ship you one." And the whole process of installing it was just complete chaos.
Robert Wagner:
And when we bought the company we knew we had a problem on our hands. It was reflected in the price. But as often the case, we didn't know how big a problem it was. And this is not an exaggeration, they had $10 million of orders in process and didn't even know it, didn't even understand what they had. And collection issues, installation issues, all kinds of stuff that had to be fixed. So this is-
Aaron Ackerman:
Wow. And that's a big number for them. It's probably not a million dollar company.Robert Wagner:
No, this is like a 40 million company. This is a big stinking deal.
Aaron Ackerman:
Yeah.
Robert Wagner:
So anyway, I'm passionate about this because I've experienced it firsthand. And I see over and over with companies, they have to make multiple trips out to the customer side, because they didn't have clarity up front about what's the real agreement here. Okay. It's more than just I want the widget. You got to go deeper. And I get, I've been on the sales side now, even in my current role, I both do selling, and there's paranoia. You just want the order so bad. You want that customer so bad that you tend to skip over the details, they seem uncomfortable, it seems like that might mess things up. You don't want to ask those questions, but you have to do that in a company that defines what an order is and aims the arrow very, very accurately before they let it go is going to be the winner.
Aaron Ackerman:
Yeah. Good stuff. Well, I wish we could actually go through every one of these questions. I know I would enjoy it. You and I love talking about this stuff and helping companies get better. What other questions maybe that I didn't bring up or one or two of your favorites or something you would want to highlight for the listeners today?
Robert Wagner:
Yeah, I'll hit one more question, which I think is the very last question in the book is number 55. And then I want to touch on one other point. But the last one is being nimble and resilient to potential disruption. And I'll just hit this very quick and this is very hard. Okay. It's very hard to make yourself as a business owner and a leader to make your company think about what would it take or what is someone else working on that's going to put us out of business, and then developing a response to that and beating them to the punch. But it's well worth the effort to invest in innovation, invest in getting better both in time and in probably some financial resources.
Robert Wagner:
The pandemic gave us a great example of this. So we were all thrown into a different place in a level of disruption. And those companies who had thought about working more digitally and having a more digital model were way ahead of those who hadn't thought of it. Companies who had thought about getting their contract signed electronically were way ahead of those who had never thought about that. So those are little things, and those are often some of the best things to work on and to practice that. Working on little bitty things in your business that can be made better. In HoganTaylor, we have a get better initiative. It's all about micro innovation. So you can do this on a very small scale and then learn to do it well and be able to do it on a bigger scale. So it's a great story.
Robert Wagner:
And I've been in transactions where the seller can tell stories of how they've had to reinvent themselves. And this advancement can along, this technology came along, this is how we reacted. And it's not imperative that you have these stories and you have these experiences, but it's a really good example of how resilient your company is if you do so.
Aaron Ackerman:
Yeah, that's good. That's a good book end on the questions.
Robert Wagner:
Yeah. So just one last thing, Aaron, that I think is just really important. And I've seen this come up many times is for the business owner to be thinking about... Just from time to time, maybe get by themselves, go to the lake or go someplace where they can really think and think about when a transaction is going to happen, and maybe if they get an offer they're not expecting or if they're planning a transaction, what do they really want from it? What is the outcome that they want? And the easy answer is, well, I want the maximum amount of money that I can possibly get and I want it all at closing. That's fine. And I'm a capitalist through and through, and I think that owners and business leaders ought to get the maximum value for what they've built, but that's not the same for everyone. And it's not always dollars for folks.
Robert Wagner:
And different business model have yielded different things. So some businesses have never really made the owner wealthy even though they've been very successful, because there's just been a continuous need to reinvest the profits into additional capital expenditures of some kind or people or whatever that is. And so that owner maybe just gets one payday. And so it is important to maximize the financial value in that transaction. That's perfectly fine. Other companies are different. Maybe they've been throwing off lots and lots of cash for years, and the owner's been wealthy for a long time, and this is the last payday, but it doesn't have to be the maximum value because the owner wants to leave a legacy for his community or he wants to make sure the employment stays in his local community, he wants to make sure that management team isn't disrupted.
Robert Wagner:
And you can influence that. A lot of times it's the kind of buyer that you attract that dictates what those kinds of things look like. And so I've seen situations where owners get an unsolicited offer and they get all excited about it and they start moving down the process, they start hiring professionals into trying to negotiate the deal and they don't really know what they want out of it. They get conflicted, like I want a certain purchase price, I think it's worth X, but I also want all my people taken care of. And maybe the two things aren't going to quite go together. Or I would really like to maximize the value, but I don't want to go through that auction process, because it's a year of really hard work and I'm not sure how my people are going to go through that process. I don't want to take my family, I don't want to take myself through it, whatever it is.
Robert Wagner:
So it is just really important. And in an owner's life, those goals could change over time. So I think it's just important to revisit those things from time to time and really have an understanding of what it is that they want out of the transaction. And in the book, I give an example of a gentleman who has had a successful business for a long time. It's in a relatively small community and they're an important employer to that community. And he was willing to go to a different buyer at less money and significantly less money, because that buyer was going to keep those jobs there in that small town. And that meant a lot to him, which of course, I valued as just incredible integrity. So just understand that. Figure out what's important to you in the process.
Aaron Ackerman:
Yeah. That's great. Well, hopefully this provided a little bit of a flavor and a taste of what's in the book. There's a lot more great tidbits and questions and examples in there that we did not touch on today. And it's funny too, Robert, reading through. I see a lot of things, phrases or things that I say a lot and I'm like, "Oh, I got that from Robert." So thank you for being not only just a good partner and a friend, but a mentor for me over the last seven years that we've done a lot of these deals together. I can see things. Reading through this I see things that I've picked up from you maybe unconsciously, but congrats on the book. I know this has been a fairly lengthy process, something you've been working on in some form or fashion for quite a while. So really proud of the book. Congrats to you on doing it. I know it's going to be a big value add to anybody that picks it up.
Robert Wagner:
Thanks so much. I appreciate it.
Aaron Ackerman:
Yeah. You bet. You're welcome. I think it's available anywhere, but where can people find the book if they want to get ahold of 55 questions?
Robert Wagner:
Yes. So you can buy it at Amazon. You can also buy it at hogantaylor.com. I think if you do hogantaylor.com/55 you'll find your way there. But it's available online as well if you want to go that direction.
Aaron Ackerman:
Well, great job, Robert. Thanks again for taking the time to go over some of this stuff today. And we look forward to hearing from listeners that reach out and get the book and I know it'll be a big help. So congrats and thanks for your time.
Robert Wagner:
All right. Thanks so much, Aaron. I appreciate it.
Aaron Ackerman:
You bet.
Robert Wagner:
All right. Thanks, man. That was awesome. That's fun.
Aaron Ackerman:
Yeah. Good, that was fun. I really like it. It's great, Robert. You did awesome.
Robert Wagner:
Okay. Well, you're very kind. So I hope we can get something out of it. I'm hoping two things. One that, it will produce some benefit to our practice. And then the second thing is I hope that it will encourage some other folks in the firm to do something like this in the future. That's part of our whole advisory mindset thing.
Aaron Ackerman:
I think it's great. It's a step. It's the thing that EY and Deloitte do. Right?
Robert Wagner:
Yeah.
Aaron Ackerman:
They put out stuff like this. So I think it just, man, it raises the profile. So that's awesome. Okay. All right.
Robert Wagner:
All right. Thanks, man.
Aaron Ackerman:
Yeah. Have a great rest of the day.
Robert Wagner:
You too. Take care. Bye.
Aaron Ackerman:
Bye.