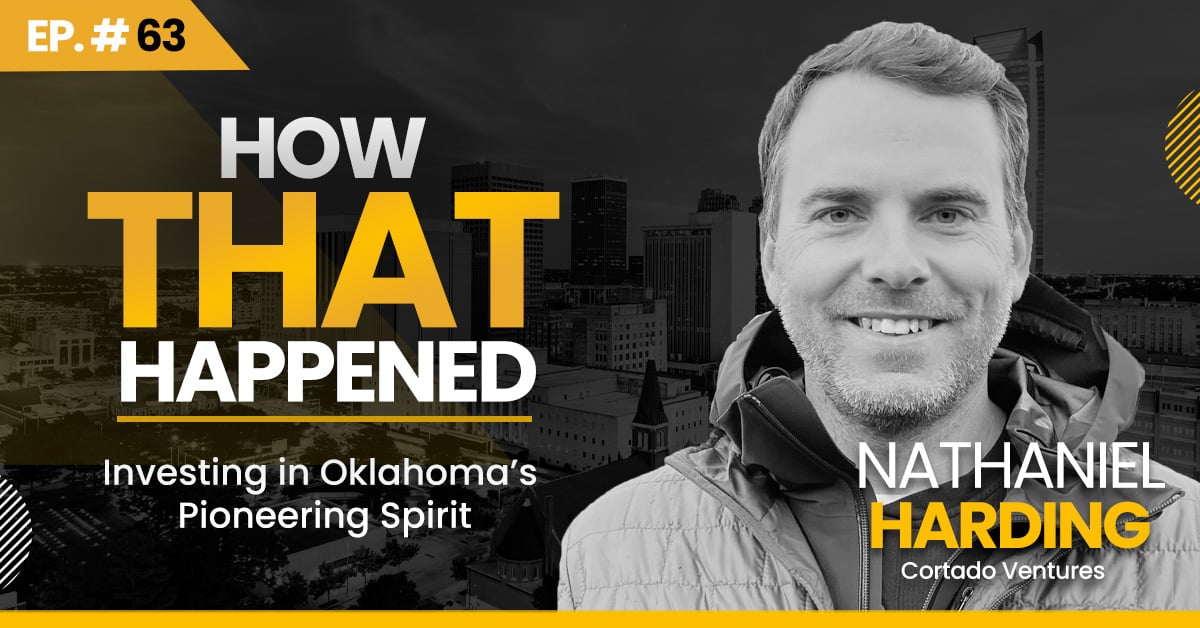 Aaron Ackerman:
From HoganTaylor, I'm Aaron Ackerman. And this is How That Happened. A business and innovation success podcast. On each episode of the show, we sit down with business and community leaders behind thriving organizations to learn how business and innovation success actually happens.
Well, welcome to another episode of How That Happened, I'm excited about my guest today, Nathaniel Harding is joining me. Nathaniel, thanks for being here today.
Nathaniel Harding:
Thanks for having me.
Aaron Ackerman:
Yeah, Nathaniel is not only just a really successful business builder, investor, entrepreneur. He's also the managing partner of Cortado Ventures, which we're going to talk quite a bit about today. Cortado is an Oklahoma based venture fund focusing on early stage technology, B2B companies I think. Is that pretty fair?
Nathaniel Harding:
You nailed it.
Aaron Ackerman:
Okay, cool. So, let's just start with that. When did Cortado start? Why'd you start it? I know you've got a couple partners that have been with you from the beginning. So what's the origin story of Cortado?
Nathaniel Harding:
Yeah. So we launched Cortado Ventures in the middle of 2020, so we were... But it was really an idea going back many years. My co-founders Mike Moradi and David Woods, it had been a shared vision for many years. And then we decided 2020 was the year to do it really. And not even, in spite of COVID, but actually emboldened by it. Because we were just seeing there's a big need for what we're doing and that needs just even more profound whenever there's economic disruption. And we also thought there'd be a lot of startups happening and we were right. So two years in a row of record startups, both in the region and nationally. So the timing was actually very precipitous.
Aaron Ackerman:
Yeah. So I think I've heard you talk about that before, why it's a good time during sort of a... some kind of economic downturn or recession, why that sort of creates a good environment for a startup, is that maybe because there's some necessity to it that there's fewer high paying jobs, and talented people are looking at other things to do or?
Nathaniel Harding:
I think there's been a lot of different reasons. Some of it is your incumbent companies, companies that are well established, if there's economic distress, then that creates openings for the new guys, frankly. But also there's a lot of technological adoption, you have grandparents now using Zoom. And so just a lot more awareness and adoption of technology. And then I think, you also seeing people that are reevaluating what they want to be doing with their time, and that idea that's been in their head that they're going to be worked with on weekends, they just decided-
Aaron Ackerman:
Just go all in.
Nathaniel Harding:
... I'm going to quit my job, I'm going to do it. And I think all those things have been happening, and with what we do investing in those new ideas, the timing is great.
Aaron Ackerman:
Yeah. That's really cool. So, okay. Middle of 2020, so year and a half or so at this point, I know you had a very successful first fundraise on your first fund. At this point, how many companies have you invested in?
Nathaniel Harding:
Yeah, so we raised just over $20 million for fund one and we've invested in 21 companies at this point. And so, our goal from the beginning was to invest in 25 to as many as 30 companies and do that over about a two year period. So yeah, that's a little more than one per month, but we look at about 500 a year. So at this point, we've looked at about 800 and 900 companies. And so that's which was... that's by design. You really need to be looking at a lot to find the best.
Aaron Ackerman:
Yeah. So that's really interesting. And so 500... you say you've already looked at 500 to-
Nathaniel Harding:
Around 500 per year-
Aaron Ackerman:
... so per year.
Nathaniel Harding:
So now we've totaled probably about 900 that we've reviewed.
Aaron Ackerman:
So that, I mean, that ratio of close to 900, down to 20 something investments, that's a lot of work, but I'm sure you develop some real efficiencies in quickly discovering like this isn't a great fit for us. Maybe it's a great idea, but it's just not a great fit for Cortado or vice versa, or.
Nathaniel Harding:
Some of the best advice we got when we were starting, the fund is to really stick to your lane. Stick to what you know, and create a thesis around that and be disciplined. And so some of that, we put a lot of information on our website. So if an entrepreneur is wondering if we're a good fit, they can probably find out pretty quickly just by looking at the homepage. And we also even have an intake form, takes them two minutes to fill out and they'll get an automated answer as far as, you're not a fit and here's why, or it is fit and let's talk or we may just review it manually. But yeah, trying to find ways to be really efficient with how we go through the hundreds of companies.
Aaron Ackerman:
Yeah. Very cool. So, okay. You are an Oklahoman, David and Mike, your partners are Oklahomans. You guys lived here, you worked here, you you've had careers here. So I said Cortado is Oklahoma based. Part of it is because you guys were here. However, I know that part of your thesis, launching Cortado was, you really thought there was a lot of our opportunity, not just in Oklahoma, but this region of the country. So historically, a lot of the venture capital activity has been concentrated on the coasts and a couple other spots in the country, but it's been pretty concentrated, not in the Mid-South region. So besides the fact that you live here and work here and love this area, what makes this region, Oklahoma, Arkansas, I don't know what all you would consider North Texas, your focus area. Why is that a good place to start a company, a good place to launch a venture fund?
Nathaniel Harding:
Yeah. There's, a couple things going on. So we call it the mid continent, which is really Oklahoma and the bordering states. And so we look at it as... we believe when we started that there was just a lot of opportunity relative to not a lot of dry powder. No, not a lot of venture capital funding to invest in that opportunity. So as business people we just thought, "Well, that'd be a great. If we are positioned to take advantage of that and have the network and can do something about that, then there's a lot of opportunity there." But then the data started to show that, whether you look at venture capital funding per capita or per number of startups, there's a big gap. And so just whenever there's a mismatch in supply and demand, and if you're in a situation to do something about it, there's opportunity there to make money.
Nathaniel Harding:
Because that was part of it, but also you're right. The venture capital funding and more than half of it was coming from really three cities or three areas, San Francisco, New York and Boston. That's changing now, you're seeing more and more in the news venture capital growing in other places. And we also view that the Mid-Continent, there's some sectors that get overlooked by venture capital. So some of the areas that we look at are energy, logistics and life sciences.
Nathaniel Harding:
And so some of those areas where we have operating experience that are also very prevalent in this region, frankly, just get overlooked either because of lack of care or expertise by coastal funds. So that combination of things made us realize that that's our edge. This gap, and our unique background is our edge. And so we focus on that to invest in the best deals, to deliver returns to our investors, but also by doing that and by being successful, we're creating all these tech jobs and all these new companies in the region and in Oklahoma, which just makes us feel good. Its a win-win.
Aaron Ackerman:
Yeah, sure. That's awesome. And I think there's also some... just some inherent sort of characteristics. I mean, we've seen in the news over the last year, two years or longer even, really high profile companies moving out of coastal areas and relocating big parts of their operations in places like Texas and Oklahoma and where there's high quality of life, lower cost of living, different tax situations. And so, I mean, I think there's probably some of that at play too, is that fair?
Nathaniel Harding:
Absolutely. So we meet entrepreneurs and companies all the time that are moving to Oklahoma and the region for those exact reasons. So, you have low cost of living, but you also have a high quality of living. So thanks to a lot of things that are happening. I mean, here we are in Oklahoma city, and there's a lot of things that you can look around at that didn't exist, a few years ago or 10 years ago that just make this a really cool place to live. And that's happening in Tulsa, it's happening in other areas as well Northwest Arkansas. And so this combination of low cost living, high quality of living, but also friendly business environment, those all come together. And then now that we have better access to talent partly because of remote working, you can now get the right kind of talent, even if you can't... even if its not everybody's in the same place, so access to that talent.
Aaron Ackerman:
Yeah. That's a good point. So I think historically, venture funds and other institutional investors may require companies to relocate to where they are. I don't know that... I mean, I know you have portfolio companies outside Oklahoma, outside kind of the core footprint so is there... is that, I mean, obviously you would love for companies to be in that Mid con footprint, but how do you guys look at that? Do you really try to influence that or?
Nathaniel Harding:
Well, because of our very early stage focus, and so, we invest at some of the earlier stages along that company's life cycle because of that focus and because of our sector focus and because of how we leverage our own local network, just many of the companies we look at are already here, or that are regional, and out of our 21 companies, more than half are in Oklahoma. And then the rest are again, North Texas, Arkansas, Denver. And so it really addresses, or it's a self-fulfilling prophecy. If you're really taking advantage of that thesis and really leaning into our network and those sectors, you end up with a lot of local companies, but I will say too, we have looked at moving companies here. They don't have to, there's no requirement to get our money.
Nathaniel Harding:
If it makes sense for them, if being close to an important sector or customer or talent makes sense for that company, then we'll absolutely encourage them. And, in some rare cases, we will say, "We want to invest in this company but they really got to be here and if not, then it doesn't make sense for us. If we have high conviction around-
Aaron Ackerman:
Sort of a business case reason. Yeah.
Nathaniel Harding:
... right. So yes.It's not just a nonprofit economic development initiative that's really looking at it and saying, "Will this company thrive and grow faster if they're here?" And if so, then we'll try to make it happen.
Aaron Ackerman:
Good. So I know that there have been groups in the past in this area, I'm most familiar with Oklahoma city, but there's been attempts to try to raise a venture fund like this before that maybe haven't taken off, it wasn't the right timing or whatever hadn't been as successful as Cortado was. So what do you think... what were the conditions? Why did it work? Obviously you had a great team and that's a big important factor, but what made just the right environment for this to be the right time, because specifically in Oklahoma, forever, people have been really good at investing in real estate and energy, oil and gas, not probably as comfortable with technology early stage startup. So why was this the right time? And what caused that to be such a good timing for Cortado?
Nathaniel Harding:
Well, some of it does go back to what was going on with the beginning of COVID. The dynamic of record numbers of startups, and then just technological adoption, take it a step further back, our team, myself and Mike Moradi and David Woods. We've all been founders, built companies in Oklahoma, in the sectors in which we invest. We've all built our careers and our companies here and have that network. And we really made that our strength. So instead of saying, "Hey, we come from some other major market, that and we know how to do venture capital because we're professional investors." Instead that's not our background, our background is as operators and entrepreneurs. And so we're investing in these early stage companies where we have a good sensibility about, does this team have what it takes to build a company?
Nathaniel Harding:
And so really leaning into that, and just owning who we are and not trying to be something else was a really important part of that. And then frankly, it's the relationships, people, again, seen us build our careers here and know us and know that if anybody's going to make this work, it's going to be us. And then another great dynamic was, there's been a lot of investor will and political will over the years to diversify the economy. And it's been a topic of many state governments and legislators for years and just never really been significant movement away from oil and gas. I come from oil and gas, I'm a third generation oil man myself. That's where we've really built our name and our presence in Oklahoma city.
Nathaniel Harding:
So living that, seeing that and now saying, with especially again, with dynamics that we have now with the economy and with COVID, there's now even a more urgency behind navigating towards other diversifying our economy. And having other sectors thrive, and then the layer of... that's where I come from. Coming from oil and gas myself, I can really look people in the eyes and say, I get it. I'm diversifying my own investments, my family's doing the same now I want to do that in Oklahoma. And so it's more like jump with me, instead of me telling you what to do, it's really let's take the plunge together.
Aaron Ackerman:
I like that. Something else I think you said that I think is such a great point. Just having the discipline to sick to your core competency and your first principles. I'm sure that that's hard for you guys to do at times. Like I can identify with... there's always seems like there's some really great opportunity that seems exciting that you could chase, but you know in your heart, like this just isn't really in my wheelhouse. But so I know it's hard to have the discipline or stick to that when there's things that look like it could be really lucrative. This could be just a grand slam deal, but it's outside of our core principle or core competency and first principles. So how hard is that for you guys? Do you have to continually check yourself and keep to have that discipline or is it just sort of natural?
Nathaniel Harding:
I guess a lot of things it's getting easier, so early on, we didn't know how many opportunities were we going to see and it's like every opportunity that came across for a desk, like maybe this is the one-
Aaron Ackerman:
Right. You get a little that-
Nathaniel Harding:
... if this one gets away.

Aaron Ackerman:
... the fear of missing out on stuff from early on. Yeah.
Nathaniel Harding:
And so, but then over time we realized there is no shortage of opportunities, even if we narrow the aperture of what we want to look at, there's going to be plenty for us to do. So that got better over time, but then there were times that we would try to stretch and say, "Well, this looks interesting, it kind of fits but maybe it's too late stage or maybe it's not really technology driven, it's more service driven." Whatever the reason was, we tried to stretch and make it happen, but we ended up just spending a lot of time and just not being able to close anyways and not be able to get there with our model, and so with everything, we just learned that it ended up being a time suck. And you're going to miss that on three other deals that are perfect fit that you could be eventually be spending time on. And so just like a lot of things, it's just the experience that's it's easier over time.
Aaron Ackerman:
Yeah. Very good. So, if somebody's listening and they're... let's say they're a second or third like your experience, second or third generation, family owned, business in, manufacturing or construction, something fairly traditional. Why do they care? Why should they be interested in Cortado's success?
Nathaniel Harding:
Yeah, I think for a few reasons that take it from the broader perspective down to the personal perspective. Broadly, if what we are doing is successful, then we're going to have all kinds of really exciting, interesting companies and brand new jobs that never exist before, innovative, high paying workforce and just really cool stuff happening. And so like having a diversified, robust economy that trickles down that's better schools, that's better opportunities, that's better communities. So just the broad... then the broad sense having robust diversified economy is going to make any business environment and the businesses within it, more successful. But then bringing it down to a more personal level with what we're doing, first off, some of the investments we make may actually be a great technology for some of these businesses that you're referring to.
Nathaniel Harding:
Right. If you're in main manufacturing, but we invest in additive manufacturing, we invest in technologies that enable and enhance manufacturing processes. So that would be great as an operator of an established business to find this new technology, to adapt it and to have a competitive advantage instead of being disrupted, instead of falling behind, you can actually, be using our customer of a new technology that enhances your process. But also, it may bring more customers to these, traditional businesses, these established businesses. So if you're manufacturing something or if you're supplying something to oil and gas, and if that sector is faltering, but wouldn't it be great if we had to three other sectors that are, aerospace. That are ready to go transportation. And so having these other sectors thrive more in Oklahoma is just going to bring more opportunities for those transactions and business connections for already established companies in Oklahoma.
Aaron Ackerman:
Yeah. That's a great point. So I think, the emphasis that you guys have on specifically like energy, life science, logistics, these are innovations happening in really old industries. This isn't just an internet company that's doing something just with creating a new disruption and a brand new industry. These are really established industries and people are bringing innovative ideas through technology that could have big impacts on companies that have been around maybe for generations or hundreds of years or whatever.
Nathaniel Harding:
Yeah. And I think, seeing how we have a lot of capabilities, a lot of institutional knowledge in Oklahoma, and we have this pioneering spirit. And so, we have the talent, we have the right attitude and entrepreneurial spirit, but then having that thrive in different parts of the sector or parts of the industry. And having that happen in a very organic way. So through the private sector, as opposed to... so I think this kind of work is the most sustainable. Whenever you have private sector developing it from the ground up, you have companies that are going to grow here and be established here, and they are going to want to stay here because this is where they got their start and it's where they found their talent. And so for those reasons, we think that you're going to have a more sustainable impact across the state.
Aaron Ackerman:
Yeah. So you and Mike Moradi and David Woods, none of you guys are new to business. You have a long history of successful business building, entrepreneurship and investment. So, there's a real track record there, but curious, what's one or two lessons maybe, or observations or lessons learned that were surprising to you guys now that you're a year and a half in to being venture capitalist?
Nathaniel Harding:
Yeah, I think, well, one of the things that I spent a lot of time on that didn't even occur to me when we were starting is really curating relationships with entrepreneurs and companies, because you got to remember that capital is a commodity and the best companies have options. And so we need to bring more to the table than that capital, which we knew that going into it. And certainly it's one of the reasons. And actually David, he, as the executive coach, he works with our founders and we bring different resources to help our companies, but really how much time we spend with them. And then as we're evaluating companies to invest in, I've learned a lot about the amount of time that I need to spend with these entrepreneurs to try to attract them to be a part of our portfolio.
Nathaniel Harding:
That's something we've, learned. And also there is what we're doing, takes everything we can give it. So since there's not really a... since what we're doing is fairly unique for Oklahoma. There's not really just a playbook. There's not really just a niche that we can slip into. Instead, we're finding that there's a lot of things that we can be working on and what actually is going to bring value and help help us deliver returns. How do we spend our time? We looked at 900 companies, but really how can we focus on and attracting more of the right companies that we want to see? So we've actually... we've learned how to have, I guess a more focused filter or as how we attract deal flow. So some of these things that you may sense that the outset, or just get surprised by... we've definitely had those experiences over the two last years.
Aaron Ackerman:
Yeah. That's awesome. So what message would you give to a startup founder that's seeking, venture capital?
Nathaniel Harding:
I'd say the number one thing you need to figure out early on is, does the market want what you have? And so, even less so like the question of, can you build it or can it be built? That's the future problem. The now problem is, does the market want what you are envisioning? And there's ways to actually get some feedback on that. Well certainly by talking to people in the industry, but there's organizations that can also help you build a prototype. And so, Builders + Backers, gBETA, both of these organizations that are now in Oklahoma can provide mentorship and training, but also even some small funding to help get from an idea on paper, to an initial prototype. But really having those potential customer engagements and really hundreds of conversations with different types of customers, it's going to be iterative.
Nathaniel Harding:
Because you may have this vision of a certain customer profile. You may realize, well, that customer doesn't actually care about what we're working on. And here's why, so let me pivot over here and get that feedback now instead of a million dollars into development and G&A and sales process. And so getting that early, early answer on that demand driven model is important. And actually one of our advantages as a fund, is we have over 80 LPs in our fund and that almost all owners and operators have companies in sectors in which we invest. So sometimes an entrepreneur will come to us. They may be too early. They may be at the idea phase, but we can then connect them to any number of our LPs and really get quick feedback on is there demand for what they're offering. And that you can save yourself a lot of time, you'd rather fail quickly, get that feedback immediately and then it may be a pivot or it may be starting over, but at least you're doing it at the beginning.
Aaron Ackerman:
Right, yeah. That's good stuff. So I want you to maybe just brag a little bit, I know there's a lot of measures to talk about how successful Cortado has been so far. And certainly there's a lot still in front. I mean, you're still doing initial investments in your fund one, so exits and things, revaluations will come later and that ultimately is going to be the mark of how successful the fund is, but there's been media and other kind of third party talkers or influencers noticed Cortado, talk a little bit about some of the press or how the profile of Cortado has been raised a little bit.
Nathaniel Harding:
It's very flattering, but it's also good for business, right?
Aaron Ackerman:
Yeah.
Nathaniel Harding:
Because if we're known for what we do, then we get more quality companies and can keep doing it. So we actually had a couple features in Forbes. One of which was a surprise, we didn't know they were writing about us. Then then the name of the article was How a New Breed of Venture Capitalists Are Out Punching Their Weight Class. And so it was a recognition of our entrepreneurial spirit and our creativity, and then doing... you're operating in the middle of the country where evaluations are lower. So we can literally do more with less, we can invest in more companies and have higher equity stakes. So that was great recognition. Also in our industry, TechCrunch is the pre minute publication talks about all things tech we were featured in an article talking about our successful initial raise.
Nathaniel Harding:
But what was funny about that is, so it was a great validation moment for us and for Oklahoma, but they misspelled Oklahoma five times, three different ways.
Aaron Ackerman:
Oh no.
Nathaniel Harding:
So it was also very symbolic of like, okay, we're on the map, but still have more work to do. So it makes us realize like, yeah, this is going to be many years of the making going from what was five years ago, really a very minor presence in the venture and tech space, but now we're getting national attention and even our own performance of the fund puts us among the top 10% of funds in North America, just according to third party data that our administrator puts together. And so that was a great moment as well, because it shows us that we're on the right track. It's too early to do high fives and have champagne parties, but it's at least an indication that what our thesis and our approach and our competitive edge, are valid.
Aaron Ackerman:
Yeah. That's awesome. So kind of wrapping up here, maybe just a couple questions, one, you know, just anything you want to talk about upcoming, things with Cortado that are exciting that you want to mention. And two, if anybody wants to learn more about Cortado, about future plans and portfolio companies and things like that, where should they go? So maybe respond to that.
Nathaniel Harding:
Yeah. So we are launching a second fund. So doubling down on everything that's worked from fund one, we'll be launching fund two, really beginning next month. And so, we have a lot of interest to really say, "Okay, we know we now know what worked for fund one and what we can really double down on and that's our goal." So fund two, very, very ambitious. And we'll be launching that publicly in the coming month.
Aaron Ackerman:
Okay. Awesome.
Nathaniel Harding:
And what was the other question?
Aaron Ackerman:
So if people want to learn more yeah.
Nathaniel Harding:
Learn more about us. So our website is just cortado.ventures. There's no.com or anything, it's just cortado.ventures. And from there, you can actually sign up for our newsletter. So every month we put out content as far as what we're up to, what our portfolio companies are up to, but also things that are happening in the venture space, events, new information, or educational series about venture capital and entrepreneurship. So great way to connect with us. And also if, you know of any entrepreneurs seeking funding, the same website, cortado.ventures will have all of that.
Aaron Ackerman:
Awesome. Well, congrats to you and your team on all the success. I know I'm just honored and tickled that I and HoganTaylor get to kind of come along for the ride to some small extent. And it's really exciting and just... yeah I can't wait to see how you guys do, but congrats on all the success already.
Nathaniel Harding:
Thank you.
Aaron Ackerman:
Yeah. Well, thanks so much, Nathaniel, for your time for sharing and being so open and transparent. As you know, we wrap up with each episode with five fun questions. So you ready?
Nathaniel Harding:
I'm ready.
Aaron Ackerman:
All right. So what is the first way you ever made money?
Nathaniel Harding:
I actually was at my... I was at a hockey camp when I was like 10 and my parents both forgot to leave me any money and I needed to feed myself. So I would order a pizza and then pre-sell it to everybody else in the dorm and then make money on that and then have a slice left over. And I would do that over and over and build up money until I had enough money for the week.
Aaron Ackerman:
That is awesome. So yeah. That's the ultimate necessity breeds innovation, right?
Nathaniel Harding:
Absolutely. And they made a new rule at that camp, that campers couldn't sell stuff [inaudible 00:31:43] had to do it-
Aaron Ackerman:
That's awesome.
Nathaniel Harding:
... before cell phones and all that. I mean, parents were traveling abroad, so.
Aaron Ackerman:
You were going to figure it out or go hungry?
Nathaniel Harding:
Mm-hmm.
Aaron Ackerman:
That's great. I love that answer. Where was the... we don't do a lot of hockey in this area. Where were you?
Nathaniel Harding:
This is actually in Canada.
Aaron Ackerman:
Okay. There you go.
Nathaniel Harding:
I grew up in Oklahoma, but left playing hockey. So yeah.
Aaron Ackerman:
So if you weren't involved with the family business, you weren't doing Cortado, if you had taken a completely different path, what do you think you'd be doing?
Nathaniel Harding:
I would want to be working in embassy, be an ambassador. And so, one of my degrees was in Russian language and so I worked for the state department working abroad. I think that would be just fascinating. And certainly in the news now, but being involved in international affairs, so always interested being.
Aaron Ackerman:
Yeah, very cool. So what would you like to go back and tell 20 year old Nathaniel?
Nathaniel Harding:
Maybe chill out. Yeah. I definitely was involved in a lot of things. I'm grateful for experiences, but yeah, I think just to, to chill out that there is no... don't be stressed out about feeling like you're behind or on the wrong path. Wherever you are is going to be informative and a great experience for wherever you're going to be next.
Aaron Ackerman:
Yeah. Love that. That's great. All right. What would you title your autobiography?
Nathaniel Harding:
It's a tough one. I think... man, I kind of stumped on that, but I guess, Shops on Net. A thing that I kind of remind myself a lot about is, and in entrepreneurship, it's all about opportunities. It's all about putting yourself in the way of opportunities or maybe Man in the Arena. That's will be my idea of the title.
Aaron Ackerman:
Okay. I love that.
Nathaniel Harding:
Man in the Arena
Aaron Ackerman:
Because that's Roosevelt, is that right?
Nathaniel Harding:
Yeah. And so being... actually putting yourself out there, it can be scary and it's risky, but there's just no other way to achieve the things that are in your head. And it's something maybe too for entrepreneurs that we invest in is, I really admire that they're going for it. They're taking that dream and they're just going for it.
Aaron Ackerman:
Ah, I love that.
Nathaniel Harding:
And you never know. I mean, you're prob... [inaudible 00:34:13] is not going to happen. It's just not going to happen. But as long as you're in the arena, you're going to just stumble into that next thing that you never would've done if you hadn't embarked on that.
Aaron Ackerman:
Yeah, man that is great. I don't know if this is exactly what you're saying, but I think it's related. I was reading, I can't even remember. It might have been Adam Grant. I can't remember what book I was reading recently. And it was talking about some of the most innovative people that everyone recognizes, going back to even like Thomas Edison and thinking about Elon Musk and guys like that, people like that. And and the author went through sort of this discussion of, from everybody, pretty much that's known as being a big idea person. They had had the volume of ideas they generated was just way more than the average person, which means they may have to get the one great idea. They might have 99 stinkers-
Nathaniel Harding:
Right? No, you're absolutely right.I remember that same book, it was a good one. It was Adam Grant. I can't remember the name of it, but all your listeners should definitely look up Adam Grant.
Aaron Ackerman:
Yeah. He's awesome.
Nathaniel Harding:
But yeah. I mean, it's really the sheer volume of output to get the one. Even by people that we consider brilliant that you would think they just invent greatness in their sleep. It's, number of attempts, it's being being in the arena and trying to make it happen.
Aaron Ackerman:
Yeah. Very good. All right. Last question. What's the best advice you've ever received?
Nathaniel Harding:
That would be from my grandfather. Who said, in fact, I don't remember... my first advice from him was not about like life or marriage or any relationships or any of these things. My first advice that I remember him giving me was, always collect prepayments. Because he was in oil and gas and you have partners in drilling and he made a rule like, "You always got to collect prepayments before you go out there and drill." And actually, I look at it now, it occurred to me. That's what we're doing with Cortado. We got to make sure that we're collecting prepayments before we deploy capital, but very, very simple, great way to avoid financial trouble and maybe a good analogy for other things in life too.
Aaron Ackerman:
Very Good. I like it. And you know, I don't know if it came before or after your pizza enterprise, but-
Nathaniel Harding:
Yeah. That's exactly it. I was like "prepay before you get pizza.
Aaron Ackerman:
Yeah. Well, that's awesome. Nathaniel, thanks so much appreciate what you're doing in Oklahoma and the surrounding region. And obviously you're familiar with HoganTaylor. We work a lot with you guys and appreciate that relationship. And that's our geographic footprint as well is, what you call the Mid con region. So we love what you're doing and keep it up. Good job.
Nathaniel Harding:
Well, thanks a lot. You guys have been great partners.
Aaron Ackerman:
Yeah. All right. Thank you very much. We'll talk to you later. And that's all for this episode of How That Happened. Thank you for listening. Be sure to visit howthathappened.com for show notes and additional episodes, you can also subscribe to our show on iTunes, Google play, or Stitcher. This content is for informational purposes only and does not constitute professional advice. Copyright 2020 HoganTaylor LLP, all rights reserved. To view the HoganTaylor general terms and conditions. Visit www.hogantaylor.com.