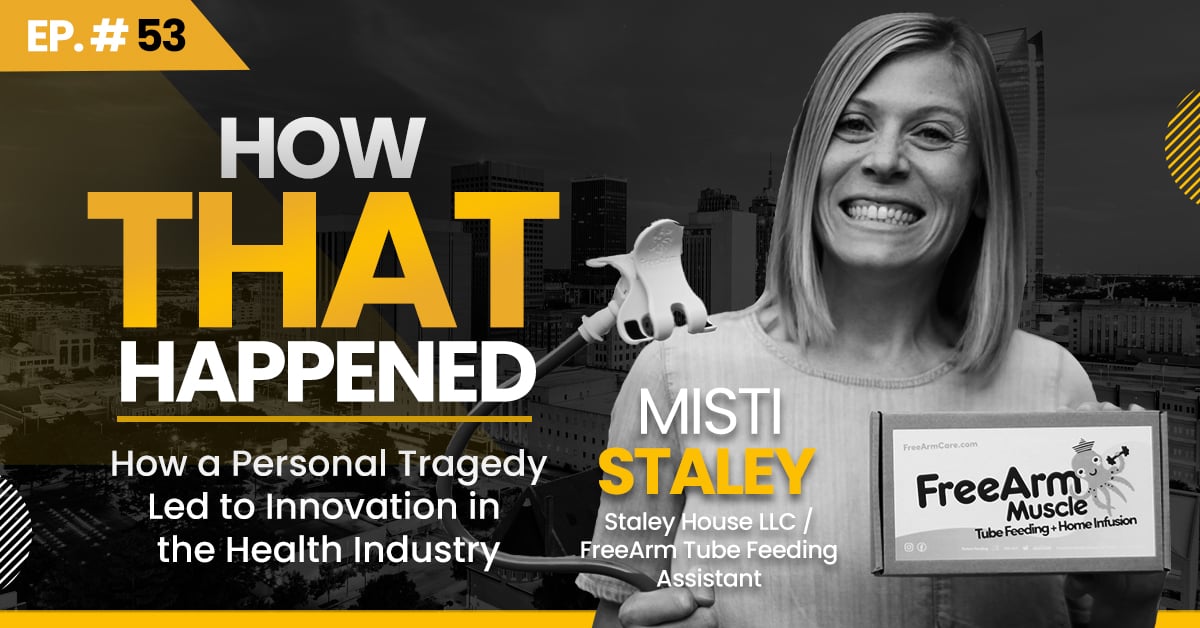 Misti Staley:
There two feeding businesses, even, that are a mom who has made a product and she's come to me, and I can say, "Well, do you have a HCPCS code, or what are you going to do about FDA approval?" To be able just to put her in touch with the people that I spoke with that helped us go through all of that red tape and all of those channels, it feels good to be able to give back, because so many people have given to me.
Robert Wagner:
From Hogan Taylor CPAs and Advisors, I'm Robert Wagner, and this is How That Happened, a business and innovation success podcast. Each episode of the show, we sit down with the business and community leaders behind thriving organizations to learn how business and innovation success actually happens.
Our guest today is Misti Freeman-Staley. Misti is an artist by education and training, but is also an inventor, founder of The Staley House, LLC and director of the nonprofit Freeman Foundation. Misti was in the 2019 class of Arkansas 40 Under 40 and was recently featured in the success story section in Arkansas Business, which is the weekly business newspaper for the state of Arkansas. Misti, welcome to the How That Happened podcast.
Misti Staley:
Thanks, Robert. Thanks for having me.
Robert Wagner:
We are so glad to have you and hear your story. I think you just have a very intriguing story and anxious to hear that and about your business. So you're an inventor of a device called the Free Arm and then a second device called the Free Arm Muscle, which are both medical devices. They're developed for parents who need to use ... or for patients, excuse me, who needed to use a feeding tube for nutrition. Like many inventions and innovations throughout history, you developed these products I think out of frustration with kind of the current state of what was available to you, but in your case also out of tragedy. So tell us, Misti, kind of how these products came to be and how you came to be in the medical device business.
Misti Staley:
Sure. My son Freeman, he was born in 2015 here in Helena, Arkansas, where my husband, Will, and I live, and shortly after he was born, he was life-flighted to Arkansas Children's Hospital in Little Rock. We had no idea he was going to have any sort of medical complexities after he was born. But we went up to Arkansas Children's thinking we were only going to be there a couple days, maybe a week, and they really started letting us know all the differences that Freeman had. He had a small cleft palate in the very back of his throat. He had pulmonary hypertension, where the vessels between his heart and lungs were really tiny, so it was really hard for him to oxygenate himself. So a combination of those two things put him on ECMO and made him a notoriously poor eater, so not being able to get good suction on a bottle and then also being an ECMO baby, and they say they're just notoriously bad eaters after that. We're not sure why.
But we spent three and a half months in the Arkansas Children's NICU. We were finally discharged, and I got to come back home to Helena. We were home in Helena for five weeks, but Freeman's breathing became labored and we had to return to Arkansas Children's. But while we were home for that five weeks, it was difficult trying to tube feed Freeman. So Freeman had a feeding tube his whole life. He had the OG tube that was like the ... It was a purple noodle that went into his mouth and down into the stomach. Then he had an NG, which went into his nose and down into the stomach. Then we switched to a surgically placed G-tube, which was a little port in his belly.
So at home, I would be sitting on the couch and turn to hold a gravity syringe. So that's an open 60 CC syringe without the plunger. It has the feeding tube attached to the end, and then that plugs into Freeman's belly. But I'd be holding Freemen, trying to hold that syringe not too high, not too low so that the milk I was pouring in would go in at just the right rate. But then I would forget the meds in the kitchen and have to get up and go get the medicine and bring that back and put those little syringes in. It was just a lot to try to juggle, and I spilled a lot of milk. So I said, "Will, I need something to help." While we were in the hospital with the gravity syringe, nurses would always rig it, and they would tie a string above Freeman's crib. It would hang from the crib that way. But at home, we didn't have the tall canopy crib of the hospital crib. So we just had to hold it or try to rig it in some way.
So he went out to the garage and created what would be the very first Free Arm. It was two pieces of wood hinged together in an upside down L shape, little one by one pieces of wood. I taped that to the back of Freeman's crib, and then I could swing it out of the way, hang the gravity syringe from the top piece, and swing it backwards if Freeman started to spit up and aspirate and I needed to get to him quickly. So we used that, but I always had to feed Freeman in his crib. I wasn't able to feed him in different parts of our house.
But then after five weeks at home, Freedman's breathing became labored, and we returned to Arkansas Children's for a chest x-ray and see if maybe we needed to adjust some medicines. From there, they put us in the PICU, and then in the PICU, Freeman had a trach and all kinds of procedures, ended up with several pneumothoraces with holes in his lungs and ended up getting a trach right around Thanksgiving. So we thought that would really turn the corner, but nothing really just made that huge improvement leap that we were hoping for, and sadly, Freeman passed away at 10 months old. It was the day after Valentine's Day in 2016.
Robert Wagner:
Wow. Well, Misti, we're very sorry for that loss, the loss of Freeman. That's just a horrible tragedy and to see him and to hear his story of how he fought so hard and had such a difficult start to his life. So we're very sorry for that. So I've looked at videos of you with the product, and it's just very impressive, Misti, how well thought out it is. I mean, you seem to have covered every angle of how this product needs to be used, how things hook onto it, how you could hook pumps to it. How did you get to such a well-conceived product seemingly so quickly?
Misti Staley:
Lots of customer discovery. So when we first started out, we did some sketches and mock-ups of the original Free Arm, the upside down L that would attach to the back of the crib. We were trying to make it to where it could attach without having to use screwdrivers and tools, but it could just attach on its own, like with some kind of zip tie type system. But then we quickly learned that we need to make this even larger than just for infants. This needs to be for older children that are no longer in cribs, adults who are not in cribs. What about children who are in wheelchairs? We wanted it to be able to move around with the child. We didn't want to keep people tethered to a specific area anymore.
So through that, we started thinking about, "Okay. What can we do to get it to clamp onto different places?" So with our Free Arm muscle clamp and creating the V plate shape, I went to Arkansas Children's and asked some of the nurses that we were friends with, "Can I try this on some cribs that aren't being used to make sure that it's going to clamp tightly to the small rounded bar of the hardware in cribs at the hospital, but it's also going to attach tightly to a wheelchair bar?" We had met a family through Instagram, a wonderful family, and we stay in touch all the time. I had sent them some of the very first Free Arm Muscle prototypes, and they tested them for us on their wheelchair and gave us great feedback.
So it was taking that feedback plus thinking through, "We want the arm to be able to bend and adjust so that it can go down lower so the feed can go and slower or go up higher so the feed can go in faster," and thinking about equipment that was in the hospital already. There's a machine called the servo machine that oxygenated Freeman while he was in the hospital, and it had this long bendable arm on it that nurses would try to kind of rig things up on and keep wires all combined together when you try and do kangaroo care and things like that that-
Combined together when you try and go do kangaroo care and things like that. But to think about an arm that bends like that. And then with the clip at the top, talking with the nurse, she'd said, "Well, what if it held different size syringes?" And so we were thinking about one of those butterfly hair clips that you probably saw a bunch of women wearing in the nineties.
Robert Wagner:
Right. Correct.
Misti Staley:
And so something like that to where it could adjust depending on the size of the syringe. And so putting all of that together and then finding the manufacturer who already made bendable arms, already made clamps and clips and had the machinery to do that already. But then to say, "This is our clip design and can we make a new mold for this piece and then add it to your bendable arm?" And so just working in that direction and then going from there. And then even customer feedback to this day, we've changed our clip design to have two hooks so that you can have a feed bag and a flush bag. It's really fun to find out what people need and to really make it useful for everybody.
Robert Wagner:
Yeah. It's just clear, again, looking at the videos and watching you demonstrate how to use it, the various applications, that those things have just been very well thought out. Just really, really impressed with that. How many people are being fed this way? How many people are in the population of needing feeding tubes, I guess?
Misti Staley:
Yeah, it's a pretty niche market but it's an important market. And so just in the US alone around 450,000 people to feed at home, about 60,000 Americans are on home infusions and then about 250,000 hospital stays require feeding tubes. And then, of course, the numbers get much larger as you go worldwide with that. And we do ship worldwide and sell worldwide but I didn't know anyone with a feeding tube before Freeman. And so it was just all new territory to us. But now through our Instagram and Facebook and meeting so many amazing families, I know tons of people. Do you know anyone with a feeding tube?
Robert Wagner:
Well, it's interesting. I don't. I will say this though that probably six to eight months before my dad passed away he was having trouble with aspirating and there was potential he would be on a feeding tube and he did not want that. That was a very big deal to him. So we just didn't get to get that far, unfortunately, but that was potential for him.
Misti Staley:
Yeah. There's so many great products available to people on feeding tubes that it can, to some extent, just be another way to eat. I looked at feeding tubes as maybe an end-of-life, something that you would need but maybe it's just... You can have a great quality of life and still have a feeding tube. And we really try to make that available with the FreeArm and have people not be tethered to an IV pole. If you're on pump feeds and you have that on an IV pool in your house, it's super hard to get the IV pole up the stairs and down the stairs and over rugs. And just to have that IV pull in your house and it's so medical. The FreeArm just tucks away nicely and you can use it when you need to but it doesn't stick out like an Iv pull does.
Robert Wagner:
Right.
Misti Staley:
And then you can have the mobility with the FreeArm to attach it to a stroller and take a stroller ride down to the playground or something like that. But there's so many great products too. There's blended food. So Real Food Blends, they have salmon and green beans and rice and it's all blended already in a package. So it really is an easier way to eat on the go. You can blend your food at your house as well in the blender but to have a product like that to where if you're traveling or you're going to be away from your house at lunch, you can pack that and still feel like you're having quality food and you're just eating in a different way than others.
Robert Wagner:
Right. Right. That's very good. So, Misti, you touched on this a little bit but let's talk some more about the supply chain. How are you getting this product made?
Misti Staley:
Yeah. So supply chain, it's been this huge discussion during COVID, I feel. It's just everyone's supply chain has kind of... You find out that it's not as strong as you had hoped. And our supply chain now is much stronger than it was before COVID but we're working with multiple freight forwarders because we not only import the product and then finish it here in Helena but we also do a lot of shipments back out and export the product. So to have a close relationship with our freight forwarders. But then also we've been, I would say, lately double utilizing our UPS account and we probably talk with our UPS reps every day to check on orders and just make sure that things are getting where they need to go.
Robert Wagner:
Yeah. But you found a manufacturer. Is it a single manufacturer that can make the whole thing? Are you doing some assembly? It sounds like you're doing maybe some assembly there in Helena.
Misti Staley:
Yeah. Some assembly and we use a manufacturer but several other manufacturers to create the parts that then go together.
Robert Wagner:
Okay. Okay. Very good.
Misti Staley:
Yeah.
Robert Wagner:
So I realize the customer's the person who's using the feeding tube. That's the ultimate customer, the end user. But who's your customer? How are you distributing this product? How are you selling it? How are you getting the word out about it?
Misti Staley:
Well, we sell directly to families through our website. So we have a lot of [inaudible] families that will buy the FreeArm that way but we also sell to hospitals and DMEs, which are durable medical equipment Suppliers. So once you're discharged from the hospital they will send you your formula every month, you're feeding two bags every month, you're feeding tubes, all the supplies you need, your pumps. And so those come in monthly and it's your DME that can charge your insurance for your FreeArm. And so we're working really hard to get into more DMEs, to also get into more hospitals who can charge under our [inaudible] code, which is our insurance billable code. They can charge your insurance while inpatient and then you can discharge home with your FreeArm. So you're able to feed the same way in the hospital and the same way at home and so you're not having to figure out and rig things once you leave the hospital. But our end goal is to have everyone's FreeArm covered by insurance and so that it's no cost to the patient.
Robert Wagner:
Right. And the folks in the hospital, the nurses, they're dealing with this just like you are, right? There's really no solution to this? They've got to rig up some system?
Misti Staley:
Exactly. And we really didn't realize that until customer discovery through the Delta-I-Fund. And we couldn't believe it. We just thought that the nurses at Arkansas Children's were super creative and they could come up with all kinds of solutions. Nurses will either hang it above the crib, like they would do with Freeman a lot, or they would tape it to Freeman's swing.
Some nurses rubber band it to the oxygen meter that comes out of the wall. I heard stories about nurses who would take two tongue depressors on either side of the gravity syringe, wrapping around with it some tape or a [inaudible] and then drop that down through the hole in the top of the Isolette. We even talked with one hospital where, for older patients, they would take two IV poles on either side of the bed and then one of those sticky ACE bandages and then put that between the two IV poles with the syringe hanging in the middle. And they said then every three hours, for every three hour assessment, we're having to take all of that down, move it out of the way, assess the patient, put it all back up again.
And so it's just, oh my gosh, they have the FreeArm that can connect to the side of the bed to hold that gravity syringe, be tucked out of the way. The patient can still sit up, can still watch TV, can still read a book and move around and not have the syringe hanging over them, which also causes a big safety hazard. I mean, every time Freeman would spit up and aspirate in the hospital, a lot of times he would turn blue and they would have...
... aspirate in the hospital. A lot of times he would turn blue and they would have to rush to [inaudible] him. And that was always so super scary. And then to add to that, the doctors and nurses were always having to fight with that ribbon that was hanging above him. I'm very thankful that the FreeArm can offer better patient safety, but also a way to free nurses' hands can so that they can interact with the patient or they can check on other patients and have a consistent way to feed knowing that it's going to be at the same height and the rate is going to be steady.
Robert Wagner:
Yeah. Is it because it's such a niche market that none of the big guys have dealt with this, you think?
Misti Staley:
I would guess so. I'm not sure. We just ... we knew that it was a big problem for us and then maybe people are thinking more about it now, of, wow, that is a big problem. It's just a problem that there was never a solution to.
Robert Wagner:
It's just interesting that there's at least pediatric nurses all over the world probably, dealing with this and no one has come up with a solution until you. So that's awesome. So we missed it at the outset, that you have an art background and I've been to that website as well, and you've painted some beautiful murals and things like that. How has your art background informed the FreeArm and the design of the FreeArm and your business, I guess, at this point?
Misti Staley:
I would say the creativity aspect has really kind of developed our brand. It's a fun brand. We look at our brand sometimes and think, is it too childish? Are adults not going to want a FreeArm Because maybe it's too child-friendly branded? But it brings a smile to people's faces and I think that's important. And we have a lot of adults who use the FreeArm, especially adults with ALS. A lot of ALS patients will have a feeding tube at some point. And so I think to have that fun brand and then to also, with our bendable arms on the FreeArm Muscle and the FreeArm, we have multiple colors you can choose from. And I think that that really brings a smile to people's faces. You don't have much control over medically complex life, but then to be able to choose the color of your FreeArm, whether you want that to match your child's nursery or match your wheelchair, or have a rainbow of FreeArms throughout your NICU, it makes things happier and brings a smile to your face.
Robert Wagner:
Yeah, that's the first thing I noticed about it in terms of ... besides the quality of design, was the colors and they were for the most part bright and cheery and it does make you smile just to see it and to obviously see it work for someone as well. But I thought the colors were really fascinating. So, it's good stuff.
Misti Staley:
Yeah, thanks. Awesome.
Robert Wagner:
So what ... you mentioned this previously too, but what did COVID do to you? How did that affect you?
Misti Staley:
At first I thought, oh my gosh, it's just because we're a new startup, and we're a new company, and I have no idea what I'm doing. But I talked with a lot of other businesses. And I think I have the Delta I-Fund to thank for that. I've talked about them. It was a small business accelerator that we went through the summer of 2018. They're funded by Winrock International. And to be able to talk with other businesses and for them to say, "Oh my gosh, my product is just stalled somewhere in the middle of the ocean and we can't get it," or, "We're backed up in a long line waiting for all the PPE to go out first and we can't get our product in," like seeing that everyone else's supply chain was pretty stalled, made me not panic but think, who are some experts that I can reach out to and really get some advice? So that was super helpful.
Something else that also slowed us down during COVID was sales reps could no longer go into hospitals and show a tangible product to a nurse that they could then touch and test out. And that was really hard because when we first started out in 2018, we started at the very end of November, so not even much at all to count in 2018. But 2019, we really gained a lot of followers through social media, which then spread the word about the FreeArm and really got great feedback from our [inaudible] customers.
2020's plans were to get into more hospitals, to have more [DMEs] carry the FreeArm, which some already were, but definitely not at the level that we want. And so to have COVID come in and just kind of put all of that to a stop, we really had to kind of reassess, like, what are we going to do now? Are we going to wait just a little while for that, and just keep making sure that we can help every at-home customer possible? And the answer was yes. And that's what we still did. But now more and more hospitals are reaching out and we have ... I've been interviewing people for sales positions and we're working to get the word out even more in the clinical setting.
Robert Wagner:
That's awesome. That's awesome. So I have to note this, Misty, the [Count that Happened] podcast is sponsored by Hogan Taylor and we're all accountants here or a lot of us are. And I want to go back to something I read about you. You said that when you told your mom you were going to major in fine art, she said, "Well, that's fine and dandy, but you're going to get a minor in business," which you did. But you had this quote that said that you described your accounting courses as awful, but good for you. So what ... I had to kid you about that a little bit.
Misti Staley:
Sorry.
Robert Wagner:
Yeah, that's all right.
Misti Staley:
Accounting is not awful for everybody. I'm so glad that a lot of people find it super interesting. I love those people.
Robert Wagner:
Yeah. So as you're evolving as a leader, as a business person, as your business is evolving, how would you rate your business chops at this point? What have you learned about business that you didn't know when you started?
Misti Staley:
So much. Being an entrepreneur, I had to just start out doing everything, so doing our financial end of month close outs in just an Excel document, and then moving over to QuickBooks, and then moving from there to get a financial QuickBooks expert to help me out, which she is amazing. And then just everything. Fulfillment. I was fulfilling every order myself. And then now I have a fulfillment manager that works with us and he fulfills the orders. And just to be able on the front end, to do every job and to see what every job looked like, and maybe try several different versions of that job to see what works for FreeArm, for Staley House, and then be able to hire experts in to then take that off of my plate, but do it even better, that's been a really great learning experience for me.
Robert Wagner:
Yeah. That's great. So what do you think the future of FreeArm is? What do you hope it is?
Misti Staley:
Well, we'll work really hard to get into more hospitals, more [DVs]. We're working with a large company currently out of Europe, and they're about to place a big order to go over and that will start expanding our European market. Currently we'll ship directly to families and then smaller orders, to other DMEs. But this DME covers a large portion of Europe. And so we're excited to start working with them. I want to have more distributors throughout Australia, throughout Canada. We have one fulfillment distributor now in Australia and she's wonderful. So anytime we have an Australian order come through, I send the shipping information to her and she fulfills it and then it gets to families in four days instead of four weeks. So that's really great.
Robert Wagner:
Okay. So when I asked you about your business chops, you totally skipped over what you were just talking about, which you've clearly learned a lot about global commerce and the global market. How have you picked up on that?
Misti Staley:
Lot's of questions. Asking-
Lots of questions, asking lots of questions. Just asking people that we worked with through the Delta I fund, different mentors that we've met through the venture center, through Startup Junkie. Every time I'll have a question, I'll reach out to someone that I think might know the answer and then if they don't know the answer, they'll put us in touch with someone else. And so that has been a huge benefit and I recommend that to anybody. Just ask, ask people. I've made really good friendships that way too, as well. And then I've been able to give back now. So there'll be other businesses, other two feeding businesses even that are a mom who's made a product and she's come to me and I can say, "Well, do you have a hick picks code? Or what are you going to do about FDA approval?" And to be able to just to put her in touch with the people that I spoke with that helped us go through all of that red tape and all of those channels. It feels good to be able to give back because so many people have given to me.
Robert Wagner:
Right. Oh, that's a great lesson. Great lessons there about just being not afraid to ask questions, seek help and then I like how you tied it up with you'll get the chance to return that favor at some point as well. It's great. Are there new products coming?
Misti Staley:
We have ideas. We do. [Freeman] taught us so much through his journey, so we really want to continue giving back. And so if that means making creative products to make people's lives easier, we're happy to do that and happy to keep coming up with solutions. We haven't started on anything at this point. I really wanted to get our supply chain and our distribution channels strong with who we are, but then yeah keep your eyes peeled. There might be something in the pipeline.
Robert Wagner:
Okay. That's fantastic. Well, Misty it's been really fun talking with you and we're coming to the close of our time today, but there are five questions that we ask every guest. So are you ready?
Misti Staley:
I'm ready.
Robert Wagner:
All right. What was the first way you made money?
Misti Staley:
Car detailing. My dad, when I was growing up, he would detail cars on the weekends and then after work sometimes, and then his other job got so busy that he wasn't able to detail cars anymore, but I would help him. I would usually clean the inside while he cleaned the outside in our driveway. He'd go pick up the car. So then during college, the summers during college, I took over the car detailing business and took on his customers and I would get to go pick up these really fancy cars which were fun and bring them back and detail them in my parents' driveway. And then I would just go jump in the pool when it got hot and then I'd come back and finished working on the car and I thought, I really like [inaudible]. It's really fun.
Robert Wagner:
That's good. You were a mobile detailer before it was a thing.
Misti Staley:
Yeah, but I would go pick up the car and bring it to the house. I didn't have one of those big water tanks, but yeah, it was a fun job.
Robert Wagner:
Nice. So if you were not running Staley House, what do you think you would be doing?
Misti Staley:
I think more murals. I've been painting murals for a while. I would say 15 years, but it seems that murals now are more and more popular. We just took our thrive design for students up to Northwest Arkansas about two weekends ago. And those are the students that I paint. I work with neuro workshops once a month and we paint murals here in Helena, but we went up to Portsmith and got to see all of their wonderful murals that they have and then went on up to Bentonville and Fayetteville. But I think I would paint more murals. It just brings so much happiness and so much vibrance to a city and I didn't really enjoy it, but free arm is very fulfilling as well.
Robert Wagner:
All right, question three. What would you tell your 20 year old self?
Misti Staley:
What would I tell my 20 year old self? I don't know. I don't think I would tell her much. If you would have told me when I was 20, that you're going to have a baby, he's going to pass away, but great things will come from his life, I think those maybe I would have never gotten pregnant because I would have been so scared. So I'm kind of glad I was a little naive and a little blind to all of that going into it and just got to learn as I went. Learned things along the way.
Robert Wagner:
Yeah. We, of course we've never heard that exact scenario before, but we have heard folks who said, if I'd have known what life was going to look like, I might not have taken the risks or done the things that I did and I would've missed out on so much, so very good.
What will the title of your book be?
Misti Staley:
The title of my book. Maybe, a brief life that continues to inspire.
Robert Wagner:
Oh, that's very good. It's very beautiful.
Robert Wagner:
So last question. What's the best piece of advice you've ever been given?
Misti Staley:
Best piece of advice. Maybe it'll get easier and I don't know if I always believe it, but I think to be able to look back and to see where I've come from and just with Freeman and everything that we went through. I was just talking with a mom last week who just lost her little girl and she already runs a clothing company to spread awareness about differently abled kids and people. And she asked, "Does it get easier?" And I said, "Well, not really." So maybe it doesn't get easier, but maybe you just see the bright spots as well and you try to just look for those bright spots. You open your eyes more to seeing those. I think there's something special to that.
Robert Wagner:
Well you said several times the things that Freeman thought you in a really short life and that's really a wonderful perspective. Well Misty, it's been fascinating talking to you and I wish you all the best and you're on a noble cause in your business. If folks want to hear more about you or they're interested in your products, how can they contact you?
Misti Staley:
You can go to freearmgear.com that's our website. And then you can contact me through the website or info@freearmgear.com. And then I post Monday through Friday, every week on our Instagram, our Facebook and our LinkedIn. So it'd be great if you want to follow us there on one of the social channels and just see some really great smiles of kids on the go while to feeding and reach out to us in that way and spread the word. We would love for more and more people to know about [inaudible].
Robert Wagner:
Fantastic. Misty, thanks again for being a guest with us today.
Misti Staley:
Thank you, Robert.
Robert Wagner:
That's all for this episode of how that happened. Thank you for listening. Be sure to visit howthathappened.com for show notes and additional episodes. You can also subscribe to our show on iTunes, Spotify, Google podcasts or Stitcher. Thanks for listening. This content is for informational purposes only and does not constitute professional advice. Copyright 2021, Hogan Taylor LLP. All rights reserved. To review the Hogan Taylor general terms and conditions, visit www.hogantaylor.com.