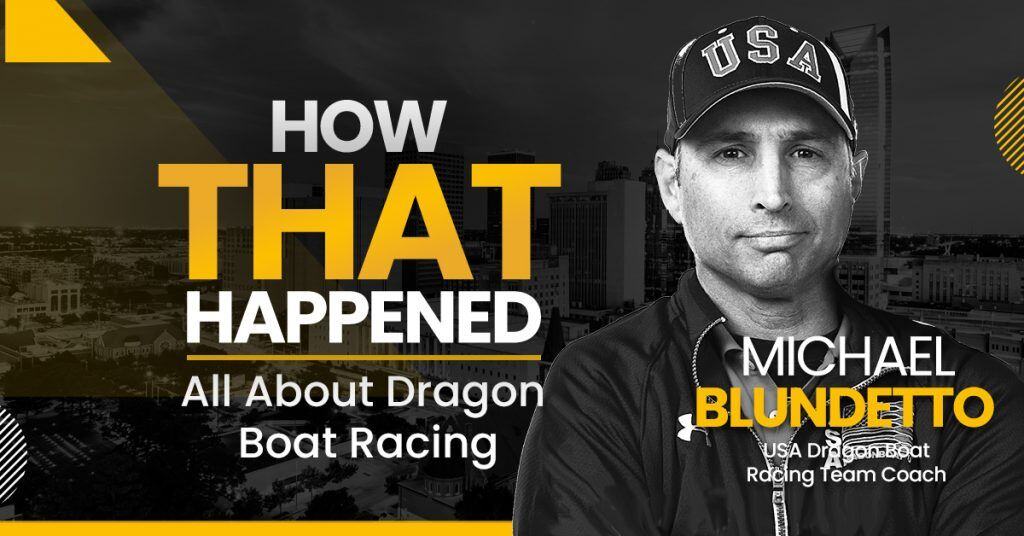 Aaron Ackerman:
Well, welcome to another episode of How That Happened. My guest today is Mike Blundetto. Mike and I have gotten to know each other through business and Mike has a distinguished business career, but I'm real excited about our conversation today because it's going to be a little bit different actually.
We're going to talk about, not so much about business specifically, but we're going to talk about dragon boat racing. And so this is kind of new to me. I've learned a lot about it just from talking to Mike, doing some internet research... So Mike, welcome to the show. Thanks for joining me today.
Michael Blundetto:
Absolutely. Thank you Aaron, for having me.
Aaron Ackerman:
So before we really kind of get into your whole story around dragon boat racing, I'm sure a lot of our listeners maybe have not even heard that term before, so what is a dragon boat? What is dragon boat racing?
Michael Blundetto:
Well, it's a 2,000 year old Chinese heritage sport. It started back in China. It started off when a protester to the local government at the time was protesting taxes and threw himself into a body of water in China where there were piranhas. And this was a very loved individual and all the fishermen raced out to try to save that individual and were unsuccessful. And 2,000 years ago it launched a commemorative annual race in honor of this gentleman who sacrificed himself.
And here we are today, 2,000 years later, and it is an extremely large sport globally. It was a little younger here in the United States, came to the states in the early '80s, but today the United States is definitely a dominant powerhouse on the world stage where this sport is concerned.
Aaron Ackerman:
So a lot of people are probably familiar with kind of more traditional rowing competitions. How is it similar and how is it different from what a lot of people may be familiar with, with rowing?
Michael Blundetto:
So rowing has a long oar that... You're basically rowing backwards and you have a cockswain in the boat. And you may have as many as eight people in boat. And paddling a dragon boat is very different. It's more like an old war canoe. You actually are facing forward and you're paddling forward as if you do in a canoe rather than rowing.
Now in the sport of dragon boat racing, it began as an international event like I said in the early '80s, with 20 person boats, with 20 people in a boat, 10 benches, and you had people sit paddling on one side, the left side, people sitting on the right side, sitting right next to each other on a plank, 10 benches deep, and you would try to go faster than the other teams from around the world.
And you would try to figure it out early on because we had nothing to go on. We weren't raised or brought up with a 2,000 year old sport locally. When it was introduced to us, we tried to approach it as if you were a rowing team. And a lot of the calls that we make in the boat to this day still have some rowing influences to them.
Aaron Ackerman:
Okay. So you mentioned 10 or 20 person crews. So does everybody in the boat have a paddle or are there some people with jobs where they're not holding a paddle?
Michael Blundetto:
Yeah, so in a 10 person boat, there are five benches with 10 paddlers. There is, instead of a cockswain that's just calling commands in the front of the boat, they actually have a drum. That's to maintain the historical importance of the sport of dragon boating. And that keeps the cadence. That keeps your rate. [crosstalk]
Aaron Ackerman:
But you've got somebody that's actually banging on a drum to a time that everybody's rowing off of, is that right?
Michael Blundetto:
That's correct. And depending on the crew, depending on how that boat is being lead, depends on the cadence that that person will be beating the boat on... And then we also have a person in the back of the boat, much like a gondolier that stands up with a long oar and steers the boat, tries to keep it going straight. So no person in the boat is more important than the next. The drummers are equally as important as the paddlers. The paddlers are equally important as the steersperson.
Aaron Ackerman:
Yeah, that's awesome. So okay, I've got a couple threads... I want to pull on that in a minute, but first I think you have a really fascinating story kind of as this sport has grown up in the US. You've grown up in this sport.
So maybe go back to... You said early '80s is really when it sort of became a legitimate international competition level sport. How did you get introduced and then talk a little bit about, really, how you've been at the forefront of a movement where dragon boat racing went from, really, nothing to being an international competition. If it's not in the Olympics, it's on the list and being considered. I mean, it's at that level of global competition. So what has that journey been like for you? Talk about that just for a minute.
Michael Blundetto:
It's been fascinating. Back in 1984 I was a student at Drexel University. I was a wrestler. I got injured and I saw an ad for the US Dragon Boat Team. The Hong Kong Tourist Association at that time had put an invite out to Boathouse Row in Philadelphia to put together a team, a competition team, that would represent the United States for the first time for something that the HKTA, which is the Hong Kong Tourist Association, saw as a means for helping to develop tourism into Hong Kong. And here in the United States, the folks on Boathouse Row put out open tryouts for people to come and try out for the team.
Now I had no rowing experience whatsoever. I was a grunt wrestler, and I was drawn by the aspects of being on a US team. I went out for the team and I've been on the team ever since. In short order, I created a nonprofit for the US and for a team out of Philadelphia, and then we put a bid in for World Championships to come into the Philadelphia area. And as the president of the Philadelphia team, we won the bid. And what we were able to do was to hold a world event here in Philadelphia. And when that happened, we were able to go ahead and help to blossom the sport into some breast cancer survivor teams, some police teams, fire teams, youth... We tried to build the sport a little bit into something that we believed in.
Since those days, we've developed into an organization called Dragon Boat USA. Dragon Boat USA today now has 28 regions across the United States where we pool athletes for tryouts. At a given World Championship, I'll bring as many as 125 athletes, fielding 63 to 65 different divisions, and over a four day world event, which as you can imagine, is daunting in and of itself. But to this day, I still participate as an athlete as well as a coach. I'm a player coach.
When I started in this sport, I was a single guy, no kids. Today I'm married. I've got five children. My four oldest kids are world champions at the sport of dragon boat racing. They're also head divisional coaches for me. I'm the head coach of Team USA. My son's the men's coach. My girls are the women's coaches. I've got one of my daughters is my drummer's coach. They're very, very good at what they do. And to be quite honest with you, I've done everything in this sport. What keeps me involved to this day is the unique experience that I have with my family at such a elite level of the sport. And they actually work with me as well, so it's kind of nice. We're sound in mind, sound in body. We work together. We sport together. It's a very nice relationship. It's absolutely a major part of our lives.
And the experience, to build upon it, not to run too long on you here... You come across many people in your life, and in this run from the '80s to now is a long period of time. There's a lot of people that we have met, a lot of people that have been part of teams that were club teams and Philadelphia teams, and Team USA, that today are our lifelong friends. Some of them are even godparents to my children. I'm a godparent to their children. It is a wonderful extension family that has... Like I said, it's a part of us. It's a very big part of us. I'm very proud to be affiliated with it. I can't imagine a time when it wouldn't be part of my life. But it's a wonderful thing to be involved in with your family.
Aaron Ackerman:
Yeah, I'm so glad you brought that aspect up. Because that's something I think about a lot right now. I'm kind of really interested, maybe even obsessed with sort of combining different aspects of my life just because it creates a richer, fuller experience, but also, maybe in a less personal way, it's really efficient.
If I love to golf, but my kids and my spouse and my friends don't like to golf, and I'm going to go spend hours and hours and hours every week golfing by myself... It seems like that's a lost opportunity, where I could be golfing, getting exercise, doing something I love, and building relationships at the same time. So there's kind of an efficiency or a synergy there.
So it's so cool that you've been able to have these shared experiences with your kids and that you've formed really amazing relationships with others through your involvement with the sport. Was that something you did intentionally, or as you were becoming more involved, when maybe before you had kids and when the kids were little, they just saw, "Dad's doing this. He's having fun." They were hanging around and kind of just sort of latched onto it, or were you really intentional about that?
Michael Blundetto:
That's a good question. No, I actually didn't force it, but it comes with a... When you have something at this level, it always becomes more successful when you have a phenomenal support mechanism. I'm blessed with a wife that is extremely understanding of what this sport means to me. I met her when I was involved in this sport. It's never been an aspect of our relationship where dragon boating hasn't been a part of our lives together.
And then very early in our relationship, at the very first World Championships I ever went... She was coming as my girlfriend. She would come with my folks, with my parents. They would come and they would be supportive and they'd come and they'd cheer it. And there's nothing like watching a Team USA that you are tight with taking on the rest of the world, different destinations around the world. It creates, oh my goodness, just this bond even between you and your family about what you're doing, which is rich.
And we were blessed with having our first child early on in our marriage. And I could remember going to England and Australia and having very young children at the time, and my wife is traveling with me, with these little kids, and before we're racing [inaudible]... I'm sitting them in the boat with me and they've been brought up around it. So they were growing up, as they grew up as fans, they've... The richness of the relationships with the people that we paddle with, they've grown up with. Watching the international relationships that we have, I've got friends all over the world, is extremely rich and rewarding.
And, not to get corny, but I'm known as Coach Mike around the world. And when we go to the World Championships, my kids get such a kick out of the fact that I'm Coach Mike. And no matter what the language barrier is, everybody knows you as Coach Mike which is kind of cute. And it's nice because now that my children are young adults, they're experiencing the same reward that I did at a very young age, but at this stage in their life, they're far more experienced than I ever was at their age. Because they've been doing this since birth. And they're real, real good. [crosstalk]
Aaron Ackerman:
So a lot of times we're talking about somebody who's started a business, working in a startup situation, and you've done that kind of stuff too. But with dragon boat racing, I'm interested in maybe what lessons you picked up along the way. What were some things you did really well, in retrospect? Or maybe some tough lessons where... You've been at the ground floor of growing a sport and helping to really create a movement that has evolved into something really big and beautiful. But you've been part of that from almost day one and have been a leader in that effort. So what did you learn, or what did you do well? Just talk a little bit about the experience of really building something from scratch.
Michael Blundetto:
Sure, well you know, you mature over time. When I was a young guy getting involved in this sport, coming from a sport like wrestling where you're mano a mano and you're man against man, and what you do is what you do on a wrestling mat. When I moved over to a sport where I was dependent on 19 other people, actually 21 other people in total between the drummer and the steerspeople...
I'll be the first one to admit to the fact that when I first got involved in this sport, I was focused in on what I was doing. Wasn't necessarily worried about what everybody else was doing. Which, in some aspects, is the right way to approach your position in the boat. However, when you're trying to look at the overall processes to becoming successful, the team development and how the team works, in synergy and as one, you learn an awful lot about how to manage your emotions, manage your adrenaline, manage how you approach the anxiety of race day, manage how you understand that what you do could grossly affect, positive or negatively, the person that's sitting next to you, or three seats away. At a world level in particular, you're dealing with a lot of A plus personalities, and believe it or not, you can really get into their heads if you do something that's a little outrageous.
So I've learned over the years to not think of myself as myself. I've learned to think as, "How do I work much more effectively?" My main objective, as Team USA's head coach, is Team USA comes first and foremost. We got to put... Team USA must be perfect, on and off the water at all times. And when you're on the water, your best foot forward at all times. My lesson is that we win together, we lose together. But the most important thing is that if you're going to do it, make sure you do it the way you practiced, make sure you do it the way that you said you were going to do it. Stick to your game plan.
And it's interesting because you can take that and lead it right over to business that you start from the beginning. You think that you have all these great ideas in business, and understand that sometimes you need to really step back, understand how the team is, if you have a team, and understand where you get strengths and weaknesses from those people and how you can build upon it so then that business or that team can meet the desired effect.
In our case, for the dragon boat race, it's top of the podium: gold medals, World Championships, World Cups. In business, it's being successful. It's really no different. It's just... Again, it's a maturing, and it's an interesting thing... We also do an awful lot of team building in dragon boats for corporations and for businesses where people learn an awful lot in one afternoon about how to work with one another because they will go faster, they will get to the finish line better, if they do it together. If they try to do it as a bunch of individuals, they typically fail. [crosstalk]
Aaron Ackerman:
Yeah, that is so good. I love that. So as I was sort of learning about dragon boat racing, getting ready to talk to you for this episode today... One thought, and I think this is what you're alluding to, but something kind of occurred to me that, in other team sports, and I was just thinking about basketball or football, for example... You can have a really bad team where the lineman don't block well and the defenders don't defend well, and you can have bad players all over the field. But you may have a star running back or a star quarterback, and the team could lose every game, but then commentators and fans are still going to say, "Man, the quarterback is awesome. He did all this in spite of having such a bad team."
In your sport, the ultimate team sport... I doubt anyone, now maybe people who really know the sport can break down individual performances, but for the most part nobody's saying, "Man, although that team finished last, the fourth rower on the right side did amazing and had a great day." I mean, you really have... You win and lose, you have accolades as a team, or not at all. Is that a fair assessment of the sport and do you still sort of fight a culture of individual athletes wanting to look out for themselves, even in kind of the ultimate team environment?
Michael Blundetto:
Yeah, that's a great question. And when we've had situations... We've evolved over the years. Today we're definitely a very small powerhouse on the world level, but that wasn't always the case. And we also had some very, very good world class athletes during years where things weren't going well for Team USA. And in those situations... Again, when you're dealing with type A personalities, everybody wants to win. When things don't go well, you also learn who's mature, who's not mature, how people react to that adversity, whether they're going to rise above it, whether they're going to point fingers at the people that are next to them.
Typically when a team doesn't do well, they don't single somebody out like you were alluding to, on a football field or a baseball diamond. It just doesn't work that way. Because the team either wins, or the team loses. There really is no in between. I call them hiccups. When there's a hiccup in the boat, and the thing isn't going quite your way, it comes down to the leadership. Like in business, everything doesn't go your way. It's a matter of how you deal with that adversity, how you take what's being handed to you at a given moment... Do you panic? Or do you sit back and say, "Okay, here's what we now need to do. We know what we got to do. Let's take these corrective actions. Let's try to get to the top of the podium."
You know, the last World Championships, because of COVID, were canceled last year. But in 2018, they were held in the United States in Atlanta, Georgia. The world governing body had come to me about four years earlier and asked me to pick a place in the United States because they really wanted us to do that. And I have this real attraction to all the young paddlers out of the Atlanta area, where they held the '96 Olympics on Lake Lanier. And they have this wonderful facility there. It's one of the few facilities around the world, actually especially in the United States, that's still using the facility that they had for the Olympics, and they're still using it for the original stated purpose. Usually, they repurpose those facilities. But today, on Lake Lanier, the canoe and kayaking, the rowing facility is still being utilized like it did back in the '96 Olympics.
You've got a lot of young athletes that are there that wouldn't be able to otherwise afford getting to a World Championship. So it was kind of a no-brainer for me that when a world governing body asked me where I would like to go, and they like it to be on Olympic water, so I selected Lake Lanier for all the right reasons. So then we could have a lot of the real young and really talented athletes be able to do it right on their home turf, and have their loved ones be there to watch them take on the rest of the world.
And what's interesting is that, as you go about doing what you're doing, not everything goes your way. So even during the four days of that World Championship... Typically you have a different division in the morning and then you have other divisions in the afternoon... What I was noticing was the majority was going our way in Atlanta. There was a wave in Atlanta like I have never experienced in the World Championships in all my years of doing it. And it had to do with the moral support that everybody had. There was a big fan base. There was a lot of love from the people in Lanier for all the local athletes that were there. They had live streaming coverage there in the Atlanta area. It was a wonderful, wonderful event. It was contagious. The support mechanism is powerful.
When we came out of that World Championship, I believe it was something to the tune of 18 bronze medals, 11 silver medals, and eight gold medals, and we won the World Cup. By far, the best World Championship Team USA has ever had. And it's the only World Championship that we have ever had in the United States of that magnitude. And I attribute it to the support mechanisms. I really do. And I think those athletes understood... And again, it's the leadership. The leadership was really, really good at letting those athletes know, on and off the water, everybody's watching you. There won't be any antics. So if something doesn't go your way, let's regroup and let's get it right.
We did a lot of training, and not everything went our way. We didn't win every single gold medal. But we did come back, regroup, and we still dominated that World Championships and it has to do with leadership, and it has to do with how you deal with that adversity.
It's phenomenal, and to this day, all these years later, that's a wonderful way to have a World Championship... More importantly it's a wonderful thing for me to have the kids, my kids, experience that as young coaches, young athletes. I do think that there are a lot of parallels between sport and business. And I think that it's got to do with how you conduct yourself on and off at all times.
Aaron Ackerman:
Yeah, that's such a great tie in... Something else you said there, I want to just dig into a little bit. You talked about making sort of an intentional decision about where to hold that event, and part of your reasoning or part of your decision-making was, because of the youth and the young kind of up and coming generation of racing, boating enthusiasts... So this sport is something you, your family have been involved in, almost since the infancy of the sport itself.
You guys aren't slowing down, but at some point the Blundettos aren't going to be around to carry the torch. And so I think, just that's a leadership lesson in itself, as far as thinking about succession, sustainability, trying to bring in young talent, young leaders, et cetera. It's kind of a Jim Collins concept of the... You want to build something that's going to outlast you, right? And so you guys have been, you and your family, have been so instrumental in the growth of the sport. How do you think about kind of the legacy that you want to leave, as far as leaving it in good hands, helping to kind of grow and train the next Coach Mike that people are going to recognize all over the world?
Michael Blundetto:
Yeah so, that is legacy planning. And it wasn't my intention at any point to have my kids gravitate to coaching roles. It just kind of happened. I've done everything in this world. I have. The thing that's keeping me involved is my interaction with my kids. Our fifth youngest child would have been competing at this World Championships this past year had it not been for COVID. She would have been of age. She missed the deadline for Atlanta by two weeks. So, it would have been nice to have her competing with us in India this past year. But we will be in Ukraine next year, and she will compete with us at that point. She will not have any coaching role because she's got to earn her stripes, so to speak.
But yeah, when you do something where you actually go out of your way to have the future of the sport, which is definitely not in the hands of somebody like myself, who's going to be 57 years old this year, that's not the future of this sport. I'm kind of a has-been. What you need to do is put the pieces in place, establish a good base, and allow people to step in, and not be concerned that that legacy won't take over.
Again, that's [inaudible] in business as well. Because there's a point in time, when you establish a business, especially a family-run business, where you go ahead and you set it up. Do you let it go? Do you let the kids take over? Do you step back? At what point do you do that? There's always a fine line there. And everybody thinks that they're the ones that know best.
I've learned something by this sport, and that is I don't always know best. Sometimes, and I tell all the athletes this all the time, if I meet somebody for the first time, say this year, on the water, and I've never met this athlete before, and we're not at a World Championship, but I'm meeting them for the first time, they come over to me and they say, "Hey coach, I've got an idea." I don't turn that idea away. I listen to that person. Doesn't mean I'm going to do what that person says to do, but I will listen to them.
I have gained ideas but from people that I have never met before. I don't care how experienced they are or inexperienced they are. It was be naïve of me to think that I know everything. But there's a tipping point. And the tipping point is, once we've selected the team, and we're now at the World Championship, there's a point where we no longer take suggestions because we now have a game plan and we're following that game plan. But you've got to have a point where you're accepting of ideas or suggestions. Once you commit to those ideas and suggestions, then that is your game plan. If you want to expand upon that, there's a time and a place for that.
So we encourage that with all of our young athletes. And part of that's a succession plan. That's part of that. And you got to understand that you're not an end all, be all to knowing everything. In business today, somebody that was doing business 20 years ago, 30 years ago, they didn't have access to internet and everything that we're doing right now and streaming a video, like we're doing right now. We're doing a podcast. We didn't have this capability. You've got to learn to adapt and change and go with the times. And that's where you have to have the confidence in what you've built to that point, lead them, and hopefully they'll continue to grow it from the point that you left off and trust. It's a big deal.
Aaron Ackerman:
Yeah, that's great. I also want to ask a little bit about preparation. I think about just my work, kind of my daily work life... It's easy sometimes to procrastinate or put aside preparation and go into a meeting or a presentation not fully prepared and you can sometimes get away with that.
In the world of sports, preparation is everything. And you're probably dealing mostly with people who, this is not their full time focus. They're volunteers or amateurs, not getting paid to be training all day, every day. How do you approach preparation from that standpoint with getting ready for a competition? And how important is it? I mean, it's not, I'm guessing, so tell me if it's different but, it's not the kind of thing you can take corners on. You got to go all in, right?
Michael Blundetto:
Well yes, it's not important, it's critical. It's the difference between winning and losing. If you're not properly prepared, you're done. You made an analogy earlier about being able to play golf once in a while. I enjoy going and playing golf once in a while, but I also need to not take myself all too seriously because I'm not on a golf course every day. If I take it too seriously, and I do it casually as a want to be golfer, I'm going to always be a want to be golfer. You can't be a want to be world champion at something. If you want to be the world champion at it, you need to dedicate yourself.
We have checks and balances in order to make that happen. My 28 regional coaches hold structured practices based on what I lay out for the people that are making the preliminary cuts of the team in that given region. And they do video assessments with them twice a week and they send it to me and I... And again, now we're blessed with apps that you can use on your phone. Coach's Eye is one of them that I use, which is a nice tool that you can use for baseball, golf, football... You can analyze the technique to a millisecond of what somebody is doing in a boat or swinging a bat or swinging a golf club. And I can give instantaneous feedback to them and they can do it right on their phone while they're at practice. Sit in the boat at the dock, send it to me, I give a quick little voiceover, and they're showing it directly to the athlete right there, and they're making adjustments.
We've got speed workouts that I dictate that they need to be doing so then they're ready. If they're not attending their practices, if they're not showing improvement, they get cut. I don't want to sound cold and callous, but unfortunately, that's the life that I'm in with trying to put Team USA front and center.
And the interesting thing about that is, overall these years, as you can imagine with the relationships that I've forged, people that are that trying out for the team that are very, very dear friends of our family, that if in a given year they're not cutting the mustard... I don't care if you're in [inaudible] with my kid, you're cut, because you're not doing what you need to do.
And again, you can make these analogies all day long in business, but it is critical to do what you need to do, otherwise you just cannot expect to be competitive on a world level. If you're not competitive on the world level, you have no business being there. And it's a huge time commitment just to get ready to be at the World Championship. It's a huge time commitment to travel across the world. It's a huge financial commitment to get everybody halfway around the world and compete and do all that. I mean, it's hundreds of thousands of dollars to get teams to where they need to be every other year for a World Championship. It's no joke.
And you also alluded to something else about taking the time to do something. It's a massive time commitment. Much more, as a volunteer I have put as much, if not more, time into that I do a business. It is, and a lot of people ask me, "How do you find the time to do what it is that you do?" Well, I believe that if you have it in your gut to do something, you make the time. You find the time. You figure it out. There's a delicate balance between recreation, which this technically is on some level, because I don't get paid for this, it's a recreational sport, at a very, very, very high level... Your family [inaudible] dedicating the proper time to your spouse [inaudible] and your business. There's a delicate balance. I believe that if you're neglecting any one of those, you probably shouldn't be doing it. You should back away from something that means [inaudible].
Again, the support mechanism is huge. Just like a business, you could have a spouse that doesn't support you going into a business as well. If you don't have the proper support mechanism, I think that that is a mountain, a mountain to climb over. Having the proper support mechanism makes life a whole lot easier when... I've got to drive an hour to practice. I've got to spend an hour and a half on the water. I've got to come back, and then I wake up in the morning and I'm doing my own workouts in my own in-home gym. And I'm going on 57 years old, and in order for these old bones to be competitive at a world level, I don't compromise what should or shouldn't be done. And I get tested. Everybody gets tested. And if you're compromising it, you shouldn't be doing it.
Aaron Ackerman:
Yeah, that's so good. I think a lot about people who are really productive in all different aspects, and when you say yes to something, you say no to something else, right? And the reverse is true, but if you're saying yes to driving the hours to practice, putting in the time in the weight room and on the water, you're saying no to something. And it's probably saying no to watching TV and saying no to other things that we could spend our time on but aren't having the same impact in your life and are not as enriching or fulfilling and just don't move the needle. And I think that's just so key, I think, is to be intentional about what you spend your time on and make sure you're doing things that are filling you up on the inside or helping you build relationships, and in some way, making an impact on your life and your happiness. And if something doesn't check the box there, then we need to rethink that but... That's a great, I love the way you put that, it's really well said.
Mike, if our listeners want to learn more about dragon boat racing, either maybe at the competitive level or just recreational, where can they go? Is there kind of a one-stop website to start with, or how can people learn more?
Michael Blundetto:
Sure, you can go to DragonBoatUSA.com, you can do that. You can Google the sport of dragon boat racing. It's actually pretty neat. And you know, the one thing that we didn't mention is that, when I started all those years ago, is the first dragon boat team, with the first boat, that was actually donated, it was an old teak boat that was donated by the HKTA out of Hong Kong at the time.
Today, my goodness, you can Google dragon boat [inaudible] festivals. They're all over the country. There's thousands of clubs. They're recreational. For breast cancer survivors, it's a beautiful therapy for the area that they're affected with their disease that they're dealing with. For people that are police and firefighters, there's teams that are all over the country. For our youth and recreational... I'm very disappointed the Boy Scouts of America aren't where they are because we donated boats to Boy Scouts of America. It's a beautiful thing to have people on the water and if you ever want a, especially on the inter cities, if you ever want a different perspective of a city, get on a boat and get on the water and look at city from the perspective of the water. It is extremely tranquil. And it makes you appreciate just about everything. It relaxes just about everybody, even knowing that when we get on the water from the Team USA perspective, nothing relaxing about the way that we go about our paddling. Actually, it's quite ferocious. And it's intense as can be, but there's still a soothing aspect of all of that.
So you can go to those websites, take a look at it. If you were to Google the sport, you'd probably see a lot of recreational teams, which I love because just about anybody of any caliber of athlete can find a recreational team. It's very healthy, very low impact on your body when you're doing it recreationally. Pretty hard to get injured. But it's a great way for camaraderie, a great way to get affiliated with a group of people, socialize... There's a lot of social networking that's done with it on a recreational basis. I would encourage anybody to go ahead and Google that, and you'll probably find a club right in your neck of the woods.
Aaron Ackerman:
Yeah, very, very cool. Well, we're coming to the end of our time and I really appreciate you sharing kind of your story and your transparency. So I've got five questions we ask every guest and I'm going to hit you with those now, if you're ready.
Michael Blundetto:
Sure, go ahead.
Aaron Ackerman:
So, what is the very first way you ever made money?
Michael Blundetto:
Paper route, when I was about 10 years old.
Aaron Ackerman:
Was that in PA?
Michael Blundetto:
No, it was in New Jersey. And at the time, they had these little black and white TVs that, if you got another five people to go ahead and purchase the newspaper on your route, you would win a black and white TV. And I'd knock on all the doors to try to get people to sign up for... And, my goodness, I won a couple of those black and white TVs. I was giving them to my friends and sis. It was fun. It's good stuff.
Aaron Ackerman:
So the competitive streak in you started very early.
Michael Blundetto:
Birth.
Aaron Ackerman:
What would you be doing, and we didn't talk a lot about your career, but would you be doing if you had taken a completely different path and you weren't in the businesses you're in, and the career that you've been building for the last decade? What would you be doing if you had to do something different?
Michael Blundetto:
I would coach. I love coaching. It is my passion. I am most comfortable, I'm most at ease, I'm most relaxed, and it is a part of me. It's a part of my heartbeat. There's something about coaching at a World Championship that, the intensity of it, the vigor, [inaudible] watching what's going on, on and off the water and the speed of it all... There's just something about all of that. And introducing young athletes to what we do and watching them, not only grow in the sport, but become the best in the world at what they do, brings me such joy.
You got to realize, and I do want to parlay off this, there's nothing like watching an athlete aspire to make Team USA. When they make Team USA, the joy and the emotion that comes over them when they do it... And it's all because of their hard work. Then when they finally get the Team USA uniform and they're traveling, and they're in an opening ceremony, and they see the pageantry, and flags and...
Wherever we are around the world watching the dignitaries from that country greet the countries from around the world and when they announce Team USA, I typically have the pageantry with [inaudible] people that lost a loved one in that prior year. So anybody that lost a mom, a dad, a son, a daughter... We have them be our Team USA representatives for that given World Championship. Watching the emotions centered around that, which is raw, it's pure. And then if they were to be successful enough to get on top of the podium, you've impacted this athlete's life like nothing else. They'll never forget the day, the first day, they became a world champion at one of the largest sports in the world. That's neat.
Aaron Ackerman:
That's really cool, yeah.
Michael Blundetto:
It is.
Aaron Ackerman:
I love that too, I'm just going to go on a little tiny tangent here, but being a coach, certainly coaches, you think about famous coaches that we know in sports, they get attention. They get accolades to some extent. But really, the profession of coaching is all about helping other people achieve their goals, and helping people see, particularly in a team sport, that together we can be better than we are by ourselves. I mean, it's really kind of a selfless calling in a lot of ways.
Michael Blundetto:
It is. And I enjoy that the most. That's exactly what I would do. Full-time [crosstalk].
Aaron Ackerman:
That's awesome. So Mike, what would you, if you had the opportunity, what would you like to go back and tell your 20 year old self?
Michael Blundetto:
How to figure out to make dragon boating become a business. I don't know what I would tell my 20 year old self. My 20 year old self was that wrestler with his head on the wrestling mat, focused in on himself. And I'm the first one to admit that. It's more than just yourself. Now as you age and you become more mature, you learn all of that. When you become a mom or a dad and you have children, you understand it's not about just yourself. It's about the others that are around you. You pin point that at a 20 year old number... At 20 years old, I was focusing on me, myself, and I and how I would take in the guy that was on the wrestling mat. There's a lot more to that. That's probably the reason why I was almost successful at wrestling, but that's a different story.
Aaron Ackerman:
Great. I love it! Last question, or sorry, we got two more. The next question, what would be the title of your autobiography?
Michael Blundetto:
Ooh. This sounds maybe a little offbeat, but I'm Proud. Maybe just, I'm Proud, because I'm very proud of everything that I've done with my sport. I'm very proud about how I handle my business ventures. I'm very proud about how I embrace my family. I'm very proud how I try to go out of my way to make time for everything. A delicate balance, time management's a big deal. But maybe I'm Proud, and then expand upon it in an autobiography. Because I'm proud of the people that are around. I'm proud of all my athletes. I'm proud of my family. I'm not just proud with how I deal with them, I'm proud of how they deal with me.
Aaron Ackerman:
Yeah, that's awesome. I love that. Okay, here we go, last one. What's the best advice you've ever received?
Michael Blundetto:
My dad at an early age, and my mom at a really early age, always taught me to just do your best. Put your best foot forward. I did that at a very young age. I started wrestling when I was in fourth grade. Did that up through college. I always put my best foot forward, with everything that I've done. I try to do that for everything. And not everything goes your way. But if you can look at it and say, "I'm trying my best," and that's also how you deal with adversity. Try to do your best with the adversity and the hand that's dealt you. But they gave me the advice to do my best.
Aaron Ackerman:
Yeah, that's great. Well, that's it, man. That wraps it up. Thank you so much. You've done a lot of really cool stuff in business that I think would be interesting to talk about as well. And maybe we'll do that sometime. I really just kind of loved to have the opportunity to talk about performance at a world class level, and what you've done with dragon boat racing I think really fit the bill on that and was interesting. Just full of lessons, life lessons that can be applied anywhere. So thank you so much for taking the time, for sharing something that's been, as you said, a part of your life since you were a pretty young guy. So it was a lot of fun. Thanks Mike, I appreciate it.
Michael Blundetto:
It's my pleasure, and thank you for showing an interest in something that's very near and dear to me. Thank you.
Aaron Ackerman:
All right, thank you so much.
Michael Blundetto:
No problem, buddy.