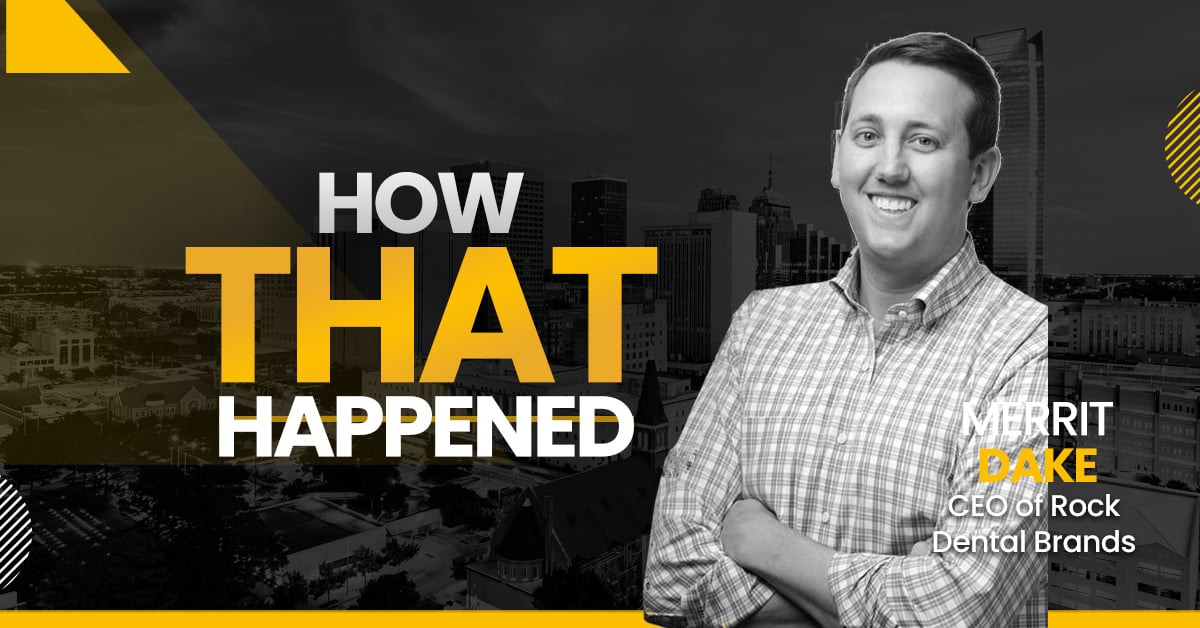 Merritt Dake:
Dentists have always been set up as a one stop shop. So they want to be everything to everyone. They want to market to everyone. I'm going to find that thing that will attract everyone to come to my office. We started going through and saying who are coming into these clinics and why are they attracted to it? And really segmenting out our patient bases and building the experience around those.
Robert Wagner:
From HoganTaylor, CPAs and advisors, I'm Robert Wagner. And this is How That Happened. A business and innovation success podcast. Each Episode of the show, we sit down with the business and community leaders behind thriving organizations to learn how business and innovation success actually happens.
Our guest today is Merritt Dake. Merritt is the CEO of Rock Dental brands and Greyfinch, both based in Little Rock, Arkansas. Merritt is a graduate of the Cox School of Business at Southern Methodist university with degrees in accounting and international studies. He's a CPA licensed in the state of Texas. Merritt, welcome to the How That Happened podcast.
Merritt Dake:
Thank you. Thanks for having me.
Robert Wagner:
Yeah, I appreciate you being here. So you are the CEO of a couple of companies, both related to the dental industry. So let's start with Rock Dental brands, what is Rock Dental?
Merritt Dake:
So Rock Dental is a dental service organization. We manage about 75 practices all in Arkansas, Missouri. And really what that means is that we provide back office support for them. We help them with supply ordering and consolidate kind of buying power amongst those providers and really help support them in any way we can. So our motto is we serve those that serve our patients. Really our focus is to make sure that we take off anything that's not patient facing for treatment or customer service for our providers.
Robert Wagner:
Okay. So there's a lot going on in the dental industry around this consolidation. So just in my own little life in Tulsa, as you know I'm based in Tulsa. And so there's a retail development that's come in the last 10 years. And the last year Dental Depot opened a facility there. And so now, I mean, as we speak Aspen Dental's opening across the street from them. So what is going on in the dental industry?
Merritt Dake:
Yeah. So probably 10 to 15 years ago, there was moderate activity happening where there were primarily providers who had started acquiring other clinics. And they had realized that you could gain buying power and some back office consistency. And obviously they realized they could make some money on it, but it was pretty slow go. As you hit the recession and then kind of came out of it, there was a one individual transaction of Heartland Dental that had an 11 times multiple and all of a sudden it kind of skyrocketed.
Robert Wagner:
Okay, that got people's attention, right?
Merritt Dake:
It did. And so it got obviously private equity money, lenders, it got a lot of people excited to try to get on board the train. And so what's been happening for the last really eight to nine years now really heavily is both consolidation. So a lot of these dental support organizations coming and acquiring practices and pulling them together in many different models. And then the other thing that's been happening is a lot of Denovo clinics where people are trying to start clinics that speak more to say niche within the dental space. Because historically everyone has spoken to just everyone and anyone that they could.
So it was kind of a one size fits all I'm your local dentist type model. I think what has been interesting is that over the last, and this is not just in the dental space, but over the last 10 years, there's been so much liquidity in the market and so much investment that primarily the models have been based on M&A, how many practices can we acquire? And we're not necessarily worried about our model except for can we buy them low and sell them high.
And it's been probably a good thing in the sense that it has spurred some change. But it's been a bad thing in a lot of cases where people have made poor decisions, probably lost a little bit of focus on what they were meant to do was to help allow their providers to support the patients and treat patients well. But it, over that time, as you've had some people have those blips, that it has also refocused industry where now I think what it's doing is the industry's about 15% consolidated. So very unconsolidated still, but it is requiring people to actually provide high quality work. People are getting burned and in trouble for those kind of things. It's making non-providers have to focus back on what the provider do, which has really been a negative probably for the last early part of the last 10 years. And a positive in the last half is that people that are doing it the right way are really starting to get more of the focus and attention. And in the private equity space.
Robert Wagner:
Yeah, that's good point. So what's in it for the dentist to join up with a DSO or to join up with Rock Dental?
Merritt Dake:
So we have primarily, probably two different motivations of why people do it. The first one is usually I'm really tired of dealing with all this other stuff. And it's when they are running payroll on a Saturday morning and they get it wrong and then they have to deal with it on Monday and between patients. And that is always a primary driver, is that from a lifestyle perspective, it is a whole lot better option for kind of that individual provider out there. The second piece is really related to financial gain and really it's twofold. One, is typically most providers are, if they're seeing patients four days a week, they're probably spending a day a week in the office unless they've really gotten a good system down. At least a half a day just dealing with administrative things. And so typically they get productive time and less stressful productive time back, which from an earning potential standpoint, most providers are staying kind of at the same, maybe slightly ahead of the level that they were before because of that.
The second piece is that provider equity is important to us. And so the majority of our providers that have say sold their practice to the larger group have also rolled equity into the larger platform. And the way that we handle it is everybody is on the same level, everyone's investing in the same thing, they're investing in that top level company. And they're getting to also participate in the value increase that everyone else is. And so for most of the providers, it's giving them an option that is really more valuable to them than they have in their kind of just their standalone asset of their practice, which frankly holds a pretty low value because of your limited buyer pool, it's got low supply buyers that are only licensed dentist.
Robert Wagner:
You hit on this a little bit and we've talked about quality some, but it seems like a natural criticism for DSOs. And in Rock Dental's case it's true, you've used private equity, you've used Wall Street money, there's got to be a natural tension there. I mean, these people demand a return, and yet you're talking about something that's very important, very intimate about patient health and taking care of people in a really important way. So how do you guys manage that tension?
Merritt Dake:
Yeah, you're right. And so we've historically leveraged credit facilities, which was a different kind of tension. And honestly, probably a good tension in the sense that they didn't really get into the operations of the business, they just wanted to make sure that their credit facility was secure. We did take on a private equity partner about a year ago now, and we were lucky to be probably timing in the market and just size in our industry and just kind of how we were operating for many different reasons. That we had the ability to have some good choices so kind of pick, try to find the right partner who shared the same mentality as us and valued that. And I mean, what we found and what we kind of do in the process was that there are many options out there, they all have money.
So that's a good starting point. You don't have to really worry about that box being ticked. It really came down to finding people that shared the same values as us. And so we've found some really good partners that we honestly made our decision pretty much solely around people who valued the same things we did that had healthcare experience and understood the importance of that provider-patient relationship and the provider leadership perspective of our business end. And then also just kind of that provider equity piece that does help keep stability and consistency in your provider base, which is really important to patient care, that continuity of care is really important. So, I mean, we did just from an overall value perspective, we took a lower value to make sure that we had the right partner, knowing that it would pay off in the long run.
Robert Wagner:
So what are the limitations on growth? You guys are in Arkansas, you're in kind of south just be Southwestern Missouri, right? So what are the plans and what are the limitations? And you might get into just there's some limitations on who own dental practices and things like that our listeners may not know.
Merritt Dake:
Yep. Yeah, currently we're in Arkansas, in Southern Missouri, we've kind of irked up into that Central Missouri, St. Louis area as well. So in a very ideal world, we would be able to just kind of consistently grow out. I'm sure you guys find this as well, that there are regulatory limitations. There's one around both ownership and just kind of operations. Like Kansas, for example, is a market where you have to have a provider owner that can spend no less than 20% of their time in each office. And so essentially every provider could own five clinic locations. It makes it fairly challenging for an organization like us, because you need to have a lot of providers that are willing to operate in that way. And so there are states like that we will avoid because of it, it's just there are more opportunities.
I'd say the second biggest challenge to growth is that because it is still a very fragmented industry, you're unlikely to find many groups that are out there that you're going to go and take off a large chunk and move in significantly into a market. So there are in a lot of cases where there are new markets we're looking at kind of in the Rocky Mountain region and really then kind of around us in the Southeast. You essentially have to try to find almost a Keystone provider that you feel like you can build off of with a little bit of hope.
And go ahead and stick your neck out there and move into that market. Even though you don't really have a significant enough presence to build out your field off the teams and things like that. So that's probably the biggest challenge is just, you're almost being overly thoughtful and around the person that you're investing in and not just the fact that there is a significant business there. I'd say those are probably the two biggest ones for us.
Robert Wagner:
So you guys do the back office for the dentist, which I can assume includes marketing, right? What does marketing look like for a dental office, particularly if you guys are going to do it on the scale you want to do it?
Merritt Dake:
Yeah. So I would say that we've been going through a lot of transition in our marketing strategy as we've just become more sophisticated with our data and understanding our patients a little bit better. So we historically, and I kind of mentioned this earlier, the dentist have always been set up as a one stop shop. So they want to be everything to everyone, they want to market to everyone. I'm going to find that thing that will attract everyone to come to my office. That typically only happens when you're in a small enough market that you're one of two or so dentists that they don't have a choice so it just feels like it's working. So we have kind of as we... Five years ago, I'd say we were more traditional in our marketing, we were putting messages out there that were kind of that catchall, we provided products that were kind of catchall.
We also did kind of the tradition say referral for our specialist clinics where you're able to go and spend some time with them. And so as we've really looked at it more, what we've realized is that we have very specific patient bases and specific clinics. And don't think that anybody has ever tried to define those reasons in the dental space. And so we started going through and saying, okay, who are coming into these clinics and why are they attracted to it? And really segmenting out our patient bases and building the experience around those.
So before we had just one brand really in our say an orthodontic business. And as we've started to realize the different flavors that are happening, we have gone down the path of really leveraging three different patient experiences in three different brands, more or less that we are able to utilize. And provide a different kind of lead generation mechanism based on what that patient segment's needs are. And then a different experience based on it as well, which has really probably completely changed the way that we've thought about dentistry and most people have thought about dentistry historically.
Robert Wagner:
What kind of disruption's going on? I mean, you mentioned orthodontics so I think about Invisalign as a potential disruptor. What else is going on you? I mean, you guys are trying to disrupt the industry.
Merritt Dake:
Yeah, no. I mean, I think there are a lot of technological innovations happening now. And a lot of it is driven by consolidators and DSOs who are willing to kind of step out and have at least a small R&D budget on how do you try out these new things that are making treatment more efficient? And so you're really seeing two trends, both related to the same thing. But it's all about how can we minimize provider time with the right technology and to be able to make it cheaper and more efficient. So what you're seeing is the traditional say periodontists and endodontist, and some of these more specialized tasks, the technology has gotten to a spot where it makes it a whole lot easier for a say less trained or somebody, probably more the person who doesn't do it every day could do it a whole lot more successfully with a much higher success rate when you're talking about guided implant surgery.
Before it really, really took a extremely skilled technician and now they have 3D printed guides based on 3D scans of the mouth and 3D x-rays that it pretty much does it for you, so you can't mess it up. That's not entirely true, but it's a good 80-20 rule. So it is shifting a lot of that more specialized work to say the general dental clinics and that includes orthodontics. I think the other piece is that traditionally dentists have not really tried to meet the patient where they're at in the sense that really every dentist say schedule is at a very simple level. It's just based on the dentist time. Well, we want to work four days a week from 9:00 to 3:00 o'clock. And those are probably some of the more inconvenient times for a patient, but it's your only option.
There's kind of some unspoken collusion happening in the dental space on that. And so there's a lot of things that I think, again, DSOs are trying to help push of how can we meet the patient at where they're at and what the best time is for them? Say on Saturdays after hours and on things like small direct club. I don't know if you're familiar with them, but they're a direct to consumer clear aligner market where they take simple orthodontic cases and through photos and impressions they'll do 100% remote treatment. And so that's where I think the biggest trends are going is how can you bring convenience to the patient? Cause currently only about 45% of patients who are just patients utilize any dental care at all. So there's a big market that is just either too inconvenient, too unapproachable, too expensive, that aren't addressing it. And so there's a lot of mostly technological innovation's trying to help kind of capture that untreated market right now.
Robert Wagner:
Okay. So that's really good stuff about the dental industry. So as you have worked on Rock Dental, there was a companion company called AXPM and which I think has morphed a few times. And now, there's a piece of that I think, which is Greyfinch. So can you just talk about AXPM and kind of down to Greyfinch.
Merritt Dake:
Yeah. So AXPM was the original third party management company that we started, it was Axiom Practice Management. We shortened it to AXPM. And that actually kind of housed the overall management company business, which is now Rock Dental brands. It housed a software business, which is now Greyfinch. And it also for a period of time housed a dental distribution company and a dental lab that we ultimately spun those off and sold them off separately. Really with the original 10 is how can we find ways to allow these unaffiliated doctors to improve their practice margin, their efficiencies and their patient treatment. And so, yeah, that was kind of the iterations. We fully spun out Greyfinch, the software company really at the end of 2017, but probably not really until the end of last year, 2018.
And really that whole thing spawned from a need for something more than kind of your traditional practice management software that was really set up for just converting your paper into a digital storage process. So really if you look at it, we started out saying, how can we support back office functions and we'll tie into traditional practice management software that will kind of help elevate it from a more enterprise level? So can we automate a lot more of the billing functions? Can we automate a lot more of the call centers so we can better support those practices that we were working with? As we got into it and we really started saying, okay, what will it require to integrate with these practice management softwares? We realized that it was a little bit difficult to take the practice management softwares, which were mostly created in say the late 90s, early 2000s. And that technology, and try to integrate it with what we were trying to do.
And so we ultimately set out to create a practice management software too. That whole company could probably be partially considered the R&D wing of Rock Dental, and has always been that historically. Well, right now we have been using it in many different ways to try to leverage technology, to make the data for the patients more accessible, make self scheduling possible which we're doing now. And one of the few, I think, groups in the country that are able to do that. And just, we continue to push down the line of trying to figure out ways to make it as accessible and easy and efficient as possible.
Robert Wagner:
I want to shift our discussion a little bit and talk about the industry and everything. I want to move kind of to what you've learned and some of the things that you've learned along the way. So you're a native of Arkansas, I think, right?
Merritt Dake:
I grew up about 10 miles over the Arkansas border in Missouri but I spent all my time in Arkansas, so I'm, yeah, kind of resident or [Crosstalk 00:21:02].
Robert Wagner:
Okay. You went to SMU, you got an accounting degree, you did what most topnotch accounting students do, you went to a big four accounting firm and you were there about 18 months, I think in the Dallas office working for Deloitte. You did some other stints in accounting and public accounting, and then you just started working on the AXPM and Rock Dental thing. So have I got all that right?
Merritt Dake:
Yeah.
Robert Wagner:
Okay. So you got that as your education background, you got dentistry in your DNA, right, cause your dad's an orthodontist, very successful orthodontist. So you're doing something that really makes sense. We often interview people that are completely different from what their training was or whatever, but you just kind of drew it up, right? But even with that, what have you learned along the way, what have been the big lessons that you've learned as a young business owner and leader?
Merritt Dake:
Yeah, so like I said, I was at Deloitte. I'd gotten into transaction advisory services near the end of my short stent there. And it opened my eyes up a little bit to some different opportunities. I actually attempted to try to start, and really, and he's my old partner's still doing it, but really supporting small private equity family offices as deal support, really same transaction advisory services. We thought there was a gap there that we could tackle. What it really turned into was more say, company deal prep. And so I got, and this is my roundabout way to answer your question, I got introduced through my dad through a group of orthodontists that were attempting to put together about 12 practices, or there were 12 owners. I think they had $40 million or so in revenue. And it was 2008, not the greatest time to try to raise equity.
But the way I got into this was one of the doctors as that all broke apart, tried to hire me and get me to move to Jonesboro, Arkansas. Ultimately, I did it for several different reasons and I'd say probably that my first lessons really were learned there because I essentially got up there, thought I would be kind of a part-time CFO. I had a software package that we had developed for patient financing that we're going to beta in this clinics. And I very quickly realized that somebody needed to have a better focus on actually managing the whole business. But I was probably completely unqualified, I was definitely unqualified to be doing this.
Merritt Dake:
So I was 26 at the time and I just got thrown to the wolfs and kind of figured it out, because it needs some help pretty quickly. And so I think those early lessons for me probably harken back to things I heard from my dad and my grandpa too, but that I had to kind of come with my tail between my legs within the first, probably three days of this job. And talk to the bank and try to renegotiate out a extension of that debt for that business. And had to very quickly come in and cut staff and had to restructure things, I had to sell off stuff.
And I think the best lesson that I got out of that was in every case I just came as a pretty matter of fact and honest approach and very factual of, hey, this is where it is. You can do this as your option, but that's really going to be bad for this owner and this business and all these patients. And so what if we did this, give me 90 days, give me 120 days. And I think what it taught me was just being open and honest and transparent about it, but working through it in a logical way back to how you're still going to uphold your end of the bargain was really helpful lesson that I probably didn't have a choice at the time, I just had to do it that way.
But I did learn that when I did that, people were willing to work with me. Where I think probably before that there was always the, especially being in the service business, that you'd always maybe only tell part of the story, because you didn't want them to get mad and decide that they wanted to quit paying you. And so it was a good very first lesson.
Robert Wagner:
Yeah, that's good. That's a tough spot. I mean, that's a very tough spot to be in for day one.
Merritt Dake:
It was naivety is bliss. I had no idea that it was worse than it probably was. But yeah, it really was, it was a good spot for me.
Robert Wagner:
So in both the Rock Dental business model, as well as Greyfinch, size matters, right? So there's a need to get bigger, the pace of how fast to get bigger, I guess is somewhat optional, but there's a need to get bigger. So speak to what it takes, what kind of mindset, what kind of decisions have to be made to grow let's say pretty fast or just grow fast.
Merritt Dake:
Well, and that probably relates to another really good lesson I learned was about people. And of course it's pretty cliche, but having the right people was we probably always got lucky. And part of it was, I have the natural tendency if somebody doesn't have grit to not be as interested in continuing the conversation after say an interview process. And I would say that was probably the most important piece to our growth. Being able to keep up with our growth is not only myself, but finding other people that grit was kind of part of their DNA because you have to be able to that roll with the punches as you're trying to grow quickly.
The other part of that is open, transparent, honest communication. And it's kind of back to that first lesson, but amongst the team we've always had a pretty high teaming environment. And probably my natural tendency is to be really open and because it gives people the context to be able to understand why somebody is reacting, why they are. Because it's a really important piece that people can look at you and put you in your shoes and go, okay, that's why they're reacting that way, I'm okay with it. We just all need to now get back to what we're aligned on and focused on. And so those two things, I mean, grit and communication have probably gotten us through most of the way, because a lot of stupid mistakes were made that we all had to power back through and try to pedal our way back out up together. And it brought us closer and we were able to do that.
Robert Wagner:
Okay. Maybe this is what you're alluding to, but I mean, to me, there's a wake that's created, right? And it's a little bit messy. And so guys like me, I mean, I like my beach clean, right? So it's disturbing to have a huge weight going on all the time that you can't kind of keep under control. So do you just get comfortable with that? Do you think that everything's not tied down it's okay, it's we're going to get through?
Merritt Dake:
Yeah, no, I think that's exactly right. I think you're exactly right. Is that you start working through these things and you realize that, because I'm a perfectionist by background, that's the accountant and me, probably a little bit of undiagnosed OCD. I did have to kind of grapple and get okay with the fact that it's not going to be perfect all the time and that's okay. We need to make sure we don't lose sight of it, but it doesn't have to happen right this second, because it is. I mean, it's messy and I had, again, probably partially because of my age, I was in a hurry. This is a really bad reference and don't judge me for it but the old Discovery Channel show a Gold Rush. There's a grandson and a grandfather that have the mine together, and the grandson is the one really running it now.
And there's this one episode where the grandfather, they ask him, well, how do you think... I think his name was Parker. How do you think Parker's doing? And he said, well, like every young man, he's in a hurry. And I heard that it's weird where you get life lessons. And I heard that and I went, hey, I'm in too big of a hurry right now because you do have to get okay with it. But there's a balance there that you go, okay, maybe I'm pushing a little bit too hard that this is a good way to really screw things up.
Robert Wagner:
So you're the son of an orthodontist, right? Mark Dake, who's co-founder and part of the ownership of Rock Dental. So I got to ask you, as the kid of a dentist, did you ever just wet the toothbrush and call it good?
Merritt Dake:
Oh yeah, you don't actually have to brush your teeth, is it? Yeah, my household was pretty strict growing up of from the toothbrushing, flossing if they caught you and no candy in the house. We could have one soda a week. My mom is also a hygienist, so you can imagine how strict they were on the teeth cleaning.
Robert Wagner:
It sounds delightful.
Merritt Dake:
I will say I'm not the best flosser. I always get reprimanded by the hygienist for that.
Robert Wagner:
Yeah, me too. Okay, so a more serious question. Where is dental consolidation going? So you kind of surprised me that I think only you said 15%, so there's a long ways for it to go. But are we going to end up with five dental companies? I mean, where's it going to go?
Merritt Dake:
Yeah, I think, no, the sort of the quick answer is no. I think when you look at dentistry, it probably is a little more retail, but in the sense of service based retail and not commodity based retail. So one industry example was pharmacy, that has become a fairly commodity based business, at least in its execution. And so you've seen that kind of go to one consolidation. And really one, maybe two models works pretty well. Of course, you have your local pharmacy still and things like that, but you're essential selling a product on the shelf that most people are okay with kind of low cost leader being the majority of the appeal to it.
I think in dentistry, there's a lot more room to be speaking to those different patient segments and what they need and what they want. And people are making decisions a little bit different on it. So yeah, obviously cost is a factor, but it's not as big as a factor as it is in your retail environment. So then you have this big middle range of kind of just various feelings on what value means to them. So it's quality, it's convenience, it's friendliness of staff. The experience overall that I think you'll always see kind of these differences that hang out there.
Robert Wagner:
So I think you mentioned earlier that, is it only 45% of the population is seeing a dentist on a regular basis?
Merritt Dake:
45%, it's really low.
Robert Wagner:
I mean, what would the need for dentists be if that went to 70%?
Merritt Dake:
That's a really good question, because that was a big part of the affordable care act conversations around dentistry was, well, if you went to free dental care in some way, we don't have any dentists to take care of these patients. They're just way too much. Yeah, I mean currently, I mean, if you look, the US doesn't have enough dentists for the people that are utilizing it. It's been a fairly protected group of people that they allow to get in and graduate so they're very small classes in general. That's changed a lot over the last, probably 10 years to 15 years.
But if somebody figured out that silver bullet to get every person into a dentist, there's not enough people to treat them. Which is an interesting thing for the industry, because for people like us, that means that as more technological innovations make it either more affordable or more convenient and you start capturing more of that market, which is really what... Like the SmileDirectClub I mentioned that is doing this at home clear line of treatment. That's what they're doing, they're currently not really cannibalizing much of the existing orthodontic business, they're just expanding it. So the industry is in an interesting spot where there's a ton of room to expand and find ways to capture that other 55% that aren't getting care right now, as well as just compete.
Robert Wagner:
Yeah. It does seem like a great opportunity for technology, right? And you talked earlier about kind of moving these procedures down to a lower technician level.
Merritt Dake:
Yeah, it is. There really is no such thing as a mid-level provider model in the dental space. There are certain states that have allowed kind of expanded hygienists functions. Most states these days allow hygienists to receive additional training and certification to be able to just numb the patient, which saves a fairly significant amount of time for the provider. Which ultimately, it has started lowering cost very, very minimally, but it has. And so there's a big opportunity for mid-level provider and then leveraging other technologies to just not have to utilize as much provider time like you have seen in many healthcare professions.
Robert Wagner:
Right. Well, Merritt, thanks very much for being with us. We're getting to the end of our time here, but we do ask every guest five questions at the end of our podcast. And so are you ready?
Merritt Dake:
I'm ready.
Robert Wagner:
Okay, so what was the first way you made money?
Merritt Dake:
So the first way I made money was mowing lawns and moving furniture. I pretty much did it at the same time. So I would mow lawns in the morning until it got hot enough and I would move furniture in the afternoons.
Robert Wagner:
So who are you moving furniture for?
Merritt Dake:
Well, my uncle had a moving company. He had a storage business and a moving company. So I was his hired hand to... I was also the one willing to travel to Daytona Beach or somewhere where the other people had families and didn't want to do it.
Robert Wagner:
I got you. So if you were not running Rock Dental, what do you think you would be doing?
Merritt Dake:
That's a great question. I'd probably be spending more time with my family, which is one thing that would probably happen. But yeah, I really have an interest in technology and in kind trying to find more efficient waves to do things. I'm a fairly process driven guy, so that's always been my bent. I'd probably daily see something and then I go, we could develop something that would make that faster and more efficient. And so I would be doing something around that, that realm of leveraging technology to just find it and ways to improve different things.
Robert Wagner:
Just to make something better. Okay, what would you tell your 20 year old self?
Merritt Dake:
Probably, well, my 20 year old self would calm down and focus on more important things. But yeah, I mean, I would tell myself to keep your nose down, be very self aware and know kind of your limitations. Because that was a lesson I didn't mention, but that probably took me three to four years to probably let my ego down a little bit and realize where I had limitations. And it has brought me more wisdom than I probably should have at my age because I'm willing and able to admit that I don't know what I'm doing. And so that would be what I told myself.
Robert Wagner:
So fourth question is what would be the title of your book?
Merritt Dake:
I didn't listen to these questions ahead of time either. So yeah, probably the title would be Slow Down. And that's probably a recent last couple years discovery of mine is that well, I've been very productive I feel like over the last few years. I will say my beach is probably a little bit messy to use your analogy, that slow down and kind of that's probably a lot to just have some comfort, but enjoy what you're doing. We built this business up and sprung off multiple businesses. I had four kids and it's all happened in the last seven years. And so it would probably... Yeah, slow down.
Robert Wagner:
Okay. Last question is what's the best piece of advice you've ever been given?
Merritt Dake:
So my grandfather, he was a dairy farmer. And then on the side he sold walnuts kind of a traveling black Walnut salesman, Southern Missouri has a lot of black Walnut trees. And he told me one time that when you're trying to figure out how to work with somebody, all you do is just listen to what they need and then figure out if you can give them what they need. And if you can't then tell them, and it's very simple. And it's funny how often I catch myself, I was on a call right before I walked in here, I catch myself going I haven't thought about putting myself in that person's shoes and understanding what they need before I started just throwing out ideas of how we should work together.
And I think about that all the time. And so it was very good advice to just take a step back and put yourself in their shoes, ask them what they need and then figure out if you can do it or not. It's honestly made us successful from an adding practices perspective, is that I approach every deal like that, every person. And it's really helped a lot over the last few several years.
Robert Wagner:
Excellent. I think it's a variation on the old Zig Ziglar thing that you can get everything you want in your life, if you help other people get what they want.
Merritt Dake:
That's exactly right.
Robert Wagner:
Well, Merritt, thanks so much for being with us. We really appreciate your time and your insights today.
Merritt Dake:
Thanks for having me.
Robert Wagner:
Thanks, appreciate it. That's all for this episode of How That Happened. Thank you for listening. Be sure to visit HowThatHappened.com for show notes and additional episodes. You can also subscribe to our show on iTunes, Google Play or Stitcher. Thanks for listening. This content is for informational purposes only and does not constitute professional advice. Copyright 2020 HoganTaylor LLP, all rights reserved. To view the HoganTaylor general terms and conditions visit www.HoganTaylor.com.