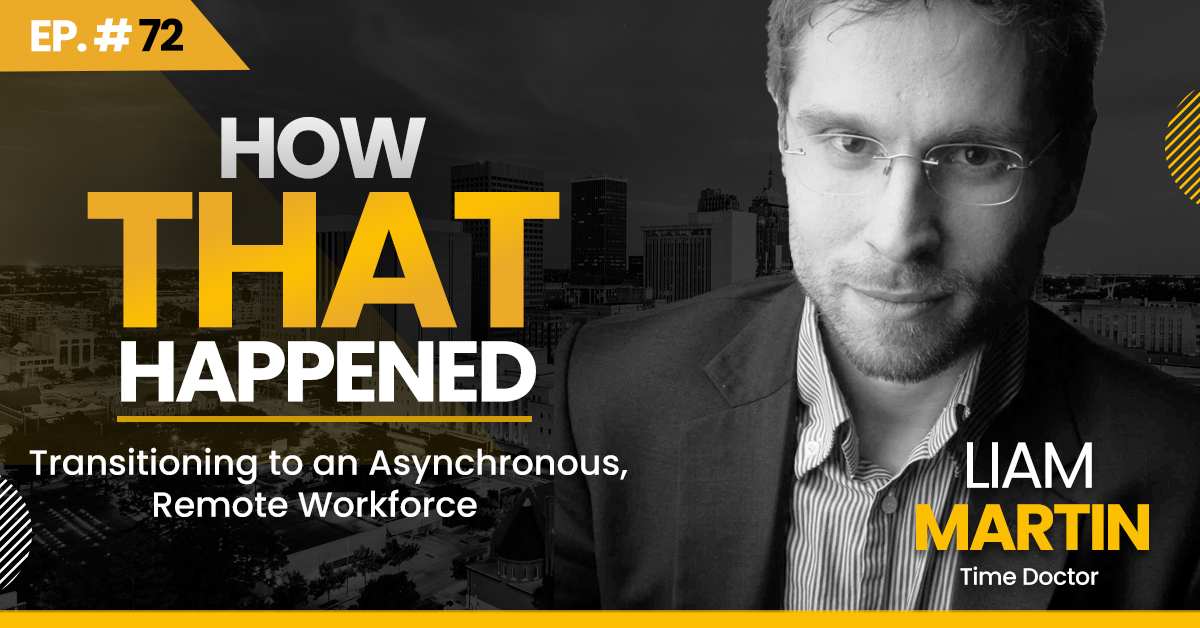 Liam Martin:
So we completely changed the way that work was done. And when you talk about work, remote work being the single most important thing to improve employee happiness. I mean, study after study after study has shown that.
Robert Wagner:
From HoganTaylor CPAs and Advisors, I'm Robert Wagner, and this is How That Happened. A business and innovation success podcast. Each episode of the show, we sit down with the business and community leaders behind thriving organizations to learn how business and innovation success actually happens.
I guess today is Liam Martin. Liam is a serial entrepreneur who runs Time Doctor and staff.com. One of the most popular time tracking and productivity software platforms in use by top brands today. He's also co-organizer of the world's largest remote work conference entitled running remote. Liam is a longtime advocate of remote work. His thought leadership on the subject has been published in Forbes, Inc, Fast Company, the Wall Street Journal, and the Huffington Post, amongst many others. He's also co-authored an upcoming book entitled Running Remote, which honors the secrets and lessons learned by the pioneers of remote work movement.
Liam has an undergraduate and graduate degrees from McGill University, and while he lives in Canada, he also practices what he preaches, traveling and working remotely three to six months each year. So Liam, welcome them to the How That Happened podcast.
Liam Martin:
Thanks for having me.
Robert Wagner:
So let's just jump right in. I was listening to a podcast that you recorded in November of 2019, and I'll let that date sink in for our listeners, November 2019. And you said this, and I'm quoting. "Remote work is the most important thing you can do to make employees happy." So Liam, what did you know then the rest of us had to endure a pandemic to find out?
Liam Martin:
Well, I always look at trends, and I think that, for me, it was definitely one of those moments where I realized that there was a ... Well, before we actually get into that, the big part of this, which I was realizing is 50% of the US workforce was projected to be remote by 2030.
So at that point in 2019, 4% of the US workforce was currently working remote. Actually February of 2020, 4% of the US workforce was working remotely, because the United States government actually did a study on remote workers, thankfully a month before everything changed. And one month later in March of 2020, 45% of the US workforce was working remotely. That's the biggest transition in work since the industrial revolution. But the industrial revolution took 80 years to do, and we did that in March.
So we completely changed the way that work was done, and when you talk about work, remote work being the single most important thing to improve employee happiness, I mean, study after study after study has shown that. Now, we've hit a couple bumps along the way. And I think a lot of people right now, there are a lot of people that are very happy with remote work, with 77% of people want to work in some part remotely after the pandemic is over, which very well might be now. We can get into that too.
But the reality is that there are some people that have tried remote work and didn't end up enjoying it all too much. And I think it's because they truly didn't understand remote work and what it was. And instead, they ended up working from home. And I love that the media is using this terminology, working from home, because when you work in an office, that's a place. And when you work from home, that is also another place. Remote work is really empowering people to be able to work in the office, at home, at a co-working space, at a coffee shop, on a beach somewhere in Bali. By the way, I do not suggest that you do that. I tried that once, and I ended up getting a lot of sand in the laptop. It cost me about 500 bucks to be able to get that fixed, but it really is just giving people the freedom to be able to work wherever they want whenever they want. And that's the promise of remote work that I think we're going to get to as we move from pandemic to pandemic.
Robert Wagner:
Okay. So let's talk about that transition. And you know, one of the challenges I see for companies, and there's transformative things happening in business all the time, but it's very active right now. So in my world, Liam, we're trying to help all of our clients transform their accounting function. They need to be cloud-based. They need to be using automated payment systems and payables systems. And it needs to be paperless payroll, for example. All those things need to happen, and they're all available now. So those tools are all there, but these companies were not born that way. And we weren't born working remotely. And so, it has to be moved. Change management is a piece of this puzzle.
And I'm always struck by folks who talk about the best practices for doing things a certain way, but what about the transition? How do you help companies transition to something like this, to transition to remote work? And you just made a great point. It's not just work from home, it's work remotely, which could be anywhere, right?
Liam Martin:
Yeah. So I lovingly call the people that had to switch to remote work during the pandemic, pandemic panickers. The first month of March, I was getting phone calls from G20 countries, they were saying, "Oh, we have 550,000 people, and we need to take them remote today. Like, they're remote right now. What do we do?" And I said, "Listen, I got 150 people. I have no idea what you should be doing." And they said, "Well, listen, you're the first guy that picked up, that answered our phone calls."
So just to kind of elude to the gap of knowledge that occurred, we run Running Remote, which is the largest conference on remote work. And in 2019 was our last physical event. And we had 750 people attend that conference. That was remote work. 750 people. So it was really a cottage industry. And then it transitioned to something that everyone had to do. And I kind of call it remote at gunpoint. So the biggest thing that I think almost everyone ended up doing was they turned working at home into living at work. So eight hours Zoom calls. "Hey, can you call me? Can you send me a Slack message? Can you send me a Microsoft Teams message? I need to talk to you about something."
And the one thing that I found out in researching the book that I've been working on for the past year and a half is, when I looked at remote teams that were remote before the pandemic, the one single thing that they all have in common is something that I'm boiling down to what I call asynchronous management. So the ability to be able to manage people without actually directly interacting with them, without directly synchronously discussing, on a Zoom call or in-person, what you need to do, and instead letting the platform, meaning what you had mentioned before, all of the payroll technology, the QuickBooks, the zero tech, all of this stuff effectively being the platform by which all of this information exists. And then, it can be digitized, and it can be communicated anywhere. So you don't necessarily need to call up Rob and say, "Hey, Rob. Where are the payroll? Where are the payroll slips from last year? Because I've got a problem with an employee that's saying that their income tax issue is wrong."
Well, it's all there on the platform. And I don't necessarily need to interrupt you in order to actually get the answers to those problems. And this creates a lot of really interesting and weird implications for the office, on-premise-based environment, because that's not the way that the majority of business has been designed for the last 200 years.
Robert Wagner:
Okay. Well, that was my next question, because I've seen this in your writing and in some of the things you've done, is this asynchronous work. So let's just go deeper with that. And kind of what are you talking about there, and how does that work? Why do we need to go to it?
Liam Martin:
So when we spoke about, or when I speak about asynchronous work and asynchronous management, it really came out of the remote pioneers, because they had an interesting situation where we have team members in 43 different countries all over the world.
We can't actually do a phone call with all of those 43 countries, because we're going to end up calling people at 3 o'clock in the morning. It just doesn't work. So we have to figure out another way of being able to communicate and disseminate information throughout the organization. And most other remote pioneers came up with this same thesis, which was asynchronous management, meaning when you communicate information to another person inside of the organization, number one, that information needs to be documented. So it needs to be public inside of the organization. So anyone can go in and get access to it. Number two, that information doesn't have to be responded to immediately. There's no immediacy inside of asynchronous organizations. Now, I know, and the reason why I know this is my accountant always kind of sends me stuff at the very last possible moment.
"Hey, Liam, can you get all your payroll documents together, and all that kind of stuff three days before they're due?" And I understand that's just the way that the machine is built in the accounting industry. But for me, all of my processes, my systems, they're all documented. And literally, January 1st, everything is available and digitized and available to them, so that they can get access to that information. And I don't necessarily ... They don't have to jump on a call with me in order to be able to get answers to any of those issues. It's all available, all the time, and they can consume it when it's most opportunistic for them in order to be able to process my tax returns, just to kind of go very specific on the payroll side. Yeah.
Robert Wagner:
Okay. All right. That's very helpful. Just to stay with your example. What if the information's a mess, I guess? I mean, how ...
Liam Martin:
Well, so that's when you need to actually refine your process, right? So I have an internal saying, which is instructions shouldn't be easy to understand. They should be impossible to misunderstand. And that's a little bit of a mind shift, but if you say to yourself, "How could a three-year old understand this?" We'll get super laser-focused, because I was paying my California state tax. I'm Canadian, but I have a holding company in the United States, and it was a very complicated and I was trying to get my accountant to be able to figure out, "Well, okay, I need this. I need this. EIN, or FEIN, but isn't that my EIN?" And you know, asking the bureaucracy of how this system works. And I said, "Listen, guys. Do you have a process for this? Can you actually tell me from beginning to end how I log in and pay?"
And it was a very small amount. I think it was like $70 or something like that. But it's one of those frustrations, where I was spending three hours on a back and forth with these guys, trying to figure out how to pay my California taxes. And instead, what I did is I built a one-page process document. I put together a little video, I use a tool called Loom. So I documented that through a video, and then I've literally packaged that up and I sent it to the accountant and I said, "Hey, guys. So for anyone else who's paying your California taxes in the future, I just did your job for you. Here's a process on how to do it." This is the three-year old version of how to pay your California state tax, if you've never done it before.
Those are the things that are really important to build into your organization. Because as you had said, if things are a mess, you need to work on that process until they're not a mess. And I really ask people, whenever I build processes for people, I say, "Okay, well don't ask me whether or not you like it or not." Because if you say, "Hey, what do you think of this process?" They say, "Oh, it's great." I'll ask them, "Tell me three things that I can do to improve this process." And I go through that iteratively until they literally have no more critiques, then they won't talk to me any longer. And then you effectively got perfect process that you can deploy, and then scale that process 100 times, 1000 times.
It gets very, very important when you're thinking about scaling organizations, as opposed to just building that first layer, that like first to 20 people kind of time, processes are not that important. But if you want to get to 200 people, processes are critical. If you want to get to 2000, you absolutely need to do it. And you should do it from day one.
Robert Wagner:
Okay. You've laid perfect groundwork for another question that I had. When I hear people talk about work anywhere, anytime. And it's perfect with this asynchronous concept, where when you say work anytime, that means I, as the boss, don't have to be anywhere, overlapped with you, because you don't need me. And then, another thing that's really popular right now, and we're talking about it at HoganTaylor, and with clients, is kind of measuring people by productivity or by their outputs. Not really the inputs.
So I've coined a word. That's not a word, I don't think, but it's the taskinization of everything. And so, it seems like this type of mindset, and you're sort of alluding to it with this process conversation, which is very, very good, that we're trying to turn all of work into a task, and all work into a process and into a checklist. And I will stipulate right up front that there's so much more we should do that with. So I'd totally stipulate that. We're way behind in what could be done in that regard.
But I do have this question about when and who does the unstructured work? The creativity, the problem you're trying to solve, and you just don't know where it's going to go.
Liam Martin:
Yeah. So you're talking about the agency, solving difficult problems. Another philosophical underpinning inside of the remote pioneers is a book by my friend, Cal Newport, called Deep Work, which effectively is a very simple concept. It's to enable everyone to achieve deep work, you need everyone to have everything at their disposal in order to solve difficult problems. And I think that's exactly what you're talking about. So what's a problem that's not inside of a checklist?
Well, the first step is to actually get everything that could be turned into a checklist into a checklist. So therefore, you're actually spending more of your work day, working on those deep problems, getting into a state of deep work, like, "Should I have spent three hours working on paying my California tax as opposed to this $500 CPA, looking at my tax situation and trying to figure out what I could do to be able to pay less taxes?" That's where the creativity comes in. And that's actually the important part. I mean, that's why I want that person to be able to work for me.
I want them to spend as little time as humanly possible on the bureaucracy and focus more on the deep work components. And the other part of this, which I think is a part that not many people are really talking about is the managerial oversight. You had mentioned metrics. And I actually think the more metrics that you can have inside of an organization the better. So the more basically you can measure something, then you can manage it, but also counterintuitively, the less management you need in order to manage it. So inside of our organization, everyone has at least one quantifiable longitudinal metric that they need to accomplish. And the vast majority of the time, it's documented automatically. So it's not even their choice. It's just put up on one of our dashboards, and I can see those 150 metrics inside of the organization.
There's actually about 450 now. And some people share them. So it's not a perfect science, but all of those metrics are available, and everyone else can actually see those metrics inside of organization. So we can effectively get the manager out of the way of doing the boring bureaucracy of management, and can instead focus on the collaborative and creative aspects of management, and more specifically empowering those individuals to be able to solve those hard problems. And hopefully, we can solve a really hard problem. We can become innovative, and we can turn that innovation into a process itself, and effectively just create a much more of a cyclical process towards innovation. That's my goal, when I think about asynchronous management, is getting all the boring stuff off of your list, so you can focus on the stuff that's really exciting, and the stuff that will get you up at 3 o'clock in the morning and say, "Man, this is something that I really want to work on, that I'm passionate about."
Robert Wagner:
Yeah. That's great stuff. I love how you put that. And again, as I stipulated the question, we should be turning more of things into the checklist, into the process, because it could easily be done. We just don't take the time to do it.
Okay. So another interesting thing that you said, that really caught my attention, is that in remote-first companies, introverts climb to the top faster and charismatic leaders are not required. So you'd be a hero at HoganTaylor for saying that. So tell me ...
Liam Martin:
Do you want me to unpack that?
Robert Wagner:
Yeah.
Liam Martin:
So I mean, inside of asynchronous organizations, charisma is not as advantageous. Now, I'm not saying that you shouldn't have charismatic people inside of your organization. If you're a salesperson, you need that charisma. It's a really great asset, but if you go into a boardroom and it's just those glass box board rooms, you can just kind of see inside, I generally will be able to tell you whose idea gets adopted without actually listening to any of the conversation.
It's usually the six foot two, Captain America looking guy, that's incredibly charismatic and is able to interact with people, and convince them of his ideas. But a big assumption inside of that is, are his ideas any better or worse than anyone else's? Probably not. Actually his ideas may on average be worse than everyone else, but because he has the skillset of being able to bring people in, and convince people of his point of view, he ends up being the person that ends up having his ideas adopted the vast majority of the time. An introverted person like me, that usually doesn't really want to engage in those types of conversations, because I don't have the skillset to be able to do it, or I'm not as good at that as someone who is a experienced salesperson. Salespeople are generally the best people to be able to convince you of something.
I may have much better ideas, and it's a real shame when bad ideas get adopted inside of an organization at scale. And so, asynchronous management and asynchronous meetings, more specifically, allow for the best ideas to present themselves and not necessarily the rapper around those ideas. So that's the big part that I really want to be able to reinforce with everybody. This also gives everyone the added advantage of minority groups having a better chance to have their ideas adopted, because you're just not confronted with that direct bias on a day in, day out basis.
Robert Wagner:
So give me an idea about an asynchronous meeting. What are you looking at there?
Liam Martin:
Sure. So we call them silent meetings. So I have a standing meeting every single week with eight of the executives inside of our organization. And in those meetings, we use a project management system called Asana, and we break down all of the issues that we want to bring up for that particular week. And we start commenting on them asynchronously.
So we have an issue. We use something called EOS, Entrepreneur Operating System. That's the general framework that we use, and breaking down, "Why is this issue important? What's the proposed fix? And you know, why should we deal with this now?" So we comment on it. And then when we come to a conclusion on that issue, we take the conclusion, and we add it to the top of the ticket. And then we clear the ticket. And if there's less than three issues before a meeting starts, we don't have the meeting.
And the other thing that kind of has popped up in this exercise, which I found very interesting, is the issues that end up staying on the docket, that we can't get rid of, have nothing to do with the nuts and bolts of the business. They almost entirely have to do with the EQ side of the business. Like Rob's got an issue with Liam. Liam's got an issue with Rob. There's an employee that feels disenfranchised and we need to be able to try to do something, to be able to save them. These are the issues that we really need to actually talk about. And that's what we reserve our synchronous time for, as opposed to, "Well, are the 1099 forms in?" That kind of stuff can fundamentally be solved by guys like you, and more specifically can actually be solved by the platform itself.
But the EQ issues are the ones that end up being the biggest issues, and asynchronous silent meetings provide us more time to focus on what's really important, and get rid of the stuff that isn't.
Robert Wagner:
Gotcha. That is really good stuff. So Liam, you've coauthored an upcoming book, Running Remote. Tell us why you wrote the book, and what it's about.
Liam Martin:
Back in March of 2020, when 45% of the US workforce decided to work remotely, I felt like I had a life preserver and everyone else was in the water, but I could only help so many people at a time. And I realized that this book was probably the best way to be able to, not necessarily show people whether they should be using Zoom or Google Meet or Slack or Microsoft Teams, but really talk about the managerial architecture of remote teams, and how they have actually been operating for decades. You just didn't really know the ins and outs of it. And there was an entire playbook built on how to be able to manage these people. No one has really decided to kind of break that down. And I thought, "This is the book that I wish I could have given everyone in March, April, May, June of 2020, to be able to make the remote organizations a lot more successful."
Robert Wagner:
Awesome. Awesome. So it'll be out in August. Is that right?
Liam Martin:
August 16th. Yes. And you can actually pre-order the book, just go to runningremote.com and you can register there. It's available on Amazon and all other book platforms. But for me, if you can't afford the cost of the book, just go to our YouTube channel, YouTube.com/runningremote. All of our talks for the Running Remote conference are up there for free. So you can get access to that information, but you know, it's a $30 book, but I'm saying you can start anywhere, even with the videos.
Robert Wagner:
Okay. So one more question, and this is back to your conference, and I think you've probably answered the question many times about you have a remote work conference. In pre-pandemic, it was in-person. So people ask that question on why. And your answer, at least the one I've heard is, look, companies still need to come together in like the retreat, the offsite departments need to come together. So speak to that a little bit, do you still feel that way, sort of post-pandemic, that companies need to come together in-person maybe once a year, or departments need to come together?
And since that may be the only time we all come together now, what needs to happen when that happens?
Liam Martin:
So number one, I do believe that everyone still needs to be able to come together. You get the human context. And I think I discussed this previously, but remote teams pay a cost every time they meet synchronously. So when you have an on-premise office environment, everyone pays a sunk cost every day. They spend 90 minutes of their day going to one particular place. And then it's like a synchronous collaborative buffet, right? You're already there, so you might as well talk to each other, but asynchronous teams and remote teams pay that cost every single time that they meet. So they're able to actually measure that very specifically.
And for us, we know that at least meeting once a year gives us that human context, where we build that human rapport and trust fundamentally, to be able to trust our different coworkers, and really plan for the year ahead. So into what you do in those meetings, it's really just a review of the last year, a focus on what we're going to do next year, and it gives everyone a nice time to kind of sit and say, "Should we look at our mission statement again? Should we look at our values again? Should we make large architectural changes inside of the business?" And I mean, I actually do this during every tax season, January 1st to 5th. I crack open everything and I'm like, "Man, how's my portfolio look? Should I make any large changes in terms of my tax liability, or how I should be structuring things?"
And those are the times when you can that deep work and get it done. And we just like to do it in person, because it provides us that extra granularity and communication that we need as opposed to digital. It's also a lot of fun. So we actually make it a bit of an event. We usually boil it down to three separate locations, somewhere in planet earth. And we tell our team to vote on which location that they're supposed to go to. The one that we were going to do before COVID was Mumbai in India. And we like to actually go to places that are a little bit difficult to get into, because we think it's just really fun. We don't want to go to Cancun, although no offense if you want to go to Cancun. That's a fantastic spot.
But we love to be able to get a really interesting new culture, because we are so multicultural as an organization, it always kind of like infuses a little bit more education to everyone else that is able to go to these new different locations.
Robert Wagner:
Gotcha. All right. Very good. Well, Liam, this has been a fascinating time together, and I really appreciate your insights. You've really unpacked some interesting thoughts that I think are really useful, and will be useful to our listeners. So now, we do have questions that we ask every guest. So are you ready?
Liam Martin:
I'm ready.
Robert Wagner:
So what was the first way you made money?
Liam Martin:
First way that I made money. I ran a soapbox Derby, and I got all my friends together and I hustled them for cash to be able to use the hill that was by my house. They didn't need to pay for that, but I shut them down for cash. And I think I made like 25 bucks when I was six.
Robert Wagner:
Six years old. That's awesome. That is great. Okay. So question two.
Liam Martin:
Which was a lot of money by the way for a six-year old. That was a ton of cash.
Robert Wagner:
Oh, yeah.
Liam Martin:
I didn't pay taxes on it by the way.
Robert Wagner:
A lot of utility. So if you were not writing and speaking on remote work and running the businesses as you are, what do you think you would be doing?
Liam Martin:
I'd probably be pursuing something in the Metaverse. I think that's actually the next kind of opportunity for work. That might not be the perfect answer for you, but I see, where we are now, we've bought Oculus Rift headsets for everyone in the company. And we collaborate in that space quite a bit. The Metaverse isn't quite ready yet for that type of work. But I think very soon, within 10 years, we'll put on glasses, and we'll be able to have a meeting right inside of your office, as an example, as opposed to us doing it through these Zoom boxes, which will give us context that very well may create an environment where I no longer actually need to meet people in person at all.
Robert Wagner:
Okay. That sounds like a good follow on podcast, in a couple of years. Okay. So what would you tell your 20-year old self?
Liam Martin:
There's this thing called Bitcoin, and when it pops up, you should buy as much of it as you possibly can. And then you want to sell it before 2018.
Robert Wagner:
Okay.
Liam Martin:
That would be the advice that I would give to myself, because you know what? Everything else I've done in my life, I have very few regrets. I think that being able to be set up for life like that, I remember actually, and I almost invested in a Bitcoin ATM company, and they rolled one of these Bitcoin ATMs, and I bought $50 worth of Bitcoins, which at that point was five Bitcoins. And if I had been able to hold onto that, that would probably be about a cool million dollars right now. So those are the things that I would definitely tell my 20-year old self. Everything else kind of worked out.
Robert Wagner:
That's good. So I know you've written a book, but when you write kind of the book, that's reflecting of your life, and you're still a very young person, but what do you think the title would be?
Liam Martin:
That's a hard one. Someone gave me a really good term. It's Yiddish, but it's [Mench 00:32:14], which is basically just a word for someone who's trying to do the right thing constantly. And I heard that term a couple years ago, and it's really kind of focused my way of thinking in what I would like to be remembered for. So maybe it would be like my journey to become a Mench. That might be the direction that I would take for my memoirs.
Robert Wagner:
Okay. That's good. All right. Last question. What's the best piece of advice you've ever been given?
Liam Martin:
Other than buy Bitcoin?
Robert Wagner:
Yeah.
Liam Martin:
Things that you think ... Actually, you know what? No. I'm going to give you this other one. The secret to life is being comfortable having uncomfortable conversations. The moment you have an uncomfortable conversation, and if you're listening right now, you probably know four or five of those conversations that you think that you should have. The moment you have those, you will automatically feel better. Just go ahead and have them.
Robert Wagner:
Yeah. That's great. That's great. All right. Liam, thank you so much for being with us. If folks want to find out more about you, about the work you're doing, you've already talked about being able to go on Amazon and pre-order the book, but what about the remote conference? And tell us about how to get in touch.
Liam Martin:
Yeah. Runningremote.com is the spot to be for the conference, and the book, again, it's available on Amazon. And if you just want to consume some content, go to a rabbit hole for a couple hours, go to youtube.com/runningremote.
Robert Wagner:
Okay. All right. Thank you so much. I appreciate the time. It's a fascinating discussion.
Liam Martin:
Thanks for having me.
Robert Wagner:
Okay. Take care. That's all for this episode of How That Happened. Thank you for listening. Be sure to visit howthathappened.com for show notes and additional episodes. You can also subscribe to our show on iTunes, Spotify, Google Podcasts, or Stitcher. Thanks again for listening. This content is for information purposes only, and does not constitute professional advice. Copyright 2022, HoganTaylor LLP. All rights reserved. To view the HoganTaylor general terms and conditions, visit Hogantaylor.com.