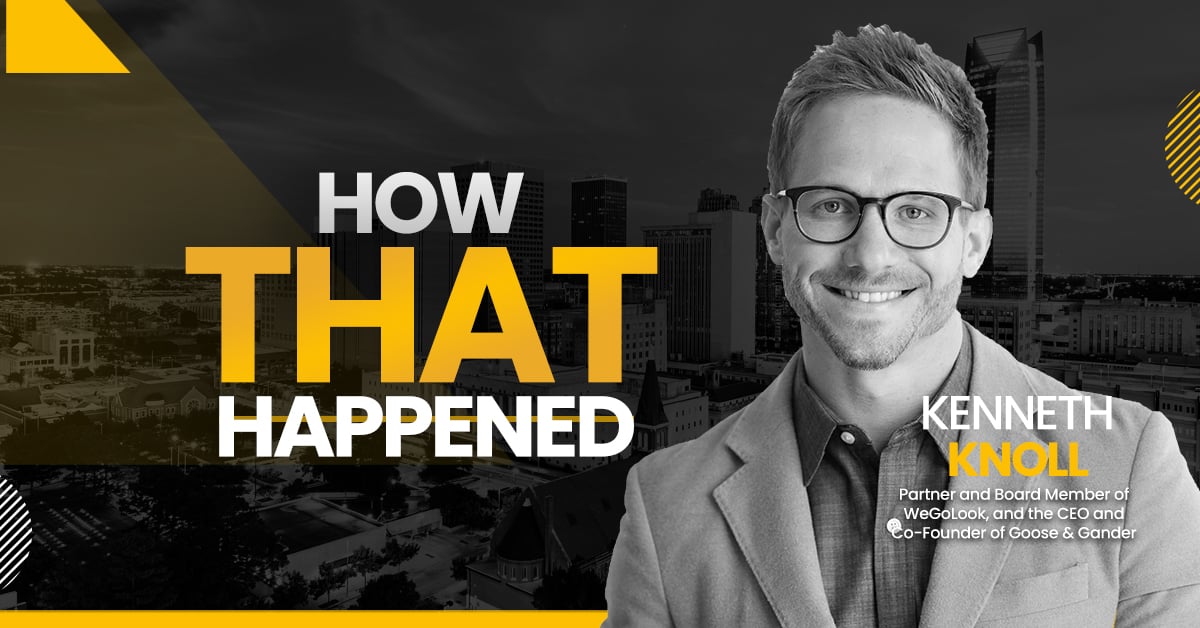 Kenneth Knoll:
Ultimately, if you build something that's got value and you put in front of the target market that it's going to resonate with, you have a business. I think that's the other key thing to feather out with an entrepreneur early on or as an entrepreneur, is am I flexible to the direction of this or am I really just dead set on this, "One way it's going to work?"
And somebody from that space that you can go talk to about it, like you may have experienced it and seen the need, but go get as many perspectives from people who are experts in that world as to their thoughts on it.
Aaron Ackerman:
From HoganTaylor, I'm Aaron Ackerman. And this is How That Happened, a business and innovation success podcast. On each episode of the show, we sit down with business and community leaders behind thriving organizations to learn how business and innovation success actually happens.
Aaron Ackerman:
Hello, welcome everybody to another episode of How That Happened. And I'm really excited about my guest today, Kenneth Knoll, somebody I've known for three years or so, super smart, intentional guy. Every time we're together, I always feel like I learned something, I walk away inspired. And I know you'll feel the same way after listening today.
Aaron Ackerman:
So, Kenneth, thank you for your time and welcome.
Kenneth Knoll:
Absolutely. Glad to be here and thanks for reaching out.
Aaron Ackerman:
Yeah. So we'll just jump right in. I think a lot of our listeners have probably heard about WeGoLook, knows something about it, which is what you've been working on for the last several years at least. But maybe for people that don't know the story like what was the original idea, how did it get started, what is WeGoLook?
Kenneth Knoll:
Yeah, absolutely. So, WeGoLook is special to me not just because of my time spent actively in the company, but even before I was part of the company, they were a client of mine that I worked with really from the idea stage. And it was a group of individuals that had worked in some businesses together before.
Kenneth Knoll:
And one of the members was actually looking to buy a projector on eBay. And it was a high-end projector. I forget the brand, but it was an expensive one that he wanted to validate. It had the actual hours that the person was listing on the auction on eBay, et cetera, because if it had more hours [inaudible 00:02:40] than stated, he'd be losing money on it. He said there should be a service to help me do that.
Aaron Ackerman:
And he was here in Oklahoma and the projector was somewhere else.
Kenneth Knoll:
Somewhere else, absolutely. Yeah. It's a Christie projector, that's what it is, so really nice home projectors. And so, he said there should be a service to do this. And so, they kind of kicked that around and turned it like, "Yeah, actually there should be. There's got to be something like that out there." So, they looked nothing out there.
Kenneth Knoll:
Ultimately, he solved his need. He was a lawyer. He reached out to a paralegal in the area I believe ... no, a process server. He reached out to a process server and they went over there and checked the device out for him. He said, "Hey, if it checks out, hand them this cashier's check and ship the device to me." Problem solved.
Kenneth Knoll:
So, that continued to haunt one of the individuals, Robin Smith, Robin Roberson today, with the idea that that should be a service out there, particularly for our consumers.
Aaron Ackerman:
She's not the only person who's ever had that problem.
Kenneth Knoll:
Right. And this was 2009 when the idea was hatched, 2010 when it actually moved forward. And there was that growth in the online auction space. The boom had already happened there, but it was still now actually mainstreamed. So, a lot of people were doing this. And so, yeah, that problem was out there. And it wasn't just auction items like personal goods, electronics. It was cars, everything you're buying sight unseen.
Kenneth Knoll:
And Robin had actually experienced the auto space as well and said, "There is a need here, we should absolutely go after this." And so, she went forward on it, got the buy-in behind some of the partners. They bootstrapped it together to start to vet that out. And that's when I met Robin and WeGoLook and some of the other founding members for the first time was early 2010, it was January or February, it was early in. And it was idea on a piece of paper, "Here's what we're going to do is we're going to build." And I was managing investment fund at the time and we got behind it.
Kenneth Knoll:
But if you think back, that was a hard time to get behind an on-demand concept. That was new. Mobile phones for the way that service should be delivered didn't exist in terms of being widely available and among individuals. It was all computer-based. The idea of strangers, "strangers" being engaged in an ad hoc fashion to go in and carry out a service for someone, meeting them at a Starbucks or going into their home to look at an item, that was very uncomfortable at the time because the gig economy hadn't taken off yet. It's brand new concept.
Kenneth Knoll:
So, ultimately, while we wanted to make that investment, we weren't able to. But we came back around and had the opportunity to work with the company for a few years until we were ready to put together a larger round and start to scale the business and all that while was proving out that consumer-driven model. And so, it did get some traction, minimal traction on the consumer side. And there was a realization in 2012 of moving to a B2B model if it was really going to ever get legs.
Kenneth Knoll:
And that came out of actually Hurricane Sandy. There was a big storm, a fallout. Everybody has damaged properties and you need these get these things looked at as quickly as possible, particularly banks. Banks happened to be some of the primary clients through a few degrees of separation to the other family of companies that this group had together.
Kenneth Knoll:
And so, they were approached with the need to inspect properties. And they said, "Well, we don't do that, but we have this business that does or could." And that was the aha-moment of, "Okay, this is where we could get legs. This is where we could really go fast." And that's what we raised money behind on the B2B model because it's where we got the traction in commercial real estate. The relationships with banks got us into automotive. Automotive got us into insurance which is really kind of where we had that breakouts and it's primarily the business today.
Aaron Ackerman:
Okay. So, started in '09, '10. And then when was the switch of focus from a B2C to B2B?
Kenneth Knoll:
2012.
Aaron Ackerman:
'12, okay.
Kenneth Knoll:
Yeah. So, it was about a two-year run. Really knocking our heads up against the door saying we know this is a service people could use, but that awareness. So, the hard part was admitting it's going to be extremely expensive to reach consumers from a marketing perspective. The partnerships weren't falling in place. Sure, the discussions were happening with the auction, marketplaces like eBay and others, but they weren't ready to commit until there was meaningful traction. And it was a chicken in the egg scenario at that point.
Kenneth Knoll:
But that demand side for the need of the inspections came with the business approach, the B2B side which gave us what we needed to recruit more Lookers into the network as well.
Aaron Ackerman:
Yeah. Okay. I want to dig on a couple of things you said there. So first of all, you mentioned smartphones weren't prevalent, this is a different time. And we were talking earlier at lunch, right now, today, you think about sort of a crowdsourced on-demand business and it's like, "Yeah, that's obvious. You've got Uber and Lyft and everything."
Aaron Ackerman:
I was shocked when we started talking and I realized Uber wasn't a thing yet in '09 and '10. And like you mentioned like the iPhone didn't even ... I mean, the first iPhone I think was in '08. So, while that crowdsourced gig economy is so prevalent right now, that nobody was really doing that back then like they are now. So, how did that come about? How did you recruit Lookers as you guys call them at WeGoLook, and then eventually, you had to get investors to buy in?
Aaron Ackerman:
Talk about that process for a little bit because I think that's important that people forget how innovative WeGoLook was in those early days before eBay and Lyft and all of these other on-demand apps and services, Postmates and everything were really part of our vocabulary.
Kenneth Knoll:
Yeah, exactly. I mean, Postmates, good example. That was 2012. I mean, you're three years into establishing a business before something as mainstream as ... And that's when it was established. When did we learn about Postmates? It could have been a couple years later when we actually got some traction.
Kenneth Knoll:
So, yeah, there were a few challenges there, the first being the infrastructure side which is the mobile phones. Only the most privileged had iPhones. It wasn't pervasive. Android was fledgling. I forget the device. I remember when it came out, but nobody had them. And so, at the end of the day, we had no mobile technology. We didn't have a mobile app. We didn't need it because you couldn't use it. You can't expect everybody to have it.
Kenneth Knoll:
And so, it was all ... Sure, camera phone, take it with your camera phone or your separate digital camera, but it was all come to our website and upload it and we're done. And it really wasn't until 2013 before we had an app that would work on iOS and Android. So, it took three, four years to get the traction in the mobile phone space to need the app for it to be the tool.
Kenneth Knoll:
And it wasn't enough until 2014 that we kind of severed the ability to do it through a web portal. Web's gone. You're going to do everything from the mobile device. So, that was a progression. Certainly, there was the challenge on the investor side, getting them comfortable with the idea because if you think about it, this was just as uncomfortable as we were when ridesharing came about, getting into a stranger's car.
Aaron Ackerman:
Right. Like, "You want me to get into someone's personal vehicle that I've never met."
Kenneth Knoll:
Yeah. Like, "How do I trust the mechanics of it? How do I trust them as an individual?" Sure, they're background-checked but I don't care. They could go off the deep end. All those things come into people's minds. But the way we had to approach it was, "Well, here's the services we're like." If you think about traditional field inspection companies, field pickup and delivery companies, they're sending perfect strangers out to meet with individuals as well. They're just saying, "We've vetted them."
Kenneth Knoll:
And so, it was honing in and building up that vetting process and building some trust from the user side, from the Looker network itself, and then your stakeholders, the people you owe all these money from, get them bought into, "Okay, you are going to vet them. That is going to be somebody we can trust going out there and doing this." And at the end of the day, I guess it's not really different than using the traditional model, it just happens to be these are contingent ad hoc workers that are better dispersed more available and can do it in more effective rate because they're always nearby.
Kenneth Knoll:
So, that, we were able to get past. I think there's still the enterprise hesitation. That was the biggest challenge for us after that was you got a few early adopters and a few that had people in positions that were very progressive in their mindsets around leveraging a contingent workforce, and others that were very stodgy and against it. Never will we do that. I mean, I can name a few customers, top of mind, front of mind today, that are very much still that position.
Kenneth Knoll:
We just never want to put that resource in front of my policyholder or my loan applicant or whatever that use case may be. But there are those that will. And so, it was just kind of looking through those.
Aaron Ackerman:
So, your community of Lookers which today is what, how many thousands?
Kenneth Knoll:
46-47,000.
Aaron Ackerman:
Okay. So, almost 50,000 people.
Kenneth Knoll:
Yeah.
Aaron Ackerman:
Is that all non-specialized knowledge or do you have any segment that these people have some specialized knowledge?
Kenneth Knoll:
Yeah. So, across the board, most of the work that we accepted and focused on at WeGoLook was work anyone could do. That's why the model works.
Aaron Ackerman:
I go see this car, take a picture ...
Kenneth Knoll:
No need to be an expert. We're going to walk you through with our app, our technology to make you "that expert." Maybe we'd brief you in advance with a lesson, kind of an on-demand mobile-based lesson that briefs you on terminology, things to look for so you're informed, but certainly no expert.
Kenneth Knoll:
And we made that mistake at one point where we thought we could start to deploy expertise and you quickly get down a slippery slope of customers thinking you could deploy any expertise. Now, you're challenging your footprint because you don't have that expertise everywhere so your value proposition becomes very complex and limited by wherever the region of need is.
Kenneth Knoll:
So, we kept it very focused on things anyone could do but we absolutely targeted for expertise because it would just produce a better work product.
Aaron Ackerman:
Sure.
Kenneth Knoll:
So, we went after notaries. And we're going to dispatch a notary whether the notary is required or not, anything involving documents because they're going to be astute about it. For property inspection, real estate agents, real estate appraisers. We track those capabilities. We let individuals inform us of those. And we can use it in our solicitation. But by no means are we sending a licensed adjuster in the insurance world out to do licensed adjuster work. We might send them to go capture damage as part of a need to gather information and they're going to do a great job at that because of their experience, but we don't use them in a licensed capacity.
Aaron Ackerman:
Yeah. So, from the time you guys started in '09 or whatever through the exit which was what, '17 or '18.
Kenneth Knoll:
Yeah, it was January ... Well, in the 2016, first day of 2017.
Aaron Ackerman:
'17. So, what other big ... You mentioned the pivot where you went more to the B2B market. Technology-wise, once you've got the mobile apps, smartphones are everywhere. Any other like technologies that really changed your business or opened up new revenue streams, I'm wondering about drone technology or anything else that was something not contemplated in the beginning that became a pretty big part of the business?
Kenneth Knoll:
Yeah. So, from a revenue perspective, the offering and the value proposition stayed pretty consistent in the core services through even as recent as now. Let alone up to acquisition. But absolutely, technologies came through that gave you an edge into a customer wanting to use you. Drones was a perfect example of that.
Aaron Ackerman:
Because I'm assuming you're not putting people up on roofs or trees or whatever.
Kenneth Knoll:
No. So, drones was an enabler and we built a network of over 2,200 of those that could be deployed to capture damage, even do real estate imagery, etcetera.
Aaron Ackerman:
So, those would be drones owned by Lookers?
Kenneth Knoll:
Owned by the Lookers. All we do is vet them. We're going to validate if they have insurance, validate that their licensed, Part 107-certified, everything that they would need to fly that commercially which could be that scenario. So, that was one. I'd say the more important one though was really the mix of additional tools we could plug into our app or technology we could launch our Lookers into once they arrived on site.
Aaron Ackerman:
Okay.
Kenneth Knoll:
So, when you think of electronic measurement in the newer mobile phones, things of that nature, we don't need to build that technology. And everybody thinks it's very powerful but if you can't distribute it, it's worthless, it's kind of gee whiz. But if I can't deploy it and get it where I need, it doesn't really do me any good.
Kenneth Knoll:
So, we move our strategy to, "Well, let's find the tools in the markets we serve that are going to create value and let's either integrate them into our own application or just launch a Looker into them once they're on site?" And that's how we solved drone flight. So, we did fully autonomous drone flight by launching a Looker into an autonomous drone application once they were there. We didn't have to build the technology but we helped distribute it.
Aaron Ackerman:
Yeah, okay.
Kenneth Knoll:
So, yeah. And those were selling points to customers for some of their niche needs. But really, they were focused on the core of the business after that, but it was the reason to go with WeGoLook over the look-alike company that didn't have the wider array of services.
Aaron Ackerman:
I love that. There's an original idea that's a great idea, but you have to always be innovating or you become irrelevant.
Kenneth Knoll:
Absolutely.
Aaron Ackerman:
Obviously, you guys did that very well. So, another thing you mentioned was that before you joined WeGoLook, they were your client. So, what were you doing before ... One thing I like about you, Kenneth, is you're very intentional. A lot of people, their career is sort of this meandering path and it can work out great but maybe it just happens. You've always kind of been pretty focused on what you wanted to do with your career. And so, I think that's really cool.
Aaron Ackerman:
But what were you doing before ... How did you get yourself positioned to where you could come on board at WeGoLook and help them with product innovation and leadership, all that kind of stuff?
Kenneth Knoll:
Yeah. So, I came in contact with WeGoLook at i2E. They're managing an early stage investment fund where we tried to do an initial concept stage investment in the WeGoLook idea and moved into an advisory role there to work more closely with companies and put together some larger financings, which is what got me more deeply entrenched with WeGoLook and I joined the company in late 2014.
Kenneth Knoll:
But really prior to that, I had always had an entrepreneurial itch. I had a couple small businesses, one that was reasonably successful and tried high-growth because it was something I became interested in, in college just through some experiences I had there and knew I wanted to be in the high-growth arena. My own attempted that, maybe didn't work out the way most don't. But that didn't mean you can't get in there another way. And so, i2E was very much my way into that world. I knew I needed to learn it.
Kenneth Knoll:
And even before that, I knew I needed to get some perspective elsewhere before I could be effective in running my own business. And that was something I did before even going down the investment fund path was go work for a larger corporation. And I took a lot in in a three-year period, decided when it was time to leave. And i2E was my inroad into getting the exposure I want in the early stage. I got to work with hundreds of companies, closely with dozens. Many of which are successful here in Oklahoma. Some of them moved out of state. Some of them have exited.
Kenneth Knoll:
But I could count on one hand and I won't say which all the ones they were, but WeGoLook was one of them where I was like that's one that I really truly not only believe in from an investment thesis perspective, but as one I would get behind and put my own blood, sweat and tears into. And when I got the opportunity to do that which was an honor, I mean, it was rewarding to know that the work and advice that I gave the company in my prior role was enough that they want to ask me to come [crosstalk 00:20:01].
Aaron Ackerman:
Yeah, that's validating, right?
Kenneth Knoll:
Yeah. So, it was like, "Okay, great, we kind of did that together. And now, we're going to double down and really take this to the next level." And we did. I mean, from 2014 to end of 2016, we 10x revenue. I mean, it was a tremendous growth period. So, yeah, very pleased with how that all worked out. And a lot of lessons learned, a lot of scar tissue built up along the way that I wouldn't trade, but makes you a little tougher and smarter for the next thing.
Aaron Ackerman:
Absolutely. So, you talked about the pivot, if you want to call it that, when you realized like, "Oh, my goodness, we're not a B2C company, we're really a B2B company." I'm always fascinated with those kinds of changes in focus because you start out with an idea. It's a great idea, you get support for it from investors, you have customers, there's all those data that says you have a good idea. And then something happens and founders make maybe a big change, in this case it's a subtle change, but a pretty big change when you think about the revenue model as far as who your customers are.
Aaron Ackerman:
I'm not sure if you were at WeGoLook at that point or still at i2E but either way, I'm sure you're involved with those discussions. So, what is that like in the boardroom? Because in a way, I can see a founder feeling like they're abandoning their first principles or their original idea. And you struggle with how to know is this really the time to make this switch or do we need to stay the course? It's kind of hard. There's no like magic wand to know like definitely right now is our pivot. What were those conversations like? Was that hard? Was that heated?
Kenneth Knoll:
It was hard because it absolutely does come off and feel like you're giving up on the original plan. And in the case of WeGoLook, it was even more difficult because there was value there. It was working. People found wonderful value in it. Raving reviews on the consumers that use the service and consumers still do today. We didn't "shut it off," we just kind of turned off all efforts to pursue it.
Kenneth Knoll:
But we did have to make that deliberate decision. And it was a three, four-month period for us to talk about it, work through it. We had disappointed investors who were like, "Well, that's the massive win. That's the huge upside if we pierce that." It's like, "Right, understood, but we've also proven that it's not a cost-effective customer acquisition model unless we raise a tremendous amount of money, in which place you're making a completely different bet than we have now if we go B2B."
Kenneth Knoll:
And so, we took the, "This one's clear, it's capital efficient, and we can get ROI where we want it and know it," versus kind of betting the farm on something that could ultimately just kind of vanish. And so, it wasn't easy. But again, we didn't turn it off. We reduced effort in refining the purchasing process, the customer experience from the consumer perspective which absolutely something the business would have to continue to invest in to grow that.
Kenneth Knoll:
But it was the right decision for the scenario that we were in, for the capital we knew we could raise to go where we needed to go switching B2B. And doing it quickly was absolutely the right decision, but it was hard. And the investors, obviously they were still there at acquisition. And I can tell you, they were happy there with the return they got at that point. But there was still that kind of, I won't call it a chip on the shoulder or anything, but there was definitely that feeling of like, "You know, there was something bigger there."
Kenneth Knoll:
And we will never lose sight of that. We'll always remember like, "Yeah, there was and there still could be," if somebody were to say, "Actually, let's double down and go actually consumer market." And I think the window is not what it was right, but there's value in both markets, it's just we picked the one that fit the best for the cards we had been dealt at that point.
Aaron Ackerman:
Yeah. So, when you we made that switch ... I'm trying to think of other ... Uber, Lyft, Postmates, TaskRabbit, those are all B2C. I'm trying to think if there's another example.
Kenneth Knoll:
There is, yeah. So, OnSource is absolutely a company founded near around the same time, a little later, very similar service, B2b-focused. Field Agent is actually an Arkansas-based company focused on a completely different sector than WeGoLook, but it's B2B. They're doing more of your [incap 00:25:18] validations in stores, etcetera. If you're at Walgreens, you might get a gig to shoot a photo of an incap.
Aaron Ackerman:
Got you.
Kenneth Knoll:
Validate that the Band-Aids are on the second shelf. Lower value work but similar model on the B2B on-demand work or fashion.
Aaron Ackerman:
Okay, interesting. Well, for the B2C model like I go take a ride in an Uber. The car doesn't stink, the driver is nice. I get there. And when I get out, I give him a review, him or her. That goes into their matching algorithm and they kind of build a score. On B2B, it's work the same way or is it State Farm or AIG or whatever? I mean, they're not going into every transaction and rating each look. So, what's the data collection where you start to rank and score your Looker community?
Kenneth Knoll:
Yeah. So, certainly, we leverage internal metrics around who responds timely, who is scheduling quickly, who are we having to do less reviews or edits of their work post-submission before we deliver to the client? All of those are kind of internal metrics we can gauge. But at the end of the day, B2B or B2C, it's really B2B2C. At the end of the day, that consumer interaction whether it's for a bank, an insurance company, an automotive firm, I mean, you're touching the same individual at the end of the day that's going to have that experience on site.
Kenneth Knoll:
And so, that feedback loop is just as important. Our feedback loop was not as digital as we would have liked it to be in terms of that, "Let me rate this and then next time, if I wasn't happy with that service, I wouldn't get that same resource again." Most of ours was transactional. And that person we served may not be served by us again for five years, 10 years or ever because they'd have to have an accident or finance another home or something that got us out there originally.
Kenneth Knoll:
So, it was a little less critical than somebody that lives near you that's an Uber driver that you had a bad experience with and they're always near you and they're likely to get you unless there's something that says, "No, you weren't happy, don't give them that same person." So, there wasn't as sophisticated around those exclusion parameters. But certainly, the feedback loop, the performance metrics around how someone's performing, that all plays into who stays in the community and who doesn't.
Kenneth Knoll:
And we screened, I mean, upwards of 150,000 individuals to get to the roughly 50,000, so only about a third get through whether they didn't complete the process or they failed the background check was a very small portion, that's a micro-portion that get that far and don't clear a background check. But for whatever reason they didn't, I mean, we screen a lot of individuals to get the ones that want to go do the work. So, generally, they're doing a good job. They agree, they understand what they're signing up for. Our onboarding process walked every individual through, "These are the expectations. These are kinds of customers we serve. These are our expectations around communication, dress, etcetera."
Kenneth Knoll:
They're all independent contractors so we can't say, "This is your uniform," but we can certainly say, "This is what's appropriate and what not to wear." And we have little tricks around monitoring that, making sure that individuals were acting and behaving and dressing appropriately. So, that's really what it comes down to. And again, you think about any other traditional approach to the same sorts of services, they're not doing any better and typically worse job of vetting and maintaining the quality and service delivery because they're just operating in an older model that doesn't have the feedback loops.
Aaron Ackerman:
So, was this disruptive to the structure? Did this put people out of a job at an insurance company or a bank or were they already using some sort of outsourced function for this [inaudible 00:29:28]?
Kenneth Knoll:
Yeah, great question because that's the hard part around a lot of innovation is there's a cost to a model somewhere that's being eliminated or improved upon. And if we look at insurance, banking, all very similar, there are field service providers that are usually regionally-focused, sometimes metro-focused and these large nationwide companies, even global companies have to go to different providers in different regions to get what they need.
Kenneth Knoll:
What WeGoLook brought was clearing house to do all of this specific type of work. Regardless of where it was, now you can consolidate your vendor needs for this type of work from hundreds or thousands to one to get the same work done. They were mostly always external companies being used to go perform the services so we were really displacing another third-party service rather than those individuals inside the bank or the insurance carrier.
Kenneth Knoll:
But that's next, basically. I mean, that's the era we're moving into now is the same thing that happened in commercial and residential real estate appraisal where you stopped sending individuals to the field, you started to do it off of public data and recent photos via Google Earth or, sorry, Google Street View and do it from a desk and send a Looker r to get photos and do it from a desk, you're doing the same thing in the insurance world now.
Kenneth Knoll:
So, now all of a sudden, the adjuster that was needing to drive around and serve five properties in a day max could do 10 or 12 from a desk at home if they had at their disposal three individuals out in the field, three individuals collecting data for them. So, you're shifting the work, absolutely. And there's a reduction in a field presence need for the traditional approach that was there.
Aaron Ackerman:
Yeah. So, what do you think is the next innovation for a company like WeGoLook?
Kenneth Knoll:
So, we embarked on that and we kind of touched on it here just a moment ago with creating the distribution for other technology. That's really the next step for any of these on-demand companies. I mean, you look at the networks that are out there. You look at Lyft. You look at Uber. You look at Postmates. Look at Postmates, that's a great example. They're being leveraged across any sort of platform to be the boots that are carrying out the services that companies want to have. Walmart grocery delivery, who's carrying that out? Postmates.
Kenneth Knoll:
That's the analog approach. The next step will be, "Well, I've got this technology that I want to use. I want to collect this data out in the field, but I need to get it there. How do I get it there?" Drones, sure in some cases. But in many cases, that's just not the answer. So, I think for these networks that are out there, the boots that are the contingent workers that are nearby and capable of doing and delivering the service put more powerful tools in their hands. That's kind of the next frontier.
Kenneth Knoll:
And then beyond that, it's creating the applications that really, you don't need the independent boots if you can get the self-service individual to do it. Because at some point, it becomes easy enough to use that you don't need to send somebody to someone's home or place of work when you would just say, "Here, go walk this through or around this facility," etc. And we're going to pick up and observe and measure and do everything we need to do off from this application.
Kenneth Knoll:
You aren't going to have to do anything individually. Just make sure it gets through there and we'll collect everything we need. That will kind of be the next frontier and something we see happening and where we see a lot of opportunity, frankly. And allow what we see in future app kind of looking beyond WeGoLook and things that need to be done. You got the world of IoT and connected devices. How does that play into applications in people's hands?
Kenneth Knoll:
And knowing being kind of location-aware about what they're by or near that needs information collected in a routine fashion or information you need to present from a health and safety perspective, etcetera. Those are all things we've been exposed to that we see a lot of opportunity in because it's very analog, it's very paper based, it's very manual-driven, process and procedure-driven versus what everybody expects today to be guided. And that's where we see some future opportunity.
Aaron Ackerman:
So, today, there's people who they've got a fulltime living being a member of the gig economy, they're driving Lyft, they're driving Uber, they're a Looker, they're doing all kinds of stuff. Back in '09 and' 10, I don't even know if gig economy was like a word, was it hard in the beginning to recruit people to do these tasks or was that already gaining a little bit of momentum?
Kenneth Knoll:
Certainly, it wasn't gaining momentum but there were plenty of proxies for individuals that were already comfortable with that type of work. The process servers where it was born, that's a great example. If I'm a processor, I get called on by any number of companies to carry out the need and in given time and it's transactional. So, by and large, I'm a gig worker at that point. It wasn't coined that, may not be administered through an organized platform for that need. It's a little more ad hoc, kind of calls-driven, etcetera, but it was all happening.
Kenneth Knoll:
Extend that into notaries, very much a skillset that I got my notaries license because I can do ad hoc notary work anytime somebody in the area needs it. I can become a mobile notary and make my services available. So, there's professions like that that were very easy to go after. One, they want to be found because they want to offer their service. Two, they do gig work all the time. It was coined that but ad hoc work all the time. So, those were natural ways in and then it was just really letting the big kind of the goliaths of the industry, the Ubers, etcetera, make it something everybody became curious about. And then it became much easier for us to grow faster.
Kenneth Knoll:
If you look at the growth of the Looker network beginning with roughly 4,000 around the end of 2010, beginning of 2011, we went to 7,000 roughly in 2012. And by the end of '14, we were closing in on 15,000. So, it was quite a bit of time to grow that in double. But then you go from, it was roughly 2017 where we had hit ... So, yeah, from 2015 to end of 2016, we went from 15,000 to 30,000. It went much faster.
Aaron Ackerman:
Yeah. So, you hit that curve.
Kenneth Knoll:
Everybody's looking at it. You're getting referrals in from individuals that like the work, telling their friends about the work and it became easier.
Aaron Ackerman:
Did you start out geographically concentrated?
Kenneth Knoll:
We couldn't. The value proposition out the door. And this was what I would say one of the areas, specifically Robin and when I was helping, we had the biggest challenge making individuals comfortable with particularly investors was how can you be everywhere overnight? Pick a focus. Focus on one area and grow that and then expand? Which if you look at other gig services, that's how they all grew. But it's also why they can't do what WeGoLook does.
Kenneth Knoll:
When you look at Postmates, they can't help you in Eldorado, Kansas, near where I grew up because their model is, "We're going to go in cities of half a million or more. And if it's a smaller city than that, we're not there yet." And grow kind of metro by metro. So, being everywhere overnight was kind of a necessity to be able to walk in with a value proposition of, "Hey, we understand you have a large network, you've got to maintain a vendor panel to carry out these basic things in the field. We could do that for you in every part of the United States if you switched to using us."
Aaron Ackerman:
Yeah, that makes sense. So, obviously, your experience at WeGoLook, you're around some really innovative founders. At i2E, you probably saw companies that took off, some that that didn't. And you've started and sold businesses on your own before. So, you've probably developed a pretty good instinct about companies and whether they may or may not have the stuff to be successful.
Aaron Ackerman:
If you're looking at either from an investor standpoint or just as an advisor, you've got this early stage company, maybe it's pre-revenue. So, it's like you said about WeGoLook was an idea on a piece of paper. What do you more value on, the idea, the founders? What do you think as that right mix? Or maybe there's no answer to that but just in your experience, what have you seen as the most consistent predictor of success? Is it more on the founder side? Or does it really start with having a great idea?
Kenneth Knoll:
First in the comment of I've built a ... I forget what you called it ...
Aaron Ackerman:
You're going to tell me you don't have a crystal ball.
Kenneth Knoll:
There's no crystal ball. I'm going to tell you. I could be wrong 100% of the time in saying, "You know what, that one just can't make it," because when you're talking about the high-growth innovation space, you're defying something typically. Sure, there are some companies that just crush it on a mild modification to a service that's out there and they make it marginally better and they're wildly successful. Those are great ones. But the ones that are kind of transformational, it's anybody's best guess.
Kenneth Knoll:
Now, you can make calculated decisions, but certainly you're going to get proved wrong, too. You're going to say no to deals that's going to have the right founder that's going to say, "No, it's here." And I'll say that for Robin, she was told no plenty of times. And it was like, "No, it does. There are legs here. This is going to work." So, it's certainly more on the entrepreneurs, the founders, their willingness to be flexible in the concept I think is important.
Kenneth Knoll:
You made the comment early on like, "Yeah, this great idea isn't going to stay that same approach exactly as you hatched it." And I think that's the other key thing to feather out with an entrepreneur early on or as an entrepreneur is, am I flexible to the direction of this or am I really just dead set on this, "One way it's going to work and there's no other way this could work?" Because if there's really no other way it could work, there's a huge gamble there.
Kenneth Knoll:
We talked about the word pivot being an overused term, but it's that sharpening or honing of service delivery or a product innovation, etcetera, to something that resonates with the customer. And you don't get that until you get it out in front of individuals and give it the real test of the real world before can adjust from there.
Kenneth Knoll:
So, more on the founders in short, but obviously it takes a good sound idea. And what I found is those are products of an environment. And if you have somebody that comes in with an idea that didn't personally experience it, didn't personally live or work in a world where they saw this problem and knew it inside out which is what happens when we go look. There was first-hand knowledge of this was a real problem they needed to solve. I knew everything about why it didn't work and why it could and how it could. But it's that gee whiz I had this idea and you didn't live it, you didn't work at a company where you saw this problem and you're going to solve it, those are the riskier ideas.
Kenneth Knoll:
The ones that come out of I know this inside out because I've been around it, those are the ones that I feel like typically have been the most successful and the ones that I've worked with.
Aaron Ackerman:
Yeah. It's probably been, I don't know, at least three or four years ago, Scott Meacham who you know over at i2E told me that most of the companies he's seen that have failed didn't fail because they had a bad idea, it was really something with the founder like they ignored legal or accounting or they weren't coachable or whatever. It was usually not like that's just a bad idea, it was something else.
Aaron Ackerman:
So, I know you work as an advisor and a mentor with founders in different ways. Is there any bit of advice you give more than others? Maybe another way to ask that is where do you see founders getting sideways more often than not?
Kenneth Knoll:
Defying the market. I mean, ultimately, if you build something that's got value and you put it in front of the target market that it's going to resonate with, you have a business. And if you continue to approach that in a way that's in a vacuum or you're not taking or reacting to why customers said no or why they're kind of slow rolling you on a decision, maybe there isn't a better answer and you need to cut bait. But it's typically that feedback loop that I think is most important.
Kenneth Knoll:
And we're actually working on a new concept now. And I'd say the advice I would give because it's exactly what I'm doing that I've learned to do is find somebody from that space that you can go talk to about it. You may have experienced it and seen the need, but go get as many perspectives from people who are experts in that world as to their thoughts on it. And they are going to give you better advice than any investment fund could ever give you, than any market research analysis could ever give you. Just go and talk to the people and share the idea there.
Kenneth Knoll:
And I think to the coachable comment you mentioned, if you find you're not somebody that can take that, and you don't have to take it at face value but if it didn't provide any value to you and it didn't result in any change of thoughts or approach, you may not be on a path to succeed because you're going to have to adjust that dozen, a hundred times before you fall on exactly what resonates the best with someone.
Aaron Ackerman:
Interesting. So, you've spent a good bit of your life in living in Oklahoma, right? Tulsa and Oklahoma City.
Kenneth Knoll:
Yeah.
Aaron Ackerman:
A lot of our listeners are in Oklahoma. So, why do you think Oklahoma is a good place to start a business? What advantages may be inherent here or you've experienced here? Why is this a good place to be to start and grow a business?
Kenneth Knoll:
Yeah. So, obviously, advantages and disadvantages and dependent on the type of company. Benefits to Oklahoma City, certainly there's a market that wants to see success. It's easy to be discovered as a new company and plug into the support that's here for the very early stage companies. And you've got cheerleaders all around you. They want to see you be successful. It's fun to be aware of, part of, support, whatever that may be around new ideas, technology, etcetera. And it didn't have any technology companies either, even small businesses
Kenneth Knoll:
There's definitely an entrepreneurial bend to the area just to support those that are trying to do it. When you get into bigger markets that are already more established in that as leaders for entrepreneurship or tech companies, etcetera, it's hard to stand out. And they can almost be a bit more of a naysayer about whether something's going to work or not. Not that you should cheer on something that's a bad idea. But that at least makes it easier to get started. So, I think that's a win.
Kenneth Knoll:
Obviously, cost of living is great here. You can run a company in all facets of skillsets that you need to hire at a much more cost-effective rate than you could in some of the, again, cities or regions known for the entrepreneurship and innovation. So, that's another big benefit. I think the challenge is once you get past the honeymoon phase of an early-stage business, you get past bootstrap, you get past the early capital, there has been historically that gap in raising additional capital, that Series B and larger.
Kenneth Knoll:
I temper that a little more than most I think in the market due around it being so hard to do. There is Midwest Capital that's very interested in Oklahoma, Arkansas, Kansas. You got to leave the state in fairness to get it in most cases. That's changing as well though. So, it's often cited as the reason things don't work. That's not the reason things don't work. You've got a good business built. You've got an attractive concept. There are plenty of cities within four hours' drive that have the capital that are perfectly fine having something within a four-hour drive.
Aaron Ackerman:
Yeah.
Kenneth Knoll:
But I think that's going to become easier. And there are funds spinning up, have been spinning up in the last six months, year that are going to fill that gap to that larger arrays that a lot of these companies are going after, completely new, innovative concepts that, frankly, have cash burns for a long time 'till they hit that inflection point where it really is a profitable business that can either be sold or needs to raise that even larger capital that for the foreseeable future will continue to be out of state. But we can certainly see companies through a Series B here in Oklahoma. No problem.
Aaron Ackerman:
And I talked with Chris and Erika Lucas about this also, but you've got a great perspective. I think you are right on point. We have this great community of cheerleaders, supporters, encouragers and funders but it seems like some of the exits and there have been some nice exits of companies that stayed in Oklahoma for whatever reason we don't publicize or talk about that enough. I don't know if that's because founders tend to be just really humble and don't want to go around and brag on themselves or I don't know. I'm not sure what that is. I think we need to do a better job of collectively patting ourselves on the back about these big exits which are great stories.
Kenneth Knoll:
Yeah, I agree. And I couldn't tell you why either. And absolutely, just as you could probably on all 10 fingers name companies that have started grown, sold all here that nobody heard anything about the sale happening. Many of them, too, probably we didn't hear about them getting started either. But anything starting now, I think your point is right, yeah, we're exposing that there's venues for that become news and shared of this new innovative concept that's beginning.
Kenneth Knoll:
I think we do lose a little bit of sight of the more traditional business like we've become a little hung up on just trying to promote "technology" startups. I think there are plenty of other sound businesses that get started here that don't get that limelight at the early start because they're just not the Vogue thing.
Aaron Ackerman:
Yeah, those are great stories, too.
Kenneth Knoll:
Those are great stories, too.
Aaron Ackerman:
Absolutely.
Kenneth Knoll:
Yeah. But yeah, I don't know the reason for the sales side not getting touted as much probably because they are typically smaller value. I mean, sub-$50 million which is those are big wins though.
Aaron Ackerman:
Those are big wins. I mean, I think those are stories definitely worth talking about.
Kenneth Knoll:
Yeah.
Aaron Ackerman:
All right. So, you guys had your exit at the beginning of '17. You've kind of wound up. I know you're still involved with WeGoLook but you've got more time on your hands now. So, anything you want to talk about as far as what you're working on now? And what are we going to see from the WeGoLook founders going forward?
Kenneth Knoll:
Yeah, absolutely. So, yeah, still very much vested partners in WeGoLook, still members of the board and do what we can to help that be successful in a kind of non-operating manner. But I can tell you, there's a tremendous amount you learn across the industries we've served where there's inefficiencies. And we are very recently, just recently in kind of embarking on an effort around the risk inspection, data collection, risk mitigation, health and safety world that is very much based around kind of the data need to understand, minimize risk and carry out business process.
Kenneth Knoll:
It's baffling the manual processes that still exist out there. We've all seen them. We all work in them in any company. But we've become keenly aware of a few specific ones out there that we think there's an opportunity to tackle through technology. So, certainly, we have some ground up ideas. One in particular, we're going to begin work on ... have begun work on that we hope to have something out soon from an awareness perspective.
Kenneth Knoll:
But in the meantime, and I would say in tandem with that, we want to help some other early-stage businesses that are at that WeGoLook or just before where WeGoLook was before the Series A raise in 2014, that 2012-2013 timeframe we were in where we ran into a lot of question marks. And certainly, we made some decisions that looking back, we go, "Yep, should have thought about that differently beforehand." Because when you go to investors, you'd go, "Well, trust me, we'll figure it out. As we come across that, we're going to figure it out." And you will. And we did and many others have.
Kenneth Knoll:
But looking back, you go, "Had I had a resource that I could have connected with that could have helped us along, we probably could have saved six months out of that endeavor," or, "I could have seen this other market opportunity that my product had if I just had some other perspective and context brought around the table." So, one of the things we're doing, Robin Roberson and I, have set up an entity to help some-early stage companies do just that. We're already working with a couple. And those will be kind of that emerging company stage, kind of pre-Series A, right at Series A.
Kenneth Knoll:
And then beyond that, we've got some consulting work we're doing around helping these companies that very much have established businesses or successful, but they have applications in the sectors we've served. So, one of the neat things about WeGoLook is it was very flexible across insurance, financial services banking, pure real estates, automotive, the resale remarketing of vehicles, one of the largest industries in the world, heavy equipment, these are all industries we offered inspection services in that have a multitude of other needs.
Kenneth Knoll:
But we built a lot of relationships in those worlds that don't do anything we did when we are at WeGoLook. But companies that have solutions, that have application in those spaces, that's a great opportunity for us to give a leg up a hand up to get them in there in a faster way or know that it's wrong, kind of get those questions answered and feathered out faster than one might otherwise have been able to do.
Kenneth Knoll:
So, actually, in the next week, we'll have a new website launch. It's gooseandgander.co, so just gooseandgander.co. And it'll kind of walk through in a little more detail the types of companies were focused on, the industries and some of the services we're specifically looking to offer based on our past experiences.
Aaron Ackerman:
Cool. That sounds exciting. Okay. So, as you know, we end every interview with the same five questions. So, I'm going to hit you with those if you're ready.
Kenneth Knoll:
I'm ready.
Aaron Ackerman:
All right. So, the first one is what is the first way you ever made money?
Kenneth Knoll:
So, I grew up in the country, on a farm. And, one, work starts really early on farms. One of the things I would never trade. And it also means that there are plenty others around you that have worked they want done. So, the very first job I got hired to do when I was elementary school because I could walk a half a mile at the road to the neighbor's house was picking up walnuts, black walnuts. There are walnut trees all around this neighbor's yard.
Kenneth Knoll:
And it wasn't picking them up because they were a nuisance, it was picking them up, five-gallon bucket by five-gallon bucket, I got a quarter of bucket, because he had built a little mill where he dumped these into shuckers that would run through belt-driven canisters, knock the shells off after the walnuts dried. He built and even sold welded nutcrackers that would crack these walnuts. And then he would completely shell them and then sell the walnuts. That was my first paid gig.
Aaron Ackerman:
Of course. So, how long does it take to fill up a five-gallon bucket?
Kenneth Knoll:
So, I had my Walkman. I put the earbuds in and you just go to town and when you're in elementary school, you're on a swivel and you're low to the ground. And you can just grab these walnuts left and right and we would ... I eventually talked my sister into ... to help and do it as well. I probably gave her 10 cents a bucket but ... No, she got her fair cut.
Kenneth Knoll:
You could line up a dozen buckets in an hour a work. And if you're just buying candy and small things when you're younger, that's meaningful.
Aaron Ackerman:
Yeah.
Kenneth Knoll:
And all the coke you could drink, sodie pop as we called it.
Aaron Ackerman:
So, you're pulling down whatever, three, four or five bucks an hour. That's pretty good.
Kenneth Knoll:
That's money pretty good money in elementary school. Yeah, it's above the pay rate for some service staff if you don't include tips.
Aaron Ackerman:
That's right.
Kenneth Knoll:
I just didn't get tips outside of sodie pop.
Aaron Ackerman:
But could you eat free walnuts?
Kenneth Knoll:
I wasn't a fan of walnuts at that point in time in my life. I love them now. But certainly then, I didn't. But one other that I love that was tied back to just resources around you growing up, paintball was extremely popular as I was going through late elementary, early middle school. And we were in the country so fields were far away to go play this competitively or not competitively but recreationally in places meant to do it.
Kenneth Knoll:
It was hard to get the gas, the CO2. You needed refilled. And certainly hard to get paintballs and things like that. If you bought them, we didn't have Prime back in the day. It was two three weeks before it's shipped and will arrive at your house. So, one of the things we had at our disposal was land, wooded land. We had a creek and everything. It was an old piece of land. It'd been a farm for a long time so there were some dilapidated buildings and things. Made up perfect paintball land.
Kenneth Knoll:
So, I actually set up a course, built a whole little kind of staging area out of a bunch of old junk and bought equipments and a filling station to sell CO2, sold paintballs, and just start a little paintball field out in the middle of nowhere.
Aaron Ackerman:
Nice.
Kenneth Knoll:
But it was big enough at that time popular that it made some money. And I got to pay for what was an expensive hobby.
Aaron Ackerman:
Once again, you scratched your own itch and you created a business out of it.
Kenneth Knoll:
You're right. Yeah, there you go. Product of your environment.
Aaron Ackerman:
Yeah, that's awesome. That's unique. We get a lot of lawn mowing and babysitting. I've never had anyone picking up walnuts or creating a paintball course. So, that's good stuff. What's the best advice you've ever received?
Kenneth Knoll:
So, certainly, I had to think about that for a little bit because I've been fortunate to have just through school, through work, a lot of great people I've been able to connect with. But I'd say the one I got, I had great advice early on in life but I'd say the one that has made the most impact kind of just professionally and personally didn't come until end of college. And it was actually a future employer but wasn't at that time nor did I maybe know it could be ... I did kind of know it could be at that time.
Kenneth Knoll:
But the advice was anytime you come to a fork where there's an opportunity to decide between two different things that relate to something you're going to do, whether that's work or a personal experience, etcetera, pick the one that will give you the best payouts and experience after the fact. Money's not part of that equation. Location isn't part of that equation, etcetera. It was pick the one that you're going to take the most experience from in whatever time frame and make it short. That was the other piece of advice was that you can take an experience from the quickest so that it takes you to whatever's next.
Kenneth Knoll:
And I took it. I took that decision or I took that advice. It led me to my first job decision which was actually a no to that specific individual that had offered me a position out of college. But I came back to him when I was ready to take a role in that organization. And then after that, it was the same decision factor to go into WeGoLook. It was of all the companies I saw, that one had the most multifaceted set of needs to solve for.
Kenneth Knoll:
I mean, you got a massive network you have to build. You've got support operations you have to set up. You have technology problems you have to solve. You've got a multi-sided market and building network and getting customers in in a way that works. And that was one of those I wanted to go work for made me pick that one and I wouldn't trade it for anything. It led to a lot of good experiences.
Kenneth Knoll:
So, that's the best advice that I think formed my experiences to where I've been to this point.
Aaron Ackerman:
So, this question has become really fascinating to me was that advice, was that a quick conversation or was that something that was developed over a lot of conversations? Was it just like a five-minute conversation?
Kenneth Knoll:
Yeah. So, it was actually around ... I had two job offers and his was one of them. And it was at a bar top lunch in Tulsa. The restaurant's not there now. It's turned into something else. And it's not even the one it turned into now. It's changed again. But yeah, it was an hour-long lunch and that was the, "Hey, whatever decision you make, this is what you need to keep in mind." And that stuck with me. And I follow that individual where everywhere they've gone, I keep in touch because it really meant a lot to me.
Aaron Ackerman:
This is so impactful to me. It keeps coming up over and over again that people get advice that they consider to be the best advice they've ever received or maybe even life or career-altering advice, almost in a soundbite. It could be if you were not really paying attention, it might just be a throwaway moment yet it was so profound because you internalized it and latched on to it.
Aaron Ackerman:
And I think about that from two perspectives. One like, "Man, I need to pay attention because somebody might be giving me great advice. I don't want to miss it."
Kenneth Knoll:
Right, yeah.
Aaron Ackerman:
But on the other side, as we hire people and lead people and raise kids and have influence, the things we say that may just be an hour-lunch or even a five-minute conversation, that's a lot of pressure. You need to think about the way you've been impacted and try to have that same impact with somebody.
Kenneth Knoll:
That's a great point.
Aaron Ackerman:
Anyway, that's so crazy because it just keeps coming up again.
Kenneth Knoll:
Yeah.
Aaron Ackerman:
These small conversations that's ended up being so important.
Kenneth Knoll:
Yeah. I think the other ingredient there is I think you notice them when you've got some decision in front of you, you got some crazy [crosstalk 01:03:12] ...
Aaron Ackerman:
Yeah, you're open. Your mind is open.
Kenneth Knoll:
Yeah. Something's happening in your life right then that made that resonate with you. It's like you almost couldn't have missed it. But to your point, there's plenty of other times we're hearing things that we just leave on the table because the other ingredient wasn't there. We didn't have the turning point in our lives or the problem we were facing or the devastation or something that made us latch on to that. And sometimes it's like rebuilding advice. You had a failure.
Kenneth Knoll:
And something somebody said, "You took completely out of even the context that was shared in because it was motivating to you to look at your situation differently." I think you and I talked about this earlier over lunch like you kind of live in your own little world, how you're seeing the world. Then the example we were talking about is how two people could see an image and the colors in that image completely differently even though it's the exact same image just based on the way our heads work, our brains.
Kenneth Knoll:
And that plays into it. If we are not careful to step outside our shell and keep that more open mind, we're absolutely going to miss stuff. And that's hard to do. I know I don't do it good.
Aaron Ackerman:
No, that's cool. Okay. What would you be doing if you were doing something else completely different? If you weren't at WeGoLook, if you weren't working on new stuff, working with entrepreneurs, what else would you be doing? Maybe another way to ask that is what did you want to be when you were a kid?
Kenneth Knoll:
When I was a kid, I wanted to be an engineer. I actually started college to be an engineer and figured out it just wasn't for me. It was too a little bit behind the scenes. I like a little more of the business development front-facing side. So, I think I found that what I thought I wanted to be isn't what I would go do if I weren't doing what I was doing now which is exactly what I wanted to do post-WeGoLook. So, that's a little bit of a tough question.
Kenneth Knoll:
What I'm doing now is what I would do if I weren't inside a business. It would be doing what we're doing now. But I don't have a good answer for that.
Aaron Ackerman:
Awesome. You're doing what you're supposed to do.
Kenneth Knoll:
I'm doing what I want to be doing right now. Yeah.
Aaron Ackerman:
That's the answer.
Kenneth Knoll:
I think that could change in the next year or two and I expect it to. I guess what I would say is if I weren't doing what I was doing right now which is wanting to help some companies in the same stage, it would be 100% of sinking my teeth into another ground-up concept, 100%. I love that part of it. I love all the difficulty that comes with that. And that will absolutely be something I do again when we latch on the right concept.
Aaron Ackerman:
Perfect. So, if there was a book written about your life, if all of your life decisions and events to this point were the content for a book and you were going to title that book, what would the title be?
Kenneth Knoll:
Here's to You. So, I can be indecisive in a context of wanting to make sure I have a best decision made, kind of a calculated decision, with some perspective other than my own. And that can slow down some of my decision making but the here's-to-you concept 100% would be back to an earlier question you had of the best advice, it would be those individuals that I came across that for some reason decided to help me and talking about specifically what they did.
Kenneth Knoll:
It was the guy that let me pick up walnuts. I got to work for him in all different facets just up the road. Clean chicken coops, all kinds of things. It wasn't a great work, but it was awesome to go through that experience. I learned hard work because of my neighbor. Kids who grew up on farms typically don't do that at their own farm growing up. They'd go and they'd do it for someone else, which is a dad's greatest frustration on a farm. He's like, "Why don't you just do that stuff over here?"
Aaron Ackerman:
For free.
Kenneth Knoll:
For free, exactly. For free. So, there's that. But I ran into that in elementary school. I had a first-grade teacher that really whipped me into shape. I didn't appreciate it at the time. I was a little bit of a baby and she fixed it. She gave me some perspective I needed at the time and it took a while for it to set in. But I look back, I always remember her for it. I still talk to her today.
Kenneth Knoll:
If I look to middle school, there was a specific teacher there. I had a football coach in college that I still admire to this day for some of the things he taught me. And then getting into the professional world, I shared one example today. In college, somebody that was in the administrative functions of the business school there was one of the most important people I came into contact with because she supported me in some efforts to go after some scholarship dollars that, one, kept me there, two, landed me one of my first jobs just because she wanted to help like conversed with her, kind of became friends. She wanted to help.
Kenneth Knoll:
So, I think I could have a whole book of those little stories. And I think it would be something that ... I think also to your earlier point is thinking about when we've had experiences we share, we give recommendations, we want to get back, etcetera, I think would be stories we'd go, "You know what, I probably am in a role where I could do something like that for someone."
Aaron Ackerman:
Yeah.
Kenneth Knoll:
And so, that's absolutely I think what it has to be right now because I don't have that great of a story otherwise.
Aaron Ackerman:
No, that is so good. I love that. I love that. Not only you acknowledge people that helped you in really feel good ways, but kind of acknowledging some of that tough love that people gave you. I mean, that's a gift, top.
Kenneth Knoll:
Yeah.
Aaron Ackerman:
And I see you're really focused on helping other people. You're giving back to entrepreneurs and other people to let your experience be informative for them. So, I think that's awesome. I'll read that book. Here's to You, I love it. That's awesome.
Kenneth Knoll:
Here's to You. Well, maybe it'll come out someday.
Aaron Ackerman:
All right, last question. What would you like to go back and tell your 20-year-old self?
Kenneth Knoll:
Push but don't rush. So, I think one of the things I struggled with was having a lot of ambitions and feeling like if they weren't happening in the timeline that I thought they could have should have that it didn't work out right. So, I think it would be push like strive but don't rush. And keep that open mind around how an opportunity did work out for the best or lead you to something else that could be good or better because there were absolutely some things that didn't work out. I wanted them to, but ultimately looking back, it's like, "Well, I'm glad it worked out that way."
Kenneth Knoll:
And I think that would be it because if you push and you rush, you're going to miss things along the way. And I think I probably did. I cannot put my finger on some good ones here to share today. I'd have to give it more thought. But as I think about just how I approached everything and pursued personal achievements, professional achievements, it was a lot of pushing and sometimes rushing. Maybe rushing through some things that could have been very enjoyable if I would have just slowed down and let them transpire a little more organically.
Kenneth Knoll:
So, I think that'd be it.
Aaron Ackerman:
Yeah, that's good stuff. It's easy to retrospectively look at something and go, "Yeah, that timing was perfect even though that's not how I drew it up."
Kenneth Knoll:
Yeah.
Aaron Ackerman:
It's hard to think about that in the moment. We think we know what needs to happen right now and get frustrated when it didn't work out that way. But yeah, that's a good perspective. That's good. So, that's it, man. Thank you so much. Where can people find you on social media if they want to say hi?
Kenneth Knoll:
So, mostly LinkedIn. I'm not the best social media guru. So, I do keep in touch there from time to time. I certainly answer all my messages that come in through LinkedIn so certainly there, it's just @KennethKnoll. And if you're on Facebook, you'll see plenty of things about me that my wife posts. So, you can find me there. You won't find much of my own generated content, but you'll at least see where we spent time together, my wife and I. I don't do the Twitter very much. But if that's your medium and you want to reach out to me on there, I respond there as well.
Aaron Ackerman:
Okay. And by the time this podcast is out for download, everybody can go check out gooseandgander.co. It's A-N-D goose&gander.co.
Kenneth Knoll:
Gooseandgander.co. See you all.
Aaron Ackerman:
Cool. Well, man, thank you so much for your time, your transparency and sharing your experiences. And thank you for just what you're doing in our community to help business startups and I love it. I'm glad to have gotten to know you the last few years and really appreciate you investing in the community.
Kenneth Knoll:
Likewise, thanks for all you guys have done. I think this is excellent to get some communications out. And I think it will create some connections in the community that need to happen.
Aaron Ackerman:
Yeah, it's awesome. All right, Kenneth, man, I enjoyed it.
Kenneth Knoll:
Appreciate it.
Aaron Ackerman:
Thank you so much.
Kenneth Knoll:
Take care, bye.
Aaron Ackerman:
And that's all for this episode of How That Happened. Thank you for listening. Be sure to visit howthathappened.com for show notes and additional episodes. You can also subscribe to our show on iTunes, Google Play or Stitcher.
Aaron Ackerman:
This content is for informational purposes only and does not constitute professional advice. Copyright 2019 HoganTaylor LLP. All rights reserved. To view the HoganTaylor General Terms and Conditions, visit www.hogantaylor.com.