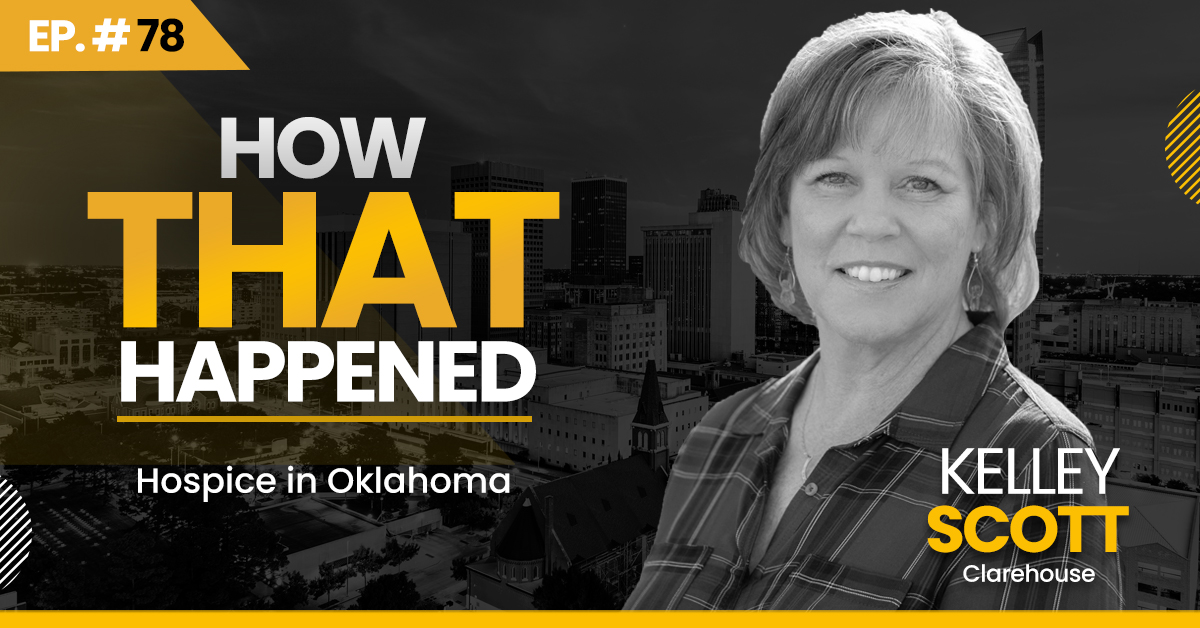 Kelley Scott:
When we started this project, I did all kinds of research trying to find a model to emulate and could not locate anything that was the freestanding home and care. Everything was tied to a medical care provider.
Robert Wagner:
From HoganTaylor CPAs and advisor, I'm Robert Wagner and this is How That Happened, a business and innovation success podcast. Each episode of the show, we sit down with the business and community leaders behind thriving organizations to learn how business and innovation success actually happens.
Our guest today is Kelly Scott. Kelly is the executive director of Clarehouse in Tulsa. Clarehouse is a loving home for people who are terminally ill and facing the end-of-life. Kelly founded Clarehouse nearly 20 years ago as a social model hospice, providing a loving home and care for dying people in need. Nationally, Kelly provides counseling and mentoring to others aspiring to provide social model hospices. She has also created outcome pathways for end-of-life care and education. And she's a frequent speaker in end-of-life care and nonprofit startup and development. Kelly has been a nurse for over 36 years. She has a bachelor of science degree in nursing and holds a certification in hospice and palliative nursing.
Kelly, welcome to How That Happened Podcast.
Kelley Scott:
Thank you.
Robert Wagner:
We're really glad to have you here. Appreciate it. It's a very unique subject that we're talking about today, but we're excited to have you and find out more about your career about Clarehouse. So how did you find a career in end-of-life care?
Kelley Scott:
Well, I think it's important to acknowledge right off the bat it is hard to talk about. It's not something that a lot of people want to think about. So talking about end-of-life, about death and dying is it's a challenge and it's always something that I'm glad when people are willing to take that up and have a conversation about it. I've been a hospice nurse for 36 years. So from the time I graduated from nursing school, I started working with end-of-life patients through oncology. So I was on an oncology unit as a brand new nurse. What I found personally was that I just always seemed to gravitate towards the people who weren't getting better. That was where I felt like I could be present and I could be comfortable when a lot of my colleagues were not comfortable in that space. And even as a very young nurse, it was where I felt like I could make the most difference. I had a big impact. And being present, being supportive, being a comforting companion has always been very fulfilling for me.
Robert Wagner:
That's very interesting. So for you to recognize that I guess right from the beginning seems very interesting to me. So you started Clarehouse 20 years ago, it's described as a social model hospice. What does that mean? And how do they play in this world?
Kelley Scott:
So it's a kind of a unicorn. We are an innovative approach to the caregiver crisis and end-of-life care, which acknowledges the fact that taking care of dying people can be really hard on family members, friends. That support system can be really taxed during final day's care. Hospice is a wonderful program. It is probably the most successful managed care program in our country as far as health coverage goes. And what that is an interdisciplinary team of professionals who come out and visit people in their own home or nursing home or assisted living, wherever they live, and provide intermittent services. So a nurse, a social worker, a home health aid, a chaplain, they make intermittent visits and support that patient and that family as they're going through final days care. As part of that managed care program through Medicare or through insurance, they provide the medical equipment that someone needs and they provide the medications.
So all of those needs are met, but the entire program is predicated on the fact that there is a caregiver responsible in the home that will be there 24/7. So for people that don't have that or whose caregiver is working full time, or who is exhausted from around the clock care, or is elderly, or is ill themselves, all kinds of social reasons why 24/7 caregiving is really difficult, then that makes home hospice really difficult as well because the hospice benefit does not provide for the home and it does not provide for 24/7 care. That's what the individual has to supply.
And most people don't realize that. They find themselves in this situation where they have a life threatening illness, they are recommended to enroll in hospice and they do that and they think, "Okay, now our worries are over. Somebody's going to take care of us." And that support is provided in a very important way, but it's not 24/7. There's no place to live that's provided. So a family or friends have to piece that together on their own. It's very expensive to hire care. It's very expensive to go into an institution and it's beyond the capability of a lot of people financially.
Robert Wagner:
Right. So I hate to get into kind of grim or clinical definitions here, but when are you eligible for hospice care, I guess?
Kelley Scott:
So hospice is a program that's designed for people in their last six months of life. That was the definition that Medicare put on that when they created the program in the '80s. It's not like that internationally. In other countries, you might have a terminal illness and be eligible for hospice years in advance, but here it's six months or less.
Robert Wagner:
Okay.
Kelley Scott:
And so that was the criteria that's in place. And people access that hospice care as they engage in goals of care conversation with their providers and they find out that, yes, they've got a life threatening illness. Curative treatment is no longer appropriate. Hope for meaningful control of the disease is not happening and that supportive care is the best option. And then once that decision is made, hopefully that's made far in advance of death so that people can get the support that they need to live their life most fully during that time. And in Medicare language, that's about a six month or so life expectancy.
Robert Wagner:
Gotcha. Gotcha. So in doing research for our time together today and reading about Clarehouse and end-of-life issues, the word dignity comes up a lot. Why is that? It pretends that there's lack of dignity in many cases, but...
Kelley Scott:
Well, think about all the losses that a person endures as they're going through a life threatening illness. The loss of control is one of those primary concerns. And not having body autonomy anymore, not being able to walk, to necessarily feed yourself, to take care of your personal care needs, all of those things become really intense during end-of-life and especially final weeks or days of life when somebody becomes completely dependent. And when you're completely dependent on another person for the most intimate aspects of your own personal care, there's a huge potential to feel like you've lost your dignity, to feel on someone else's mercy to treat your body with respect, to respect your modesty, to respect your desire to be touched or not be touched, to control the environment that you're in, flipping the lights on in the middle of the night.
I mean, if anybody's been in the hospital, I'm sure you've been awakened at 4:00 in the morning for a lab draw or to get a bedside weight. We lose so much control over our personal space as well as the environment that surrounds us, and it's threatening. It really threatens our sense of self and who we are and how we might determine how we spend time. So the more dependent we become, the more those issues of dignity matter.
Robert Wagner:
Mm-hmm. That is very well said. And it sparked a memory that I have with my father-in-law, who has passed now. He had Parkinson's. We didn't know really where he was in the disease, but he was really struggling. I had a moment with him with helping him just transfer from in the bathroom setting, just transfer from one place to the other. It struck me then that he's 100% dependent on someone else so I get the connection to dignity there. It's very interesting and very moving. So what's-
Kelley Scott:
Excuse me. So many family caregivers, they want to help, but it's intimate work, you know?
Robert Wagner:
Right.
Kelley Scott:
Helping with toileting, helping with bathing. It's flips the role between parent and child sometimes. That parent that has cared for you physically and now you are caring for them physically. Sometimes people don't want that. And it really is their choice that they don't want a child or a spouse or someone close to them providing that intimate care. And they're actually more comfortable with it from a stranger because they don't have history. They don't have relationship. They're not trying to protect that person. People will mask symptoms when a family caregiver's taking care of them because they don't want that family member to see that they're hurting. They don't want to put that burden on that family member. So sometimes having a stranger provide that care is more comfortable and feels more dignified for everyone. So it becomes really complicated when you're trying to care for someone and help them navigate those decisions.
Robert Wagner:
Right. Right. Okay, let's return back to Clarehouse. So you explained how kind of our system around hospice, if you will, it does not include the facility. So based on the name and what I know about Clarehouse, that's what this is. That's where it comes into play, right? It's a place where people can be.
Kelley Scott:
Yes. And this mission evolved out of that gap in care that existed between what medical hospice provided, what family or friend caregivers could provide, and what space was in between there and what was missing. And for me as a hospice nurse, what I was seeing were lots of families who were doing great caring for loved ones at home, but then also families who struggled for people that were in the hospital with a sudden event, a sudden life threatening event, or a progression of an existing illness and they found themselves in a situation where their loved one needed round the clock care, but they were completely unprepared for that. Had full time jobs, had other family responsibilities at home. All kinds of, again, social reasons why the medical part of it became such a heavy load for family members. And people were casting about for solutions oftentimes in a kind of critical situation because they were in a hospital and were needing to be discharged.
Robert Wagner:
Right.
Kelley Scott:
We can't stay in the hospital anymore for non-acute reasons. We can't stay there to convalesce. We can't stay there to rest. We can't stay there for comfort measures only. When aggressive treatment has stopped and comfort care has been opted for, then you have to leave the hospital. That's a place for acute care, and there's no reimbursement for comfort care in a hospital. So families were searching for solutions and being recommended if they couldn't take someone home, to look at long term care, look at institutionalization. And for a lot of families, that's not an acceptable option either. That's not where they want to go. Most people are not going to say they want to spend their final days in an institutional environment where they don't have access to all the things that make life meaningful for them.
And hearing that plea over and over from families who said, "There should be another option. Somebody should do something. There ought to be another choice," that was what I took to heart and began to really think about, "Is that something I can do? Do I have the ability to help solve this problem? Can I pull together people that can help me solve this problem?" That vision became really important to me over a period of a year or two of just really doing some introspection and thinking about, "Am I the right person for this? Do I have the skills? Do I have the resources?"
I did a lot of soul searching during that process. I have great confidence in my clinical skills. I know how to take care of dying people and I love doing it. I love being there. It is incredibly meaningful for me and has been fulfilling throughout my life. So I had confidence in that part of it. I can help take care of people and end-of-life. Whether they're my own family or total strangers, I'm comfortable in that space. But taking that next step of creating an entire new project and leading an initiative, that was kind of the moment of truth of, "Can I do that? Is that me? Am I the one?"
Robert Wagner:
Right. Right. Mm-hmm.
Kelley Scott:
I met with a group of people in a discernment process of close friends who supported the vision, who supported me in leading that project. And I began to talk about it in a wider scope and discussing it with colleagues, discussing it with connections that other people made for me and found momentum. So being able to talk about that vision. And for me it was always very simple, it's just a home. It's just a home where we could love people to the very end. It was not a medical facility. It wasn't a big corporate backed project. It wasn't a big bureaucratic institution. It was just a home. And I'd done that at home personally for family members and felt like I knew how to do that.
And key to it for me was keeping it small, starting was something that was doable for a small group of people. Especially with an unproven concept with an innovative model, being able to prove the concept first, prove the need, prove the support and prove the utilization. So we just, over a period of a couple of years, kind of talked it into being, spreading that vision, connecting with people that understood and had been in that situation and creating a strategy for how we could bring it to life.
Robert Wagner:
Okay. That is a great segue to where I wanted to go, which is just to talk about you're a nurse by training, that's where your heart is and you found this niche that you fit into very well, but that's very different than creating and leading a nonprofit organization and volunteers and donors and all of that, right? So what's been some of the greatest learnings you've had sort of outside your technical professional, but as a leader and as someone who's guiding an organization?
Kelley Scott:
I used to joke that on paper I look completely unqualified for the position that I hold. I was chastised about that and I don't believe that anymore. I do believe unqualified for what I do, but I'm qualified for it by the years of experience that I've had doing it. I have a bachelor's. I don't have a master's degree. I don't have any business education. I took what I knew how to do, which was take care of dying people, and a lot of passion and energy and fire and determination, and then surrounded myself with people who knew all the things that I don't. And I continue to do that to this day, being able to connect with all of the skill sets that I don't have and being able to freely admit what I don't know. If I don't know how to do something, I find somebody that does and I call them and ask for help and I take their advice.
We changed course multiple times in the early days of the development of Clarehouse because the vision that we had and the strategy we developed, we hit roadblocks time and time again. And every time we hit a roadblock, I would meet with someone and I would listen to what they had to say and we would adjust our course. That's the only way we got operational. If we had stuck to what we believed was the right way to do it, I don't think it ever would've happened. And what played out was exactly the right thing. We did a pilot project, we rented a temporary space. We started with a six month cash reserve that we raised and with the idea that "We'll try this for six months and if it fails, it's not a viable model" because we took that advice from people. And I've continued to do that throughout my career.
Now, I've learned how to read a balance sheet and I've learned how to hire and fire people and I have learned how to understand organizational insurance and all of those things that I never knew were going to be a part of my career as a nurse. I've learned it from peers and colleagues and wonderful resources within the community.
Robert Wagner:
Yeah. So I'm assuming the business model is this sort of combination of a not for profit that supplies the facility, keeping this very basic now, and the services which are covered by Medicare or Medicaid and private insurance as well. Is that [inaudible 00:19:23]-
Kelley Scott:
So we're completely freestanding and we are not funded by anyone or donors. So what we provide is the home and 24/7 care, which is not something that anyone else provides. So we're not providing a service that's being duplicated by anyone else. And our collaborative partner that makes it possible for us to do this work is the medical hospice programs in our community who are funded by Medicare and private insurance. They contract individually with the family, the patient, and they have their own relationship with them.
Robert Wagner:
Gotcha.
Kelley Scott:
We invite people to come and stay as guests in our home, free of charge. We provide that out of the generosity of the community. Everyone that lives with us has to be enrolled in medical hospice. So they have a case manager that is in charge of their medical care, and we're not providing medical care. We consider ourselves like an extension of the family providing that home and 24/7 support. So it's two very separate services that are not financially or structurally connected in any way. We just collaborate to meet the needs of the dying person and their family.
Robert Wagner:
Gotcha. Okay.
Kelley Scott:
And by separating that out, by us simply being home and care and not being a hospice provider has simplified our structure incredibly. So we're not licensed or regulated. And we don't have to be because we don't charge people for services. And in the state of Oklahoma, if you don't charge people, you don't have to have a license. That was a whole process we went through with the health department in our development stage, trying to figure out how we could do this care and what category in the state health department licensing we fit in. Well, we didn't fit in any category. It was not something that they'd seen before. It was an entirely new service. So the agreement was, if you're not providing skilled nursing care, if you are not the medical provider, if you're not charging for services, you do what you feel is best and you don't have to have a license. And that's been such a gift to us to be out of that whole regulatory arena.
Robert Wagner:
Right.
Kelley Scott:
And knowing that we're providing a quality service, if we weren't, we wouldn't be getting the referrals and the donations that we get to survive upon. So it's sort of a self-fulfilling quality because if we were doing a poor job, we wouldn't have survived this long. We wouldn't be able to work with the partners we have and receive the donations and funding that we have. So we are outside of government. We're not a part of healthcare regulation. We have a strong collaborative partner that provides the medical oversight and support, and they do that through their private contract with that family and Medicare reimbursement.
Robert Wagner:
Gotcha. So has your model been replicated in other communities and should it be replicated in other communities?
Kelley Scott:
Yeah, that's a great question. When we started this project, I did all kinds of research, trying to find a model to emulate and could not locate anything that was the freestanding home and care. Everything was tied to a medical care provider. It was a hospice program that also had an in-patient house or a residential house or an in-patient unit, but it was under the hospices of a medical hospice program. And we really, really didn't want to do that. We wanted to be separated out from that because we wanted to be able to serve any person in the community regardless of what hospice they were enrolled in. So when you give money to Clarehouse, you know that any person in the community that needs our help can come to us regardless of what physician they have, what hospice they have, what hospital they came from. We are truly a community resource. And that's very important to us.
So we couldn't find that type of model anywhere in the country. We made site visits to several places around the country, but they were all that sort of medical model, in-patient unit, owned and operated by a hospice program. The closest thing we found was the old St. Joseph's residence that was here in Tulsa. I don't know if you're familiar with that, but it was a home for people with HIV and AIDS that was owned and operated by Catholic Charities.
Robert Wagner:
Okay.
Kelley Scott:
They did that service for years, but as AIDS became more of a chronic condition rather than a terminal condition, they were moving away from... It was less end-of-life care and more chronic care and things like helping with job placement and finding homes, things like that. And that really wasn't in the heart of the mission of what Catholic Charities wanted to do. So they ended up closing St Jo's and selling those assets and putting them in trust and eventually now have opened a social model hospice home called Porta Caeli House. We were a part of mentoring that project. And so St Jo's helped us in the beginning because I met with them. That model made sense. It was not licensed and regulated. It was basically the same model as what we wanted to do. It was just serving a different population. But they freely shared their model, their policies, their procedures, how things worked and we took that as inspiration and used that to help us get started.
So as time has passed, I've continued to do internet research. We opened in 2003. And over the next few years, I started finding places on the internet that were like us, that had the same mission, the same vision, the same structure, literally used the same words that we were using on our website to describe who we were and what kind of service we provided. I started to connect with those people. I found homes that were 20, 30 years old in New York, in Ohio, in California, and reached out and began to connect. And at that same time while I was finding existing homes that were even older than Clarehouse, new projects were finding us through our website and they would call and say, "Oh my gosh, I've wanted to create a home like this in my community. I found you online. Could I come out and visit your house and could we talk?" And we welcomed those people. They made site visits and they became involved in our organization and we began to mentor them. We love doing that.
So it's been a real give and take over the years of learning from other people, but also paying it forward and helping new people learn how to bring this project to their community. So I was on the project committee with Porta Caeli. I was on the project committee with the Journey Home in Bartlesville. And we have since mentored four more homes in the state of Oklahoma. So there's one in Tulsa, one in Bartlesville, one in Bethany, one in Moore. We do everything we can to help those homes be as successful as possible.
In addition to that, we've been founders of the Omega Home Network which is a national organization of homes like Clarehouse across the country. Through these conversations that we've had on the phone and that we've met people making site visits, we gathered a small community of people together back in 2014. And at that time I think there were nine projects and we said, "Let's get together. Let's all meet each other. Let's start to have this annual gathering." And that annual gathering of nine projects has grown into a national membership organization of over 100 homes or developing projects from 27 states now.
Robert Wagner:
Wow.
Kelley Scott:
So the movement is spreading.
Robert Wagner:
Right. Right. That's awesome. I mean, just the idea of a Clarehouse type model is innovative. Are there other innovations and technologies coming to end-of-life care?
Kelley Scott:
I would go back to it's sort of embracing some traditional aspects of end-of-life care, a demedicalization of it. There's a growing field of workers called death doulas and midwives or birthing doulas, these are people who seek specific training to walk that journey of end-of-life with patients and their families and their present in homes to sort of midwife people through death. I think Clarehouse is a return to a traditional model of care that embraces the idea that it doesn't require medical professionals to walk with people through the final days of life, that lay people can do, that the resources within a community can rally to support those among us who are dying. And it's not a medical event. It's part of a family story. And lay people can be empowered to be that presence, to hold that space with families and help them walk through it outside of the context of an institutional environment or a clinical medical environment.
I think that's really important. To reclaim that time as family time, it does require professional support sometimes to get symptoms under control, to understand and be educated about the milestones in the dying process and especially in the active dying phase and what that looks like. That role of hospice is really important. But what it facilitates is families reclaiming that time because once symptoms are under control, once anxiety is lifted, once the burdens of care are supported, then an individual and a family can really focus on what matters most. You can't think about those things when you're in so much pain, you can hardly breathe. Or when you're so short of breath that your anxiety is through the roof. But when all that's managed and your family is supported and you are supported, to think about, "Okay, with the time I have left, what do I want to do? What is important to me? How can I live more fully and how can I prepare my family to go on when I'm gone?"
And so things like taking care of business, financial matters, turning over the management of finances to someone that can take that on if you've been the one that's always done it. Creating a legacy. "What do I want to leave behind?" Whether that's financial planning or whether that's something as simple as writing your story or composing letters to grandchildren that you will never see graduate from college or have children. And write those letters and give them to someone for safe keeping to be distributed later. Or maybe it's doing something on your bucket list, travel or something simple that you just always wanted to do but hadn't taken the time yet. Reconciling relationships. Is there someone that you're estranged from that you really want to resolve that before you die?
All of those activities are so important for an individual to do to feel like they're ready to let go, but it's also so important for those surviving families to have a healthy beginning to a grief journey that we all know goes on for months and years after someone dies. We want to help position people to be in as healthy and positive place as possible when that happens.
Robert Wagner:
Wow. That is such a beautiful thing that you just described.
Kelley Scott:
It's a lot.
Robert Wagner:
I'm really taken aback by that because I was going to ask you, what are the dividends of returning this event to a family event, and you just laid them out there so beautifully. That is a lot to take in, a lot to think about, but that is really a beautiful thing and something we should, from an education standpoint, we should be striving for as families.
Kelley Scott:
Yeah. And I mean, just contrast that to what you've either heard about or personally experienced with this opposite sort of death where you have a loved one that has either a sudden event or an exacerbation of a chronic condition and they go into the hospital and things unravel, and you're on this roller coaster for three or four weeks of hope and despair and things getting better and things getting worse and one thing after another happening. And during that time, you can't really do anything else. You're not at your job. You're not thinking about the kids at school. You are navigating this overwhelming healthcare crisis.
And in a worst case scenario, if that person doesn't improve, doesn't respond to treatment, has a devastating cancer diagnosis, whatever that might be, and that results in continued futile treatment that ultimately results in death in that hospital situation where you never got out of the building, you never got off the machines, you never were surrounded by family or being at home, being able to make a choice about how you spend your time or what you might want to do, didn't get to see your dog or your animal one more time, and then you're gone, that death has occurred within the confines of that hospital environment without this sort of family story, it's heartbreaking. And that's how it unfolds for a lot of people.
Robert Wagner:
Yeah. Oh, that is just so good. I love just the thought of the innovation is, let's go back to where we were when loved ones died at home and with the comfort of everyone who loves them around them, so it's a beautiful thing. I want to shift, Kelly, to end our conversation there just about Clarehouse and things, but I do want to ask you five questions that we ask all of our guests, okay? So what is the first way you've made money?
Kelley Scott:
For me personally or for Clarehouse?
Robert Wagner:
Yeah, for you personally
Kelley Scott:
Babysitting.
Robert Wagner:
Yeah. Okay. All right. So if you were not a nurse, not leading Clarehouse, what do you think you would be doing?
Kelley Scott:
Oh. I knew I was going to be a nurse from the time I was a very small child. There was never any doubt in my mind that that was my direction from the time I was a child. I had lots of nurses in my family and I grew up listening to their stories and that became a part of my identity very early on. I would love to be in a position fairly soon in my life where I have more free time, whether that's retirement or partial retirement or whatever that is, and be able to have the time to just be and not necessarily do anything, right?
Robert Wagner:
Okay. Right.
Kelley Scott:
Because I really haven't done that my whole life. From working in a nursing home when I was 15 to what I'm still doing, I haven't had much opportunity in my life to just be. And that's something I learn every day from working with dying people, is that I don't want to have a lot of regrets, you know?
Robert Wagner:
Right. Right. That's a good segue into question three, which is, what would you tell your 20 year old self?
Kelley Scott:
Don't be so scared.
Robert Wagner:
Okay.
Kelley Scott:
Despite what I've accomplished, I've accomplished it with a lot of fear and a lot of anxiety. I struggled with being insecure. I still struggle with insecurity. I mean, that's part of my makeup. It doesn't stop me. I'm still determined. But I think I could have had a lot more peace about all of that if I had been able to let go of some of that fear and insecurity. Starting something is overwhelming to your self-esteem because I mean, for me, I worried. I mean, I quit my job. I staked my professional reputation on being able to get this project off the ground. And failure was not an option. Once I accepted that first check, that first donation, their failure was not an option. But that doesn't mean I didn't make myself sick worrying about it, that I didn't lay awake so many nights worrying about it.
And so trying to trust a little bit more and not be so fearful of all the things I didn't know is probably what I would give that advice to myself. I talk to nursing students all the time. One of the things I tell them is it doesn't matter what you care about, just care about it and be passionate and learn everything you can and become an expert. Then once you've got that knowledge, trust in that knowledge and look at what's what needs to be fixed, what's wrong, how can I make a difference. Identify that and then pick one thing and work on it.
Robert Wagner:
Yeah, that's great. Yeah. I hate that. We do get that answer fairly often, kind of about the anxiety of things and that... Statistically, huge majorities of the population, even great leaders have imposter syndrome, right? "I don't deserve to be here. They're going to find me out." Right? I guess it's part of humanity.
Kelley Scott:
Sure.
Robert Wagner:
What will the title of your book be?
Kelley Scott:
Gosh, I have pondered and pondered that, and I don't know. I really don't know. I have a necklace that my kids got me that is engraved with the words "Be the change." And I love that. I've sort of embraced and followed that for most of my career. So maybe it goes there. I don't know. It's not clear to me yet.
Robert Wagner:
Yeah. I hope that you'll write it because your life clearly has had an impact on people.
Kelley Scott:
Thank you.
Robert Wagner:
I hope that you'll take a moment or probably a few moments to write down some experiences. So last question is what is the best piece of advice you've ever been given?
Kelley Scott:
Let people help you.
Robert Wagner:
Okay.
Kelley Scott:
Let people help you. I still struggle with that every day of letting go of things that I could let people help me with. I tend to think I need to do it all on my own either because I should or because I think I would do it best. Those are kind of opposite ends of my ego speaking. I should do it because I owe it to people to do it that way, or I should do it because I'm the only one that can. But that's a trap of being less effective when you won't let people help. And it's not weakness. I think when you invite others in to share the work, that's a sign of strength. And being able to facilitate more involvement in your vision is important. But it's a tough lesson to learn for those of us that think that we got to do it all.
Robert Wagner:
Right. Right. All right. That is excellent. Kelly, thanks so much for your time today and telling your story. We appreciate it so much.
Kelley Scott:
Thank you for having me.
Robert Wagner:
We appreciate what you're doing in the community, so let's give people an opportunity to help you. So tell folks how they can find out more about Clarehouse. I'm sure there's opportunities to donate or donate money or time, right?
Kelley Scott:
Yeah, glad to. So we survive entirely by donation. We're a 501(c)(3) charity so we fundraise for every dime we spend. We have a website, clarehouse.org. You can make donations there. We love cash donations. We love grant support. We love event support. We do one annual fundraiser a year, and that's a huge gala with opportunities for sponsorship or ticket sales participation there. We need volunteers. We have a 14,000 square foot home with 10 guests on a regular basis and it takes a lot of hands to keep all that going. So volunteer support is a big part of that in a myriad of ways, as well as board service. We rely on strong leadership within the community to help provide that expertise that leads our organization into the future.
Robert Wagner:
Yeah. Again, thank you so much. Appreciate it.
Kelley Scott:
Thank you.
Robert Wagner:
That's all for this episode of How That Happened. Thank you for listening. Be sure to visit howthathappened.com for show notes and additional episodes. You can also subscribe to our show on iTunes, Spotify, Google Podcast, or Stitcher. Thanks again for listening. This content is for information purposes only and does not constitute professional advice. Copyright 2022 HoganTaylor LLP. All rights reserved. To view the HoganTaylor general terms and conditions, visit hogantaylor.com.