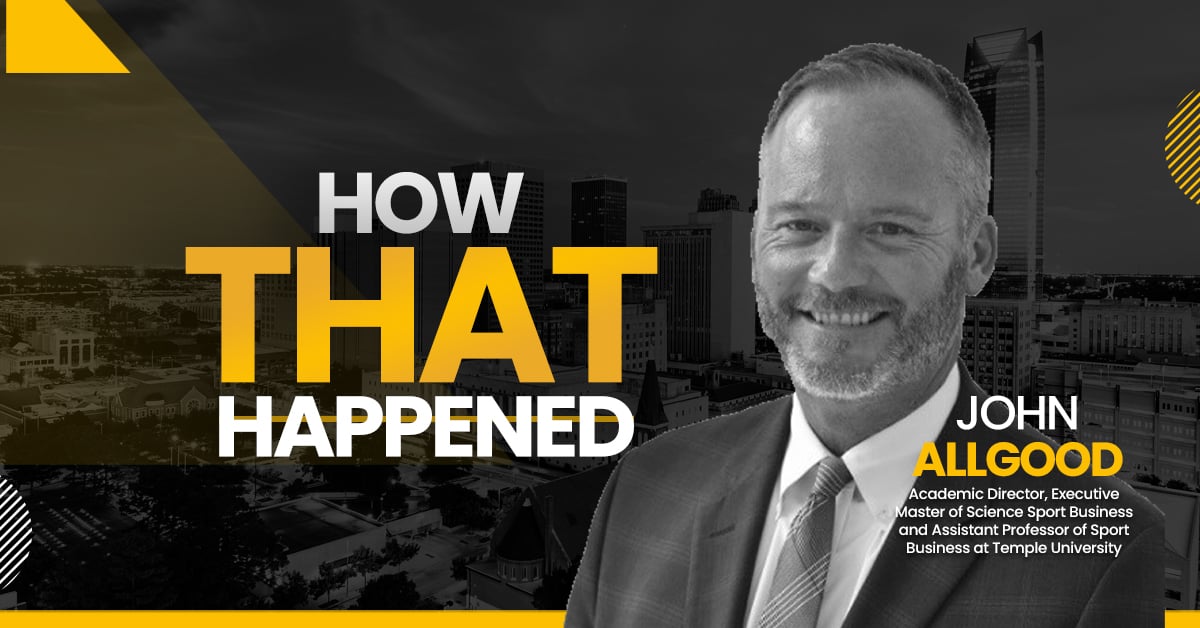 John Allgood:
You're going to develop relationships with people that you work with that's going to create a bond that you couldn't do anywhere else unless you're working on it. Putting the hours together, selling together and grinding together and then when it's successful you see all these people happy, that creates an immediate bond.
Aaron Ackerman:
From HoganTaylor, I'm Aaron Ackerman and this is How That Happened, a business and innovation success podcast. On each episode of the show, we sit down with business and community leaders behind thriving organizations to learn how business and innovation success actually happens. I'm very excited about my guest on the show today. I want to welcome, John Allgood. John began working in sports in Oklahoma City in 1995. He's held positions with the 89ers, RedHawks and Energy FC. He's also served as an adjunct professor in sports management at OU, and as an executive in residence in the business school at UCO. John's about to start his third year as the academic director of the executive master of science in sports business program and assistant professor at Temple University in Philadelphia.
Aaron Ackerman:
John graduated from OU with a BA in English language and lit and a master's in sports management. John, I'm so excited, you're here. Thank you for joining today.
John Allgood:
I'm glad to be here. I came down from Philadelphia, just spend time with you.
Aaron Ackerman:
That is awesome. I appreciate that. And I also know that that's a lie. So before we get started, just tell me a little bit about the program at Temple. What is the master of science in sports business?
John Allgood:
So it's executive master's of science in sports business and it's for people that have their undergraduate degree that at least have five years' experience in the industry or wants to emerge into the industry. And what we do, our program is the outcome, the learning outcomes, is we're trying to teach you the current trends and what tools can we provide for you so that you can go in and work in sports at a high level. So what has turned out over the last two years is that we've had two cohorts, we have been going to our third cohort, is that the experience level is higher than we thought it was going to be. So this last cohort ... By the way, a cohort would be like a recruiting class. It's a group call, comes in at the same time, they stay together with 11 and a half years in the industry.
John Allgood:
And so this group, this second cohort, we have a high-ranking executive with ESPN, we have someone with the ACC Network, the SEC Network. We have a scout with the Milwaukee Brewers. It's across the border. We got a guy with the Toronto Maple Leafs and the Blue Jays. So we got sports medicine. We got two development directors of universities, one at Ole Miss, one at OCU. So it says group of people. And then we have attorneys. I should mention that too. We have attorneys that are in the program and other high-ranking executives that want to emerge in sports. They're very smart and have a passion for sport. So our program is really to provide learning, learnings and teach them and equip them, so they can go in and be successful in the sports world. And it's been an amazing experience to get to know these folks and mentor them as we go through it.
John Allgood:
And it's all online. It's 100% online. You can get it done in 13 months if you can grind through it. What's been amazing to me too is that how much bond that has been created between the cohort within the group because a lot of people haven't been in school in 10 years.
Aaron Ackerman:
Right.
John Allgood:
And now they're going back and having to take classes and they bond. It's been really cool because the professors that we have are top notch too.
Aaron Ackerman:
That's awesome and I'm sure that very competitive to get accepted to the program.
John Allgood:
Again, it's across the board. We have people that don't have the years of experience or they don't maybe have a personality that can fit in because it is competitive once they get in. And it's rigorous. I must be transparent like I normally am, is that it's a very rigorous. It's not an easy program to get through. It's not a piece of paper. You actually have to work. And that first cohort that graduated last year in February, they were so excited that they got done, but they felt like there was a real value there.
Aaron Ackerman:
That's awesome. So now you're getting the opportunity to help other people really position themselves and advance their career in sports management. So you've had a fascinating career. Tell us a little bit about what it was like. How did you get into this career? How did you know this is what you wanted to do and how one thing led to the next.
John Allgood:
Well, I originally got in the business when I was going to get my English degree at OU. There's a gym there called the Huston Huffman Center and I was working there on a daily basis and got to know the professors pretty well. At that time, I was going to go to law school after getting my English degree because I wanted to go in athletic compliance. That was a new field that was burgeoning at the time in college athletics and decided, my spring semester, that I really didn't want to go into law school and just wasn't a fit for me. And one of the professors I'd met at the time, Dr. Trent Gabert, was in charge of the sport management program at OU and he convinced me to go into the sport management program because he knew I want to go in sports and so he offered me a graduate assistantship. And then I got my degree, in two years my master's degree, and at that time, I did an internship with OU's athletic department.
John Allgood:
Now it's completely different now. This is 1993, I guess, at that time. 1993, there was a director of development, there was a director of marketing, there was an assistant director of development and then there was one full-time employee, and then two interns in the entire marketing and development office. Now, there's probably 65 to 70 in OU's athletic department to do all that stuff. So I got really hands-on experience. At that time, Gary Gibbs was the head coach and they weren't doing very well and so my foray into sports was I was answering phone calls from angry season ticket holders at 21 years old and I just learned a lot through that process.
John Allgood:
From there, I knew I really wanted to do it. Got a job working for Frontier City and White Water Bay as their marketing coordinator. So I learned how to, what I call retail, is how to drive people to your parks, how to get people to buy tickets. I only did that for about six months and then the 89ers had a marketing and PR position opened. For you people that don't know who the 89ers are, it was a AAA affiliate of the Texas Rangers, started actually in 1962 at the State Fairgrounds. So the job I got, I was in 1995 at the State Fairgrounds where there was a baseball stadium there at one time called All Sports Stadium, but Bob Herson, God rest his soul, used to call it One Sports Stadium because there was only one sport that took place in there which is baseball.
John Allgood:
So I progressed through that organization. We're very fortunate that it was owned by Gaylord Entertainment. So Clay Bennett and John Perry were very involved, two super entrepreneurial people, have a heart for the city. And so they really wanted to elevate it. In 1994, [MAPS 00:06:34] had passed. And one of the first projects that was on the table was the Bricktown Ballpark. And I think there was another project that finished before then, but I was fortunate enough to do the marketing and the PR for the opening of the Bricktown Ballpark in 1998. And that really, once that opened, that sent a message to the city that, "Hey, this MAPS thing is going to work."
Aaron Ackerman:
Right.
John Allgood:
Because Boldt Construction did a great job. The architectural firm did a great job, ADG. So when that opened, there's also a lot of pomp and circumstance that came with it. Leon Smith, who some of us know, helped put it on. We had all, I think all of them, the living teammates of Mickey Mantle showed up including Yogi Berra ...
Aaron Ackerman:
Oh, wow.
John Allgood:
... for the statue opening. And that was an enormous thing we had to do and I was very humbled to be part of it. A year later the canal opens and I was asked to do the PR for the canal. And so I just started growing as I was there. Tim O'Toole was our general manager who's now the president, I believe, of the State Fair. I'm not sure of his title, so I think he's president of the State Fair. And so he taught me a tremendous amount about operations and liability and how to put on an event from the operations standpoint because I came from a marketing and sales standpoint. So I started getting more experience on that and then I got into sales, so I started doing sales at the same time. Next thing you know, I'm running the sales team.
John Allgood:
And then I left. This is a lesson that we can talk about later on. I got offered a lot of money to go work for a guy that owned the golf course. And I'm not going to mention who it is, but he offered me a lot of money to leave and I didn't. He said, "I really want you to take this job." And I was like, "I don't know anything about golf." He goes, "It's not about golf. It's about real estate." And I said, "I know less about real estate because it's selling lots essentially what it was." And so he said, "What's your number?" So I threw out this number and he said, "Okay," and I was like, "Oh, I got to take this job now."
John Allgood:
So I took it and I was three months into it, I was just miserable. I just was miserable. And it's nothing against the golf business or the real estate business, it's just not what I do. So at that time, Bob Funk Sr. ended up buying the team. This was in 2003, I guess. And I went back to him and got in touch with Tim. Tim was still there at the time and said I wanted to come back and they graciously hired me on as a, I guess, at that time, it would have been not a vice president, something that was right below the president. And so I did that for a year and then they named executive director for the next year. From 2005 to 2010, I ran basically the team and I ran the ballpark. So that's how I got involved in it.
Aaron Ackerman:
So you mentioned a lot of names in there and a lot of events as being somebody that grew up in Oklahoma City, a lot of that that you mentioned brings back memories for me, watching at 89ers at the State Park. MAPS obviously started things even in the sports realm, really moving for Oklahoma City. So I'm curious, since you really got to see all of that from working with the 89ers, all the way through to now that we've got an NBA team in Oakland and the water sports, all this stuff like, what do you think spending your career in a middle market like Oklahoma City and now spending a few years in Philadelphia? What do you think are some big takeaways or lessons of things that Oklahoma City did really well that would put them on the map from a sports standpoint to where we're in a position to attract an NBA franchise? And how do we operate from a business standpoint versus obviously Philadelphia, which is one of the biggest markets in the country.
John Allgood:
Right.
Aaron Ackerman:
We've seen Super Bowls happen since you've been there, a great basketball team right now. So it's really interesting perspective. Just curious, looking back over everything that's happened since 1993 or '4, whatever, to now sitting in Philadelphia, what's your retrospective lookback on all of that?
John Allgood:
It's a really good question and I think back to it, and I'm going to go back even further and date this back. So Clay Bennett and Ron Norick, I'm trying to remember what year this was, I guess it would have been '95, '94, '95. They started a campaign, I think it's called OKC now, where they wanted to bring a National Hockey League team.
Aaron Ackerman:
Right.
John Allgood:
Because the NHL was expanding. And they had a whole campaign with the chamber and what they were talking about is after the ... Because part of what passed besides the Bricktown Ballpark was this new arena which became The Ford Center right at one point. And it was, "Let's build this arena, so we can get a National Hockey League team in." And it didn't work out, but they had the foresight to have it paid for. So that's something that's pretty unique, is that you get a stadium paid for with no debt. So as soon as the first game goes off, there's no debt on the stadium which means you're not paying down a note, which comes out of the operating budget or the city's paying for it by raising taxes or whatever afterwards.
John Allgood:
So I think that for site, especially back then, because a lot of stadiums were owned by individuals like the owners also own the stadium, but they had the foresight to have it all paid off before it started. So I think that's one thing. I think also, and I don't think this is unusual for most cities. There's a major economic development that comes from a stadium. Think about dating back to 1998, what was there before 1998, before the ballpark when it was opened? You had Spaghetti Warehouse and the piano bar and whatever that was.
Aaron Ackerman:
Right.
John Allgood:
Now, it's pretty much it. And then the stadium comes in or the ballpark comes in and the next thing you know, there's urban development all around it. And there's many factors that happen. That was the anchor. So the ballpark became the anchor. At that time, it was the eastern most edge of Bricktown and now it's not, right? You have all the hotels that are on the eastern side now. And the development that's happened on the river with the boathouse. So from my perspective is, and Aaron, what we're seeing though on the flipside of this now is you're seeing cities that are denying stadium build, San Diego, right? That's how they lost the Chargers. St. Louis, that's why they didn't get MLS because they couldn't get a stadium passed.
John Allgood:
So a lot of people now are starting ... The citizens are starting to decide that they don't want to buy or pay for a ballpark or a soccer field by putting money in. However, I think there's still a place for that, and specifically, I think Oklahoma City still needs to an outdoor stadium, soccer, lacrosse, rugby, that type of thing. I think that'd be really beneficial because you and I have experienced the soccer world that next step for soccer in the city.
Aaron Ackerman:
Yeah, very good. This is a podcast about innovative business. And so you're a very innovative guy. I know you've been to MLB Winter Meetings.
John Allgood:
Right.
Aaron Ackerman:
All kinds of college media days for SEC or Big 12 or whatever.
John Allgood:
Yup.
Aaron Ackerman:
You've had a lot of exposure to professional general managers and things like that. What individual or maybe what organization do you see in the world of professional sports as being highly innovative in the field.
John Allgood:
I'm obviously going to be biased a little bit for the Thunder, but I know a decent amount of people in that front office and they just do an incredible job of being innovative. We're in a mid-major market and they sell out every game, virtually sell out every game. There's a waiting list. They always are ahead of the game as far as technology about innovation. Our friend, [Carlos Caspers 00:13:42], who's in business intelligence for the Thunder is one of the best in the country in any league, mining information, mining data, turning into real information that executives can use. So they're very good at that. The Yankees are still right there too. I'm naming obvious ones, but there's a reason why they're at the top most of the time.
John Allgood:
And this is going to sound whatever, but the Dallas Cowboys are right there. If you look at the franchise value of the Dallas Cowboys, I think they're number one in the world now as far as franchise value. So you're talking about Man City, Man U.
Aaron Ackerman:
Right.
John Allgood:
They're just, as at least according to Forbes, this last year.
Aaron Ackerman:
Yeah.
John Allgood:
So Jerry Jones and his staff from a retail standpoint, the development they've done, the star complex, the practice field and all the things that are going on there, they're just ... It's always, "What's next? What's next? What's going on?" I think from a smaller scale, if you want to go into soccer, Sporting Kansas City, I don't mean smaller like not just like 20,000 seats, but Sporting Kansas City, I don't how many games they've sold out now. It's in the hundreds and they've always been innovative. And they were one of the first ones that took ... If you had their stadium and you broke out all the sections, let's say there's 100 sections, they actually micro target certain sections to certain demographics and how they're going to sell, so they've always been ahead of the game, social media-wise, the same thing. You got Portland, you got Seattle in the MLS. They've always been innovative too.
Aaron Ackerman:
Right.
John Allgood:
To me, it's how are we going to be innovative, continuing and I can't tell you some of the teams that I visited with over the last couple years, but some of them are not as innovative as others, just because that's not the direction they want to go. They'd rather be more of a small scale and just keep doing what they're doing, let the product on the field speak for itself.
Aaron Ackerman:
Yeah. So the Billy Beane and Moneyball concept is obviously in our pop culture at this point, but sounds like ... You mentioned Carlos. I know Carlos, he's a great guy, very smart. A lot of teams are using data in off-the-field ways to really enhance the business side of sports. Are there ... I was thinking about social media like how has social media changed sports business from a branding standpoint or even I think certain events are being broadcast over some of the social media platforms now. How are teams dealing with that or using that as an opportunity on the business side?
John Allgood:
Well, I'll tell you, I'll answer that by going sidetrack a little bit and I'm going to come back to it. Again, I'm promoting my own program, but [inaudible 00:16:13] who's in our program is probably one of the best in sports analytics. And he actually teaches in the online master's program that I'm the director of. And what he tries to do is he tried to use data to solve problems, so we're really specifically about sports marketing problems. And then we have Dr. Dan Funk, really his expertise is sport consumer behavior. So it's about how people behave when they're around sports, not necessarily, "I'm going to cheer," or, "I'm going to do that," but from an economic standpoint, "How are they going to behave? Why do they make decisions, what they do from a purchasing power and all that?"
John Allgood:
All that is data driven, right. And you didn't have that before and now what we're finding, at least in my industry, in higher education in sports is the sports analytics side is not from a performance on the field standpoint, but from a marketing consumer behavior. That's really exploding. More and more universities are offering concentrations or even majors in sports analytics because it's becoming so important. So now going back, tying that back into social media and I actually talk to my students about this is that some people ... If I say, "Okay, if we're going to launch a brand, we're going to launch a soccer brand in Wichita Falls, Texas, whatever and it's going to be a Division 3 team, how do we get the word out?"
John Allgood:
And their response to me always is, "Social media." I always go, "What's social media to you?" And then so we get into a discussion because we have daughters the same age, right? How they use social media is a lot different than how you and I use social media, right?
Aaron Ackerman:
Right.
John Allgood:
Or even how my 24-year-old uses social media. So we really have to get down and define what is social media. Well, to me, is how are you developing relationship with your fans and your stakeholders and whatever social media platform that is is very, very important. So let's go back 10 years ago. So 10 years ago, if we were in a sales staff with the Sixers or were in the sales staff with the Sacramento Kings or whatever, let's just make it up. And I'm in my office and I'm the sales manager, I'm walking around a bullpen and I'm telling everyone, "You got to make 100 phone calls a day. I want you to call 100 people today because that's going to create a funnel and then you might get 10% to call you back. And out of that 10%, you're going to close two. But by God, you better make 100 phone calls a day."
John Allgood:
Well, it's not the case anymore, right? Because people don't use the phone anymore. So how are you going to communicate? Well, it might be you do it through Twitter or it might be that you do it through whatever social media platform, Instagram, or it may be Snapping or whatever. A funny story is, so one of our soccer games, after one of our soccer games, I won't tell you because they're underage, so I can't tell you the names, but they were sitting around a table, my daughter and a couple of her teammates. In fact, your daughter was there. And they were on their phone. Instead of talking to each other, they were messaging each other around the table. They're 16 years old.
John Allgood:
So it's like, "Can you just talk to each other, right?" But that's how they communicate. And I teach a senior seminar class at Temple which is it's tourism, hospitality and sports students all together and so last class they take before they do their final internship and they graduate. And so we talk about social media and how does that affect your brand. So you ask about the brand. Well, everything you put out there is always there. You can't delete it. You can delete it, it's always there, right? Going back to what you asked, if you're an athlete, and you're on Twitter and you tweet something when you're 15 years old and now you're a professional baseball player and it comes out, you said something racist 10 years ago, we're quick as a society to jump on him and say, "No, you're wrong, you're wrong, you're wrong. I can't believe you did that. You'll be kicked out of baseball."
John Allgood:
How about we take a breath and just say, "The kid was 15 when he did it. He's probably 26 now, right? Let's give him a chance to at least prove himself that he's not racist or whatever"? So I guess to answer your question is social media is very important, but you have to really drill down into what social media is because it changes all the time and how do you use it effectively really to build stakeholders. I call it fan identification. So the more a fan identifies you with your team, the more time they're going to spend with your team which means the more money they're going to spend with your team. So that doesn't necessarily mean, "I'm going to be at a game. I'm going to buy a ticket and be at a game." That means, "I might be on your favorite teams website."
Aaron Ackerman:
Right.
John Allgood:
Or, "I might be following whatever social media that the player is on, right? Whoever that is, I'm following him on Instagram or whatever. As long as I'm spending time, I'm investing time, which means I'm going to invest money in it as well."
Aaron Ackerman:
Yeah. That's awesome. I want to pivot off that just a little bit and maybe it's got a little bit of a social media tie in, but in fact, one thing I forgot to mention earlier in your intro is that just to let everybody know, John writes a recurring column for The Journal Record called Sports Biz.
John Allgood:
Right.
Aaron Ackerman:
How often you do that? Is there-
John Allgood:
Every other week.
Aaron Ackerman:
Every other week, okay. It's really interesting stuff. I don't know if it was your last one, but one recently I read was about the Browns in the NFL making the trade for Odell Beckham Jr. You had some really interesting takes on that. Could you just ...
John Allgood:
Sure.
Aaron Ackerman:
talk about that for a second?
John Allgood:
So usually what ends up happening is you have an NFL team or Major League Baseball team for that matter. When they do a trade or they sign a free agent, usually it's the general manager, the coach and then the player. Well, the Browns I thought were really innovative because, first of all, you have Baker Mayfield. Let's just call him polarizing, either love him or you hate him. Then you have Odell who, by the way, he is the, I think, I don't remember, I think he's the highest followed professional athlete in the United States in social media. So he has millions of millions of followers, right?
Aaron Ackerman:
Right.
John Allgood:
Let's just say if he's not the top, he's in the top five. And then you have his reputation of, "Is he really a team player?" So the Browns are trying to change their image. Baker comes in there and along with their teammates. They end up winning, I think, it was seven games last year after winning one over the last, whatever it was, two games, two seasons. And so what they did, when they introduced OBJ, is that they had Jarvis Landry, his teammate, one of the defensive players, Baker and OBJ all at the table at the press conference. And basically what they were showing is that, "We're now a winning culture." All of them had only been there two years or less as well. And so they come back and they win more games than they thought they would in 2018, they're going into 2019.
John Allgood:
So what it really was, it was an innovative marketing strategy as opposed to a PR strategy because they were showing the world that, "We're united." And what was interesting to me was they would actually ask like they asked OBJ, "Are you a team player?" And then Baker would jump in and answer it for him like, "He's here, right?" And then when one of the reporters asked OBJ and Jarvis, "How many games do you think you can win next year?" Now think about this. These are guys that have played for a while, they all turned and looked at Baker. And Baker had answered it for him. Baker said, "I'm going to answer this." Rookie quarterback, right? One year. That just shows that the leadership that he has.
John Allgood:
So to me, it was a unified front. It was a marketing. It was innovative. It was branding that they're a winning culture and they're going to be better going into next year.
Aaron Ackerman:
Yeah. That's really cool. And a new day in sports where you're having to merge players' personal brands in with your organizational brand. I thought that was really cool. I want to go back to something you touched on earlier. I think we talked just a little bit about the Energy, the USL team in Oklahoma City. And I'm a big soccer fan and so I've always been really invested in wanting the Energy to do well and the ownership group to do well. And you were part of that from the ground up. So what was that experience like as far as starting a franchise in a place where there's never been ... Soccer was gaining popularity, but they've never really been high-level professional soccer and just getting the chance to really craft a brand from nothing. What was that like?
John Allgood:
It was stressful. It was fun. It was a lot of anxiety around it just because you only get one chance at it. And so Bob Funk Jr., who owns Prodigal, and I was a senior executive vice president for him at the time and we were, they still are, but when I was there, we did sports and entertainment. So not only did we do sports teams, but we also did concerts. And we did produce PBR, Professional Bull Riding. We did rodeos. We did a lot of different festivals, July 4th, St. Patrick's Day in Downtown Oklahoma City. So he came to me one day and said, "Look, I really want to get a professional soccer team in Oklahoma City. I think this is the right time for us to have one here."
John Allgood:
I didn't know anything about soccer. I didn't know the score was going to be one-nothing. I think that was it. I just didn't grew up playing it, right? And my daughter started playing, so I had a little bit more interest in it. So he had worked out a deal with the USL to start negotiations and so I continued working with Bob and negotiating the franchise agreement with the USL, which is now Division 2, right below the MLS. And so once we got that deal done, then we had to come up with the whole brand. So we got the franchise before we even had a team name or anything. So the group I was working with it at Prodigal, we did a lot of research and spent a lot hours trying to come up ... First, you got to come up with the name first, but it needs to be logical. It has to make sense for the name that you come up with.
John Allgood:
So through a lot of ups and downs, because it's not easy, you go with list and you hire firms come with list and another firm to come up lists and all these different lists are coming and you really can't settle on anything. And I remember one day, we were sitting in meeting and one of my colleagues and I were looking at each other and we're like, "What about the Energy? Why don't we just go with Energy? And then another colleague looked it up and it turns out it was available. So then we hired Funnel which is a local branding firm and then we hired Tracey Zeeck, who's at Bumbershoot PR standpoint. And we worked with both of them, and once we got the name, we started developing the brand and really put a lot of thought into it.
John Allgood:
And what was really, really amazing to me was, is that Funnel and Tracey and our team, we nailed the logo in the first try and you just don't ever see that happen. We made a couple minor tweaks, right, but to nail it that with the colors and everything that went with it. We ended up making the announcement that we're playing at McGinnis. We rolled out the uniforms, we rolled out the brand all at the Museum of Art in Oklahoma City. And it was just an amazing moment to be able to launch it. And then once we launched it, you might remember this, is that, and this is one of the things that sometimes you stumble on it and I had ... So we bought all these scarves, these Energy scarves. And Jillian was playing out in OKC, my daughter, and I had a trunk full of scarves.
John Allgood:
And so I went out there. This was the next day. And so I went out there. Maybe two days later. So I go out there through the fields and so our parents are standing around and I gave them all the scarf. And then I said, "Can I take a picture of you guys with all the scarves?" So at soccer, you raise the scarf above your head. So they did. And so I took a picture of it. And then I sent it to our marketing guy, Josh Evans. And then, we launched our Facebook page that same day and so he posted it on Facebook. And then, of course, the parents get on it because they want to see themselves [inaudible 00:27:13] and so I started just handing out scarves like to other parents in the field.
John Allgood:
And then that Monday, I roll in and we're having our staff meeting and I think, collectively. I don't think I came up with the idea, but collectively, we just said, "What if we go to our stakeholders, our city businesses? What if we just go in and give them scarves and ask them to take pictures of themselves with the scarves?" So I remember we went to the All Sports Association, went to the chamber, went to our sponsors, went to all these different people. And we literally just walked in their office with scarves, handed it to them and then they end up taking pictures of themselves with the Energy scarves. And I think Mayor Cornett at the time, not Cornett, yes, Mayor Cornett at the time, he did it.
John Allgood:
So we started getting like celebrities to do it. And next you know, it was just like, we went from having no friends on Facebook to having 15,000 in 48 hours.
Aaron Ackerman:
That's awesome.
John Allgood:
But it was just because it was just organic, right? Because people wanted to see themselves.
Aaron Ackerman:
And the instant brand recognition.
John Allgood:
So we did that and it really took off. And another thing I thought was really innovative, so Tracey Zeeck come up with this and it's called surprise and delight. And what we would do is we'd send our sales staff out and they would just go into a restaurant at lunchtime and they would just say, "We're buying everyone's lunch. Energy is buying everyone's lunch. And then guess what would end up happening? Everyone would start going on social media, right? Like we talked about before, and they're like, "Oh, the Energies came in and bought our lunch." We did it at bars. We go into bars and say, "The next round's on us." And then of course, everyone starts texting there.
John Allgood:
So we really, really established a foothold early on which was essential, because at that time, remember, there was another group that was trying to do their thing here and it worked out. We ended up competing with them. And obviously, the Energy is still here and doing well and they're not. And again, that goes back to we got a foothold early. We were able to secure the brand equity, right? So we use word brand equity a lot in sport. And I think also Tim McLaughlin, what he's done with Fields & Futures and the relationships that the Energy has with Tim, Tim's 50% owner of the energy to be transparent, but the relationship that they have with Fields & Futures really has helped out a lot.
John Allgood:
And then you have the practice facility at the Health Department, the branding now that's going on with the competitive teams that you see. You and I experienced it last year when we were in Phoenix for a tournament and we see Energy with First Fidelity on the front, right? And it turns out that there's First Fidelity in Phoenix. And so they were able to benefit from Oklahoma City teams going to Phoenix and so that's something that we didn't plan on. It just got to happen.
Aaron Ackerman:
Yeah. I think talking about those early days, just from a fan standpoint, I remember even back when they were playing at McGinnis, the first game I went to, I remember being surprised at how much the ticket cost. They weren't giving them away.
John Allgood:
No.
Aaron Ackerman:
And then when I went to the game, the whole fan experience, the production quality, you did not feel like you were at a minor league event. It was top notch and I remember walking away thinking, "Man, that organization is doing it right," whereas a lot of second tier sport or minor league franchises are giving tickets away, right? It's a stripped down thing and you feel like, "I'm at a minor league event." I never felt like that even before they moved when they were still at McGinnis. But I think that just goes to the commitment of the ownership group and high quality product that they wanted to put out, not just on the field, but the whole, the event, that is surrounding the actual game.
John Allgood:
Well, the value, and we spent a lot of time thinking about, what we call it in the business, we called it scaling, "How are you going to scale the stadium? What price points are you going to put? Where?" and we spent a lot of time debating going back and forth. It's one of those things that I use the phrase value proposition. What's the value proposition of the energy at that time when we started? And we felt like that we had a value to it, so you have to price it. And there's a misconception out there about cop tickets when it comes to sports.
John Allgood:
So let me just ask, do you think, if I gave you a free ticket, let's just say for a sporting event on Saturday, if I gave 100 people a free ticket, how many think would actually go to the game? Less than 50? So it's very little. Actually, it's 3%? And then the 3%. So if they have a free ticket and they go to the game, are they going to spend more money on merchandise and food and beverage or are they going to spend less money because they got a free ticket? They don't spend anything because the freer their ticket, the freer the experience they want to have. The more investment I have in the ticket, the more I want to invest in the time that I'm going to have while I'm there.
John Allgood:
So I used to have people come to me all the time and say, "Why don't you just trade out tickets for X, whatever it is? That way, we could drive people to your game and they'll eat food and beverage." No, it doesn't work that way. It works the exact opposite. So when you go back to comp tickets, you can't give away comp tickets because there's no value to it, right? There's no value. If you see free tickets on 711's corner, what does that mean? It means I don't have any value if I'm giving it out. So you have to build the value proposition. And you have to stick with it.
Aaron Ackerman:
Yeah. Yeah, very interesting. So you've had a couple years now at Temple, you've had students come through. All of your students or graduate students, right?
John Allgood:
No, I also teach undergraduate.
Aaron Ackerman:
So you've got undergrads as well. So this next question should be easy because I'm sure you do it on an everyday basis, but I grew up loving sports. I played sports. Like a lot of kids, I wanted to be a Major League Baseball player. The problem was I had no talent. So eventually, I just became a sports fan.
John Allgood:
Sure.
Aaron Ackerman:
And had I known that there were careers in sports management, I might have pursued that. So what advice would you give to a kid, a high school kid or even a college grad who's wanting to go into this business? So you were pretty intentional about your career, had some breaks here and there that helped you, but looking back on your career, what advice would you give to somebody that wanted to get into that business?
John Allgood:
Well, you have to ... And I'll speak to the parents of high school students now, is it is a big business, it's a major industry. It is not a lot of watching games. It's not wearing uniforms. It's not hanging out with the players. It's not traveling with the team. The hours are very long. You don't get paid very much at the beginning. So my advice to them is you really have to be passionate about entertaining. So it's really more about entertainment. Sports teams are really not sports teams. They're entertainment companies, especially as we develop these different platforms of how to consume sport. I write about consumption in sport a lot. Because even now, if I'm watching, let's just say, an Oklahoma football game, I'm watching it on TV, but then I also have my laptop open and I also have my phone.
John Allgood:
So my laptop, I'm checking the stats. My phone, I'm texting Aaron about what's going on in the game. So I'm using three different platforms at the same time. So that's all consumption. So that's three different consumptions. So it really is about, "Are you interested in working for an entertainment company because you can't be a fan, right?" And so I always tell my students, is that when you go in the interview process, let's say you're interviewing with the Boston Red Sox. You don't want to say, "I'm a huge baseball fan," because that sends a message to whoever's hiring is, "Oh, are you just a guy that just wants to hang around or a girl that wants to hang around and watch baseball because that's not what we're about."
John Allgood:
Now you may say, "I really respect the tradition of the Red Sox and the organization." That's different than saying, "I love baseball." So it's really about, "Are you willing to work for an entertainment company? Are you willing to sacrifice, frankly, the work-life balance because there is no work-life balance when you start out in sport?" The worst is baseball because you have 162 games. Then even in the NFL, one of my executive students works for the New York Jets and he's an executive up there, they play eight home games, right? Maybe an exhibition game here and there. And he's talking about the work they have to put in year round.
John Allgood:
Put it this way, you're not going to be going in at 8:00, leaving at 5:00. It's just not going to happen. You're going to be working. And especially if you're starting off in sport, be ready to do everything. You may be pulling tarp on the field on a baseball, maybe sweeping the concourse, may be selling tickets one day, you may be in the ticket office selling tickets. There's many times when I ran a baseball team, I was out front with tickets and cash in my hand selling tickets because the lines are too long for mine. So you have to be willing to do everything. If you're passionate about it and you stick with it and Bob Funk Sr. told me this one day, he said, "If you follow your passion, the dollars will come knocking on your door." And that's what I found out here. And I don't mean dollars as in you're going to become wealthy, but you're going to be happy.
Aaron Ackerman:
Right.
John Allgood:
And I can't be happier right now at Temple. I had a great career working in Oklahoma City in professional sports and working with the Big 12 and working with OU and OSU in different events, but I couldn't be happier where I'm at now, teaching students, giving back to the students, mentoring students of all ages from 20 years old, all the way to 45 years old. And I'm just very thankful to Temple provided the opportunity for me.
Aaron Ackerman:
Yeah, that's awesome. And I'm looking forward to my trip to Philly this summer.
John Allgood:
Let's make it happen.
Aaron Ackerman:
Yeah. We touched on this earlier when we're talking about business intelligence, but one thing that you know, every article I read people I've talked to, pretty much every industry is evaluating the impact that some of these emerging disruptive technologies are having in businesses of all kinds. Think about machine learning, AI, blockchain and cryptocurrency and the list goes on. What impact do you think some of these disruptive technologies or maybe some other technology will have on the business of sports?
John Allgood:
Well, I think the one that I've read and talk to my colleagues about, there's two of them actually, so one of them is how are we going to exchange currency when it comes to tickets now. So you have the primary ticket sales, which lets us use the Los Angeles Dodgers. So this to say the Dodgers have their ticket off and so I could walk up to the stadium and I can buy a ticket or I can go on the Dodgers website and I can buy a ticket. So there's a primary source. Then you have a secondary source, whatever it happens to be StubHub, whatever it happens to be. And then you have a third source, which is ... What I mean by, and I don't know if the Dodgers have, I'm just using an example, but some sports do, most sports teams have a relationship with some type of secondary market, right? Whether it's StubHub, Seatgeek or whatever it happens to be.
John Allgood:
Then you have a third platform, which would be Aaron buying a ticket, and then you putting it on sale on Seatgeek, right? And okay, as a sports team, how do I get the information data on who's buying my tickets, so then I can go back to them and say, "I want you to buy a ticket package down the road," whatever it happens to be? The sport team usually when they make an agreement with StubHub or Seatgeek, Seatgeek and StubHub will provide the information of who bought the tickets on the secondary market. They can't get what you sold, right? So the sports team can't get what Aaron sold.
Aaron Ackerman:
Right.
John Allgood:
So what I think is going to end up happening with the technology as we come down is how Aaron are you going to be able to sell a ticket to another party without actually exchanging cash. So how is that going to happen? So here's something that's really interesting too. And we call them last minute buyers. They're literally last minute buyers. So there's a demographic and they're usually males. And what they do is they'll walk into a parking lot of, let's say, a professional sports team on game day and we're an hour before game, 30 minutes before game and they may be standing in front of the ticket office. And all they're doing is looking to see how they can get the best seat at the best price in whatever secondary market there happens to be, not to primary market, secondary market. And they want to, I call it win, they want to feel like that they were competitive and they won.
John Allgood:
If you and I are trying to go buy a Mercedes or whatever and we feel like, "Man, I negotiate that car dealer down. I feel like I got a quality product at a great price. I won," well, that's what they're trying to do with tickets. So smart sports teams, what they're starting to do now is that they wait and then they'll put ... And by the way, it's all bought mobile.
Aaron Ackerman:
Right.
John Allgood:
So smart sports teams, what they're doing is they're putting certain sections that are good seats at a "discount" only you can buy through mobile. So they're getting those same people that were buying from the secondary market now to buy from them and then they can get their information and their data who's buying. I'm giving away some trade secrets, but they may start ... Let's say you and I sit down and you're a VP of finance and you and I sit down and you go, "John, you need to make sure that we generate," I'm making this up, "$1,000 out of this section," and I'll say, "Okay." So then what I'll do is I'll go as a marketing guy, go out there and say, "The total value of all these tickets in this section is 2,000, but tonight in the last hour, you can get it for," whatever so it equals 1,000.
Aaron Ackerman:
Right.
John Allgood:
So you get what you want, the consumer gets what they want. Everyone's happy.
Aaron Ackerman:
Interesting. Well, thank you, John, for all of that. This conversation I think is really cool. I think a lot of people identify with sports. I actually just finished, I'm a little late, I just finished reading Boomtown and it ties the Thunder into the whole fabric of Oklahoma City and how important sports, in general, have been for our community. Okay, so before we wrap up, we always ask our guests the same five questions.
John Allgood:
Okay.
Aaron Ackerman:
So I'm going to hit you with those right now. Are you ready?
John Allgood:
Mm-hmm (affirmative).
Aaron Ackerman:
All right, so the first question is, what was the first way you ever remember making money?
John Allgood:
I did mow grass for my parents. And the first job I got, I lied about my age and I was a busboy K-BOB's Steakhouse in Austin, Texas. True story.
Aaron Ackerman:
It's not the first time we've had people confess to illegally acquiring that first job. A little trend.
John Allgood:
I did not stay in that busboy position very long.
Aaron Ackerman:
Okay, what would you be doing right now if you were not at Temple or not working in sports business, sports management?
John Allgood:
I could say sports teams, maybe too easy of an answer. Probably a doctor. If I had to go back and do it over again, I'd probably be a doctor.
Aaron Ackerman:
Interesting.
John Allgood:
Yeah.
Aaron Ackerman:
We might need to work on your bedside manner.
John Allgood:
I don't have that. I'm very blunt.
Aaron Ackerman:
Okay, what would you like to go back in time and tell your 20-year-old self?
John Allgood:
Enjoy every part of the ride. Because I was very fortunate, as you mentioned, to be part of a lot of big events and things that happened in Oklahoma City and so had my nose to the grindstone so much that I didn't really sit back and go, "That was pretty cool what we did," because we always moved on to the next thing. It's like you gave yourself a day to think about it and then you're moving on to the next thing. So I'm fortunate now in the position I am I can be reflective of what I've done, so I can enjoy it now, but I would tell my 20-year-old self to enjoy.
Aaron Ackerman:
Enjoy-
John Allgood:
And for that matter and you know we well enough now that I keep my relationships. Even though I'm in Philadelphia, you and I have still relationship, is to really enjoy the relationships, the people you work with as you go through. Because that's one thing I would tell parents of the kids that they want to go into sports. "You're going to develop relationships with people who you work with and that's going to create a bond that you couldn't do anywhere else unless you're working in an event, putting the hours together, selling together, grinding together, and then when it's successful you see all these people happy, that creates an immediate bond between you these folks. I still talk to people from the RedHawks today.
Aaron Ackerman:
Yeah. Yeah, that's cool. I can testify that John is a connector and he's very generous. And I've been a beneficiary on multiple occasions of John helping me get connected to other interesting people. So a similar question, but what is the best advice you've ever received?
John Allgood:
I guess my dad told me this. He said, "Don't ever lie, cheat or steal." He told me that. I think I was about eight years old. We lived in Oakland City at the time. My dad, he was in the Air Force, a tanker. There's a Skaggs-Albertson at Northwest Expressway. And I remember we walked up to back when they had ... For the young people, you didn't know that you actually used to sell newspapers in stance, but we walked up to it and he pulled the stand down and it opened without him putting a quarter in. So he took the Daily Oklahoman out, then he put a quarter in afterwards. And I said, "So why did you do that?" And he looked at me and he goes, "You just don't ever lie, cheat or steal." And so I've tried my best to live like that, but I think if you can live by that in any part of your life, you're going to be happy.
Aaron Ackerman:
Yeah, that's good advice. Okay, last question. If everybody's life is the content for a book, what would the title of your book be?
John Allgood:
I'm Just Getting Started.
Aaron Ackerman:
I like it.
John Allgood:
Yeah, I turned 50 in December. I'm on just getting to ready go into year three of a new career that I love. I ran a marathon last April, I'll run a half marathon this April. I'm going to run another marathon into June. And my goal is to run two marathons for the next 20 years, each year, so that'd be 20 marathons by the time I'm 70. Just getting started, man
Aaron Ackerman:
That's awesome.
John Allgood:
Yeah.
Aaron Ackerman:
Well, man, thank you so much. I really enjoyed the conversation. Thank you for your openness and just sharing a lot of your experience about sports business in Oklahoma City and beyond.
John Allgood:
Sure. My pleasure.
Aaron Ackerman:
Yeah. Thanks a lot, man.
John Allgood:
Yeah.
Aaron Ackerman:
That's all for this episode of How That Happened. Thank you for listening. Be sure to visit howthathappened.com for show notes and additional episodes. You can also subscribe to our show on iTunes, Google Play or Stitcher. This content is for informational purposes only and does not constitute professional advice. Copyright 2019, HoganTaylor LLP. All rights reserved. To view the HoganTaylor general terms and conditions visit www.hogantyalor.com.