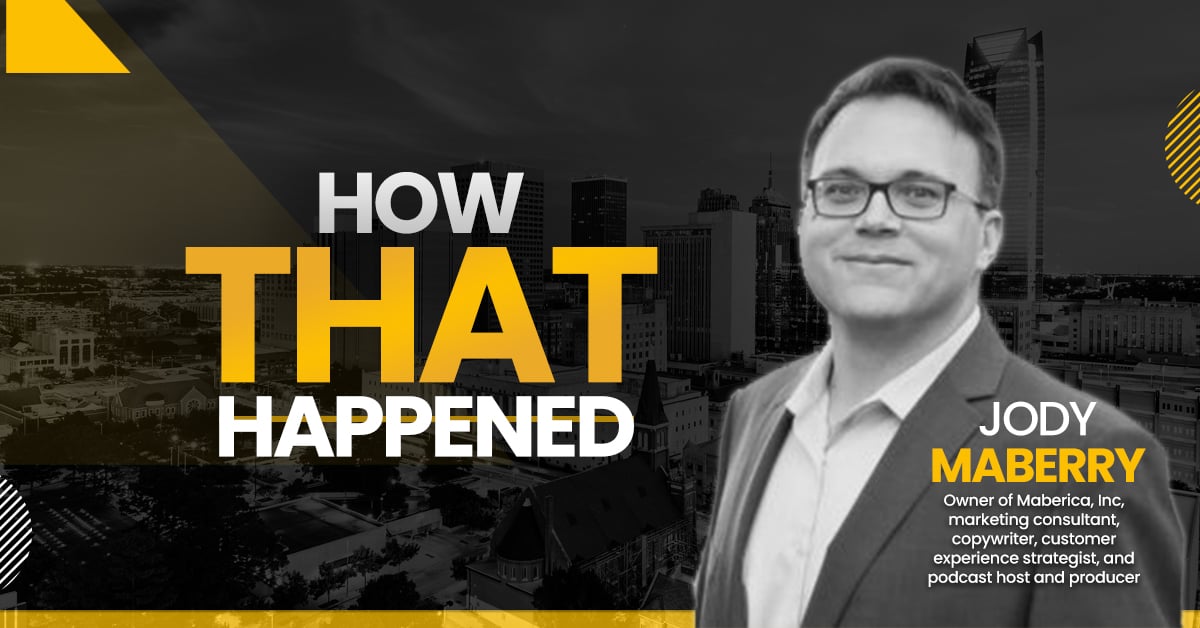 Jody Maberry:
Sometimes when you come from a corporate world, you don't always know how to pull the right stories and what words to use and what message to get out. When it comes to any customer experience, whether it's in parks, whether it's at Disney, whether it's a mid-level business, just make it easy to do business with yourself. Are you paying attention to all the little details, every piece that your customer's going to pass through? What is that experience like and does it make it more enjoyable? Does it make it memorable? Does it make it easier for them?
Robert Wagner:
From HoganTaylor CPAs and Advisors, I'm Robert Wagner, and This is How That Happened, a business and innovation success podcast. Each episode of the show, we sit down with the business and community leaders behind thriving organizations to learn how business and innovation success actually happens.
Our guess today is Jody Maberry. Jody is currently a marketing consultant, public speaker, business coach and podcast coach. Jody hosts several podcasts, including the highly rated Creating Disney Magic with Lee Cockrell. Jody is originally from Illinois and earned a bachelor's degree in finance and marketing from Illinois State University. Jody received an MBA from the Jack Welch Management Institute at Strayer University Virginia. So today, Jody makes his home in Port Townsend, Washington with a population of about 10,000 people. So Jody, thanks for being on the podcast today.
Jody Maberry:
Oh, I'm so happy to be here. Thank you for asking me.
Robert Wagner:
Yeah, really excited to have you and to have our discussion. You've had a really interesting career. You're a young guy, but you've had an interesting career already, so anxious to learn more about that. So, Jody, you're a consultant right now out on your own. So just for our listeners, just maybe give some context about what it is you do today and what kind of things you're doing.
Jody Maberry:
What I get to do today, it's a lot of fun. If anyone knows me from anything, it's probably from podcasting. You mentioned Creating Disney Magic with Lee Cockrell, I'm lucky enough to get to do that show, but I have others. I currently have seven active podcasts that I'm involved in. Three of them are with Disney guys, but there's others as well, including two of my own. So I do a lot of podcasting.
But then I also get to do the delightful work of working with former executives, people like Lee Cockrell that had a great career. He was the executive vice president of Walt Disney World. And now they're out building their own business. They've got all this experience. They've got so much we can learn from. But sometimes when you come from a corporate world, you don't always know how to pull the right stories and what words to use and what message to get out. And so, I get to help people like Lee and his son, Dan, get the right message out to the right people. We just have so much fun. Everyday seems to be a new treat, a new adventure, always different.
Robert Wagner:
That's awesome. That's awesome. That has to be fun to be doing that it all the time. So Jody, I want to get into all of the pieces of your career, but the thing that intrigues me just reading through your bio and knowing a little bit about you, is it looks like that four times in your career, and again, you're a young guy, but four times in your career already, it looks like you've kind of left the familiar to chase something new. And that really intrigues me.
You grew up in Illinois, went to school there, but then you left to go to the Pacific Northwest. Your bio says you were going to chase something wild. You did the financial analyst thing. Then you did the park ranger thing, and then left that, got an MBA, worked for I think a private company in the construction field. And then you went out on your own. So here's four examples where you've really left, made a real pivot in your career to do something completely different. Where does that sense of risk-taking and just desire to do something different, where does that come from?
Jody Maberry:
I think it started when I was younger and just being outside and always doing new adventures and seeing what there's to see. One thing comes to mind. So I went to school in Illinois, I'm from Peoria. So if you're from Peoria, there is a very good chance in one way or another, you end up working at Caterpillar back then. I know since in the last couple years they moved their headquarters to Chicago, but their world headquarters had always been in Peoria. I went to school in Illinois, grew up in Illinois.
But I took three months when I graduated from college and just traveled the United States, mostly out west, lived in a tent. By the time I got home, which was in August of that year, I thought I enjoy being from Illinois, I'm glad I'm from Illinois, but I can't see what I've seen, do what I've done, and return home. I just couldn't do it.
So, within three or four weeks, I had everything I owned, which wasn't much, packed up in the trunk of my car, and I headed out west. And that experience, coming out west with no job, only knowing one person in Washington state and about $700 cash in my pocket, that showed me that, gosh, you can take a risk and there's not that much downside. Yes, ut could have turned out worse than it did, but it didn't, and I had a lot of fun. So I ended up as a financial analyst at a commercial bank, which is exactly what I went to school for. I did that for four years.
And the opportunity came, actually, the way it came is I would go out to a park every day after work. Between my house and where I worked was a fabulous state park, and I would go hiking almost every day. We built a new house and a friend was helping us move and she worked in the park system and said, "You know they're hiring park rangers." And that day I said, okay, I'm going to be a park ranger. And I went for it. And it took a year because I didn't have the background appropriate for a park ranger. So it took a year to make that happen.
And then when it was time to leave parks, I made the jump again. I was a ranger for eight years, made the jump into something completely new and went back to school at the same time and then took probably the biggest jump is to go out on my own, that felt the riskiest, but perhaps overall, that was the least risky. But I didn't know that at the time.
Robert Wagner:
Yeah. Well, that's fascinating. I want to get back to some of those stops along the way there. Had you had camping experience? Did you just launch out for three months in a tent and just go for it as a college kid? [inaudible 00:07:21]
Jody Maberry:
Yeah, I grew up camping with my family. So that's where the love of it came from. And then I was involved in the outdoor program with Illinois state university. On a trip to Yellowstone, we took a trip to Yellowstone National Park in the winter, and we skied in and then stayed in the back country for a week. It was terribly wonderful.
I'm so glad I did it, but it was brutally cold, but it was also wonderful. And there was someone I met on that trip, and we were talking one day and he said, "What are you doing this summer?" And I said, "I think I'm going to drive out to California and try to go up to the top of Mount Whitney," I think is what I had in mind at the time. And he said, "Mind if I come?" And that turned into us, just planning this huge trip that was just tremendous.
It started as a kid doing a lot of camping, and then it was that backpacking or that trip, we did a lot of backpacking, a lot of camping. I've been at it ever since.
Robert Wagner:
Wow, that's awesome. That's really good stuff. So first stop professionally was as a financial analyst, which just already seems like a downer compared to what we've been talking about. You were doing what you had been trained to do at least from an educational standpoint. You were at a bank, you're doing financial analyst rate management and things like that. What part of that background is sort of helping you today I guess?
Jody Maberry:
I still am strong with numbers. Love Excel spreadsheets, love stats. That comes from that time. It certainly wasn't a bad job, it was a good job. Had I not left, who knows how that would've turned out. I had some wonderful opportunities in banking. It just took me a few years to realize this just isn't what I want to do forever.
But I realize now looking back is, I still told stories, it was just with number and spreadsheets, and then explaining what that meant. The biggest part of my job was to measure interest rate risk, and then explain, okay, this is what's going to happen to our bank if rates go up or they go down or this is what happens. Maybe I'm stretching it, but it was storytelling just with numbers and spreadsheets.
I still look at it fondly that way, and it gave me my first exposure of what executives are like, because I got to go to the executive meetings once a month, where they talked about planning based on interest rate risk. So I got to be there because I had to report this, and it gave me exposure to what conversations they have, how they dress, how they act, how they treat each other, what they talk about. And that was tremendous at such a young age, I was, I don't know, 23, 24. It was so good to have that experience at such a young age.
Robert Wagner:
That's very cool. That's unusual experience at that age. That's great. And like you say, who knows how that turns out? We all have those things in our life. So you alluded to this, you were talking with someone and they said, hey, obviously you love the park and they're hiring park Rangers. And I think you said it took a year to kind of get into the system. And that was one of the questions that I had is, what are the qualifications to be a park ranger? I'm betting financial analyst is not one of them. So what did you have to do?
Jody Maberry:
So you're right, financial analyst is not one of them. My degrees were in finance and marketing, and that's not what they're looking for in a park ranger. So I had to go back to school at night without anyone at my job knowing I was doing it to get enough credits in natural resource and history, natural sciences, that sort of thing. But I had to keep it quiet because it wasn't the environment where you'd go around saying, hey, I'm going to become a park ranger, I'm going back to school. They wouldn't have liked that. So I had to keep that quiet.
But that's what it took is I had to get enough credits, but then you fill out the test, I don't this has come up very often, but you have to fill out the civil service test, and that's what gets you in. If you score high enough, then you're put in the pool and you can start interviewing. I think it takes a 75 to pass, and I got a 76, because my experience just did not line up with what you would expect a park ranger to have.
Robert Wagner:
Thinking about myself, obviously, I'm a CPA, so my aptitudes are much more bent towards the financial analyst piece and taking conservation courses and things like that. That would not be a natural aptitude for me, so I don't know if that, that'd be a struggle I think for guys maybe who are wired up, maybe like you were originally at least.
Jody Maberry:
But it's really interesting how the experience as financial analyst made me see being a park ranger different than every ranger around me. And my experience of being a park ranger now makes me see things different than other people that do what I do. It's really interesting how it ties together these unlikely threads end up making something pretty unique.
Robert Wagner:
So Jody, I've got this feeling that the role of a park ranger is kind of like the flight attendant where the public sees about just the tip of the iceberg, sees the 10% that you're trained and ready to do. What does a park ranger do? What does a park ranger really do?
Jody Maberry:
I was a law enforcement park ranger. So that is a big portion of it, but not all of it. A park ranger, depending on the day, you're going to have a completely different job, and you may show up thinking, this is what I'm going to do today, and you never spend a minute doing what you thought was going to happen. So it's a wide variety. It could be law enforcement, you could give an interpretive talk, you could end up with a medical emergency. You could end up just doing maintenance all day. You could hike trails.
One thing I did was ride bike a lot, so I was a bike patrol instructor with the International Police Mountain Bike Association. So I got to train other law enforcement off how to ride a bike. Now that's pretty cool when that's part of your job description is to ride a bike all day. It just is so different, it's so varied. That is part of what made it so wonderful that you spend most of your time outside and no day is ever like another day.
Robert Wagner:
But you've got to be ready for emergencies, right? I mean, things happen, people get hurt, those kinds of things.
Jody Maberry:
Yeah, that's right. You can go from one extreme to the other when it comes to a park ranger. You could be cleaning out a fire pit, and the next thing you know, you're helping someone keep from drowning in the river. Or you could just be at the ranger station putting something on the shelf. And the next thing you know, you're in a law enforcement situation or something that seems really mild like could you put your dog on leash turns into an altercation. You just never know, but it's an interesting mix because you have to be friendly. You always have to put on the right show. You have to be friendly, you have to be helpful because that's who a park ranger is.
But at any moment, it could turn in a different direction too. You never want to err on the side of being an officer before being a park ranger.
Robert Wagner:
So you're headed towards the customer experience and I want to get there in just a second, but I do want to ask what, what's the craziest thing that ever happened to you as a park ranger?
Jody Maberry:
A lot of people when they ask that, they expect to hear wildlife stories. But the wildlife were never the craziest part. It was always the people because people act in parks the same way they do at home. I had experience from all sorts of things in parks. Some of it wonderful, some of it not good. Drugs, domestic violence, all of that still happens in parks like it would in a city. But you also have just some hilarious things.
One of my favorite stories is one about another park ranger who got stuck in an outhouse because the door broke and she couldn't get out. That to me was hilarious. I also one morning was opening the park, and I drove up on, I wasn't sure what it was, it turned out to just be a naked man. The park's not even open and here's a completely naked man right in the middle of the road. I also had a run in with a squirrel that ended up becoming legendary with some rangers because one of us did not make it in that story, and I'm here with you.
Robert Wagner:
You have to take that one to your grave I guess, what happened to the squirrel.
Jody Maberry:
There is an episode of my podcast where I share that story, but it is rather entertaining depending on how you look at it. It's not entertaining if you're a squirrel.
Robert Wagner:
All right. So let's get into customer experience because you hang out with these Disney guys and then I can tell that, or at least it appears that the customer experience is a theme of some of the coaching that you do. Again, I've listened to a lot of the podcasts with Lee and with Jeff, and I'm inspired by their view and the Disney view of the customer experience. I guess I have a but to that, which is, the rest of us aren't Disney. We might aspire to those things, but we don't have the capital to necessarily do everything that Disney does. How do you coach people on the customer experience, they're just middle market, lower middle market, small businesses, and really designing a customer experience that's really special and makes a difference?
Jody Maberry:
Well, I could talk all day about some of the Disney parts of it. Even though I myself have never worked for Disney, the work I get to do with Disney people has taught me so much. But my understanding of customer experience goes back before that because as a park ranger, think about parks, we don't have big budgets and we don't have staff sometimes to the level that we should. But yet we have people that come back every single year and their parks are getting more popular now than ever.
But people can choose to go to the movies or the mall or buy a scarf or whatever instead of the money it would take to go visit a park. And then within parks itself, every park has trees and trails. So how do you make your park memorable enough where people will want to come back to that one? And it does all come to customer experience.
Today, I would tell you it's all about putting on the show, but as a park ranger, I didn't even know that lingo. I didn't know it was about putting on a show. I've learned that since, but that's exactly what we do in parks, is you put on a show, you make the park like a park. What people expect when they come to a park.
Now, maybe not in the back country, people aren't looking for that there. But when you enter a park, you kind of expect it to look and feel a certain way. When you interact with park staff, you expect it to look and feel a certain way. And when you see a park ranger, you expect a good looking uniform, you expect see the flat hat, that's iconic, just like Mickey Mouse ears. So they're all pieces that go into the customer experience, and if you start to take pieces of it away, well then people don't have quite as good a time.
It does get a little different in parks because there are some unpredictable things. Wildlife's unpredictable, nature itself is unpredictable. The way people are going to act, all unpredictable. So, you have a lot of things you have to deal with out of your control, but you can control what you can control. And part of it, when it comes to any customer experience, whether it's in parks, whether it's at Disney, whether it's a mid-level business, is just make it easy to do business with yourself.
And that's one thing that gets in the way a lot. I would look for those. When I would come to a park, I would look at how are we doing this? One thing I think of is, the last park I was at, we had a large campground. There were times where the lineup to register to camp would be 20 cars deep. That's just not a good experience. So, we had to look at it. What can we do differently to one, speed this up, but two, continue to give good service with it? Which just comes down to make it easy to do business with us. Because if you start your camping experience, your whole weekend off by waiting in line for 30 minutes behind 18 other cars, that's not a good start to it.
So it's just going through and finding the ways. Sometimes it means doing business with yourself as a customer, or have someone else do it and report back to you. Wow, this was really good, but this, gosh, I didn't like waiting in line here or the entrance could have been better because of this.
So, that's one of the biggest things about the customer experience that you don't have to be Disney to do, you don't have to have a lot of staff, you don't have to have a lot of resources. Just find ways to make it easier to do business with yourself. And quite often, we have policies and procedures in place only because they're in place. They've been that way and so we do them that way, but we don't necessarily have to quite often.
Now, sometimes there's a reason they're there, but usually, you can make adjustments to make it a better experience for a customer.
Robert Wagner:
Jody, that's really powerful and it hits home with me. I had an experience back in my corporate days and I recounted this story with one of my podcast guests, was a guy I worked with back in those days. And your point about policies and procedures, I was designing a system around kind of accepting and processing sales orders for our company that, I wanted it to work for us. And this guy came to me, he was one of the owners of the company and involved in the sales process. And he said, "This is well and good, but you're making it hard to do business with us." It kind of seared my soul. It's like that can't be good. We can't let that happen. Some really great points, and just thinking about being a customer to your own business, what would that look like and how does that feel, right?
Jody Maberry:
And I had an experience right in line with that recently, I won't name names, but I went to buy an online course, something I was excited about, I've been waiting for it to come out. My only goal was to give them my money. They didn't have to sell me nothing. I just wanted to give them my money. They made it so hard to do business with them. At the end, I thought one more step and it just might not have even been worth it, because you had to fill out two forms, go through five pages, confirm this. All I wanted to do was give them money. And you just have to make it easier. I just wonder that business, had they gone through their own steps, would they have thought, okay, we need this form twice.
Robert Wagner:
Jody, anything else along the customer experience line? I think this is so good, just thinking about doing business with your own company and how hard is it, but what other things do you see out there that would make the customer experience much better for most companies?
Jody Maberry:
Some of the things that I bring forward from my career in parks is understanding the importance of signs and what words you put in what places, because parks have to have signs. There's no way around that. But you want them to be minimal, you want them to have the right language, you want them to have the right feel. And that's one thing that's easy to abuse because if you're a business and you can just put a sign on the counter or in the window or whatever, you start to see that get abused in a couple of ways. One, the words that are used. Two, they're used to many words. Three, they just quite often don't look good. It's just kind of taped up there.
Now to bring in some of the Disney words I've learned over the time, if you're putting on a show, if you think someone in your business is going through a show that you're putting on for them, if it's a Broadway show, well, you're probably just not going to tape a sign up or hand write a sign. So just little things like that, are you paying attention to all the little details, every piece that your customer's going to pass through. What is that experience like and does it make it more enjoyable? Does it make it memorable? Does it make it easier for them?
So I just think that's part of what you need to look at is to go through all the processes. And then the Lee Cockrell's book, The Customer Rules, that is a great place to start. If you've never really thought about customer experience yet, that's a great place to start. And I'm knee deep in that book right now because Lee and I are actually creating a course based on that book. So, we're halfway through it right now, and it's fresh on my mind about all the little things, because there's 39 rules in that book, and just one of them by themselves will make business better, the customer experience better.
But then you start to weave all 39 together, and that's how these changes happen is you're probably not going to change your business overnight, but if you start with one little piece, make that better. And then the next little piece.
And you can even start outside. Okay, if you park your car and you're walking in, what do they see? What do they feel? Is there trash? What do the signs look like? What does the entryway look like? You can just start at the very beginning and go from there with every customer touchpoint.
Robert Wagner:
That's really, really good. I look forward to hearing about the course you guys are developing. Another key message that I think you have in your work, Jody, is clarifying the message, and just helping companies, helping leaders clarify their message. What are you getting at there?
Jody Maberry:
Here is a story that I think sums this up so good. Lee Cockrell and I, a couple times a year, we do some live events. And they're usually small intimate events that allow us to go deep with people. There was one person that was talking about what their business does. And he stood up and he said, someone even said that, what do you guys do? And he said what they do, and Lee Cockrell stopped him and said, "What does that mean?" And it just stopped everything. What do you do when somebody says that?
That's a great illustration. When you say what you do, you don't want someone to say, what does that mean. You want someone to say, tell me more. And there's a big difference between the two, because if someone says what does that mean, you're already moving them a little towards confusion. But quite often, we never set out to confuse anybody, we're just probably trying to be a little clever. But there's a difference between being clever and being clear. That's what we want, we want a message that is clear. It's really easy.
And Lee and I were talking about this the other day, talking about courses and what should we title them. And he was saying, "Sometimes if you have a steakhouse, the best thing you can do is just call it steakhouse." And that's very clear,
Robert Wagner:
That's clear.
Jody Maberry:
Yeah, we serve steak.
Robert Wagner:
Right.
Jody Maberry:
And if you just call it, for example, mom's restaurant, well, you don't know what they serve. Maybe that's the difference, mom's restaurant, you might say, well, what does that mean? What do they serve? If you say Robert's Steakhouse, I'm like, ooh, tell me more because I like steak.
Robert Wagner:
Yeah. Yeah. What's your angle on steak, right?
Jody Maberry:
Yeah.
Robert Wagner:
Jody, we talk about that here in the firm, and particularly in the consulting side of the firm. I went through this process myself where we're going to do fractional CFO, fractional controllership work. When I started doing it now eight years ago or so, I had to really sit down and think about what is it I'm going to tell people I do, because if I say, well, I do accounting, well, first of all, no one wants more of that.
Robert Wagner:
To me, stepping back and thinking about, okay, we're back to customer experience now, what are people going to feel from it? What are they going to get from me helping them with their accounting or helping them with their finances or whatever? What do they get? And we've settled in on, we basically sell confidence. We help leaders be more confident in the decisions that they make.
So I think just going back to this clarification of messaging is really, really important for companies to do, for leaders to do in helping really understand what is it you want your customer to feel and value about what it is you're bringing to the table.
Jody Maberry:
Yeah, it is so important. It's so important to understand what it is you're really in the business of.
Robert Wagner:
Jody, I want to get back to the Disney thing for a second. You've mentioned several times your work with these guys. Again, I listen to Lee podcast religiously, and I've just found Jeff Knowles podcast as well. And it's very inspiring. What are you learning from these guys?
Jody Maberry:
It's been the funnest part. I get to produce all these episodes every week and it feels like I'm doing something for them to help them get a podcast out, but I'm learning something every week. That's the great part about it. The one thing that I think that all comes together with all of them is how the details matter. If you want to be good, okay, maybe you can get by without focusing on everything. But if you want to be great, the details really do matter. There is no finish to the road to excellence, you always have to focus on the details and do it again and get it better constantly.
And that's a message that maybe I should have known before getting into it, but I never really thought about it. But you hear that from all of the Disney guys, it matters in the culture, it matters in leadership, it matters in management. The details matter and you have to focus on every piece. And with that comes if you want the cast members to care of the customers, then rather than focus on the customers, as a leader, you focus on the cast members. And as a leader, that's where the details matter for you. You take care of them, you make sure it's easy for them to do business, to do their job, and they will take care of your guests.
It's building the culture, reinforcing it, saying it over and over. Lee described it as it's common sense, but it's not common practice. There are no secrets to what Disney does. It's just that they over-focus on it.
Robert Wagner:
Yeah. How do you think they kind of keep at it? I think in a lot of people's world, they get fatigued trying to think about how to improve their business, or let's go through our processes again and see where we can shave 10 minutes off or improve an experience for someone. How do you think they do it or what's your experience in sort of staying at that process and keeping it up on kind of a day by day, month by month basis?
Jody Maberry:
Form not having worked at Disney, just an outside view of what goes on and the study I've done, I have learned more working with the Disney guys than I probably did getting an MBA. That's not to say the NBA wasn't valuable, that's to emphasize how much I've learned working with Lee and Dan and Jeff, and some of the others I've done and work with.
Lee says one of the secrets, well, the quote that I love from Lee is it's not magic that makes it work, it's the way we work that makes it magic. So the way they work comes from, Lee says, you hire them right, you train them right, you treat them right. So they're hiring the right people, they're training them the right way, and then they treat them so good because the leaders focus on the cast and the cast focus on the customer.
That allows the cast to just do their job, and they know their job so well, they have the ideas. Your customers and the employees, if you count on them to give you the feedback that you need, it's an environment where they will give it, almost everything you need to improve comes from those two areas, employees and customers.
So I think if you build the environment where you can get ongoing feedback on how to get better from the people that are serving, and then the people that are coming to do business with you, I think it becomes easier to always focus on getting better because you don't have to get as deep in always trying to figure it out, because an employee will tell you, hey, look, this policy just gets in the way of serving the customer. That prevents you from having to go through every policy and say, how is this performing, because you'll likely hear it.
Robert Wagner:
Yeah. That is really, really good, really good takeaways. I think this whole concept of thinking about, as we've just discussed, the employees thinking about how hard, how easy is it for us to do business. And then for the leader to think about, how easy is it for my employee to do business with this company, with me. Those are really great takeaways, Jody, I really appreciate that.
Jody Maberry:
You're welcome.
Robert Wagner:
So Jody, we're getting down to the end of our time here, and we ask our guests five questions. So are you ready?
Jody Maberry:
I'm ready.
Robert Wagner:
All right. So Jody, what is the first way you made money?
Jody Maberry:
The first way I made money, well, the real job that I had was pushing carts at Sam's Club in Peoria, Illinois. Prior to that, I think the only other way I made money was a paper route when I was younger.
Robert Wagner:
Okay. All right. How young were you when you had the paper route?
Jody Maberry:
Like seventh or eighth grade. And it was only for one season, so I didn't stick with it very long.
Robert Wagner:
So Jody, if you were not doing marketing consulting and speaking and podcasting, what do you think you would be doing?
Jody Maberry:
If I couldn't do what I do now, I wouldn't be surprised if I drifted back to parks. I love parks as much today as I did when I became a park ranger. Just put me back in the uniform.
Robert Wagner:
Give you the flat top hat, right?
Jody Maberry:
That's right.
Robert Wagner:
All right. Jody, what would you tell your 20 year old self?
Jody Maberry:
Oh, man. I wish I could have that conversation, especially for me with that big road trip that I took, living out of the tent for three months, I would say, get more of that in. You don't have to start so early, explore, have fun, because the real responsibilities come later. When you're 20, soak it all in, experience as much as you can, get exposed as much as you can. Get educated, not necessarily classroom educated, just by meeting people, asking questions.
I think I would have spent more time doing those sort of things. I feel I did a pretty good job at it, but now looking back, I think, oh, what would one more month on the road have hurt back then? At the time it felt like I've been on doing this for three months, I've got to get a job and try to act like an adult. But looking back, I think one more month wouldn't have hurt, or meeting more people or going here, it wouldn't have hurt had I kept at it a little longer.
Robert Wagner:
That's good perspective. You have as we started out, you have made decisions to take risks, which is normally the answer we get. The most frequent answer is slow down, don't be so urgent about life, which you're saying that to some degree as well. But the other thing is, take more risk earlier. You've done that, so kudos to you for that.
Jody Maberry:
Yeah, thank you. It certainly made those years a lot more fun. And I wouldn't be where I am now without having been willing to take risks back then.
Robert Wagner:
Yeah. Clearly. So Jody, what will the title of your book be?
Jody Maberry:
Well, I've actually been working on one. I can tell you with 80% confidence that the title will be the Nature of Business. So it will tie in park ranger stories with business lessons.
Robert Wagner:
Okay. Anxious to see that. Anxious to read that. That's great.
Jody Maberry:
I'm anxious to finish it.
Robert Wagner:
So Jody, last question is what is the best piece of advice you've ever been given?
Jody Maberry:
The first thing that comes to mind was my grandfather. So before he died, I went back to Illinois to visit him, and by this point, he was in a nursing home or a care facility. I was the only one that was there to visit him at that time. And he said, don't do what I did. And I said, what do you mean, grandpa? And he said, well, I worked so hard to provide for the people in my family that I pushed them all away. And I look, I'm at the end, all the work, all the money, doesn't matter. Nobody hardly comes to see me. And I would've traded it all to have somebody here with me.
I always keep that in mind, that in the end, he didn't think any of it mattered except the people. I try to keep that in mind today because it becomes so easy to chase the fancy things. And when I get opportunities, I always have to weigh that against, okay, my kids are still at home, they're still younger. Is it worth being gone for that? So I keep that in mind. Now, maybe I don't always make the best choice, but I keep it in mind and I try to.
Robert Wagner:
That's very good. That's profound coming from a grandpa looking back over his life. That's really good stuff.
Jody Maberry:
Yeah.
Robert Wagner:
Well, Jody Maberry, thank you for being a guest on How That Happened. We really appreciate it. If folks want to get in touch with you and hear more from you, how can they get ahold of you?
Jody Maberry:
Well, the best place to start is jodymaberry.com. Almost everything I do shows up there, including my main podcast, the Jody Maberry show. I'm involved in a lot of them, but that's the one that's all me. That's where you'll get a lot of my own thoughts. And if you're on social media, I'm just about everywhere with the name, Jody Maberry. So I would be happy to hear from you. So check out the show or visit the website. Send me a message, and let me know that you heard me on this podcast.
Robert Wagner:
Jody, let me just ask one more quick question about that just to give you a chance here. What's the kind of client you're looking for?
Jody Maberry:
I do really good work with people, like I said early on, it's executives looking to do the next thing after their career. So build their personal brand. What are their stories? So that's what I've been having a lot of fun with lately because it's really neat to see how we can shape professional experience into the right story. That's one.
And then also working with mid to small businesses on the customer experience. In those two areas, either the executives looking to build their own personal thing now or smaller businesses looking to create that better customer experience.
Robert Wagner:
Okay. That's great. All right, again, Jody, thanks very much for being with us today. Appreciate it.
Jody Maberry:
All right. Thank you so much.
Robert Wagner:
That's all for this episode of How That Happened. Thank you for listening. Be sure to visit howthathappened.com for show notes and additional episodes. You can also subscribe to our show on iTunes, Google play, or Stitcher. Thanks for listening. This content is for informational purposes only and does not constitute professional advice. Copyright 2020 HoganTaylor LLP, all rights reserved. To view the HoganTaylor general terms and conditions, visit www.hogantaylor.com.