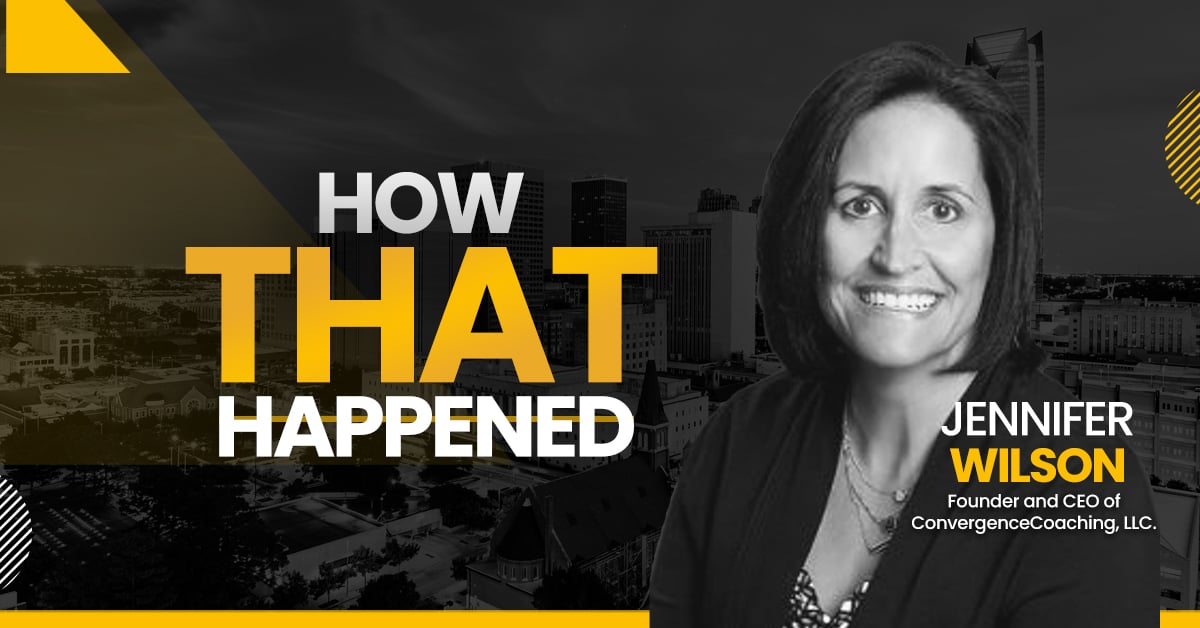 Aaron Ackerman:
Hello everybody. Thank you for listening to this episode of How That Happened podcast. Just a quick note about this episode, I'm really excited for you to hear the conversation I had with Jennifer Wilson, but just some timing that may be important, we recorded this episode on February 28th, which for me was really just maybe a couple of days before the coronavirus became really part of my everyday thinking in life and that's probably true for a lot of us. As this is being released on Monday, the 30th, most of us are working at home and Jen's company, Convergence Coaching, is a fully remote company. So we talked quite a bit about how to work successfully from home, how to collab with coworkers that are not with you, that may be even in other states, other time zones. And so while we really didn't talk about coronavirus, I think it's super timely for what a lot of us are dealing with in our professional lives right now. So first and [for 00:01:10], hope everyone is safe and comfortable. But secondly, I think there will be some really great information for you if work from home is a new thing for you. So hope you enjoy the podcast. Thanks for joining.
From HoganTaylor, I'm Aaron Ackerman, and this is How That Happened, a business and innovation success podcast. On each episode of the show, we sit down with business and community leaders behind thriving organizations to learn how business and innovation success actually happens.
My guest today is Jennifer Wilson. Jennifer is a co-founder and partner at Convergence Coaching. And we're going to talk quite a bit about what she does there with Convergence. Prior to starting Convergence, she had worked her way up to be a partner at BDO, an international accounting firm in the National Financial Solutions Group, and she consulted with her clients on systems and technology, everything related technology. She was also VP of sales and customer service for Sage Software, which is an accounting software. And so that bio doesn't do her justice at all. She's also been named one of the most influential people in public accounting, but really the best way to get to know Jen is just to talk to her. And so, Jen, thank you so much for joining me on the podcast today.
Jennifer Wilson:
Oh, thank you, Aaron. I'm glad to be here.
Aaron Ackerman:
Jen and I got to know each other through her work with Convergence. They've had a long association with HoganTaylor and we send a lot of our young leaders through their program, one of their programs. They do a lot of things, but that's where we got to know each other. And so, I can speak from personal experience that Jen and her colleagues are really, really good at what they do. We're not going to focus a lot today on the CPA profession, but I think Jen, what you guys do at Convergence is a lot around leadership, and culture, and being intentional, and things that really are applicable to any business anywhere for the most part, right?
Jennifer Wilson:
Oh, a hundred percent, yeah. I mean, there's no place that great leadership and management skills doesn't apply. There's no business, there's no environment where those things don't apply. So I'm in the people business, I'm in the behavior business, I'm in the mindset business, big time. So, it has a huge impact on leadership and management behaviors. And so, yeah, that applies to everybody.
Aaron Ackerman:
So let's talk a little bit about Convergence. So when did you start Convergence? You'd already had this great career that had led you to become a partner at one of the biggest accounting firms in the world. So at some point you decided I'm going to go do my own thing here with Convergence. How did that come about?
Jennifer Wilson:
Well, that's a great question, Aaron. I will tell you that I was happy as a partner at BDO and enjoyed working in a virtual sense, a remote sense. I was their first remote person or partner living in Nebraska, but Detroit-based and running a national practice, and I enjoyed being remote, and I enjoyed traveling and meeting with all the people in my consulting practice around the country and supporting them. But when I decided to have my first child, Della, it really didn't seem like it was going to work to keep doing what I was doing for BDO. And so I made the transition and started this consulting business in late 1999, and really formalized it as Convergence Coaching in April of 2000. So we're about to have our 20th anniversary.
Aaron Ackerman:
Oh, congrats.
Jennifer Wilson:
Yes. Thanks.
Aaron Ackerman:
Yeah, that's fascinating. So your company is fully remote. So with technology, even today, you and I are conducting this interview from hundreds of miles, maybe thousands of miles apart. The world has really shrunk in a lot of ways because of technology. So I know that at Convergence, you, your colleagues, your support staff, everybody is fully remote. You don't have a central location. You guys are distributed. Did you set out to do that in the beginning? Did that just kind of happen? Or was that really your vision for what you wanted to do at Convergence?
Jennifer Wilson:
It was our vision from the start. I've worked remotely from my employer since 1995 or something like that. And I never felt like it hampered my performance in my work and it didn't impact my client relationships or my team relationships, because those are all based on communication and communication doesn't actually require physical proximity.
Jennifer Wilson:
And so, when we started this business, there was no intention to ever have a lease, and no intention to be landlocked on who I could hire. I didn't want to have to have my hiring pool be physically local to me. And that that was going to be a limiter. And in fact, in the work that we do, which is super privileged and requires that we really get in there and intimate, vulnerable subjects with our folks and help business CPA firms and consulting firms with their problems. So we have to talk about problems, it requires a level of intimacy that a lot of people would think can only be achieved in person. But in truth, we learned how to do it remotely, how to have those conversations remotely before there was video, via the telephone. And then of course, a fair amount of in person, we do travel because of our remote structure, but boy, I wouldn't have it any other way. I felt I needed to hire certain people that had a certain way of thinking and being, and those people didn't live in Nebraska where I was, necessarily. They might have, but I didn't know them.
Aaron Ackerman:
Yeah. That's good.
Jennifer Wilson:
And I knew who I wanted to hire. And so I went, built this virtual business so I could hire those people.
Aaron Ackerman:
Yeah. That is so good. So I love that, the talent, you're not limited by a geography. You can go get the right talent no matter where they are.
Jennifer Wilson:
Yeah.
Aaron Ackerman:
Not have to worry about relocation or just finding the person or whatever. So that, I mean, to me, that sounds like one sort of advantage that accrues to your situation with a remote company. What are maybe some other advantages or what are some challenges? For example, here in Oklahoma City, we've recently moved into a new office space and it's a different design. And one of the things we're doing is encouraging people to kind of work anywhere, anytime. But yet on the flip side, we want people to not be gone all the time, because we want to preserve a culture by being together some. You said you guys have really not lost anything in culture, but what are maybe some challenges or other advantages you've figured out over the last 20 years of being a fully remote company?
Jennifer Wilson:
Well, so advantages are many. Not only am I not limited on new hires, when somebody on my team moves, I don't have to say goodbye to them. And there are two women on my team, one who's been here 12 years, one who's been here six. In the 12 years that Amy's been with us, she's moved 10 times. Her husband's in the Air Force and has a high level job that they move him regularly. Renee on our team, I think has moved three times since she's been with us in the six years, and both awesome people that we would just hate to lose, and no reason to lose them. So they just moved to the new place and we connect into them there.
Jennifer Wilson:
Another advantage is people who are attracted to this model, and that's an increasing number. Lately we've been hiring a fair number of millennials, who all sorts of statistics out there that show on campus hiring there's something like 70% of the on campus hires say they would choose an employer who would offer some flexibility and some remote work or work from home over somebody else that did not, regardless of salary. And so it's an attractive model, I think, to people.
Jennifer Wilson:
So also when we did it, I was, about 20 years ago we were all, many of us, raising children. And there's a tremendous advantage to being at home, not without childcare, we all had childcare, but being able to step out at lunch with little teeny kids and have lunch with them and be in close proximity, be able to easily make it to school parties and that sort of stuff without any commuting or office. Really, a lot of advantages.
Jennifer Wilson:
Disadvantages. It is more challenging to maintain a certain culture, and you have to be very intentional in a lot of organizations where we fall down is communication, tends to be sort of hit and miss. And the communication is as good, kind of as the leader's thoughts of communication. And with a remote team, communication cannot be hope we have some. It has to be super intentional. And so, we maintain our culture with a number of communication mechanisms. One is something we call our work to do list, but we're a small team. We're a team of 11 people. So it's not like I'm trying to do this with a hundred, but if I was, I'd break them into teams of 10, or 11, or 12, or 50, and we'd still be doing this. So it's completely applicable to a bigger business, for sure.
Jennifer Wilson:
But we publish our intention for our work to do, our deliverables, our output that will occur this week. And we publish it in a single thread and somebody starts it usually on Sunday night and it's not assigned, whoever's working and organizing themselves, and then we all latch onto it by the end of Monday night, we've all sort of said, here's what my week holds. And you'd think that you could get that from a project list and from our calendar, so it's not meant to replace those things. We use those too. It's meant to more say, this is the size of my workload and here are my inter dependencies this week. This is what's coming to you. We highlight people's names in a certain color if it's coming to you or I'm waiting on you, that's a different color. And that helps us coordinate those interdependencies and also have empathy for what's happening with each other. But the most important part of that communication is the cover note that we all put on it that says here's what's happened to me this last week and this weekend, here's what happened to me, and here are my prayer requests, and here are the things I'm worried about, and here are pictures of my kid's graduation or wedding. And it is a way of keeping really connected personally.
Jennifer Wilson:
A lot of-
Aaron Ackerman:
That's really good. Yeah.
Jennifer Wilson:
Yeah, a lot of people think, Aaron, that we're remote so I must not really know what's going on with my people. And I tell folks, the first thing I need to know about my people is their prayer requests. I'm interested in what their work is, but that's not that important if I don't know what's most burdening them or worrying them, or what's going on in their lives. And so we share that and we do it weekly. And so, it's a discipline, but it's also something the group really appreciates. And so, they want to chime in and comment on each others and that sort of stuff. That's one thing we do to keep in touch.
Aaron Ackerman:
That is awesome. As you're talking, I'm thinking, I think we have poorer communication with people that sit in the office right next to us. I'm guilty of that. And a lot of times we get so focused on the task and the job, and we kind of can tend to forget about the person doing the task or the job. And it kind of goes back to one of the things that you guys teach in your leadership classes about hopeful interpretations. And somebody turns something in late, am I going to automatically go to that person is lazy or dumb, or they don't care? Or am I going to think of a more hopeful interpretation if I know what your prayer requests are and what's happening in your life, I'm going to be more conditioned to go to a hopeful interpretation and say, well, I know Jen turned that in later than we talked about, but she had a sick child or her she had a car wreck, or whatever, because I know you personally, we've shared that through that intentional process. So I mean, that's not a remote company thing, I think all of us could listen to that and probably improve our relationships and our communication. Whether we're across the country or just in the next office.
Jennifer Wilson:
For sure. I mean, we teach remote work management and the punchline to the class, or the workshop, or the webinar when we do it is, by the way we just taught you a management class. And you could take the words, remote work, right out of it because every single thing you have to do is management. It's just the vehicle you use is different, we might use email or we... If you want to love your people, then when they have something significant happen, you recognize it. Brianna on our team got married, we had a wedding shower for her. Emily Brants just had a baby. We had a baby shower for her. And some of us gathered that are in the same town, but they had to drive from some place, but mostly the day was remote. And we had several computers set up with Zoom, so they could see different angles of the things going on locally. And people shipped their gifts, and we played games. We had really fun games and we sent gift cards out so that they could get cake and they could get lunch delivered, so that it was there and they were eating with us when we were eating, and it was paid for. And we do a holiday party that way every year.
Jennifer Wilson:
But those are things that you would put in a management book, celebrate with your people. While remotely it might be different how we're going to do that, but you still do it.
Aaron Ackerman:
Yeah.
Jennifer Wilson:
And I think everything that is in the handbook of what you should do as a good leader and manager, you still do remotely, you just figure out a different vehicle and different ways to manage it.
Aaron Ackerman:
Yeah. That's awesome.
Jennifer Wilson:
Yeah.
Aaron Ackerman:
So yeah, go ahead.
Jennifer Wilson:
I was just going to say, the other advantage I didn't touch on that I think is important, is that it's possible that remote workers are more productive. I know Gallup has done some study of this, and they've said that the most productive are those who work remotely some, but do gather in person sometimes. But remote workers are said to produce more, and I believe that, looking at my team, if we were all together in an office, I have a feeling that we wouldn't produce as much as we produce independently.
Aaron Ackerman:
Right.
Jennifer Wilson:
And part of that is because we get to work at times when our chronotype or our flow works best. And the chronotype is the time of day that your brain and your juices are flowing the best. And because we're remote, we are not all working exactly the same time, makes us produce more.
Aaron Ackerman:
Yeah, that's so good. I'm just kind of thinking on that answer. We've moved into a new space and have kind of encouraged this work anywhere, anytime. And I can attest that there are times when I have something, really need to focus on, really get done without getting distracted I do that somewhere else.
Jennifer Wilson:
Yeah.
Aaron Ackerman:
There is a lot of fun and energy being together. There's some huge advantages to that, but sometimes I could, just anecdotally, I can see productivity going up, especially during those prime times, whatever your prime time is. If you are by yourself and able to really concentrate without disruption. So that makes a lot of sense.
Jennifer Wilson:
Yeah.
Aaron Ackerman:
So let me ask you, so when you started Convergence Coaching, you guys, you and your co-founder, really focused on the CPA profession. I'm sure you've probably had invitations or opportunities to expand your coaching to a broader market. I know when we work with clients, there's always a temptation for clients, whether you're manufacturing something or you're in a service business or whatever, there's a temptation to want to be all things to all people, because there's revenue out there. I can go get it if I just make this one other product to serve this market, or if I provide this service.
Aaron Ackerman:
So I guess my question is how or why did you decide really on kind of that niche market and how have you, over the decades now, the two decades, how have you sort of rebuffed the temptation and the invitation to really broaden that market, because I'm sure you've had those opportunities.
Jennifer Wilson:
Yes. Awesome question. I think probably every strategic planning meeting we have, we revisit the question. When we founded the business, it was CPA and IT firms. Both my partner and I had strong backgrounds in accounting and technology. And we just thought, of course, we will apply the experience we have and focus on those entities. And so, the IT consulting piece sort of petered out. I think I said to you, when we were preparing to do this podcast, that I grew up in technology and inside the accounting profession, technology seems to ebb and flow, or wax and wane, or whatever you want to call it. It has peaks and valleys and technology consulting inside firms really was not in favor for a long period of time. It sort of fell away.
Jennifer Wilson:
Now, some firms continued it and never gave up on it. And those firms have a tremendous competitive advantage right now, because technology is at peak for a variety of reasons. But anyway, we did less technology and way more accounting over time. And today we would say we serve accounting, and accounting and consulting firms. And those consulting firms are inside accounting firms or connected, related to those.
Jennifer Wilson:
Now we get asked for help for learning and development, for coaching, for problem solving, crisis management, and a whole bunch of other things for our CPA firm clients, their clients. They come to us and say, man, I got a problem with one of my clients, and there have been times, depending upon the circumstances, where we will assist, but it is rare. Because we have all the opportunity that we could ever imagine inside our wonderful public accounting channel, and we love that channel. There are 44,000 firms, there are 500,000 people. It's a pretty good niche. It may be called narrow, but it's plenty sizeable. And the people are good and their intentions, generally speaking, are really pure. They operate under a code of ethics, and the people drawn to it are kind of, they're our people.
Jennifer Wilson:
And so it's easy for us to feel like we want to stay in it. And if we go out of that swim lane, we know that it dilutes our focus and the power of our niche, and also keeps us from being able to say yes to the next accounting firm that comes. And so, we really try hard not to do it.
Jennifer Wilson:
Now, here's the rub. The rub is that more accounting firms are getting into consulting and advisory with their clients. And they haven't done that before, and we know how to do it, because that's what we do. And so, we're finding ourselves coming up alongside our clients and helping them learn to do that. And that requires that we get our hands a little dirty in their clients to help them do that, but we're not intending to do anything but knowledge transfer and process develop there with our CPA firm clients. We're not intending to get in there and actually do that consulting instead of them. We want to help them do it and then move on, and they'll now do it without us. And we're only doing that when our clients are asking us to.
Aaron Ackerman:
Right.
Jennifer Wilson:
But that is a little bit of a blurred line there.
Aaron Ackerman:
Sure. So kind of segueing into this, one thing I wanted to ask about is working with sort of more like personal coaching. So when you're working with an executive or an emerging leader in like a one-on-one scenario, and I'm going to brag on my buddy, Renee Moelders, who works with you at TLP, at Convergence Coaching, she was my coach. And I've got this great story, I tell it all the time. When we're talking on the phone, I think we're doing a video call like this, and she had asked me a question. I actually don't remember what our conversation was about, but I remember her response, but she asked me this question, and I give her this long response. And she's just quiet for a minute. And then she finally says, Aaron, you are so full of it. And that stuck with me so much because I loved it. It didn't bother me, it made me so happy to have somebody that will just call me on something that's nonsense. Right?
Jennifer Wilson:
Right.
Aaron Ackerman:
Most of us don't have a lot of people in our lives that will say you're really full of it, you need to take a step back. Especially people, maybe in executive roles, business owners, and even in a client relationship, I always like to tell my clients good news and tell them what they want to hear. I like to tell my bosses what they want to hear, but that's not always the best thing. So talk about that a little bit. Is that something that you guys have? I don't think everybody has that just naturally, maybe some people are just born with the ability to call it straight, even when it could be potentially career limiting. Just so to speak.
Jennifer Wilson:
Yeah.
Aaron Ackerman:
But I love that Renee did that. She and I've talked about it, I appreciated it so much. Is that something you guys work on? Does it just come through experience? Because I think about that working with my clients, and I need to say, you're going to mess up if you do this, that's a hard conversation to have.
Jennifer Wilson:
It is hard. So it doesn't come naturally to everybody, and it does have to be taught and modeled. And I think I came by it naturally. I wasn't afraid to say what needed to be said. I needed to learn to say it with finesse and to have the person feel my love and compassion, and the care and intention that I had so they wouldn't hear it the wrong way. And so that was something I had to learn in my maturation process.
Jennifer Wilson:
But for Renee, she would hate to call you on your stuff. When I first met her, that would never probably have happened. And she had to see it modeled, and do experiential learning, and witness coaching, and see not only the moment where the tough stuff is said, but what happens after that, which is the payoff. And it might not happen even when the tough stuff is said, you might not get the payoff in that meeting, but then that person goes to work on whatever it is. And then you can see the transformation happen, and that's where you say, oh my goodness, I need to do more of that. And one of the things that we try to teach, and I think all leaders need to bear this in mind, is that if I don't tell you what I think is holding you back, or I don't warn you about something that I think is a threat to you, because I don't want to alienate our friendship, or I want you to like me. I am being really selfish. My withholding of that information that I feel and see, is selfish and inauthentic. And if I am committed to be a generous and authentic leader, and I want real relationships, I can't have stuff between us that's not said.
Jennifer Wilson:
And also, usually, the news that needs to be delivered is going to keep the person from getting hurt further or held back further. So if I care about you, I have to help you.
Aaron Ackerman:
Yeah.
Jennifer Wilson:
And that means I have to be uncomfortable. So most of us who hold that stuff back, it's because we want to be comfortable.
Aaron Ackerman:
Right.
Jennifer Wilson:
So that's selfish, I think.
Aaron Ackerman:
Yeah.
Jennifer Wilson:
And so I just try to teach the people around me, hey, when you're busy being scared, that's because you're self-protecting, and then let go of the self-protection and say it anyway, and then of course you practice how to say stuff. You learn how to say it, but it's not easy to tell somebody, you're colleagues really feel like you are contentious and somewhat self-protecting in the project engagement meetings. And they're talking about you and it's a negative story on you. And we need to look at how you could be responsible for shifting who you're being in those meetings so you can shift their perception. Who wants to hear that? Nobody. But if you don't tell them, are they going to continue to be the same way in the next project meeting and the next one after that, and continue to lose support, and continue to have people talk bad about them and then the partners get together and say, who should our next future partner be? And they name that person and say no, she's got a lot of detractors, and I don't know what she's doing, but she sure doesn't have the support of the team. Dang, you got to tell her.
Aaron Ackerman:
That is so good. So two things you said there, I want to just kind of underscore. One is, like you talked about, that's not a first meeting kind of thing. You've got to do some hard work to build a relationship, to really earn the right. And you've demonstrated I care about you and your success. That's already been established. And so, you kind of earn the right to have that hard conversation. Probably not something you do the first time, second time you meet with somebody.
Jennifer Wilson:
Well, I'm going to stop you for one second on that.
Aaron Ackerman:
Okay.
Jennifer Wilson:
And I don't want to lose your second thought, but think about our TLP. The TLP, we get a 360 feedback survey on somebody and then we deliver their entire feedback that their whole firm has on them in our first meeting.
Aaron Ackerman:
First meeting.
Jennifer Wilson:
Yeah. So we do that. I did it today with an individual coaching person, and unpacked eight pages of feedback with that person in a two hour meeting. We did it via video so that person could see me, and I could see them. And we talked about intention up front and I told that person, I'm your coach, and I'm going to love you and care about you no matter what this feedback is. And you and I are only going to pick a few things to work on and don't be overwhelmed, and you do some set up, but boy, you got to go do it. So sometimes you haven't earned it, but the way you deliver it can convey that love and that respect and that intention.
Aaron Ackerman:
Sure. And in that scenario, like somebody signed up and said, I want you, I want this. Right?
Jennifer Wilson:
Yeah, you're right about that. As opposed to the unsolicited form. Okay.
Aaron Ackerman:
Yeah. And then the other thing I think that you said was one of the ways I think, you gave a great example about somebody that, people talk bad about them, they've got this bad behavior that there may be, it's in their blind spot for them. And then over time it becomes a real problem where they don't get that promotion or something implodes. I think about somebody needing to have that conversation with them early and they don't. Like you said, because of selfishness, I want to stay comfortable.
Jennifer Wilson:
Yes.
Aaron Ackerman:
Fast forward a year later, everything falls apart and that person looks at me and says, did you know this?
Jennifer Wilson:
Yeah.
Aaron Ackerman:
And I don't want to have to say yes, and I didn't you because I wanted to be comfortable. That's what I think about with relationships and with clients and is having fast forward two years, five years, someone looking at me and saying, you knew this, why didn't you tell me this?
Jennifer Wilson:
Right.
Aaron Ackerman:
Yeah.
Jennifer Wilson:
Well, the other thing is-
Aaron Ackerman:
And the answer is like you said, it's a selfish answer.
Jennifer Wilson:
Yeah. Man. So the thing is, is that I also only want clients who are on a get better journey. And that doesn't mean just individually better, but organizations that want to be better. Right? So if my client can't hear from me something that I see that could help them be better. If they can't accept that of me, then they're not out on a get better journey. And then now we're going to have something inauthentic. We're going to hang out together and I'm going to see something that's kind of like a rotting part of their business or something and I'm supposed to not say anything, because they're not willing to hear it, but I still have to hang out in that. That now I am uncomfortable. Now I'm faking it.
Jennifer Wilson:
And so, our organization has taken the stance that we just want to hang out with people on a get better journey. That want to make a difference for others, but they want to get better themselves. And that we want to get better too, so we're also open to feedback, and that's another piece of this is that I could never give feedback to others without being completely willing and open to get feedback myself.
Aaron Ackerman:
Yeah, that's right.
Jennifer Wilson:
And there's no higher privileged moment for me than when somebody says, hey, I thought what you did there was great, but next time I think you could... That, when somebody feels like they can give me feedback, then I really know they care about me.
Aaron Ackerman:
Yeah. Well that's good stuff. Let's switch gears real quick, because I want to ask you about something that I know you're passionate about and you talk about a lot with your clients, and that is just broadly, that is change. Obviously, change is everywhere, but let me just kind of ask you, I'll let you take this wherever you want to, but most companies in the world are looking at some kind of disruptive change from a technological standpoint. They're thinking about how is my business going to be impacted by fill in the blank. AI, machine learning, crypto, blockchain, whatever. All of these technologies that are just emerging so quickly, that's one change. Another change would be kind of the turnover in workforce, generational changes, things that the people coming into the workforce, what's important to them. How do they think about work, and even simple things like where do they want to work? How do they want to dress when they go to work? What does it mean to put in your time and climb the corporate ladder. Like all these things are, people are dealing with in the workplace. So maybe, I don't know, what's your one or two favorite changes that you'd like to think and talk about, and are working with your clients on?
Jennifer Wilson:
So there's a guy named Marshall Goldsmith and he's a super famous marketer, great author, a great teacher and speaker in the realm of marketing. And he wrote a book and I like the book, but I love the title. Okay. And the title is, What Got You Here Won't Get You There. And that's like the label for the 2020s, as far as I'm concerned for business. What Got You Here Won't Get You There, and I wish it would. I am not trying to change things for the sake of change, but everything is changing, and firms and organizations, and companies have got to respond. So you talked about two hard trends, technology and demographics. They're real, and they are driving enormous change. And change in everything, hiring practices, gig workers, remote workers. Anytime, anywhere work that you talked about. The willingness to have people working teachers hours, part-time is going to come back in a big way, contractors, outsourcing, offshoring. Every kind of nontraditional hiring practice you can imagine had better be tried by most entities.
Jennifer Wilson:
And then where can we replace people with electronics? Because we can't find the people. And how can we automate? And how can we use a robotic process automation, RPA, to automate processes to eliminate the number of human beings we need at a certain level so we can hire the different kind of people that we're going to need? So, there's a blend between technology and and demographics, because if we don't figure out how to do things more efficiently and do them differently using technology, I think we're going to be in trouble, because in certain professions, many of the skilled professions today, we have significant shortages. And those shortages are going to continue as we retire out all these baby boomers. And if you don't have the people, you have to figure out other ways of getting the work done.
Jennifer Wilson:
And so, I think that what got you here, won't get you there. Every single company should be asking themselves, what are the three to five business model changes we have to make? And they could be in hiring. They could be in employee engagement and motivation. They could be in technology. They will be in technology. 100% you better have a few of those because the rise of data and its importance, personalization of experience for customers, your next generation clients are going to expect you to know them digitally and to serve up information to them digitally. And boy, you better get working on that. So what are the three to five business model changes?
Jennifer Wilson:
Another are one that I think a lot of companies are not thinking about is pricing. The way we price and package. And you see all these subscription models. My middle daughter is busy subscribing now to Apple TV. Everybody's got a different subscription package and a way of selling you this stuff in little bite size pieces, it doesn't feel very expensive if you're paying 93 cents a month or something. You know, whatever. And I think the way you package and price is going to totally change.
Aaron Ackerman:
Yeah.
Jennifer Wilson:
And the way we're selling. E-money. How can I figure out how to sell things to these young buyers using e-money that we might have traditionally had to do a big, detailed statement of work, and asked you to sign and scan and send it back to me. Well, if you ask them to sign something that isn't an e-signature and you want them to email you, forget it.
Jennifer Wilson:
So I just think business model changes. What three to five are we going to have and how can we get started on them?
Aaron Ackerman:
Yeah, that's all.
Jennifer Wilson:
And every company better be thinking that way, or they better be thinking about what's my exit strategy, and how do I contact Hogan and Taylor for some business valuation and M&A assistance to sell this thing. Because if I don't modify my business model for the new buyers, I'm going to need to transition that business somewhere.
Aaron Ackerman:
Yeah. That's a great take of way. I love that three to five business model changes you have to make. We've been working with a really, really cool guy, a neuroscientist named Dr. Robert Cooper, and anybody should go look him up and listen to his podcast. He's just fascinating. But he said something that has just kind of almost, it's almost haunted me. It's just stuck with me since I heard it. And he said, you should try to become the business that would put you out of business the fastest. I think it's kind of the same thing in [inaudible 00:38:52].
Jennifer Wilson:
I love it.
Aaron Ackerman:
Three to five.
Jennifer Wilson:
That's good.
Aaron Ackerman:
Yeah.
Jennifer Wilson:
That's it. That's a hundred percent it. And I love it from that angle. The other one is, be the business that your children or grandchildren want to do business with.
Aaron Ackerman:
Yeah.
Jennifer Wilson:
Because that's, depending on your age and where you are in your cycle of life, that's the customer. There's statistics out there that say by 2025, 75% of the US workforce will be a millennial. Those are people born after 1982. Believe me, they have a different way of being motivated to buy and different expectations of service. And we better figure out how to be the business they will to do business with. And if we don't, we're going to have trouble. And that doesn't mean, by the way, that you just ditch your traditional clients. I mean, we do have to figure out a transition because we love our traditional clients. I mean, they're part of all of our relationship care and concern. We care about them deeply. So I'm not saying change your business model and throw them out, but boy, you better be planning a morphed business model for that next gen.
Aaron Ackerman:
Yeah. Awesome. Well, we're about out of time, Jen. First of all, just thank you so much for sharing, for being transparent. I know all our listeners will really get a lot out of this conversation. And just from a personal standpoint, thank you for what you guys do at Convergence Coaching. It's had a profound impact on my career and my leadership, and my business life, and personal life. I use things almost every day that you and Renee teach. And so thank you so much. I appreciate that.
Jennifer Wilson:
Yes, you're welcome. And thank you, Aaron. I'm really grateful.
Aaron Ackerman:
So as you know, we always end with the same five questions. So I'm going to hit you with those now, if you're ready.
Jennifer Wilson:
I am.
Aaron Ackerman:
All right. So what was the first way that you ever made money?
Jennifer Wilson:
I had a paper route when I was eight. I delivered the papers at a nursing home.
Aaron Ackerman:
Okay.
Jennifer Wilson:
I also had a checkbook. So I learned all about writing checks when you didn't have money in the account and things like that at the age of eight. Third grade.
Aaron Ackerman:
Yeah. We need to go back to the checkbook I think some days. Credit cards and the PayPals and everything, I lose control.
Jennifer Wilson:
Yep.
Aaron Ackerman:
So what would you be doing right now, if you weren't about to celebrate your 20th anniversary of running Convergence Coaching?
Jennifer Wilson:
I would either be an executive in a technology company where I was headed before I kind of stepped off and went deep into public accounting and leadership. So I probably would be grinding like seven day weeks, all year round and long, long days. Which I do a lot of work now, but nothing like that environment or I would be an author, a prolific author of nonfiction and fiction. I think I would write both. And I'd be hopefully not traveling as much, maybe.
Aaron Ackerman:
Yeah. Well, I hope you do write those books, or at least some of those.
Jennifer Wilson:
I'm going to. I will.
Aaron Ackerman:
I will buy an advanced copy.
Jennifer Wilson:
I will.
Aaron Ackerman:
Which actually leads great into another question. So if kind of autobiographical, but if you're life, your experiences, everything you've gone through was really the content for your book, and you got to name your book, what would it be called?
Jennifer Wilson:
Be Unstoppable.
Aaron Ackerman:
Love it.
Jennifer Wilson:
Yeah, don't be stopped. Be relentless in the pursuit of the things that you're committed to, and don't let all of the reasons that you're inner dialogue would stop you, stop you. And don't let naysayers stop you. And don't let pedestrian circumstances stop you. Be unstoppable, which probably means be uncommon.
Aaron Ackerman:
That's awesome. Yeah. Be the person that's going to experience your most amazing future.
Jennifer Wilson:
Yes. And don't let anything stop you. And that doesn't mean do it this second. It just means work on it this second.
Aaron Ackerman:
Right.
Jennifer Wilson:
Move that way. Don't let anything stop you. Keep moving toward it.
Aaron Ackerman:
So what would you like to go back and tell your 20-year-old self?
Jennifer Wilson:
That it all is going to turn out great. Yeah. I would reassure myself. I'm intense and a little bit of a worry wart. A lot a bit of a perfectionist. And at 20, I probably had a lot of dreams, but a lot of concerns about whether or not they were going to happen. I would tell my 20-year-old self that everything turns out great. I'm anxious, maybe a little bit, and intense, and super goal driven. And I probably was worrying a lot about the future and wondering if it would all work out, or if I'd get what I was hoping for. And at this stage of my life, many years past 20, I have gotten more than I had hoped. It's been better than I could have dreamed so far.
Aaron Ackerman:
That's amazing. That's a great answer. Last one. So what is the best advice you've ever received?
Jennifer Wilson:
This is tough. I think the best advice I ever received was be authentic. Be yourself and don't allow other people's political correctness, or social norms, or the desire to go with the majority of the flow ever stop you from expressing what you believe. And if you're convicted to it, then say it. With finesse and with care, but be authentic. Don't hold back.
Aaron Ackerman:
Fantastic. Well, thank you so much, Jen. If people want to find out more about Convergence Coaching, find you on social media, what's the best way to get ahold of you?
Jennifer Wilson:
Website's www.convergencecoaching.com. And in Twitter, I'm @JenLeeWilson and they could hit me up on Twitter, or they could go to our website and find my bio and others and reach us that way.
Aaron Ackerman:
Okay, cool. We'll put that in the show notes and Jen is pretty easy to find, you can search her and they put out some really good blogs, leadership, thought leadership, blogs, and stuff that I look at every week. And so be good stuff.
Jennifer Wilson:
Good.
Aaron Ackerman:
Yeah. Jen, thanks so much. Appreciate the time and look forward to seeing you in person sometime soon, I hope.
Jennifer Wilson:
I hope so too. And thank you for inviting me here and I'm really grateful. Thanks for the opportunity to reflect, I'm grateful for that too. Take care.
Aaron Ackerman:
Bye-bye.
Jennifer Wilson:
Bye.
Aaron Ackerman:
And that's all for this episode of How That Happened. Thank you for listening. Be sure to visit howthathappened.com for show notes and additional episodes. You can also subscribe to our show on iTunes, Google Play, or Stitcher. This content is for informational purposes only and does not constitute professional advice. Copyright 2020 HoganTaylor LLP, all rights reserved. To view the HoganTaylor general to terms and conditions, visit www.hogantaylor.com.