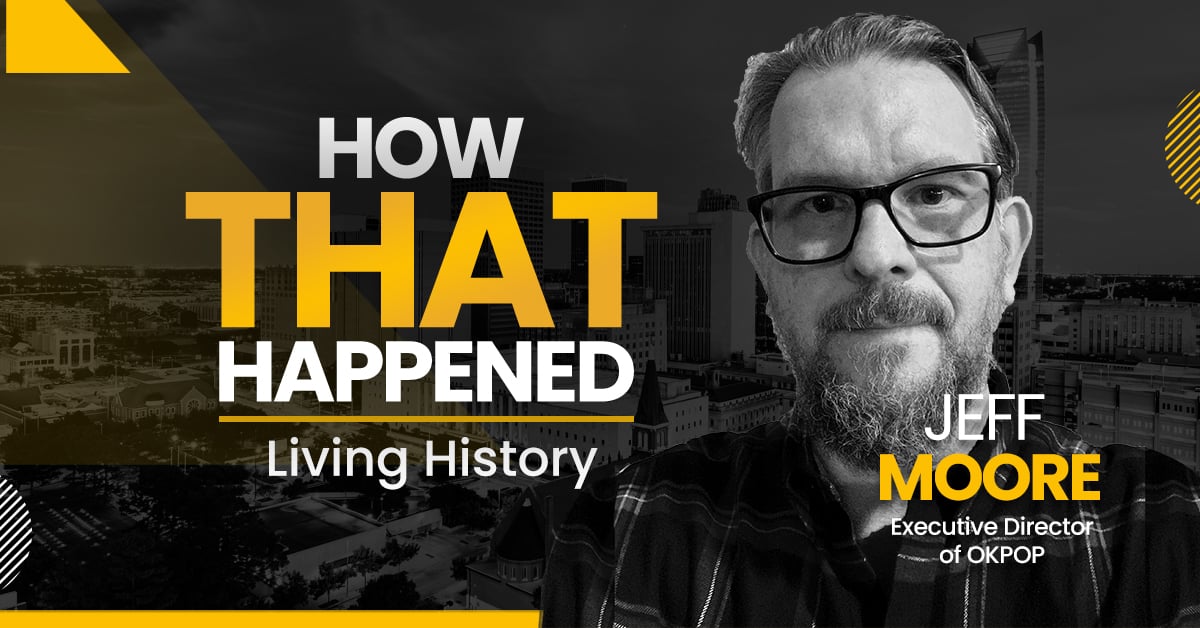 Jeff Moore:
My dad was really focused on taking us to museums and historic sites, wherever we lived, as the military took us around the world. So for me, it's like, yeah, this is part of my life. And I lived in Virginia and lived in places where the communities really embraced their history.
Robert Wagner:
From HoganTaylor's CPAs and Advisors, I'm Robert Wagner, and this is How That Happened. A business and innovation success podcast. Each episode of the show, we sit down with the business and community leaders behind thriving organizations to learn how business and innovation success actually happens. Our guest today is Jeff Moore. Jeff is the executive director of the Oklahoma museum of popular culture, which is more frequently called OKPOP. Jeff majored in history at Oral Roberts university and received a master's degree from University of Central Oklahoma. Jeff is quoted as saying, "I was offered a job at the Oklahoma historical society right out of college, and I've been there ever since." Jeff, welcome to the How That Happened podcast. I'm looking forward to the conversation.
Jeff Moore:
Thanks for having me.
Robert Wagner:
Yeah. I'm really excited about the conversation. So the OKPOP museum's under construction in Tulsa, it's location is directly across the street from the historic Cain's Ballroom. And so give us just a snapshot of what the OKPOP museum is going to be all about?
Jeff Moore:
Well, the 50,000 foot view is we're taking this approach that Oklahoma is a creative place, that because of its geography, because of its settlement patterns, from a historical standpoint, it's a collision of cultures, it's a collision of ideas. And basically being birthed at the beginning of the 20th century with the economic impact of agriculture and oil culture. And then of course, Route 66, it just kind of, all of those ingredients led to this explosion of creativity. And so, we're embracing the fact that Oklahoma is this crossroads of creativity, going from that 50,000 foot view.
Then we're going to explore the various stories of Oklahomans, and how Oklahoma has been presented in popular culture and popular culture is one of those terms that a lot of different people have definitions, but we're taking the approach that it's storytelling at its essence, whether it's film, or music, or comic books or radio or whatever, it's whatever form that popular culture takes, it's really storytelling.
Robert Wagner:
Okay. And what's the target date for opening?
Jeff Moore:
We're looking at fall of '22.
Robert Wagner:
Okay. All right. So it's not very far away.
Jeff Moore:
No, it's going fast.
Robert Wagner:
Okay. Well, we're going to circle back and talk about OKPOP a lot, but let's just talk a little bit more about you. So you studied history in college, may not have that correct, right?
Jeff Moore:
Yes.
Robert Wagner:
So what was the draw to history and what was plan?
Jeff Moore:
That's that's an interesting... So I, actually, my introduction to Oklahoma was to come to Oral Roberts University and I have family and my mother's side is from Texas, my father's side is from Kansas, and so I split the difference, and disappointed both sides. However, I looked at it as, Oklahoma takes the best of both of those surrounding States and makes something very special. But yeah, I came to ORU, had no idea just like most college, well, a lot of college students, not knowing exactly where you wanted to find your niche, and history was something that I grew up with. My father is a huge history guy; we always went to museums, grew up in a military families. So country, and I was very aware of our family's participation in military service, going back to the revolutionary war; it's always something I knew of. So, it seemed, it was a natural fit. A lot of people talk about how much they don't like history class if it's a coach or it's kind of an afterthought.
Robert Wagner:
Right.
Jeff Moore:
But with me, history was very much alive because I heard it every day from my parents. And then my dad was really focused on taking us to museums and historic sites, wherever we lived as the military took us around the world. So for me, it's like, yeah, this is part of my life. And you know. I lived in Virginia and lived in places where the community's really embrace their history, and it's not just a part of life that's off to the side, but it's part of a cultural and economic... When you're in Virginia, you have to go to the Smithsonian or you have to go to Williamsburg or there's all these things that you have to do or. Living in Germany, same kind of thing.
And so I kind of had that, I guess, maybe a blessing or a curse depending on how you look at it. But, to me, it was like history was as viable an option as business or accounting, marketing, what all my friends were doing, TV and radio broadcasting, what my friends were doing at ORU as I'm history, it's like to me, all that was leveled.
Robert Wagner:
Gotcha. Gotcha. What did you think you would be doing during that time? Like, when you got your history degree?
Jeff Moore:
At the beginning, I wanted to be a professor. I wanted to go and get my PhD and teach, and the find whatever that niche area that I would be the expert on. And then graduated from ORU, got a business minor, which was great because I was a computer major and a business major, some people kind of bounce around. So I had enough credits for a business minor, which was great. Had some amazing professors. Dr. Gillan is a legend. I'm sure there's people that will listen to this, that know Dr. Gillan, and I mean, his class on economics was a history class. So I love, in fact, it's an interesting. I took a calculus class when I was a computer major and the professor talked about all these mathematicians and the history, the context, the societal context from which they were developing their mathematical concepts, that it's all tied to what's going on within a moment in time. I got an A in that class, and unfortunately the professor had a heart attack was forced to step back from full-time duties, and the next professor was just dealing with math and I had to drop it and take something else.
Robert Wagner:
Oh my gosh.
Jeff Moore:
So, the way my brain worked was always historical context is important. So if I can tie it back to something else that I knew, then I could jump in there, but decided I wanted to go to grad school and went to University of Central Oklahoma in admin and with every intention of then going to university and for a PhD, and had some plans for that. And Oklahoma, or Texas, or Kansas, somewhere in there. And then had the opportunity to meet... Or realized they had a museum program, and I was like, "Well, wait a second. I love museums." And this is hands-on; you're dealing with people, it's not just writing a book, or writing an essay that 50 people know about. I get to write something, contribute to something that 5,000 people know about. So I really liked the idea of going into public history, where you're doing something for the general populace.
Robert Wagner:
Okay. That's great. I love the tie in, like in your example about the economics and tying back to history, that's fascinating. So you have worked since college; you've worked with the Oklahoma Historical Society. And before we started recording, you mentioned that you did curation, I think. So what is that?
Jeff Moore:
Well, you got to get your foot in the door somehow, some way. And so in the museum classes that we took, there was actually, you could have gone two ways; you could have gone history path or you could have gone an art path, and they are very different. I mean, it's one of those, I say this all the time, but it's true that, the verbs are the same, but the nouns are different and the concepts are very different. So I decided the history, because it was a little more intuitive, and I realized that there's some value in that, that I don't have to learn everything because I've been to all of these, the list of world-class museums and historic sites. I haven't been to everything obviously, but I've got my own personal repertoire. I've seen some pretty significant things up to that point.
So I have a point of reference, that gave you a little bit of confidence. And so the idea of getting in and dealing with objects was appealing, and that's kind of what a curator does. A curator gets in, and they research the objects, and sometimes it's a discovery; you have no idea what you're researching. Sometimes everything's already spelled out for you, it's just a matter of cataloging and kind of entering it into a property management system, so to speak. But I really, really, really quickly was interested in the story side of things. And I knew I wasn't going to be a object curator forever. And so, I had a couple of contract positions with the Historical Society. And then I was approached because I guess I got the attention of some key people at the Historical Society as a young person.
And at that time, this is before the Oklahoma History Center was built, and so I was the only male under 40, and the only employee under 30 in the main building. So that was a unique situation; I was the young guy, which meant that people, again, people gave me the projects, no one else wanted. But also, it forced me to work with everyone, so it taught me a lot about interpersonal professional dynamics, and also history and museums, historic societies are tangential created to, or related to academia. And so, you've got people that have their little castles or kingdoms. "This is my area." No one gets into that space, and so there's... But negotiating that.
And then, an opportunity arose in 1995, late '94, the Historical Society was doing its first new museum project in decades. And there was some federal money enhancement money that was available to develop a Oklahoma Route 66 museum in Clinton, Oklahoma, and so, I was signed on to be the young curator. So then my job is to go around and find everything we had in the historical societies, massive collections, whether it's archives, photographs, objects, fashion, clothing, related to Route 66 and transportation. And then, that's where I got bit; I loved the idea of putting together the puzzle, and starting from scratch, starting with nothing, starting with an idea, and then how are we going to put this together? So, that was an amazing experience to see how all that came together, and be a part of it.
And then, I mean, we based all of that really on Michael Wallace's book that came out, I think in '92 or '93. And then we built the first museum dedicated to Route 66 and 95. So Michael Wallace's book was the first book on Route 66, and then the Historical Society was building the first museum on Route 66, and being part of something current-
Robert Wagner:
Mm-hmm (affirmative).
Jeff Moore:
And being part of something current and being something part of... There was a vibrancy in bringing the story of Route 66 to a broad audience, I was bit at that moment. Those were the types of projects that I wanted to be a part of.
Robert Wagner:
Yeah. So, that sounds like when you got the interest in pop culture history.
Jeff Moore:
Absolutely.
Robert Wagner:
Yeah.
Jeff Moore:
And you don't think of those things. And I think that's part of our challenge is that, looking at pop culture from an intellectual standpoint is relatively new, and then that goes back to a little bit of what is popular culture, but basically it's the storytelling that meets mass media of the 20th century. So in 1995, when we opened the Route 66 museum, we're still in the 20th century.
Robert Wagner:
Right.
Jeff Moore:
So, we're within the memory of people and I think a lot of people associate topics that are dealt with in museums as old and dead and past.
Robert Wagner:
Right.
Jeff Moore:
And so, that was another thing that was appealing, is that even though Route 66 had ended in the late 80s and we told that story, when that museum opened, it made the front page of newspapers in London, Paris and Berlin.
Robert Wagner:
Wow.
Jeff Moore:
And it took weeks to make the front page of the Oklahoman. And I don't know that it's made the front page of the Tulsa World. So, that also taught me something is that, there is an international interest in American pop culture that is mysterious and needs to be tapped.
Robert Wagner:
Wow.
Jeff Moore:
And since then, a lot of efforts have taken place to promote Route 66. The National Park Service has come out and said that, "Route 66 is the number one cultural motivation for international travel." Of course, this is pre-COVID, and Michael Wallace tells stories of China wants to just go build its own Route 66, kind of thing. It's just this international fascination.
Robert Wagner:
Mm-hmm (affirmative).
Jeff Moore:
But it's more than just the road, it's the cars, it's the pop culture of it that really sparked the imagination of the international visitor. And then, going from that and looking at other aspects of popular culture, it's like there's a bigger story here and Route 66 is hugely part of it. And our concept of crossroads of creativity is this idea that in Oklahoma, Route 66 crosses Main Street.
Robert Wagner:
Mm-hmm (affirmative).
Jeff Moore:
So, you can have creativity that grows within a scene on the local level, but like J.J. Cale and Leon Russell, or Bob Wills, it's so easy to just get on Route 66 and take your craft, your creativity, your story to a broader audience.
Robert Wagner:
Right.
Jeff Moore:
In Oklahoma, it's just part of our DNA to be able to do that. So, all of it spins off of those earlier experiences.
Robert Wagner:
Yeah. So, it's a good segue into this question. So, you started working on OKPOP, this is the idea, I think in 2006, did you have trouble or was it hard to convince people that Oklahoma has a rich, popular, cultural history?
Jeff Moore:
Yeah, it's interesting. This is one of those very organic efforts. We had a meeting at the Historical Society, Dr. Blackburn who's just recently retired, we were doing an exhibit. Our contribution, the Historical Societies contribution at the History Center to the Centennial. Dr. Blackburn wanted to do an exhibit on the history of governors in the state. And Governor, Senator, President Boren, his aunt, Mae Boren Axton co-wrote heartbreak hotel. So, in December of 2006, we had this meeting about the governors and heartbreak hotel was Elvis's first number one hit.
Robert Wagner:
Mm-hmm (affirmative).
Jeff Moore:
And I'm sitting there, obviously all of the staff loved our governors, but it wasn't the most exciting project to be working on, just to be completely honest. It was interesting, but it's history. So, kind of wanting that spark and I think that there was something inside of me that was wanting to harken back to some of those earlier experiences like with Clinton and the route 66 museum and that international acknowledgement of the Oklahoma experience.
I just threw out in this meeting, I said, "Well, what if we did an exhibit on Oklahoma rock and roll?" Referencing that Elvis's first rock and roll hit was written by a woman from Oklahoma.
Robert Wagner:
Mm-hmm (affirmative).
Jeff Moore:
And Dr. Blackburn, being a huge Leon Russell and JJ Cal fan looked up and just, "Yeah, let's do it." And then, we went back to our conversation about the governor's exhibit. So then, to answer your question, that's when it came up, because then it was kind of like, I think Dr. Blackburn realized I just created a fire, but I need to know what this is all about. So, we spent about a year just researching what this could look like. We had other projects, obviously in process. So, this was on the side and there were a couple of colleagues at the historical society and we got together and started kind of divvying up, "Oh, you research this, you look into this."
We started compiling names and it just was really an organic experience. But then, once we started talking to the creatives and that's what at OKPOP, we use to describe the musician, or a filmmaker, or producer, or director or writer, anyone in the pop culture industries are creatives. And so, once we started talking to them about it and seeing that it resonated with them, that the State of Oklahoma finds my story so important, that you're going to honor me and my career in a sanctioned exhibit on Oklahoma rock and roll, that got really easy. But to answer your question, on the flip side, pop culture was still at that time, even 15 years ago, still very new in the academic side. That's completely changed. I mean, even the state has changed. I mean, there was nothing in any of the museums within the state that really dealt with any of this. And since we did that exhibit, then all the other museums that we all know and love started saying, "Hey, we can embrace this too."
Robert Wagner:
Mm-hmm (affirmative).
Jeff Moore:
So, I think every museum in the state, major museum has done a pop culture exhibit since 2006, but it took us a while to put everything together and we didn't open that rock and roll exhibit until 2009. And in the meantime, that took us around the state, it took us around the country. We had to go to where people were, so we went and did oral history interviews. It was a little bit of a chicken and the egg project in the sense that we had this great idea, but we had no collections to tell the story of Oklahoma rock and roll. So without the exhibit, we wouldn't get the collections, and collections would include instruments, clothing, documents, photographs, recordings, film, video, but also interviews with people to get their story, that's important as well. And most people, again, if your career is vibrant and going, regardless of your age, you look at a museum as someone who's already done.
Robert Wagner:
Right.
Jeff Moore:
And so, we had a little bit of a hurdle there with the creatives, to get them to know this is an ongoing, we want to document what's going on. This isn't just we're dealing with the past. We wanted to show the current. So, we put a lot into the current music scene, but starting with interviews, people understood that and then, that was the way in. Can we do an interview? You tell your story and everyone in the entertainment, pop culture world understands an interview.
Robert Wagner:
Yeah.
Jeff Moore:
And so, that's how we started the whole thing, is we just picked a chicken or an egg and went from there.
Robert Wagner:
Very interesting. So, just a little bit of a diversion here, but do you think... So, we talked earlier about Oklahoma's has some uniqueness, we're a relatively young state, we were born at the beginning of the 20th century, but do you think every state has a great pop culture history? They just need a storyteller as a catalyst?
Jeff Moore:
Yeah. That question's come up, why Oklahoma? Yes, to answer your question on a... Generally speaking, I think obviously every state has a story, but I do feel that there's something very unique about Oklahoma and there's a couple of reasons. One is the diversity and the historical cultural makeup of this state is unlike any other. You talk about the way that the settlement patterns, whether it's an American Indian removal story or an African-American experience story, or someone participating in the land run, or moving here because they're in the military and they were stationed at Tinker Air Force base or Vance Air Force base.
There's a lot of reasons why people come to Oklahoma, or they may come because the oil industry or agriculture. And so, Oklahoma in a way is a microcosm for the entire United States that is very much different than Kansas or Arkansas or Missouri or Texas or Colorado or New Mexico. Those States surrounding us have very different histories. And so, I do feel like the unique history of Oklahoma plays into this pop culture narrative in a very strong way. And then, the other thing you put on that, which is maybe the cherry on top of the sundae is that the very first pop culture icon of the 20th century is Will Rogers.
Robert Wagner:
Okay. Yeah.
Jeff Moore:
And I think what that did, is that opened the door for any other young Oklahoman to say, "Leon Rose wants to get into music, Archie Goodwin wants to get into comic books, Alfre Woodard wants to go into acting." There's this general consensus that Will did us proud and there's been a lot of dark days in Oklahoma history, but Will said, he approached life with humor. He was a flawed man. He wasn't a perfect man, but he approached life with humor. And that trope of he never met a man he didn't like, I think that that very much as part of the Oklahoma DNA, and that's something that all Oklahomans can embrace regardless of background. And so, then, the fact that he was the first worldwide pop culture icon, set the stage and created an umbrella of maybe protection for creativity to be nurtured within Oklahoma that led to this explosion.
Robert Wagner:
Yeah.
Jeff Moore:
So, I do think that all states contribute, but I do think Oklahoma has a very unique and interesting story and worthy of an OKPOP to tell that story.
Robert Wagner:
Yeah. That's a fascinating observation about Will Rogers. I had never thought about that.
Jeff Moore:
It's funny to answer a question you haven't asked, we've been at this for 15 years. That first meeting, I was the one that raised the question about Mae Boren Axton and Elvis Presley. There's a value in taking time to do things. There's a lot of, "Well, I wish OKPOP had been open two years ago, or three years ago, or five years ago, or 10 years ago." Or whatever, but one of the things I think has been valuable is that we've been able to analyze the big.
The things I think has been valuable is that we've been able to analyze the big picture and come up with something I think that's going to be very special. And then just the relationships that we've made with the creatives. And we focused on nurturing those relationships. We had people here, part of the Tulsa Sound, Jamie Oldaker and Steve Ripley, who we lost in the last couple of years. And they were so instrumental in this happening and really believed in it. And that, I think, is what's kept me going for 15 years is seeing the creatives and the families embrace this. Not just a hall of fame or not just a entity where it celebrates a single person, but they there's something to be part of this community that is Oklahoma, and that it was this critical mass, this collective contribution to this story that resonates with them. You think that they would be all about themselves, but most of the conversations were, "Make sure you include this story. Make sure you include this person. Make sure you include this location."
Robert Wagner:
Right.
Jeff Moore:
It was always about looking at Oklahoma as the state and its contributions, and that's why I'm still working on it.
Robert Wagner:
Gotcha. Gotcha. So you hit on this a couple of times and that's kind of the definition of what is pop culture. So do you guys have debates about, "Hey, this particular thing, it's interesting, it's historical, it's Oklahoma, but it's not pop culture"?
Jeff Moore:
All the time.
Robert Wagner:
Yeah.
Jeff Moore:
Yeah. I think we'll always have that debate. In my mind, it's settled. But, I'm not everybody.
Robert Wagner:
Yeah.
Jeff Moore:
I take the 50,000 foot view that it's basically, pop culture today as we know it is storytelling from the 1800s that met the technological advancements in mass media at the 20th century. And the culture of the Heartland, if you look at those key, most important storylines in pop culture, whether it's Superman or Wizard of Oz, or Leadbelly and Woody Guthrie, or Johnny Cash, the Texas Cowboys, it all originates in the Heartland. And what's right in the middle of all of that? Oklahoma. And Alfre Woodard, when we did the interview with her, she said it. She said Oklahoma's the epicenter of culture in America. And it was the coasts, the media centers that broadcast that to the world.
And this goes back to my very first experience with the historical society, which I haven't thought about this, this is interesting, is that the thing that got my attention that said is what I want to do as a career, as a passion, as a livelihood, was that something small that we did in Oklahoma got the attention of people in Europe and in Asia. I worked there after it opened at. In Clinton, this was great, a Japanese film crew came in doing a game show based on Route 66 and spent $2,500, like that, in the gift shop. It was the biggest day sale. They've since passed it because people love Route 66 merchandise and paraphernalia. But it was like, okay, Europe's big on this and Asia's big on it. There's something about this. When we went to the legislature, one of the legislators said, "If we don't play this ace, color us stupid."
Robert Wagner:
Wow.
Jeff Moore:
Because we have to embrace our creative DNA. We can see it now in the news of the film projects that are coming to the state, the fact that Martin Scorsese and Leonardo DiCaprio want to film their movie where these events took place. There's something authentic about the Oklahoma experience and people around the world have recognized it for a long time and it's time that Oklahoma recognizes it and we embrace it and we wear it as a bad. Something that unites us, brings us together. As you can tell, I'm excited about this. We have a huge opportunity to do some amazing things with OKPOP for Oklahoma. And I just think it's special that the state found it important enough to invest in that this is a flag that we're going to put in the ground and say, "This is who we are."
Robert Wagner:
Yeah. Another great segue. So you've been through a lot of, and you're still doing these things, a lot of different tools that you had to build in your toolbox. So there's been ideation, there's been fundraising, there's you're billing a client experience or customer experience, I'm sure. Right? What are you learning as a leader going through this process?
Jeff Moore:
Wow. That it's a challenge, all of it. And trying to do something new because that's really what we want. We want OKPOP. It's funny, we're actually working on some of this right now as a team. We're putting these ideas on paper because people have told us we have to, in a sense that it's not just that we get the work done and we open, but the philosophy that's driving it is important. And sometimes we don't write those things down.
Robert Wagner:
Creating a history of what you're doing, right?
Jeff Moore:
Exactly, and documenting and making sure that everybody understands that this is what we're doing, not just to meet a deadline or to check a box off that there's something, there's more of a holistic approach to this, that what is it that we want to do? And that's been my driving force in this is I've not been as concerned about what OKPOP's like when it opens. I want to know what OKPOP's like 10 years after it opens. Is it the return on investment from the state? Is it the return on investment? And I don't mean that from an economic standpoint. But is it worthy of the investment that the creatives have put into this? It's emotional for me. That's difficult, to be honest, in a positive way, but it's not something that I thought of going into it.
But when you have friends that are passing away and the last conversations you're having with them are about OKPOP, that doesn't always happen with a state project. So that's new. I don't have anything in my background to prepare me for that. So as a leader, I hope that we realize that we're going into unchartered territory, so to speak, but that there's a reason we're doing this. And that there's a result, there's a payoff at the end, there's a reward for this, that most people won't know. The visitor won't know those stories.
Robert Wagner:
Right.
Jeff Moore:
I had a conversation with one of the widows recently and talking about how every conversation I had with her husband goes into the decisions for the fixtures in the bathroom. The creatives that we've befriended through this process have challenged us to do something great, don't accept mediocrity. And if you look at the list, and the list from Oklahoma's impressive, but that list is excellent. And so we have to do something great. I won't accept anything less because they don't. They don't in their creativity.
Robert Wagner:
Right, right.
Jeff Moore:
There's a reason that George Harrison and Ringo Starr and Eric Clapton and Joe Cocker and Bob Dylan, and the greats from an entire generation sought out Leon Russell in Tulsa, Oklahoma. There's a reason for that. And if we just check the box and make the date and do the, "Here it is," and there's not heart and soul, then we've missed the point of this, in my opinion. And that's not easy to do within a state project.
Robert Wagner:
Yeah. Yeah.
Jeff Moore:
We have challenges and we've been able to make things happen and that's been kind of a joy in a sense, is working with the different state agencies because it's this project's different than what they get to use to work on sometimes. And so I've noticed along the way, whether it's someone in the county or someone with the construction and properties division, or the real estate division, all these different state agencies that we work with on this project, they take pride.
They realize they're having their fingerprint is on this project. And that's great. And I think that's also something as a leader, bringing different entities together to work for a common goal can be a challenge. But in my opinion, that's a reward that doesn't result in a paycheck or a story in the newspaper or anything like that. That's just something I know that, you know what? I made this person who somebody might talk them up as just a bureaucrat, but I know that this person went above and beyond and made this project successful. And I let them know that. That's one of the things I've got to be conscientious about, is making sure that everybody's involved in this and knows that no matter how small their contribution has been, we couldn't have done it without them.
Robert Wagner:
Yeah. That is fantastic. You're getting me all excited about it. It's very cool. So what is the total budget for the project? And really, what I'm interested is going down the technology path. So how much of the budget is technology?
Jeff Moore:
Probably 10%.
Robert Wagner:
Okay.
Jeff Moore:
We're looking at ballpark, around a $50 million project when it's all said and done, and my guess is at least five on technology.
Robert Wagner:
Okay.
Jeff Moore:
And now that's visitor experience technology.
Robert Wagner:
Right.
Jeff Moore:
Not necessarily the behind the scenes. That's interactive, what we call interactives within the museum world.
Robert Wagner:
Okay. So that's exactly where I wanted to go is how are you thinking about that? You want to create a fantastic customer experience, I'm sure. And technology moves really fast. You mentioned earlier about, in a different context, what is it going to look 10 years from now. Are you designing things that really aren't even here yet, or how are you thinking about that, the technology?
Jeff Moore:
Yeah. We talked about that more than anything. What we're trying to do is create a framework that we can adapt because you're absolutely correct, pop culture changes. And it changes for a lot of different reasons. Some things are good and some things are bad, and we need to be able to deal with that. We're telling the stories of flawed human beings. So we have to acknowledge that and we have to deal with topics fairly. Pop culture's not all just bubble gum and lollipops. There's a dark side of it. There's people that have, creative people that-
Dark side of it. There's creative people that have had experiences and things in their lives that haven't been great. And we need to talk about that. We need to talk about that life on the road for a rock and roll musician in the 70s. Life expectancy wasn't what it was for other industries, so to speak.
It's a wear and tear. It damages families. There's a lot of the human toll of pop culture in pursuing your creative dream. That's part of that whole thing. So, we've got to be broad in the stories that we can tell on one hand, but then, we also have to be able to embrace new technologies.
I've got people on the staff that weren't... Let's see. How did we... We came up with this the other day we were talking about that. TikTok has completely changed pop culture. I know people, I don't want to throw any names out there, but I know people that will sit and watch their TikTok and not watch the movie or the TV show that's on the screen in front of them.
Robert Wagner:
Right.
Jeff Moore:
They're doing the TikTok while they're doing that. We've got younger generations that the technology is probably, they're going to come back and say is affecting people physiologically from the way their brain connects and able to bring in information.
So, we have to embrace that and we have to be able to tell the stories. And what we're doing now is just trying to stay as broad as possible when OKPOP opens. The other thing is we're embracing the change. Change is part of it. So, when it opens and you come the first month, if you come back two months later, it's a different experience. Things are different. So, it is what it is so we embrace it.
Robert Wagner:
Yeah. Yeah. Okay. So you've hit on this a couple of times. I just wanted to get into a little bit of the relationship with two creatives. And whether that's themselves, this is a young industry. So you get the opportunity to actually talk to the creative, which is awesome.
Or sometimes it's their estates, or their families, or whatever. And you've already talked about interviews and everything, but just talk about the acquisition of these materials. I mean, I assume a lot are donated. Right.
Jeff Moore:
Right.
Robert Wagner:
Is there a negotiation? Is there purchases that happen? Can all of the above in terms of acquiring these things?
Jeff Moore:
Yeah. It's a little bit of all of that. I give way too long of a story sometimes, but the context of this is going back to a previous question when you asked if people embraced this concept of OKPOP. I would say that OKPOP already existed.
The question was, it existed in New York, in LA, in Seattle, in Nashville, in Cleveland, where all these pop culture facilities were and these media centers were. The question is, is it going to work in Oklahoma? Or not that it's going to work in Oklahoma, but is it going to be something that we embrace here? And the reason I say that is 95% of our collections... Well, maybe less now, but there was a point when at least 90% of our collections came from out of state.
Robert Wagner:
Okay.
Jeff Moore:
So, in some ways, there's this gathering and bringing home these stories. we've picked up collections in Portland, Oregon. We've picked up collections in Nashville. We picked up collections in Texas. We brought back a Bob Wills collection in a Oklahoma state van from the city of Austin.
Robert Wagner:
Okay.
Jeff Moore:
And we were able to get in and out.
Robert Wagner:
Now, are these people who have collected these things?
Jeff Moore:
Yeah.
Robert Wagner:
Are these individuals who, they've had an interest in a certain creative or artist?
Jeff Moore:
Yeah. Yeah. It's sometimes it's the family, it's the individual. But then also, there's every one of these stories has a fan base. And then you have the uber fans within those communities.
And that's the other thing about this, as a creative, is that we haven't really given... They're not in the same category as creatives, but these fan bases, these communities, these tribes. There's a Leon Russell tribe. They're called LeonLifers. And with the technology, they communicate, they share stories. They share experiences. They share concerts they went to.
Jesse Ed Davis is another amazing story. And Facebook and social media now allows us to find our tribe out there, to form these communities. So, we do get collections from the fans. We get collections from the individuals. But you did hit on something that is very unique in the sense that most of the conversations we have are with people who are alive. And at least the conversation was initiated while they were alive. And that is very different for a history museum.
There are some history museums, like if you go to Jamestown, you're dealing with descendants, but you're dealing with descendants where it's been 400 years. So there's not the emotional connection. Well, if we're dealing with descendants, it's spouses, it's children, it's grandchildren, it's people who knew those people. And so, the emotional connection to them as a human being is very different than a fan situation.
Robert Wagner:
Right. Right.
Jeff Moore:
Someone's asked me, "So what do you do?" And if you're a Game of Thrones fan, I've said, "Well, I'm like Tyrion, in the sense that you've got to communicate with all these different kingdoms." And that's a lot of what the work is, is that every situation while it's all part of a project, it's all very individual. And every relationship with every creative is a very much a one-on-one.
But then again, it goes back to a previous conversation, has an emotional toll because we've lost people along the way. And will continue. But hopefully those stories inspire new stories. So, we get this agricultural analogy now. We're harvesting, but then we're planting for that next year's crop.
And so, we've really embraced that concept, in that we're doing this to preserve legacies, but we're doing this to preserve legacy so that we can inspire future creatives.
Robert Wagner:
All right. Jeff, it's been fascinating hearing you talk about it. You're intoxicating. You're a great spokesman for this effort. It's awesome. We do have five questions that we ask every guest though.
Jeff Moore:
Okay.
Robert Wagner:
So you're ready? So what was the first way you made money?
Jeff Moore:
When I was probably three or four, my father built a house by himself in Colorado and would pay me a penny for every nail I picked up. And he tells me that I brought four or five and he gave me a nickel. And that was the end of my work. I needed to get the big picture. I didn't. It was too micro for me. So I just missed that, hey, someone could step on that and get hurt.
Robert Wagner:
Right. Right.
Jeff Moore:
Maybe I... I was also three and four.
Robert Wagner:
Okay.
Jeff Moore:
But I earned a nickel.
Robert Wagner:
Okay. So, if you were not the executive director of OKPOP, what do you think you would be doing?
Jeff Moore:
I have no idea. The way this path has taken, there's no way I could have predicted it. So, I really have no idea. I really don't.
Robert Wagner:
Okay. Okay. What would you tell your 20 year old self?
Jeff Moore:
That's an interesting... I actually had this conversation with some folks yesterday because you talk about things that you know now you wish you knew then. I think if I had the conversation, my 20 year old self would go a different direction. And my 50 year old self would be disappointed.
Robert Wagner:
Oh, wow.
Jeff Moore:
Because there's a price, but it's worth it. And I don't think the 20 year old self understands that.
Robert Wagner:
Gotcha. Gotcha. So, what will the title of your book be?
Jeff Moore:
Oh, that's a good one. It's a musical journey.
Robert Wagner:
It's a musical journey? Okay. Why?
Jeff Moore:
Because life is a journey and I love music. And there's a soundtrack to life. It's reflected on our Spotify playlists. We listen to songs that take us back to certain points. And so, if I did it that way, then each chapter could be a song. And then I could tell... Moving around as much as I did when I was young, I hear a song and it takes me to a location.
Robert Wagner:
Right.
Jeff Moore:
That's very different than another song that takes me to another location, another state, another country. So yeah, musical journey.
Robert Wagner:
Awesome. What's the best piece of advice you've ever been given?
Jeff Moore:
As it relates to OKPOP, it comes from Steve Ripley and Jamie Oldaker. And they challenged me to do something great. And they didn't say it, but they implied that whatever the cost. And so, I signed on board and here we are.
Robert Wagner:
Yeah. Well, Jeff, thanks so much for being with us today. So if folks want to find out more about OKPOP, what do they do?
Jeff Moore:
They can check us out on social media, which is #okpoptulsa. And then also, and like I said earlier, everything is a work in progress, but we've launched a revamped website, which is still where, it'll never be done kind of thing. And it is okpop.org. And there's going to be lots of new, exciting things to share very soon.
Robert Wagner:
Great. Thanks so much for your time. Appreciate it.
Jeff Moore:
Thank you. This has been fun. And thanks.
Robert Wagner:
That's all for this episode of How That Happened. Thank you for listening. Be sure to visit howthathappened.com for show notes and additional episodes. You can also subscribe to our show on iTunes, Spotify, Google Podcast, or Stitcher. Thanks for listening.
Robert Wagner:
This content is for informational purposes only and does not constitute professional advice. Copyright 2021, Hogan Taylor, LLP. All rights reserved. To review the Hogan Taylor general terms and conditions, visit www.hogantaylor.com.