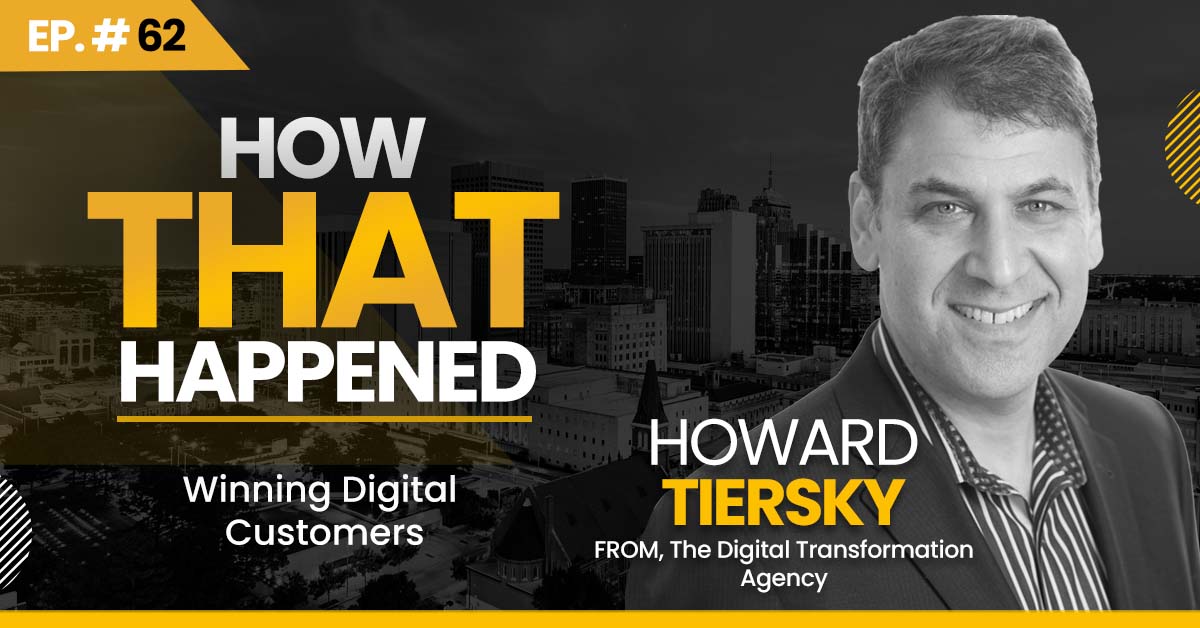 Howard Tiersky:
And I think that increasingly, if you look at people today, 70% of people sleep with their smartphone on their nightstand while they sleep at night and you see the average person looks at their phone between 80 and 120 times a day. And when surveys are done, then ask questions like, if you had to choose between working an extra day a week or giving up your phone or not taking vacation or giving up your phone, or even giving up sex versus giving up your phone. Almost always the phone wins. So this just shows you how critical it is to people's lifestyle.
Aaron Ackerman:
From HoganTaylor, I'm Aaron Ackerman, and this is How That Happened, a business and innovation success podcast. On each episode of the show, we sit down with business and community leaders behind thriving organizations to learn how business and innovation success actually happens. Well, thank you for joining another episode of How That Happened. I'm really excited about my guest today and our topic. Howard Tiersky is joining us. Howard is a serial entrepreneur. He's a Wall Street Journal bestselling author of a book that we're going to discuss some called Winning Digital Customers: The Antidote to Irrelevance.
Aaron Ackerman:
Howard has been named one of the top 10 digital transformation influencers by IDG. He is a digital transformation consultant who's worked with numerous Fortune 100 companies and the founder and CEO of FROM, F-R-O-M, a Digital Transformation Agency, probably among many other things. Howard, thank you so much for joining us today. I'm glad to have you on the show.
Howard Tiersky:
Oh my pleasure. Thanks so much for having me, Aaron. Looking forward to it.
Aaron Ackerman:
Well, I think this topic is very timely for people that follow Daniel Burs, there's hard trends and soft trends. I think digital transformation is definitely a hard trend. There's no doubt about it. It's something that comes up in either my thinking or my conversations with clients on almost a daily basis. And so, I think it's a great time to talk about it. So I'm looking forward very much to getting some of your expertise. But let me just start really basic, Howard, when you say the phrase digital transformation, that could be interpreted in a lot of different ways. When you talk about digital transformation, what are you talking about?
Howard Tiersky:
Yeah, well, of course, you're right, it's a buzzword and people use it in a wide range of ways because it's a hot term right now. There's a tendency for people to want to slap it on anything. We're going to upgrade the app. It's a digital transformation, new version of Microsoft Word. It's a digital transformation. But like any term, it only means what you make it mean. Here's how I think about it, I start by looking at the world and the fact that the world and all of our customers have gone through a very significant transformation over the last, let's say 10 to 15 years in how we shop, learn, date, deal with our finances, plan our schedules, connect with our friends.
Howard Tiersky:
I mean, it's hard to find any domain of our lives, which hasn't been significantly shifted in terms of how we go about it because of these smartphones in our pockets and other digital touch points. But there's no question that the smartphone is the most influential of all. And so, if you're in business and your customer has changed in a profound way, if you do not change to remain relevant to your customer's new needs and lifestyles, you're probably threatened. And we've certainly seen many brands over the last number of years, great major brands that have had histories of success that have not necessarily refused to change, but refused or failed to change fast enough to keep up with the changing needs and expectations of today's what I call digital customer.
Howard Tiersky:
I call my book, Winning Digital Customers. And sometimes people say to me, "What is a digital customer? You mean like a robot who walks into your store?" And it's no. It's the customer, but one who's living a lifestyle with digital at the center. I think that increasingly, if you look at people today, 70% of people sleep with their smartphone on their nightstand while they sleep at night. And you see the average person looks at their phone between 80 and 120 times a day. And when surveys are done that ask questions like, if you had to choose between working an extra day a week or giving up your phone or not taking vacation or giving up your phone, or even giving up sex versus giving up your phone, almost always the phone wins.
Howard Tiersky:
And so, this just shows you how critical it is to people's lifestyles. That's the fundamental to me. The fundamentals of digital transformation are, businesses need to recognize that the world has changed, your customer has changed and the opportunity is to transform and be even more relevant in a changed world, or fail to change and potentially lose your relevance to the customer and potentially go out of business as many have if you can't meet their needs.
Aaron Ackerman:
One thing that is amazing to me that comes up every once in a while is, when you think about how fast this trend has taken place, and I'm going off memory here, which is a little dangerous, but I think the first iPhone was introduced in like 2010. It seems like we've had the smartphones in our pockets longer than just 10 or 12 years, but it really hasn't been. And so, the speed with which we've come to where we would choose keeping our iPhone almost any other thing in our life or our mobile phone almost over anything in the life, it's kind of crazy when you think about it, but it's definitely true.
Howard Tiersky:
No, you're absolutely right. The iPhone launched in, it was even a few years after that, that it really became possible to write apps for the iPhone and that whole ecosystem evolved. You're absolutely right. It's been a short period of time, relatively speaking to the level of transformation that we've seen. And that's the challenge, because many large businesses are not designed to 10 years or 12 years, whatever it's been, may sound to some like a long time, but it's not a long time for a business to completely redefine itself if it's operating at scale.
Howard Tiersky:
And actually I think this is one of the opportunities that smaller and even medium size businesses have, because if you're Starbucks and you want to undergo a massive digital transformation as they have extremely successfully, you have a major undertaking.
Aaron Ackerman:
Sure.
Howard Tiersky:
If you have one diner, you have the opportunity to transform that a lot more easily than Panera Bread can do or whatnot. So, I think one of the things that I would say small, medium businesses need to do more of is sometimes I think there's a perception of, "Oh man, how could I do what Starbucks does? They have all these resources." Like, "Yeah, they actually have a much bigger problem to solve too though." And take the opportunity to leverage their size because after all, most small and medium businesses compete every day with the world's largest enterprises. Doesn't a small coffee shop compete with Starbucks? Of course, they do.
Howard Tiersky:
So the opportunity to say, I could actually leapfrog my large competitors by taking advantage of my small size and be able to move more quickly, I think that's something more businesses need to do.
Aaron Ackerman:
Yeah, no, that's a great point, and kind of leads into something else I wanted to ask you about. I love the title of your book and it's got, to me, a really powerful word actually in the subtitle. When you talk about Winning Digital Customers and then in your subtitle, the antidote to becoming, and here's the power word, irrelevant, that evokes some emotion for me when I read that. Like nobody wants to be irrelevant.
Aaron Ackerman:
I'd rather have a lot of negative things said about me before irrelevant. So, my first question about that is, do you see this as pretty much a binary situation where either as a business you're responding to the digital transformation or you are becoming irrelevant to your customers, is it truly binary? That's the first question then we'll tag onto that.
Howard Tiersky:
Yeah. Well, I think that it's not completely binary because you can do an okay job, a good job, a great job, a fantastic job. So there's a continuum of how effectively you're delivering the ability for your customer to interact with you digitally, whether that's on their phone or via an Alexa skill or kiosks in your locations, or what have you, and the degree that you're empowering your employees with digital tools to even in human to human interactions, be able to do a better job to leverage the power of digital, to provide higher levels of customer service. So there's always more you can do, and there's definitely a scale, a gradation of how digitally enabled a company is.
Howard Tiersky:
But I do think that it is binary in the sense that you can't really opt out. When I say that, there's always an exception. Right? I talk in my book about this one restaurant I love on the island of Cozumel, which is, it's on a beach on the far side of the island where they don't even have electricity or plumbing, and they just pull the fish out of the ocean and they grill it up for you and they serve it. There's always some place that people want to go to get away from our modern world that you can say, "Wow, you can run a great business even without electricity." But that's probably not a strategy for 99.99% of businesses. There are more of the exception that proves the rule.
Aaron Ackerman:
Yeah. Well, I think the point there would be, the larger your moat around your business, maybe the more runway you would have on acceptance of digital transformation. Fair enough?
Howard Tiersky:
I think that's a very, very good point. Another example that I talk about in the book is Ticketmaster. For years, Ticketmaster had perhaps one of the worst major eCommerce experiences in the world. They've since improved it some. They were the only place to get the Bruce Springsteen tickets. So people would log on and just plain old suffer with that horrible experience, because they were the only ones that had that unique product that everybody wanted. Or at least not at that price, you could go to scalper and pay 10 times more. But if you wanted to pay the ticket price and likewise, maybe a major sporting event or something like that.
Howard Tiersky:
Yeah, if you have that kind of emote around your business, if you say we have an exclusive unique product that only we carry, that is wildly differentiated and everybody wants. Yeah, then you've got a little more runway, but gosh, there aren't an awful lot of businesses. If you've got the only one selling the new equivalent of Air Jordans, then sure. But there are not a lot of businesses that have that level of protection.
Aaron Ackerman:
Right. Pretty rare. Then I think another point to the binary situation, it's, irrelevance doesn't happen overnight. Right? It might take some time, like you go to a classic case study like Blockbuster or a number of other high profile companies that failed to transition to what the customers wanted. It didn't happen overnight. It might take a decade or whatever years, but I think you're right that except maybe in these really extreme exclusivity type companies that is happening, whether it happens tomorrow or a couple of years from now, is probably situational, but there's got to be a response.
Howard Tiersky:
I think that's largely true, that you see it coming to some degree, but well, actually the only thing is sometimes not. And I think COVID is what showed us that. Right? There were companies that, because they weren't ready to have the agility to switch to a more digital mode of interacting with their customer, they truly became irrelevant overnight, because the world changed overnight. Now, usually the world doesn't change quite that fast. But here's an example where it did. So that's, again, perhaps the exception that proves the rule, but in certain circumstances, you can become irrelevant very quickly, but in most circumstances you have some time, but the challenge is, do you believe it?
Howard Tiersky:
I'm constantly in boardrooms of companies who still have a great business, even though they ... Of course, everyone's got a website and an app. You're not arguing this isn't the point today, but companies that still have a great business still are doing reasonably well, despite having a digital experience, which is subpar, because they have customers who are loyal to them who are used to doing business with them, because they have scale and other things. And very often, even though from the outside, you can see it coming. You can see the irrelevance approaching until things start to get bad, some companies, and this isn't true of everybody, but some companies don't bite the bullet of saying, "We need radical change because of what's coming towards us."
Howard Tiersky:
And so they waste that runway until there's very little left until they're sinking, and then they say, "Oh, wow, I guess we better change." So that's a little bit the sad thing about those companies that have so much runway, is that sometimes when you have so much runway, you say, "Eh, it's kind of like the term paper that's not due till Friday." You're like, "Eh, why worry? It's only Tuesday. Why worry about it?" "Eh, it's only Wednesday." And then it's Thursday night and now it's a crisis, and companies do that too.
Aaron Ackerman:
Yeah, that's really good. I think you're right on the point with COVID, which did maybe make some people irrelevant overnight, but I think it also demonstrated for the vast majority of companies, big and small, how quickly you can pivot when you have to, and things that maybe were ... innovations that companies had already been thinking of or started to implement slowly became implemented almost overnight, and maybe the easiest example to think about would be how virtually every company that had a knowledge based workforce or service based workforce was able to go fully remote in one to three weeks. Right?
Aaron Ackerman:
That may be something that had a lot of organizations had been started, had been thought about, but hadn't really been implemented, and it was something that maybe would've happened over a number of years, we did it in a month, and it worked for the vast majority of people.
Howard Tiersky:
Indeed.
Aaron Ackerman:
So, it demonstrated how quickly things can be accomplished when you have the right motivation.
Howard Tiersky:
Without a doubt. And also when you've taken the right steps for preparation. You're right. It was shocking to see how ... And it also shows how much of our resistance turns out to be BS.
Aaron Ackerman:
That's exactly right.
Howard Tiersky:
How many companies had people advocating these work from home situations and how slowly they were going, "Wow, won't it cause this problem, won't it cause that problem?" And it turns out, you rip the bandaid off and you discover actually it's great. But I also think that many companies, they were seeing the fruits of investments that they'd made for years, not necessarily an anticipation of a pandemic, but to give themselves more digital agility, perhaps mainly to respond to a changing marketplace. Again, they didn't anticipate this kind of change. And those were the companies that particularly did well.
Howard Tiersky:
I was talking just yesterday with the chief digital officer of Royal Canin, which is one of the largest manufacturers of dog and cat food. They, in many countries, didn't have a direct consumer eCommerce platform, but they were working on it and they had it live in some countries. And all of a sudden the pandemic came and it became problematic for people to get the food they needed for their dogs and cats from the normal channels, like from the supermarket, that kind of thing.
Howard Tiersky:
And so, they were able to very, very quickly stand up eCommerce operations in a number of countries that previously didn't have it. But in part, because of work that had gone on for a number of years to put those platforms in place so that they had that ability.
Aaron Ackerman:
Okay. I want to ask a question about, I'm going to make up a hypothetical, but let's say I'm an owner of a company, that's a very hands on manufacturing company. I don't conduct any eCommerce, I don't really acquire any customers through social media or the internet. It's a lot of face to face kind of an old fashioned business. I've never had customers ask me for invoices any other way than sending them paper in the mail. So, I may sit here and go like, "This is great. I buy things on Amazon. I can see that in the world, but my business just doesn't matter." What would you say to a person running a business like that?
Howard Tiersky:
Yeah. Well, I'd say two things. First of all, if your customers genuinely don't care about doing business with you digitally, don't do it. Great. Wow. You represent like the 0.001% of businesses where customers don't seem to be concerned about that. However, if you believe that to be the case, my first question would be, what makes you say that? How certain are you that that's how your customers feel? Is that just how they used to feel, what you want them to feel? How recently have you researched those customers? How formally have you sat down with those customers to really make sure you understand what their needs are, what their points of pain are, what their competitive alternatives are, and whether some competitors may be offering better experiences?
Howard Tiersky:
I would guess that in 95% of situations where someone says what you just said, and this is a lot of the work, for example, my company will often do is, come in and do customer research. Will come back and say, "Well, you do have a segment of customers that is, as you just described." Right? And guess what, are they growing or are they shrinking? They're shrinking. And you have this other segment of customers that feels very, very differently from what you described, and they're frustrated that they can't order from you digitally and that they can't get digital invoices, and they're dealing with other companies and competitors that are enabling that, and they're thinking about switching, et cetera.
Howard Tiersky:
Now, obviously this is hypothetical, so I can't promise you that that's always the case, but most of the time, that is what happens. And so, I think anyone who's giving themselves that kind of comfort that I don't have to worry about this because my customers don't care. I'm guessing they're mistaken.
Aaron Ackerman:
Yeah. I think that's right. One of my favorite exercises to go through as just a thought process is to ask the question, what would create a company that would put you out of business the fastest? What does that company look like? And in that hypothetical, I think that company might look like what you described, somebody who is offering a lot of different ways to do business and things like that. And I think anybody, even if they feel a little bit insulated from the digital transformation, if they were truly asked themselves that question, the answers, some of them anyway, would be around those eCommerce digital platforms and things like that. I would think so.
Howard Tiersky:
I think you're absolutely right. And if you find yourself in an industry and there are some crusty industries that are still fairly old school, the digital way of visual transformation started with travel and financial services quickly went to retail. And there are certainly some industries that have been more laggards, healthcare, government, manufacturing, as you mentioned, it's certainly there now, but of course it's not as mature as it is in some of the industries where it started earlier.
Howard Tiersky:
But also, if you're in an industry where most of your competitors are not offering digital interaction models or robust ones, and this is a massive opportunity, because it may be, most people weren't asking Apple to create the iPhone.
Aaron Ackerman:
That's right.
Howard Tiersky:
They weren't saying, "Well, we're a computer company." But all our customers are saying, "Why don't you make a phone?" Probably not. But they had the insight to realize that there was a need out there and they had the technology to satisfy it. And because they were early movers and produced a great product, they captured that market. So if you're in a manufacturing sector, as you described, and if all of your competitors are similarly old school, you have the opportunity to be the company that puts them on a business by innovating and showing a better way. And the way to do that, and this is part of what I talk about in the book, again, still stems from customer research because it's not enough just to know, "Oh, okay. My customers, they want digital." That's very, very vague in general.
Howard Tiersky:
You want to get really specific about understanding, well, what are the points of pain in my customer's experience? For example, if I'm a manufacturer making inventory for customers, the fact that they have difficulty forecasting when they need to reorder, that inventory might be a significant issue. The cost associated with shipping and the opportunity to find lower ship, getting really specific and understanding, well, what is it that my customer is challenged by, whether they blame you as a business for it or not. Because when you can create a digitally powered offer, and by the way, it doesn't have to be digitally powered. If you come up with a better value proposition for the customer, even if it has nothing to do with digital, that's equally valuable.
Howard Tiersky:
But obvious today, so much innovation is driven by digital, figure out how to solve the pain that they have. That's usually the key. It's not just about, "Oh, now it's got a drone. Now it's augmented reality." That doesn't necessarily create value for the customer. It's when you root it in something that's a point of inconvenience, friction, frustration, confusion, disappointment, anger, something that's costing them money, something that's wasting them time. This is when all of a sudden you can capture a huge much larger share of market by really differentiating yourself from your competitors.
Aaron Ackerman:
Yeah, that is awesome. Okay. I want to put a pin in that and come back to it in just a second. But before we leave the topic, I want to ask about, in your work with clients as you're consulting, why do people ... Maybe they recognize, they go, "Okay, we need to get up to speed, we need to really focus on digital transformation." But they don't do it well. I'm thinking maybe they lack executive sponsorship or organizational buy in, or there's a lack of financial or human resources. What are the headwinds or the challenges that cause companies to ... They've said like, hey, we're in, we want to do this, but they hook in the woods somehow. What are those kind of common misstep?
Howard Tiersky:
Well, you mentioned some good ones there. Absolutely. I think I'll just rattle off a few. I think certainly one is they focus on technology too much. Somehow they define the transformation as you know, that next SAP upgrade or whatever, which isn't necessarily transformational at all. SAP's a great product, but just upgrading to new software or enabling new technology, isn't necessarily going to create value. Successful transformations create value for the customer. And as a result, create value back to the organization.
Howard Tiersky:
Another is, you mentioned organizational resistance. I think this is the single largest barrier to transformation. Certainly you need to have a vision for what is the transformation you're trying to create, if you don't have that vision, then it's hard to know. It's like that old quote, "If you don't know where you want to go, then any road will get you there." That from Alison Wonderland maybe, I'm not sure, but-
Aaron Ackerman:
Either that or Yogi Bear, one or the other.
Howard Tiersky:
So you clearly need to have a vision of where you're going and it needs to be rooted in creating value for the customer. But I've seen many organizations where somebody does have that vision, they've brought in somebody, head of innovation or chief digital officer or whatever. Somebody's got it. There's somebody who's trying to drive the organization in a certain direction. But it's like they've got all these people pulling in the other direction. And so that issue of organizational resistance, which can come from the top, it can come from the middle and it can come from the bottom too is certainly one of the biggest reasons that transformations fail.
Howard Tiersky:
I think if I were to mention one more and there's certainly others, it's lack of persistence. Transformations are big risky undertakings. And they're always going to have problems along the way. And in some organizations, there's a very low risk. There's very low tolerance for any kind of failure or problems. And so you embark on something ambitious and risky and whoa, you had a problem. Something's not working out as expected. The budget turns out to be too little. The timeframe was wrong. You've hit a technical barrier. Your first version of the product the customers didn't love immediately.
Howard Tiersky:
And sometimes people say, "Oh, okay, forget it. That didn't work. Fire all the people that were involved in that. Kill the budget, apply it to something else. Forget it didn't work." Well, if you look at any successful digital product in the market today, whether it's Uber or Venmo or Facebook or Google, none of them took a straight path to success. They all tried things, they had failures, they went other directions. And so, any company that thinks that they can just embark upon a digital transformation and take a straight path from point A to point B, because they're so smart, well, they're going to have to be smarter than Amazon, Google, Facebook, Uber, Airbnb, Venmo, PayPal.
Howard Tiersky:
They're probably not that smart, but they have to be prepared for a path that includes some unexpected twists and turns, some setbacks. And if you're not prepared for that and don't have persistence to get through it, you may abandon it just when you're on the verge of success, you just have to be willing to overcome [inaudible 00:25:34] obstacle.
Aaron Ackerman:
Yeah. That is so good. I think it's like all of those examples you mentioned. If you still believe in your first principles, then you shouldn't just pull the plug on the whole operation. Right? You pivot, you take a beat, make sure your strategy's good, change tactics or something. But if your first principles are right, then you have to keep going and find that successful path. I think that's really, really good advice. I'm probably sure that's a lot of what you do with clients, is helping them to recalibrate and keep going.
Howard Tiersky:
Yeah. I mean, you have to be able to figure out, "Okay, we need to diagnose if something's wrong, we don't want to be like we won't acknowledge that there's a problem. We want to acknowledge a problem. There's an obstacle. There's a problem. There's a barrier in our way. And then we need to be able to figure out what is it? Is it a technology issue? Is it a customer issue? Is it internal politics? Is it a illegal or regulatory issue? Sometimes that happens, and then get creative and figure out how to solve it.
Howard Tiersky:
Another quote that unfortunately I can't remember who deserves credit for it, which is, "If I can't find a way I will make a way." And I think when organizations have that mindset, and this is one of the reasons why venture back companies sometimes are successful, I think which is, they've got funding for a certain period of time and if they can't get to some kind of success, they're fired and they're all out of business. While that's probably a very stressful way to live, there's something about that that makes them say, "If I can't find a way, I'll make a way, we've got to find a way to get to some kind of success here."
Howard Tiersky:
eBay started out as a site for people to trade collectible Pez dispensers. I'm guessing they didn't make quite enough money that way, and so they said, "Maybe we need to broaden the vision a little bit." And most products go through that kind of evolution.
Aaron Ackerman:
Yeah. It's the burning of the ships mentality. Right? There's no other way home. We have to succeed or go away. Okay. So, just a minute ago, you really did a great job of linking a digital transformation, digital strategy to customer experience. I thought you did such a good job on that. want to talk about that a little more and dive just a bit into that. So, I think you're right. I think that customer experience overall is aligned and can't really be divorced from the digital experience in most cases. But talk about that a little, how you see the alignment of the digital experience with the customer's overall feeling of what it's like to be your customer.
Howard Tiersky:
Sure. Well, I agree completely that it's hard to separate them because digital is woven into so many things. Having said that, the digital touch points, for example, are certainly not the entirety of the customer experience. If your store heat is too hot and it's 87 degrees, when they come into your store, that may not have anything to do digital, but that's a customer experience problem.
Aaron Ackerman:
Sure.
Howard Tiersky:
If your employees are unfriendly, that's certainly customer experience problem. So I would never want to suggest that customer experience is now all about digital and you don't have to worry about anything else. Clearly there are a wide range of things. I do think though that both the customer, because they're living digital lifestyle, they expect every aspect, every component of their omnichannel experience to be digitally enabled. And furthermore, many of the challenges that seem like non-digital ones, there's digital tools to help address it.
Howard Tiersky:
If your employee doesn't know the answer to a customer's question, give them a knowledge base. If the employees are unfriendly, perhaps there's a digital tool that can help with training or performance management. And again, I don't mean to suggest it's all about digital, but there are so many digital solutions out there both for affecting the digital as well as the non-digital interactions customers have, that is truly pervasive. And then the last thing I'd say is, there's aspects of the customer experience that seem non-digital, but they still need to be changed to take into consideration the needs of the digital customer.
Howard Tiersky:
One simple example would just be, for example, making sure that people in your call center know enough about the app, so that if someone calls and has a challenge with the app, they can support it. But another even more concrete example would be, look at what a lot of the quick service restaurants are doing today, like Taco Bell. They're redesigning the drive-through lanes in their restaurants, so that they're still on same old traditional drive-through lane, where you pull up and you tell them what you want, and they make it for you, but there's a little bit of a delay, right, while they prepare your food and you have to pay.
Howard Tiersky:
And then a separate drive-through lane they're creating now, if you've placed the order on your phone, you've already paid, they've got the food ready, they've texted you that it's ready, and all you need to do is drive up and grab the bag. So something is funny, we used to talk about digital versus brick and mortar, but these guys are literally having to change the bricks and the mortar of the restaurant to carve out a new window, to meet the needs of digital customers. And so you want to be thinking about ...
Howard Tiersky:
And again, that's why in the book I call winning digital customers, not being a digital leader or something like that, because winning the digital customer isn't just about the app. Sometimes it's about the drive-through window or the training or whatever else that seems non digital, but is part of giving that digital customer a great end to end experience.
Aaron Ackerman:
Yeah, that's excellent. So we're kind of wrapping up here in the next couple of minutes. Before we switch topics, anything else about just the book, about the digital transformation overall, anything we didn't talk about that you think is really important for small, medium businesses to think about?
Howard Tiersky:
Well, one thing that's so wonderful today is that there are so many platforms out there, whether it's platforms like Square, platforms for menuing, platforms to integrate with social media, platforms like Shopify. In the old days, it might have felt like big enterprises, they can build these amazing technologies, but as a small and medium business, you probably can't afford to build your own eCommerce platform from the ground up, for example, as Amazon did, but you just don't need to.
Howard Tiersky:
And so there's so many platforms out there that serve small and medium businesses. You want to make sure you're really knowledgeable about those platforms. Don't drive yourself crazy about picking the right one by the way, because a lot of times it's Coke and Pepsi and five more examples.
Aaron Ackerman:
Sure.
Howard Tiersky:
Of course you want to do your due diligence, but there's so many outstanding platforms out there that allow you to digitally enable and digitally transform your operations that don't be intimidated. You still need somebody who's savvy enough to know how to make sure that your product catalog is being put into the Shopify database or whatever else, but it's so much easier than it used to be.
Howard Tiersky:
That again, it levels the playing field to some degree between large enterprises with huge IT departments and what a smaller business can do by simply signing up for a subscription, some kind of eCommerce platform or other kind of platform, industry specific platform, for restaurant or whatever type. Dry cleaners, whatever type of business you're in, somebody's making a platform to digitally enable your type of business.
Aaron Ackerman:
Yeah, that's really good. So, you've got another book, I just wanted to quickly ask about, because it really peaked my interest too. You have another book on your website about running impactful online meetings. I was just curious what experience or what prompted you to want to write that book and why did you write that book?
Howard Tiersky:
Well, I'll tell you, we were in the middle of working on Winning Digital Customers. In fact, we were near the end and then the pandemic hit, and we saw how there was this huge shift to people engaging through online meetings, whether those are simply small staff meeting or whether they're like multi-day workshops. In our business, we run a lot of meetings with our clients and we do a lot of workshops to brainstorm things and create requirements, just develop strategies. So that's a big part of what we do. In fact, we have a workshop facility in Manhattan called The Innovation Loft, which is the whole floor of a building that can hold hundreds of people to come together and work on something collaboratively.
Howard Tiersky:
So we believe that's an important part of getting things done, is bringing people from across an organization together to pull their knowledge and thinking and creativity to come up with a solution and one that everyone can be aligned around. So, that kind of collaborative work sessions is really, really important. And it was clear to me that all of a sudden you had all these people conducting Zoom meetings and using other platforms that weren't necessarily that experienced with it.
Howard Tiersky:
And the biggest issue that I saw wasn't necessarily like they didn't know where the mute button was or how to turn their camera on and off, people figured that out. But how do you really engage people? I'm sure you've seen endless ... We've all been on endless meetings of these meetings now where people aren't engaged, you look on the cameras, nobody has their camera on, or people are looking bored. And by the way, there's plenty of bad in-person meetings as well.
Aaron Ackerman:
Sure.
Howard Tiersky:
It's not like everyone's in-person meetings were fantastic. So, bottom line is, because this is an area that we do a lot in our business and we're kind of known for doing these great workshops where everyone's very engaged and excited, and they're not those kind of meetings where people sit around, check in their phones all day long. We said, "Well, this isn't something I ever thought about writing a book about, but it seems like we have some knowledge here that we should really be sharing with the world."
Howard Tiersky:
And so, while we were working on this other book for a regular publisher, and we'd been working on it for like a year, we took about a week, and a colleague and I pooled our knowledge on this topic and we wrote this much shorter book and we published it through Amazon's self-publishing mechanism, which you can do so fast. And then that became an Amazon bestseller, I think, because there was so much ... It was a topic that was just very timely and because we were able to get it out very, very, very rapidly because of all these well combination of having the knowledge and also these publishing platforms that allow you to publish a book overnight if you have the content.
Howard Tiersky:
So that was just a quickie project that we did to get that information out because we thought people needed it. And then we went back to working on a menu.
Aaron Ackerman:
That's funny. So you addressed your own need and then realized, "Okay, we can help a lot of people with this really cool. Something that I think is not going away. I think the online meetings are here to stay and so we always need to be looking for ways to improve the effectiveness of those venues.
Howard Tiersky:
Indeed.
Aaron Ackerman:
Yeah. Little side note here. I don't know if you're a football fan, but have you seen the Eli and Peyton manning Monday night football Zoom calls?
Howard Tiersky:
No.
Aaron Ackerman:
It's on a separate channel from the regular broadcast, and it's just them talking during the game and they have guests on, and it's really funny. But not something that I think would've been that interesting a few years ago, but just given the way everyone's working now, it's been an interesting phenomenon.
Howard Tiersky:
I have to check it out.
Aaron Ackerman:
Yeah. Okay. Howard, where can people buy the book, find out more about you and your work with From, where can we find you online?
Howard Tiersky:
Sure, sure. The book you can find pretty much anywhere that you buy books, Amazon, Barnes & Noble, et cetera, et cetera. But it also has its own website. So you can go there if you like to winningdigitalcustomers.com, all one word. There's actually links to where all the different places you can buy the book through traditional channels. You can also download the first chapter for free from that website. So if you want to just check that out before you invest in the book.
Howard Tiersky:
I also publish a lot on LinkedIn, probably that's the best place to engage with me on social media, although I am on Twitter and Facebook and other places, but I do twice weekly live casts and a lot of other stuff on terms of engaging around matters of digital transformation, you can just find me under my name, Howard Tiersky. And if you're interested in learning more about my company, which is called From, The Digital Transformation Agency, the URL of our website is from.digital.
Aaron Ackerman:
All right. Howard, thanks so much for sharing your insights, really, really helpful, very timely, and just really, really appreciate that very much.
Howard Tiersky:
Oh, thank you, Aaron. Thank you for having me.
Aaron Ackerman:
Yeah. Just to wrap up here, we've got a few questions we ask every guest. And so, if you're set, I'll hit you with those now.
Howard Tiersky:
Okay. I'll do my best.
Aaron Ackerman:
So, first one, easy question. What's the very first way you ever remember making money?
Howard Tiersky:
I think it was, the first real job I had was teaching drama classes at a day camp near my house in Lincolnwood, Illinois.
Aaron Ackerman:
Oh, okay [crosstalk 00:38:35]
Howard Tiersky:
I think probably like first, second and third grader or something like that.
Aaron Ackerman:
Yeah. Teaching drama classes. Excellent. So you've spent most of your career starting and founding businesses, helping people with technology, digital transformation. If you had a completely different career path, if you had to do something totally different, what would that be?
Howard Tiersky:
Well, I've always been interested in stories and I think that's a component that I weave into all the work that I do around digital. But my original kind of career trajectory was focused on theater, film, television, that sort of thing, and I think certainly I could have wound up doing that except for the amazing opportunities that were there in the early days of the internet. So, if I was to go back and if I wanted to try a different path, I think it would probably be to follow that path and focus more on pure storytelling versus the world that I'm in now, which is a lot about eCommerce and helping businesses with their own transformations.
Aaron Ackerman:
Yeah. Very cool. What would you like to go back and tell your 20 year old self?
Howard Tiersky:
I can't think of anything honestly, that I'd want to tell my 20 year old self. I wouldn't want to spoil the surprise.
Aaron Ackerman:
I like that.
Howard Tiersky:
Buy Amazon at the IPO, maybe. How about that?
Aaron Ackerman:
There you go. I'll take that. So what would you title your autobiography?
Howard Tiersky:
I just can't imagine anyone would be that interested in learning the story of my life [crosstalk 00:39:58]
Aaron Ackerman:
Being a storyteller, I know you probably don't really believe that you could make a good story from anybody. Right?
Howard Tiersky:
I'd probably tell you something like, "Are you sure you can't find a better book to read than this?" Something like that. And you know a title like that might just work.
Aaron Ackerman:
It can. So, last question. What is the best advice you've ever received?
Howard Tiersky:
Well, I think the best advice I've ever received, probably, I've spent a lot of time working with Tony Robbins organization in various capacities in their client [inaudible 00:40:33] I work with them, volunteer basis as well. And one of the most profound ideas that I learned from Tony is the idea that we really have the ability to control how we feel, our emotions at any moment, instead of the idea that most people which seems natural, which is that, our emotions are reaction to the circumstances that we're in [crosstalk 00:40:54]
Aaron Ackerman:
[crosstalk 00:40:54]
Howard Tiersky:
But in fact, what Tony teaches is that, it's all the meaning that we give to things that happen and that we have the option to be happier a much larger percentage of the time, if we're strategic about how we apply meaning to the things that happen around us. Some people are able to be in wonderful circumstances and somehow be unhappy all the time anyway, and other people have lives that others would look at and say have all kinds of misfortunes and yet are able to be happy. And so, I think this idea that we are the masters of how we feel, not the circumstances of our life, I think that's probably the most valuable conceptual piece of advice that I've ever gotten.
Aaron Ackerman:
All of that, that's powerful. And part of that I think is everybody can point to an experience in their life where they thought something that happened was either really good or really bad at the time. And much later you realize it was the opposite. Like something you thought was bad, ended up being the best thing that ever happened to you, or vice versa. You just don't have the right lens yet to evaluate. And so why get torn up inside or whatever over something that's going to end up being the biggest blessing that you've ever received not something bad?
Howard Tiersky:
Absolutely. And Shakespeare says in Hamlet, "There's nothing neither good nor bad, but thinking makes it so." And maybe an even better quote is, I think it's Mark Twain, but it could be mistaken, who said, "I've had great misfortune in my life, but none of it ever happened." I think he said something like, "I've suffered great misfortunes in my life, but none of it ever happened or something." So many of us do that to ourselves.
Aaron Ackerman:
Absolutely. Now, that's great. Very powerful. Well, Howard, thank you so much. I really enjoyed our time.
Howard Tiersky:
Likewise.
Aaron Ackerman:
Thanks for your insight and congrats on the book and all of the success and look forward to following you on social and seeing what else great things you do in the world. Thank you so much.
Howard Tiersky:
Thank you very much.
Aaron Ackerman:
That's all for this episode of How That Happened. Thank you for listening. Be sure to visit Howthathappened.com for show notes and additional episodes. You can also subscribe to our show on iTunes, Google Play, or Stitcher. This content is for informational purposes only and does not constitute professional advice. Copyright 2020, Hogan Taylor, LLP. All rights reserved. To view the Hogan Taylor general terms and conditions, visit www.hogantaylor.com.