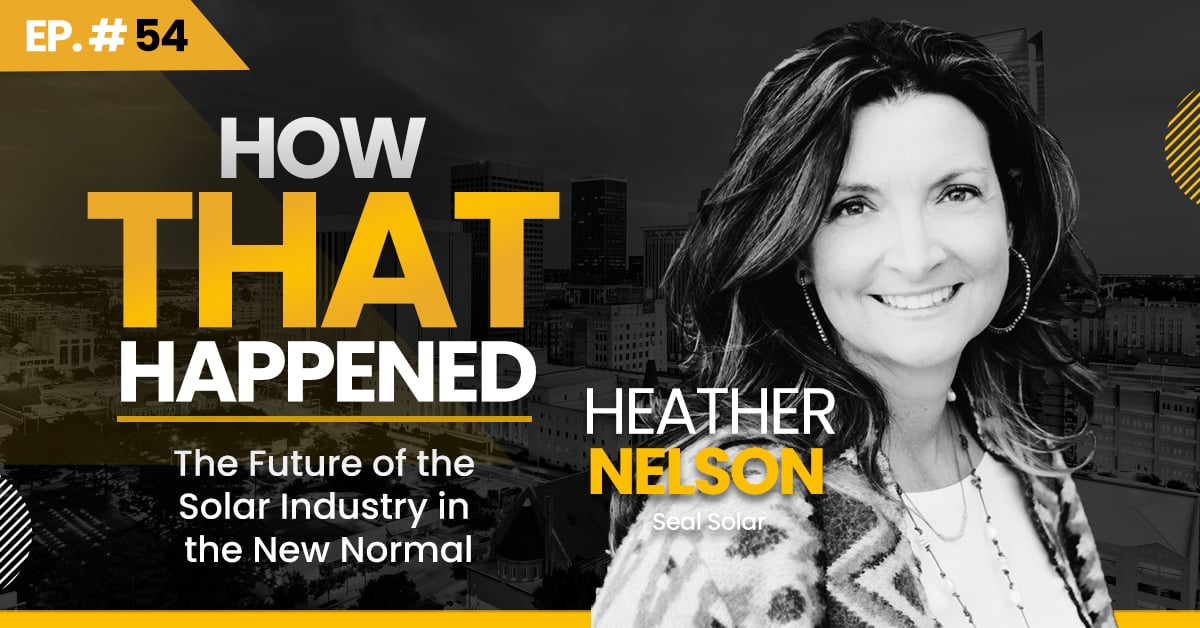 Heather Nelson:
For us, it really did take someone outside of our day-to-day operations, which Josh and I were knee deep in, and it took a fresh perspective, even though Josh had said some of those same things, and so had I, over that year wrestling with those decisions, that clarity and that outsider just assured both the best that we were making the right decision.
Robert Wagner:
From HoganTaylor CPAs and advisors, I'm Robert Wagner, and this is How That Happened, a business and innovation success podcast. Each episode of the show, we sit down with the business and community leaders behind thriving organizations to learn how business and innovation success actually happens.
My guest today is Heather Nelson. Heather is the president and co-founder of Seal Solar. Seal is a solar energy construction company, which designs and installs solar energy systems and energy storage systems for both residential and commercial applications. Seal was founded in 2012 and has grown quickly into one of the leading solar energy system providers in Arkansas. Heather started her career in the banking industry and served many years as a commercial lending officer until she co-founded Seal with Josh Davenport. Heather was named the 2021 business executive of the year in March of this year. She holds an MBA from the University of Arkansas at Little Rock and a marketing degree from the University of Arkansas.
Heather's community involvement is quite extensive. Currently she's on the board of Junior Achievement of Arkansas. She is a commissioner on the Arkansas Historical Commission, and she also serves at The Excel Center at Goodwill Shool Advisory Council. Heather, welcome to the How That Happened podcasts.
Heather Nelson:
Thank you so much. Thrilled to be here.
Robert Wagner:
Yeah. So happy to have you and obviously you're a very busy person and very involved in the community as well as your work. So I'm very excited to talk to you today. So Heather, you started out in banking, you've got a degree in marketing. How'd you end up in the solar industry in the state of Arkansas?
Heather Nelson:
Well, it's really a long story. I'll try to make it as succinct as possible, but I've been in banking and corporate lending for nearly two decades in 2012, and so decided about mid year that I was going to go back to the University of Arkansas and start pursuing a PhD. I was going to teach college and pursue a couple of my mentor's dreams for me of becoming a college professor. After 2008, banking was a lot different and so it hadn't been as much fun as it had previously, and I think it was just time for a career change. In the process of that, I had lunch with Ken Davenport and he spent the entire time talking about his son and this business idea that he had and long story short, Josh and I spoke after lunch. Ken had gotten him on the phone and he said, "You got to do this with me," and I said, "You don't even know me."
So I always liked to say I never officially said yes, but here I am. So Seal Corporation got birthed out of Josh's idea and I like to say that the business model that we put together in late 2012 was completely different, less than six months later, which is a tale you often hear in entrepreneurship. But we started out as an energy efficiency focused firm. We were doing quality control for utility programs, in particular with a nonprofit that was being incubated at the time, the Clinton Foundation [inaudible 00:04:01] former Clinton Climate Initiative, a group. It didn't take us long to learn that we were going to starve to death because where they were in the gestation period of their program was just too new for what we needed in order to be able to have a sustainable business.
So we started branching out and we continued to help them, but we started kind of doing our own thing, changed our business model. Before we knew it, utilities were calling us, asking us to be a part of their energy efficiency programs. Then they asked us to expand into commercial, and so over the years we just slowly started growing and we went from the two of us to ...by 2015, 2016, we had over 50 employees, we had five different lines of business and three offices in two states. One of those business lines, which we started putting R&D money in in 2015 was solar. So by 2019, early 2019, we knew that something had to shift. Our solar business line was outperforming all of our other business lines at about a three to one ratio. We also, when we took the temperature of our team, the bulk of their desires and passions were in solar and the related technologies.
So in early 2019, we divested all of our business lines except for solar, closed two of our three offices and went down from a high of like 55 employees down to 12 or 13, and then rebranded under Seal Solar effective May 1st, 2019. So we've been totally focused, the whole idea of clarity of focus in solar. Also battery storage and EV charging systems since May 1st of 2019. Those have been our sole focus.
Robert Wagner:
Yeah. That is a great story and several things you said that really caught my attention, but the one thing that you said there at the end is I think fascinating is just the decision to get focused, to scale back and to pull back and really focus in on one thing, which is very unusual for a young company to do. So what was that decision like to do that?
Heather Nelson:
It was extremely difficult. I mean, Josh and I had been on panel discussions before together, and we've been very honest and transparent because it was a huge teaching moment for the two of us in our partnership and our firm and for our team. But it also ... we think that there's a lot of learning that can be done from really the pain of that decision making process and then the ultimate decision. Because we had probably been ... battling would be a little bit kind, but we had been struggling internally between the two of us on should we do something like that, should we not? Because we were kind of seeing the tea leaves and we knew where our personal passions were going and they were moving rapidly, being absorbed more and more by solar. So it really had become how do you give up your baby? Entrepreneurs don't like to admit that they look at their companies that they founded as their babies, but we all do and so that's kind of the worst kept secret.
So the reality was Josh and I really were struggling with how do we give up the baby that got us here? Because in our mind, it's like you're just tossing that away. Even though you're selling it and the employees and that team go on and there's a way to do that and do it well, but it still was just really, really hard mentally and emotionally to get to that point. So we had been struggling for over a year wrestling through that, and so we ended up, and it was just total God and luck, but an old acquaintance of mine that I had been on board of directors with several years earlier had reached out to me, he was looking for something new and he just had a very special skillset. So I talked to him on the phone, met him for coffee, and then introduced him to my business partner, Josh Davenport. It was very beautiful, kind of how it all kind of rolled out.
We ended up hiring him as a consultant, as an outside consultant to just kind of assess our company, and we tried not to anchor him in any way, but just say, "Come in, do a deep dive and look at it." He did, he did that over the course of about three months, and then he made his recommendation to us. We extended him an offer and brought him on as a VP of operations and he really helped us really make that hard decision. I mean, it really took an outsider that we trusted to shine a light on that situation and really give us the courage to finally make the decision. So we did all of that in March and April of 2019, and then at the end of 2019 was a blow out and it looked like that was a fantastic decision. We actually promoted him the beginning of last year to chief operating officer over Seal Solar.
So that was just a ... I don't know that that is specific for everyone and for all founders or all entrepreneurs, but for us, it really did take someone outside of our day-to-day operations, which Josh and I were knee-deep in, and it took a fresh perspective, even though Josh had said some of those same things and so had I over that year of wrestling with those decisions, that clarity and that outsider just assured both of us that we were making the right decision. It was almost like we needed that permission to make what was a really, really tough decision for us. Frankly more emotional than financial or business wise. It was just a matter of kind of walking away from a portion of all that we had worked so hard to build over that previous, at that point, seven years.
Robert Wagner:
Right. There's so much there that's so good, and you hit it at the beginning around it feels like you're giving up part of your baby and it's always been about growth and getting bigger and you're going to make decisions to purposely get smaller in a very strategic way, the whole concept of getting some help, a fresh perspective. I mean, I think that's very valuable as well. It's just like you have been cultivating a network, right? So you had someone you could reach out to, so so much good stuff there I think for folks to take as a learning. So thank you for that. That's really, really good stuff. So Heather you're in the solar industry, what has it been like to learn the science of solar technology and now battery technologies? How have you gone about that? Has that been a challenge for you? How have gone sort of deep into a field like that?
Heather Nelson:
That's a really great question and honestly in all the interviews and discussions and panels, no one's ever asked that of me. So kudos for that question. I wish my answer were better, but the reality is when Josh and I started this eight and a half years ago, we didn't really know anything about energy efficiency or lighting and controls, and then solar and battery storage. We've really had to do a deep dive and I've often said that the reason I believe that Josh and I have done well is because we are innately curious, and we have cultivated a team here at Seal Solar that is also innately curious. I think that's why ... because while Josh and I may have been the original sources of it, I mean, it's at this stage in the game and certainly for many years, it really has been about the team that we've been able to cultivate and build.
Honestly, we're continuing to build and grow based on their energy and their curiosity and their success. So I do think that curiosity had a lot to do with it and in particular, for my background, coming from corporate lending where you manage a very diverse portfolio full of many different clients coming from many different industries, you have to become a little bit, not 100%, but a little bit of a subject matter expert on all the different industries within your portfolio. Because you're having to analyze the credit risk and you're having to look back and understand what they've been through and of have a grasp it, where they're going and be able to convince them to bank with you, but also convince your credit team to take that risk.
So that background, and then just my personality I think really served me well because I looked at Seal as just another company in another industry that I had to do a deep dive into, but I have always said that I am more the story and the operational part of this, and technically has always been more of Josh's forte. He definitely took a much deeper deep dive into the technical piece of our business and completely nerded out. We like to call a lot of our team solar nerds, and that is 100% accurate. We have many, many people on our team that that's their job, is to stay abreast of all of these technologies and everything that's coming at us and what's out there and how to deliver that to our clients in the best way possible. Josh is really the leader of that piece of it, because each just totally nerds out over it.
I think that that's been really, really helpful when we present to future clients, because when they sign on to work with Seal Solar, they know they're getting a team that is very passionate, not simply about the business or the industry, but really about the technology and about staying on top of that technology. We've done many of the first in the state as far as designing and installing solar energy systems across the state of Arkansas. The first large industrial, the first county, the first city, the first bakery, the first bank, the first farmer. So we've really stuck our neck out there and it's been scary. I'm not going to lie to you, but we've really just embraced the technology and embraced being the best at knowing how to utilize that technology and talent is continuing to advance.
We're really selling bad experience and knowledge and passion every day to when we're presenting these deals and earning business. So I think that's been a really ... but that's a lot of words to say that I think that how you learn this and the approach to it really all drills down and back to being curious. That has been just such an important part of building this team here, is just making sure that they have that quality. There's a lot of things that you can teach, but having a real curious spirit and a curious mind is not necessarily one of those. So we really look for that when we're looking to add to the team.
Robert Wagner:
That is a great point. I really resonate with the curiosity thing. That's part of what gets me up every morning and doing fractional CFO work and doing MNA work. I see a lot of different business models and it's really stimulating to me. I think some people, it kind of freaks them out. It's too much to think about, and I think to your point, you're hiring to a culture of curiosity. That's just a great point to drive that home. To me, it's a very valuable thing. Again, I feel blessed to have that, but that's a very interesting insight into your own psyche, I think.
So on just the solar business, the solar industry, what's going to be the tipping point for solar, do you think? When is it going to get to the point that we don't build a house without solar? We don't build a commercial building without solar? What will be kind of the moment when that happens? What will drive it, do you think?
Heather Nelson:
That's a great question as well and I think a lot of the tipping point is waiting for and resting on how quickly we educate the public. Because once you sit down with someone and you go over the technology and return on their investment in 25, 30 year production warranty, once you educate someone, whether it's an individual for their home or for a business or a city or county, solar really does sell itself at that point. The pricing's there, you've got great federal tax credit, there's accelerated depreciation, there's a lot of grants out there on the federal and state level. So there's a lot of good news and good opportunity that make the ROI great today for solar. The problem is that, to run a hypothetical, in the state of Arkansas with 3 million people and you have less than 4,000 net meters and a net meter is the actual meter that gets changed out when you go solar.
So the meter on your house today only records one way. It reports how much you're pulling off the grid and you're using in your house. So a net meter actually records what's going both ways. So anything that you're producing on your solar array and pushing back to the grid, and then anything that you're pulling back. So when I say there's less than 4,000 net meters, what that means is there's less than 4,000 active operating in the field solar projects within the state of Arkansas. So 4,000 to 3 million, there's a lot of runway there. I mean, there's a huge growth opportunity, but what that also says is here at Seal Solar, and we've said this from day one of starting our firm and certainly we dug in on this mantra with solar, which is to tell our team no matter what your role is here at the company, 50% of your day is going to be spent educating. It really boils down to education, education, education.
So I recently got the honor of being elected as chair of the board of directors for Arkansas Advanced Energy Association, which is the largest and the premier association here in the state of Arkansas that really covers all advanced energy technologies, including renewables. I've been asked a lot of questions in the last several months since taking on that role. "Well, is the problem with solar saturation, is it policies or laws?" I always say, "No, the top two reasons that I believe that solar is not more saturated within the state of Arkansas is a lack of education and financing options." Because the fact is that even with what we're seeing with electric vehicles, which is fascinating because since January and Superbowl ad with GM, there's a lot of national press and commercials and everything else that is doing a lot of great educating around electric vehicles.
Well, even today, we don't have that kind of support, so to speak, on solar technology. So there are a lot of people out there, and the majority, I'd say, then don't understand how good solar is. They absolutely do not believe or know that there is a 25, 30 year production warranty on those panels. They're not aware of all the incentives that are out there to help them go solar. Fourth and finally, they really don't know or understand the return on the investment, meaning what a great value is and you're really investing in something that is going to help your budget, whether that's at home or if you're in business. So it boils down to educating about all of those things and then allowing solar to sell itself at that point.
So how do we get there? I mean, I've got a lot of ideas, but the thing is that's really where the focus is. So if you're a solar farm in the state of Arkansas, you're spending a lot of time and money educating the public before you can even sell them on buying something from you. You've got to do that education piece. So education is really got to get there, and then the other biggie, in my opinion, is finance. There are a lot of financing options out there for [inaudible 00:22:41], but you're talking about financing companies the way that we look at ... We used to finance ... If you went to Sears, I'm aging myself, and you were buying all new appliances, but it's not as easy to walk into a bank and get financing for a solar project.
Financing is really important because it is costly, but when you look at the warranty and you look at the ROI, if what they're paying to their utility every month, if that's off set by a payment, and yet that payment's even a little bit lower to where they're net positive month one, and they've got that paid off in 10 years or whatever that is, and then they got 20 more years under warranty and then however long after that that it's still going to produce, I mean, that's a really good value. So it's just helping people get to where they can make that decision. Then on the business side, it's gotten a lot easier on financing. I mean, banks are really starting to recognize that there's a real opportunity for them to grow their portfolios, but that is requiring with banks that we deal with today. I mean, that's requiring banks to take a look at their credit policy and make some adjustments because you can't do a seven year equipment loan on a solar project. Those metrics don't make sense.
So we really have been excited about some of the conversations that we're having with various banks across Arkansas as they're looking to add that option to their loan offerings. It's really exciting there because all that does is that helps open up and makes it available to small businesses or large businesses to finance these projects, just like they would anything else that's going to deliver an ROI to their business. So those are really the two things and there's some there's a lot of ideas out there on how we help in those two areas, but really here in Arkansas, we have some of the most favorable net metering and net meter aggregation policies in the nation, along with having really good laws right here in Arkansas.
So our policy and law environment is borderline perfect. So really it's figuring out those other two caveats and that's really ... Once you do those two things, then back to your original question, then the tipping point, that's when it happens. It's because now you have mass education, you have access to financing, and then it's off like lighting a match to a trail of kerosene.
Robert Wagner:
Wow. Very good. Your answer fascinates me because you're saying basically the technology is there. I'm sure the technology will continue to get better and all that, but the technology is there. It's just we need to understand it and know about it as consumers. It's very interesting.
Heather Nelson:
Well, one thing that we say to people is what else out there can you purchase that has a 25, 30 year warranty on it? Then electric vehicles are the same thing. Can we take an investment in a electric vehicle dealership? Tesla's are now considered the safest car on the road and you have virtually no maintenance with those. Then how that reduces what you spend on gasoline versus what you would spend to keep that charged. I mean, there's a lot of discussion right now about the environment and climate change and everything, and I'm not diminishing the importance of those things, but what gets lost in that is that when you're talking about renewables, battery storage, or even electric vehicles and EV charging stations, this is technology that is amazing today. This is technology like batteries for solar backup that changes what happened in Texas. Now your power doesn't go out. You don't have to worry about that ever again.
It doesn't mean that you're 100% off the grid. It just means that you've got battery backup and the sun comes out every day and so that batteries get charged automatically every day. So that whole situation in Texas is a completely different story if those homes had all had that, or those businesses. Electric vehicles, that technology is here, it's now, the metrics are already better than any gasoline car vehicle, hybrid or regular, that you've been gas guzzling that you can drive. So it really is important for us to explain that and express that, that this technology is available to us, every American, whether you're in Arkansas or any other state today. We don't have to wait three or five years to take advantage of that and to start saving money and to keep our businesses and our homes safer and frankly, to have that kind of independence to where we know that if something does happen with the grid, we're going to be okay, our business can keep running.
If we have sleep apnea and we're hooked up to a piece of equipment, nothing's going to happen if the power goes out in the middle of the night. So these are things that we have to continue to do a better job in our industry, is to educate on that because it isn't something that we need to ... The perception now is there is that it's coming. Our argument is, and it's not an argument as much as it's just a statement of fact, is it's here and now. Nobody has to wait. So it's really important that we continue to improve our education on that part of our story.
Very good. Very good. So, Heather, how are you using technology to run Seal Solar, say, in the quoting business or in actually running your business?
Well, we have a lot of different softwares that we use certainly as part of our design and engineering team, our D&E team, for short. They use a lot of different softwares as far as in developing proposals and designing systems. We use a lot of technology on the accounting side, on our warehouse side and certainly even in our sales tools. We have a lot of different technology that we use to ... and use mainly to empower our sales consultants so that they can show and educate our prospects on the value of solar or battery storage. So, I mean, if our system goes down, that's a problem because everything we do is online and interconnected, software based and file-based. So it's just a huge bar.
Robert Wagner:
Yeah. Yeah. I recently had a roof put on my house and the satellite imagery that was used to do all the measurements and everything was fascinating.
Heather Nelson:
Oh it is. Google Earth, Google Maps, I mean, it's amazing. That became really critical for us, Robert, when COVID started last year. I mean, we had no idea if we could continue to the company in a shut down. We had never put in place or even thought about doing a remote policy. So within a matter of hours, we're having to make decisions about everybody working from home and how does that work and how do you sell solar if you're not face to face at somebody's kitchen table or in your [inaudible 00:30:44]. So that use of technology around Microsoft Teams and Zoom, and then being able to look at places instead of trying to limit our site inspections and doing more with Google Earth and Google Maps, I mean, it's really been amazing to see the transformation on our sales and design side that's happening post COVID last year to where we just try to take all of those things as learning opportunities and go, "We can be upset about this, or we can look at ways that we can incorporate that on the long haul with our company."
There are certainly members of our team that say ... there are certain meetings that we have that they never want to do outside of a Microsoft Teams call because they've seen the value of that. Now, there are other things that certainly you want to be in person, the energy's better, but it's really amazing to see how our team has grown in the last year and a half under really challenging circumstances in the roles and using technology more and more in those ways.
Robert Wagner:
Right. Very good. So, Heather, you've mentioned the warranty a couple of times. So what does the supply chain look like in your business? Are you a distributor of products? Who's behind these products that are being installed?
Heather Nelson:
Well, here at Seal Solar, we only use tier one modules and what that means is they have been vetted by firms like Bloomberg to make sure that these firms can stand behind these production warranties that, depending on the module, are 25 years or 30 years. So it's really important and all along, we've only used tier one products for that reason. But we're buying products directly from these firms, whether you're talking about modules or inverters, racking systems.
We are a certified Tesla Powerwall installer. We buy Powerwalls directly from Tesla. We've started utilizing Tesla solar panels that we really love. We use two different kinds of those now, in addition to other module firms. Of course, with Evolve Auto, we are buying and selling lot of Tesla vehicles right now. I mean, when you look at it, we're a huge buyer from Tesla, but we are very diversified as far as we try to utilize a lot of different firms as far as where we buy our materials. One of the reasons is because several years ago when we first got into it, there was a lot of disruption in that. So one of the lessons that we learned through that season, and also from some of our mentors in solar that are in other areas of the country was don't lock yourself down into one vendor or one type of module or one type of [inaudible 00:33:58].
So we really are always looking for new and better technology and improvements both within the vendors that we buy from now, or if another one pops up in the market. We're always kind of piloting stuff and trying stuff out because we just always want to have good, solid options for our customers. Because depending on how we design the system and if it's a fixed tilt, different things we're going to need different vendors. So that's a really fun part of our business and our D&E team really likes to ... luckily, they really are solar nerds and really liked to stay on top of all of that because it's really, really important as more and more players kind of come into these industries. Because, again, that kind of goes back to these really are industries that are in their infancy.
I mean, these are not mature industries. So you're going to continue to see players come onto the market with different modules in [inaudible 00:35:04], battery storage, electric vehicles, EV charging systems. So it's really important for us and our team and to be prudent and to keep our eyes open and then always keeping a lot of doors open so that we just don't get locked in with one because you just don't know what's going to happen.
Robert Wagner:
Gotcha. So Heather, Seal Solar's part of sort of the broader construction industry and I'm just curious when you gather, and of course the industry groups aren't gathering very much these days, but when you do gather, are you seeing more women in the industry or are you still kind of a rarity as a leader in the industry?
Heather Nelson:
There's more women if you go to national conferences like Solar Power International, which is a annual national conference. There's certainly more women there than ... I mean, there are less than a dozen women in this industry here in Arkansas. It's too low. I think Seal Solar employs three-quarters of those, but to be fair and transparent, for many, many years, it was just me or maybe two of us. I really credit, honestly, Stefan, our COO, has been really great about being much more cognizant of that and really kind of knowing that it's important to really both Josh and I, and really making a priority to make sure we're seeking out the best candidate and that we're encouraging women, especially the women that work for us, to grow whatever role they're in, to open that up to them to say, "There are other roles here at Seal and within the industry," and really to be an encourager to them.
So the reality is that we don't have enough and it's something that we've got to be cognizant of. It's unfortunate that we have to think about it so much, but I'm hoping as the industry grows, especially here in Arkansas, that we're going to continue to see more and more women and diversity in these industries. Because it's exciting, but also because women are the chief decision makers, especially in the home. So our consultants, they're pitching, hypothetically, a couple and if it's a man and a woman, more often than not, the woman's the one making the ultimate decision in there, and there's other right or wrong from that. It's just that all of the knowledge out there and all of the statistics say that women are the chief decision makers. So it's really important to grow women in this field because more and more women like to buy from women. That's not always been true either. For a long time, the stats said that women preferred to buy from a man.
So I think that that's just something that we really want to be cognizant of and I think it's really exciting with AAEA that they're focused on making sure that the board of directors is very diverse and really being cognizant of that. I really appreciate that from the association too, that we're thinking about it.
Robert Wagner:
Right. Very good. So I want to ask you a question that kind of relates to your past. So you were a commercial lender for many years. You've been on the other side of the table now for almost 10 years. I know you probably have no plans to going back to being a commercial lender, but if you did, what would you do different now that you have been a business owner?
Heather Nelson:
Oh, what a great question, Robert. That's a great question. What would I do different? I don't know that I had a full appreciation, prior to becoming one myself, of the stress that an entrepreneur or a business is under, whether it's day to day or during a growth season or during a global pandemic. So I really always had close relationships with my clients, but I really think that my empathy level now would be much higher to really understand the emotional toll that the ebbs and flows of business are having on our clients and really engaging them deeper and more often about how, from a financing perspective, we can help and even more in planning and prepare for those highs and lows. I came up in banking and in corporate lending during the age of Hugh McCall and management training programs and relationship banking, and I'm a real big believer in that. I think some of that is sprinkled on into my impact here at Seal Solar, but there's no doubt that those relationships can be deeper and better.
I think it's just breathtaking to be ... I always wanted to run my own company or somebody else's, and I often say that entrepreneurship shows you where all the dead bodies are buried and it highlights all the parts of your personality that you've tried to hide in a back closet somewhere. But it also shows you strengths that you had no idea that you had. So I think though that going through all that and walking through that the last eight and a half years has certainly made me a deeper thinker about all of that, more thoughtful and more empathetic. Entrepreneurship is not easy. Birthing accompany from nothing is not easy. Birthing a company that's also part of an industry that's being birthed is not easy, and then to do that in a southern state, to be in this industry or these industries in a state that's considered wildly red and maybe not as friendly to all these new technologies, though we have certainly seen the opposite of that and we feel really blessed for that.
But there is a challenge. There is a challenge. We're coming up against large monopolies when you're talking about utilities are not as excited about solar necessarily or electric vehicles. So there's a lot of challenges to that and I don't think that I had a full appreciation to all of the ancillary things that impact a business owner or a CEO or president or CFO. I knew there was challenges, and I knew it was hard just like anything else, but there's a lot that comes at you on any given day and depending on your industry and the circumstances, that can double. I will say that I believe the pandemic last year. Certainly I saw that with a lot of my old cohorts in banking, is I think it really did with PVPs, loans and all of that. It really did. I think a lot of bankers dug in on those old relationships skills and I think I see a lot more relationship banking happening today post 2020 than I'd seen a little bit prior to that.
I think that's one of the shining lights in the commercial lending industry across many banks, is that whole commitment and concept of relationship banking. I think it's something that only grows as these industries become more complicated. There's more regulation. The technology changes. It's really important to know your customer. So that's a really interesting question, though. I will say that one of the funnest parts of my job right now and my responsibilities here are Seal Solar is having those conversations with banks across Arkansas and helping them figure out, and then if they do, how to add that to their credit policy, to how to underwrite these solar projects.
So I will say that the underwriting portion and how do you do that, the technical piece of underwriting, is a part of banking and corporate lending that I really, really miss. So that's been really fun the last few years to kind of get a taste of that again in these conversations with banks and it's really honestly made me miss the industry a little bit.
Robert Wagner:
That's great.
Heather Nelson:
You got me all nostalgic, Robert.
Robert Wagner:
Yeah. I love the overall answer just around being empathetic because it is a tough thing to do, to birth a business or run a business and the whole concept of making payroll. I mean, those are real things and they-
Heather Nelson:
Yeah, those are real things and policy and laws really impact you. I mean, I think that's something even in your own firm. I mean, I think sometimes in an entrepreneurship, in some ways I think your most important relationships are your CPA, your attorney and your banker. I think it's really important for all three of those industries to have a lot of empathy for their client base, because what is easy-peasy for you as a CPA or for a lawyer or for a banker, it's not necessarily easy for that entrepreneur and it's not their whole day. I think that's really a challenge sometimes because you do have a portfolio of clients, so you really have to have a lot of empathy, and then also you have to have a lot of subject knowledge on a lot of different industries and things. I think those three careers are very challenging, but I also think that there's just a lot of empathy that has to be born as well, because your client base has their own challenges too.
Robert Wagner:
Right. That's very good. Well, Heather, we've gotten down to the end of our time together today. I really enjoyed the conversation, but we do have five questions that we ask every guest. So are you ready?
Heather Nelson:
Yes, sir.
Robert Wagner:
All right. So what was the first way you made money?
Heather Nelson:
I actually bused tables. I was around 13 and after ball practice, there's a little restaurant in a little town I lived in and they allowed me to bus tables on the weekends and some nights, and they gave me some spending money and money to have during that season. It helped me learn a lot about talking to adults and customer service and stuff. Great memories around that time.
Robert Wagner:
That's great. That's awesome. So if you were not running Seal Solar, what do you think you would be doing?
Heather Nelson:
Probably a professor. I still have the teaching bug. Last fall, I got the opportunity to, to be an adjunct professor for the semester and teach a class at the University of Arkansas in the throes of COVID and it was a deep honor and I loved every bit of it. So there's a teacher in me. I think that's probably why I'm drawn to a lot of what we do, because, again, back to that education, education, education, but I think there's a teacher in me, but there's also probably half a dozen books in me too. I really hope for a time that I can sit and be quiet somewhere and knock out a lot of writing. There's probably a Hemingway in me as well as a professor, and I probably long for both of those careers a little bit every day. They're a big piece of the things that make me happy.
Robert Wagner:
Okay. Well, we're going to get to that on question four, but question three is what would you tell your 20 year old self?
Heather Nelson:
Wow. I would tell my 20 year old self that it's going to be okay, and to pace myself.
Robert Wagner:
Yeah. It's so interesting because we get that answer a lot, and I think the flip side of that, though, is that that sense of urgency and that sense of purpose is what has driven us to certain levels of success. Right? So how would you balance that? So it's very, very interesting. Okay. So here's your shot. Question four is what will the title of your book be?
Heather Nelson:
Actually, I have 90% of a book, one of them already done. The title of it is called Face Down.
Robert Wagner:
Face Down?
Heather Nelson:
Yes, sir.
Robert Wagner:
Okay. Do you want to tell us more about that or is it top secret?
Heather Nelson:
No, it's not top secret. I just didn't know if you had time for a description. So it's basically a book that I wrote about a year and, give or take, a couple of years after that where I had kind of hit a wall and had a lot of failure in that year and really I lost myself in a sense. I like to say that what happened to me is I kind of fell face down on the floor, which really actually literally happened, but the book is kind of birthed out of what I experienced in that process post failure. Because I don't fail easily, I don't like to fail and I certainly had ... We all fail, we all make mistakes, but previously I would just immediately bounce back. What happened in that circumstances is it was a much longer process and I ended up taking a deep dive with my relationship with God, with my dreams and aspirations and how did I get there, where did I want to go?
It ended up really becoming a life changing kind of situation. In the process of being transparent with people about that and talking about that, I got bolder and bolder about talking with it more and more. I learned that a lot of people have had this kind of, quote unquote, face down moment. It was fascinating to learn what they had learned through the experience, how it had changed them and things that they do differently on the other side of it. So it just kind of became a dissertation for me. I was writing a lot about it and journaling, and so I just started thinking, "There's a book in here," because I think that there's a lot of ... A lot of us are told and we're coached and educated to just bounce up, bounce back and Lean In, Rising Strong. I mean, all great books and great thoughts, but there is something that I've learned and from my own experience by really talking to a lot of other people is there's really something beautiful and valuable in a slow rise up from a facedown moment.
I think that there's something to that and something that needs to be written and shared about that to encourage others to ... Maybe not every time, but maybe not every time you fail is a immediate bounce back moment, and maybe there's something else for you to learn in that failure that is more important than the failure itself.
Robert Wagner:
Right. Very good. That's very good stuff. I look forward to it. Last question, Heather, is what's the best piece of advice you've ever been given?
Heather Nelson:
Find mentors and be a mentor.
Robert Wagner:
Good. Very good. All right. So Heather, thanks for being with us. If folks want to find out more about Seal Solar and more about you potentially, how do they do that?
Heather Nelson:
They can go to our website, is www.sealsolar.com. They can go to www.evolveauto.com. Both of our firms are across all social medias from LinkedIn to Instagram, Facebook, Twitter, either under @sealsolar or @evolveauto. Then I'm out on LinkedIn under Heather Nelson, and would love to connect with anyone. Or if anybody has any questions, they can certainly connect with me there, message me.
Robert Wagner:
Awesome. Again, Heather, fascinating story and thank you so much for your time today. I appreciate it.
Heather Nelson:
Thank you so much. Enjoyed it.
Robert Wagner:
That's all for this episode of How That Happened. Thank you for listening. Be sure to visit howthathappened.com for show notes and additional episodes. You can also subscribe to our show on iTunes, Spotify, Google Podcasts, or Stitcher. Thanks for listening. This content is for informational purposes only and does not constitute professional advice. Copyright 2021, HoganTaylor LLP, all rights reserved. To review the HoganTaylor general terms and conditions, visit www.hogantaylor.com.