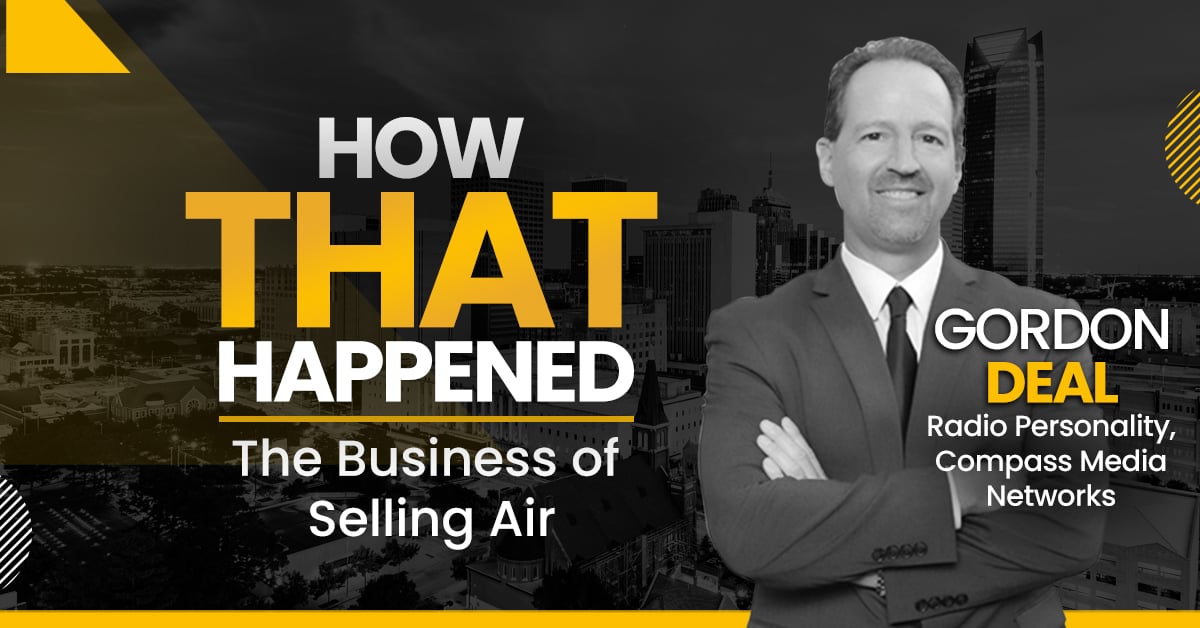 Robert Wagner:
Our guest today is Gordon Deal. Gordon is the host of This Morning, America's First News, which is a nationally syndicated radio program heard on over 300 traditional radio stations, plus TuneIn, iHeartRadio, and Radio.com. Each day's broadcast can also be heard as a podcast on all the major podcast platforms. Gordon took the helm of This Morning broadcast in 2005, which means he celebrated his 15th anniversary as the host in 2020. Prior to that, he was well-known to New York City listeners, having worked at WINS-AM and WCBS AM Radio in New York. Gordon is a graduate of Rutgers University in New Jersey, and in addition to his morning show hosting duties, Gordon is the public address announcer for the New York Giants football team, which I want to get into as well. So, Gordon, welcome to the How That Happen podcast.
Gordon Deal:
Thanks, Robert, it's really good to be here.
Robert Wagner:
Yeah, really excited to have you, and as I told you when we were talking briefly before we clicked on here, I'm almost a groupie because I've been a longtime listener of your morning radio show program, I go way back, and I would highly endorse it to anyone who's looking for straight-up news in a fairly compact format on your morning commute or something like that, I highly, highly recommend it, so I enjoy it very, very much, I appreciate what you do.
So, Gordon, our podcast is not about the news, it's not about politics, so we're not going to spend our time on that today, but we do talk about business, we talk about innovation, and I think you embody all those things, I think what you've done over the years embodies those things. So, if you'll accept the premise that you're in business, what business are you in?
Gordon Deal:
As my CEO and founder, Peter Kosann likes to say, Robert, we are in the business of selling air, meaning we present radio programming to stations all across the country, and as part of that agreement, we get to sell advertising within that programming on your radio station. So, we syndicate radio programs from a news program like mine to talk radio programming, lots of sports play-by-play, urban, we have country, so a giant menu for radio stations to choose from. But as part of the agreement, we get to sell advertising within that program, as do you, the radio station operators.
Robert Wagner:
Right. So, there's national ads and there's local ads, right?
Gordon Deal:
Yes.
Robert Wagner:
Okay. So, as it relates to the This Morning show, who's the audience you're trying to attract?
Gordon Deal:
That's a good question. I think we typically say an adult that has kids, but I do get my share of emails from college kids who check in from time to time, so it's hard to say. It's certainly not children's programming because we deal a lot in breaking news, news analysis, trending stuff, so if you put it on in the car as a radio program or as a podcast with your 1st grader in there, they're probably going to wish they could get out of the car. We generally say any adult because we talk about stuff from Social Security to buying your first home, so it's a huge range of age, I would say, that we target.
Robert Wagner:
Yeah, you hit it. We listen to you on the way to school, so my young teenagers have to listen, and it's just too bad, they're just going to learn, I mean I don't have another answer for them because I'm not missing it and they need to learn. So, Gordon, how do you think about growth? I mean to grow the revenues of the This Morning show, what does that take and how do you think about that?
Gordon Deal:
Well, my job is to create a product that's sellable, so that's how I think of it. My [inaudible 00:08:35] is not controversial, I'm not a talk show host who's pushing a particular political opinion, for example, in your face at 5:00 A.M Eastern Time when we go live. So, to many advertisers, my programming is considered safe, they don't worry about what somebody's going to say alongside, say, Lowe's, Home Depot, 7-Eleven, pick your company.
So, I think about how is my program going to be most sellable, what are my sales people listening for and how will they say, "Aha, I know who needs to be advertising on this program and here's why"? So, I think of it there, I think of what kind of content am I selling that's safe to the advertisers so they don't run away, how is this news understandable so that the average listener can consume maybe the sometimes complicated stuff that comes from, say, Washington, and how can I make it relatable? Why would you actually want to hear this story? So, those are the things that I piece together.
And in terms of growth, we're always looking for can we add another radio station to our list? There are more than 300 radio stations that carry the program across the country. So, we always think about can we add another radio station to the list? What about a particular radio station taking a second hour of the program or a third hour of the program and, in some cases, a fourth hour of the program? That's how we think about it and how we think about growth.
Robert Wagner:
Okay, you hit on a couple things that really intrigue me. One is the safe part, and I totally get that, I understand that, and that's a big deal in today's world because-
Gordon Deal:
It is, yeah.
Robert Wagner:
The sensitivity is just so heightened, so I get that. But you made a connection there, you said how you package it, how you design the program and thinking about the sales guy and how he might hear the program and then it triggers who should be advertising on the program. Can you speak more to that, possibly?
Gordon Deal:
About which part? Pushing the advertising?
Robert Wagner:
This is the connection between the design of the program and potential advertisers.
Gordon Deal:
Well, I've never been in the sales world, so I don't fully understand how they present me necessarily, but I heard a presentation one time at a conference, and it was by Mike Francesa, the well-known syndicated sports radio host, and I thought, "What do I want to hear him for? He's a sports opinion guy. I'm a straight-news unbiased guy, what's he got to say?" And I listened to him for a few minutes, and one of the things he said which struck me, and this is, I'll guess, eight, nine years ago, 10 maybe, and he said, "You have to remember that you're a partner with the sales people."
And I thought, "He's right, we're on the same team here," I'm probably not on the air if the sales people aren't selling, our revenue comes from advertising, but by the same token, without me, they have nothing to sell. And I never thought of it that way because salespeople sometimes, in radio, get this bad reputation, like, "They want to jam another commercial into this hour. I only have an hour of programming, sales people want another minute to throw in another advertiser," and so I think on-air people sometimes feel like there's an adversarial relationship with the sales folks. I don't see it that way.
I see, especially with my name tied to the show, I got skin in the game, and I do whatever I can when the sales team says, "Hey, what do you think about this? Can you jump on a call here? Would you jump on a Zoom call for just a couple of minutes?" They tell me that that makes a difference, and so I'm listening, I'm always on board to partner with the sales people. So, that struck me a long time ago and I never forgot that, so I like to think that I'm a good partner with the sales folks.
Robert Wagner:
Yeah, that is awesome. And you just hit on something there at the end about you're not doing the prospecting for sales, you're not really in the sales department, but they do call you in to help close things. So, what does that conversation look like?
Gordon Deal:
That is a salesperson will sometimes say, "Hey, product X has come forward and would like to advertise. Are you comfortable reading something for product X? Secondly, are you comfortable using product X and then endorsing it?" And so you referenced, or have we not talked about it? I can't remember. Anyway. This show was a Wall Street Journal product back in the day, and The Wall Street Journal did not allow that; when I started anchoring this news program, there was no such thing as an endorsement. I worked for The Wall Street Journal, and essentially the radio division was a wing of the news department, so there was none of that. So, that's radically changed the last six years under our new syndicator, Compass Media Networks. So, getting the sales call is fairly new. When the sales department wants to involve me, that's a somewhat new thing for me.
I lost track of what your original question was, but I always see that as a partnership. So, there's an email that says, "Can you come on board with product X? How do you feel?" And I thought, "Great, yes, I've used it before" or "No, I know nothing about it." Sometimes, a personal endorsement is possible; other times, a personal endorsement is simply not possible, somebody just wants me to read a commercial for them and be the voice behind it. And sometimes, an individual radio station that's part of our affiliation will say, "Hey, there's a local dentist who listens every morning to your show, would you read a 30-second commercial for," who knows, "Chillicothe Dentistry in Ohio," or something like that, "as part of the partnership?" I say, "Sure." It's part of being a good affiliator and a good partner and all that.
Robert Wagner:
Okay, that's very interesting, and I certainly have heard the ads that you read and the endorsements sometimes, Harry's razors come to mind.
Gordon Deal:
Yep.
Robert Wagner:
So, a couple of things that you mentioned along the way there, so about just the advertising time, is that regulated in the syndicated world, or that's just whatever you guys decide to do?
Gordon Deal:
Boy, you stumped me there. I'm not sure if that's regulated or not, but as you know, if there are too many commercials, listeners are just going to tune out. So, typically, with syndicated programming, depending on a particular contract, you split the amount of available air time with your local radio station partner. Is it six avails, as we say, availabilities per hour for you, six for me? That's generally how it works.
Robert Wagner:
Got you. How many people are listening? There's so many channels now that you're going out under, do you have a handle on how many people are listening, or an estimate?
Gordon Deal:
I don't have a handle on it. The only thing that I'll know is that when there's not enough, I'll be out of a job. Currently, there are enough, and we continue to add radio stations and we continue to add the number of radio stations that are adding ours, and as long as that number continues to go north, I feel pretty good about the number of listeners. I do get the occasional email from a radio station, I think there's one in Kentucky, I think there's another one in Wisconsin, will just forward something, say, "Congratulations, you were number one in the morning in your spot," so that, to me, is an indication that the ratings are good in most of those radio stations. But maybe to a certain extent, the sales folks keep that information away from me, so I just [inaudible 00:17:26] task at hand, since I'm not a good multitasker and my concentration is limited at times, but I just think about what I'm going to present that day and let the chips fall where they may.
Robert Wagner:
Yeah. So, one of the things you said that interested me, and when I was doing research, I saw this in the radio station lineup and when things air, there's quite a few stations that air it back-to-back or back-to-back-to-back, which I guess says something about the demographic of people who are listening, or really the way people are listening in morning radio, that people don't tune in, they don't turn the radio on and listen for three hours, they're there for some period of time. Is that what's happening there?
Gordon Deal:
Yeah. So, my broadcast is live for two hours, from 5:00 A.M. to 7:00 A.M. Eastern Time, and some radio stations choose to carry one hour, two hours, or as we say in radio, they're roll it over and restart the 5:00 A.M. hour at 7:00 A.M. Now, although my work at that time is done, if there were some sort of, God forbid, disastrous breaking news event, like terror attack or something, I can jump back on the air.
The woman who does news for us in the show, my partner, Jennifer Kushinka, she [inaudible 00:18:48] jump back on the air, she's on twice an hour, but she can jump in and override what she did the hour beforehand, if needed, and do a brand-new newscast to cover something that might be live or breaking. There are some radio stations that carry it for four hours; what we say, it's their entire morning program.
Robert Wagner:
Right. So, in the Tulsa market, your show comes on at 4:00 A.M., so I'm listening live, probably, then, right if I'm listening in that hour?
Gordon Deal:
Yes. 5:00 Eastern, yeah.
Robert Wagner:
Yeah. Okay, so-
Gordon Deal:
And that's not to say, to a certain extent, here's some radio stuff, I have replaced a lot of local radio talk show hosts, and I was one at one time, so I know what that's like. So, speaking generally for the industry, I like to think that there's room for the both of us. So, it's hard sometimes to think, "Wow, the radio station's going to run the show for four hours, great for me," but as a one-time local radio host, I like to think there's room for both of us. I come on first, and then somebody hits the local stuff later on. That's not always how it works, but, again, I benefit to a certain extent and, to a certain extent, there are local radio show hosts who are so good that they don't need my type of programming on the air. So, there is a balance to strike, I think there's room for both of us, but I keep my fingers crossed that my numbers keep going north.
Robert Wagner:
Yeah. In the era of COVID, which we're recording still in the era of COVID, a lot of us have time-shifted our work and we're working different schedules, we're certainly working different places, mostly home. But you've been doing this a long time. What does your day look like? When does it start? I mean there's a lot more than the two hours that you're on the radio, so what does your day look like?
Gordon Deal:
Well, my alarm goes off at 2:30 A.M. I hit Snooze, which means I'm out at 2:39 A.M., shower, get ready, out the door at 3:00. I listen to some news right at that time. My timing is perfect when I get in the car, I can turn on and hear what would be my first news of the day. All along the way, I'm checking emails during that brief window since I've been awake, hoping the world hasn't fallen apart in the hours I've been sleeping. I get to the office around 3:20, and then I start writing like crazy.
Our producer, Mike Gavin, sends stories that he believes should be on the air, so that presentation is til 7:00 A.M. Then, generally, I do some sort of workout, and then the next phase of the day begins around 9:30, when we start looking for guests to appear on the next day's program, so that's interviewing a journalist or a newsmaker of some kind, to provide some sort of analysis as to what's going on. That day ends, sometimes, in a reasonable window; other times, those are long days.
I could be doing [crosstalk 00:22:23] 5:00, 6:00 at night, making that an extremely long day, but it's our program, our names are tied to it, and it's just like being a small business owner who owns a shop: if you want that product on your shelves, you better go get it, if that's what the customer wants. So, I feel the same way, if we position ourselves as being the number one syndicated morning news program, then we better have all the products available to the listeners that they need. So, that's our approach.
I have a couple part-time gigs, like I coach high school soccer in the fall, so those days, from mid-August to early November, I pause the workday at 2:00 A.M., go coach my high school kids for an hour and a half, two hours, come back and finish the day, sometimes, after that, 4:00 or 5:00, if that's what the day calls for. And then 10 Sundays out of the year, I work for the New York Giants as their stadium announcer, so the fall can be really busy at times, but I love it.
Robert Wagner:
Awesome. So, you mentioned writing there, and writing furiously. In some of your notes to me, as we were leading up to meeting today, you had mentioned writing a couple of times. What kind of writing is writing that you do? What's important about it?
Gordon Deal:
Well, first of all, I mean it falls under the umbrella of broadcast journalism, so I'm not somebody who's going to put together a 12-paragraph story that's going to appear in The Wall Street Journal or The New York Times or some incredible background piece on somebody who's done something. Radio is built for the short storytelling segments, so what we used to say was that we bring those either newspaper or online stories to life on the radio and give them a little flavor or personality.
So, the writing I do has to be short, it has to be to-the-point, it has to be understandable, it has to be relatable, and it has to be unbiased. So, I try for all those things, I may not always succeed. But you know, as a longtime listener, as we say, the windows that I operate in are very tight. I barely have time to say hello and goodbye because the segments have are so tight, so you'll never find me saying, "Well, let me try to stall here a little bit, just to get to the next commercial," we are jam-packed with information.
So, that's the kind of writing, it's short, to-the-point, unbiased, relatable, understandable and relevant, all those things have to go into every single thing that we try to present. And as I said before, I don't do political opinion, I try not to let any come out in the stories I present. The only spot we feel it's safe to share opinion is something silly, maybe it's sports, maybe it's Hollywood-related, maybe it's about food or the weather; other than that, we think you can think on your own, you don't need my opinion, and it's not a talk show.
Robert Wagner:
Yeah, I have total clarity on your opinion on New Jersey bagels and New Jersey pizza, so I understand that.
Gordon Deal:
The best, yes.
Robert Wagner:
Okay, that's good. I guess I've wondered, is it frustrating sometimes when you have a story that just needs more time? And I'm thinking when we're recording, we're coming off the prior week had this short-selling story with GameStop and all that, I mean that's not an easily described situation, right?
Gordon Deal:
Yeah.
Robert Wagner:
I assume that can be frustrating sometimes.
Gordon Deal:
Yeah. And there are lots of different angles. So, for those types of stories, we pull in somebody we trust to dissect it all, and that's when we might go to a four-minute interview with somebody who can really break it down to its most understandable stuff. So, that's where we rely on the interview portions of the program. It might be about GameStop, it might be about the mom-and-pop traders against the professionals or Wall Street. It might be something that's complicated in Washington, like budget reconciliation or some of these procedural things that the Senate or House might go through. That's where we pull in somebody else, just to give a little more depth to the story. So, the writing style changes, obviously I have to think on the fly in many of those cases, I have to pay attention, which is not easy for me to do, I'm trying to listen as hard as possible to what somebody says so I can ask an intelligent follow-up, if it's warranted. So, obviously, there are a lot of moving parts.
Robert Wagner:
Yeah. So, Gordon, you touched on the program, at least when you joined it originally in 2005, was owned by The Wall Street Journal, and I think that continued until 2014. And, again, being a longtime listener, I was aware that they announced they were getting out of the radio business, and I was just crushed, like, "Well, This Morning show program where I get my news is going to go away," and, boom, next Monday, you're on, slightly different name, and then part of Compass Media. How'd you make that happen?
Gordon Deal:
Well, it wasn't a lot of my doing. It was our founder and CEO, Peter Kosann, who I'm unafraid to say is the smartest guy in the radio business. So, in November 2014, after I'd been doing the show for nine years, The Wall Street Journal comes in and says, "We're getting out of the radio and podcast business. You all are wonderful people, but this is not what we see as a fit, going forward," in so many words. So, that started, obviously, a really mad scramble because I thought, "Oh, boy, this ..."
I think the announcement was we go to the end of the year. I think it went to the end of the year, which is unusual in radio because, typically, when you're fired or let go, it's that day, that's your final shift because radio stations, traditionally, would be worried about you going back on the air the next day and just bad-mouthing them [crosstalk 00:29:22]. So, typically, radio, it's, "That was your last shift. Here's your two weeks and a box for your stuff." But that wasn't the case here. But, obviously, I thought, "Uh oh, I better get thinking quickly about what my next move is going to be."
So, as soon as my day was over and the bad news had fallen, I'm on the phone, I'm making calls, I'm emailing contacts, saying, "Hey, you probably heard the industry news, I'm going to be out of work soon. What do you have?" So, I was in contact with a handful of movers and shakers in radio. And then Peter Kosann, who is the CEO and founder of Compass Media Networks, calls me and basically says, "We heard about the news, I'm putting a plan together, don't do anything." Now, this time, I already made a handful of calls and people saying, "Man, so you're a free agent, basically? Okay, yeah, let's do something. Let me get with so-and-so and I'll get back to you."
And by noon the next day, the show was saved and had been resolved. So, Compass Media Networks had been selling the advertising in the program for The Wall Street Journal and sharing the revenue with The Wall Street Journal, so when The Wall Street Journal fired us all, Compass Media said, "You know what? We know a thing or two about syndication, we're going to become the new syndicator, and these people will become our employees, and we'll rent the studio space from The Wall Street Journal, since they no longer have a use for it, getting out of the radio business." And it came together, Robert, I think in less than 24 hours.
Robert Wagner:
That's amazing.
Gordon Deal:
I had a conversation with Peter that night, he said, "Met with some money folks, we can pull this off, are you on board?" I said, "I'm on board, I'd like to keep my job in some way, shape or form." He said, "All we're going to do is rename the show, you stay where you are, and I'll have a contract in your hand by noon tomorrow." I said, "Okay." And the next day, by noon, I had signed the contract and there were no gaps, and on January, I don't know, let's say 2nd or 3rd of the following year, when we got back from the January 1 holiday, we had probably recorded a Best Of, we all kicked off live and there was a seamless transition from what we called, at the time, The Wall Street Journal This Morning to This Morning, America's First News.
Robert Wagner:
Right. Well, that is a great story, and it has always struck me that it was a really fast pivot, and you've confirmed it to me just now.
Gordon Deal:
Now, we had a significant Wall Street Journal radio network at the time, which involved not just the program that I did, but also business reporters who did customized reports and network reports for radio stations all across the country, so it was kind of one fell swoop that wiped us all out, and most landed elsewhere in the radio business. But it happened quickly, and it was a talented bunch. I mean a pound for pound, those are some of the most talented radio people that you'll come across, so they all landed on their feet, but, obviously, those times are unnerving because they come out of nowhere sometimes.
Robert Wagner:
Yeah. Well, you have great ties with a lot of those Wall Street Journal reporters and the guys in the editorial board, which I love hearing from them, so I appreciate those relationships, at least on a personal level, were maintained. So, I don't think any conversation with you would be complete without talking about this New York Giants gig. So, why? Why do you do that?
Gordon Deal:
Why do I do it? I do it because being around the NFL is fun. I'll backtrack the story. So, when I was in college, I was a soccer player who had aspirations of doing great things professionally. I only played my freshman year because my grades were absolutely horrible, 1.2 GPA my first semester of freshman year because I thought I didn't have to do anything, I was playing soccer. I was a completely misguided 18-year-old. And so as I started to resurrect things in my second semester and from there on, I thought, "I got to figure out something to do because soccer is not it."
So, I saw an ad in the Rutgers student newspaper, called The Targum, and it said, "There's a radio meeting at the Rutgers-operated radio station, run by students. There are different departments: music, news, sports." I thought, "What a great way to stay involved in sports. I'll do play-by-play. I love to travel, I'd love to go to other campuses. The university pays for the students to broadcast those games. This is great." So, I started doing that.
And somewhere along the line, somebody had said, "Hey, do you ever do any public address?" I said, "I've never done it, but willing to try." And they said, "The Rutgers women's volleyball team could use a voice to do their games. Do you know volleyball?" I thought, "I don't know volleyball necessarily, but I know that these co-eds, who are my age, are rock-solid beautiful and I'd love to be in the same gym with them," so I agreed to be the public address announcer for Rutgers women's volleyball for a season.
So, that was always in my back pocket, but nothing ever really came from it until a fellow Rutgers guy who worked for the New York Knicks came along, in the early 2000s, and said, "We need a backup guy at Madison Square Garden, can you do public address of the Knicks games? Come for a tryout." So, I went for a tryout and beat out a handful of other guys as we watched a VHS tape of the Knicks versus Miami Heat playoff game from I don't know when, but we just called the game to an empty arena while the executive sat and listened.
So, I got picked for that, I did that for a couple years, and that eventually just wore out. I started saying no because they were asking me to come in during the week, and I get up at 2:30, as I said, and I wasn't getting home to suburban New Jersey until about midnight after some of those Knicks games, once I got off the train and drove home, and I thought, "Two and a half hours of sleep for this job seems to be threatening my main source of livelihood, which is the radio program," so I gave it up.
And so the Giants, several years later, emailed out of nowhere and said, "We got your name from the NBA or from the Knicks front office, can we have a conversation about you joining us as a public address announcer?" I said, "Of course, it'd be great." And, no kidding, the interview was two questions. Don Sperling, who's my boss, said, "I have two questions for you, and that's it because you have a good reputation."
He said, "First of all, are you a Jets or a Giants fan?" And I said, "I'm a Jets fan by nature, my dad used to bring me to the old Shea Stadium and watch those miserable teams, but I'm mature enough now that I'm not a Giants hater, I'm good with the Giants, I like Eli Manning and this particular crew" at the time, and he said, "Great. The second question is have you ever done public address for the Jets in any way, shape or form? Charity event, preseason event, cheerleading something or other, tailgate?" And I said, "No." He said, "I know it sounds silly, but that would have been a deal-breaker." And then he went on to tell me how much better the Giants are than the Jets as an organization, and he said, "See you in August for the first preseason game, you got the job," and that was it, two questions.
Robert Wagner:
That is awesome. That is an awesome story. So, the reason I ask the question why, I mean I get the prestige, it obviously looks fantastic on your radio, you get to watch the games, but as I think about it, and you talked about risk earlier in a different context, but as I look at it as a layman, it looks like four and a half terrifying hours of potential embarrassment, potential ways that you could embarrass yourself, your boss, the city, everything. But I guess you're a pro, so I guess you don't worry about that.
Gordon Deal:
Well, I mean the potential is there. I'll tell you a story. When I was doing that for the Knicks, the format was, before the game, introduce the visiting starting five, with an absolute deadpan, with no emotion whatsoever, "At guard, number 16, Robert Wagner," and move on to the other four guys. And then it was time for the Knicks, the lights go down and a video plays and lights are flashing all over the place, and I'm barking out these guys like it's the greatest game that the fans are about to witness.
But one time, and I forget who he played for at the time, but Corey Maggette, who was a kid out of Duke, and he played for a West Coast team, I forget which one, but they barely made maybe a once-a-year appearance or something at Madison Square Garden, and his name was spelled the same way that a radio reporter I worked with spelled his last name. So, the radio reporter is a famous guy in New York, named Chris Maggette, so I, without doing proper research, and shame on me, I introduced Corey Maggette as Corey Maggette. Now, nobody in the building knows or cares because it's Madison Square Garden and they're the opposing team, they're a West Coast team nobody here pays attention to, so nobody said anything, except Corey.
So, the team gets the last-minute instruction from the coach, before they take the court for the opening tip-off, and he comes over to me, I'm at the scorer's table, on the floor, at center court, and he comes over to me, winks at me, he pounds two times on the table with his hand and goes, "It's Maggette," and then he walked to center court for the opening tip-off. So, that was embarrassing at the time, but it seemed like the 18,000 fans in the arena didn't know or care, so I got away with that one.
Robert Wagner:
That is great.
Gordon Deal:
So, don't tell him that story because he was so nice about it, he winked and pounded the table and said, "It's Maggette." Needless to say, I got it right the rest of the game, and I don't remember who won the game or whatever. But with the Giants, if I were to get a name wrong for the Giants, that'd be an absolute crime, it'd be embarrassing, the whole bit. I did a similar job for Army football up at West Point for six years, I gave it you just two years ago when my son went to college so I can watch him play soccer.
But, at West Point, at the time, it was so critical to get names and titles and ranks correct because every TV timeout during an Army football game was some sort of presentation or recognition that involved a guy with a title or a rank. So, it was "Commandant," not "Commandant," somebody had to tell me before this all start, "Lieutenant Colonel," the abbreviations, I used to say, "What is this abbreviation? Should I read it out in full?" Because military's full of abbreviations, all these other things. But at West Point, too, it was the same thing, just get those titles right, get the ranks right. And a lot of that would be you run tremendous risk of embarrassing yourself and your home organization, but if you do it for the visitor, you can kind of get away with it.
Robert Wagner:
Right. Okay, those are great stories. So, Gordon, you mentioned your days at Rutgers. Were you studying broadcast journalism, I mean was this the plan?
Gordon Deal:
I wasn't. I stumbled into it. Like I said, my grades were so bad my first semester of freshman year, that when I went to choose classes for my second semester, I wanted to be a communication major, not really knowing what that would mean, but I couldn't get into the communication school because my first semester was so poor, so I had to switch to become an economics major, took Economics 101, and when my grades were better second semester, I was able to apply and then get those communications classes going into my sophomore year.
But I actually did not take a broadcast journalism class because it seemed like, at the time, I had secured a job with the radio station, I think it was my sophomore or junior year, and it was almost like an apprenticeship, being able to broadcast a football game or a basketball game or a baseball game, I'd done all of them. So, that was really the learning curve. And I thought that, for sure, I was going to be a sports radio guy, but my first job out of college at the local radio station, the guy who hired me, who taught me about everything I know, said, "Listen, I don't need a sports guy. I am the sports guy at this radio station. I need a news guy, I need help in the news department."
So, he said, "But if you would agree to work on your writing and become a news guy, through attrition and working your way up the ladder, you can become a play-by-play guy as your secondary duties," and that was how that worked, and I transitioned into news and never looked back because I just enjoyed it so much.
Robert Wagner:
Got you. Interesting how little things come along the way and head you down a path. So, Gordon, are you living the dream, or is there a broadcast job that you really want out there, or maybe is there a broadcast you want to invent at some point in the future?
Gordon Deal:
That's a great question. I am living the dream. I, at one point, in my arrogant late teens, early 20s, when I started doing news, I thought I can be Peter Jennings and host World News Tonight on ABC during the week and, on Friday, I'll transition to a play-by-play guy for Saturday and Sunday. It didn't materialize that way, but I loved radio, I really loved the immediacy of radio. I worked in local cable television one time, when I got fired from a radio job, and I just didn't like the lack of immediacy. With radio, if something's going on, you get to the scene and you pick up the phone, these days maybe you're dialing up your laptop, and you're on the air, communicating. With TV, it can be, "All right, well, let's get you in for some makeup and you have to have your own writer," it's just a different animal. So, I really grew to appreciate the immediacy of radio and that theater of the mind, trying to paint a picture for somebody who might be traveling 60 miles an hour on the highway or something along those lines.
Robert Wagner:
Right. Were you a radio nerd as a kid?
Gordon Deal:
No, I was not. I just played soccer.
Robert Wagner:
That was it.
Gordon Deal:
I thought that was my path. So, I was not a radio nerd, but I was that kid in the driveway, if I were just shooting free throws, definitely do play-by-play, whispering it to myself, "Deal at the free throw line, one second on the clock, down by one, he's shooting two. First one's ... Oh, wait, I got to start that all over again. First one's good," I used to do all that stuff. Mom likes to say that that was my first start in radio.
Robert Wagner:
That's great. Well, Gordon, it's been a fascinating time together. We do have five questions that we ask every guest though, so are you ready?
Gordon Deal:
I'm ready.
Robert Wagner:
All right. So, what was the first way you made money?
Gordon Deal:
First way I made money would have been shoveling snow and/or cutting grass, maybe as a 12-year-old, probably. That was the first under-the-table kid job that made money.
Robert Wagner:
Right. All right, good stuff. Second question, so if you were not the host of This Morning, America's First News, what do you think you would be doing?
Gordon Deal:
I'd be in radio in some other way, as a news person, but if you were to tell me that I were banned from radio, I would teach. I love being around kids, I love the classroom, I guest lecture at Rutgers, usually once a semester, whether it's a marketing class or a broadcast journalism class, I love it.
Robert Wagner:
Nice. Very good. So, I know one thing you would tell your 20-year-old self was to not lose that first semester of college, redo that, but besides that, what would you tell your 20-year-old self?
Gordon Deal:
You know a lot less than you think you do. Calm down, take a breath, pay attention to what's happening around you, and read a book once in a while. Turn off ESPN. What'd they call it at the time in the 80s? Big Monday, three games of college basketball, back-to-back-to-back, that's how I whittled away my time in college at times. Wake up. That's what, I guess, I would have said.
Robert Wagner:
Well, "read a book now and then" is a good segue to question four, which is what will the title of your book be?
Gordon Deal:
What will the title of my book be? How a Guy with No Direction Figured Out a Career.
Robert Wagner:
Okay.
Gordon Deal:
I think that's what it would be.
Robert Wagner:
Okay. That's beautiful. Okay, last question, number five, what's the best piece of advice you have ever been given?
Gordon Deal:
Best piece of advice? Boy, a lot of that comes from my dad, I must say. But some of it has come from radio people, too. Some of it's financial, also. But the "best "piece of advice I got as it pertains to radio, and I'm putting "best" in air quotes, was a program director at a prominent New York radio station, who I went to interview with about an internship, and he said, "You don't want to do this, go be a lawyer."
Robert Wagner:
Oh my gosh.
Gordon Deal:
Yeah. So, that was, in air quotes, the "best" advice I ever got. So, I left there and I thought, "Okay. Okay, that's the way we're going to do it? Fine." That was a real motivator.
Robert Wagner:
Yeah, so to a young Gordon Deal, that was like saying, "You can't do it," and you doubled down from there.
Gordon Deal:
Yeah. Because, remember, I say it jokingly, but I did have a certain degree of arrogance at the time, I think, and that struck me, [crosstalk 00:49:27], I think that was how that worked.
Robert Wagner:
Okay. Well, that's a great place to end. Gordon, I've really enjoyed our time together and I appreciate all the insights into your business and what you do because it's a very unique thing, not many people in the world do what you do, so it's very interesting to hear. So, how can folks find you on social media and find out more about your show?
Gordon Deal:
You can google me, just Gordon Deal, G-O-R-D-O-N, last name is Deal, like Let's Make a Deal, and it generally will bring up our website, you can click and play an existing show, if you'd like to hear. Otherwise, if you're on something like the TuneIn app or iHeartRadio or Stitcher, if you just plug in my name in the search function, it generally will bring you up to either a current live broadcast or a podcast. And, on Twitter, it's the same thing, just @GordonDeal, and I love the interaction, so folks who reach out and don't threaten me or my family, I love having those civil and/or funny conversations with folks.
Robert Wagner:
Yeah, I enjoy following you on social media, and I will just tell folks that if there's a question in anyone's mind that people hear what they want to hear, just follow Gordon Deal because they'll accuse him of saying things he absolutely did not say, so that's always fun.
Gordon Deal:
Yeah. But, again, to me, Robert, they're listening, and that's-
Robert Wagner:
Exactly.
Gordon Deal:
[crosstalk 00:50:54], and I don't want to turn somebody away. You can usually tell when you're just not going to have a conversation, somebody's just out to get you, but generally speaking, folks just want to be heard.
Robert Wagner:
Exactly. Well, thanks very much, Gordon, I appreciate this.
Gordon Deal:
Absolutely. My pleasure, Robert. Thanks.
Robert Wagner:
Thanks. Bye. All right, appreciate it. Really enjoyed it.
Gordon Deal:
Great. Yeah, so did I. Thank you. You made me think a lot.
Robert Wagner:
Okay, good. That's the goal. Take care, have a great rest of the week.
Gordon Deal:
Yeah, you too. Thanks, Robert. See you, bye-bye.
Robert Wagner:
Bye.