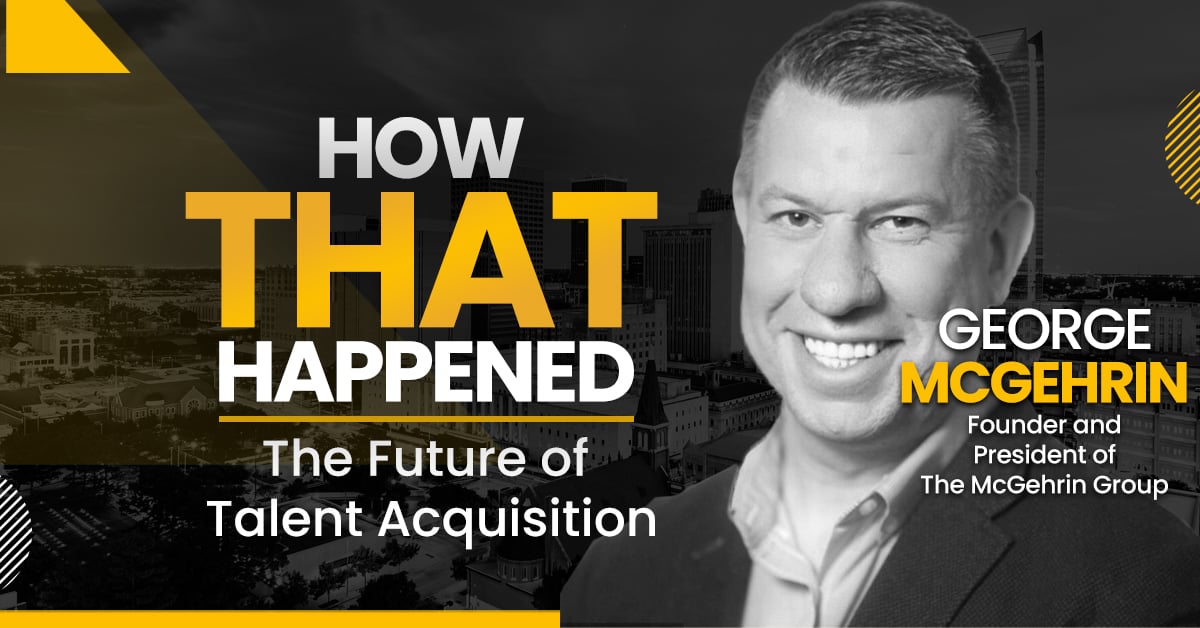 George McGherin:
The core businesses is executive recruiting, right? So, we're dealing with guys and girls that are making and this is nationally. We do international searches, but they're making from $300,000 a year to four to $5 million a year, right? So, those are the folks we're dealing with on the place inside.
Robert Wagner:
From HoganTaylor's CPAs and advisors, I'm Robert Wagner and this is How That Happened. A business and innovation success podcast. Each episode of the show, we sit down with the business and community leaders behind thriving organizations, to learn how business and innovation success actually happens. Our guest today is George McGehrin. George is the founder of the McGehrin Group and executive search and personal branding firm based in the New York city metropolitan area.
To say that George is well connected and well network would be a drastic understatement. He's the 125th most connected person on LinkedIn and ranked in the top 30 most connected recruiter in the United States. The McGehrin Group works with a wide variety of businesses, from small firms, to fortune 1000 companies, placing C-suite executives and other top level professionals. George, welcome to the How That Happened podcast.
George McGherin:
Robert, I appreciate you having me here today. Thank you.
Robert Wagner:
Yeah. Great to have you and anxious to hear your perspective about your business and your industry, so looking forward to the conversation. So, the McGehrin Group was founded 20 years ago, so you've been at this for a while. What was the draw to get you in this business?
George McGherin:
And this is like many of the businesses that I've started, this was literally a mistake turned into a business model, at the end of the day.
Robert Wagner:
Got you.
George McGherin:
I mean, I was like you and I know you can appreciate this, I used to work for Ernst & Young and KPMG and Pricewaterhouse, and then went to a smaller place and next thing I knew, I was in Miami without a job, right? And I had no experience in recruiting or search or anything, but I decided to, quite frankly, literally in the unemployment line, to start a business. I didn't know what business I wanted to start, but I decided I was going to start a business. In the meantime, my game plan was, "I'll just go around to these recruiter folks and see if I can land something initially, while I finance a new business at nighttime." Turned out, that I literally walked into the recruiting industry that I still do now 20 years later.
So, that was the situation. It was a very bad situation, turned into something decent, that turned into something much more enjoyable 20 years later, right? So, that's a long answer to that.
Robert Wagner:
Yeah. So, I couldn't help but notice that you started in 2001 and depending on when that was in 2001, that wasn't a great time to start a business that was going to be relied on, in a good economy. What was it like starting in that timeframe or, getting started in that timeframe?
George McGherin:
Right. I've learned that every year is never a good year to start a business, right? Especially that we learned last year and I was in Florida at the time, right? So Florida, lots of companies that deal with tourism, right? And that industry, quite frankly, it was dead, right? But the positive of all of that is that you get time to practice and hone your skills and you fail quite a lot, so your first impression of all of that is pretty much, "Yeah. It's failure," but I think the more time you go to bat, right? The more swings you get. It turns into a blessing later and I think that's one of the things, if you're thinking about starting a business, or you've had a business just for a couple of years, at the end of the day, you need to put your time in and pay your dues and you need to swing the bat and miss quite a lot.
Right? And eventually, things become a lot clearer and life becomes a little easier, and that could be weeks, months or years for some folks. For me, it was years, right? When I'm painting it now, but I essentially failed for the first three years and pretty much robbed Peter to pay Paul and then, I just kept on showing up. If I think about the top three things that I did, I would show up every day, even though I knew I was going to get beat up pretty badly and [inaudible] advice of everybody that I knew who was trying to look out for me, to make sure that I wasn't getting hurt?
I just was ignorant to that and I just kept on showing up. I mean, there's some insanity to that logic, but, but that's what I did. But definitely tough to start a business in 2001, where most of your clients are in the tourism industry and there's no tourism and they're shutting down things and people are afraid to travel.
Robert Wagner:
Yeah. I think it's a theme that we hear, principally folks who have started businesses and have been successful is this persistence, right? I mean, just keep at it, keep showing up every day. So, I think that's great current advice. Great, great lesson to learn, so that's a great segue. Your industry, the search industry and talent recruitment, it's a very competitive business. It's a very fragmented business.
So, after all the trials and everything and you're sitting here today, what is it that makes your group different, the McGehrin Group different? What do you do different to make yourself stand out, to make people want to use you, both on the company side and the talent side?
George McGherin:
We have a couple of different businesses, right? So, the core business and, I think, this is important for the folks to hear this. So, the core businesses is executive recruiting, right? And this is nationally. We do international searches, but they're making from $300,000 a year, to four to $5 million a year. Right? So, those are the folks we're dealing with on the placement side and we compete with a lot of these retained search firms, like the Korn Ferry's and the [inaudible] and Spencer Stuarts.
And the other business, we help a lot of these folks and sometimes, they come to us first this way, but on their executive branding, right? So, a CFO, maybe they've been in the same place for 15 years. We'll get their LinkedIn and their resume and their CV and their board resume and their biography together, right? And then, we've got a coaching business as well, where we coached the same types of people. Sometimes the coach, somebody starts off on the coaching side, they turn into a branding client and then they turn into a recruiting client. I think that's one of the things, I talked about figuring out before. If you have a company or if a service, if you get the same questions over and over and over from people, you might be able to turn that into a business.
So, for years, I was getting questions on career moves. We're getting tailored questions on the resume and LinkedIn and how to go in to new markets, and we just started the turn these things in the business lines. One feeds the other, which feeds the other. Sometimes they're not all in order. That's all about the ethically unfair advantage and that's what we've done for all of our businesses as well. So, I think that's the sort of the secret sauce, right? They're a smaller company. The recruiting company, it's an eight figure business now, right? We've got that, we've got the coaching business, the branding business is a seven figure business, but when you start out, you don't have really the money to go after and compete sometimes with some of these folks, but it's a people to people game, right?
No matter what business you're in, that's how you can really compete in any market, I think, by making sure that it's a people game. It's not an email game. It's not text game. It's about two people exchanging ideas for either money or for other ideas, more and more ideas, right? And I don't know, it's really basic, I guess, the way I'm selling this, but that's exactly how we run it. It's a very basic idea about how to run our business.
Robert Wagner:
Yeah. Well, it's interesting. I mean, you've taken on the candidate and talent side. I mean, what I'm hearing is you've taken that from a very transactional thing, "Go get me a job," to a real relationship where you're going to help develop me, at least develop my ability to market myself and understand my strengths and weaknesses and how those might play to a potential buyer of my services, for lack of a better word.
So, let's flip over to the other side, so on the company side. So, from your experience, let's say I'm the CEO, or I'm a board chairman and I need to recruit a C-level person. What are the things that I need to be focused on, that often aren't focused on, that I'm not doing, that I should be doing, to have a successful talent search and recruiting effort?
George McGherin:
I think if you can honestly ask the question, "Number one, what is the catalyst? Why do you need this either new person or why are you replacing the person that's currently in the seat?" Sometimes, they don't answer that question as honestly as they could, right? Or they can. And sometimes, it's either a personality class, sometimes it's just the numbers aren't there. Sometimes, it's the directions out there. Culturally, could be not a fit or the drive.
But I think the first thing is to ask yourself, as well as to get other folks involved, "What is the catalyst and why have we replaced this one person?" Right? Or this team of people, because usually, this is a thing too. I mean, you're going to hire a new CEO, right? But you're also going to hire the CEO and the other seven people that he or she's going to bring along. So, you have to keep that in mind. It's just not one person, but the question is, "Why? Why do we really need to do this? And will the grass be greener on the other side, when we're done?" Because sometimes it's not.
Robert Wagner:
Yeah. I see pretty often, companies, they have someone and let's say it's Robert in the CFO chair and they don't like something about what Robert's doing and their inclination is to hire the anti Robert, so that brings a whole new host of problems, right? And I think they didn't do exactly what you're talking about, which is why exactly are we unhappy with Robert, in my example? What is it that needs to have happened there? And potentially, we could fix Robert and not have to go through this, but at least let's not just hire the anti Robert and come up with a whole new set of issues.
George McGherin:
And the other thing is, what did you like about Robert, right? What are the good things that like? Why did you hire him? Why did you bring him on? But that's actually a question that we asked, right? One of the questions we ask is, "Well, what do you like about the person that's there now?" Right? Because it's not all negative, right? The other thing too, I think, this is a one problem that we have from a business standpoint is that when you're dealing with the decision maker or the team of decision makers every two to three years, it's really difficult, because you have to rebuild those relationships and sometimes they're not open to it.
At least I'm talking about the same firm, right? So, let's say they bring in a whole new set of team. The good thing is you can go along with Robert and Robert go someplace else, and Robert usually also will bring you along as well. But to keep that client, that Robert left, or it's hard from a service standpoint and especially in the service business. You've dealt with that over and over, right? And-
Robert Wagner:
[crosstalk] Yeah, it's very disruptive. Very disruptive. Yeah.
George McGherin:
And it's somewhat nerve wracking, right? Because then you're starting this and they already have their people, right? They've got people there they're thinking about and you're just the name on an email initially, until you change that.
Robert Wagner:
Yeah. Okay, George, let's come into the current setting that we're in. So, while we're recording, we're still in the COVID era, or we're hoping to emerge soon, but the whole work from home thing has happened and I'm wondering what you're seeing and what you think's going, going to happen. And one of the things that's being talked about, I guess, is work from home and then work from anywhere, right? So, even companies like HoganTaylor are thinking about, "Why does it matter where someone lives?" It opens up the potential talent pool to us, potentially nationwide. But I'm wondering from your perspective, thinking about the C-suite is, work from anywhere, is that going to be a reality? Where companies have C-suite leaders who are not at headquarters.
George McGherin:
Right, I'll speak about this just from a smaller business standpoint. We've been fully remote since 2009, right? My company. In 2009, all my clients were financial institutions and banks and one time, I had 50 people and literally, in a two day period, I got a call from all these places and they pretty much said, "Hey, George. The party's over." And I had to let go of 50 people. Back then, I had offices, right? I had all these offices, just the way it's supposed to be done and desks and computers, and it took me a while to rebuild, but I thought, "How can I do this better?" And one of the biggest problems I had was getting rid of the office space. It was really difficult for me, so I decided to have everybody, from then on, just invest in systems.
And we're not your typical Salesforce user, but we use Salesforce, for example. For a 40 person firm, it's not really a normal one. It's their normal customer. But I think a lot of the smaller companies, I can tell you personally it's nice not having to pay for chairs and desks and computers and other things and then when they break. I think there are a lot of benefits, especially with the technology. I've got a guy right now that lives in South America. He's an American guy, but now he's in Florida. Other guy is in England right now. It doesn't really matter. We actually encourage it. I think when you get to a larger size company, maybe the team will be working from home.
I mean, you see it already. I see it now already with all of these Zoom video meetings, right? But I think at the end of the day, a lot of the guys and girls running the show are old. They're not 30 years old, right? I mean, most of them are in their forties or fifties or sixties and while they appreciate flexibility, I also think that they're used to having an office and an environment where you can help people. I think it works for a 40 person firm. I don't know if it's going to work for a 10,000 person company, where you've got a core 50 to 100 people who run things.
I just think that you're always going to have that office space. You're going to need it. The one thing I can tell you that I hear over and over, I hear this constantly, promise you, once a day, none of the CEOs, I mean none of them are displeased about not traveling anymore. Sometimes you'll hear, "Hey, George. I miss traveling." But the overall tone is, it's nice to take a break from 20 years on the road. I don't know. I don't know what your thoughts are, but you're pretty close to the street on that as well, right? Your clients, are they saying the same thing or what are they telling you?
Robert Wagner:
Yeah. I think really no one knows and I'll confess, I was thinking about this question and when I was in corporate life, we had a 300 person company and our VP of sales lived in Denver. The company was based in Tulsa and we did that for 10 or 15 years and that was a long time ago. So, it's not completely unknown of, but I think just as a mainstream idea, it'll be interesting see how it plays out, the whole work from anywhere concept.
George McGherin:
Yeah. I mean, the other factor is, for example, I've got two young kids, right? I have an office that I rent, that I use myself, just because I think that's also a factor too. I mean, do you have kids? Do you not have kids? Do you have peace and quiet? Personally, I don't like working from the place where I live. If I'm living, I don't also want to work there, right? But I think from and I guess just a pure PNL question. Yeah. You've got all these companies, it seems like they're not renewing their leases, right? I think if you're a technology company, I don't know if you really need the office space, right. If you're a technology company. I think if you're in a different industry maybe, but it's also you don't have to pay somebody in New York $140,000. I mean, that's another question too, right?
If a person lives in a cheaper state, do you still have to pay them $140,000? Can you pay him the 70 or 80 that their market used to [inaudible] and that's another-
Robert Wagner:
[crosstalk] A lot of issues there.
George McGherin:
A tricky question.
Robert Wagner:
Yeah. Well, that's a very tricky question.
George McGherin:
I mean, if you're in California, you make $250,000 a year, you're getting taxed unbelievably, it does make sense to live in Texas, right? You save a ton of money, get more property and if it's a technology based company, you pray that they're also moving to Texas like some of these have already. So, I don't know. My gut is that as long as the age bracket of the CEOs are between 40 to 60 range, I think you're still going to have offices. I just don't think my kids are going to be working in an office. They're going to be so used to doing everything remotely.
Robert Wagner:
The other variable that is in this, that I don't think anyone's really thinking about yet, because it hasn't been made real yet and that's the commercial real estate owners, building owners, they're not going to just lay down and let their buildings be empty. There's going to be some innovation. There's going to be some interesting things that happen, that they're going to do to lure people back to those spaces and I don't know what those things are, but something's going to happen, because you've got millions and millions of dollars of investment in commercial real estate in downtowns all across the world, but all across the United States.
George McGherin:
All across the world. Yeah. A lot of our clients are commercial real estate, right? Companies and they're really optimistic. I don't quite understand yet, because I live five miles from New York city, so I can see New York city from my house. I was there two days ago for a quick lunch and pretty empty and I don't know. I just think you and I, we're going to listen to this interview on the 10, 15 years and you're going to say, "I can't believe I actually said that," right? Probably.
Robert Wagner:
Right. Right.
George McGherin:
But I don't know. I mean, I can tell you this. In 2009, when I told everybody that, when people would say, "Well, where's your office? Where are you guys located?" I'd say, "Well actually, we're remote." It was a freaky thing to say. It wasn't a cool thing to say. It almost showed instability, if somebody said, right? I don't know. I accept to say, "I've got everyone remotely." I'm not a big micromanager of time anyway. The team, the folks on my team, it's not my style. Back then, it was weird and I don't know. Maybe 15 from years from now, it'll be weird that you got an office, but I agree.
I mean, what are these commercial real estate companies going to do? And then, you've got the Reworks and the [inaudible] and all these other folks, right? What are they going to do? A really, really interesting question. I don't know. I mean, it's a really interesting question, but I don't know. I think that camaraderie is important. I mean, if you look at everything we do as a society, right? Restaurants and bars and team sports and I think we look for that as human beings, and how do you take that away from everybody? I think that's going to be difficult.
Robert Wagner:
You mentioned you recruited finance and accounting types, so it seems like, George, that the whole talent search business, if I'm a candidate in particular, it's all geared towards being an extrovert and half of us are introverts. So, getting back to, I guess, your coaching and your branding, how do you teach an introvert to win at being a great candidate.
George McGherin:
Right. I'll take the accounting and finance side of this. There's also the fine line of being the technician versus the chess player and strategist. I think a lot of the guys that are in accounting and finance, either they're really pseudo CEOs, right? But they get stuck in this technician role, right? Where they're audit, audit, audit, audit, treasury, treasury, treasury. At the end of the day, it's really how they run a business. I think some of these things can be coached, right?
The question that you bring up as is actually the case. We're working right now with somebody. He's a CFO of a very large company. He's Austrian, right? And if you ask him how he classifies himself, he would say that he's an introverted kind of guy, but if you talk to him on the phone, he's extremely gregarious. I mean, he's got a great personality and I think some of that is to let them know that maybe you're not as introverted as you think you are, right? I think the other thing is you have to be yourself.
Robert Wagner:
I think that's great advice. Just be yourself and be comfortable with that? And I think, I think where a recruiter can help, is just giving people confidence that being yourself is okay. It seems like this whole thing is geared towards people who are more extroverted, more gregarious and you don't have to be that person. You got to be yourself, so I think it's great advice.
George McGherin:
Well, I deal a lot of guys, CEOs, that are just, I mean, they're very data driven, they've got mechanical engineering backgrounds, right? A lot of CEOs you see, for example, they come from a sales and marketing background, but there's other guys that come from finance backgrounds and engineering backgrounds and there's something cool about that too, right? That these guys, their emotional intelligence is just far and above. These are guys that, I think, they can also use that to their advantage, right? But I think you have to be comfortable in your own skin, right? That's what we're both saying here.
Robert Wagner:
Okay. George, one more line of questioning here before we get to our final five questions that we ask every guest and this is getting back to your business, to your industry, is the talent search business up for disruption? Are the algorithms going to take over, going to be the matchmaker at some point?
George McGherin:
No. I think maybe it will for roles that are less than 50, $60,000 a year maybe. There's an 85% chance, and this has been I think since 1950 or something or 1960s, but there's an 85% chance that you'll find your next job through six degrees of separation, right? So, if your neighbor works at a company, statistically, that person won't get you a job, but the person that he or she refers you on to, number two, three, four, five, six. You do that over and over, there's an 85% that that's how you're going to find a job, right? And then, guys like myself and companies like mine, I think we're 10% of the market, 10 or 12%. And then the other part is the online, the jobs, but it's a people game, right? I've been hearing for 20 years about the technology play. I've heard it and seen the news over and over. And the recruiting industry in general usually gets in involved when they've unsuccessfully been able to find talent, so now they've got to go out and pay for it.
Robert Wagner:
All right. So George, thank you for the conversation. We do have five questions that we ask every guest, so are you ready?
George McGherin:
Yeah. I'm ready. Hopefully I won't bomb these, right? I always get nervous when I hear these blitz questions.
Robert Wagner:
So, what was the first way you made money?
George McGherin:
If we're talking about back in the day, at a paper route. At a paper route and I serviced main street and I realized that the service and the smile and knowing people's names and I did that, and made quite a lot of money for delivering papers.
Robert Wagner:
Got you. So, second question, if you are not the founder and leader of McGehrin Group, what do you think you would be doing?
George McGherin:
So, is money a question, or it's not a question?
Robert Wagner:
No.
George McGherin:
Yeah. I mean, if money wasn't needed in this world, I'd probably do something exercise or sports related, where either I'm helping people at the sports front, or even from a mental health. Just to have a decent life, in terms of how to control your overall being, if you want to call it that. I'd probably do that, so I don't know. I run ultra marathons and I think it'd be cool to just teach people that run ultra marathons, or do you think that they don't think they can do. That'd be fun.
Robert Wagner:
Very cool. Okay. Third question is what would you tell your 20 year old self?
George McGherin:
I told myself this ten years ago, in 2009, "You need to have a strategic financial plan for every dollar that you bring in and know how much you're going to spend in your life with food and insurance. How much are you going to save? How much you're going to invest in. You need to fill up your rainy day, emergency account, right?" I had to lose everything, literally to learn that lesson in 2009.
Robert Wagner:
Gotcha. So George, what will the title of your book be?
George McGherin:
The title of my book, it'd probably be something related to mindset. I'd probably call it, I don't know, it's a terrible name, but control your mind, control your control your life, right? There's a great book, by the way, called Meditations by a Roman emperor, Marcus Aurelius. I don't know if you've heard of him. He's a stoic. He was a richest guy in the world. An emperor. Folks were trying to kill him. He was out of war. He had a plague and he had this journal that he would write his thoughts in and this whole journal was all about you being able to control what's in your head and not getting triggered by anything else. I don't do it as well as I could. I'd like to do, but I probably have a book that would be related to that. Mindset. Control your mindset, control your life.
Robert Wagner:
Gotcha. That's very good. So, last question, George, what's the best piece of advice you've ever been given?
George McGherin:
The best advice I've ever been given is actually an expense revenue question. Piece of advice. It changed my life and I have to tell this story. Financially, I was trying to just cut things out and expenses and I talked to a friend of mine, who's multi, multi multimillionaire and he said, "What are you doing?" I said, "Well, I'm going to go hang out at a coffee shop. I'm going to work on my expenses and see if I can cut my expenses by 10, 15%." He then said to me, "How long are you going to be there for?" I thought, "I'll probably be there two or three hours." And then, he said, "You know what? You don't have an expense problem. You have a revenue problem. Why don't you use the same three or four hours to figure out how to make more money, not cut your expenses?"
He then said to me, which I've repeated over and over, he said, "George, what do you want to make a year?" I said, "I don't know. I'd like to make a million bucks a year if I could or half a million, a dozen million. But you have to solve your half a million dollar problem, not your $9 problem, right?" And that changed the whole scenario for me, because then I started solving those sort of problems. I stopped solving the $27 a month difference the in light bill problem, right? And I started thinking about how do I make an extra 100?
Robert Wagner:
How do you make that [crosstalk], right? Yeah?
George McGherin:
Exactly and that was the one thing. I mean, it was a basic, basic thing somebody had said to me, and it was probably more of a criticism to me, but I started to think about everything I do now. I'm like, "What problem am I really trying to solve?" And from then on, my business started to take off.
Robert Wagner:
It's interesting. The inherent compliment in someone saying something like that to you or to someone else is that you have the ability, you have the talents, the capability to have a no limit to what you can accomplish, which means that's a huge compliment to someone and a huge encouragement to them, is buried inside that advice. It's very cool. Well, George, thanks so much for being with us today. If folks want to find out more about the McGehrin Group and about you, what should they do?
George McGherin:
Thank you for having me on today, I appreciate it. The best thing they can do is if they, if they remotely type in George McGehrin, right. I'm C-E-G-E-H-R-I-N, they'll see a ton of material. I've been on, I think it's 60 or 70 podcasts in the last couple of months. They'll see me there and LinkedIn and then other things, that's probably the best way to find me. And that's kind of the idea, but we've got a couple of things. We've got the recruiting company, we've got the executive coaching business and we've got the branding business and that's what we're up to. So, if they need help, I'd love to hear from them.
Robert Wagner:
Great. Great. Well George, thanks so much. I appreciate it.
George McGherin:
I appreciate you having me on. Thanks.
Robert Wagner:
That's all for this episode of How That Happened. Thank you for listening. Be sure to visit howthathappened.dom for show notes and additional episodes. You can also subscribe to our show on iTunes, Spotify, Google podcast, or Stitcher. Thanks for listening. This content is for informational purposes only and does not constitute professional advice. Copyright 2021, HoganTaylor LLP. All rights reserved. To review the HoganTaylor general terms and conditions, visit www.hogantaylor.com.