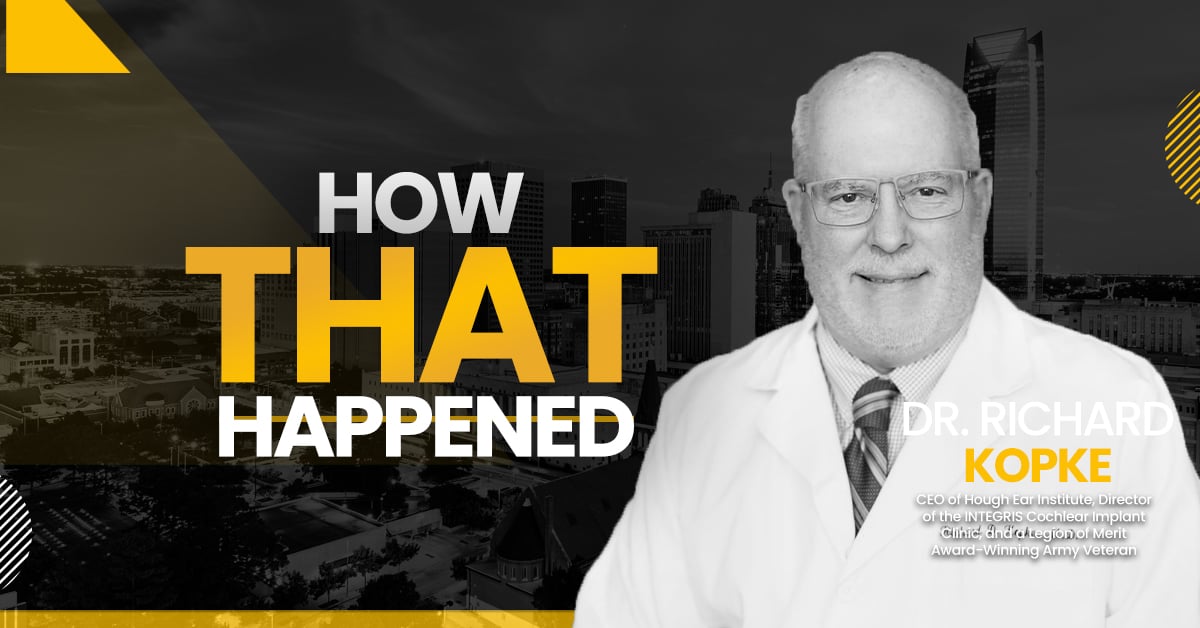 Dr. Richard Kopke:
(singing). What's fun about medicine? It's relationship centric. You're taking care of patients that come to you at a vulnerable time when they're not feeling well. Our vision is that all who have yours will here. We can always cure but we can always care.
Aaron Ackerman:
From Hogan Taylor, I'm Aaron Ackerman and this is How That Happened. A business and innovation success podcast. On each episode of the show, we sit down with business and community leaders behind thriving organizations to learn how business and innovation success actually happens. Welcome to another episode of How That Happened. I'm really excited for everybody to hear from my guest today. Dr. Rick Kopke is with me today. Rick, thank you for being here.
Dr. Richard Kopke:
Pleasure. Thank you.
Aaron Ackerman:
A little bit about Dr. Kopke. He is an otolaryngology, head and neck surgery specialist. I probably butchered that. And you could tell we may get out of my wheelhouse here talking about medicine. But there's a lot of interesting things to talk about. Rick joined the staff of the Hough Ear Institute and its affiliate autologic medical clinic in 2004 after he retired from 26 years in the US Army. During that time, he built an international reputation as an expert in the field of inner ear medicine. He also received the Legion of Merit one of our country's highest awards. Dr. Kopke is a board certified... say that word for me again, Rick.
Dr. Richard Kopke:
Otolaryngologist.
Aaron Ackerman:
Otolaryngology with a subspecialty certification in neurotology. And he's also the CEO of the Hough Ear Institute and serves as the medical director of the INTEGRIS cochlear implant clinic at the institute. So thanks, again, for being here. I'm excited to talk about some of the things that you've got going on. And I appreciate your time. So let me just kind of ask you first. You became the CEO of the Hough Ear Institute after time in the military. So first of all, thank you for your service. And I'm curious, just that experience, 26 years in the army, how did that prepare you for leadership in business? Was there some formative concepts that you picked up in the military that really shaped the way that you lead the Hough Ear Institute today?
Dr. Richard Kopke:
Well, thanks for having me here today, Aaron, it's a real privilege to be here and visit with you. I think a lot of my learning about leadership in the military was on the job training, we didn't have a lot of formal training, but they put you in situations where you had to lead. So I had a chance to lead different departments and organizations within hospitals. A lot of it was maybe mentoring from someone above you and on the job training. And then, another part of my leadership formation was that I'd become a Jesus follower in college, and so had mentoring from other people who were believers in Christ and the Bible. So those things were formative in how I approach serving and leading.
Aaron Ackerman:
Yeah, that's awesome. So we talked about this a little bit earlier, but you're fulfilling a lot of different roles today in your life. In addition to what you do outside of work, you're the CEO of the institute, you're a surgeon that sees patients. How do you kind of juggle that? Manage your time. What does a week look like for you?
Dr. Richard Kopke:
Well, I'm not sure if I always manage it that way. So a couple of days a week, two and a half days a week, I'm seeing patients or doing surgery in the operating room, and a couple of days, two and a half days a week, I'm working with our research team leading the Hough Ear Institute as CEO. So I sort of compartmentalize things in that way. Usually, try and take one day off and just completely rest. Otherwise, it'd be too easy to... there's enough to do to work seven days a week and take time to be with my wife and family. Most of the time it works out and sometimes it gets very hectic. So I think it's always have to be flexible to...
Aaron Ackerman:
Sure.
Dr. Richard Kopke:
There are always changes that come up you have to adapt to.
Aaron Ackerman:
Yeah. I think in the medical profession. I know... I've got friends that are doctors and they have days, like you mentioned two and a half days kind of dedicated to seeing patients and doing surgery. In other professions, it's maybe not as clear cut or people aren't as good at sort of batching or chunking their time like that. I think that's really sort of a brilliant approach to be productive and focus on the same kind of thing for an extended period of time, and then move to something else. I mean, have you always done it that way? Or did you kind of figure that process out over time?
Dr. Richard Kopke:
I think it was something I just figured out over time and works for me in general. Yeah, kind of have to have that separation, because it's one mindset for seeing patients and being in the OR, another Mindset for leading an organization or a running in an ear research group. So helps.
Aaron Ackerman:
Yeah. So maybe talk out just a little bit about the institute. What is the institute? What do you do at the institute? What are you trying to accomplish? And what do people need to know about HEI?
Dr. Richard Kopke:
Yeah, thanks for asking. So our vision is that all who have ears will hear. Most people have ears, but not everyone hears well.
Aaron Ackerman:
Right.
Dr. Richard Kopke:
And so our mission is to restore hearing worldwide through research, teaching and humanitarian efforts. We'll talk more probably about the research in a minute. But in terms of teaching and humanitarian efforts, one of the things we do is we invite surgeons from foreign countries to come. And they live in our homes for a period of time, and then they visit the operating rooms with us and watch what we do there. And there's other training and instruction that goes on. So we help them develop their ear surgery skills for their country.
Aaron Ackerman:
And sorry to interrupt. Docs are coming from... are they coming from developed countries as well as-
Dr. Richard Kopke:
Mostly developing-
Aaron Ackerman:
Developing countries. Okay.
Dr. Richard Kopke:
Yeah, so mostly our work has been in the Middle East, African, and Vietnam, Southeast Asia. So mostly from developing countries where they can really benefit a lot from what we can show them. And then, the humanitarian efforts part is we try and go and visit them. And then, wherever they are and the country they're from, and maybe sometimes help with medical equipment, supplies, or just be there to encourage them so...
Aaron Ackerman:
Yeah, that's awesome. Kind of this full, holistic approach to restoring hearing for peoples. Yeah. So one thing I should mention about Rick, so he and I met on a Canadian fishing trip. And I think that's the last time we've seen each other was when we left Canada, before today.
Dr. Richard Kopke:
That's right.
Aaron Ackerman:
Yeah. And so it was us and I don't know, 10 or 12 other businessmen, that went on this fishing trip, and it was a really good time. One thing I learned as I fished a little bit and ate a little bit with Rick, he's a very relationship oriented guy. And you've already mentioned that once, I think, that how important relationships are to you. Or you mentioned mentors in the army. So maybe talk about that just a little bit, how relationships are important to you, maybe in your life, in your work and your business. Where do you prioritize that? How do you develop relationships? And is that something... I mean I know it is important to you but why is that important to you?
Dr. Richard Kopke:
Well, for one thing, I think God designed us for a relationship. That's at the heart of how he created us, to relate to him and to relate to other people. And so we're created in God's image. So people have tremendous eternal value. So relationships are important to God and they're a gift and so they're important to me. And God's used people in my life to really mentor me, keep me encouraged, keep me from not giving up. So people are a huge gift. So both... well, in business, for example, I never had any formal business training. And they asked me to be the CEO of Hough Ear Institute. And I'm going, well, I don't really formal training for that. And I provided a guy named Steve Trice that we've met together since 2005, because our schedules permit every week, and he's mentored me spiritually as a brother in Christ but also, from the business side. I've been able to... he's served as our board chairman. And so he's really done a lot of mentoring in the business side. So that's a really sweet relationship, really valuable relationship.
So as I can, I try and pass that on to other younger guys. So I meet with four or five guys every other week or so to encourage them along those same lines. And then, what's fun about medicine? It's relationship centric, you're taking care of patients, they come to you, at a vulnerable time when they're not feeling well or have some illness or they can't hear. So just value those opportunities. We can't always cure, but we can always care.
Aaron Ackerman:
Mm-hmm (affirmative). Yeah.
Dr. Richard Kopke:
And so I really love my relationship with patients. But when I was in the military, one of the most common disabilities in the military, especially for people that are deployed, is noise-induced hearing loss and the ringing in the ears that comes with that. And so, noise-induced hearing loss is a big thing in the military. So I got thinking while I was in the military, what if we could actually do something about that? Can we treat it? Could we restore it and restore hearing after it was lost by noise because hearing loss really cuts at the heart of relationship. People have pretty significant hearing loss, they tend to start to withdraw to themselves, they tend not to attend social functions. They tend to become sort of reclusive. It can affect their job performance, promotion, even other aspects of health, including possibly leading to some memory issues, so to have a chance to restore hearing is like having a chance to restore relationship.
Aaron Ackerman:
Oh, that's awesome. I had not thought about it like that. But the way you say that just makes so much sense. So now, the research that you're working on right now and others are working on is really kind of around that restorative aspect, correct?
Dr. Richard Kopke:
Yes.
Aaron Ackerman:
Yeah. So tell us a little bit about the research that you're doing and where that's headed in the future and everything?
Dr. Richard Kopke:
Okay. Well, just as a little background, there are about 600 million people in the world with significant hearing loss and about 450 million people in the world with hearing loss that's disabling. By that, I mean, it's hard for them to get a job, get education, hard to even carry on in a social context. And the vast majority of that hearing loss is due to injury or aging of the cochlea, which is the tiny little organ of hearing part of the inner ear. And the way the cochlea works is, there are these little so-called hair cells, not like the hair on our heads, but something totally different, but they're called hair cells that pick up sound vibration, from the vibrating eardrum and turn that vibration into a nerve signal. That nerve signal gets sent to the brain and we hear that two thirds of hearing loss in the world is either due to loud noise, that's about a third of it, another third is having birthdays or getting older and in both cases, those hair cells die out. And once, they're gone, they're gone for good.
But interestingly, in birds, for example, reptiles, if birds are deafened with loud noise or from whatever cause, their hair cells grow back spontaneously, and their hearing-
Aaron Ackerman:
Oh, wow.
Dr. Richard Kopke:
... recovers but that doesn't happen in man. So our research looks at using some cells in the cochlea that are left over after the hair cells die, they're called supporting cells. Every hair cell has three or four supporting cells around it to support it and nurture it. And so we've developed a medicine that you can inject into the ear that causes those supporting cells to turn into new hair cells, regenerate, if you will and the hearing comes back.
Aaron Ackerman:
Wow.
Dr. Richard Kopke:
So so far, we're at the preclinical animal study level but we're hoping to move forward into the clinic soon in the next year or two.
Aaron Ackerman:
Okay, so without this kind of medicine, this injection, the treatment would be devices, or a cochlear implant or nothing, just learning how to cope. Is that right?
Dr. Richard Kopke:
Right.
Aaron Ackerman:
Yeah.
Dr. Richard Kopke:
So right now, you're exactly right, hearing aids and cochlear implants, as you know, are really expensive. So, of all these people with significant hearing loss or disabling hearing loss in the world, only about 10% could afford hearing aids or cochlear implants. So, what are you going to do for the 90%? Perhaps this could be an answer for the 90%. If they could have a relatively inexpensive drug injected into the ear and get their hearing back and not need cochlear implants or hearing aids.
Aaron Ackerman:
Yeah, so that's fascinating to me. So what is the process? So somebody had this great idea started doing some testing. Then what? What is the process to get this approved to where you can actually go in and deploy this with people?
Dr. Richard Kopke:
Yeah, that's a great question. It's kind of like watching an iceberg melt.
Aaron Ackerman:
It don't happen overnight, huh?
Dr. Richard Kopke:
It's a very laborious process. That's why they call it research, because you search and then you research again but... so it starts out sometimes in a test tube, and then goes to animal testing. And if it seems to be effective in animal testing to restore hearing, then you do further animal testing to see if it's toxic. Is it toxic in any way to any organ system? And if it's not toxic and seems to have a reasonable effect, then you can go through the system set up by the FDA or the Food and Drug Administration to get approval for it. So there are three phases for that. Phase one is just looking purely at safety. So you have volunteer subjects that are given the medication and you do super intense monitoring of all systems and see if there's any evidence of any safety issues. And then if you pass that stage, phase two, continues to look at safety, always look at safety.
The phase two's looks at well, is this going to be effective to do what you want it to do? Is this going to be effective to restore hearing or not? And so that's on a somewhat limited scale. So for example, you might have 30 subjects in the safety testing in initially phase one on 100 or 200 subjects in a phase two study which is looking for effectiveness? And then if it passes phase two, where it's effective and it still continues to be safe. Then you go on to phase three, which again, looks at safety, but effectiveness on a much broader scale. So instead of 100s of subjects or patients, you might have 1000s. And then, if it meets the muster there, the FDA allows you to market it for whatever you're studying, like restoring hearing or what not so...
Aaron Ackerman:
And so each of those phases is that, are we talking about months or years, like what?
Dr. Richard Kopke:
It's a little different with each drug or each scenario. But phase one's often a year or so, phase two, a couple of years, phase three can be three or four years. Phase one study can be 1 or 2 million, phase two study, it can be 10, or 20 million, and phase three study can be 100 million. So usually, a phase three study has to be undertaken by a large pharmaceutical company. So they look around for drugs that have made it through phase two and look promising.
Aaron Ackerman:
Yeah. And then they would buy that or invest or whatever. So up to that point, the funding is from? Do you get grants, you just do private fundraising or how does-
Dr. Richard Kopke:
Sure. Well, grants for one thing, we've had NIH Department of Defense and OCAST's grants here in Oklahoma, and then we have donors, generous donors, large number of donors, that have donated to us to keep the research going forward. And then you have private companies at some point can take it further. And we had [bomb blast 00:21:55] pills, so called, that works differently for different indications that was acquired by a pharmaceutical company. So they're gonna pay the expense for taking that through phase two, for example.
Aaron Ackerman:
Yeah, that's definitely-
Dr. Richard Kopke:
Once you get past phase one, or phase two, then most likely be a large pharmaceutical company that would take it further.
Aaron Ackerman:
You've been involved personally, with that research project from the very beginning? Or how did it come about? What was the start?
Dr. Richard Kopke:
Yeah, that's a great question. So as I mentioned, I was in the military. So seeing all these people that were in combat coming back with a lot of hearing loss while in their 20s. Having either to be discharged from the military, because of hearing loss, and then having to have that disability for the rest of their lives. And I read in the medical journal Science, about this guy in New York, that thought he had regenerated some hair cells in mice. Wow. Wouldn't that be cool for all these soldiers if we could regenerate hair cells? So that was about 1996. And I had this idea, and I was just thinking, going into research, trying to discover something that would help that I thought, well, I don't have any research experience. I don't have a lab. I don't have any funding. So-
Aaron Ackerman:
Just details.
Dr. Richard Kopke:
Yeah, it just kept going around and around. And finally, I started praying about it wondering, what if this is something God wants me to pursue? So I changed my approach to it. And I prayed, God, if you want me to pursue this, then I need some help. I need some training, I need some research funding. I need a lab. And to tell the whole story would probably take over an hour, but basically, God miraculously opened up a bunch of doors and continues to open doors to bring that forward. So...
Aaron Ackerman:
That's awesome. And so that goes back. How many years really?
Dr. Richard Kopke:
'96. So, yeah.
Aaron Ackerman:
Yeah. That's awesome. Well, thank you for sharing that and that's fascinating. So is there any way to kind of prognosticate at this point? Like, when that might hit the market or is it too early to say?
Dr. Richard Kopke:
Well, you can always prognosticate. But things happen. We hope that the pill might be on the market in mid '20s. And the injection for regeneration that we spent more time talking about, hopefully by 2027 kind of mark, that's kind of what our business plan looks at. But it can be accelerated by more funding or it can be delayed by problems that come up that you didn't anticipate you have to get around.
Aaron Ackerman:
Yeah. So I want to ask you a question. Lately, I've been learning and our firm has been learning about some brain science, and particularly sort of being really intentional about things that you do in the beginning of your day, and throughout the day to help you really be totally on and kind of be at your best as we serve our clients, we want to make sure that we're sharp and thinking clearly and all of that. And some of that is, what do you do when you first get up in the morning those first 20 or 30 minutes? And things like that. Obviously, in my field, accounting, if I mess up, nobody dies. Thankfully. Because I mess up. But what's your way to prepare? Like when you're going to see patients and particularly when you're performing surgeries? Do you have a routine? Or what is the way that you prepare for surgery?
Dr. Richard Kopke:
That's a great question. I think one thing is surgery's never routine. Every case is different so you have to be prepared for the unexpected so I'm pretty prayerful about it, asking for God's help to guide me and bring things to mind. And then I kind of go through the surgery mentally, quite a number of times, step by step and plan ahead. Okay. What are we going to need for this in the way of equipment and since every case is a little different, you might have to use a different approach so you sort of plan for it ahead of time, rarely may get into a situation that's pretty challenging. So occasionally, call one of my other colleagues and say, Hey-
Aaron Ackerman:
I need some help.
Dr. Richard Kopke:
... help. What do I do here? So it's never boring, but I'd say prayer and planning and just visualizing in my mind are the three main things.
Aaron Ackerman:
Very cool. So for listeners that wanted to learn more about the institute, what's the best way for somebody to reach out and learn more? Is it on social media or your website?
Dr. Richard Kopke:
Yeah, it's on social media. And website is www.hough, H-O-U-G-H, ear.org.
Aaron Ackerman:
Okay.
Dr. Richard Kopke:
So we're on Facebook.
Aaron Ackerman:
Okay. We'll put that in the show notes, too. So, coming down here to the end of our time, Rick, and so I've got a few questions that we like to ask our guests. You ready for that?
Dr. Richard Kopke:
Sure.
Aaron Ackerman:
Okay. First question, what is the first way that you ever made money?
Dr. Richard Kopke:
Probably helping my dad mow lawns, different properties he owned and helping him frame houses. He was a home builder.
Aaron Ackerman:
Okay. Yeah, I think that may be the most popular answer is mowing lawns. So you're in good company. So what would you be doing, Rick, if you weren't an ear surgeon, if you weren't doing research and running the Hough Ear Institute? What would you be doing if you weren't this?
Dr. Richard Kopke:
Well, I can't think of too many things I'd rather do actually. But if I got to the point where I couldn't do surgery anymore, I'd probably want to keep doing the research. And if I didn't have a research job, I'd probably always want to be mentoring other guys in terms of what I have learned scientifically or in the business realm or spiritually just helping them figure out how to follow God and read the Bible and apply a life of faith.
Aaron Ackerman:
Yeah. And you're already doing that. So that's cool. Getting to do what you love. What would you like to go back and tell your 20 year old self?
Dr. Richard Kopke:
Yeah. Dream big. Dream big and follow those dreams, I think. I'd say go for it. Don't be shy.
Aaron Ackerman:
That's great. Good advice for any 20 year old. Good advice for any of us actually. It's never too late to dream big, right?
Dr. Richard Kopke:
No, it's not.
Aaron Ackerman:
So what would be the name of your book? If you had an autobiography, if all of the experiences and contents of your life were a book, what would you name that book?
Dr. Richard Kopke:
Well, I guess one book could be Diary of an Earwax Sucker.
Aaron Ackerman:
I love it.
Dr. Richard Kopke:
But-
Aaron Ackerman:
I hope you write that book. I will read that.
Dr. Richard Kopke:
But another book might be, Connector, a man God used to love others by helping them hear good news.
Aaron Ackerman:
Cool. Last question, what is the best advice that you've ever received?
Dr. Richard Kopke:
Well, for sure, put your faith and trust in Jesus and follow Him. That's been the biggest gift of my life to think about that the creator of the universe loves me, delights in me, has a plan for my life, wants me to spend all of eternity with Him. It's just such a joy to have that gift and it affects every area of my life, my marriage, my family, and business. So, yeah, it's brought so much joy, so many gifts, comfort in times of hardship and stress. So to me, that's the best advice I think I get ever give anybody is to get to know God. Put your faith in Jesus and follow him.
Aaron Ackerman:
Yeah. Got it.
Dr. Richard Kopke:
Everything else will take care of itself.
Aaron Ackerman:
Yeah, that's great. So thank you for sharing about your research, about what you're you're working on. Thank you for your transparency. (singing). And I'm glad we got to go fishing together. I appreciate your friendship. And I look forward to maybe another fishing trip someday.
Dr. Richard Kopke:
That'd be great.
Aaron Ackerman:
Well, thank you so much for your time. I really appreciate it and best of luck with the research and everything else.
Dr. Richard Kopke:
Well, thank you, Aaron. Thanks for your interest and your friendship and be great someday if we have fewer hearing aids, fewer cochlear implants.
Aaron Ackerman:
Yeah, we're always for that. And watch as you guys continue the good work you're doing. Thank you so much.
Dr. Richard Kopke:
You bet.
Aaron Ackerman:
That's all for this episode of How That Happened. Thank you for listening. Be sure to visit howthathappened.com for show notes and additional episodes. You can also subscribe to our show on iTunes, Google Play or Stitcher. This content is for informational purposes only and does not constitute professional advice. Copyright 2020 Hogan Taylor LLP. All rights reserved. To view the Hogan Taylor general terms and conditions visit www.hogantaylor.com.