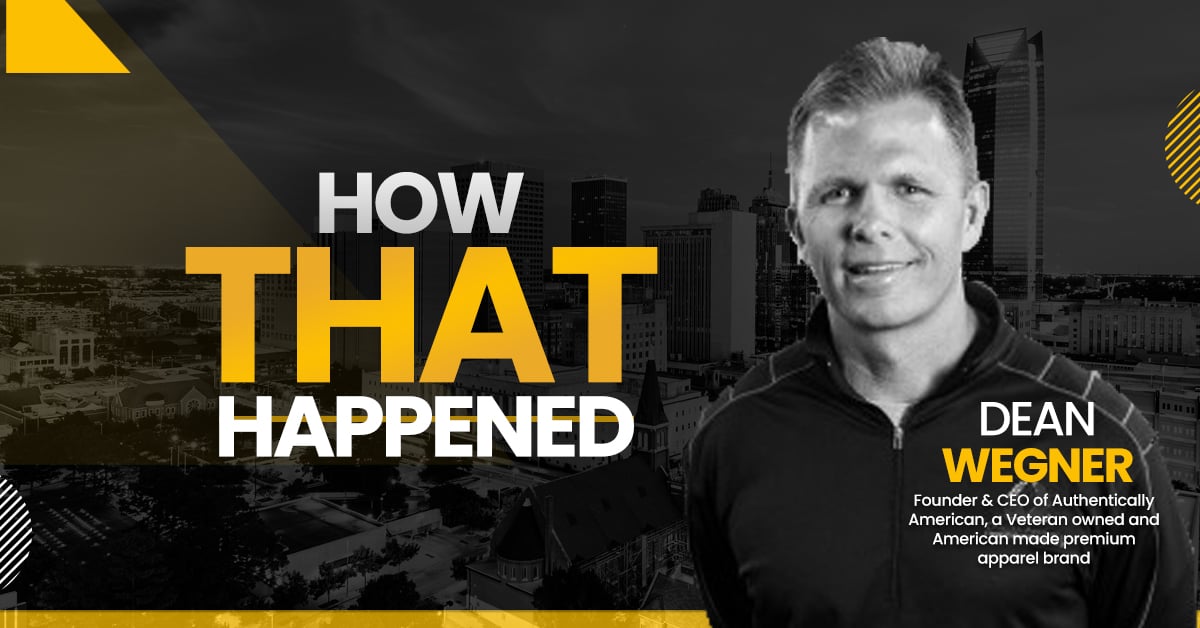 Dean Wegner:
It ultimately ties to our passion to create jobs, make a difference, and, if we're successful, ultimately, leave a legacy.
Every order we ship, ever order we take, we've helping make a difference because, if we do that well and we're comfortable, that's going to help make a difference in a soldier or a first responder's life.
Robert Wagner:
From Hogan Taylor CPA and advisors I'm Robert Wagner and this is How that Happened a business and innovation success podcast. Each episode of the show we sit down with a business and community leaders behind thriving organizations to learn how business and innovation success actually happens.
My guest today is Dean Wegner. Dean is the founder and CEO of Authentically American Brands a veteran owned American made premium apparel brand. Dean's business background includes stints with Mars Inc. and Proctor & Gamble working in business development, marketing, and strategy. Prior to his business career Dean attended West Point where he played Division I hockey. And after graduating from West Point Dean served our country for seven years as a helicopter pilot and army ranger. And he holds an MBA in finance for Cal State.
So, Dean, welcome to the How That Happened Podcast.
Dean Wegner:
Robert, I am excited to join you. And it's an honor to be a guest. Thank you for the invitation.
Robert Wagner:
You bet. Glad to have you here. I saw Dean speak at the University of Tulsa a year or so ago and I just found his story very intriguing. And Dean has been on Fox News and several other national broadcast. And so, we're excited to have him as a guest.
So, Dean, I want to start kind of with what your mission is. I mean, you're building ... You're in the brand apparel business. You're in the premium brand apparel business, but you have a big noble vision. I just kind a want to introduce that to our guests here.
I just want to read straight from your vision statement. It says, "The vision of Authentically American is to build an iconic American brand that is truly American made." So, Dean, what does that mean and why is it so important to you?
Dean Wegner:
Well, I'm glad to start there, Robert, because not just me but the entire Authentically American team we have big dreams and big aspirations. And it ultimately ties to our passion to create jobs, make a difference, and, if we're successful, ultimately, leave a legacy.
And I'll share a pretty shocking historical statistic related to the apparel industry. So when I graduated from West Point in 1993 over 50% of the apparel in the US was made in the US. Today it's tragically less than 3%. 3% is all that's made here in the US today.
Robert Wagner:
Wow.
Dean Wegner:
And we, ultimately, are on a mission to change that. We believe that we can have amazing product with an incredible brand story that's competitively priced. So we're fired up. We just had our three year birthday, Robert, two weeks ago.
Robert Wagner:
Awesome. Awesome. So, Dean, why apparel? Why does that interest you? And why focus there, I guess?
Dean Wegner:
It's a great question and it's not because I'm a snappy dresser or have had a passion in apparel. If you think back to the days at West Point and in the army, the decision was already made for me what I wear and you wear uniform. But if you did a quick overview of my career history with the army and you mention Proctor & Gamble and Mars, none of that was apparel related.
It, ultimately, was a personal motivation that led me down the entrepreneurial path. And in 2012 I bought my first business. And this was a company Omega Apparel. It had a great niche producing dress uniforms for the military. So it was trousers, slacks, and skirts. 1,000s of them every week for army, navy, air force, marines, and coast guard. So that was my first exposure into the apparel industry.
And when I started researching doing my due diligence on the Omega Apparel I was really intrigued because, one, it gave me an opportunity to get indirectly connected with the military again. And number two, back to the 3% only being made here in the US, what I saw a huge opportunity to go ahead and help create jobs. So that's ultimately how it ended up being apparel related.
Robert Wagner:
Gotcha. Gotcha. So, Dean, I want to go back to the vision just for a second. So an icon brand. What does that mean? How will you know you've done it, I guess?
Dean Wegner:
I don't know if there will be all of a sudden a point that says, okay, we've finally arrived. But I think if you remember back when I spoke in Tulsa, Robert, I showed a few brand logos. So I showed the swoosh and I asked everybody, what brand is that? And everybody was like, "Well, that's Nike." Then I showed the logo for Under Armour and everyone quickly recognized that. I showed the horse and everyone new Polo.
So at some point when we're iconic our brand marks, our vintage US flag, our stamp, that will be something that everyone across the country and across the world with start to recognize. We've got a long way to go from here, but it's crazy right now. We're talking virtually via Zoom and in the middle of global pandemic, but I will tell you now more than ever Americans are actively seeking American made products.
Robert Wagner:
Right.
Dean Wegner:
Our organic website traffic, Robert, is up over 400%. We're going to finish the year up well over 300%. I think people now are deciding that they want to vote with their wallet. You vote for president one every four years, but you can vote every single day when you pull your wallet out and are making a purchase.
Robert Wagner:
Yeah. So, Dean, your logo is a rendition of the American flag. And I recall in your talking when you were here in Tulsa that, that was a bit of an ordeal Can you relate that to our listeners?
Dean Wegner:
I can. And I always laugh because I always joke that I hate attorneys, which is tongue in cheek because I love my general council and I love the specialized patent attorney that we worked with for the IP protection. So our vintage US flag logo is an officially registered US trademark. And it's hard to visualize. I'd encourage everyone just to go to AuthenticallyAmerican.US and you will see that vintage US flag logo.
I really chuckled, Robert, at the response we got initially from the US Patent Office. It was more eloquent than this, but they essentially said, "Dean, not only can you not patent this logo of the US Flag, hell no. There's no way you can do that."
And this is where it was phenomenal the work that our attorney did because it was more articulate than this but he essentially said, "No, guys. Wait a second. How many stars are in the US flag? 50, of course. And you take a look at our logo there are not 50. How many stripes are in the US flag? There's 13 and, guys, there's not 13 in Dean's vintage US flag. So this a unique artistic rendering of the US flag unlike anything else on the marketplace." So now, it's a officially registered US trademark for us.
Robert Wagner:
That's cool. That's very cool. So a little persistence pays off, right?
Dean Wegner:
It does and knowing the right people with the right technical knowledge in this case being the legal expertise to go ahead and make that argument for us.
Robert Wagner:
Yeah.
Dean Wegner:
And I know that, Robert, that resonates for you being in the professional services business.
Robert Wagner:
Absolutely. Absolutely. So, Dean, you clearly are and have been a high performer and you set a high bar for yourself. You have lofty goals. You didn't just attend West Point. You also played hockey while you were there. So where does that come from? Is that something that, that desire and doing what it takes to be a high performer, were you sort of born that way or was there a pivotal moment in your life that that's who you decided to become? How'd that come about?
Dean Wegner:
I give a big credit and tribute to my parents. They are just phenomenal great American people. And I think at a very young age they started to instill in me that work ethic. And I may not always be the most talent and one of the smartest, but the ideal was work is something that it's a matter of a choice and what you want to put into it.
That was a lesson that was taught to me early on and that was just reinforced throughout my growing up days and then at West Point in the experience that you go through at West Point. And then those four years coupled with the military and also attending Ranger School, that just really reinforced that work ethic and that commitment to going above and beyond and really striving to make a difference.
Robert Wagner:
Yeah. What does it take ... I want to talk about West Point and those experiences, and Ranger School, but what does it take to be a Division I athlete? I mean, all of us, almost everyone who would be listening has done something athletic in their youth. They play on a soccer team or something. They try. But there's a special level of effort and dedication. What did that mean to you? What did you have to do to make that happen?
Dean Wegner:
I am actually living that world right now, Robert, because family is incredibly important to me. And my wife and I we're getting ready to celebrate 26 years this month.
Robert Wagner:
Awesome.
Dean Wegner:
We have four amazing kids. We have two daughters who are 22 and 19. We have a 16-year-old son and we also have a 10-year-old son we adopted from Ethiopia. My 22-year-old daughter she earned a Division I scholarship. She played her first year of soccer at the University of Tennessee Chattanooga. And I am actually on a trip this weekend with my 16-year-old son in Madison, Wisconsin, and he has a goal to not only play Division I hockey, but ultimately play professionally.
Robert Wagner:
Okay.
Dean Wegner:
It is even more challenging today than it has ever been to go and play at a higher level. Just the level of commitment and work ethic, I think that people who have not experienced it first hand have no idea the commitment and dedication that a high level athlete puts in. I think it starts with the love of the game, but it really grows beyond that because the amount of hours and time and commitment and work. I mean, if you raise that championship trophy, I mean, it's a relatively short amount of time to compared to the hours, and days, and weeks, and months, and ultimately years of hard work and dedication that goes into it.
Robert Wagner:
So that's amazing. You're getting to experience that with your kids. That's fantastic.
Dean Wegner:
Living vicariously through my boys right now.
Robert Wagner:
So let's talk about the West Point thing for just a second. I'm curious, really still sticking with the hockey thing. I had a high school buddy who went to West Point and he enjoyed telling us the stories of the rigors and the traditions there. When you stack on being an athlete at one of the academies, in this case West Point, what does that mean? Is it just additive to the stress and the work that goes with that?
Dean Wegner:
I think in some respects for me, Robert, it was a stress reliever because I was able to play a sport I love and compete at a high level. But it was exhausting because there is no reduction in the normal demands for you as a cadet, so you still have all these same high academic standards. You still have all the military training.
So to me it was two fold. One, you were playing with a group of guys that still I'm friends with today. You're playing a sport I love, but that is above and beyond the normal every day cadet activities. So it was a lot, but wouldn't have done it any other way.
Robert Wagner:
Yeah. So you graduated from West Point and went to Ranger School. What is Ranger School? I mean, what does it mean to be a ranger?
Dean Wegner:
So Ranger School is ... Call it part of the Army Special Forces. It's a special school that I was able to attend. There's a lot of military doctrine and tactics, Robert, that are associated with Ranger School, but at it's core it's a leadership school.
What they do at Ranger School, they deprive you of everything you believe you need to survive, namely food and sleep, and then put you in incredibly stressful situations. So for 68 days straight you live on zero to three hours sleep a night and it would be one meal a day, and then incredible stress.
Back then, this was 1994, so I had recently graduated from West Point, Robert, and was playing Division I hockey and I was in the best shape of my life and had very little body fat to lose. I went from 195 pounds down to 175 pounds. My Ranger buddy was a Marine Corps infantry sergeant. He was a football player. A little bit bigger. He started out at 220 and he weighed the same, 175 pounds, with me on graduation day.
Robert Wagner:
And how long is that?
Dean Wegner:
So Ranger School, if you go straight through, takes 68 days. My wife and I, quick story, the day after we got married we went on to flight school and then the day after we ... I'm sorry, the day after we got married we went on our honeymoon and the day we returned from our honeymoon she dropped me off at Fort Benning, Georgia for Ranger School. So we had second honeymoon after Ranger School and we went down to Disney World and I think she was a little disappointed because after those 68 days I spent half the day sleeping just trying to recover.
Robert Wagner:
So what kind of stresses are we talking about? And how does that translate into leadership?
Dean Wegner:
Well, right now, anyone that has worked in a startup, founded a company, knows that incredible stress associated with that. And I think back to those days of Ranger School and I'm like, "If I can do that, I can do this right now." Back then it was all about no sleep and incredible stress and that's the life I'm living right now leading a startup, but I'm still able to eat. Still able to spend time with family.
It's just a real big dose of perspective and I think that's something that the military does so well. They train you not only for your current focus of serving in the military, but it prepares you for life in general.
Robert Wagner:
Okay, that's incredibly interesting. We're talking during ... You mentioned earlier we're recording this during the pandemic. Folks are working from home. It's very strange. We're talking to our teams a lot about just doing hard things, like this is a hard thing and you've done hard things before. We're going to get through this. We're actually going to grow some muscles that we didn't know we had as a result.
And that seems to be what you're talking about, right? This mental toughness that this is a hard thing, but I'm going to create the will to do it. Is that what you're talking about?
Dean Wegner:
It absolutely. It's all about training and that ties into ... We talked before about being a Division I athlete. The training that goes into that. Talking about being a world class trained soldier, that training and rigor that goes into that. Even in business.
One of the things that made Proctor & Gamble and Mars so successful was the amount of training that they invested in their people. I think it's a common thread that enables success when you prepare your team, when you prepare your people for success, and ultimately invest in them with training. I mean, the dividends are huge.
Robert Wagner:
How could you ... Obviously, in a business setting your not going to deprive people of sleep and food, but how can you create a training environment that gets that level of learning to happen? Is there a way to do that?
Dean Wegner:
It's interesting right now because I shared the example of Proctor & Gamble and Mars, and the budgets for training, they were in the tens if not hundreds of millions of dollars, Robert. And of course, as a three-year-old start up we in essence have no budget for training. It's more on the job training. But I think part of the training that we're really focused on is really tied to our mission.
If you had the rest of the Authentically American team here on this call with me, I think what would really come through and resonate loud and clear is the passion. To everybody on our team it's not just a job. Everyone this is a pursuit of their passion. Ultimately, everybody here is doing far more than I would ever ask them to do because they really believe in what we're doing and, ultimately, want to make a difference. They want to leave a legacy.
I've had members of our team say, "Dean, just think what my kids will say when we're successful. Just think what the grandkids will say when we're successful look back and we've delivered our vision." So to your point, we can't deprive anyone of food or sleep, but I've found the biggest motivation now is that passion that's tied to our mission.
Robert Wagner:
Yeah. Yeah. People want to come to work for a reason besides the paycheck. I mean, clearly you have a vision that a lot of people would like to tap into. So I can definitely see that in your case.
Dean Wegner:
Robert, one of the thing I highlight as well because tied to our mission of job creation, our visions of this iconic American brand, so that has been motivating for everybody. But one thing we also made the intentional choice to do and this is every day making a difference. So if you go to our website AuthenticallyAmerican.US and looked at our values, there would me one around giving back.
We're very intentional about donating 10% of our profits to veteran and first responder charities. That is just a way to reinforce that every day, every order we ship, every order we take, we're helping make a difference because, if we do that well and we're profitable, that's going to help make a difference in a soldier or first responder's life.
Robert Wagner:
Yeah. That's awesome. That's awesome. Definitely a cause to get behind. So, Dean, just kind of sticking with the leadership and your development. You have done some national media type things. I remember in your speech here in Tulsa You played a clip. I think it was from Fox & Friends. You were on with, I think, Darrell Waltrip and you kind a got a set up question. They were trying to get you to bite on something that was in the political realm, which you didn't do. How have you learned to handle communicating at that level in those kind of situations?
Dean Wegner:
We're hitting on a theme here, Robert. This goes back to training. That very first time that I was on Fox & Friends, which was also the very first time that I was ever on national TV, I probably put in 100 hours or more in preparation. Because a lot of people said, "Dean, did they give you the questions? Because it seemed like you knew they were coming." That political question that they'd ask. And the answer is, no, they want it to be spontaneous, but this gets back to training and preparation.
That was only going to be three to four minutes. It ended up being four minutes, but I did not want to waste the opportunity the very first time that we as a brand had to be on national to wast that opportunity. So that's why I made a choice that I'm going to invest an extensive amount of time to make sure I'm ready.
And then, tied to the other piece, Robert, another one of our core values is around respect. You remember the footage, but those that didn't see it the question they asked was, "Well, Dean, what do you think about those that would [inaudible 00:22:11] promote and look to make money off kneeling before the flag?"
Robert Wagner:
Right.
Dean Wegner:
Robert, I remember swallowing deeply, like "Oh-oh, where do I go with this?" Ultimately, what I decided to do, my response said, "First and foremost I'm an American. I believe in the Constitution and freedom of speech. So I signed up to serve our country and preserve everyone's ability to do that. But I also believe that we are defined by the choices we make. And we as a company are being so intentional in the choices we're making.
And for me and our company, we ultimately believe in standing, but there's two reasons tied to that." I said, "Number one, I had mentioned my four kids. If you walk into a room and my family's there, my kids are there. They're not just going to sit down. They're going to stand up, looking you in the eye, and shake your hand as a sign of respect.
Same thing with the military. If a commanding officer walks in and you're sitting down, you're not just going to sit there. You're going to stand up. You're going to salute. And that's a sign of respect."
I didn't poke at Nike, but what I said is, "We're still intentional about who we are and what we stand for and we want to partner with businesses. We want consumers who are going to make a purchase to align and have similar values as we do."
Robert Wagner:
Yeah. Yeah. That is great. I want to got back to this 100 hours of preparation because I'm not sure how many people would think to do that. What did you do for 100 hours? I mean, did you dream up every question or what? How'd you do that?
Dean Wegner:
You are touching on it exactly, Robert, because I had a PR person that was helping me and he literally came up with over 100 questions that they could potentially ask. So that was part of the exercise was that two of us just brainstorming and saying, "Okay, there's going to be some basic questions. Well, Dean tell me about Authentically American? What's your vision? What's mission? Values?" Those type of things too some very off the wall type topics that could come up.
That was a big part of it was brainstorming all of the range of question that could come up. Then once we had those questions, just doing a role play and sitting there. Part of it was me just sitting there and role playing with myself and envisioning sitting on the couch at Fox & Friends, but then it was also my PR person sitting there pretending he was Bryan Kilmeade asking the questions and going through that.
Robert Wagner:
Yeah.
Dean Wegner:
So I look back and say I could've done better, but a lot of the positive feedback received was really attributed to the training and preparation for that short moment.
Robert Wagner:
Yeah. I think that's so good just highlighting the preparation that you went through for that. It was very thoughtful. That was a moment for you and for your brand, right? That was a really important moment that you didn't want to waste. I think a lot of people, I mean, we've all seen it on national television where someone's on there and they can't get their story told in a concise enough time because those segments are really short.
Dean Wegner:
They are.
Robert Wagner:
And they kind fumble through it or they get thrown a curve ball by whatever the current news of the day is. They want to ask the context. They want to ask the question in the context of current news or something. So that was fantastic. I appreciate just the inside of really preparing for something like that and getting help to do it, so getting a PR person or maybe like a crisis or professional media type person to help that's great counsel.
Dean Wegner:
Robert, I will tell you, I need to listen better to my own advice because it was not as nearly large an audience, but if you're familiar with Newsmax TV, this is a conservative station that actually reaches 70 million households primarily through Dish and DirecTV.
So I was invited back on national TV on Tuesday and we are extremely busy. Our business has never been stronger. We've had record quarterly revenue. And I'd probably give myself a C- on Tuesday. I looked back and I said to myself, "I'm never going to do this again." When I have an opportunity to appear on national TV, I need to treat all of them with the level of preparation that I did the first time.
I was disappointed in myself as I look back at that because I could've done so much better and the main reason I did not is because I didn't follow my own advice and put in the extra time and investment in training and preparation.
Robert Wagner:
Yeah. Yeah. Well, I'm sure it was better than you're giving yourself credit, but the advice is still appropriate I'm sure. So, Dean, you know you've talked about this shift in the apparel industry and the shift of doing the work overseas. And you are now having your products made here in America. I'm just trying to envision the hurdles that you're dealing with from an industry that kind of left us three years ago about the equipment, the artisans, the, I don't know, the patterns, just the things that ... It seems that everything would be pointed, like all the supply materials and all that, everything's points in a direction that's not the US, right?
How are you dealing with that? How have you overcome those kinds of hurdles about getting a product made in America that hasn't been made here for a while now?
Dean Wegner:
Well, Robert, it is incredibly challenging to do it. What enabled me to be able to pursue this path was those five years I spent owning and leading and working at Omega Apparel because those five years taught me a great deal about the apparel industry.
I have some level of insight, some level of perspective when in 2017 we officially launched Authentically American because 3% is such a small number, but the total US apparel spend every year is 300 billion. So there still is a massive amount that's made here. It's just relatively small and it's not easy to know where to find that.
So that was the leg up I had starting three years ago, but it has taken me to plus years to really fully build out that supply chain and it is a network of contract manufacturers we have set up established all across the country. So we have 12 different states that we produce in.
For example, tshirts, everybody loves our tshirts. They say how incredibly soft they are in the print that we use. So we produce those in Texas. We have socks. When I was on Fox & Friends the second time that was our number one seller that day. And these are socks that are Carolina cotton, knit Carolina. They're just incredible socks with fun designs. We also makes hats in New Jersey. So all across the US in 12 different states.
Robert Wagner:
Very cool. What does a typical contractor look like?
Dean Wegner:
So most of them, Robert, are relatively small mom and pop business. They're not just producing for us, but there's other people that they may be producing for. But to me this is our belief in the American worker. That is one of the things I love doing more than anything is visiting our contract manufacturing facilities, going around and watching them work, shaking hands, and seeing them making our product, because the American worker is the backbone of American.
And so much of our society right now is technology and digital based, but I'm finding more and more people love a consumer product and knowing that their hands created something that's going to be put on somebody's back and that's something that is going to be their new favorite brand.
Robert Wagner:
Right.
Dean Wegner:
That is one of my favorite things to do, Robert.
Robert Wagner:
Yeah, that's very cool. Very, very cool. So one question before we begin to wrap up here. Have you had to raise or have you chosen to raise money from the outside to fund your business?
Dean Wegner:
We have and that was a intensional choice, Robert, to pursue outside capital because it was really the long 5, 10, plus year plan. And it was side hustle working on this on evenings or weekends or bring in outside castle, bring in investors that really have the long term view.
I tested the waters back in 2017 and back then it was a blank sheet of paper. It was a vision. It was a concept. The business didn't even exist. And was very fortunate. Got four investors who put up a half million dollars and said, "Dean, I believe in Authentically American, I believe in the vision, and I believe in your ability to execute it."
So we tested it out for one year and after a year proving out that it works we said, "Okay, we're onto something. And we just need a little bit more capital." So over the next year raised another million dollars. And actually, two months ago just completed a more grassroots crowdfunding like capital campaign on a platform called Nextseed.
Instead of an investor writing a six figure check, there's new regulations now that allow investors in this latest capital round to go ahead and invest as little as $100. Robert, that was an intentional choice as we were looking to expand our consumer brand is we wanted more of a grass roots movement, people who are passionate about our brand and believe in it. That all made sense because this whole plan was birthed pre COVID 19 before the coronavirus.
And when it was time to go right before that coronavirus launched. And I was really struggling with, do we even go forward with this? Does it make sense? In discussions with NextSeed we decided instead of the typical 90 day campaign we would put it out to 180 days. It would be six months. And Robert, I have to tell you, I was absolutely blown away because forget 90 day or 180 days, in a short 27 days we completely maxed out the campaign and had to close it out.
Robert Wagner:
Oh, wow. That's fantastic. Congratulations.
Dean Wegner:
It was incredible.
Robert Wagner:
Yeah.
Dean Wegner:
Those benefits are staring to be reaped right now because I think it just reinforced even in a challenging economic time, a challenging time that we as a nation are dealing with. People really value ingenuity and innovation, and want to get behind something they believe in.
Robert Wagner:
Yeah. That is fantastic. And again, you made the point, there are new ways to raise money that are pretty cool. That absolutely fits your model, what you're doing, a consumer model. That seems like a perfect fit for you. I'm glad that went well.
So, Dean, we're coming to the close of our time, but before we wrap up we do have five questions that we every guest. So are you ready?
Dean Wegner:
Oh-oh.
Robert Wagner:
Yeah.
Dean Wegner:
Yes, let's role.
Robert Wagner:
Yeah, brace yourself. So, Dean, what was the first way you made money?
Dean Wegner:
The very first way I made money, this goes back to my childhood. I think I was 10 or 11 year old, Robert. I was a paperboy.
Robert Wagner:
All right, yeah.
Dean Wegner:
Some who may be on here may not even remember about a newspaper and this was door to door deliver. And that was the primary way that people got their news was the paper that was delivered in the morning and there was even an afternoon route. So that was the very first way I made money was delivering papers door to door.
Robert Wagner:
Yeah. Yeah. That was a great kid job. So that's good.
Dean Wegner:
It was for sure.
Robert Wagner:
So question two, if you were not running Authentically American, what do you think you would be doing?
Dean Wegner:
That is a great question, Robert. I believe what I would be doing would be combining my love for business with my love for sports. I would love to be the general manager of a professional sports team.
Robert Wagner:
Okay.
Dean Wegner:
Maybe of the Nashville Predators since I'm a hockey fan and a hockey player.
Robert Wagner:
Yeah. Okay, that would be a challenging job in these times, but that seems like a fun job.
Dean Wegner:
Absolutely.
Robert Wagner:
So, Dean, I think when you were 20 you were probably at West Point, but sitting here today-
Dean Wegner:
Yes.
Robert Wagner:
Sitting here today what would you tell your 20-year-old self?
Dean Wegner:
That is actually a relatively easy question for me to answer because I've mentioned my four kids and I've had this same discussion with my two oldest. My oldest daughter now is 22 and my second daughter is 19, and they've asked for advice, "Well, dad, what should I do?"
And my oldest one especially since she just graduated college would bring me by a list that she would do research on and say, "Dad, look at this. This is the most highest paying industry," or "this job is the highest paying." And I said, "Well, let's set all that aside." And I said, "My recommendation first and foremost is find what you love. Find what you're passionate about because then it doesn't feel like work. You're just pursuing your passion."
When you're doing something you love, when you're doing something you're passionate about most likely you're not just going to be good at it. You're going to be great. And relatively speaking, if you're great at something in an industry, you're going to be relatively well paid.
Robert Wagner:
Yeah. Yeah. Okay, Dean, what will the title of your book be?
Dean Wegner:
I'm laughing because I don't have a good title, but that is something on life's to do list.
Robert Wagner:
Okay.
Dean Wegner:
And I've been blessed with some incredible experience up to this date, but this Authentically American will, ultimately, be planned to be the last thing I will ever do and this will continue on. So it will tie in something with Authentically American. It will tie in something with our story. Robert, maybe you could help me with a title because I don't have one yet.
Robert Wagner:
Okay. Last question, what is the best piece of advice you've ever been given?
Dean Wegner:
The best piece of advice I would be given is I had a number of entrepreneurs give me this advice and said, "Dean, you will find when you are into the entrepreneur world, especially when you started like you did with a blank sheet of paper, forget 8 hour days, forget 10, 12, 16 hour days, you literally could be working 20 hours a day 7 days a week 30 days a month all year long because you're literally building it brick by brick." But the advice they said is, "Don't forget your priorities. Don't forget what's most important in life."
And to me that starts out with my Christian fait and it very quickly builds into my family. Every morning I start out the same way. I'm on my knees in prayer and just praying for God's provision and wisdom to guide me and my family and Authentically American. That's the way I start every day.
And I think the second priority is my family. I work what most people would say would be a crazy amount of hours. But again, it doesn't seem like work, Robert, but the reason I'm highlighting that is because I also with four kids never miss one of their games, never miss one of their shows. I always make sure I'm there. And I never want to look back and say, "Wow, look what all we accomplished at Authentically American," but I missed my kids growing up.
Robert Wagner:
Right.
Dean Wegner:
So I think that's the second one from a priority stand point. And the third one is I've found I can't sacrifice myself. And to me that means taking care of myself physically and my workouts are not as long as I would like them to be, but every single day I get a workout in. Sometimes they may only be 20 or 30 minutes, but I've found when I get that daily exercise in I've got even more capacity and more endurance, more stamina, to deliver for work and my family.
Robert Wagner:
Yeah. Yeah. That's great. And then you've always got that well that you can go back to from Ranger School right where you got zero to three hours of sleep?
Dean Wegner:
Yeah, that's right. Who needs sleep, huh?
Robert Wagner:
Right.
Dean Wegner:
I don't need sleep, Robert. I joke I'll sleep in heaven.
Robert Wagner:
That's right. That's right. Well, that's great. That was great advice. So thank you for that. Dean, you've had an amazing life already and you're still a young man. Thank you for sharing your story with us.
So for those who are now intrigues and been introduced to Authentically American, how can they find out more about you, about Authentically American, and participate in building the brand that you want?
Dean Wegner:
Robert, I am so glad you're asking. Do deliver on our vision we need more people to know about us. So the easiest way is go to AuthenticallyAmerican.US. AuthenticallyAmerican.US that's our website. You can also visit us on any social media platform to learn more about us.
And I'll offer this to your listeners, Robert, is a discount code. When you go ahead and checkout, if you enter the discount code founder, F-O-U-N-D-E-R, founder, at checkout that will be good for 25% off.
I love it when people for the very first time, Robert, experience our product because they often say, "Dean, forget where it's made. You guys just have amazing product. I'm not buying it because it's American made. I'm buying it because it's just an amazing product." And then when they look at the tag and see that it's American made, they learn the story, the ethos behind our brand. That's where we quickly because their favorite brand.
Robert Wagner:
Yeah. Yeah. Well, I totally agree with that. I've got a couple of the polo shirts and they're wonderful. They are great, great shirts. Thank you for the code there. I'm sure our listeners will appreciate that.
I just want to draw out that you guys do corporate apparel. That's one of the things that you do, right, is corporate apparel?
Dean Wegner:
We do, Robert. That's actually how we started was a client B to B side. So businesses whether you're a Fortune 500, middle market, or small business, almost all business without exception have tshirts or polos or jackets or something with their company logo and that's how we started to give companies a choice. A high quality American made choice that's competitively priced.
So there's a section on our website that talks about. You can also go to LinkedIn and connect with me that way. But I would love for more and more business owners, Robert, to reach out to us and partner with us for American made custom branded clothing.
Robert Wagner:
Yeah. Great. All right. Well, Dean, again thanks so much for the time. Really appreciate it. Thank you.
Dean Wegner:
It was a pleasure. Thank you, Robert.
Robert Wagner:
That's all for this episode of How That Happened. Thank you for listening. Be sure to visit howthathappened.com for show notes and additional episodes. You can also subscribe to our show on iTunes, Google Play, or Sticher. Thanks for listening.
This content is for informational purposes only and does not constitute professional advice. Copyright 2020. Hogan Taylor LLP. All rights reserved. To view the Hogan Taylor general terms and conditions visit www.HoganTaylor.com.