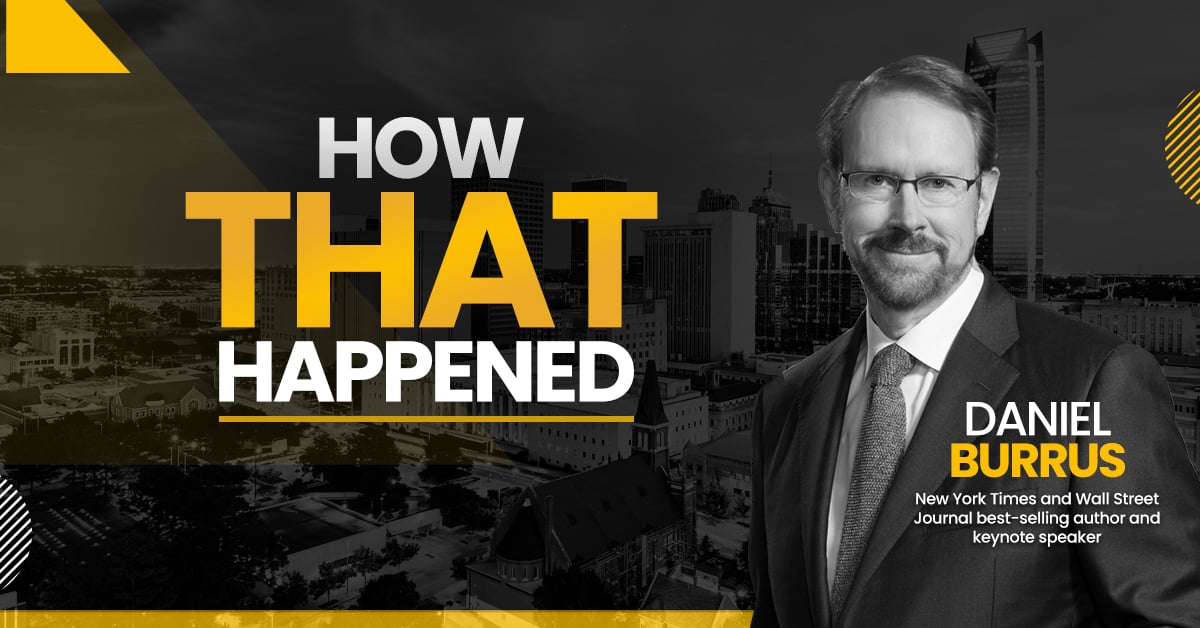 Robert Wagner:
Our guest today is Daniel Burrus. Daniel is considered one of the world's leading technology forecasters and innovation experts. He has established a worldwide reputation of accurately predicting the future of technological change and its direct impact on business. Daniel's the author of seven books, including the New York Times and Wall Street Journal bestseller, Flash Foresight. His most recent book, The Anticipatory Organization, is about turning the inevitable coming disruption and change to your favor.
He's delivered over 3,000 keynote speeches worldwide, and the New York Times has referred to him as one of the top three business gurus. Daniel, welcome to the How That Happened podcast. We're honored to have you.
Daniel Burrus:
Hey, it's my pleasure. Thanks.
Robert Wagner:
Yeah. Thank you so much. So, Daniel, just to kick us off. So, you're a futurist, and you've built an amazing career and company around accurately predicting future trends, and then applying them to businesses, and you've owned your own operating businesses. What is it that you get about the future that the rest of us don't get?
Daniel Burrus:
Well, before starting the six companies that I started, now we're going way back in time, I actually taught biology and physics. I only mentioned that so that you understand that I used a scientific approach to looking at the future. That was way back in 1983 when I started out. I studied global innovations in all areas of technology, lasers, robots, cyberoptics, artificial intelligence, experts, systems, believe it or not, they were all there even back then in their dawning, little beginning stages.
After doing that research and applying my... I came up with my principles that I'm using today. Of course, that's been in seven books and thousands of speeches and consulting. Really, there's two elements to it. Number one, we think that the world is completely uncertain, and there's nothing you can be certain about other than death and taxes. One thing that I've helped people understand is there's a whole science to certainty, things that we can be certain about.
What I've done in my research, and the reason I have such a good track record with all the books and articles and everything is, number one, I leave out the parts I can be wrong about. But more importantly, there's a lot you can be right about. Even though I started out as a teacher, that's what I've always been. So during this interview, I'm not here to just tell you some trends and say, "Good luck." I'm going to have to just do a little teaching because that's my nature. One more little park here, then I will let you ask me another question. That is that a trend by itself is frankly boring. Who cares? It's academic until you attach an opportunity to it. The minute you attach an opportunity to a trend, it bursts into actionable life. That's insight number one.
Number two, all trends, no matter what they are, fit into one or two categories. This is where my methodology is changed how from the Pentagon to Google to others innovate and plan. That is all trends are either hard trends based on future facts that will happen. In other words they cannot be changed. So, that lets you see disruption before it disrupts. It lets you see problems before they occur, so you can pre solve them.
The other kind of trend is a sub trend. That's based on assumptions that may or may not be true. In other words, they are not giving you certainty, they're giving you a possibility. The powerful element of a soft trend is, if you don't like it, you can change it. So, both hard and soft are really important, really powerful. It really changes how you plan and how you innovate. It changes risk management, and it gives you amazing levels of certainty in an uncertain world.
So, I just wanted all of our listeners to know that this is a scientific approach. I'm a advisor to the Joint Chiefs in the Pentagon. I can tell you right now that I'm on their futures group, and they've embraced this concept. Well, you can, too, regardless of your company size.
Robert Wagner:
Yeah. That's awesome. That tees up our conversation very well because I want to get into the risk aspect, I want to get into kind of deciding when to make investments as you uncover opportunities, how to think about when to make those investments. But let's just go a little bit deeper on the hard trends and just talk about the certainty of a hard trend and how we can really understand what makes it a hard trend versus a hope for assumption.
Daniel Burrus:
Yeah, thank you. To tee that up, I will say that personal strategy or business strategy based on uncertainty, has high risk. On the other hand, personal strategy or business strategy based on high certainty has low risk. So, certainty plays a very powerful role. In the hard trends, there are three categories of hard trends. One is demographics. For example, we know there's 78 million baby boomers in the United States; and hard trend, they're going to get older, they're not, all of a sudden, going to be 20 years old again.
That gives us some amazing opportunities. It also gives us some predictable problems that we could pre-solve. A very quick example is a lot of people love to go boating, they love to go fishing, but as they get older, it gets hard to get in the boat, it gets hard to launch the boat. So, if you and I decided to create the easy launch trailer for seniors, and we did a good job of making it, we'd have a built-in predictable growing market every year. Not only that, we'd even know what countries to export to and what countries to not export to because we know the demographics.
One other little comment very quickly on that category of hard trends is if we look at millennials, or even the Gen Z or Gen X, we see them in their present state but remember they're not static. They're getting older. Will a Gen Z be 88 years old someday? The answer is, "Well, yeah. They're not going to have the same needs, wants and desires they've got now, just like the millennials." You know what? We're all going through different predictable stages of life. By the way, there are opportunities for banks, there are opportunities for advisors and all sorts of opportunities in that area. That's one.
I'm going to give you the other two very quickly. So the demographics. Huge opportunities there with predictability. Secondly, you have government regulation. I know that would surprise a lot of our listeners right now because they would say, "Well, how in the world can you predict a regulation when"... Well, the current administration does even like regulation as deregulating. I would say you can't predict everything. The things that I don't know, the things that I'm uncertain about don't empower me, the things that I am certain about do. So I'm going to give you an example. Will we have further regulation on cybersecurity?
Robert Wagner:
Absolutely.
Daniel Burrus:
Yeah. Of course, we will. Why? Because there's some hard trends in play that go beyond politics that we're going to have to deal with. Now, there are a bunch of things that are political, and we may or may not do. Those by the way are soft trends. We can do something about them if we choose to, but there are certain hard trends we can't ignore. I gave you one, I could have given you more. By the way, all regulations have amazing opportunities to them.
Elon Musk, who is a very smart guy, when he's not on the radio smoking pot. He's a smart guy. Every business he has started, every single one, he used government regulations to fund the startups of all of those companies. Take a look. It's amazing.
The third category is huge. That is technology. I think I'm best known as a technology forecaster futurist. Although, so many things spin off of that. So, let's take a look at wireless. We've got 4G now. Everyone listening knows we're getting 5G. Is that it? No. Could you predict what's next? Yes. Called 6G. We know when 6G will come out and how powerful it will be. The answer is absolutely. As a matter of fact, that's very predictable.
That goes to the second part to what you asked me, and that is how do we know when? In my book, Anticipatory Organization, and in my Learning Systems and so on, I talked about the three digital accelerators that create predictability when it comes to technology and its advances. That is originally it was processing power because back in '83, it was based on me just coming at realizing Moore's Law was going to play a big role in seeing the future of computing, but Moore's Law is attached to the chip in the processor, in your computer, in your device. But now we have the... is the processing power of the ecosystem in the cloud. That has a lot of exponential to go because Moore's Law, of course, is processing power doubles every 18 months as the price drops in half. Well, we're in that holy cow phase of that now, and it's got a lot of room to go because now it's all happening in the cloud. The second of the three digital accelerators are bandwidth and the third is storage. Some of you might remember the 512k modem, very slow compared to today. No Netflix streaming.
By mentioning that to you, by the way, we've got 5G coming out. So, let me just talk about an opportunity. When 4G came out within 24 months, there were multi-billion dollar companies that were started that could do things that were impossible to do on 3G. So, I'm going to predict the future for you. Within two months of 5G, and by the way, 5G is being deployed right now. Where we will see multi-billion with a B, billion dollar businesses that couldn't work and function in a 4G world, that will be created and creating amazing new opportunities.
Well, here's what I'd like to say, and then I'll give you a chance to ask me some more questions. That is, I've been tracking these hard trends, especially, the technology-driven hard trends for over 35 years. They've been moving along and advancing in a predictable path faster every year, exponentially every year. However, since COVID, since March, all of them have been accelerated at least five years in four to five months. Have you noticed the new opportunities because there's never been more opportunity than there is now? When it comes to risk, the bigger risk is actually doing nothing in a time when everything else is not just changing but truly transforming.
Robert Wagner:
Yeah. That's great. It's a great overview of the whole basis for how you look at this, and I appreciate that. I want to try one on you, okay? I think you're going to say this as a soft trend, but it seems certain to me, and that is a trend of risk averseness in our culture, in society, in institutions, in government. To me, it's all risk, an aversion to all risk. But a good example is the elevation of personal safety.
So, I see things like we cancel school at the forecast of snow. We don't have to see snow anymore. We just forecasted, and they canceled school. We've seen that with COVID, where there's this very heightened awareness and risk aversion around personal safety. Therefore, things that we used to take chances on in the past, we no longer do. Where does that fit into your model, I guess?
Daniel Burrus:
Well, first of all, I think that personal safety is in the eye of the beholder because some people have different levels of personal risk taking than others. So, I think from a personal level, that's true. A matter of fact, I can remember back when I was a young guy, I taught myself on a hang glide. Well, you know what? I wouldn't be doing that today. My level of risk taking was a little bit more when I was younger than it is today.
So, my point is, when you look at an individual, individually, we are different. When it comes to leaders, all leaders aren't the same either. I'm not talking necessarily politics now, I'm talking about organizational leaders. We have different levels of risk taking. But one of the things that I'd like to share is that when you start getting good at understanding the hard trends that will happen, first of all, you can be much better at managing and taking advantage of risk because risk flips. Meaning, if you look back at my 1993 book, Technotrends, which was thankfully a bestseller, you'll see in there me talking about smartphones. Of course, I didn't know it would be Apple. I couldn't tell you the company. I could just tell you how smart it would be. Talking about social media and so on.
There was even a little section in there that was called in that book, blockbuster is busted. If you read underneath it, you'll see me describing Netflix. Of course, I didn't know the company would be called Netflix. So, what I'm getting at is disruptions can be seen before they disrupt, giving us the ability to be the disrupter or default to being the disrupted. So, the risk in not innovating or not becoming a disrupter when you know you're going to be disrupted by that thing gets to be, in other words, no cost more than a yes. Not innovating costs more than innovating.
Now, going back to forecasts and those types of things, and COVID, and as we're using more and more AI and better tools of forecasting, which technology is exponentially allowing us to do, our forecasts get better and better and more accurate and more accurate farther out. Because if you look at weather forecasts 20 years ago, they were about as good as you could see in the sky, frankly. The worst futurists in the world were weathermen. As we get better and we have better technology, and we can actually see the wind swirling at the speed of a tornado, and it's coming towards you, we can get pretty good at saying, "Hey, you better get in the basement." So, technology is allowing us to do better at managing risks, but we will have different levels because we're humans, and we all accept those at different levels.
Robert Wagner:
Yeah. All right, that's good. It sounds like I got more learning to do on this trending, hard and soft trending. Now, let's-
Daniel Burrus:
Well, let me just say that it's really worth your time to do that because, again, I think the two most important moments in a human's life is the day you're born and the day you find out why you were born. I'm lucky, years ago, I found out why I was born, and that is to teach. I'm extremely passionate about getting as many people as possible to not just be agile reactors because remember, agility is reacting as quickly as you can to disruption after it disrupts, reacting as quickly as you can to a problem after it occurs. I would like you to be really agile.
What I'm teaching people is the other side of the strategy coin, how to be anticipatory, how to anticipate problems before you have them so you can pre sell them. You can't do them all, but you can do a lot of them. How you can anticipate disruptions before they disrupt? Turning disruption into a choice. So, really, if you remember the old famous quote by the hockey player, Wayne Gretzky. When asked how is he so good, and he said, "I skate to where the puck is going." See, he was not an agile player. He was an anticipatory player. That's why he was so good. That's what I want you to be, and that's what I want our listeners to be. Understand where the puck is going.
Robert Wagner:
Yeah. So Daniel, I want to stray just a little bit and just go back to... You opened the door here about these two most important points in your life. One was when you learned that you were put on this earth to teach. Was there a moment when the light went on to this futurist point of view and the trends? Was that a moment in time, just like a light came on? How did that come to be in you?
Daniel Burrus:
Well, that's a great question. I actually did have one of those what you would call an epiphany moment. Now, to back up to that, I've always been looking towards the future. Again, I taught biology and physics. I've always been interested in tech and in science. I've always been interested in where it was going and what it would do versus just where it was at the moment. So, I'm a little bit hard wired that way.
When I started my research company, as I mentioned a little earlier, back in the early '80s, and I sold my other companies that I had started at the time, and I spent a year researching. I was researching... Again, I was younger pup than I am today. So I was literally, 10-hour, 12-hour, 15-hour days, 7 days a week, just digging deep for a year, looking at all these innovations, all these things, organizing it.
Here's what happened to me. I remember, distinctly, all of a sudden, I saw the future. I saw the future that we're in now and via. I saw digital cameras. I saw smartphones. I saw laser surgery. It was all right there because I was researching all these innovations and putting timeframes on. But all of a sudden, I could remember, "Holy cow, I see it." It was like a huge epiphany. Now the problem is what am I going to do? Run out in the street and say, "Hey, I saw the future. Let me tell you about it." But literally I did. That's when I started writing and speaking, and really launched Burrus Research and all the books and all the articles and what I'm doing today. So, it really was a true holy cow epiphany moment that made me sit back in my seat and go, "Whoa!"
Robert Wagner:
That's awesome. That is awesome. Well, that's actually a good segue into this win question. If you have an idea, you have an understanding of the trends that affect your industry, and you uncover some opportunities, kind of when do we start investing. I don't want to set this up, you may not appreciate this setup for this, but it's somewhat timely, in a sense. It ties back to your epiphany idea. So, go all the way back to 1962, and Hanna Barbera launched the Jetsons. They had this concept of a flying car.
So, somebody had this idea. Somebody could see that that's going to happen at some point, or maybe just wish it to happen. Then fast forward 58 years to last month, someone in Japan, a company in Japan is testing one, and they're claiming it's the first test. I don't know if it is or not, of the flying car. So, it got 58 years that someone thought of this idea, where it's still in its infancy. When you see these things that are potential opportunities, how do you decide when to start investing?
Daniel Burrus:
Yeah, that's an excellent question. By the way before the company in Japan, there have been, and if you look at some old Popular Mechanics magazines, you'll see along the way there have been people with flying cars, that they got them to work, but the tech wasn't there at the right time. So, here's the thing that will help all of our listeners. It goes back to those three digital accelerators. Again, I'm going to call it computing power because, again, it's all up in the cloud now. It's not just in the processor or in your chip and storage and bandwidth.
So, why didn't Apple computer put out the first iPhone a year earlier? The answer is, well, they knew they couldn't put it out a year earlier, but they couldn't, but they didn't because pricing, power, storage and bandwidth weren't going to give you a good experience yet, but because it was on a predictable exponential path, they knew exactly when it would give you a good enough experience to launch it. So, again what I would... If you're really interested in this stuff, you can go to burrus.com, or you can get a copy of my last book, Anticipatory Organization and get more into those how to look at that curve because you can see when things will be ready, at what time.
Secondly, it also depends on the leaders because the right technology can come out at the right time and that the wrong person trying to move it forward. In other words, a lot of times it's a tech person that doesn't know how to sell because you have to have people that know how to market and sell that know how to do that, not just know how to make things and make chips come together. So, there's a human side, which I'm thankful for. There's a bright future for as humans on planet Earth. But there's also a tech side, that can let you see, all right, so these things have come together, and we're now at a point of being able to move forward with it.
Again, if you look at the heart trends, you look at the digital accelerators, then you can start saying, "Time to move in now but never forget to look at the human part. Who's leading that company?" I've worked with many of the Fortune 50, as well as smaller companies over the years. I can tell you right now they always send me their annual report. Now, it's of course digital, it used to be paper. What I looked at? Again, you're at a firm that would not be doing what I do as much because you're preparing the back end of that. What I also look at is the CEO's comments of what they see in the future because I want to see what they're missing. I'm not looking at what they see, I want to see what they didn't see.
Let's face it, when the CEO of BlackBerry, Research In Motion, looked at the first iPhone, he said to the press, "Who would ever want to watch television on a phone?"
Robert Wagner:
Right. It turns out the whole world.
Daniel Burrus:
Yeah. Of course, at the moment, I knew to short that stock, but that's because I was using hard trends, he was using his rear-view mirror rather than a windshield view of the future. In other words, based on all of his past experience, "Who in the heck would want to do that?" But if he was, instead, looking at, "Is this transformative? Will those three accelerators continue to accelerate, and that picture get better every year. So, you have 1k, 2k, 4k, by the way, you got 4k video now. What's next? 8k. What's after that? 16k. Stick around, you'll see I'm right." So, once you start seeing, that's predictable. All of a sudden, Blackberry, Research In Motion said, "Holy cow, we got to move on this now," but they didn't.
Robert Wagner:
Yeah. Okay. So, we've talked about the trends, the hard trends, soft trends. We've talked a little bit about how to think about when to invest. Then I want to just talk about risk. You've talked about this a little bit, how to mitigate that in your thinking process. Another concept that goes with that, that you talked about a lot is failing, and failing fast, learning from failures.
Daniel, we work with the middle market, lower middle market companies, and it doesn't feel like, if you're running a company in this space, that you have enough capital to fail very many times. So, how do you marry up the concept I need to fail and do it quickly, move on, learn as much as I can, keep moving, keep moving forward when I also have very limited capital?
Daniel Burrus:
Excellent question. Again, to tee that answer up, remember I started six companies from scratch. Again, five were profitable in the first year and four were national leaders in the first year. I set them off from scratch. I had to fail fast. I couldn't afford to fail slow. So, I was just like your customer. I couldn't afford to fail slow. I realized by failing fast, I could learn faster. So, here's what I did. I came up with metrics for failure.
You see, here's what most of us do. We know here's our metrics for success. We're starting something out, and here's what success looks like. Do you know what failure looks like? Most of us don't know what it looks like until we're deep into it, way deep into. So, I would like to have success... You should have success metrics and failure metrics.
Secondly, what I want to do is, and I talk about this again in my books and in my work, and that is, I do premortems, instead of just postmortems, because often we launch something and then we do a postmortem to see why it failed. What I do is work with my customers as well as my team to do premortems to identify all the reasons it will fail and pre-solve all those problems before we ever put it out. I've been very successful using those kind of strategies.
Robert Wagner:
That's excellent. Yeah, defining having like KPIs for failure, that's an outstanding concept because most of the time, we just deny it. That's the first thing we do when things aren't going well.
Daniel Burrus:
Yeah, exactly. Exactly. As a matter of fact, I haven't mentioned it to many companies, but I did mention it to a smaller company years ago. I said, "Why don't you have an annual failure award" where you get people together and you have the top 10 biggest failures, and then the big one. But when they come up, they talked about what the failure was, but what they learned. Because, see, what we do is we hide our failures and nobody even knows that it happened much less what you learned from it.
I remember just, and this is a very short story because I know we're limited on time, but when I was first meeting with the Joint Chiefs, I asked them, I said, "Did your biggest lessons in your professional life come from your failures or your successes?" They all agreed from their failures. So in other words, the faster you're failing, the faster you're learning. But are you capturing that? So when you've got a son or daughter, or a colleague that fails, you should always ask them so, "What did you learn from that?" because they may not have even thought of that. Yet, that's where the jewel is. In your organization, what if part of your organizational culture was to share lessons learned from not just successes, but from failures. You know what? You'll succeed faster.
Robert Wagner:
Yeah. Yeah, Daniel, we've been talking about that with our people on an individual level during this COVID event. So, we're recording in September of 2020. I started my career, I guess, same time you do, 1983. So, I've been around a while. I'm just telling the younger folks who work for us, and we have primarily a younger workforce, "Hey, these are the seasons when careers are made. This is when people step up because we're being tested, we're all being tested in some form or fashion. This is when you find out who's who." So, it's a great opportunity.
Daniel Burrus:
Yeah. Exactly. Let me frame what he just said up and frame it in a slightly different way, but exactly the same. That is what we are at a personal and professional defining moment. Don't squander it. So, that's another way of saying it. Second, post pandemic, because the pandemic will end, the post pandemic success will be determined by what you do now, not what you do post pandemic. In other words, what you're doing now is going to really shape your success in 2021 and beyond. A lot of us have a let's wait and see. Let's see what's going to happen with the election. Let's see what's going to happen with this or with that. What's going to happen? Are we going to have a bad flu season? Let's wait and see. You know what? You can wait and see yourself right out of business today. This is not a time to wait and see. This is the time to hat.
Robert Wagner:
Yeah. Great stuff. Daniel, just real quickly. You've mentioned the companies that you started, maybe hit those real quickly for us. Tell us what business they were in just so we have an understanding of that.
Daniel Burrus:
Yeah. Well, the last one that I started was actually an experiment. I was writing the book before my last one, my latest one is The Anticipatory Organization. I was writing Flash Foresight, and I must bank bully, again. That was a New York Times bestseller and so on. So, when I was writing that, because it takes... I can't write a book and put it out in a year because I'm also giving speeches and consulting and running a business.
So, I was writing that during the recession. This last recession. So, I decided to do an experiment because we were all doing very badly at that time, and foreclosures were everywhere. So I thought, "Why don't I start a business with the rule that I'm not going to hire anybody and I'm not going to spend any money, and use the principles of the book to see how good it is." It took a little over seven months for me to generate $1.2 million a month in recurring revenue. By the way-
Robert Wagner:
Wow! That's the best kind of revenue by the way.
Daniel Burrus:
Yeah. Yeah, but let me tell you what I did real quickly. What I did is, and this ties into earlier in this conversation. I looked at what are the hard trends shaping the future? At that time, I could see mobile and mobile apps and smartphones back in 2008, 2009. We're going to continue to get smarter and more used and more popular. I took a look. I said, "Well, so how are they going to be used?"
So, I generated a list of 100 ways that we'd be using smartphones. Most of those have already done and done by now, but at the time, none of them were. One of them was real estate. So, I decided to create the first national mobile real estate app, which I did. Instead of just doing one, I did three because it was the same technology. I had complete foreclosures, complete homes and complete rentals.
I did another principle that I teach. I call them opposites work better, which is one of my principles. So instead of charging in the App Store 99 cents to download it, I made them all free. I charged real estate agents $24.95 a month to be exclusively in that ZIP code. So, I sold ZIP codes. The first realtor bought 20. The next one bought 30. When they were all gone, there's your 1.1 mil. We were also the most seventh, loves it, the eighth most downloaded app in the first week in that store.
So anyway, I then started getting busy with real estate, that wasn't what I was putting on the planet to do. So, I licensed that technology off to a small company that is now called Zillow.
Robert Wagner:
Awesome.
Daniel Burrus:
So anyway, one of the early companies that I started was in aviation, an idea for an airplane design, built it. I test flew it, and had 37 national locations in the first year, it's very innovative. What you can tell is there were a variety of businesses and a variety of fields, but what they had in common was they were all very innovative doing things that hadn't been done before. They were using technology that was in existence but emerging, but already worked. I was using a lot of my other principles that I write about, like the Skip It principle, which is take your problem and skip it. I skipped problems like crazy, so I can move forward faster.
Again, I'm a teacher at heart. So instead of me just sitting back and saying, "Hey, I think I'll just retire now and go fishing." I do work a little less than I used to. As you can tell, I have a passion for teaching these principles.
Robert Wagner:
Absolutely. Yeah,
Daniel Burrus:
I thank you for, by the way, helping me get this word out to all of your listeners.
Robert Wagner:
Yeah, thank you. So, you've been doing Burrus Research for, I think you said, more than 30 years now, right?
Daniel Burrus:
Yeah. 37, I think, it is at this point.
Robert Wagner:
Yeah. So, I guess, give us just a quick overview of what all happens at Burrus Research.
Daniel Burrus:
Yeah, exactly. Well, we have a strategic advising consulting element where I work with, usually C suite CEOs on using my principles to craft the strategies to see new opportunities, to solve what they might think is an impossible problem. Again, it's everything from people at the Pentagon to big companies, to even in accounting firms and banks and so on. It's a global business. That's been growing all those years. So, that's really well.
Another one that I do is I do quite a bit of keynote speaking. I think I've given over 3,000 keynote speeches around the world. I think the last time I was in Beijing, it was 14,000 from 37 different countries. So, I've had some pretty good sized audiences. By the way, from that speaking, I get a lot of new clients. So, obviously, that's paid for marketing and advertising.
We also do a lot of publishing. We have published special reports, and we have a newsletter that you pay for, that's been around for over 30 years. We have again specialized reports. We also do a specialized research for companies that hire us to do that. Of course, we do our own research anyway, that we publish results. We have a learning system that has been an award winner, and that's the Anticipatory Leader system for individuals, and the Anticipatory Organization, which is for companies. That's done really, really well.
So, there's many different tentacles to it all around trying to get people to be much more opportunity managers than crisis managers and to learn how to be anticipatory versus just being fast reactors. By the way, I want you to be agile, and I want you to react quickly, but that's not your only strategy. I also want you to learn how to anticipate.
Robert Wagner:
Yeah. So, Daniel, who do you compete with?
Daniel Burrus:
I don't know. Because I've got a unique program with hard trends and soft trends, and what I'm doing, there's no one else quite doing that, I would you say probably Singularity University might be my biggest competitor although they also have used me. So, it's hard to say that. See, that's the thing is, for example, McKinsey and Deloitte, well, their leadership has made my books required reading. I go and consult with them. But on the other hand, they publish reports. But when they put out their trend reports, what I've done that's unique, you see, is instead of me saying, "I'm the only guy with good trends, forget everybody else's."
What I've done is come with a system that allows you to take any trend and know whether it will happen for sure, or it might happen, and when it will happen. That overlay of all of our trends is given me a unique place in the marketplace. I think that's why on LinkedIn, for example, I think I've got 128,000 followers or something. I've got some other big things because again I'm a teacher, I'm sharing, but it's useful, and it's unique.
Robert Wagner:
Yeah. So if we think about... This is the last question before we get to our five questions we ask all our guests. But as soon as thinking about your business, and just want to get your insight into your own business, I guess, in your own industry, if we think about the piece of your business that is speaking, books, training, a learning company kind of thing. It's a blend. It seems like a blend of old and new, which you talked about in terms of technology, right? It's usually a blend of what hasn't been, what we're used to, and the new stuff. How do you see the learning industry? You didn't have to use your own company as example, but how do you see the learning industry being transformed in the future?
Daniel Burrus:
Yeah, well, thank you. Again, even my consulting and advising that I do has a powerful learning component because, again, instead of me just going in and saying, "Here's some trends, good luck," you can already tell I have to teach them about them, and then help show them how to use them and so on. So, in reality, it is about learning and helping people.
Well, first of all, it is a blend of a little bit of old and new in that, I believe, high touch and high tech can be together as one rather than separate. It's not the tool. It's how you use it. There's a future for paper, just like there's a future for digital. The key is what are you doing on the paper? What are you doing on the digital? So, it's not the tool, it's how you use it. It's not what you say, it's how you say it. It's not what you do, it's how you do it.
So, it's those kind of elements. So, let me give you an example from speaking. Several years ago, I started doing three dimensional hologram speaking. Now, why didn't I do that five or 10 years ago? The tech wasn't ready. The three digital accelerators weren't ready. The last time I was in the Middle East, I was beamed in from California, life size, I look like I do on stage, and I could hear them, they could hear me. I could interact with them, but I was thousands of miles away. But at the same time, we're just continuing to give physical speeches where I am there.
So, you see, there's a little bit of old world speaking in front of a live audience and there's a little bit of a new world beaming in as a hologram, yet I'm live. So, I kind of blend. When I launched my learning system, I looked at the best learning systems that I could see. This is about six years ago, so that I knew what not to do because I don't like to compete. I'd rather go where it's going and do that, rather than do a benchmark because, see, benchmarking is you're benchmarking the present. You're benchmarking the best and the present. If you then work at catching up to them, they're already moved on, so you'll always be behind.
So what I looked to do is I'd benchmark the visible future, the part where I know it's going and do that instead. I think that's why Accounting Today gave us a Product of the Year award when it was launched. You might recall that.
Robert Wagner:
Right. Absolutely. Yeah.
Daniel Burrus:
So, where is it going? Well, virtual reality. I'm already working on doing some virtual reality systems that are really experiential as part of my learning systems, and others will be doing that. Augmented reality is going to be very powerful because you can put on a pair of augmented reality glasses. By the way, Apple will be coming out with their soon. I can blend that data and information with my actual world, the real world unlike virtual reality, which allows me to accomplish what I'm accomplishing and do what I'm doing, except have access to the data, wherever I'm looking.
A quick example would be, imagine me on stage speaking to 1,000 people, and I can move part of my glasses that goes between my eye and my ear, the earpiece, and put my finger on there and blend in their name, so that I could see, "Oh, that's John over there, and that's Marian over there." By the way, that doesn't exist now. Be able to see in a small group or a meeting, who they are by just adjusting it. You think that's not going to happen. You already know that will happen because if it can be done, it will be done. If you don't do it, someone else will. That's the beauty of low-risk innovation, perfect example of how you can see opportunities that will indeed happen based on the technology that's there or just about to come out, and you can then have your innovation out at the moment of need.
Robert Wagner:
Yeah. All right, Daniel. This has been a fascinating conversation. I knew it would be. I've really, really enjoyed it. So, we have five questions that we ask every guest on how that happens. So, are you ready?
Daniel Burrus:
I sure am.
Robert Wagner:
All right. So, Daniel what was the first way you made money?
Daniel Burrus:
First way I made money was working on a... Helping a guy out work on a farm when I was a kid. I didn't live and grow up in a farm, but there was a farm nearby and went over and did some heavy hard work for very little money.
Robert Wagner:
Okay. About what age do you think?
Daniel Burrus:
Oh, I would say I was probably sixth grade, maybe, something like that.
Robert Wagner:
Yeah, great. Okay. So I think I know what the answer to this question is going to be. But if you were not running Burrus Research, what do you think you would be doing?
Daniel Burrus:
I would probably be running some other company. Again, I've started six. The only time I ever really worked for someone was when I was teaching, and in a way, I was not even doing that because once the classroom door was shut, I was running my own thing anyway. It's my nature. It's not a better than or less than. I think we're all cut out, and see, we all have our talents and our gifts. We have to know what our talents and gifts are and use them. If we all have the same talents and gifts, it would be a boring world. But luckily, we all have different talents and gifts. So it's an amazing world.
Robert Wagner:
Yeah, indeed. So Daniel, what would you tell your 20-year-old self?
Daniel Burrus:
I would say, think much bigger. A matter of fact, one of the principles that I teach is because of me thinking about that very question. That is, I was giving a commencement speech a couple of years ago. I told all of them that, "Think big about your future and then realize you just thought too small. There is a bigger big. Never do the big, always do the bigger big. So before you do your big idea, realize it's actually kind of small, step back, make it much bigger, do that instead."
Robert Wagner:
Great, great. So, you're probably the first guest we've had that's written seven books. But when you write the book about your life, about Daniel Burrus, what will the title be?
Daniel Burrus:
I would think it might be one new thing a day, something like that. Here's what I mean by that. That is back when I was 23, and very few people know this, I haven't done this on an interview before. Never written an article for you about this. So, I'm just giving to you this, only a few people know this, but I decided when I was 23 that I saw a relatively weak way and I wondered, "Did he really discover all that was inside of them?" I wanted to make sure I did.
So, I decided to learn one new thing a day, when I was 23, and I have done that every year, still doing it. So one year, I learned how to scuba dive. One year, I learned how to hang glide. One year, I learned how to dance. One year, I learned how to do fancy dives off the diving board. One year I learned how to make films. One year I learned photography. Well, decades and decades and decades have passed, I've got a wide portfolio of experiences, and have done amazing things that I would have never gotten to had I not had the one thing a year. I hope I'm motivating some people right now to consider something like that because one is doable, two is not.
Robert Wagner:
Yeah. What do you say no to so that you make sure you learn that thing every year? How do you manage that, because it'd be easy to get crowded out, right?
Daniel Burrus:
Oh my goodness, what a great question. Thank you. No wonder you're doing what you're doing with this. You're great at questions. I was watching part of an old Tarzan movie the other day. Of course, Tarzan swings from vine to vine to get through the jungle because running on the jungle floor, there's a lot of stuff in the way and you can't go that fast, but vine to vine, you can move. When you grab the new vine, when Tarzan grabs the new vine, what happens if he doesn't let go of the old vine? Forward motion stops.
So, the key here, as we look at all these new things and we grab all these new technologies or new vines, the real magic is what are you letting go of? What do I let go of? Those things that are less relevant in a world of transformational change because I want to grab the things that are more relevant and let go of the things that are less relevant. Because, in a way, and now I'm going to talk about personal relevancy, as well as organizational relevancy. You're either becoming less relevant or more relevant. There's not a middle. So, we need to be letting go a lot more.
Robert Wagner:
Yeah, great. Thank you so much for that. So, last question. What's the best piece of advice you've ever been given?
Daniel Burrus:
Oh, boy. I had a lot. Well, the one that comes to mind when you say that because, you mentioned, seven books and so on. When I was writing my first book, someone told me, who had written a number of books, said, "Don't try to teach everything you know in one book. No one will read it. It will be too crowded." So, I realized the power of focus. When I was a little kid, I learned about the power of focus. If you take a magnifying glass and put it between the Sun and the blades of grass, you can burst them into flames. Focus has a lot of power. So I think, really understanding the power of focus and using that is really important. So, my books have been focused rather than shoveled everything I could into them.
Robert Wagner:
Right. Okay. Thank you so much, Daniel. Again, I knew it'd be a fascinating conversation, and it has been. I appreciate it so much. So, tell us how folks can get a hold of you.
Daniel Burrus:
Well, thank you. Go to burrus, B-U-R-R-U-S.com. By the way on that opening page, there's a list of my hard trend technology, driven hard trends, you can download it for free. I got other resources, blogs, I write one a week. Of course, the book, the Anticipatory Organization, you get that on Amazon or anywhere you want. As a matter of fact, you know what? For this show, I'm going to do something special because I knew I was going to be on. If you go to your browser and you put in T-H-E-A-O-B-O-O-K, theaobook.com, I'll give you a hardcover copy of the book. I'll send you a hardcover copy of the book. You don't even have to buy it. You have to pay a couple of bucks for shipping. You'll realize, when you see how much it is, I'm not making money on shipping either, but I'm just going to give you the book. The reason I'm doing that is, I believe you'll like it so much, you'll tell your friends about it, and they'll go to Amazon, and buy it, and I'll be doing fine.
Robert Wagner:
That is true. So, I did that. You were on another event, I think, for global, which we're associated with. I got the book, and I'm taking the course now. I'm telling everybody, I know about it because you've stuffed my brain with this kind of thinking. So, thank you for that.
Daniel Burrus:
I appreciate that. Again, I appreciate you doing what you're doing, not just in this interview, which I obviously want to get the word out, but just bringing on good guest and sharing with people is so important because knowledge increases in value when it's shared. So thank you for the work that you do.
Robert Wagner:
Okay. Thank you so much, Daniel. Appreciate it.
Daniel Burrus:
You got it.
Robert Wagner:
That's all for this episode of How That Happened. Thank you for listening. Be sure to visit howthathappened.com for show notes and additional episodes. You can also subscribe to our show on iTunes, Google Play or Stitcher. Thanks for listening. This content is for informational purposes only and does not constitute professional advice. Copyright 2020, HoganTaylor LLP. All rights reserved. To view the HoganTaylor general terms and conditions, visit www.hogantaylor.com.