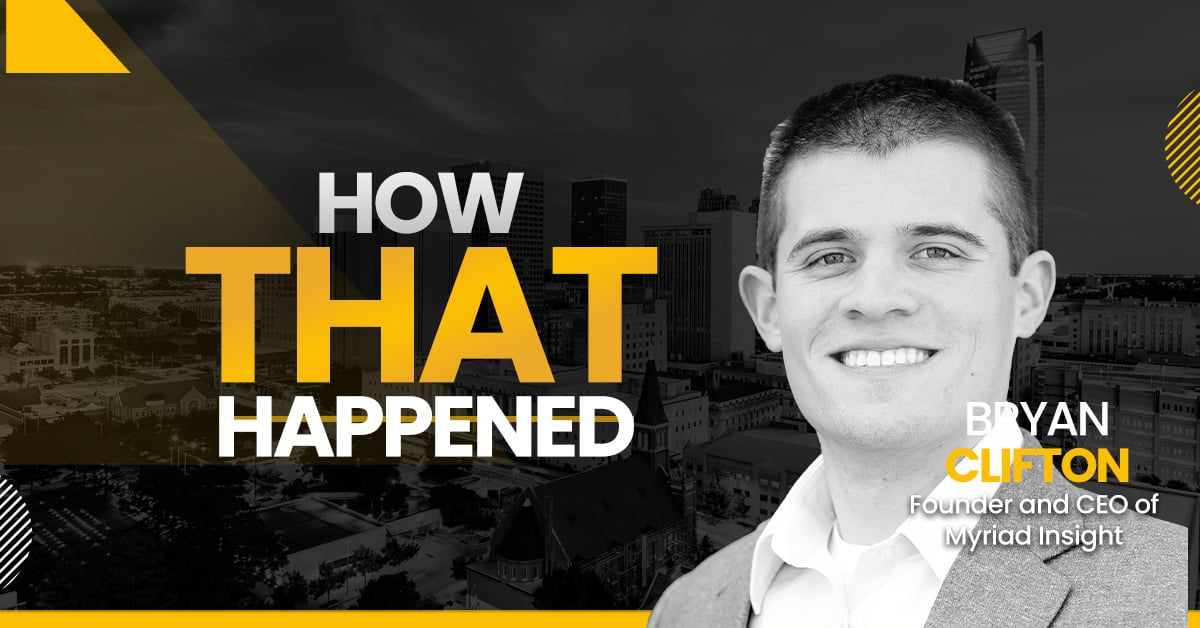 Bryan Clifton:
Yeah. So with Myriad, I work with entrepreneurs and family businesses primarily in the growth and transition phases of their business. And I work exclusively on the emotional and psychological dynamic of that. I'm looking exclusively at how do we make sure that the health of the family is preserved.
Aaron Ackerman:
From HoganTaylor, I'm Aaron Ackerman, and this is How That Happened, a business and innovation success podcast. On each episode of the show, we sit down with business and community leaders behind thriving organizations to learn how business and innovation success actually happens.
Welcome to another episode of How That Happened. Joining me on the show today is Bryan Clifton. Hi, Bryan. Thanks for joining.
Bryan Clifton:
Hi, Aaron. Great to be with you.
Aaron Ackerman:
So just a little quick bio on Bryan, Bryan graduated with accounting and finance degree from Harding University and got a master's in organizational development at Pepperdine in Malibu, California. And since then, and even really before then, Bryan, I think it'd be fair to characterize you as a serial entrepreneur. Is that fair?
Bryan Clifton:
I've been called worse, but yeah, that's definitely something I would agree with.
Aaron Ackerman:
So Bryan has started and led a number of businesses and we're going to talk about several of those. One thing that's kind of interesting to me, Bryan, is you and I have probably been one or two degrees separated for a long time, probably a decade or so. We know lot of the same people, have been involved in a lot of the same organizations, but really didn't really cross paths directly until pretty recently and get to know each other.
So I've known about Bryan for a long time. And like I said, we've been near each other for a long time, but only recently really got to know each other. So I've enjoyed that and I appreciate you being on the show.
So Bryan, one thing I'd like to start with, because I think it's so interesting and listeners will find a lot of value out of it is kind of going way back a little bit to childhood days. You and I talked about how your family was an entrepreneurial family. You were involved even from a pretty young age in the family business. So maybe talk about that just a little bit, what that experience was like and what age you were and some of the stuff you did to support the family business.
Bryan Clifton:
Yeah. That would be great. It's so interesting whenever you think about whatever you grow up around is what you think is normal. So it's only been in the last 10 or 15 years that I reflect back on my childhood and realize that was odd. Because whenever you're in it, you just assume this is what everybody's life is like. So my family is a very entrepreneurial family, especially my father. He never had a kind of traditional job, always found different things. Whenever I was born, he was building fences and building trailers. And whenever I was a young adult, he started reselling toys.
So think of crawling army men and Weazel Balls and all sorts of different toys that he would buy from different companies and would sell them at mall kiosks and different trade shows and different kind of city or county or state fairs. And then that kind of evolved into the production of our own toys and our own kind of items. And our most famous or well-known was bubba teeth. Those are the fake teeth that make you look like a hillbilly. And that's what I grew up around was the production and the selling of fake teeth. And we expanded into all sorts of toy and novelty items like remote control fart machines. I mean, just basically anything you can think of that would be a great gag gift for a teenager or an early 20s male. That was a lot of our demographic.
We sold bullet hole stickers that would stick on people's cars and make it look like your tailgate had been shot up. So I grew up selling toys, not playing with toys. So I did not look at toys as something to play with, I saw them as profit margins. So from a very early age, my dad was creative. He was not great whenever it came to the finances. So I remember being, I think probably eight, nine years old, and I knew how to operate Excel and some of the early spreadsheet type programs.
Well, whenever we started buying goods from China, there wasn't a template to fill out this form and it's going to be your purchase order. I just made something in Excel based off of what my dad said, "Hey, we need to have a date. We need to have this. We need to have these numbers. We need to have this quantity listed."
So I just made it. So I was doing international purchase orders from eight, nine, 10 years old. And what I realized was I was kind of a novelty and a twin novelty business whenever it came to selling. So whenever we would go to trade shows or a Christmas season, especially, there would be all sorts of junior league shows and different types of things in different communities. I would be the one running the register.
So imagine the old school credit card machines where you got to put the card down, you got paper on it, you got to slide it over. I was running that. Imagine if you're going to a store and there's a 12-year-old or a 13-year-old that's running the register, you're going to buy something just to see if they can make correct change because this was pre app payment days or any of those. So everything was cash and old school credit card machines.
Once again, I just thought that was a normal childhood. So getting on the plane and going to Vegas or Chicago or places like that for trade shows, I didn't think anything of it. I thought all kids did that. And all kids had families that made toy novelty products because growing up in the small town of West Texas that I did, I wasn't abnormal because all my friends just knew me as, "Well, y'all are the toy people." And so there wasn't really the context to realize that it was probably a bit odd.
Aaron Ackerman:
I don't even know which one of my questions to ask first. I love that, and the first time you told me about it, I was just taken in by that story. So at eight or nine, you're basically the CFO of the family business. And this is not a... I mean, this is supporting your family. It's not a tiny business. It's a pretty good sized business that you're helping to run as a pre-teen. Right?
Bryan Clifton:
Yeah. And we were hiring a lot of people that were making the teeth. So you had a lot of kind of chemical mixtures of where you're trying to set different types of acrylic and different types of chemicals within molds to be able to make the teeth. So you've got a lot of people... If you think about who would want type of a job. And so most of the people that had degrees are not saying, "Please pick me. Let me make fake teeth."
So we were dealing with a lot of people that honestly weren't that much older than I was. A lot of people that were 18, 19, 20, 21 years old, and they just needed a job. They were willing to work because making those teeth was not a glamorous job, it was kind of dirty because you had to make it. Then you had to grind them down. You'd get covered in all sorts of dust and different things like that. So if you had other job options, you probably weren't going to do this for a long time.
So I learned a lot of things of how do you recognize good talent? What are the attributes that make somebody be a good team member? We weren't looking for somebody that had necessarily even a high school diploma or a college degree. We were looking for somebody who would show up whenever they said they were going to, people that you could trust. And then whenever we looked at going to trade shows, we had certain people on our team that we would take with us.
So I spent a lot of time around 18 to 25 year olds whenever I was 10, 12 years old. So that had a lot of an impact on me. So if you think about this from a family perspective, if my parents were kind of cognizant at that time, the people that they were hiring were having an impact on myself and my siblings, and how we were raised, because I spent a lot of time up there. I mean, basically it's, whenever I'd come home from school, we would go and work.
Sometimes we might be working until 2:00, 3:00 in the morning on production runs or trying to meet deadlines or trying to package items, unloading large containers coming over from China. That was just part of my childhood, and I wouldn't trade it. It was so much fun. I learned so many kind of unique skills that you just can't learn in a textbook setting.
Aaron Ackerman:
So as you're in this business and you're doing a lot of things that normally an adult would be doing, purchase orders and finance type stuff, interacting with employees in the business. And you're a kid. I mean, did you ever have instances where people just dismiss you or didn't take you seriously or did other grown men and women who are business owners are working for the business suppliers or vendors, they just treated you like an equal or did you get a lot of sort of like, "Hey, kid. That's real cute. Where's the adult?" What was that like?
Bryan Clifton:
So a little bit of all of it. So whenever I would go to trade shows and you see a 13 year old kid that's walking around, nobody thinks of that as, "Oh, I bet he's my competitor. Oh, I bet he's a potential customer." So I asked a lot of questions. I probably drove a lot of people insane just by asking just a barrage of questions around certain products or where they got it because I'm doing research. They just think I'm a curious kid that they're trying to go away. So whenever you're trying to get rid of me-
Aaron Ackerman:
Kind of a secret weapon.
Bryan Clifton:
Yeah. In a way I'm kind of like a secret agent of sort, because I can just go around and gather all sorts of information because nobody looks at me as a threat in any way. One of the things that's good to note is a lot of these shows would be in Vegas or other places. And being 13, 14, I'm obviously going to be sober. There's a lot of other people that might not be sober all the time. So I can get a lot of information just because of who I am and kind of what I was doing. So you did have some people that would kind of dismiss, but a lot of people were just kind of like, "Well, if you can add value, we'll keep you around."
Aaron Ackerman:
Yeah. So then at some point, I think if I remember my facts right economy and other circumstances, you guys ended up having to wind that business down. How old were you and what role did you play in that part as well?
Bryan Clifton:
I was 14, 15 years old. So would've been 2001, 2002. So really there were three things that kind of took the business out. So our primary distribution was through convenience stores. So most of our toys were $3, $6 that were sold at point of sale stations at convenience stores. So after 9/11 we saw an increase in gas prices. So if I'm paying more at the pump, I'm not going to buy the extra toy inside. So that was the first kind of disruptive force. The second force was a mass adoption of pay at the pump technology.
If I can pay at the pump, why would I walk inside a convenient store to begin with? That's where you've seen a lot of convenient stores in the last 10, 20 years that have shifted more towards almost many grocery stores, more food, more drink, more beverage type options and less of the Wolf T-shirts and kind of those things that you might have seen kind of on.
And then the third thing is we had two of our largest customers that covered almost 75, 76% of AR that declared bankruptcy within 48 hours of each other.
Aaron Ackerman:
Oh, wow.
Bryan Clifton:
So we're dead in the water at that point. So we do not only got all the product that we've sent to them that we're not going to collect on, we also have purchase orders and product that's on the water coming from Asia that we owe money on. And so we're out almost immediately. So it became a triage situation of how do we try to make the best of this? We ended up having to lay off the entire company. And I personally did a number of those layoffs in some of those conversations.
Aaron Ackerman:
As a 14 or 15-year-old?
Bryan Clifton:
Yeah, 14, 15 year old. Once again, I didn't know any different. I just thought that's what you did. And so some of those conversations went better than others, but that's a lesson for an eighth grader, ninth grader to try to navigate that process. And in the kind of larger perspective, you have the internal turmoil from a family identity. Our family had always been connected to, "Well, we own this business." That's not true anymore, or that creates a lot of other questions and dialogues, and that's honestly what pushed me into a lot of the work that I'm doing now with entrepreneurs and with family businesses of trying to manage succession.
How do you deal with some of those emotional and psychological parts? Because I lived it, I know what it's like to have your entire kind of identity as a family unit wrapped around this entity, and then if that goes away, how do you navigate through that? Because it feels like you just had a loss of a family member. Even though it was just a business, it feels a lot more personal than that.
Aaron Ackerman:
Yeah. Wow. Okay. So that's a great segue. Well, let's talk a little bit about Myriad. One of the things you're really involved in, currently, because that makes a lot of sense hearing you say that, that some of those early life experiences with the business and the family really shaped you and set you up to want to help entrepreneurs and business owners with some of those challenges that you saw firsthand.
And then we'll come back and fill in the gaps of some of the cool stuff you've done between now and then. But talk a little bit about Myriad, what you're doing. And I think that gives a lot of sort of background color, what you just said as far as coming through the family business and everything.
Bryan Clifton:
Yeah. So with Myriad, I work with entrepreneurs and family businesses, primarily in the growth and transition phases of their business. And I work exclusively on the emotional and psychological dynamic of that, because whenever you're thinking about selling a business or passing a business down from one generation to the next, there's a lot of mental questions that you have to kind of process that don't have easy answers. So you have questions around timeline.
Well, when do I hand it off? Do I give 100% control to just sibling even if they're maybe not the best fit? Do I try to divide it up? You get a lot of these questions around, "How can I be fair? How can I be equal? Or how can I be equitable with all the family members?" And there's not any one setting that works in all scenarios.
So oftentimes I'll get people that call and they say, "I don't even know where to begin. All I know is that I've been stressing about this for a while." Sometimes I'll get a call from a wife or a mother that says, "I really want to make sure that family gatherings stay as family gatherings and they don't turn into odd business dealings. Can you help my family be able to navigate this? I've and trying to get my husband to take the initiative on this for a while, or I can see where my daughter could be trying to make a move for ownership and I don't want this to get hostile, or I don't want this to get negative or nasty in any way."
Sometimes I get called in because it's already hit a crisis situation. So you had an unexpected death and unexpected health event, and we're just trying to navigate what that process is.
Aaron Ackerman:
Yeah. Okay. That's interesting. So there's a lot of people that sort of are really good at helping with math and the numbers and the tactics of business transitions. And you obviously that skillset as well, but I mean, with Myriad, it's more of a holistic approach of this isn't just a business. This is a family and these are people and there's all of these emotions and things involved. And sometimes those don't really get addressed or if they do, it's not in a healthy way.
Bryan Clifton:
No. Well, oftentimes they get left out because we know how to address them. So I don't sell a financial product. I don't sell insurance. I don't sell financial advising services in any way. I'm looking exclusively at how do we make sure that the health of the family is preserved? So my ultimate goal in any client that I'm working with is how do we make sure that we create a healthy family unit, because what I've seen time and time again is transitions will either cause a family to get closer together or go further apart.
They will not stay the same. I have never once seen a family that went through an ownership transition from one generation to the next or sold the company entirely that the family dynamic stayed exactly neutral. It might have a delayed reaction, but that event will either make the family get closer together or further apart because it reveals a lot of unstated assumptions.
So it might be that the kids assumed, "Well, whenever dad sells a company, I'll get a part of it." They have no ownership. They have no legal claim to that, but they have just assumed, well, that's what's going to happen. There was never a conversation to give them that belief, but that might have been something that they thought or they saw this happened with a friend or this saw happened in some other way.
So it's a lot of those unspoken assumptions that can get triggered in a transition, and the norm is most families have more of a fallout after a transition than before. So my job is how can we try to improve the probability to make sure that we can create a healthy family and a healthy business?
Sometimes it's in the best interest of the family to sell the business entirely. It will be better for everybody if we just sell the business and are able to divide up proceeds, however you want to, or whatever that looks like. Sometimes there is a good case for keeping the ownership within the family and transitioning to the next generation. But we need to look at what is healthy for the family and for the business, and they might not be the same thing.
Aaron Ackerman:
Yeah. So clearly somebody like you, it would be helpful to get you involved earlier than later.
Bryan Clifton:
Ideally I love working earlier than later, and I work with all of the lawyers and the accountants and everybody that's trying to make this deal happen. And oftentimes those individuals are the ones that bring me in because they have said, I want to do the legal work on this. I don't want to be the counselor for this family. Or I have a great relationship with the owner, I want to make sure that I don't take away the possibility of a good relationship with the kids from a professional advising standpoint because of the stance that might need to be taken in this conversation.
So I'm there to try to help facilitate that conversation. And proactive is almost always better. So what I love is whenever somebody says, we're looking at possibly transitioning in three years through five years. How do we make sure we create the situation toward that's going to prove the likelihood for that? That's an ideal scenario. And it's always good to note that not all industries are ready for a transition. If you're in a legacy industry that's kind of declining overall, it probably doesn't matter how well we craft the narrative. Your business value might still be going down because your industry is shrinking. But anytime that we can get started earlier, it gives us the highest probability of success for the business and for the family.
Aaron Ackerman:
Yeah. That's good stuff. Well, let's talk for just a minute about some of the other stuff that you've done in your career because I think it's really fascinating. One thing that I've been aware of for a long time, even before you and I really knew each other was this organization called Give A Goat and you ran that organization for a period of time. So I have been involved for quite a while in mission and humanitarian efforts to Africa.
So I've sort of evolved and developed my own sort of thoughts and philosophy about how to do that. So I was really fascinated with sort of the background or the philosophy of Give A Goat. So maybe talk just a little bit about that sort of what the philosophy was behind that and why you chose that particular avenue or philosophy to get behind.
Bryan Clifton:
Yes. So I started as the finance director and then became president of Give A Goat, which was based in Oklahoma City and its primary operations were in the Philippines. So primarily centered around Cebu in the Philippines and a few other kind of places through that. And if you look over kind of my career trajectory, it's been fake teeth and goats. So it's obviously the most normal career path or narrative that anybody could put together.
But what happened was the work that we did in my family business with such heavy concentration in Asia made me a lot more aware. And also it made that part of the world feel more relevant and closer to me. So the Philippines is a unique country that has very high levels of disparity between income. You can be in some places of Manila or in other places, and if I did not tell you where you were, you'd feel like you were in Beverly Hills.
Then you can go five miles away, and it feels like a legitimate third world country that has dirt floors and no running water. And the challenge in the Philippines was how do we create sustainable livelihood? And one of the ways that we could do that was through goats. So I am not an agriculturalist. I am not somebody that has a tremendous amount of experience with animals or how you handle that. What I saw was the economic abilities, and we had a great team on the ground in the Philippines that was staffed entirely of Filipinos that understood the culture and understood how you navigate those environments.
So some of the benefits of goats were, they almost always have twins. So the multiplication rate to grow a herd was very beneficial. You could use almost every byproduct from their manure, which made a great fertilizer for crops to their milk, to be able to produce cheeses and soaps and different things like that. Almost everything that a goat produced was profitable in some way. They're also very hearty. They can withstand some rough environments.
So we found different ways to provide income for families through goats and to be able to make that work. And I spent, "Oh man, two to three months out of the year while I was with Give A Goat in the Philippines, working on different pieces. Because if you think about scalability, so if I want to scale goats in a country, in the Philippines, there's not a market that I go to and I can just go buy an unlimited supply of goats.
Every region, every city had a different farmer's market type scenario that happened on this Saturday or on this Tuesday. And everybody would bring in the goats that they were trying to sell. It's very similar to a livestock auction where everybody comes in for a time. Well, how do you know which goats are the good ones? And I don't know that. But luckily we had a great team there that was able to pick that in that minutes.
Okay. So now I've bought the goat. What do I do with it? So I've got many stories of traveling. What feels like hours and hours and hours on end in trucks or in cars with goats, many of which were not designed to carry those animals, but you've got no other option. So I loved my time with Give A Goat. And there's a lot of other organizations that had a similar type approach such as Heifer International or others that use animals as a way to help people break the cycle of poverty in their country and try to find more sustainable income sources.
Aaron Ackerman:
Yeah. I love that. And giving a person or a family a way to earn money, to have dignity, it's different than just giving somebody money or food. I mean, I really think that has a lot of value to it. Did you guys experience any... And again, I know Philippines is different from Africa, but a lot of the challenges in developing areas are probably somewhat similar. When a family had a goat and had some success, was there anything like kind of microeconomic or sort of village type like repercussions? Were there other families that would become jealous or would want to steal the goat, kill the goat or whatever? I mean, I'm sure there was different kinds of challenges that we probably wouldn't even dream of here.
Bryan Clifton:
Yeah. You get a little bit of all of that. And so you get the, "You and I were the same. Now, you're doing better. I don't want you to do better than me. Let me try to bring you back down."
Aaron Ackerman:
Yeah.
Bryan Clifton:
Other people would respond with, "Wow, that worked for you. Maybe it could work for me." So the same things that we see in the US with people that are trying to break out of poverty or out of environments where they might have had strong kind of social incentives to kind of stay where they're at, and people are kind of throwing rocks at you, metaphorically speaking, "Oh, I don't want you to leave. Because then if you leave, it's showing that you took initiative and you were able to help yourself."
Those same types of pieces work in other parts of the world. They just manifest themselves a little bit differently. I don't think anybody in the United States would get mad if I got a goat and I got multiple goats from that. But definitely in other parts of the world that is both a status symbol, an economic opportunity kind of a way to be able to change the narrative of your family.
Aaron Ackerman:
Yeah. That's good stuff. Let me ask you just a little bit about Clevyr, which is another business that you're involved in currently. I think you started Clevyr and, or co-founded it in like mid 17? Is that right?
Bryan Clifton:
So I purchased Clevyr in 2017. My three partners, they started in 2008. So I joined them about three years ago to try to help grow Clevyr and Clevyr works in the custom software space. So we have people that tend to come to Clevyr with one of two questions. One is, wouldn't it be cool if they have some idea for some technology they want to build, but they're not really sure how? The second is people saying, "If only we could find a way to solve problem that we've been dealing with forever."
So both of those kind of paths, whether it's dreaming up something new, whether it's a new business, a new project, or trying to solve something that has been kind of a historical pain or frustration point, that's where Clevyr lives and you don't want me to touch code. You don't want me to design anything. I have no involvement in that part of the business. We have a great team of about 40 individuals in Oklahoma City that are growing the tech space and the tech kind of ecosystem here in Oklahoma City.
Aaron Ackerman:
Yeah. And for anybody that isn't aware of Clevyr, I would encourage you to go to the website. Is it clevyr.com?
Bryan Clifton:
Yep. C-L-E-V-Y-R.
Aaron Ackerman:
Yeah. Thank you. You guys, your culture obviously has a real fun and creative flare to it and you can tell that just by going to the webpage and looking at your team. And it's kind of fun. I would encourage anybody to do that. Okay, help me tie all this together. We've got fake teeth, and goats, and software. I mean, obviously, a couple of things I think are threads. You care about people. You care about helping whether it's with Give A Goat or Myriad. You've got a heart for really kind of serving other people in meeting them wherever they are.
But if you had to sort of pick out a driving force or a theme of looking at your bio, your career, how would you articulate that?
Bryan Clifton:
I enjoy turning ideas into reality. I would say that is probably the central theme or thread that ties all this together. I am somebody who enjoys periods of uncertainty because in that uncertainty there's opportunities and there's ways to be able to make things work that other people might not be able to see. So I have my hands in a lot of different things, and many of them are industries that technically I'm not the most proficient, and my role is to help assemble the right teams and to bring the right opportunities and strategies together to be able to allow them to be able to have success in whatever that looks like in their space.
So I love the fact that with Myriad and with Clevyr, I have conversation with the business owners all the time that are from different types of industries. And that's encouraging and exciting to me because if I was doing the same thing every day, I would probably create more problems for myself because I would be bored.
I need some variety of different spaces to be able to explore and also to be able to learn because just like there were lessons from fake teeth that translated to goats, there's lessons from all sorts of different industries and on the surface don't make sense at all. But whenever you allow yourself to explore, it creates these different types of opportunities, and that's something that I would encourage anybody to do. If you have the ability to explore and specifically to travel to see how businesses are ran in other parts of the world to see how other things are operating, it gives you a completely different context to try to make sense of the problem that you're facing or that you could be facing in your business or in other things that you're involved with.
Aaron Ackerman:
Yeah. Let me ask you about leadership. Just having some kind of inborn things that you were blessed with in the lab to circumstances, you were able to hold leadership positions really early in life including at home with the family business. You were doing things that most eight, nine, 10 year olds don't do for a couple of decades, probably. Maybe do you have a couple of mentors or experiences you could point to that you feel like really shaped you as a leader and have galvanized the way you see leadership and leading other people?
Bryan Clifton:
If I start naming names, I'm going to get in trouble because I'm going to leave a lot of people out. But I actually have a list of people that I have kept on my computer, and I want to make it into some type of like a wood engraved piece for my office that just kind of states the name of the person and what the leadership quality or trait was that I picked up from them because there's some people that have been mentors or advisors along the way that most people on the surface would look at them and say, "What could you learn from them?"
But they might have had the best disposition or the way in which they treated people. Other people were fantastic leaders in their own right and might even have more notoriety, but I learned more from their failures or what they didn't do. So I think that it's helpful for us to know that we can learn from anybody. And there are always going to be particular people or specific individuals that stand out to you because of the season in life in which you interact with them. And it might not make sense at the time, but given context or different circumstances, you start to understand why they saw things the way that they did or where they were able to add value kind of in new ways to your life.
Aaron Ackerman:
Yeah, that is so good. When you were saying that you've got a list and you've got these people named and then something, a trait or something that you picked up from them. I don't know if you've read meditations by Marcus Aurelius. That's how he opens his book is, "I got my patience from my mother and I got this from my uncle, and this from my friend and my grandfather." He does that. Just what you described. He's got this list of people that have influenced him and all of them maybe in one little small way and he acknowledges all of those contributions into his life. That is good. I'm inspired. I need to make a list.
Bryan Clifton:
Well, and it's one of those things, and on the list that I have, I've not done it well in the last two years. But once a year, I would write each of them a handwritten letter, just expressing gratitude and also trying to connect it back with what something that has gone that's happened in my life in the last year to where their influencer, their perspective was just extremely beneficial. Because some of these are individuals who have passed. They're not with us anymore.
Others, they're individuals to where their own leadership journey might have taken a deviation. The way that they had their life planned out might not have happened. And there was a narrative that I heard that's five, eight years ago now and the question simply was, "Can anybody tell the name of Abraham Lincoln's mother?" And I said, "I'm sure that I could if I thought long enough." They said, "You might not know her name, but you have seen the results of her actions."
They went through this with other people and the theme that they were presenting is some people are meant to be the hero of the story. Some people are simply meant to be the advisor or the guide. And I like to think about the term, they're a door opener. There are people who open doors for individuals and they might not be known, but they might not be famous, but they have helped create opportunities for people.
There's a fantastic book called Superbosses that I would recommend everybody pick up and it looks at who are some of these individuals in certain industries that if you trace back the trees of their employees or people they've worked with, it leads to all of these new areas. So Bill Walsh in football, Lorne Michaels in the world of comedy, lots of people in the restaurant world, you can see these kind of trees of sorts of where talent flows.
And most of them have some connection back to an individual or a person that they attract certain people to them, but then they also let those people go when they need to. And so they have an understanding of, "This person and does not need to work with me forever. They need to work with me for a season because we're all better off if we can go and plant and grow in our own areas, and then add value back to each other and create these kind of networks in different ways."
So Superbosses is one of my favorite books that I think does a great job of highlighting what that looks like in a variety of different industries.
Aaron Ackerman:
Yeah, I love that. So when you would write letters every couple years or whatever, what kind of reaction or feedback, if any, would you get from these people that had impacted you in different ways?
Bryan Clifton:
Some people have never heard an old school correspondence chain of letters back and forth. Some people, it leads to a conversation or other people I see in person more often, and it just leads to a different type of relationship. So you have a different relationship whenever somebody expresses gratitude to you. There's something about whenever somebody has said, "You've made a difference in my life," it changes the way that each of you view that relationship and just some of the opportunities that can come from that.
Aaron Ackerman:
Yeah, that's awesome. I'll share this real quick and this is really about you, this podcast, not me, but I would call him a mentor, but I had a boss early in my career that just gave me a brutal performance review one time. It's been many, many years ago, and so looking back on it, I can see that it was like well deserved. It wasn't demeaning or mean spirited, but it was rough. It took me a couple of days after that. I was really upset, angry. It took me a couple of days to really just process and get over it.
But ultimately it had helped me get a lot better and challenged me. Looking back on it, and I have it still, it was written. It was in the old days before we had everything computerized and it was written down on whatever form we used at the time. I've got it in his handwriting.
It was from a spirit of caring. It took me a little while, but I ended up seeing that feedback as a gift. I bumped into him every once in a while and I've never told him about it until recently. And I told him, I said, "I need to tell you something. You probably don't even remember this, but 15 years ago you gave me a really rough performance review." And he starts kind of like getting defensive. I said, "I just want to tell you how thankful I am for that, that you didn't take the easy way out and not give me that feedback, or just fire me or whatever that you saw enough potential in me that you took the time, did the hard thing to give me that feedback."
And I said, "It made a real big difference to my career. I see it as a gift. I just want to tell you, thank you." He was looking at me like, "Are you pulling my leg?" We ended up talking for a few minutes and he was like, "Well, thanks for telling me that. That's really meaningful." I think as leaders, feedback is a gift and it's great when we get to say, "Wow, that you're amazing. You're hitting all the right notes and help people that way." But sometimes that other tough feedback is every bit, if not more important, hard to deliver sometimes not as comfortable, but can be super meaning and helpful.
Bryan Clifton:
So he could have given you that feedback, and if you weren't wanting to hear it, or if you didn't take it for what it could be, you could have easily dismissed it. He still did the same action, but it also requires you to be in a spot to where you're willing to hear it and listen, and internalize. And you've probably adjusted your interpretation of that over the years in different circumstances. So feedback is one of those pieces that we can often put the blame on managers. "Well, you're not giving me the feedback that I need."
It's not just a one way street. Every one of us has the ability to ask for feedback from people, whether that's from your direct manager or from peers, or whoever that might be. Asking for feedback is one of the biggest signs of leadership because everybody knows that we have areas where we frustrate people, where we have quirks that make things more difficult for others, things that we're just completely blind about. And if we're willing to ask for that feedback and create an environment where honest feedback can be given especially for those that work with us, or for us, it changes the dynamic.
Because as a leader, higher you progress kind of up the ladder so to speak, the harder it is to get honest feedback because nobody wants to tell you where your faults are, because they're afraid, "Well, if I tell them this, or if I tell her that, then they're going to think differently of me." Honestly, some of my best feedback that I've received has come from employees who have said, "You probably don't realize that this is how you come across in meetings. But whenever you give instructions, it's not clear and we really need you to be able to give X, Y, or Z."
So as a leader, we need to be willing to ask for feedback, but also make sure that we are creating the space where real feedback can be given and it's not just surface level I've the box, now let's move on.
Aaron Ackerman:
Sure. Yeah. Everybody's got blind spots. But one of the takeaways of that whole experience and tying back to your story was telling that person that influenced me about it later. It was much later in this case. And how that even enriched the relationship further, he appreciated that. I know the people you have written your notes to, like you said, some of them, you never hear from them. But that in most cases, I would assume, that's really meaningful for those people to hear about how they influenced you and that helped lead to your successes.
Bryan Clifton:
Well, and I'm sure that it's great for them. The reason why I do it is because I need to. I'm a better person. I'm a better leader. I notice things in a more productive and proactive manner if I express the gratitude and I force myself to wrap all of those thoughts and conversations and feedback pieces into something of substance and be able to say, "I really appreciate the way that you helped me develop this part about my personality. You helped me be able to learn this part about my skills that I never knew existed."
Because sometimes we need people to give us the gift of acknowledging a skill that we have that we might not know because all of us have leaders have had people that we've interacted with, where we see more in them than what they see in themselves. So we see a skill in them that they might not recognize yet. And it's our job as leaders to be able to help pull that out, to be able to help reveal that in a way, and also know that just because somebody knows that they have a skill does not mean that they want to practice that.
So we need to be able to help create the environments and the spaces for them to be able to try and fail, and try, and get better, and make sure we're encouraging them because people have done it for us. So it's our responsibility to make sure we do that for other people.
Aaron Ackerman:
That's awesome. Well, I think we're probably coming down here to the end of our time. So we've got a handful of questions we like to ask all of our guests. So if you're ready, I'm going to hit you with those now.
Bryan Clifton:
Go for it.
Aaron Ackerman:
Some of this we may have already talked about. The first one is what is the first way you ever remember making money?
Bryan Clifton:
First way that I ever making money personally was selling yo-yos to my classmates, and that was in fourth grade. In fifth grade, I sold fingerboards. In sixth grade, I made these little lanyard things where I outsourced production to other classmates. So every year, in school, I had some other fad that I was creating of toys. And once again, I just thought that was normal. I got in trouble from my teachers in fourth grade because my backpack was full of product, not textbooks or anything like that.
So I was always looking for things to sell to people or ways to be able to create demand where I was the only resource. "If you wanted this, you got to come to me. I'm setting the price and I'm controlling that."
Aaron Ackerman:
Very good. So what would you be doing if you had to do something different than what you're doing now? If you weren't running Myriad and working with Clevyr, the things you're working on now, what would you be doing?
Bryan Clifton:
I'd be running some other business. I'd be doing something else on the entrepreneurial space. It's a bug that's bitten me and it's never going away.
Aaron Ackerman:
I think you're one of those rare people that figured out early, like what God put you on earth for, or at least one of the things. And I always think about somebody like Tiger Woods. That's got to be a good feeling just to know that's why I'm here. He was meant to play golf.
Bryan Clifton:
Well, and the fun thing about being an entrepreneur is you're not limited to only being an entrepreneur in one avenue.
Aaron Ackerman:
That's right.
Bryan Clifton:
It's a skillset that allows me to modify and adjust, and it's the way that I see the world. I could not articulate how I see the world if it was not through some lens of entrepreneurship and opportunity because it drives some of my friends crazy, but I can't walk into a restaurant and just see the restaurant for what it is. I'm looking at it as I wonder what their profit margins are and why did they choose this design style? Why do they only have number of items on the menu? That's going through my head all the time and I can't shut it off, no matter how much I want. What I have learned is I don't always need to articulate that to others because they probably don't care nearly as much as I do.
Aaron Ackerman:
Yeah. So what would you like to go back and tell your 20-year-old self?
Bryan Clifton:
Invest in relationships more? Because I grew up selling toys, not playing with toys, I always had to act older than I was. So for most of my teenage years, early 20s, most of my best friends were probably 60 or 70 years old. I had a conversation with a friend and he said, "Bryan, if you're not careful, all your friends are going to be dead in 20 years." And I said, "Wow, that's one way to put it." But I realized is I had very few relationships or friends that were close to my own age. I had lots of friends that were older, but I had not done a good job of investing in friendships and relationships around my own peer group.
So that conversation happened probably at 25 and I've made a very conscious effort to try to invest in that. But that's something that I wish I could have told my 20-year-old self is invest in those relationships earlier on because they matter. Especially as you're growing businesses. You need people that are in your same season of life to be able to grow together and not just rely on people that are old and have been doing it for 20 or 30 years.
Aaron Ackerman:
Yeah. That's good. So what would be the title of your autobiography?
Bryan Clifton:
Fake teeth and goats, something along that line. I mean, there's, there's got to be something in that row of-
Aaron Ackerman:
You've got a lot of good material there, yeah.
Bryan Clifton:
Yeah. There's definitely some good stuff. The title might not be as interactive or as impressive as what the cover art could be because I'm sure there could be some really interesting stuff there.
Aaron Ackerman:
Yeah, absolutely. So last question here. What is the best advice you've ever been given?
Bryan Clifton:
That's such a difficult question. I would say some of the most meaningful advice that I got was whenever I was 12, my father took me to Haiti to go on a mission trip. And what he said at that time was, he said, "Bryan, here's Haiti on one end of the spectrum. Here's the US. Not everywhere is like Haiti. Not everywhere is like the US. I want you to go explore the difference. That advice opened me up to a world of exploration and realizing that whatever you grow up with is not the same as what it's like everywhere else.
You can hear stories of what other places are like. You can talk to other people who have been there. It's not the same as you seeing it, experiencing it and realizing what those pieces are. So that piece of advice has probably done more to transform my life than probably anything else.
Aaron Ackerman:
Yeah. That's awesome. And you probably know off the top of your head, I'm just curious, how many countries have you traveled to? Do you know? I know you've been all over the place.
Bryan Clifton:
71, 72.
Aaron Ackerman:
Wow.
Bryan Clifton:
Something like that.
Aaron Ackerman:
Yeah. So about a hundred more to go or something like that? You can...
Bryan Clifton:
Yeah. I mean, it depends on which list you look at because it feels like somehow the number of countries that we have in the world are up for debate depending on if you consider different parts as part of larger countries or things like that. But I enjoy seeing the world. I want to go see all different parts. So there's four kids in my family. There was a time in 2018 that all four of us were on four different continents.
Aaron Ackerman:
Wow.
Bryan Clifton:
So this idea of travel is something that's very deeply ingrained in my family. And it's a great part of conversation because we see things from different perspectives because we've all been to so many different places and just have a different perspective.
Aaron Ackerman:
That's great. Well, Bryan, thank you so much. I appreciate your candor and transparency and sharing a lot about your career and your life with me and with our listeners, and just really enjoyed getting to know you a little bit better here the last few months. And if people want to find you on social media or company website, what's the best way for someone to get in touch with you?
Bryan Clifton:
Bryanclifton.com, B-R-Y-A-N. Same thing on Twitter and everything like that. So go there and you'll find it or just search me out on LinkedIn.
Aaron Ackerman:
All right. Bryan, thanks so much. I really appreciate it.
Bryan Clifton:
Sounds great. Thanks, Aaron.
Aaron Ackerman:
And that's all for this episode of How That Happened. Thank you for listening. Be sure to visit howthathappened.com for show notes and additional episodes. You can also subscribe to our show on iTunes, Google Play or Stitcher. This content is for informational purposes only and does not constitute professional advice. Copyright 2020, HoganTaylor LLP. All rights reserved. To view the HoganTaylor general terms and conditions, visit www.hogantaylor.com.