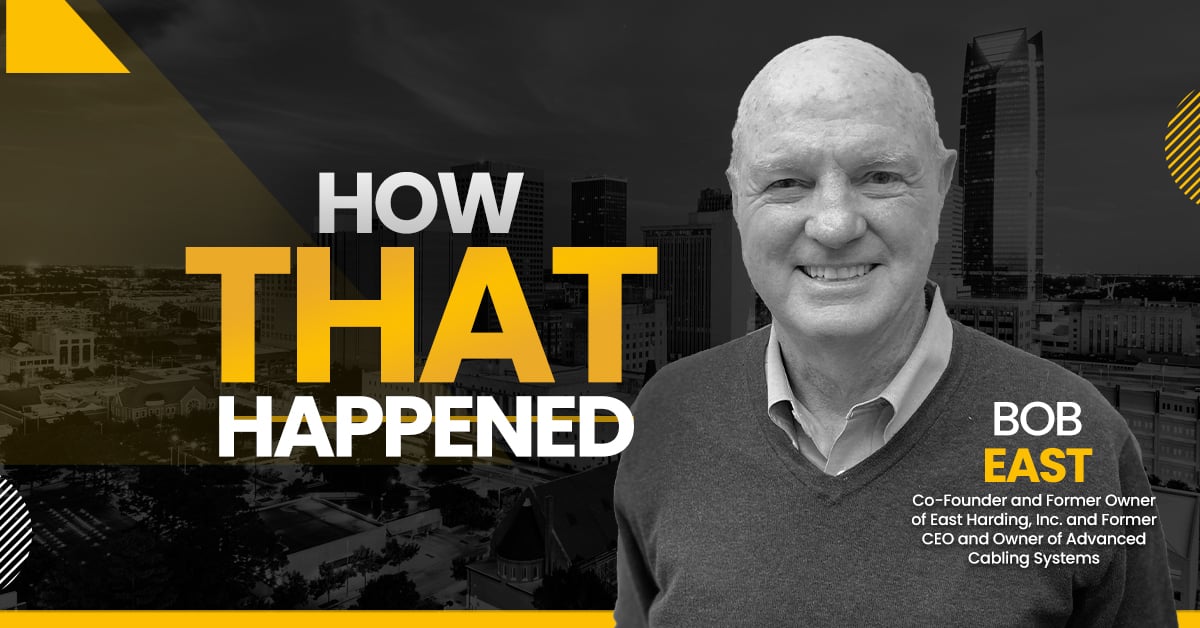 Bob East:
I started Robert East Company when I was about 24. We built the addition to the Convention Center, we built the baseball park in North Little Rock, we built the 303rd tower, the 17-storey residential building downtown. I wanted to build a company that was good for the employees and was scalable.
Robert Wagner:
From HoganTaylor CPAs and advisors, I'm Robert Wagner, and this is How That Happened, a business and innovation success podcast. Each episode of the show, we sit down with the business and community leaders behind thriving organizations to learn how business and innovation success actually happens. Our guest today is Bob East, the founder and former owner of East Harding Inc, a general contractor. And the former CEO and Owner of Advanced Cabling, a technology integration company, both based in Little Rock, Arkansas.
Bob is a graduate of the University of Arkansas with a degree in Finance. In addition to his ownership and operations of his companies, Bob has also served the community with his work, with the Little Rock National Airport Commission, Arkansas Game and Fish Foundation, Associated Builders and Contractors, Arkansas Nature, Conservancy, Vision Little Rock, and the Downtown Little Rock Partnership. Bob, welcome to the How That Happens Podcast.
Bob East:
Thank you. I'm glad to be here.
Robert Wagner:
Yeah, I'm really excited to have you. So Bob, you've owned a couple of businesses over the years and you've been interviewed by many people and you've been in the press and you've been on a couple of podcasts even recently, so I don't want to plow old ground with you. But just to kind of set context for our conversation today, we'll talk about both companies, but tell us what East Harding did.
Bob East:
East Harding is a commercial contractor. I started Robert East Company when I was about 24, I can't remember exactly when, but I got out of the Army and worked for a contractor for about 18 months. And for some reason decided I was going to start my own business and knowing absolutely of thing about it, and I started doing shingles on roofs and putting on gutters and building wheelchair ramps and just built that company up to a several million dollar company but still smaller. And then my good friend, Tom Harding, came in as a partner with me in 1990. And we built these starting into about a 40 or $50 million commercial contractor. That's all we did was commercial work. And that was 40 years of building and working and learning. And so I learned a lot from being a very naive 24 year old to being a whatever age I am now contractor.
Robert Wagner:
How did you know Tom?
Bob East:
Tom and I were friends in high school when we were 15 years old, we had a mutual friend that we knew and we just got to know each other. We loved the outdoors, and we just went to college together and same fraternity and went to the Army at the same time, stationed in different places, and then got out and we've just been good friends. Tom's been a great partner. I said in one talk I made that two of the biggest things in your life that determine your happiness as your family and your business partner. And so I've got a wonderful family and I had a great partner in Tom for 40 years.
Robert Wagner:
What was the kind of division of labor? Did you guys have counterbalancing skill sets or how did that work?
Bob East:
Yeah, it really worked out very well. Tom actually worked for the Arkansas Crime Commission and I worked for a contractor with whom I'd worked in the summer when I went to college and Tom liked the idea. So he went to work for a general contractor and he learned the office side of it while I was in the field. I was outside as a superintendent. I mean, I got paid less than the carpenters but they called me a superintendent because I would keep laboring. And so I knew the outside, which is what I liked, and Tom did all the estimating and bookkeeping, and so it was a great partnership. We didn't really overlap and I loved what I was doing and he did a good job inside and then we grew and of course hired people but that's how we always worked together.
Robert Wagner:
Yeah. So East Harding is a general contractor, and I'm sure over the course of 40 years you did a lot of different projects and probably the size of projects grew over time, but maybe towards the end, what kind of projects were you doing just to give us a flavor for that?
Bob East:
Oh, we built the addition to the Convention Center, we built the baseball park in North Little Rock. We built the 303rd tower, the 17-story residential building downtown. We've done all the work in the Stevens Building since they bought it in about 1987 or so, and we built a lot of multi-tenant office buildings, we built a lot of shopping centers, did a lot of nonprofit work, you know, but we stayed mostly in Arkansas. Some of our clients liked the Arkansas Democrat that we worked for them in Northwest Arkansas and in Chattanooga. And then we worked around the state, but I had a lot of great relationships, as did Tom, and so we built mostly for our friends. It was all commercial work.
Robert Wagner:
Okay. So that's a good context for East Harding. So tell us about Advanced Cable.
Bob East:
Well, East Harding, I mean a construction company is a great place to learn about other businesses because when you're building something for the newspaper or a brokerage firm or a nonprofit, you just learn how their business operates. So in that context, I started seeing that the developers that I knew really knew nothing about construction but that was about 80% of the cost of a project so I got into being a partner in a lot of developments. And from that, got to see and meet other people. I met a great friend of mine, Dennis Davis, he and I actually bought a business in Fayetteville called AMO Electric. And it was a small electrical supply house. And I learned a whole lot about business from AMO Electric and I won't go into all that, but we owned it for 10 years and sold it and made a good profit.
But in that time period, I saw the increase of use of fiber optic cable, that was kind of the buzzword. And AMO did nothing but resell products that everybody else had, that's not a very good business model for me, you're kind of a distributor and a preferred supplier. But I wanted something that had more barrier of entry. So I started looking into the fiber optic business and just happened to across a woman who had a company called Advanced Cabling that had three people with it. And I did a lot of work with minority contractors and I was at a minority contractor luncheon and she stood up and said what she did. So after the, I went over there and said, "I'd like to talk to you." So she came by my office was thinking I was going to give her some work and I said, "I want to buy your business." And she was of course kind of dumbfounded but she ended up selling me 60% ownership in that business. And like I said, it had three people, our office was in a mini storage warehouse with a roll up door. And I didn't really know where it would go, but I knew that the technology was going to keep on growing and increasing and the demand for low voltage work was going to be there. And so it just kind of grew from there.
Robert Wagner:
Okay. So again, just for our listeners, maybe just say kind what low voltage structured cabling, what is that business?
Bob East:
When I bought the business, it was I think 1998 and low voltage is of course cable that carries data. They call it low voltage because they won't kill you if you touch both wires together. And so at that time, it was mostly used for telephones, and most people thought it was done by the telephone company. And it's just hard to believe that such a short time ago, that's where we were, but computers were just starting and you might or two computers in an office that your bookkeeper or accountant used. But the use for data and video was just in such infancy but it was growing.
And then the big catalyst was 9/11 when security started getting to be... I mean, people didn't even think about security, they didn't have access control which means fingerprint recognition or a punch button code for your front door, nobody had that. And you could walk into any building and town and just open the door and walk in and go to the President's Office. So after 9/11, that changed completely.
And at that time, I think the iPhone came out in 2007 and it was a far cry from what it is today but that just spurred the demand for all kinds of data that the technology for software and all business use was just exploding at that time. And so my thought, from being a contractor, I knew that the electricians didn't really like to do the low voltage cabling stuff plus they didn't have the expertise. So my goal, after buying Advanced, was to add disciplines to our company like access control, wireless hubs, cameras, any kind of security.
So we would have a one stop shop, which I knew from my construction experience, the electrical contractors would like, because they didn't want to fool with it, they didn't want to get somebody to do their cabling and somebody do their cameras. So we hired people to do that, we trained them, we paid for their training because I wanted a group of people that nobody else had that could do everything, they were certified to do it, and we could therefore get a fair profit for our work. So we just kept developing different disciplines in our business and sure enough, that's what people wanted. And as the demand for bandwidth and data and then video, video was so small when YouTube started and it just started growing. And most people didn't really realize how the use of video was growing so rapidly, but that's such a big user of bandwidth. It just demanded more cabling, more memory, new computers, cameras got to be more and more sophisticated pan tilt, zoom, and everybody wanted the newest thing.
So our business just took off or exploded, probably a good word, and we kept adding people and growing into the market and opening new offices. And it's been, I told my partners at Advance that you'll never find a business as good as this because I've been involved in business for a long time and on bank boards for 40 years and seeing all kinds of businesses and financial statements. And I said, "This is one of the greatest businesses in the world." And so we just kept growing into it and then and now that business is not going to stop growing because the technology is never going to stop, you have to upgrade your technology, you cannot fall behind. So that business is going to always be good and the demand for train people to install that technology is always going to be there.
Robert Wagner:
Yeah. Okay, that's great and I want to dig in a little bit to the people side in a few minutes. So that's good context, I want to leverage in our conversation from kind of starting kind of where you are today and kind of work backwards a little bit. So you have done something that a lot of people fail at, you've done succession successfully in both of these companies but in two completely different ways. In the East Harding example, and we'll get to this later, but you did a 10 year buyout with you and Tom with the President of the company and worked that to success and I think just concluded in the last 30 days or so, right?
Bob East:
Right.
Robert Wagner:
And then on the Advanced Cabling side, you did a more traditional sale to a third party selling to Redhawk Security, which in itself was being acquired by ADT. So again, succession's huge issue in our economy right now just because of demographics and the aging of folks who have been owning businesses. So I want to delve into this a little bit so tell us about the advanced cabling transaction, how you came to that decision, how that transaction evolved.
Bob East:
Well, you're right, those are two completely different ends of the spectrum on selling a business. And East Harding, being a construction company and a local company, you really can't sell a company like that based on multiples because you're dependent on four or five jobs that if you don't get those during the year, your volume could be half of what it was the year before. Whereas a company like Advanced Cabling has thousands of smaller jobs and we had six or seven offices in three states so we had a big footprint. The jobs of course much smaller than construction project and we had a big repair business. I mean, small, doing cable drops and just service work. And so that comes in every day unlike a construction job that might take a year or two from start to finish to even get to where you start the job.
So you can sell a company like Advanced Cabling for a multiple of your profit. You cannot really sell a construction company like that because whoever buys it is dependent on that revenue to pay you for the business. So the revenue's got to keep going, so you got to stay involved in it. But a company like Advanced, that's got an ongoing business and a work that comes in without you going out and beating the bushes and knowing all your clients just has more value as the multiple. And I built Advanced Cabling where it was not dependent on me. And that was a total change from what I'd been doing. With East Harding, I was a hands on guy, I never did want to get bigger than what we were. I just wanted to touch jobs and I wanted my clients to know I was involved in them.
But with Advanced Cabling, I didn't want to be so involved. I wanted to build a company that was good for the employees and was scalable and was sellable. I mean, we didn't really build it sell, we built it to either keep or sell just to see what happened and what was best. So with Advanced, when Redhawk looked at us and this continues to this day, I still hear it, but they were so complimentary about our accounting procedures, our software, all of our filing was electronic, they were used to people grabbing a bunch of file folders and looking through them for job information, we had it all on computer. My partner, Michael Kennedy was just excellent at keeping records and keeping up with that. We had great HR, we had good marketing. In fact, our marketing lady is now head of communications for all of ADT Worldwide internally, so I was exceptionally proud of that.
Robert Wagner:
That's quite a compliment.
Bob East:
It is. And I think part of the reason they wanted us is because they wanted our management team. And so I built it as a company that either could be sold or we could keep. And it just happened that, this is a time in the economy that the venture capital guys and private equity are just a wash in money, the multiples are much higher now. And so Redhawk came along and they wanted to add to their footprint. We kind of own the Midwest and it's much easier for them to buy that business than it is to go compete with us and try to take it away from us and build it, so they bought it.
And I wasn't really savvy in that world of private equity but I am a whole lot more savvy now than I was and it was a fantastic education. And I know so much more about how to build a business and what kind of business I like. But Advanced, we had a great company, we had people that tried to buy us all the time but the structure was terrible, they wanted to buy out or they wanted to pay us certain amount of money, and then we did an earn out, then we had to hit certain parameters to get all of our money, and we weren't really interested in that. But Redhawk came along and offered us what we thought was a great price and they had great terms. They never wavered, they never tried to cut the price back or use our business against us and say, it's really not worth what we thought. They were very good at that.
We went through all the legal aspects, which are very painful, but I look back now and realized that it's all like that, I took get personally when I shouldn't have AT a lot of the things they said, I mean, the lawyers said, but we all worked it out. So advanced is just a company that you can sell as a multiple of your earnings. And if you have a good company, when they come in and look at it and don't have to make a lot of assumptions or take a lot of things out of your profit, if they can see you've got a good clean company, it's worth a bigger multiple. And that's really the key to selling a business. you can have a good business and sell it for a four multiple or you can have a really good business and sell it for a nine multiple and you're getting more than twice the value out of that. So That's really where you want to be.
Robert Wagner:
Yeah. I love where you ended there. So what are those differentiators between the guy who's, maybe it's the same size company, but it commands a bigger multiple. And then you also mentioned, there's a difference between, and you hit on this, getting your money sort of up front versus over time and if certain things happen. And I think all of those things become dependent upon these sort of little sweeteners that you've built into the business. So what kind of things are you talking about?
Bob East:
Well, and since I sold Advanced, I've been looking at a lot of businesses and I've learned a lot more and I've narrowed down the type of business I like and I'm looking at two very seriously right now. But what you find in almost every business you look at and surprisingly in medium size businesses, I'm talking 50 to 100 million dollar businesses, the first thing they don't do is keep their technology upgraded. They're using old accounting software, they don't have a job management software. They don't get their employees up to speed on computers and billing by computer. A lot of them have tickets sitting in their trucks that they forgot to bill. And so if you don't have a good accounting system, and I see this in tiny companies and companies, they just do not, and I'm not trying to plug HoganTaylor, I'm just saying that if you don't know your books and if you're making money, then you don't know your business.
And that's one of the biggest things that those companies look for. Because when they say, 'How much profit did you make on this job?" You need to be able to show them that job, what you bid it for, what your material cost was, your labor cost, your overhead, your job cost as opposed to office overhead. And it needs to match up with what you got paid. And you need to say, "We figured 30% gross profit, we ended up making 32% gross profit." And then they can see that you really do know your jobs and you're keeping up with it. And then what you say is true. So if you say our backlog is 20 million and we have 9% net profit, then they believe you, because they look at your books and you've proven that.
And you're not just starting, you've done that, so they see you've done the work. And then like I say, paying for technology is something that smaller businesses don't like to do and they don't like to upgrade just because they don't like the pain of training their people and converting, they don't want to spend the money, they know something is going to come along that's better in a couple of years, but that's just the way it is. So you got to have a company that's got the latest technology.
And then the other big thing, the really big thing that RedHawk bid to us is your company culture. And of course that's a totally overused word as far as I'm concerned but we built the culture, we had again, it does sounds trite, but company functions, we had chili cook offs, we had float trips, but we also had great benefits, we matched 6% of our 401k and I did that a long time ago at Advanced and my two partners thought I was crazy, but those young guys don't realize how important that is. And when we made them opt out of that, if they didn't want to do it, they had to tell us they didn't want to do it, because we put them all in there when they first joined the company.
And I had to explain to them the value of compound growth long time ago. And then as these guys and ladies got families and cars, they saw that they needed to save and they saw how great that 6% was, because we always matched our part. And we had technicians that had 80,000 and $100,000 dollars in their 401K.
We were the fastest growing 401k provider that our money manager had in his portfolio. So that was good. We had benefits, we had great insurance. We had time off. With our office people, I said long time ago, "We don't have vacation policy. If you need to take off, take off. Because if my child is going to be in a school play, I'm going to go see it. And I'm not any better than you are, so if your child's going to be in a school play and go see him or her." So you're an adult and we're going to all know if you don't get your work done there's going to be a problem, but we're not going to watch every minute that you do. So we were very liberal like that, but we expected the work and everything to get done without any issues.
So we tried to build a culture that treated our employees just like we were treated. We weren't any better than anybody else. I mean, that's true in any business, you're not aloof and above all the people that work for you. you're just part of the cog, a part the wheel. So we tried to make people feel that they mattered. We had a totally open office concept. They could come talk to me or they could come talk to Michael. So they just felt like we cared about them and I think that's... You read studies that they pay is third or fourth down the line and some people believe that and some don't, but I think it's totally true that they want to know that they have a good steady job and their employer appreciates them.
And we use that as such a great tool in hiring people, because we'd say, "You'd be lucky if we offered you a job. You get 401k, you get insurance, you get time off, you can come talk to anybody anytime you want, you get training for free." We trained them, we got them certifications and I mean would say no other employer did what we did. So when a perspective employee came to us, we just stood out so much over other job offers they might have, we got whoever we wanted.
Robert Wagner:
Yeah. That's fantastic, and it's music to my ears because where we started that part conversation was, at the end of the day, these things translated into value. So yeah, they were differentiators in terms of hiring and you showed up different in your market in terms of attracting people to it, that all of course mattered day to day, but then it mattered again in the end. And I mean, this is self-serving, but this is just something that I preach all the time is that yeah, you have to have revenues and all those things, but there's a lot of other value drivers in a business beyond just a top line number or even the bottom line number. What's the quality of that number, right? How can someone take this company and rely on that number and get their value back and then grow it from there. So I appreciate all that you said there.
Staying on the topic of investing in the people, so you've got Advanced Cabling and in the basic business, the structured cabling business. I mean, it's not highly technical work, you're dragging cable through stuff, but yet you elevated that company and then you had to elevate the people too through training. So I know you've mentioned this a couple times, but maybe you could just talk briefly about that, I mean, what a powerful thing to take people and elevate their skills, right?
Bob East:
Yeah. And it's kind of a when I look at it, I say, "Why didn't everybody do that? I mean, what else would you do?" And to have people that have those certifications when you're selling a job and you state that the perspective client, we're Microsoft Certified, everybody's got a license and it just looks like, I mean, of course they're going to want to use you. And you're, you're people appreciate it, because I mean, they want to learn, they want to grow in their business. So it's just kind of like why, why in the world would you not do that? And it brings so much benefit to you that it's something that I think a lot of people again they say, "Well, it costs $500 for each person to go." And so yeah, it does, but you get that back. And I think that's what a lot of people they're shortsighted in their technology and not just that, I mean, it is expensive. I know, but it pays benefits.
And when a company looks at you to purchase you, stand out above all the rest because you've done those things, you've got great company culture, you've got trained people. And why would they, I mean, especially in times like this, when labor is so short, and skill labor so bad, that you hire people by offering them more money and stealing them, why wouldn't you do everything you can to keep your great employees and train them. And then they appreciate that and they have a lot more loyalty.
So it's a key to running a business and you've got to have, I mean again, and of course in this day of social consciousness, which is a great thing, you have to look at the people that work for you as valuable assets. And again, you're not any better than they are. I mean, you've taken the risk, of course, and you're going to make money if everything goes right, you're also going to go bankrupt if they don't go right. But you're still just like they are, you serve a function, but all of those men and women serve a function and they're supporting your business and you got to let them know through a lot of ways that you appreciate that.
Robert Wagner:
So let's shift to east Harding. And again, let's kind of start at the end. I hate to call something the end, but you've transitioned your ownership of it. And that again, you gave a great explanation of kind of why that transaction had to be different. I mean, a general contractor in a geographic market just typically cannot sell for multiple of earnings. So you did a tenured transaction, you and Tom did with the President of the company. So for the same reason that, or some of the same reasons at least that it's hard to sell the company outright to a third party. I, it seems it's hard to think about 10 year, well, first of all, who can think about 10 years in any business, right? How did you have the confidence to have a 10 year plan?
Bob East:
Yeah, that's a good question. I don't know that we were smart enough to realize how long that was back then but I was talking to Tom one day and I said, "We need somebody that is really a good marketing person, exceptionally ethical person, personable and conscientious and not somebody that knows construction. Because I don't mean this is bad, but when you get those older construction guys that run those businesses, they start telling, I say they, I'm one of them, but you start telling all these old construction stories about, do you remember when that steel didn't fit down in Mississippi and remember the rain and, you just get kind of off on a tangent of that. We wanted somebody that knew how to run a business and take care of people and we would teach them construction.
And we found Van, he worked for the Chamber and I knew him through, he ran Riverfest and he was just a great guy. And so the way I've done several times, I took him to lunch one time and I told him that we were looking for somebody to take over our business, and would he keep his eyes open and of course my ulterior motive was that he might call me back and say, "Hey, what was that again you've done." And sure enough he did and had the ability to get some money to give us a down payment, which is just a commitment on his part. And so again, he had to pay for the business through the profits of the company.
So we had to do a two tier payment deal where part of our payment was salary for a long time and part of it was for stock. So we valued the stock at the first of the 10 year deal and we didn't change that value, so we didn't have to revalue and have that subjective discussion every year, it was already valued. And then we got paid a management fee which of course is taxable at a higher rate than the stock sale. We had five years that we had to work a certain amount of days. So in those years, Van learned about construction, the last ive years was more of a consultant. But Van went from knowing nothing about construction to, he doesn't need me to tell him anything now.
So he learned the business in that five years. He also got the confidence of our employees, which he had to earn because he did not have it when we started. Tom and I were there before any employees and we were the face of the business. And so he had to earn that respect, which he did. He had to earn the respect of our customers, which was even harder. Our old customers, a lot of our customers are 10, 15, 20 year, some 30 year customers. We had to make that transition. So you can't just do it overnight. And he went through that. We had ups and down, we dealt with each other totally above board and it worked out great.
Now Van has got a great reputation. He's running the company entirely, he's doing a better job than we did, because he is bringing in a lot of new management techniques and keeping up with what's going on in the world. And so what that gets us is this company that I started when I was 24 cleaning leaves out of gutters is now going to go on, people that have worked for me for 35 years are going to still have a job. They're going to retire, sometimes their kids have worked there and that business this will go on and keep being a great source of pride for all of our employees and a source of income. So it's really very satisfying to see that transition and see it going on.
Robert Wagner:
Yeah. So we're entering the end of our time here today and I just appreciate all that you shared. So as you know, we have five questions that we ask every guest on How That Happened. So are you ready?
Bob East:
I am ready.
Robert Wagner:
You hope so.
Bob East:
Fire away.
Robert Wagner:
So what was the first way you made money?
Bob East:
You mean from a young age?
Robert Wagner:
Yeah.
Bob East:
Paper route.
Robert Wagner:
Okay.
Bob East:
My brother and I had a paper route I still point out place where they delivered our papers to my wife and kids. Every time they drive by it and they're sick of me saying it but I was probably 13 years old. And for some reason we got up at 4:00 every morning and walked up this big hill and got our papers and split them up and folded them and delivered the paper. And my brother had the Gazette issued bag which I was so jealous of and then my mother made me a bag, which I was so disappointed that I had this homemade bag, didn't say Arkansas Gazette on it.
But I had a great mother and dad growing up and a great brother and great family, so I just learned to do. I don't know if it's a work ethic or what, but I think about it now and I thought, "Men, I would complain more if I, if I knew about it back then," But I worked for a contractor starting when I was 15 in the summers and my mother had to take me to work because I was too young to drive and then I'd worked every summer through high school and college and then started a construction company when it got out.
Robert Wagner:
So if you had not ended up in construction, what do you think you would've done?
Bob East:
I think I was really lucky to do that. I look back now and I don't know what I would've done. I mean, I had friends that were being hired as bankers and one of my best friends got hired in a bank in Memphis and they were going to pay him $600 a month? Yeah, 600 a month. And I thought, "God, what would you do with all that money if you were making, how's he make $600 a month??
Robert Wagner:
He's just sitting around too, right?a
Bob East:
Yeah, exactly. My dad was banker and I wasn't a banker type and I just never thought about anything else. So I don't know what I would've done. I think I'm lucky that I got into construction and I mean, I'm always curious about things, I learned so much about so many businesses and construction is a business that demands lot of attention. So I learned quickly and I don't know what I would've done. I probably would've been a bush pilot in Alaska.
Robert Wagner:
Okay, fair enough. So Bob, what would you tell your 20 year old self?
Bob East:
I think that, and this is today I think more important than ever because business people are so vilified everywhere, people talking about capitalism and it's the greatest system in the world, but you yourself have to have the highest integrity and be completely honest with your customers because if you aren't, all your customers are going to know you as that person. In fact, in your whole life, I think that's the most important thing is you keep your integrity and you do what you say you're going to do. And then, if you fail, at least you fail while you're trying to do something. But if you start bailing then you need to keep this guy's money for something or cheat somebody out of a thousand dollars so you can pay your bills, just fail, don't do stuff like that, or keep your integrity.
Because, and I've told my kids that too, since they were little babies, you just got to do what you tell people. And I still have customers that will say, "Remember when my roof leak about so and so," and that's not very funny, but I do remember, but then they say, "But you came back and you did the right thing and you fixed it." And that's what people remember about you and I think that you've got to always keep your reputation intact.
Robert Wagner:
Yeah. That's great advice. What will be the title of Bobby's book?
Bob East:
Two things. One would be, Why am I Such a Slow :earner? And the other thing other title would be, How Did I Get Such an Exciting Life? Because I've had a great life. And I never thought about working for somebody else and I didn't do that consciously, I just started my own business and my wife started her business at the same time, Cynthia East Fabrics, and people say to us now, "We just couldn't believe that you did that." Well I mean, I didn't know why everybody didn't do that. So I've gotten to learn so much, meet so many great people and be successful in these businesses. I've had so many people that are friends and help me and were part of whatever success I've had. And so I've had a great life.
Robert Wagner:
That's great.
Bob East:
And I'm very blessed and thankful for what I've had.
Robert Wagner:
That's great. So Bob final question. So what's the best piece of advice you've ever been given?
Bob East:
This guy was very successful in his business, exceptionally successful, and people always say in him, "What's your secret? What's the secret sauce?" And you hear that a lot. What's the secret sauce? And his answer is, "There is no secret sauce, you got to work harder than everybody else, you got to have the highest integrity, you got to solve problems aggressively, you got to do the right thing, you got to take every piece of business that's good, profitable business and make it happen." So his deal was, "There is no secret, you got to work harder than other people and do better, and that's what people think is a secret sauce."
Robert Wagner:
Okay, Bob, thanks so much. I appreciate your time today and the great insights that you've had and I appreciate great taking the time to be here with us.
Bob East:
Well, I appreciate HoganTaylor taking the time to do this. This is so helpful to so many people. And now that the word entrepreneur is the most overused word in English language and people are all looking for help, you guys are really giving a great thing to go to and find our that they couldn't know. So thank you.
Robert Wagner:
Yeah. Thanks so much, appreciate it. That's all for this episode of How That Happened, thank you for listening. Be sure to visit howthathappened.com for show notes and additional episodes. You can also subscribe to our show on iTunes, Google Play or Stitcher. Thanks for listening.
This content is for informational purposes only and does not constitute professional advice. Copyright 2020 HoganTaylor LLP. All rights reserved. To view the HoganTaylor general terms and conditions visit www.hogantaylor.com.