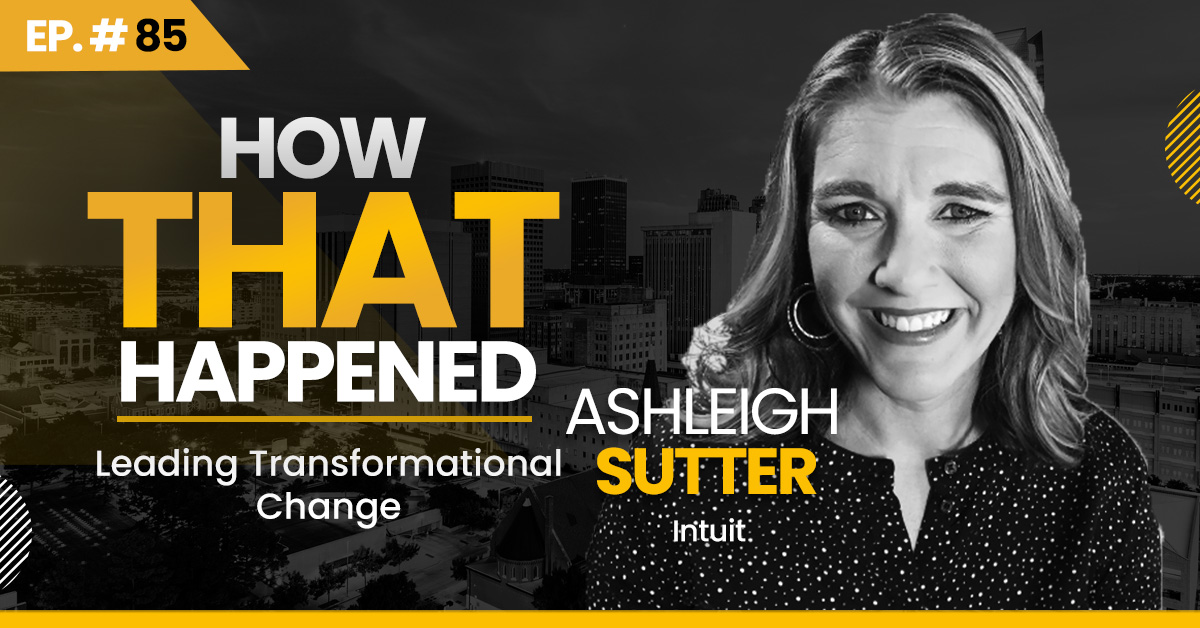 Ashleigh Sutter:
So I think there's going to continue to be a transformational change in the industry from a technological standpoint. The challenge, I think, we as an industry, and I think it would extend beyond accounting, is how do we then upskill the talent that we have to fill the next gap.
Robert Wagner:
From Hogan Taylor, CPAs and Advisors. I'm Robert Wagner, and this is How That Happened, a Business and Innovation Success podcast. Each episode of the show, we sit down with the business and community leaders behind thriving organizations to learn how business and innovation success actually happens.
Our guest today is Ashleigh Sutter. Ashleigh is the director of sales for US-based large firms at Intuit. Prior to joining Intuit in 2021, she was the practice director for Accounting Advisory at Elliot Davis, a top 50 US accounting firm based in Greenville, South Carolina. Ashleigh has a passion for assisting accounting firms through the growth of their client accounting services journey and helping them transform and grow their practices. Ashleigh holds undergraduate and graduate degrees from Bob Jones University and is an executive board member of Ronald McDonald House Charities of the Carolinas. Ashleigh, welcome to How that Happened podcast.
Ashleigh Sutter:
Thank you. I'm honored to be here today.
Robert Wagner:
Yeah, thanks for joining and it's turned out to be a big day. We picked this day a few weeks ago, which you've had a big announcement today and promotion today. So tell us what your role is at Intuit and what you say Grace over, if you will.
Ashleigh Sutter:
Yeah. So excited to be here, just to share my journey, but my role at Intuit is the director of US Accountant sales. And before today, as you mentioned, that was the large firm sales team, which was basically the top 25,000 firms. I had a team of about 45, 46 people that had managed accounts, meaning they had firms that they were responsible for meeting with on a regular basis.
As of today, an announcement went out that I am leading all of accountant. So that now includes what was previously called small firm and large firm, which represents all firms in the country. And so really excited about that change. Having been, which I know we'll get to having been or I am a CPA. I'm passionate about serving accounting firms, and so being able to do it with one voice across our sales team is really exciting to me.
Robert Wagner:
That's very cool. So this is not an accounting firm podcast, so just so our listeners know, the accounting firm world in the United States and maybe across the world is a very fragmented industry. So there's obviously most people are aware of the big four and then there's a top 100 and 400, and then there's thousands literally of accountants practicing as solo practitioners to two or three. So when she says thousands of firms, that's the people we're talking about, so you are a CPA, you grew up in public accounting, you're doing audits, tax returns, all those things that we do. And most previously you were leading an accounting consultancy, now you're a sales executive at a Fortune 500 company. How did that happen?
Ashleigh Sutter:
I asked myself that honestly, every day. I think it is being open to the right opportunity. Throughout my career journey, I have aimed to always be learning and not necessarily knowing where it was going to take me. So when the time came for me to leave Elliot Davis, I actually didn't know what I wanted to do. I felt this freedom that I'd never felt before. I explored starting a coaching business. I explored going back into public accounting and honestly this role at Intuit opened up to be a contract worker. So I didn't even have a full-time job when I came on at Intuit. I was brought on to be what they call the firm industry liaison with a made up role that they created for me. And I just joined calls with firms. I joined calls to validate what they were trying to accomplish.
I joined calls to share roadblocks they may encounter and help them avoid them, but I left those calls with no homework. I just got to come and share my expertise and it was amazing. But I had no benefits. I had no anything coming from that. So I was like, this is a big risk to take this. But after two months in that role, I was offered a full-time position for that same role. And about two weeks after I accepted that role, my leader announced his retirement and I was like, oh boy, I just came. And my leader was one of the main reasons I selected Intuit, even in a contract role. And then my then leader or his boss, I guess reached out to me and was like, you didn't raise your hand for this role. And I'm like, I haven't even signed up for 401k yet, so why would I raise money hand.
And so was able to go through the interview process for that director of sales role, which in Intuit is an executive level position, and was honored when they asked me to fill this position. Ironically enough, through that journey, I was pregnant that entire time. So I actually had my son at three days later they offered me this director of sales role, and I was like, just mind blown when you say, what do you say, grace over? It's those things. Like how can I have ever planned, timed, any of that? So it's been an amazing journey.
Robert Wagner:
Yeah. So all of this happened in the pandemic timeframe. Are you a pandemic jumper? Were you going through that values clarification and thinking about what I want to do with myself? And was that part of this?
Ashleigh Sutter:
No, not necessarily. So through the pandemic, my team at Elliot Davis was incredible and there's a number of them still there that just... the people and the care and concern for not only our people and employees, but also our customers was fun. So that part of it wasn't really a question for me. We kind of got out of one, we're in South Carolina, so the pandemic ended before it started, which who knows if that was the right or wrong answer, but we were back in the office shortly after and we were kind of returning to business as usual, but there wasn't really a clear opportunity for leaders to grow within the firm. So there wasn't really a clear path to partnership for people in the outsourced accounting space. And if you're in a public accounting firm, most employees are driven to, that's the carrot you're trying to obtain.
And for me, I wanted to make shareholder, I believed I was doing the right things and that I was adding value, future value to the firm, but the firm didn't really have a clear path for advancing solid leaders to that shareholder level. And so that's when I kind of said, maybe I'm tired of being on that rat race. So a little bit of it, yes, was the value part of it, but it was more just stepping back and looking at my world, my spirit influence and my family and going, do I want to stay on that rat ready or do I want to find something that values my opinion, values my what I would call transformational leadership, but also allows me the flexibility to still be an amazing mom.
And I have the ability and the flexibility at Elliot Davis, but I didn't have the embracing of my transformational leadership. And so that's when I started down the path of what's the next move? So I don't really believe it was pandemic related, but more just going, where can I make the biggest influence? And I've exhausted my options here at making a big influence.
Robert Wagner:
Yeah. That's very good. I'm still fascinated by this transition from a large accounting firm. I mean, Elliot Davis is a large firm, has I think around a thousand people, but you stepped into a company that has tens of thousands of people and into a sales leadership role. So talk about that a little bit, what that transition has been like and leading a Salesforce. I mean, that's something you've done before, right?
Ashleigh Sutter:
No. Well, I would argue, yes I have, but it's always looked different. And it's kind of funny, I'm going to take you all the way back to my childhood, but my dad used to sell Snap-on tools. He owned a Snap-on tool's franchise for 18 years. And he always tells the story of he knew I was destined for sale because as a six year old, this guy stepped on his truck to get a ratchet or something, and it was around Christmas time and he was buying stuff for his employees. And I was like, oh, well you need this screwdriver set, it's new and blah, blah, blah, blah, blah. And then I was like, what got this impact driver? And I started showing him all these things and he started adding stuff to his pile purchasing. And so my dad joked that he wouldn't have sold all that stuff had I not been on the truck that day.
Fast forward that under Snap-on, he got into Allstate franchises. And so I led one of his Allstate franchises selling property, casualty insurance, life insurance. And the things I loved about working at Allstate was I was selling something that everybody needed. It wasn't like I was picking some random thing and hoping to find the ideal customer. Everybody needed auto insurance everybody needed homeowner, renters so that it was something that was something everybody needed.
So then when you fast forward to Elliot Davis and leading a CAS practice, yes, I'm leading customer servers, but I'm also leading sales team members because they have to drive in revenue. One of the things that we were flipping in our organization was not just relying on shareholder referrals, but actually going out in the community and getting leads and serving and finding customers. So is it on the scale I'm doing today? Absolutely not. But it was one of those things I wasn't afraid to try because I've done cold calling, I've done portfolio sale, maybe not to the scale as which our team does it Intuit, but selling more than just my one product.
At the firm, Our team led the way with bundling in other services like cybersecurity, tax, all these things. So we were the ones leading that way. So while it's a big leap, I felt like all these little steps along my journey were learnings that I could then take into this new organization. And the transition to me was easy because I truly care about people. And so people are the same constant in all of those roles. It's figuring out what's important to them. It's figuring out what way they need to learn. It's all about making it fun. And that's the same no matter where you go, it's just a matter of I'm at now a 10,000 person company versus a thousand person company.
Robert Wagner:
Yeah. Very good. So what's been the biggest aha moment of making this career change?
Ashleigh Sutter:
Well, I have two. First is more philosophical and that is relaxed and it sounds funny and I'm going to add a story with it, is that I'm in the middle of training for half marathon and I've been using the Nike Run Club app with their guided coaching running. And the guy said on our last training run that you need to relax in order to be your strongest. And he used the example of you can't see the thing in the palm of your hand if your fist is clenched around it. You have to open it up to see. And as I think back through my journey of Elliot Davis coming to Intuit and even my progression it Intuit, I mean even my leadership team is like, this is the fastest ascension we've ever seen. And I'm like, I'm not even pursuing. I'm not looking on the job board looking for opportunity.
It's things that I'm just trying to do the right thing. And so when I contrast that to my experience at Elliot Davis, it's simply stepping back and relaxing and let be what happens and just committing myself to doing the right thing. So I was committing myself to doing the right thing the whole time. But it's that part of relaxing and letting it go I think has been one of those realizations.
Now are there times that I still try to control, I'm sure. But it's just been one of those things where I'm like, man, I really am my strongest when I'm not worrying about that and I'm focusing on how to do the right things and do the right things for our firms. The second one is more accounting related. I know you mentioned your listeners aren't necessarily associated with the accounting industry, but it was a reminder to me that no matter where you are coming from or where you are going, there is learnings and similarities.
So for those of us that work in outsourced accounting practices, many shareholders within our firms don't understand what we do, don't understand the value of what we do, maybe don't know how much we should charge or what our services fully incorporate. And so we spend as practice leaders educating them and trying to bring them along the journey and making sure that they're asking the right questions and doing the right things. Coming to Intuit, there's similar challenges for me, is really understanding how firms operate, what's important to firms that's different than what's important to Intuit. Why does this product enhancement that we think is amazing totally destroy the workflows of a firm?
So it's just been really interesting in that I'm having a lot of the same educational conversations I had at Elliot David than Intuit, but with different stakeholders and different impact. And so that was something I didn't expect, but it's energizing to me because I really am passionate about others coming along this journey with me. And now in my new role at impacting so many firms, it's really exciting that one decision we could make could cascade to so many people and make their lives better, but then ultimately accomplish that Intuit vision of powering prosperity for our customers. And so that was kind of just an aha moment for me that I'm really doing a lot of the same things, but it's just with different stakeholders in different conversation.
Robert Wagner:
Yeah, very good, very good. Great learnings there. And it's always helpful to us. I think it's just human beings to sort of analogize our past to our current, and you're right, and our future, it's sort of comforting and gives us confidence I think. So it's a good segue into something I want to talk about and just the technology that's happening these days. Hogan Taylor has committed at least a part of our practice to the Intuit platform and to the QuickBooks online platform. And really with the very few exceptions, we believe that's the answer for most small and medium sized businesses. And to me, it's exciting how much that is changing, how much the platform is changing and how much the technology is advancing. And I guess I just wanted to get your perspective on where that's going.
I can argue both sides of this coin really, that in some respects, accounting hasn't changed a lot. We're still processing purchase orders and invoices and cash payments and sending invoices to customers and all that. And then I can argue that it's changed immensely over the course of the last 20 years. There's so much happening from the technology standpoint. So as an Intuit representative, and I know you can't give away secrets of the roadmap here, but is there just continuous advances in automation of things we already know or is there a sea change, a transformational thing going to happen in the processing of transactions?
Ashleigh Sutter:
And this is going to be more Ashleigh's theory versus Intuit theory because candidly, I'm involved from a product recommendation standpoint, and advocating for prioritization. But our number one goal is power in that prosperity for customers. So then it's a matter of, okay, how do we best do that and impact in a positive way our firms and our customers? I'm with you and I absolutely believe the accounting industry is going to continue to need people because relationships are critical to the success of businesses and their leaders.
But there is going to continue to be a change of how we do the business. And by that I do mean trying to develop, having more data to do the AI for auto recording or auto transacting so that you're not setting up manual rules for everything or having to manually set up rules, I should say the system does it for you, or at least recommends them. Like put books online guys.
We have to as a company and us also just as an industry, continue to look for the ways to remove the repetitive tasks. Those are a sense of securities for those of us that have been in the industry a long time because we know how to do those. But the reality is the industry's going to change with or without us. So how do we proactively look for opportunities to remove those repetitive tasks and be able to add values through the advisory with customers?
So I think there's going to continue to be a transformational change in the industry from a technological standpoint. The challenge I think we as an industry, and I think I would extend beyond accounting, is how do we then upskill the talent that we have to fill the next gap? So if we take that role of the repetitive tasks or whatever may be away from them, how do we teach them how to interpret the data?
How do we teach them how to communicate that data? Because interpreting is one thing, but then telling the story to the customer is another. How do we get them across that bridge? When I started my career, I started in audit and tax and I was doing tax returns and I was putting numbers on the actual return. Nowadays, sure prep and that's a brand name I don't even know, but there's prep softwares that just put it all in. So those first year staff don't know that, oh, well that goes on the M1 adjustment. Or oh, that's an M3 adjustment. They don't have that same training. So then how do you get them to that next level advisory? So transformational changes technology yet, but what is the impact to our people and do we compensate for that so that they're ready for that next level of automation.
Robert Wagner:
Yeah. Hey, you hit exactly where I was kind of going next was what if I'm a young person, what do I do about this? Because I see this happening where the word is, Hey, we're going to free people up to do more analysis, more tell the story of what the numbers are saying. But even if you're a degreed accountant studying for the CPA, or maybe you recently passed it still takes experience to be able to do that. So how are you going to get it? And I think it's a real challenge for the industry and maybe for companies like Intuit. You've got all these thousands and thousands of customers that have just been processing transactions, and that's been a huge part of the value that they've brought to their clients. Now they need to shift. It's a big challenge.
Ashleigh Sutter:
And I would say from an Intuit perspective, that's why, and granted, I'm the leader of the accountant group, but that's why I'm passionate that our customers need to be attached to accountants. The success rate of businesses increases when they're working with accountants. So to your point, we've helped that customer do the input and automation and get the numbers out, but attached to that accountant to know what those numbers mean and to also know how to get those numbers where you want them to go. Are you looking to sell your business in five years? Are you looking to collect ruple inside? What are you looking to do? Partner with an accountant to make that happen. And that, as far as young people step into the industry, some things I'm passionate about, even if your business or firm doesn't support are things like communication training. Like take a storytelling class.
I know it sounds silly if we're business people, but our job is telling stories. So take speaking classes, communication is in my top five strengths. I've been doing speech and debate from high school. I still take speech classes. Like just last month that a lunch and learn here in Greenville on removing diminishing language. And so no matter where you are in your journey, you can always improve. And so I would say if I'm a first year staff, I'm going to invest in communication, whether it's written, whether it's storytelling, because those are principles that can then translate into whatever you're doing, whether you're telling stories about financial statements or pitching an idea. Even if my company now, I have to sell things internally, not only do we sell to firms, I need to sell ideas internally. How do I make them appealing? =How do I get the hook? Those types of things.
The second thing that I would advocate for, especially if you're an accounting function, but even if you're just a business, is looking for opportunity to mentor with those business leaders who've been through the trenches, learning how to, Hey, can I job shadow you or can I review your financial statements with you every month? Even just if I can just, maybe they're not a firm customer, but just your buddy who owns whatever, can we talk about them? And I can learn what's important to you.
I think we're sometimes so busy that we're so afraid to make time to learn from people who's been through it before us. And then I think those of us that have been through it are sometimes so busy, we don't make time to make that available to others. So I think it's a matter of bringing people along in that journey because in the firm environment, some firms I know they require first and second year staff to sit in on client meetings and just take notes, just to observe, just to listen. And I think that's just so valuable. I did not have that going through my journey, but I think that's something that's valuable to bring that younger generation along and encouraging them to soak it all in as they grow in their career.
Robert Wagner:
Yeah, that's awesome. We haven't mandated that, but we do try to practice that where if we're having a CFO kind of meeting with monthly meeting with the client, we bring the manager or the staff along as well. So that's very good. Those are great recommendations. I love the communication piece. So another question just about your background and maybe how it's impacted. You were at a firm in Atlanta, I believe it was called Rodl, is that right?
Ashleigh Sutter:
Yep. So I was based out of Greenville, but Rodl was a German accounting firm that had five offices in the US and they had a number of international offices overseas, obviously had in Germany.
Robert Wagner:
Right. So you had told me that at that firm you had got assigned a client and you would do that client's work soup to nuts, you do the audit, you do the tax. There was maybe some consulting. Obviously you couldn't violate the independence, but you could do as much as you could with that client, which is different. Most firms are siloed off audit people and the tax people, and that's a whole other podcast there about how well they talk to each other. But how has that impacted you, if at all, just having that full circle experience working on clients?
Ashleigh Sutter:
No, it absolutely did. Well, number one, all of our customers were internationally owned subsidiaries. So I didn't do any domestic work. And you would go in and do audit planning, then you would do the tax provision, then you would come back for year end audit work, then you would do the tax return. And then in the summer you would do the benefit plan audit. And sometimes you might do the owner's tax return. If there was individual owners, you would do those as well in the summer. The reason it has been so valuable to me, even to this day at Intuit, is because I saw it from start to finish. Did I know it all perfectly? No. Do not come ask me what international rules have what. I know there's big fines if you fill out your international forms wrong. But that was too long ago in my career journey.
But when I got to Elliot Davis as the leader of the CAS practice, our tax department relied solely on us for the financial statements of some of our customers because we were doing their bookkeeping and their accounting. So typically what would happen the first year I was there is that we'd get to the end of the year, we had payroll tax returns to do. We had 1099s to do, and then we had to start closing out all of our customers. Well, let's say January 15th, tax is already knocking on that door via email going, send me these 15 reports. And I was like, oh boy. And then the floodgates opened because every person was asking for the returns, and we didn't really have a timing or a structure of expectation attacks to say this client would be available at this time. So we started setting that up as far as expectation, because realistically guys, we can't do it all.
But what I worked with specifically our international group, right, because there's a lot of things around unrealized gain, losses, international related party transactions, all those things that you have to report. We in collaboration with the international tax team created a spreadsheet that had all of the information in one document. And so now we sent them all of them financial statements and that spreadsheet all at once. And hopefully if we did well, they didn't knock on our door again.
Not because we didn't want to talk to them, but we streamlined the process. There is no way I could have even started that conversation effectively with my tax peers had I not had that experience of seeing it all the way through. Here at Intuit's valuable too, because I know the CAS workflow pretty well. I know that every firm has a little bit of different kinks, but I know generally why we're doing what we're doing from a CAS workflow standpoint.
But I also understand that's also going to another end state. It's getting to that tax return as well. So not only do we have the consulting advisory that the consulting group needs to do, or the outsourced accounting group needs it for, but we also need to make sure that it still continues on its journey to the compliance reporting required by the IRS. So it just gives me a full circle picture. I joke that if enough information to be dangerous. I mean, you might experience this too, but anybody who hears I'm a CPA is like, oh, well can you help me make taxes? And I'm like, no, but I know enough to go you might want to look into that or that doesn't make sense, go ask someone. But this just helps me to see that full picture and step back that I wouldn't have had, I don't think, if I hadn't done that full circle soup to nuts operation.
Robert Wagner:
Huh. That's awesome. Very good. I love those stories. I tell people that I still use my audit experience kind of every day. Just that skepticism and inquiry and sense of things aren't right. So I love that. So Ashleigh, we talked all about your career and stuff. What do you do when you're not thinking about these accounting things and these Intuit things?
Ashleigh Sutter:
Well, first and foremost, I am a wife and mom. So my husband actually, we keep it the family. So he is a director at BDO. He is starting their audit, practicing the Greenville Stop Carolina office. So while I don't have a busy season, officially, we are in busy season, but beyond that, we have four kids. I have a 10 year old, a six year old, a four-year-old, and then a 16 month old. And so three girls, and then our last was a boy. And so that's kind of what soaks up my time now.
I did mention earlier, I'm training for hack marathons right now, so I'm running, I do not running. Matter of fact, I asked the shoe store to sell me shoes that wouldn't make me running. And they're like, that's not exactly how this works. But yeah. So I'm either hanging with my kids, we love being outdoors.
Even this weekend we were just in the woods cutting up trees and mine and they were just having the time of their lives and it was a lot of fun. So hang out with my kids. The other thing you mentioned in the intro is that I had been serving on the board of the Ronald McDonald House for a number of years. And so this is actually this year I was, I guess promoted, if you will, but voted in as the chairwoman for the board. So my first year serving in that capacity and really just exciting things, trying to support families going through unimaginable crisis, and it's just been fun to be a part of an organization like that.
Robert Wagner:
Okay, awesome. Thank you so much. That's great stuff. Sounds like a great family as well. And I love the accounting family, so. All right, Ashleigh, we've enjoyed our time together. Just before we wrap up though, we do have five questions that we ask every guest. So, are you ready?
Ashleigh Sutter:
I hope so.
Robert Wagner:
Yeah. All right. So what was the first way you made money?
Ashleigh Sutter:
Oh boy. I was going to say working for my dad. He would pay us for our work. So the jobs that I had starting at seven or eight was checking in tools. So like receiving, when we received a shipment of tools from Snap-on, there's a checklist and you had to check them all in. And then we also would do annual inventory, which back then there's no barcodes. So you read off every number on sockets, every number on the ratchet, side story, even this weekend, my sister was asking for a T shake screwdriver, and I was like, you mean at Phillips Head? And I was like, oh, did you not? Like our dad sold tools. How do you not know what his screwdriver is?
So that was the first point I made money was we got paid for our work with the business. And then I also was responsible for sweeping, vacuuming and washing the truck because his truck was the most pristine Snap-on truck, probably in the country. But then my first real job was either BI-LO as a cashier grocery store, or I worked at Hobby Lobby and I set their first store in Greenville, South Carolina. So when they opened the first store, I was one of their first employees who set the inside up. And so kind of funding.
Robert Wagner:
All great experiences. Wow. So if you were not doing what you do now, if you're not director of sales at Intuit, what do you think you would be doing?
Ashleigh Sutter:
Well, what I thought I was going to be doing was being an attorney. I actually got my accounting degree to go to law school. But honestly, I don't know the answer to that because I do love what I do. Whatever I would be doing would be impacting people for the better. I want to leave them in a better state after they've met me. So, I don't think it has to be a specific rule as long as I'm able to impact others.
Robert Wagner:
Yeah. Okay. So what would you tell your 20 year old self?
Ashleigh Sutter:
Hm. 20 year old self. I was getting married right around then, travel alert before kids.
Robert Wagner:
Right.
Ashleigh Sutter:
We love traveling, we just don't do it as much because we have a crew of kids. But no, I think it go back to what we talked about earlier, just when you are relaxed, you're at your strongest. And so continue growing and learning, but don't do it at the expense of trying to please others or trying to get to the next thing. Do it for the sake of it's the right thing to do.
Robert Wagner:
Yeah. All right. Very good. So question number four is, what will the title of your book be?
Ashleigh Sutter:
Breaking Barriers.
Robert Wagner:
Okay.
Ashleigh Sutter:
Yeah, the Journey of Transformational Change or something. It'll be something related to transformational leadership and breaking barriers.
Robert Wagner:
Okay. All right. So last question is, what is the best piece of advice you've ever been given?
Ashleigh Sutter:
Best piece of advice I've ever been given. Oh boy. Actually, I know exactly what it is. It is never give someone else's feedback. It was probably the biggest transformational turning point in my leadership career. Instead of giving someone else's feedback to somebody else, like passing it along, if you will, it's really coaching and equipping that person to have the hard conversation. One, because every time I tried to give the feedback for someone else, I didn't have the whole story. It never went well. It pretty much blew up in my face every time. But there is an empowerment for that person and also yourself to being able to coach them in those hard conversations. So I would say the best advice I ever got is don't give other people's feedback.
Robert Wagner:
Wow, that's great. Not heard that one before. So that's excellent and it's great advice. Because I've had the same experience where you're trying to step in as the leader and help a situation along and it doesn't go well.
Ashleigh Sutter:
Well, and you want to fix it. You have a good intention.
Robert Wagner:
Right.
Okay. Thank you so much for this conversation. If folks would want to get in touch with you, learn more about what you're doing, is there a way to do that?
Ashleigh Sutter:
Yeah, definitely. So I am on LinkedIn. I am going to spell my name, both, I am a little bit different, but A-S-H-L-E-I-G-H and last name is Sutter. And then also you can reach me at my Intuit email address, which is ashleigh_sutter@intuit.com. But happy to connect with you anywhere. I am also on Twitter, less vocal on Twitter than most, but it meant if you want to peek into my personal line, I'm Ashleigh Sutter on Instagram, and you can see more of the Running Church journey and my amazing kids and husband, so you can see that there.
Robert Wagner:
All right. Awesome. Thank you so much. Really appreciate it, Ashleigh.
Ashleigh Sutter:
No, I appreciate being here and just the opportunity to share with you all as well. So thank you so much.
Robert Wagner:
That's all for this episode of How That Happened. Thank you for listening. Be sure to visit howthathappened.com for show notes and additional episodes. You can also subscribe to our show on iTunes, Spotify, Google Podcast, or Stitcher. Thanks again for listening. This content is for information purposes only and does not constitute professional advice. Copyright 2022, Hogan Taylor, LLP. All rights reserved. To view the Hogan Taylor general terms and conditions, visit hogantaylor.com.