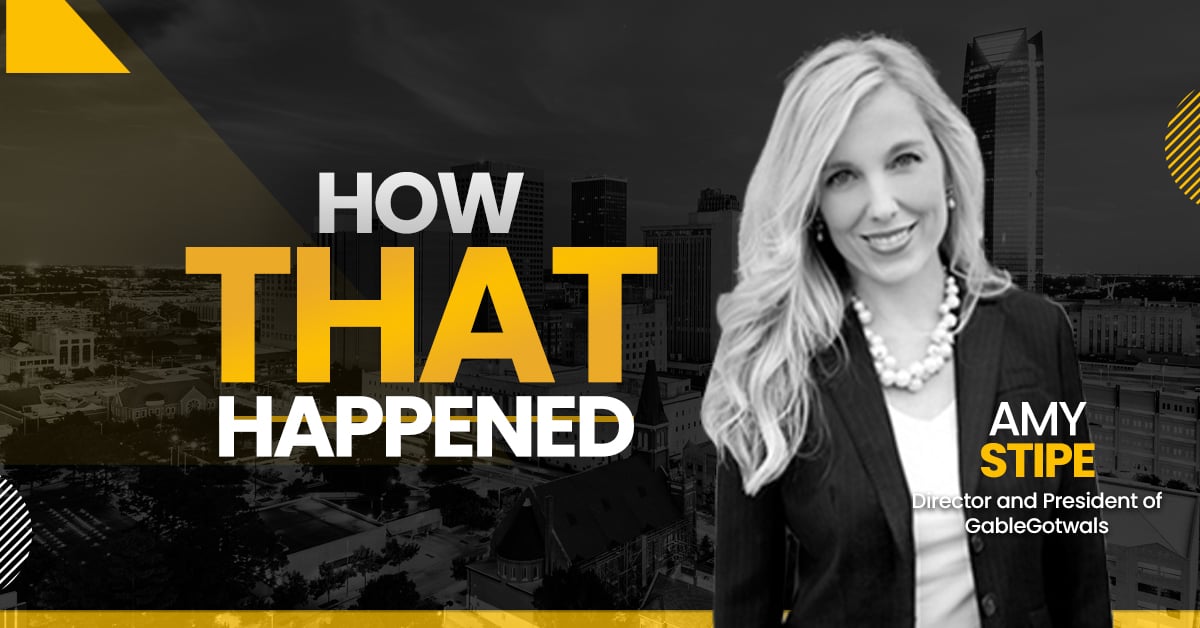 Aaron Ackerman:
From HoganTaylor, I'm Aaron Ackerman. And this is How That Happened, a business and innovation success podcast. On each episode of the show, we sit down with business and community leaders behind thriving organizations to learn how business and innovation success actually happens. Thank you for joining another episode of How That Happened. Today, my guest is Amy Stipe. And Amy has worked her entire 21 year career at GableGotWals, which is an Oklahoma-based law firm, and they've got over 100 attorneys with offices in Tulsa in Oklahoma City.
Amy serves as the first female president in the firm's history. She graduated from OU with a degree in psychology and also went to OU Law. Her husband, who's also an attorney, and Amy have three kids. Amy, I want to just start off with a question that I'm sure everybody's interested in. I know I am always trying to manage my time and my many responsibilities as most people do. I know responsibilities as the president of the firm, you have administrative responsibilities. You still spend a significant amount of time on client facing activities, right?
Amy Stipe:
Yes.
Aaron Ackerman:
You've got three kids at home, both parents are attorney, so what's your approach to time management? Obviously, you're very busy, you're successful across the board, and so I'm sure you don't approach it just willy-nilly. You've probably got some best practices systems that you use. So how do you manage your time to stay effective in all of the facets of your life?
Amy Stipe:
Well, first of all, I just want to say quickly, thank you for having me. I appreciate you being here and honored to talk with you today. A lot of irons in the fire, like most people out there, I think one of the more important things that I had to learn early on was that you cannot manage all of your demands alone. I'm really lucky to have a support network at home with my husband, Jack, who's a tremendous help, and my mom.
Earlier this January, I was in Texas for a couple of weeks long jury trial. And knowing that the two of them were at home making dinners, making lunchboxes, going to gymnastics, those kinds of things, really lets you focus on your job when you need to. And so having that support network is essential to trying to manage all of those things.
And equally important, I think is having such a great support network at work. The attorneys that I work with here, my paralegals, my CEO, who's great, John Dale, they all have similar demands, they understand the demands that are on me when I need to go to the orthodontist or take a kid to a well-check, they understand that schedules need to vary. And so that's very helpful in trying to manage all of these things. Having a job that's understanding, that might translate to some late evenings when I'm having to catch up on work that I missed. But having that support network here as well lets you manage all of those things and keep all of those going aside.
Once you have your team in place, I think that the thing that helps me the most is being incredibly meticulous with calendaring. I've got Google Calendars, Outlook Calendars, I've got a paper calendar on my fridge. My husband and I sit there with both of our phones at night and look at the fridge and say, "Okay, you can cover this and I'll cover this," and you just try to coordinate those. And it usually finds its way of working out. We have a conflict every once in a while when we're both in a deposition or mediation or something and need to call in someone to help, but keeping everybody's calendars straight at ... My eight-year-old has a calendar of things to do. It's funny. Kids these days are almost as busy as their parents. And so keeping those straight is helpful.
And relatedly, I think setting realistic goals for yourself and for your family is really important. I think we stretch ourselves so thin these days wanting to do every activity professionally and with your kids that you really need to recognize you're only human, try to do the things that are important and do them well, and try to keep your sense of humor about all of it at the same time. I've been in a meeting in a suit and looked down and saw some baby food on my jacket. And you feel like you've just done something wrong at that point and you're embarrassed, but you have to just look around the room and say, "I bet everybody here has had something similar happen." So just trying to laugh at those things, get through your tough days, and keep going. And that's what's really worked well for us.
Aaron Ackerman:
Yeah, that's so good. So that's some great advice and tip. So I want to drill down on a couple of things. So I really liked what you said there about setting realistic goals. And for me, this is kind of an exercise that I have to revisit pretty frequently. I know that my wife and I, a few times in our married life and raising a family, have had to sort of just hit the timeout button and say, "Okay, here's everything we're doing. Is all of this stuff really important to us? And if it's not, why are we doing it?"
Because it is so easy. We want to please people and usually the motivation is good, you want to help whether it's at church or on a board or some other organization, in the kids' activities, and you just get so many things you've agreed to. But sometimes, you just have to stop and say, is this really in alignment with our family's goals? And is it important? And if it's not important, just stop doing it. But I know I have to do that spring cleaning every few years and just take stock of what am I spending my time on?
Amy Stipe:
Well, one thing I think that this, our recent shut down with the COVID that's really hit since March, is it's forced people to stay home more. All of our activities ... And I've got a kid on the rowing team and then drum lessons and dance class, and all of that gets canceled, school got canceled, which that's a whole nother stressor, the homeschooling, but everything slowed down. We were forced to slow down.
And at first, it was odd, but then it was kind of refreshing in a way. And I'm really curious to see when we bounce back, how that's going to affect what people do. Maybe we'll be just as busy as we ever were, but I'll tell you personally right now, taking just a little bit of a downshift, it was nice. And I think my family appreciated it, I was less stressed, I was less stressed at work. And so I don't know if there's ever a silver lining to all that's going on, maybe it's just everybody getting a little bit different perspective on some things like that.
Aaron Ackerman:
Yeah, no doubt. That's been our experience too, is you kind of have an activity detox that was forced upon you. Like when you do a diet detox, a lot of times, as you come off of that, you slowly add things back in to figure out if you have allergies or whatever. This is the same way. I think things are slowly getting layered back in, and we have an opportunity to not lay or something back in if we didn't really miss it while it was gone.
Amy Stipe:
Definitely. And I've noticed that there are different phases of your life. I was a lawyer for about seven years before I had my first child. And so during that time, I was going to every charity event and ball and traveling as much as I could for cases and those kinds of things. And then you go into your phase where you have smaller children and then teenagers and you have to back off some of those things. But I think once the kids get older, a little more independent, you fall back into those different activities. So it's different seasons of life and availability, which I kind of like.
Aaron Ackerman:
So a couple of other things you mentioned just tools, like you're a fanatic about your calendar and you have multiple calendars. And we're the same way. Obviously, I use Outlook and live and die by that professionally, but then at home, we've got some low tech calendars, we've got a whiteboard calendar that basically runs our house. But what about any other tools? I know a lot of people struggle with email.
I could spend all day every day, I think on email between work email and home account with kids and school and all of that. I've got this goal, which is probably unrealistic, but I would love to not even have an email account. I've been telling people I don't want to be on email by the year 2025. I don't know if that's possible, but it's kind of tongue in cheek. But it's so easy to get mired in email. I always struggle with how to manage a to-do list. Do you have other tools in addition to or in conjunction with calendaring that you use just to help you stay on track?
Amy Stipe:
Yeah, I do. Actually, the people who know me make fun of me for my charts. I think I even have a chart of my charts to keep us organized. But I've got different school assignments and activities that I have posted that I draft, they're color coded by child. So I keep everything straight. And it's helpful because we can see at a glance what we have coming up and what we have coming down the pike. You mentioned emails. This was the first year, and mainly because of the school closure after spring break, that my kids, the teachers really started using their email accounts through the school. And my kids don't want to check their own emails, a 10-year-old.
And so then I found myself having to check their email accounts, and they get quite a few emails from teachers and other students about projects. And then my own email accounts, my work email, my Gmail. And you're right, it got to the point that you feel like all you're doing is just trying to keep your head above water on those. And it's nice because you can get back to people on your own time. And again, a lot of my colleagues know that I leave work for the day 4:30 or 5:00 to go home and spend the evening with my kids. And then I pick my work back up at about 9:00.
And so they know I fall off the mat for a couple of hours. And then at 9:00 and 10:00, they start getting these emails from me and I've told them, "You don't have to respond." That's just when I'm able to then come back and look at those. And it's worked because I can check out a little bit, not completely, if somebody needs me. They can text me, and they know how to call and what have you, but I check out. And then you can get back to those when your kids are down, and you can pay attention and focus on those. I really try to focus on work when I'm at work. And that maybe sounds really simple.
And then when I get home, to focus on that, and granted there's late night brief writings, and hearing preps, and even travel. But if you can try to maintain that separation, you feel less guilty, if you will, as we all do as working parents, overlapping and spreading yourself and one encroaching into the time of the other. And it goes both ways when you're at work and trying not to deal with too many home type issues. And I don't know if I have the answer. It seems to be working for us. And I'm a little more organized than my kids probably would like me to be with their homework charts. And even during the summer, I'm the evil mom for having them read during the summer. But I think it works well.
Aaron Ackerman:
That's great. Well, I want to talk a little bit about just the COVID era that we're in right now, and you alluded to it. But just picking up what you said about when you're at work, you're really focused on work, and then when you're at home, you're focused there. As we've had a lot of our people working almost exclusively at home, and me included, for the last four months or whatever, it's been ... From one standpoint, I thought, oh, this is great. I'm not going to commute and I can save an hour a day or whatever. But then I find that I really used that commute time as a buffer between work and home.
And I would get my mind adjusted on the way home to what I needed to do when I got home, whether it was start heading for the soccer field or dance or just whatever. It's kind of a mode switch. And I don't have that buffer now, so it's like you have to build a mental buffer. But what have you found either just from that personal standpoint, challenges of maybe working at home? And a lot of people have been working at home even before this. And so they've kind of mastered some of that. For a lot of us, it was a new phenomenon. Some great things about it, some challenges too, but that was one thing I found was just not having a real bright line between work and home. Is that something you found, or how have you dealt with that piece?
Amy Stipe:
We closed our office in mid-March, tried to really get ahead of the curve, getting all of our employees equipped to work remotely, so that could be a seamless of a transition as possible. I was home for a while with all three kids, and my husband trying to do his job too, and it was difficult. My husband is in a very small firm of just a couple of people, and so I was fortunate in that I started to go to his office. So there was three of us there at a time. And his office is about five minutes from my house versus 30. So I was saving on the commute, but yet getting away from the distractions at home a little bit and able to work there.
I thought he and I might kill each other, but actually, it actually worked pretty well. We got along, you bounce ideas off of each other. Even though he and I do the complete opposite sides of litigation, it was interesting, so it helped. So I was a little unique. I had an office to go to and I kept my nanny that I normally have in the summer who was helping do the homeschool projects, which I would then pick up on my way home. But I wasn't working full days. It changed for everybody, and I found some positives in it. But it's hard. With dogs, and kids, and your exterminator knocking at the door to really sit down and focus on work, it's definitely tough. So I was fortunate in that regard to have a place to go.
Aaron Ackerman:
That's interesting. So as we're recording this today, it's August 11th. And so many of the public school districts and private schools in our markets, Oklahoma City and Tulsa, will be going back to school in some form or fashion in the next week or two weeks in a lot of cases. I know my kids, I think start a week from this Thursday. And I've been following, not all, but many of the school districts in Oklahoma as well as Arkansas where we have some offices, and it's been interesting. There's a lot of different scenarios that schools are reopening. Some are going to be all virtual. My kids are going to be in the classroom two days a week.
Some schools, I think all the Arkansas schools are fully five days a week. Private schools, a lot of them are five days a week. But this is going to be, I think a particularly challenging issue for a lot of people that ... We've got single parents, and two working parents, and blended families, and all kinds of different scenarios where this is something that people have not really had to figure out before. And last semester, I think is completely different from what we're about to encounter because I think most schools, after ... Whatever it was at spring break is what it was. There was not going to be any more grades taken, there was no attendance taken.
They tried to keep the kids engaged in learning, but it was if a kid never logged on, it really didn't matter. It was just kind of a token. This is going to be a different scenario where it's real school but different. And so I know there's a lot of anxiety around that with parents, and I know as we've got several hundred employees that are going to be dealing with this in different ways. We're trying to figure out, at HoganTaylor, how can we support our employees and help take stress off of them? How can we also try to maintain productivity as much as possible? So just curious, how are you guys thinking about that at Gable? And there's no easy solution, I don't think there's a silver bullet on this, but I'm just curious, what are some ways you guys are approaching that?
Amy Stipe:
Well, it's funny. We're in the Oakdale School District, and I think we are one of the few schools that is going back five days a week.
Aaron Ackerman:
Right.
Amy Stipe:
And they're taking amazing precautions. I'm uneasy about them going back to school like everybody is, but it's almost difficult because I'm starting out with them going back five days a week and it being business as usual, but on a moment's notice, if the school shuts down or goes partial week, then [crosstalk 00:20:26] I haven't had the time to prepare to get childcare in place. And the limited pool of folks that are out there that can help watch your kids and hopefully teach them, they're going to be all grabbed up by then. So I'm just personally waiting to see how that plays out. But hopeful that it's successful and our kids can continue to go. It's not a large school, and so we'll see.
But regardless of whether you've got kids that will be in school or it's up in the air, our firm has ... We're really unique. Maybe I'm biased, but I think we're a really unique firm and that we just value our people and we understand the stressors and the demands on them. And not only do we care about them, but it also affects their production and their availability and responsiveness to clients. And so we want to help in whatever way that we can to relieve some of that off of them. And so for a variety of reasons, that included, the parents and the demands on that and childcare, as well as folks that are in a higher health risk category in those things for COVID, we have gone to what we've termed a voluntary return to office policy, if you will.
And so a lot of folks do come to the office five days a week, some come a couple of days a week, some stay completely remote, and so we are allowing them that flexibility right now to do what works best for them. And so far, I think it's going pretty seamless. People have become pros at working remotely. Even some of my colleagues that I didn't think would take so well to the remote arrangement, they've actually been great. And I'm really happy to see people using that to help them, and again, remaining productive from a work standpoint as well.
One thing I mentioned, John Dale, our CEO, he and I have gotten together and tasked some folks at our firm to actually research some childcare tutoring type options for may be even onsite at our office or maybe close by that would give parents the ability to bring their kids to have little workstations to help with their distant learning assignments, or if you have some younger kiddos, to help with childcare. Because even your younger kids that aren't in school yet, child care, day cares are shutting down and having issues. And so parents of younger kids are having those same concerns.
We've got a lot to do in that regard, and we've joked for years about having a firm daycare. How easy that would be for us. But now we're actually looking into it. Looking at what other firms are doing, other companies are doing, seeing if there are resources available to provide for the parents that would need it and have those kids close by. And then when you get home at night, you don't have five hours of school work to do. Maybe you just have one or two, kind of like a regular homework night when you get there and not a full distant learning day. So we'll see. I hope that research yields something that will be helpful. But I'm hopeful, I think.
Aaron Ackerman:
Yeah, that's really cool. I think that there's probably going to be some kind of cottage industries spring up out of this just because there's needs that people have just not really had before around education. And back to silver lining, I do think there will be some real positive advancements just in ed tech that have probably long been overdue that we're just going to have to figure out as a society now. But no, that's really interesting.
I'm lucky in a sense, my wife and I both have a lot of flexibility. We just moved our oldest kid into college last weekend, but we've got, at home, a seventh and eighth grader. And if you have older kids that are seventh to eighth grade in high school, you can set them up with a laptop and just keep an eye on them, but basically say, "Go do your work." If you have a first grader or second grader or kindergartner, they're going to need constant supervision while they're doing virtual learning.
And so there's a lot of different scenarios. If it's stuff that can be done on demand, that certainly helps. But if people are doing live school during school hours and you've got the younger kids, you're going to have to devote attention to them or somebody is going to. So it will be interesting. And I know everybody I've talked to, companies and employers are all really just ... This is kind of a season of grace. There's a lot of grace going around, which is great because everyone's in the same boat, just trying to figure out how to manage some of these new challenges.
Amy Stipe:
Yeah. One of my favorite things is just being on a business meeting at home, and we've all seen the kids or the dogs that are photo bombing your meetings. And I mean, honestly, I love it. I think it's great. I think it's made us all a little more human to each other. And people have their jackets on top and sweatpants on bottom and handling meetings. And I don't know, I think it's nice. We're all in this together. We're all struggling with this together and trying to figure it out. It's unchartered territory, and I think grace is a great way to describe it.
Aaron Ackerman:
Yeah. Well, let me ask you about something. Honestly, in 2020, it probably shouldn't even still be a topic conversation, but it is. The fact that you are the first female president of your firm, and congrats on that, that's a great achievement, I'm sure that that's empowering to other women in the firm. And so just, how big of a deal is that to you, or how important is it to you that you've been able to blaze a trail? What does it mean to you to be the first female president at Gable?
Amy Stipe:
Well, I'm very grateful for the trust that my firm has put in me to serve in the role as president, male or female. I'm really blessed to have this opportunity. Though to your point, I long for the day when women in leadership roles are not referred to as the female executive, but just the executive. But we're making a lot of progress in that regard. And if I have even a small part in that journey, then that makes me very happy. I hope being in this position gives other women in my firm confidence in the opportunities that are available. Inspiring them to strive for these types of things would be one of the best benefits of being in this role. And the more our women take advantage of those opportunities that are there and work hard to succeed at them, the more it will become the norm.
I was elected to our firm's Board of Directors just two months after I came back from maternity leave with my third child. And that is something I will never forget and appreciate so much. And it's so indicative of the mentality and the view that the folks that our firm have. And so again, for other women to see that and realized they shouldn't shy away from trying to take opportunity. I mean, if there was ever a time to ... It was probably the worst timing ever. Having a 12-week-old and two toddlers, but it was something that I really wanted to do, I was serious about, worked for, and the firm trusted me to do it. And now eight years later or so, they've trusted me again to serve in the role as president.
So I'm very humbled holding such a prestigious title in one of the most prestigious firms, and if I can provide a great service to my external clients at the same time as my internal clients now as president, while hopefully motivating other women or just young professionals generally, then that's the most I can ask for. I hope I don't disappoint.
Aaron Ackerman:
No, that's awesome. One thing that I've talked about a lot over the years with our leadership here and other places I've been is, not having two career paths for whether it's male or female, but somebody who needs to do something different for a little bit to start a family, raise a family, that shouldn't be a different career path that's more limited. And I'm really proud of HoganTaylor. We have at least one, maybe more part-time partners, which I think is great.
And I really want to make sure that where I can have influence, but just in society in general, the opportunities aren't limited for people if they have just a slight shift in focus or priorities for a season of time. And unfortunately, I think a lot of times it's like you need to have a flexible schedule. That's okay, but you're not going to promote, or you're not going to have these other opportunities. And so that's something that's really important to me. Hats off to GableGotWals for not having those divergent career paths for people in different situations.
Amy Stipe:
No, we've been pretty intentional with expanding our paid maternity leave policy, which was one of the first things that I was a part of when joining the board. And then also adopting a modified work arrangement, which sometimes means part-time, sometimes it means 40 hours, but you're just splitting your day at different times. Or we've got attorneys that moved out of state for family reasons that we greatly value and they're still partners in our firm. So all different kinds of arrangements.
We know that these people are valuable, we've invested in them, they're great with our clients, and we don't want to lose them. And so someone once said to me, "Would you rather have this person and be able to work with them around certain schedules or not have that person at all?" And again, we value our folks so much. They bring so much to the table in different regards that we do what we can to keep them and accommodate them. And mark you, we've got some part-time partners and some different [inaudible 00:32:19] arrangements. And we really try in that regard to give people the flexibility when they need it.
Aaron Ackerman:
So what advice would you give to a young woman in particular who's early in her career and really looks up to you and people like you and has ambition to be fully invested in a career, but also has other priorities as well? What would be the advice you would give?
Amy Stipe:
Well, one of the things would be to find a great mentor. Having a mentor guide you through the process to teach you to answer questions, not only substantively in the legal field, but also just working your way through a law firm as a young associate and then as a junior partner. But having that mentor and even an advocate or a sponsor for you is very important. I was tremendously fortunate to have [inaudible 00:33:20], who's a very well known Oklahoma attorney, be my mentor for two decades. And it changed my life.
I mean, he taught me so much and really helped guide me through the legal process of being a lawyer, showed me what leadership opportunities were there, I followed in his footsteps a little bit, he raised two kids, and it was helpful to have him, to rely on him. Somebody that actually takes their time to be with you, talk with you, and show you the ropes. It's something that we try. We've got a formal mentoring process at our firm, but sometimes those mentorships are informal and just come together naturally. And it's something that I think is invaluable.
I would also say, don't be afraid to work hard for what you want. As we all know, it's not easy being a mom or a parent and working full-time. It's hard. It translates to long nights and early mornings and sometimes sacrificing maybe something that you want to do for yourself. But to me, it's worth it. The hard work pays off. We worked hard to get to this position. Seven years of college. Studying the bar exam enough is enough to make you crazy, but it's worth it. And once you get to the firm, I really think it's important to invest in the work that you've got, put in your hours, but while maintaining your home life.
And whether you have kids or you just have other interests or hobbies, you've got to maintain that balance. And everybody uses the term balance and work life balance, but it's overly used, I think for a reason because one without the other I'm not sure is healthy for folks. So for me, the hard work has paid off. I feel like I'm raising three beautiful children, I'm helping to lead a law firm of 100 attorneys, got a good marriage, providing a good service to my clients. And each of those is really fulfilling to me in different ways. I don't think I would want one without the other. And when you get home at the end of the day, you might be tired and you want to flip on a cheesy TV show to wind down at night, but you just ... At least for me, I feel good knowing that I've tried to hit all of those during my day. And it's fulfilling and it's worth it.
Aaron Ackerman:
Well, we always wrap up with our guests with five questions. And so if you're ready, I'm going to hit you with those now.
Amy Stipe:
Okay.
Aaron Ackerman:
So the first question is, what was the first way you ever remember making money?
Amy Stipe:
Well, like a lot of girls in junior high age, I babysat a lot. And frankly, looking back now, babysitting is a great job. You get to play with kids and eat the snacks. And then when they go to bed, you're watching TV and it's like that, wow, I should have realized back then, this is a pretty good gig. My first official job though, was I was a dishwasher at Crockett Smokehouse on 23rd, and it was not pretty. I made 3:50 an hour, and it was dirty and stinky. But I remember it to this day, and I don't want to wash dishes ever again.
Aaron Ackerman:
Yeah, I think I remember that. It's not around anymore, right?
Amy Stipe:
No, it's not. But it was a good barbecue.
Aaron Ackerman:
It was, yeah.
Amy Stipe:
But don't be a dishwasher for a barbecue restaurant, I'll give that advice.
Aaron Ackerman:
I'm sure you probably just burned your clothes once you quit that job.
Amy Stipe:
And my hair. Yeah. It was bad.
Aaron Ackerman:
So what would you be doing if you weren't an attorney?
Amy Stipe:
My bachelor's degree is psychology, and it might be something along those lines. A psychologist or something in that field. Maybe even a jury consultant with a mix of psychology and law. But I have more of a creative flair that I think I get to really explore as a lawyer in my job, and so I don't know, something maybe in marketing or advertising that has a little more film editing. Something a little more creative, I think would be something I'd like.
Aaron Ackerman:
You'd probably sell some Halloween costumes.
Amy Stipe:
I might be able to now. They would cost like $1,000 a piece based on the time I spend on them.
Aaron Ackerman:
Premiums.
Amy Stipe:
I don't think I would sell very many.
Aaron Ackerman:
So what would you like to go back and tell your 20-year-old self?
Amy Stipe:
These are going to be opposite things. I would tell myself to have more fun. I was a pretty serious student, and I would give up going to some of the OU games because I wanted to get my homework done on the weekend because I often worked during college. And so I was fairly serious. I would tell myself to have more fun. But I would also tell myself, similar to what I said earlier, keep it up. All of these finals you're studying for and sacrifices that you're having to make, in the grand scheme, it's a blip. Going to college and even law school, yeah, it's seven years, but you accomplish so much and the education is so great. And at the time, you dread it, you dread going to class, but I would tell myself, keep doing it, keep it up, it'll pay off.
Aaron Ackerman:
Yeah, that's good. What would you title your biography?
Amy Stipe:
That's a tough one. The title, running in heels, has already been taken. So I can't use that one. But I think what I would hope that the title of my biography would be time well spent. And by that I mean the time that I've dedicated to my family, I really hope will result in the raising of three great individuals who are full of promise and faith and the desire to succeed in whatever field that they choose.
And then the time that I've dedicated to my job, I really hope will result in helping my clients resolve their issues, and then in strengthening my firm's policies and practices, I mean, there's always room for improvement, and making those a little better than when I took on this administrative role. And then in mentoring the next generation of young professionals and leaders. And so hopefully, again, those times are very well spent and will yield just great benefits all around.
Aaron Ackerman:
I love that. That's so good. Last question, what is the best advice you've ever received?
Amy Stipe:
I saw this printed once and it really stuck with me for some reason. It says, the key to having it all is realizing you already do. And to me, it just means appreciate what you have. Look around, be still, realize that you've got everything that you need. It's not perfect, there's probably always more to get or chase after, and that's not to say you don't keep trying, but sometimes we get lost in the chase and the work. And sometimes you have to stop and say, you know what? I've got it all and I've got it all for me. And that's something, I think folks lose sight of. It's kind of a stop and smell the roses analogy. But I don't know, it just resonated with me and I have to tell myself that every once in a while.
Aaron Ackerman:
Yeah, that's great. Well, thank you so much and thank you for your transparency and your willingness to just share some of your experience. And just for our listeners, HoganTaylor is actually a client of GableGotWals and I've worked directly with some attorneys there, and so I can endorse the firm wholeheartedly. And if anybody wanted to reach out, learn more about you or the firm, online or social media or whatever, what's the best way to do that?
Amy Stipe:
Sure. Our website is gablelaw.com. And that's got our links and resources to all of our attorneys, our practice areas, news clips, you name it, awards, anything you'd want to know about us. And of course, folks can find me on the website and give me a call. I'd be happy to talk to anybody and direct them to do they might need.
Aaron Ackerman:
Yeah. Well, thank you so much for your time, and best of luck as you and your partners navigate here through certainly a challenging season with the pandemic. And I just really enjoyed our conversation. Thanks.
Amy Stipe:
Thank you very, very much. Appreciate it.
Aaron Ackerman:
That's all for this episode of How That Happened. Thank you for listening. Be sure to visit how that happened.com for show notes and additional episodes. You can also subscribe to our show on iTunes, Google Play, or Stitcher. This content is for informational purposes only and does not constitute professional advice. Copyright 2020, HoganTaylor LLP. All rights reserved. To view the HoganTaylor general terms and conditions, visit www.hogantaylor.com.